Top 5 reasons for choosing Jet Airways to fly to India
LAST WEEK I FLEW home to Canada from India on Jet Airways. I was lucky to be upgraded to Business Class, where I had a single window seat to myself. In an enviable state of comfort and privacy, I watched four Bollywood movies during the flights from Delhi to Brussels, and then Brussels to Toronto. I chatted about Bollywood star Akshay Kumar (who I met about two weeks ago in Delhi) with the flight attendants.
I ate fresh salads, Aloo Tikki Chaat, and other savoury Indian specialties, with wine. And I thoroughly enjoyed myself. It was a great experience in every way, and once again confirmed my commitment to flying this airline whenever possible.
Since my first trip to India 10 years ago, I have regularly flown Jet Airways, and now choose it over most other airlines. If you don't know, Jet Airways is India's second largest airline, and flies both internationally and domestically. The airline was founded by Naresh Goyal in Mumbai in 1992 and is a great Indian success story. It is now partially owned by Etihad, one of the world's great airlines (ranked #6 on this list).
Flights are on time, the service is great, web booking and checkin are flawless … Jet Airways has all the basics in place. But there are five special reasons why I am particularly fond of flying Jet Airways.
1. A taste of India
Indian food is one of the world's great cuisines, beloved by many. There was even a scientific study conducted to find out why it tastes so darn good. On Jet Airways flights that serve meals, there is always an Indian food menu option that can include rice, dal, roti, curry, sweets and even packets of breath freshener. From my perspective, airline food just doesn't get better than this.
And … not only do they offer tasty Indian dishes, Jet Airways also offers fresh salads and a wide variety of special dietary meals including gluten-free (yay!). The full list is here. (Note: you have to order at least 24 hours in advance.)
2. In the mood
From the Indian food on the menu, to the array of Bollywood movies, to the desi staff, flying Jet Airways to India gets you in the mood to experience the culture of the subcontinent. Whether it's your first visit to India, or your 15th, it's fun to begin the trip with the flavour of India. You can watch the latest Bollywood hits, read India Today magazine or one of the other Indian periodicals on board, get your taste buds ready for full-on flavour and learn some Hindi. (Flight announcements are in English and Hindi.)
3. Fly the friendly skies
From my many experiences flying Jet Airways, I can assert the flight attendants are some of the friendliest I have ever met. They exude that relaxed, happy, smiling helpfulness I find all over India.
On my most recent flight, two flight attendants searched the cabin tirelessly for my missing glasses, brought me extra bottles of water and packets of breath freshener … several times … and suggested a Bollywood movie to watch. I took their advice and watched Piku, and it was a fun road trip movie starring my favourite heart throb, Irrfan Khan. Great advice.
4. Jet Privilege miles and perks
Jet Privilege is Jet Airways' frequent flyer program. Once you enrol, you begin collecting JP Miles, which you can redeem for reward tickets. You are also entitled to all kinds of benefits — including pre-booking your seat on international flights, which can really make a difference on long flights.
I collect JP Miles flying to and from India, and use them to book flights within India. The website is very user friendly, and using JP Miles to book reward tickets is easy.
5. The extras when you fly
Service in India can be spectacularly good. There is a time-honoured philosophy of welcoming visitors that is expressed in the Sanskrit saying Atithi Devo Bhava, which means Guest is God.
Throughout the Jet Airways experience, I found this Indian philosophy to be amply evident. It's in the quality of the food, the comfort of the seats, the helpfulness of the staff, the elegance of the business class lounge, the range of entertainment available and so much more.
NOTE: Thanks to Jet Airways for providing me with a complimentary upgrade to experience your superior business class service. I have also travelled the same route in economy class and it was also a very good experience, which I recommend without hesitation.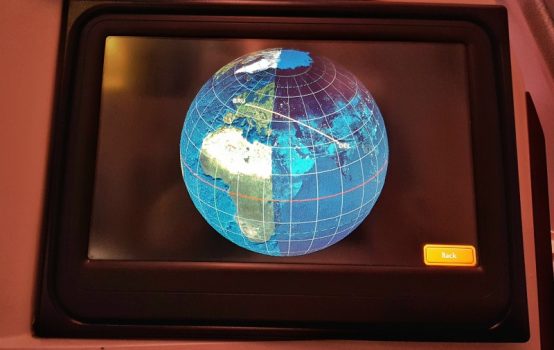 If you enjoyed this post, you can….
Get updates and read additional stories on the Breathedreamgo Facebook page.
Follow Breathedreamgo on Instagram.
Follow Breathedreamgo on Twitter.