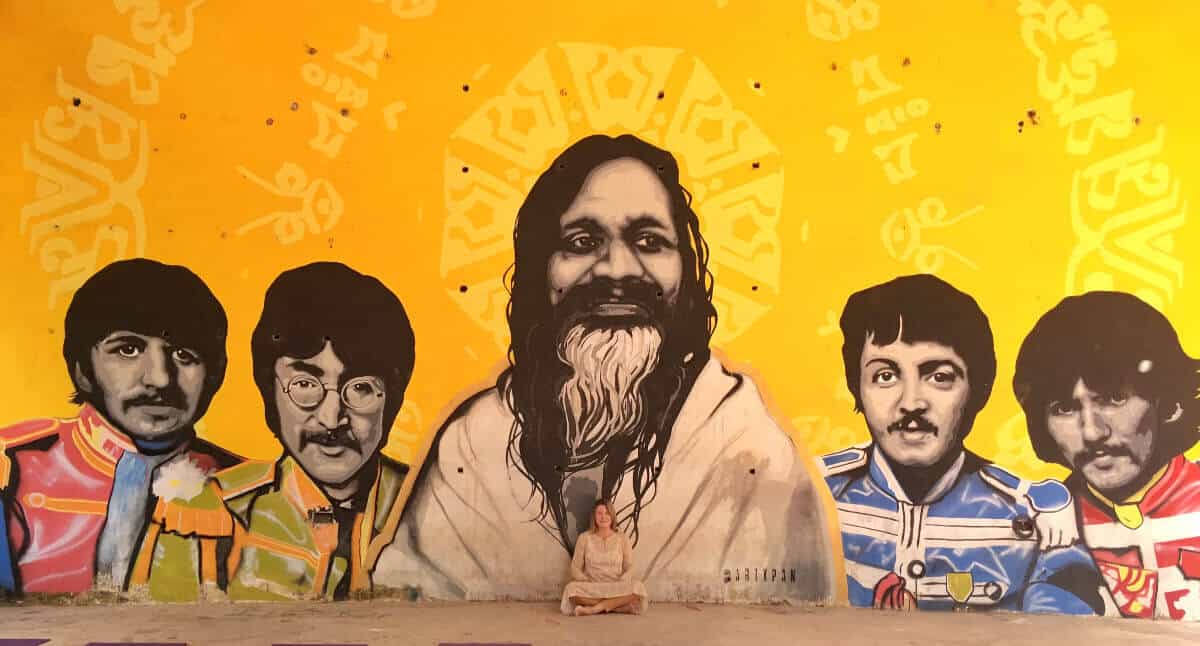 The Beatles Ashram in Rishikesh, India captures a moment in time
In February 1968, The Beatles followed the Maharishi Mahesh Yogi to India to stay in his Rishikesh ashram (now known as The Beatles Ashram, Rishikesh). They wrote dozens of songs while in Rishikesh, including much of the White Album. It was a very big deal at the time, very significant, that the four most famous and successful pop music stars in the world would drop out for three months to study meditation in India. This is an excerpt from a book on The Beatle written by Paul Saltzman, a fellow Canadian who was coincidentally at the ashram at the same time.
"Early in 1968, at the height of their popularity and arguably the most famous people on the planet, the Beatles traveled to India, to the foothills of the Himalayas, to find something that all their fame and fortune could not give them. They went to find inner peace. For eight weeks they disappeared into an ashram to study meditation. No press or visitors were allowed.
"Seekers in their music, they were now seekers in their spiritual lives. For many of us, the Beatles were the avatars–the embodiment, the archetype–of western culture and society and when they turned to the East, millions of young people turned to see what they were looking at, where they were going, what they were doing. To the West, then, ashrams were a little known phenomenon. They were centers of spiritual learning, of yoga, of vegetarian eating and, to the generations of the 60s, word that the Beatles were at an ashram in India aroused a curiosity in a great many people searching in their own lives for a deeper fulfillment than materialism could deliver. The Beatles were forging ahead, again.
"Why did all four Beatles go to India? George was the most interested. He was 'the quiet one', perhaps most in touch with himself. He was a devoted seeker, devoted to finding the inner connection with his own Divine Nature. This connection is soul food. It requires quiet to do this. That they all went was significant. Each, in their own way, more or less, was looking to get away from their fame, from the cacophony of their busy lives. Looking for the quiet. Looking for the soul food. As George said, when we sat together at the ashram: all the bells and whistles, all the outer rewards and distractions, "It isn't peace inside, is it?" They were also there to be together. They were family."
Guide to The Beatles Ashram, Rishikesh:
Though I was very young at the time, I remember when the The White Album was released, and also their visit to India. And I wonder if The Beatles' visit to India had an effect on me that is still unfolding. You can read my story, about my personal connection to The Beatles Ashram below, but first a guide for visitors.
How to get there
What to see
Price of admission and timings
Photography tips

Guide to The Beatles Ashram
The Beatles Ashram in Rishikesh is actually called Chaurasi Kuti, which means "84 meditation huts." Maharishi Mahesh Yogi leased it from the forest department in 1961, and built an ashram with money donated by an American heiress. It covers 14 acres of land on a cliff overlooking the Ganga (Ganges) River in the Swargashram part of Rishikesh, away from the other ashrams. There are numerous buildings on the property that include a former temple, residence buildings, bungalows, a kitchen, library, the home of Maharishi Mahesh Yogi, and of course the 84 beehive shaped meditation huts. Some of the architecture is extremely distinctive, which, combined with the dilapidation, makes for a very atmospheric environment in which to wander.
The Beatles Ashram was neglected for many years after Maharishi Mahesh Yogi left in 1981 when the lease expired. The jungle began to overtake, and when I first visited in about 2010, it was completely abandoned. I didn't stay long as I saw movement in the trees and bushes and was nervous about wild animals. Rajaji National Park is right outside the boundary walls, and home to tigers, leopards, wild elephants, monkeys, cobras and more!
In early December, 2015, it was reopened as a tourist attraction and it's now a safe place to visit. Now the Beatles Ashram, Rishikesh, is run by the Rajaji Tiger Reserve, Uttarakhand, as a tourist attraction, and I highly recommend it while in Rishikesh.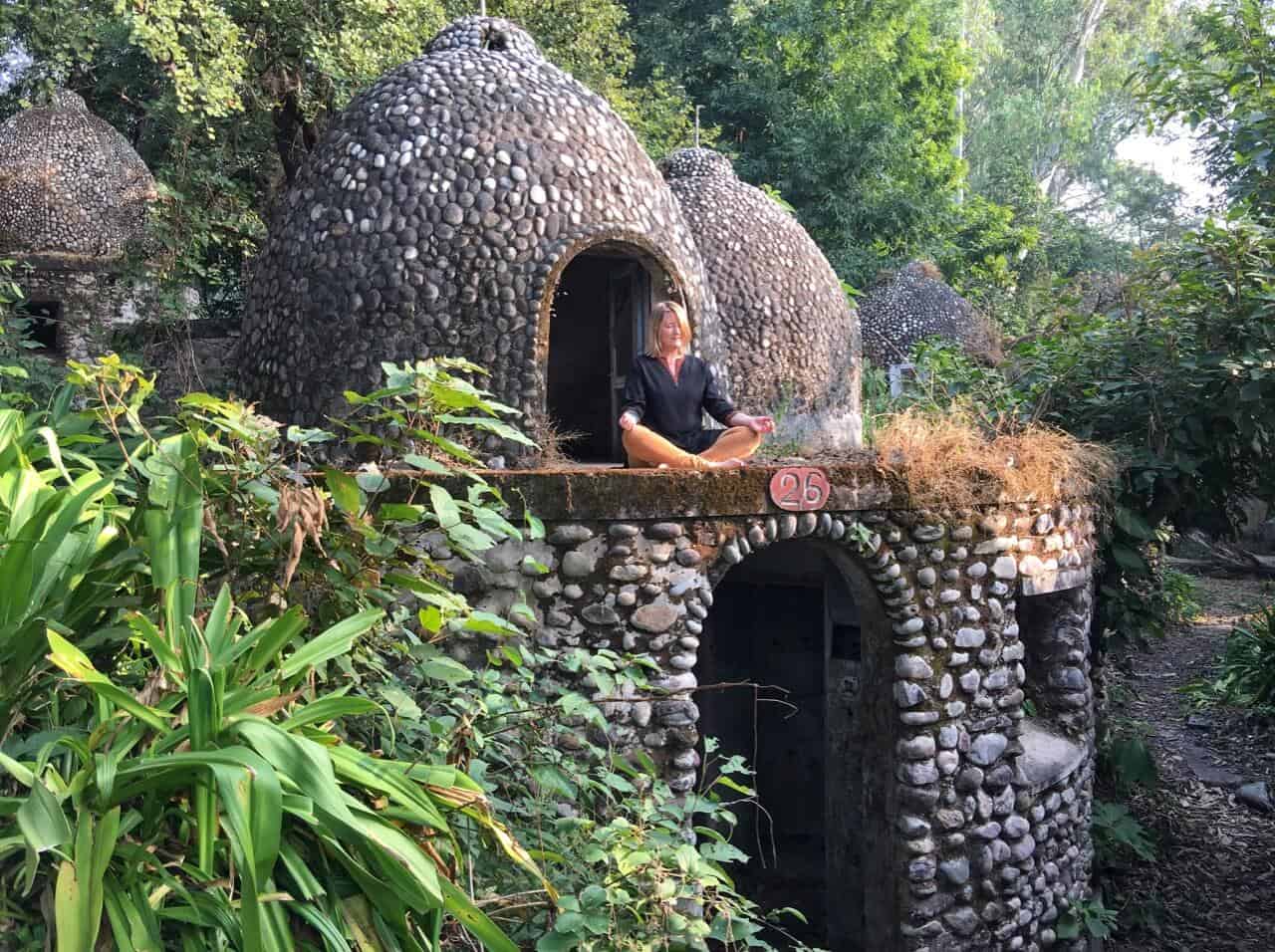 How to get to The Beatles Ashram, Rishikesh:
To get there, you need to cross the Ganga (Ganges) River from the main road that runs through Rishikesh. The Beatles Ashram is about 1 kilometre from Ram Jhula (and 3 kilometres from Lakshman Jhula). You walk to the far edge of Swargashram, past the big Parmarth Niketan Ashram (where the evening aarti is held), and cross a small stream, until you reach the gate.
Admission price for The Beatles Ashram, Rishikesh:
The ticket booth is just inside. The entrance cost is 600 rupees for foreigners / 150 rupees for Indian nationals to enter. Timing is 10:00 to 16:00. Make sure you schedule an hour or two to take in everything and have time to walk the grounds.
Photo Tips for The Beatles Ashram, Rishikesh:
To be honest, there is not much more than memories and atmosphere … most of the buildings are in decay, though the murals do add a lot of colour and make for great photos. The murals started as graffiti, and eventually, in 2016, the authorities saw the potential to commission them. The Cathedral Gallery in particular has a number of striking murals that photographers love — they are also often the backdrop for selfies and portraits.
The meditation huts are also ideal for photographers. There are 84, so lots of opportunities for various compositions. The Beatles Ashram property is very thick with trees, so there is lots of shade and you can enjoy good light at most times of the day except high noon. Late afternoon is the best as the sunsets across the river and you can get some good sunset photos from the cliff.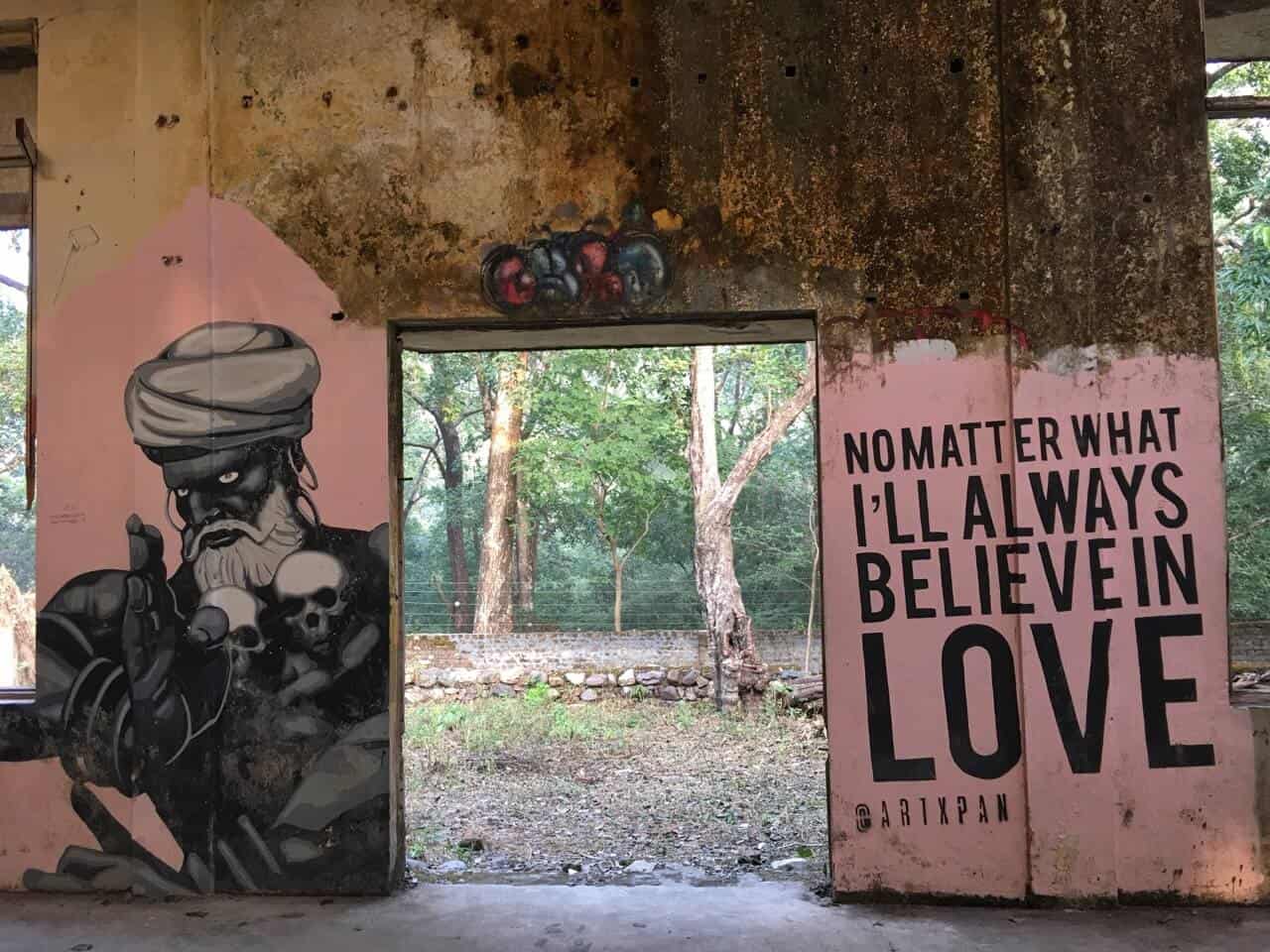 One building has been renovated to include a gallery and cafe, with washrooms at the back. The menu is very limited at the cafe, but you can sit outside and enjoy a cup of steaming chai.
---
More reading on Breathedreamgo about spiritual travel in India
---
Did The Beatles visit to an ashram in India 50 years ago affect my destiny?
Dedication: This blog is dedicated to my older brother Matthew. If it wasn't for his Beatles obsession in the late 60s and early 70s, I might never have come to India. I used to follow him around when we were children, which meant listening to a lot of Beatles music. I remember looking intently at the pictures of the Beatles — especially George Harrison, my fave — wearing long hair, flowing shirts and marigold garlands. I had always loved anything about eastern spirituality, and when the Beatles went to India, I was entranced. I secretly wished I was old enough to be a "hippie" and join them.
The Beatles visit to the ashram in Rishikesh, India in February 1968, was earth-shaking news at the time. They were at the height of their fame and popularity, and it was completely unheard-of for pop stars to drop out for several months — and follow a spiritual guru to India, at that. At the time, Yoga was not known in the west, meditation was not practised, and India was not a favoured travel destination (except for the infamous Hippie Trail).
The backstory to the visit was that George Harrison's wife Pattie Boyd was taking Transcendental Meditation (TM) classes with Maharishi Mahesh Yogi in England. Soon, she had introduced George Harrison — and his life-long love of all things Indian, especially music and spirituality was born. The other Beatles also decided to give TM a try, and eventually they decided to take up the offer to visit the Maharishi at his Indian ashram. George Harrison and John Lennon took to it immediately, and stayed the longest. Ringo Starr packed it in after a short time, he was at the other end of the spectrum.
There has been a lot written about the The Beatles time at the ashram, some of it controversial, but what is undeniable is the boon to their creative output. They wrote 48 songs while in residence at the ashram in Rishikesh, and essentially their sojourn gave birth to The White Album, one of their masterpieces. It also launched George Harrison (my favourite Beatle) on his spiritual path. He later spent a lot of time in India, recorded with his friend Pandit Ravi Shankar, and was involved with the ISKCON organization (and bequeathed part of his wealth to them).
Here's a lot more interesting stories about the Beatles time in India.
---
A note about the controversy surrounding Maharishi Mahesh Yogi:
The Beatles left the ashram under a cloud of accusations against the Maharishi regarding his conduct with women, and many years later John Lennon apologized. The Maharishi instantly forgave him. It is very likely that some of The Beatles' hangers-on, the people surrounding them, got into some trouble with drugs and the story against the Maharishi was floated as a cover-up.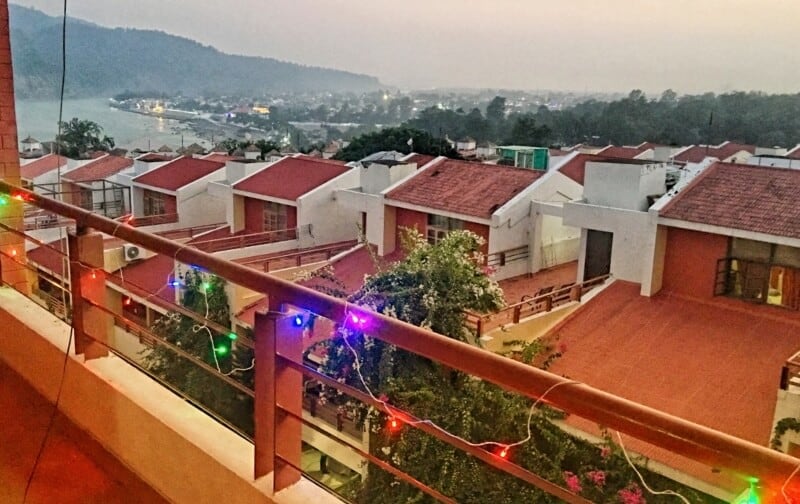 Within you, without you
I'm writing this in my kitchen in Rishikesh. From my balcony, I have a view across leafy green Yoga Niketan ashram to the Shivalik Mountains (the Lower Himalayas) and the sunrise. From the other balcony, I can see the Ganga River as she leaves the mountains and begins her journey across the great plains of India, and the sunset. This airy top-floor flat is my first home in India, and it's spectacular. Peaceful, safe, spacious, and sunny. Beautiful views out every window. I feel blessed and lucky and extremely grateful to have found this little piece of heaven.
But … I can't help wonder …. was I fated to live here? Do you believe in destiny?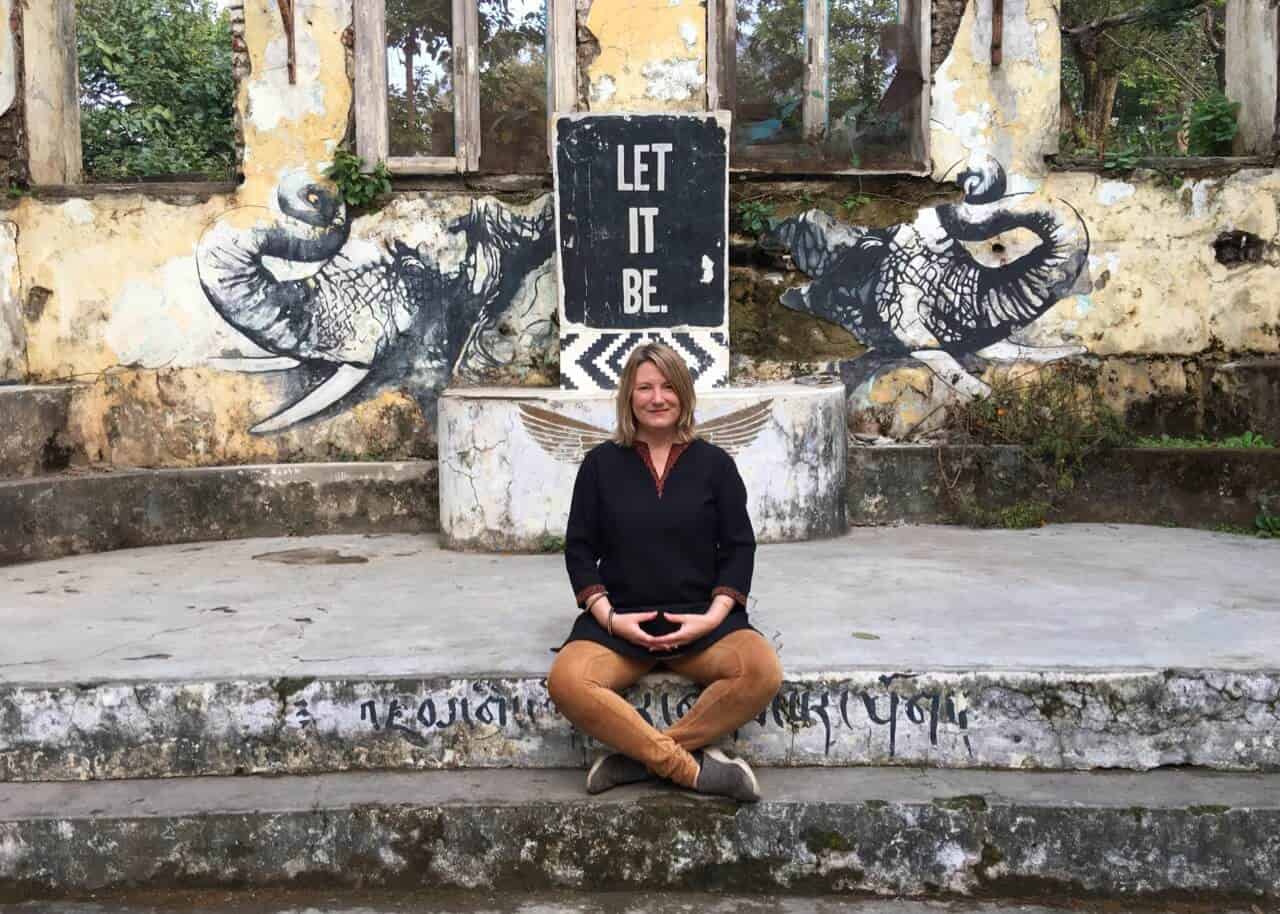 I was a little girl in suburban Canada when The Beatles went to stay in a Rishikesh ashram, and would have been unaware except that my older brother Matthew was an ardent Beatles fan. Through him, I heard the music and saw the images of the fab four as they evolved from pop stars to experimental musicians and, in the case of George Harrison at least, spiritual seekers. I vividly recall seeing photos of George in sunny Rishikesh with bright marigolds around his neck. I was besotted. If I had been 10 or 15 years older, I would have followed them to Rishikesh, too.
In my teens, I continued to dip my toe in the waters of Indian culture and spirituality. I became a vegetarian, burned incense, read the Bhagavad Gita, went to see Pandit Ravi Shankar perform in Hamilton, and meditated with my Mother (who discovered Maharishi Mahesh Yogi and transcendental meditation while searching for a cure for her chronic anxiety).
Many years later I started Yoga and became a devoted student. And many years after that, my life was hit with a series of losses that devastated me, the worst being the sudden and unexpected death of my Mother. Struggling to keep afloat, I decided to take a Yoga teacher training course in Toronto. During that course, I had an experience that made me decide feel compelled to go to India.
I landed in Delhi on December 5, 2005 and stayed with a friend of a friend, Ajay, and his family in South Delhi. My first solo trip was to Haridwar and Rishikesh. I stayed in Haridwar at a haveli on the Ganga and I will never forget my first sight of the mighty river. All I could think about was my Mother. I could hear her voice in my head, "The Ganges! Mariellen! What an adventure!" She would have been so encouraging, so proud of me.
I never thought in my wildest dreams I would ever get to India, never thought I would see the Ganga.
After Haridwar, I went to Rishikesh and took part in the aarti at Parmath Niketan. I threw myself into it, lighting a little diya made of leaves and flowers, and sending it out onto the dark current of the river imbued with all my feelings of grief and loss. The ritual helped me accept that my Mother's death was part of the cycle of life.
Later, near the end of that six-month trip, I discovered my spiritual home at Aurovalley Ashram, which is about 14 kilometres downstream from Rishikesh. Since then, Rishikesh has always held a special place in my heart, and I have been back many, many times.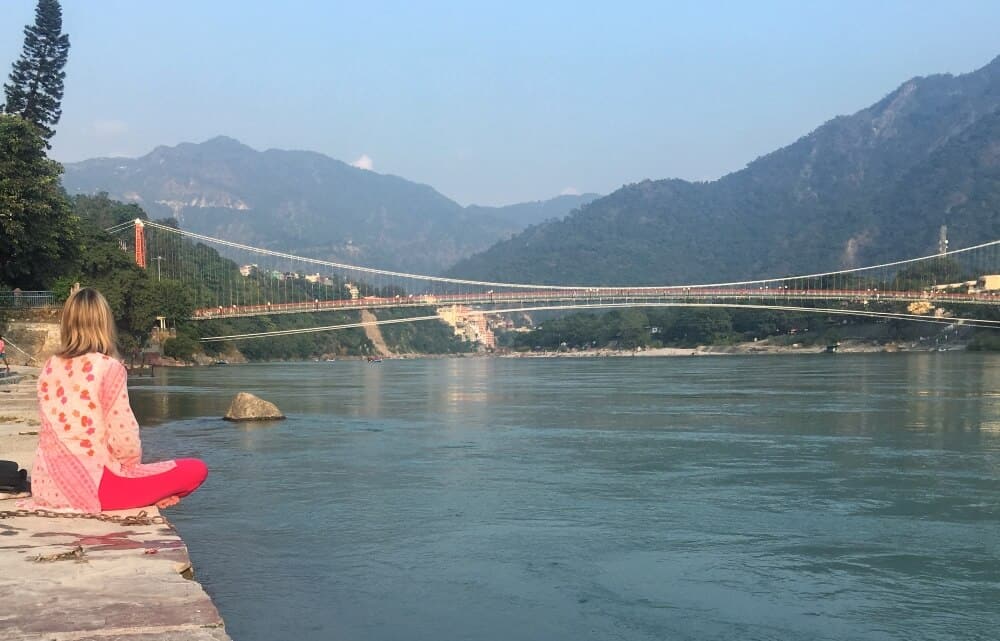 Across the universe… and to Rishikesh
It was to Aurovalley Ashram that I went after a month of futile apartment hunting in Delhi this September.
Before I left Canada this summer, I gave up my apartment in Toronto, put everything in storage, and came to India with the intention of finding a home here. My plan was to start in South Delhi, and then look in several other places on my list such as Dehradun, Rishikesh, Jaipur.
A month of apartment hunting in Delhi left me despondent and depleted. I couldn't find anything that even approached suitable. I kept my Facebook friends amused with stories of apartments with no windows or an entire wall missing, brokers who didn't listen to me, and box-like rooms with absolutely no view.
I was discouraged, I didn't know how to find a home in India. So I did what Swami Brahmdev would suggest, and what Aurovalley so beautifully supports: I turned my problem over to the divine. I meditated for two weeks, and imagined a sunny, airy space with views of greenery.
One day, a woman from Israel that I met at Aurovalley Ashram, Sarite, was going into Rishikesh, and I felt a compulsion to go with her. I didn't really have a reason, and it's a bit unusual for me to leave Aurovalley for no reason, but I went anyway. We went to the Pure Soul Organic Café, part of the Dewa Retreat, for lunch and the owner Gaurav Sajwan spotted me and invited me to stay one night. And so I did, and while there I told him about my apartment search.
"I know a great place," Gaurav said. He made a call, we jumped in his car, and drove for about five minutes to a gated housing complex on the bypass road, near Yoga Niketan. It's a peaceful location up the hill, with the forest on one side. The manager pointed up to the apartment, and said it was on the top floor, and I had already pretty much decided to take it.
Ten days later I moved in.
This beautiful apartment includes the rooftop terrace, and I have a key to the locked door. I went up there about two days after I moved in to discover a glorious panoramic view of the Ram Jhula end of Rishikesh. I can see the Ganga of course, and across the river the Parmath Niketan ashram. From my roof, I can watch and hear the evening aarti EVERY night if I want. This is the same aarti that helped me reconcile my Mother's death.
Also from my roof, I can see a few small buildings peeking through the trees up a rise on the edge of town: The Beatles ashram.
So here I am in Rishikesh, my first home in India, feeling like I might have been destined to be here all along. It certainly is a "full circle" feeling. And it certainly is a relief to finally have a home base, and all my things in one place, for the first time in the 13 years I have been travelling here. Thanks to everyone who helped me along the way, I am very grateful.
---
Pin it on Pinterest
---
If you enjoyed this post, you can….
Sign up to The Travel Newsletter in the sidebar and follow Breathedreamgo on all social media platforms including Instagram, TripAdvisor, Facebook, Pinterest, and Twitter. Thank you!
---