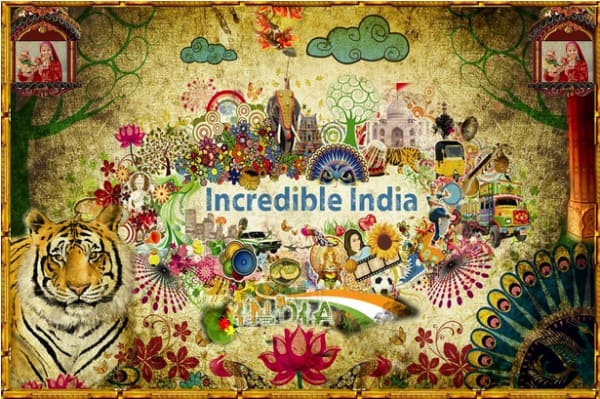 India really does offer visitors "Incredible India moments"
SOMETIMES, THERE REALLY is truth in advertising. The Incredible India ad campaign is one of the most successful in the history of tourism. It put India on the tourism map and garnered more prizes than you shake a joss stick at. Using bold imagery that captured both the beauty and essence of the India experience, the campaign captivated travellers and re-awakened their desire for international travel in the wake of the 9/11 crisis. It's one of the reasons I started an India travel blog.
Incredible India was conceptualized in 2002 by V Sunil while he was Creative Director, Ogilvy and Mather, Delhi, and Amitabh Kant, Joint Secretary, Ministry of Tourism. It resulted in a 16% increase in tourism in its first year, and has been re-worked several times over the last decade or so to acclaim and a steady rise in inbound tourism.
"CNN recently did a survey. Across Asia-Pacific, Europe and America, India emerged as the richest in terms of culture and heritage. India's strength lies in what is unique about her, that is what Westerners want to discover," Amitabh Kant said in an interview following the publication of his book Branding India : an incredible story.
"I consistently cite the 'Incredible India' campaign as a masterstroke of international branding," wrote Keith Bellows, Editor in Chief, National Geographic Traveler.
While some may criticize the campaign for painting an idealized picture of India that is bound to disappoint tourists who are not prepared for the lack of infrastructure, proliferation of garbage, economic disparity, aggressive and untrained hospitality workers and other challenges to travel (and life!) on the subcontinent, there are those travellers who do indeed have Incredible India experiences — in spite of, or perhaps because of, the unique challenges. I try to highlight them in my India travel blog.
The reasons I started an India travel blog
I give you some of the most classic images from the Incredible India campaign accompanied by some of my top Incredible India experiences starting with the Taj Mahal, below. For more incredible places in India and around the world, read The 51 Most Beautiful Places in the World.
---
Read more on Breathedreamgo
---
Incredible India video
1. The Taj Mahal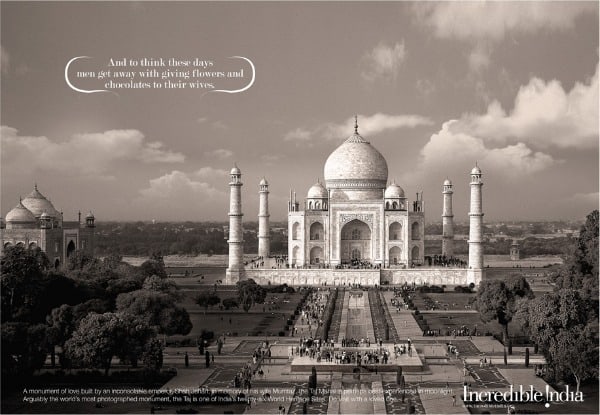 THE TAJ MAHAL is considered the world's most beautiful building and the number 1 tourist attraction in India. "A teardrop on the face of eternity." No matter how many times you've seen it in photo and video, no matter how often or how extravagantly it is praised, nothing prepares you for the first time you walk through the red sandstone outer gate and behold it in real life. Seeing the Taj Mahal for the first time restored my faith in man's ability to create something divine. I went on a very hot day in late March 2006, and for some reason there were few people there that day. I literally walked into the mausoleum almost alone. I had my photo taken with families and groups of women several times. And yes, I can say without hesitation, it was an Incredible India day and I've written about it several times on my India travel blog.
Read:
The Taj Mahal: A complete guide
2. The Mighty Himalayas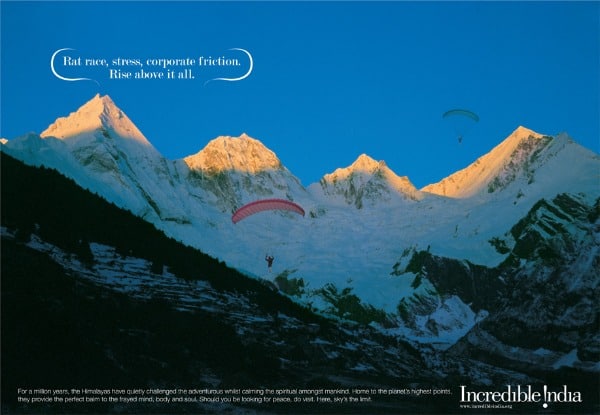 THE HIMALAYAS is the world's greatest mountain range at 2,400 kilometres long and with most of the planet's highest peaks. From the foothills, called the Shivaliks (literally Shiva's tresses), to mighty Kangchenjunga in Sikkim, I have had many incredible experiences in the Himalayas. But one of my first Himalayan experiences will forever be imprinted on my mind as this was when I chanced upon my spiritual home at the Aurovalley Ashram near Rishikesh, at the edge of the Shivaliks. I arrived tired after an early morning train journey from Delhi and immediately went to take a nap in my airy white room. I woke up half-an-hour later feeling more refreshed than I ever have before from a short sleep. I felt as if I had been embraced by the incredible energy of that special place. I could do an entire India travel blog about the Himalayas.
Read:
Aurovalley Ashram: A haven of peace and conscious living
3. The Rajasthan desert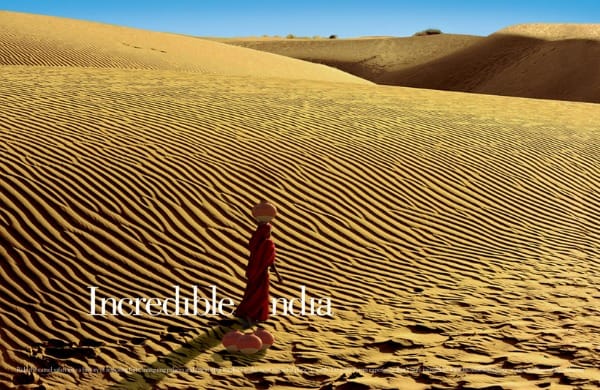 RAJASTHAN is the biggest state in India, home to one of the world's largest deserts and a vibrant, traditional culture. It is also one of the most touristed states in the country. There's a reason. Imagine majestic forts and palaces, exuberant festivals, time-honoured rituals and scenes of aching beauty featuring camels, peacocks, bright sarees and huge turbans. It's the picture postcard version of India and I can never get enough. But the night I spent camping out on the sand dunes near Jaisalmer on camel safari was truly a real life Incredible India experience. Another topic I could do an entire India travel blog about, Rajasthan is one of my favourite states.
Read:
1,001 tales of the Jaisalmer desert
The Best Exotic photos of Rajasthan
4. The Bengal Tiger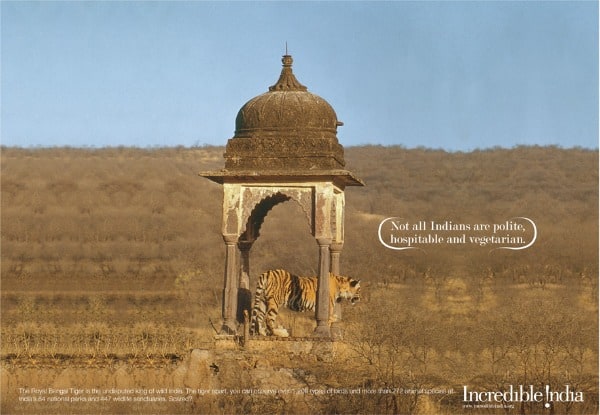 TIGERS and India are ubiquitous. About 70% of the world's (diminishing) wild tiger population is in India and there has been a movement in place since 1973 to try and protect them from extinction. At one time numbering about 100,000, there are now less than 3,000 tigers in the wild in India. Project Tiger was launched to try and preserve the tiger's natural habitat. Dozens of tiger reserves were set up across the country, many of them also offering tourists a chance to glimpse this magnificent creature in the wild. The day I awoke at dawn to drive by open jeep through the sparse, dry forests of Ranthambore National Park in search of the elusive beast was one of the best days I have spent in India.
Read:
5. The yoga capital of the world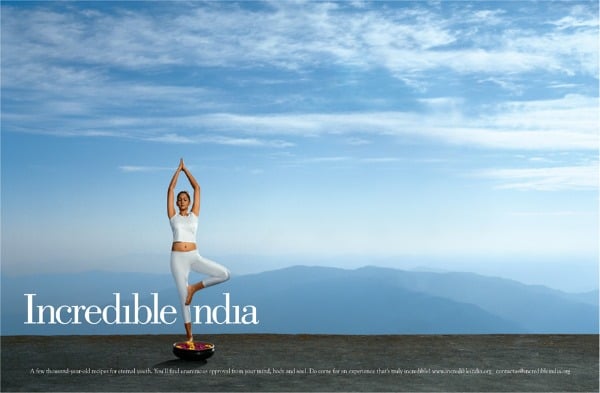 YOGA is a worldwide phenomenon. There's a yoga studio on just about every corner in my hometown, Toronto. But when I started more than 20 years ago, there were only a few teachers and a few places to take it. Like many, I started doing yoga for largely physical reasons (back pain!) but over time, my interest in yoga and my interest in the birthplace of yoga deepened. Yoga was one of the main reasons I went to India in the first place, and on every trip I spend a good deal of time at yoga ashrams and centres. I have been to many, from one end of the country to the other. But as mentioned above, my spiritual home is Aurovalley Ashram near Rishikesh. I also like and recommend Anand Prakash Yoga Ashram in Rishikesh. There is no greater Incredible India experience for me than meditating quietly by the banks of Ganga (Ganges) and listening to the great river's lilting song.
Read:
What life is like at a yoga ashram in India
6. Huge, colourful festivals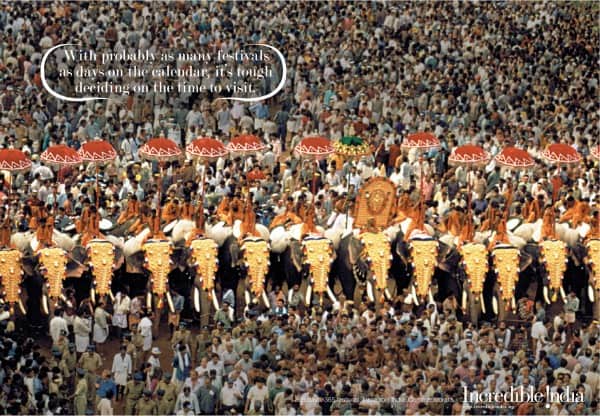 FESTIVALS in India are unlike anything you have seen or experienced. There is simply no country on earth that can match India for the frequency, exuberance, size, colour and grandeur of the spectacular festivals. I have had the good fortune to celebrate Diwali once and Holi three times in India, but the most incredible festival experience of my life was attending the biggest of them all, the Kumbh Mela. The Maha Kumbh Mela, which happens every 12 years, is the largest gathering humanity on earth (30 million in 2013 at Allahabad). I went to the Ardh Kumbh Mela in Haridwar in 2010, which attracted about 10 million pilgrims, and faced my deepest fears. It was truly one of the peak moments of life. I have never been the same since.
Read:
Alone and at home at the Kumbh Mela
What you need to know about Holi
How to celebrate Diwali in India
7. The women of India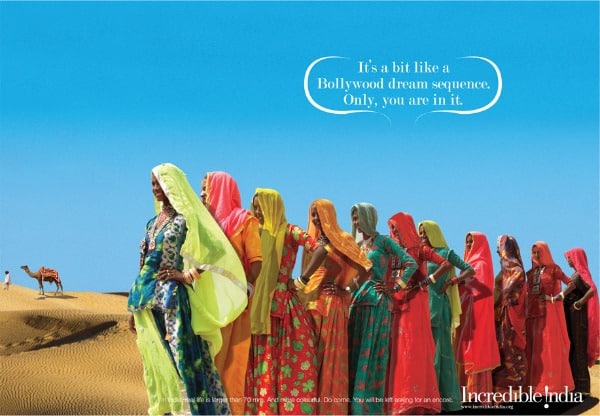 THE WOMEN OF INDIA are strong, beautiful and proud. They carry themselves with a grace I have rarely seen elsewhere. Though women's rights and freedoms in India are not what they should be — India is ranked the fourth-worst place to be a woman on earth — their spirit is undiminished. In fact, many of the most popular deities in India are goddesses such as Lakshmi, Saraswati and Durga / Kali and many of the most country's powerful politicians are women. The hugging saint, Amma; the distinguished environmentalist Dr Vandana Shiva; and the writer and activist Arundhati Roy are all examples of Indian women who have not let anything hold them back. I love being a woman in India because I can access the world of women, barred to male travellers. Many of these moments are quiet and peaceful, a group of women shopping together, holding a baby, going out for lunch. But the bonds I feel among the women are incredible indeed.
Read:
Celebrating the women of India
8. The sacred and the spiritual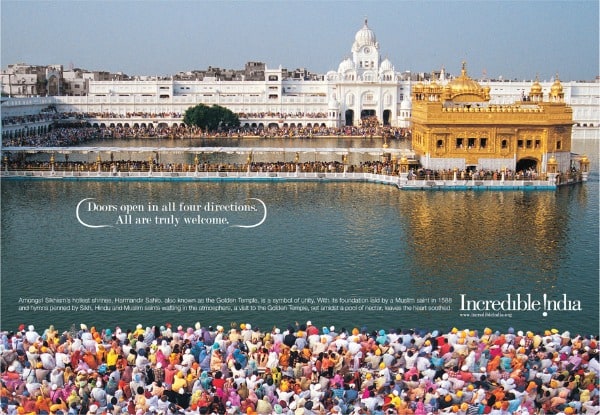 THE TEMPLES AND HOLY PLACES of India are faith-filled, vibrant centres. And oftentimes, a river or mountain or animal — e.g. the cow — is just as sacred as any building. The religions and spiritual fervour of India is part of the country's special character. It has been said that god is more present in India than anywhere on earth. My teacher, Swami Brahmdev of Aurovalley Ashram, says that India is the soul of the world. Throughout India, I have never hesitated to visit temples and take part in Hindu rituals, given the chance. The most powerful spiritual experience I have ever had in India was probably on sacred Mount Arunachala in South India, meditating in Sri Ramana Maharishi's cave. Like many before me, I felt his presence, though he passed on in 1950. I have also had many spiritual experiences on the banks of the sacred Ganga and at the beautiful Golden Temple Amritsar.
Read:
In the shadow of the sacred mountain
9. Colour!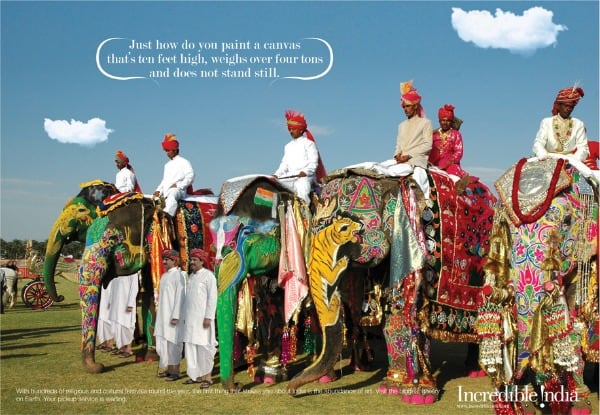 INDIA IS COLOURFUL. It has been said before and it will no doubt be said many times more. When people ask me, "Why India?" I often reply that to me India is the only technicolor country. All else are black-and-white in comparison. Things in India just seem so much more flamboyant than anywhere else. The highest mountains, largest festivals, most movies, wildest colour combinations. Like the national bird, the peacock, the women — and sometimes even the men — wear multi-hued, vibrant clothing and large, spectacular jewelry. India is a feast for the senses and a photographer's paradise. When all else gets you down, just drink in the colour and rejoice.
Read:
Shopping in India: Top 10 things to buy
10. God's Own Country: Kerala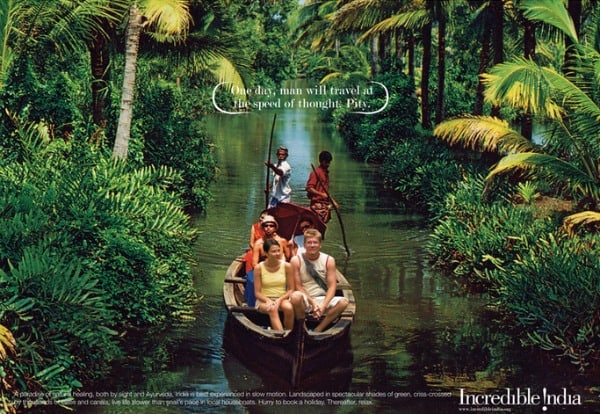 KERALA is a South Indian state with a long Arabian Sea coastline and a mountainous interior. Like Rajasthan and Goa, it is one of the most popular tourist regions of India. Tropical beaches and a relaxed vibe are the main attractions. But Kerala has so much more to offer in terms of culture and geography, including the famous Backwaters, the old port town of Kochi, the tea plantations of Munnar, the Ayurvedic resorts and the Periyar Wildlife Sanctuary, just to name a few. I fell in love with Kerala on my first visit, back in 2006, when I spent a few weeks at the Shinshiva Ayurvedic Resort near Kovalam. It is a gentle place, and makes for a great place to begin your journeys in Incredible India.
Read:
Photo Essay: Kerala is India's soft landing
Best places to visit in Kerala
Best hotels and resorts in Kerala
Kerala Backwaters video
---
PIN it on Pinterest

---
If you enjoyed this post, please sign up to The Travel Newsletter in the sidebar and follow Breathedreamgo on all social media platforms including Instagram, TripAdvisor, Facebook, Pinterest, and Twitter. Thank you!