Best offbeat places in Goa, India
GOA IS ONE OF THE most well-known tourist places in India. It has some of the most famous beaches and has been beloved by both foreign and Indian tourists for a very long time. I actually avoided Goa on my first few trips, but eventually learned to appreciate it, and even find a few places to love, too. In fact, I hav actively looked for "hidden Goa" and "undiscovered Goa" and found the state can be just as charming off the beach. In this post, I am rounding up all of the best offbeat places in Goa that I've discovered. Here you will find information on things to do in Goa, best hidden beaches in Goa, best times to visit Goa, recommendations on beach resorts, and 10 top offbeat things to do.
---
If you are planning to travel in India, let us help you! We offer itinerary planning, India for Beginners custom tours, and much more to make sure your trip to India is filled with more magic … and less madness.
---
Best times to visit Goa
Goa is a tropical state, warm all year 'round. There really are only three seasons — which could be described as winter, hot, and monsoon — and all of them are enjoyable in their own way. Winter is probably the ideal time to go as the weather stays warm while North India gets cold. From October to March, it's a great tropical beach destination. December to March is high season, however. And Christmas to New Year's is crazy busy, with rates soaring up to match peak demand. April to June is very hot, and monsoon is usually mid-June to September. Some people love Goa in the monsoon, when the rains make everything even more lush. But a lot of beach shacks close down, and it can seem deserted in some places.
Top 14 offbeat places to visit in Goa
Tiny, tropical Goa on the south west coast of India, was an obligatory stop on the hippie trail of the 1960s and became known internationally for wild, full-moon parties on the beach. Though there is much more to Goa than hippies on the beach, it's a reputation the state has never been able to shake. But the truth is, there's a lot of great offbeat places to visit in Goa!
I spent two weeks touring the state and looking for places to visit in Goa and experiences that show the more interesting, sophisticated and discerning side of Goa. What I discovered is that Goa is a historical, cultural, wellness and leisure treasure house.
For starters, Goa has a completely unique flavour in India due to colonization by the Portuguese. In fact, the Portuguese have influenced Goan culture for hundreds years, and as a consequence the state has a large population of Catholics and a profusion of Portuguese designed churches and gracious old homes. I love these charming homes, painted in bright colours, and dream of someday owning one with a wide white verandah on a hill overlooking the Arabian Sea.
Goa is also a cultural hub, with writers and artists from all over living there, or wintering there. There's a palpable sense of multiculturalism and being at a crossroads of the world. "Everyone comes here," my friend writer Anuradha Goyal told me. She moved to Goa after living in some of India's biggest cities. Even the food in Goa is good!
So here are some of the highlights of my offbeat places in Goa tour. I hope they give you an idea of all the things you can see and do in Goa that don't require shaking your groove thang on the beach. Though you can still do that if you want, at beaches like Calangute, Baga, Anjuna and the hippie stronghold, Arambol. (The all-night-long full-moon raves of yesteryear have been outlawed, however.)
1. Offbeat Places in Goa: Panjim and Fontainhas
Panjim (also known as Paniji or Panji) is the capital of Goa, a small city of only 100,000 people. It strategically and picturesquely occupies the spot where the mighty Mandovi River meets the Arabian Sea. I started my tour with three days in Panjim, which most tourists bypass. I fell in love with this small city, with the colours of the houses, the expanses of water, the colonial character and the thriving arts scene.
Directly behind my hotel, the Panjim Residency (which faces the Mandovi River), is Fontainhas, Asia's only Latin Quarter. The Portuguese moved here, and settled around a spring-fed tank, fountain, in the 18th and 19th centuries and many of the houses remain in good condition. The epicentre of Fontainhas is the beautifully restored Panjim Inn and Art Gallery.
Even after dark, I felt completely safe wandering alone around Fontainhas. I ate on the balcony of the Panjim Inn, and stopped by the quirky Venite Bar. The area reminded me a little of both Havana and New Orleans, especially by the way light spilled into the streets from small, lively restaurants, and the by the way everything was enveloped in the warm tropical night air.
TIP: Go on self-guided heritage walk in Fontainhas, Goa.
2. Mustard Cafe
There's much more to Goan cuisine than beach shacks that serve up Goan fish curry and western favourites like pizzas and fries. In fact, there's a growing foodie scene and a range of fine dining restaurants. One beautiful evening my friend Anuradha Goyal of the travel blog Inditales and I went to Mustard Cafe, in the Calangute area.
Seated in a candle-lit outdoor courtyard, we sampled a rich, spicy and delicious combination of Bengali and French cuisine, spiced with Goan flavours. Owner Poonam Singh told us she wanted to please both the people who like continental food and those who are happiest with a traditional Indian cuisine. The alchemy works, and I enjoyed every rich, flavourful dish I savoured.
Mustard was my favourite restaurant in Goa, for the romantic ambience and really flavourful, satisfying food. It's obvious a lot of care, research and attention to detail has gone into every dish. I also liked the live music, a soulful singer named Vamsee Krishna who covered Leonard Cohen's Hallelujah (making me, a Canadian, feel very at home!).
3. Goa Arts and Literature Festival (GALF)
One of the most surprising things I learned about Goa is how artsy it is. Numerous artists, writers, photographers, designers — and bloggers — make their home in Goa. As a consequence, there's also a lot of arts events and festivals. I happened to be in Panjim for the Inaugural Function of GALF, which was held at charming and historic Maquinez Palace.
The speakers referred to Goa as a peaceful cultural centre of India. They talked about how writers interact warmly at GALF, and how the festival provides a stress-free place to relax. They also referred to the multicultural aspect of Goa: "From a sand and surf destination to a place where east and west meet."
After listening to the opening night speakers — poets, artists, authors and journalists — I only wish I had time to attend the entire festival.
GALF highlights a couple of countries each year, and in 2015 it was Singapore and Bangladesh. (I hope they put the spotlight on Canada one of these days as we have many fine homegrown and immigrant writers from Michael Ondaatje to Rohinton Mistry.)
4. Koi Asian Dining & Bar
The most sophisticated of the fine dining restaurants I experienced in Goa, Koi is a journey through Southeast Asia. Owner Shefali and her team lavished careful attention to detail on Koi to create a chic restaurant right in the heart of bustling Calangute. From specially designed crockery to stunning murals to an inspired and comprehensive menu, Koi takes a bespoke approach to fine dining.
Though not on the beach, Koi is a destination restaurant with a stunning interior space and garden seating. My lunch date Anuradha Goyal of Inditales and I sampled an array of their dishes, focusing on vegetarian and fish. I was particularly delighted to find Japanese favourites like sushi on the menu — though we both agreed that the Thai curry was the most outstanding dish. But I also loved deep fried sushi, crackling spinach and sticky rice.
Kudos to Koi for creating a sophisticated space that serves inspired Southeast Asian cuisine that's both beautifully presented and full of authentic flavour. A visit to Koi is a journey through the Spice Route of Asia.
5. Offbeat places in Old Goa
The 15th century Church of Bom Jesus is the centre of the UNESCO World Heritage Site called Old Goa. Several churches and a cathedral range around a wide expanse of lawns and gardens. This was the power base of the Catholic Church during the Portuguese colonial era.
Bom Jesus is known for being the final resting place of St Francis Xavier, who died in China in 1552 and wanted to be buried in Goa. After his remains were shipped to India, it was discovered his body miraculously showed no signs of decomposition. The body apparently has remained intact and is now on display in a glass casket that sits above eye level in an alcove to the left of the altar. I was actually quite reticent to visit this church, as I find this quite ghoulish, but the casket is tastefully removed from close inspection. Thank goodness.
The other churches, and the general area, are quite lovely and of course historically significant. I enjoyed walking leisurely among them and stopping for a cold drink at a simple stand under a huge tree with a massive canopy. Goa is lush away from the beach, and this was one of my favourite offbeat places in Goa!
6. Offbeat places in Goa: La Plage and the boutiques of Ashvem Beach
According to the Love Guide to Goa, La Plage is the epicentre of chic in this small state. Imagine a French restaurant on the beach with cuisine inspired by it's tropical location. You sit under a beach umbrella with your feet in the sand, admiring the view of the shimmering ocean as you nibble on beetroot and mango carpaccio.
The thing I liked most about La Plage was that they have fun, and they don't try too hard. In fact, they make chic look easy.
I sat down with one of the owners, Serge, who's originally from France but has spent 18 years in Goa. He told me they redo the look of La Plage every year. When I was there, the theme was bordello and the colour was black.
They also change about 60% of the menu. "It's good," Serge said. "Every year when you walk in, it's a new place."
La Plage started out with just six tables, and it's grown in size and sophistication over the years. The menu is a unique blend of both local ingredients and classic French cooking techniques. I tried beetroot and mango carpaccio, filet of tuna in soy sauce, and seared mackerel filets in a tomato / caper sauce. The fish of course is straight from the sea, bought fresh every day. Every dish was note perfect and so was the setting.
It's also fun to walk down Ashvem Beach and see beach boutiques selling designer beach wear — including one owned by Jade Jagger. Ashvem Beach is the epicentre of chic in Goa indeed.
7. Ashiyana Yoga
Ashiyana Yoga was perhaps the biggest surprise of my Goa odyssey. It's a lush, serene and gorgeous yoga retreat just back from Mandrem Beach, across a quaint bridge over a slow river. I have almost always headed to the Himalayas for yoga, and had no idea that Goa could be so yogic. Three short days at Ashiyana Yoga was long enough to be truly a transformative experience.
What makes Ashiyana so special? I had the wonderful opportunity to ask the founder himself, Chris, who was there during my stay. He told me his heart spoke loudly to him when he found the property — even though it was not exactly what he was looking for — and that he started small to create a "home away from home for stressed-out westerners."
Over time, the retreat grew to encompass numerous styles of rooms that range from simple beach huts to truly fantastic suites. I was given the fantasy-like Jaisalmer Suite, and it was my first hint of the magic to be found here. How did they know about my deep connection to the Golden City? My second clue was a treatment I received shortly after arriving from the healing hands of Renita. She used craniosacral therapy to release a tight neck muscle that was paining me for months.
I truly loved just about everything about Ashiyana. The hearty, vegetarian buffet meals, the lush location, the community feeling that imbues the entire compound and of course the yoga. There are several yoga shalas throughout the property. The biggest, enclosed in mosquito netting and surrounded by rain forest, is where the drop-in classes take place. Most people go to the morning class at 8 am, before breakfast, and the afternoon class at 4 pm.
Ashiyana also holds well-regarded yoga teacher training modules; and an on-site spa offers a wide range of treatments, including Ayurvedic treatments. You could easily book in here and not need to leave. Nor want to. Highly recommended and another one of my favourite offbeat places in Goa.
---
Interested in travelling to India for Yoga? Please read my Complete Guide to Yoga in India to have all of your questions answered.
---
8. Devaaya Ayurvedic Retreat
Ayurveda is usually connected with Kerala, but Goa has at least one serious Ayurvedic treatment centre: Devaaya Ayurvedic Retreat.
I dropped in to Devaaya just for one day and night while driving from North to South Goa. Devaaya is picturesquely set on Divar Island, which is just about in the middle of the country, east of the capital city, Panjim (Panji). It's a pleasant drive as you pass Old Goa and have to take a ferry over to the island. Divar Island has a rustic charm that reminded me a bit of rural France. You can feel the pace slow down as soon as you set foot on the island.
We drove along some country roads, past tiny settlements, until we came to the Devaaya. Enclosed by a wall, Devaaya is made to look like a Portuguese village, surrounded by fields and rivers. Guests stay in brightly coloured small houses dotted throughout the property, which features many amenities such as a large swimming pool, tennis courts, a gym and much more.
In the centre is a large and gracious building, which is where the Ayurvedic treatments are given. It's one of the nicest Ayruvedic treatment centres I've ever seen, and the treatments were excellent.
While I found the accommodation a bit tired and the decor dated (the rooms need a make-over), and I was disappointed with the food (some of which didn't seem healthy, nutritious nor Ayurvedic to me), I loved the outdoor sunrise yoga and the Ayurvedic treatments.
Devaaya offers a very high standard of Ayurvedic treatment, at least equal (or in some cases, better) than anything I have experienced in Kerala.
9. The Beach House
The Beach House is, yes, on the beach. But it is not in any way a typical beach resort or even yoga retreat, especially for Goa. From the 1970s architecture to the serious approach to holistic health, to the emphasis on juicing and detoxifying, The Beach House has more of a California vibe. And it's definitely for people who are serious about their health and want to undertake a rigorous program.
The home of a former pharmaceuticals executive who built it for his retirement, The Beach House has a nice location, but the steel-and-glass architecture might put some people off. The rooms are in a similar steel-and-glass building, with dark tinted windows and an airtight design. You literally have to sleep with the air conditioning on, as you can't open the door due to the mosquitoes. This was by far my least favourite aspect of The Beach House.
But this place is not for people who want a beach or resort experience. It's for people who are managing a condition like diabetes, or who want to lose weight, or who need help balancing their hormones or who are serious about detoxifying.
When you arrive, you are required to fill in a lengthy intake form and undergo a medical assessment before starting any of the programs. Your days are spent in a white robe, shuttling between yoga classes, treatments, doctor appointments and customized meals — or just juice if you're doing the juice fast — garnished with a handful of supplements. You have to be very dedicated.
The Beach House is unique by any standard, and not for everyone. But for those who need or want a complete cleanse in a sunny location on the beach, this is the place. The Beach House has many loyal fans, many of which come back again and again for tuneups.
10. Offbeat places in Goa: the peaceful south
Ahhhhh South Goa, you have long occupied a special place in my heart. While the party hungry hordes head north, a much smaller trickle of people with peace and community on their minds head south. I have spent time on Palolem, Patnem and Benaulim beaches before, but on this trip I discovered Agonda.
The beaches of South Goa attract people with an interest in spiritual consciousness. They love the quiet — even on Friday night there is only soft music emanating from the beach front restaurants — and the immersion in nature. South Goa is less developed and still has a village feeling, and lots of forests. The Arabian Sea is warm and was calm and inviting when I was there. Swimming was like being embraced by the goddess.
On a very small scale, there are lots of simple yoga shalas, Ayurvedic massage shacks, and healing workshops. You often see people doing yoga on the beach, or joining together in meditation circles. At Agonda, you don't just get paradise, you get community, and a chance to continue your trans
I dreamed myself into the perfect beach hut — on stilts, facing the beach, surrounded by a garden and run by the warmest people imaginable — and met three like-minded women about my age, from Canada, UK and USA. I will always remember my five days at The Secret Garden as some of the happiest of my life. The South is my favourite location for offbeat places in Goa.
11. The Awadh House
A newly opened restaurant in Panjim (October 2019), The Awadh House is outstanding in every way. Director Gaurab Quenim and team have lovingly and painstakingly converted an older three story house into an experience of Awadh (Oudh) culture — a former province created by the Mughals and ruled by the Nawabs of Awadh (in what is now Uttar Pradesh). The entire house is filled with Indo-Persian paintings, fixtures and artefacts, creating a rich and princely atmosphere, the perfect setting for the royal cuisine.
When I was there, we were served Galouti Kebabs, Gosht Roganjosh, Dal Awadhi, Gosht Matka Biryani, Gulab Jamun and more. A great deal of research went into creating authentic and delicious dishes that represent Awadh culture — which still thrives in modern-day Lucknow, capital of the former province.
12. Panjim Inn
In the centre of historic Fontainhas, highly rated Panjim Inn is a family owned business that will give you a complete experience of the culture of this former Portuguese colonial town. The original building is 130 years old, and the addition was built in harmony with the colonial architecture. Dark wood, rich velvets, tile work, and palm trees combine to create a compelling atmosphere where you feel that you've stepped back in time. Some of the rooms have French doors that open on to the historic Latin Quarter, and the effect is reminiscent of Havana or New Orleans. An outdoor dining area among foliage and soft lights is romantic at night, as a balmy breeze blows and the friendly staff serve fresh fish and other Goan delicacies. The most charming place you can stay in Panjim, I recommend it for the location and atmosphere.
The family also runs an art gallery across the street and they have an exclusive annex with higher priced rooms that's a notch more luxurious. Panjim Inn is historic, iconic and a must-visit when in Fontainhas.
13. Bambolin Beach Resort
One of the oldest beach resorts in Goa, Bambolin Beach Resort is surprisingly close to Panjim, the capital city — given that it has a charming sweep of beach front. The Portuguese inspired architecture fits perfectly with the Goa vibe, and there's a large pool, beachfront swing, outdoor dining by the ocean, and balcony fronted rooms. It's an ideal place for a family vacation.
14. Offbeat Bhakti Kutir
The first time I went to Goa, I carefully researched my destination and settled on Palolem Beach in South Goa as it sounded quiet, less touristy and more wellness-oriented. Even back then I was looking for offbeat places in Goa. Also, I wanted to stay at Bhakti Kutir, an eco-resort with its own resident yoga teacher and health-conscious restaurant. I was pleasantly surprised by Bhakti Kutir's verdant and natural environment. The 22 huts, restaurant, reception, yoga space and Ayurveda centre are situated in a palm grove, surrounded by tropical trees, flowers, shrubs and stone, wood and terracotta art objects. It all looked well-settled and organic, as if it had slowly, creatively and carefully grown from the earth. I liked Bhakti Kutir immediately, and my first impressions were largely reinforced by the six days I spent there.
The deciding moment was when the young woman showing me my hut opened the door to my bathroom. I felt I had stepped into a kind of garden-of-eden: the bathroom had walls made of bamboo matting, a tile floor, two trees growing through the floor and no roof whatsoever. The toilet was simply a raised terracotta platform, with footrests and an oblong hole, Indian style, and the shower was cold water only. There was no sink – just a gorgeous huge dark-grey stone vessel filled with water. Small toads jumped around, I showered under the stars and felt it was the most luxurious bathroom I had ever experienced. Otherwise, the hut was very simple, and a bit dark inside, but I had my own private outdoor area bordered by a water fountain made of wood and stone jugs. My only complaint was that my hut was near the entrance to the resort and a bit noisy with the sound of motorbikes, people going in and out and drivers chatting as they waited for fares.
However, I later learned that each hut had its own challenges – some were too near each other, or the kitchen or the yoga centre. Like most of India, Bhakti Kutir is not a quiet place, but it is really lovely, the staff is friendly and helpful and the food is delicious and safe. I ate salads, fruit, juices – all kinds of things I am normally reticent about in India with absolutely no problems. Many of the people I met at the resort were complaining of gastro-intestinal problems, but they had all eaten outside. I ate nothing outside except the milk of one tender coconut the entire time I was there. I just intuitively felt that I should be careful and safe. Goa is so commercial, and so over-run with backpackers and hard-living foreigners, I just didn't trust the other restaurants. I'm sure some of them are fine, and run with integrity, but I didn't want to find out the hard way.
I do feel Bhakti Kutir is a special place, unlike most of the beach huts and restaurants I saw, which seem to be simple places catering to backpackers. It was started about 14 years ago by owner Panta, a north Goan man, and his German wife. They found an idyllic, peaceful environment in south Goa – away from the action in north Goa – and created Bhakti Kutir to preserve and celebrate nature. Panta experimented with ecological ideas and techniques, they learned as they went, and built the place hut by hut – no two are alike. It's an eco friendly option for those interested in responsible travel in India.
I especially liked and appreciated the fusion of the man-made and the natural. The restaurant and yoga centre are open-air, there is no plastic or metal to be seen anywhere, all the furniture is wood, a lot of the food is organic (rare in India) – everything is built and run with minimal impact on the environment. The Ayurveda centre is very professional and well-run. I received a lot of help and advice from the on-site Ayurvedic doctor, Vijay, throughout my stay; and I had an excellent oil massage and a bliss-inducing shirodhara treatment (where a stream of warm oil is continuously poured over the forehead).
My first morning, I attended a yoga class with resident teacher Swami Yogananda, but I found his style too dictatorial for me: I prefer to take guidance from my own body, sensations, and intuition (one of his adjustments actually caused pain in my hip, and I blurted out a loud "ouch," which I think created a mini-scandal). Otherwise, doing yoga in the morning outdoors under the palm trees was a lovely experience.
Finding the perfect offbeat beach in Goa
I avoided Goa for a long time, travelling the length and breadth of India on several trips, but never making it to the vacation hot-spot known for beaches, sunsets and parties. But eventually I decided it was time to see what all the fuss was about. This is what happened.
On my fourth trip to India, when I decided it was time to experience Goa, I carefully chose the Bhakti Kutir, an eco-resort that seems to grow organically out of a banana grove. Sanskrit for "a home for devotional meditation," the Bhakti Kutir is ideally situated on a small hill between two beaches in south Goa. Because it isn't on the beach, it's quiet, and because of the lush vegetation, it's semi-hidden. Clouds of mosquitoes at dusk are the only damper on this small piece of tropical eco-paradise. (You can read more about Bhakti Kutir below.)
On arrival, I fell immediately in love with my "nature cabana," and especially the outdoor bathroom. After exploring the charmingly eccentric grounds of the Bhakti Kutir, I lit out for the beach. Or, I should say, beaches.
Offbeat places in Goa: the beaches
Palolem Beach was a short walk down a gentle slope to the north; and Patnem Beach was a 10-minute walk down a back country road and through a tiny fishing village to the south. They were both close by, they were both fabulous Goan beaches with names beginning with "p," but there the similarities ended. Patnem and Palolem beaches were only minutes away from each other — but world's away in terms of atmosphere and facilities.
According to my trusty guidebook, Palolem was described as a recently discovered gem, "one of Goa's most beautiful spots with a friendly, laid-back vibe." And it is a stunning crescent-shaped beach with rocky outcroppings at each end, perfect for watching the sun sink into the Arabian Sea, and a wide expanse of sand with plenty of room.
But it's also lined with small beach hut resorts, outdoor restaurants, souvenir shops and all the other paraphernalia of a tourist trap for beach bums. Most of the people on the beach were deeply tanned foreigners, swimming, playing volleyball, walking along at the edge of the surf or relaxing with beers in the outdoor restaurants. There was a distinct party vibe in the air. I could easily imagine this beach as a setting for moonlit raves.
The beach that tells you who you are
After walking the length of the three kilometre beach and back it was late and I had to wait for the following day to check out Patnem Beach. Right after breakfast I made my way along the sunny back road, stopping to chat with some local girls selling beach fashions. One girl said, about my fair complexion, that I looked like a milk bottle.
Then, to cool down, I bought a tender coconut from an elderly toothless man, who never stopped smiling at me. Passing through the small village, I stopped at a booth selling spices and handicrafts and talked to some local women about how to use the spices to make teas and sauces.
Then I got to the beach. Delight dawned. For almost as far as I could see, a billowy white sand beach spread out before me, lapped by the gentle waves of a calm, protected bay. There was about one person for each of my fingers on the beach, plus a few stray dogs. Mostly, it was sea, sand and birds flying, darting and playing in the surf.
The sea was bathwater warm and the very few, very modest establishments serving drinks and snacks were astonishingly relaxed. You were welcome to lay down your towel and beach bag on a lounge chair; no one would harass you to buy; no one was on this beach to make money.
Here was a place I could just be; a place where my thoughts could float and bob along with the incoming waves. I lolled in the tepid waters, drank coconut water under an umbrella and meditated beside a big rock at the remote far end of the beach.
There are things in life that are like a litmus test; they tell you who you are. Palolem and Patnem beaches are like that. You can only be on one at a time, you have to walk north or south, you have to choose. And every day after breakfast for seven days, I picked up my bag and towel and walked south.
TIP: Read 50 beautiful beach quotes for inspiration here.
---
Going to India? Read my Ultimate Guide to Travel in India for a comprehensive overview of everything you need to know – includes a guide to the resources on this site for travellers to India.
---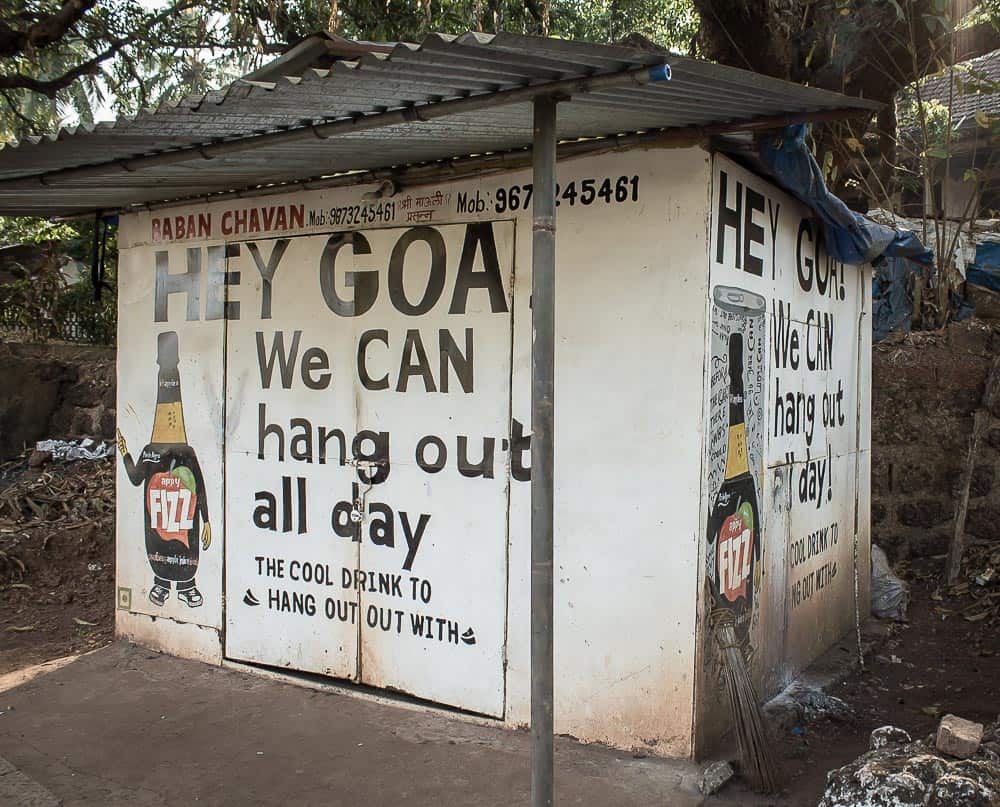 Surrendering to the Goa Vibe: A story
The following story was written in December 2012, on my second trip to Goa. This was the trip when I finally understood …
I walked out of the small, crowded airport in Goa to find my pre-paid taxi, pushing past the usual throng of sharks looking for a fare. On the 30-minute drive south to Benaulim, where I was to stay in the home of a friend from Bangalore, I caught sight of a billboard with this declaration, hand-painted in glaring tropical colours:
Goa is like a refrigerator. There is nothing to do here but chill.
Oh man, I was already in trouble. I had all but lost the ability to chill. And I wasn't sure I was in the mood. Years of hard work building my freelance writing and blogging career was wearing me down. Plus, I was recovering from a nasty sinus cold I picked up in Odisha. And I felt sluggish and heavy from spending way to much time sitting at a computer. How the hell was I going to catch the famous Goa vibe, hit the beach and just chill?!
I resisted Goa for a long time. Images of hard-scrabble foreigners getting drunk together on the beach crowded out any allure the tiny state, squeezed up against the Arabian Sea coast in Southern India, might have held. Even though I know this is one of the best places to go for some winter sun.
However, after three trips to the subcontinent, I decided to dip my toe in the water in 2010 and stay at unique eco-lodge called Bhakti Kutir, which is Sanskrit for "sacred place." They had me at Sanskrit. I enjoyed my stay, and think fondly back on my al fresco bathroom at the Bhakti Kutir, and of the beauty of all-but-deserted Palolem Beach, but I did not fall in love with Goa, and had no plans to return.
But last winter when I needed it most, some friends offered their house in Benaulim, Goa to me for a week, and I jumped. The house turned out to be a disappointment — too isolated, and surrounded by a construction site — so on my first morning in Goa I hired a taxi to take me around until I found a little slice of paradise for a very reasonable rate: a small flat with a kitchenette, balcony and winding staircase to a rooftop patio, in a luxe residential community on the beach. Most of the flats at Costa Montage in Benaulim are privately owned; I managed to grab one of the only places available for rent. And as I was a walk-in, I was able to negotiate a very good rate (about 60% off).
Feeling happily ensconced among the Portuguese inspired architecture of the buildings, each painted in a different Hollywood colour, I found myself relaxing. The pool glistened impossibly turquoise, the walk to the beach was past gracious homes and through a private stretch of sand, the food at the chic beach-side cafe was impeccable, and the sunny weather was perfect — and it all made me feel like I was on a movie set.
So, for a week I forgot about debts and deadlines, haste and waistlines … and caught the Goa vibe. Finally. What did I do? I walked into town and bought groceries, and made scrambled eggs, rice and curried vegetables at home. I walked along the beach. I met up with several other foreign women, all under the social command of Cynthia, an athletic and outgoing woman from Edmonton, and ate long, leisurely lunches on the beach or in town. I swam and played in the surf. I sampled spicy Goan seafood.
One day, I spent an afternoon walking to the far side of Benaulim, which is a small tourist town with a very relaxed vibe that caters to older foreign visitors who like to do as little as possible on as little money as possible. I met a very respectable retired European people who were living on about $25 per day, and that included their guesthouse.
My goal was Art Escape, a resort-and-art-bar near the south end of Benaulim. I was met by Sandra, one of the team who runs this funky place, and treated to lunch. A Swiss DJ was spinning tunes that ranged from Louis Armstrong to Roxy Music to funk-fusion. The chef came and sat with us and talked excitedly about creating inspired dishes that melded Indian and European influences. Two young women performed a kind of poetry slam about garbage culture and the evils of TV.
It was a fun way to spend an afternoon, and I appreciate their enthusiasm for all things artistic, but the accommodations were a bit too basic and ramshackle for me to want to stay there; just a notch up from camping on the beach, but without the romance and privacy. However, if you are in the area, they hold music nights on a regular basis, from concerts to jams, and from rock to Indian classical, which I would highly recommend; along with dinner.
On another day I visited the Taj Exotica, at the extreme south end of Benaulim. Like all Taj hotels, it's a special place — in this case, largely due to the spaciousness of the property, about 50 beachfront acres dotted with pools, villas and wide expanses of lawns where families were playing tennis and croquet. Even the lobby is immense. I was taken on a tour of the hotel and left, very happily, at the beach-front Lobster Shack, where I delighted in eating crab cakes as I watched people balloon riding as the sun set, gloriously, into the Arabian Sea.
On my last evening in Goa, I walked along the beach in my bathing suit and sarong skirt, as usual, just before sunset. The sound of ambient-techno music drifted along from one of the beach shacks and I decided to sit down and have a drink. A gin and tonic. Then I decided to have another, which is not like me (I'm usually a non-drinker).
I struck up a conversation with two young men from Germany, and I asked them to watch my things as I dove, tipsy, into the surf exactly as the sun was setting. I threw myself into the gentle warm water, and swam along the pink ribbon of the sun's reflection, and time stood still, and my sense of self expanded and was fully truly in that glorious moment. As I emerged wet and happy from the surf I realized that I had caught the Goa vibe. I was chill.
---
Pin it on Pinterest
---
If you enjoyed this post, please sign up to The Travel Newsletter in the sidebar and follow Breathedreamgo on all social media platforms including Instagram, TripAdvisor, Facebook, Pinterest, and Twitter. Thank you!