How to celebrate Diwali, the Festival of Lights, in India
UPDATED 2023: DIWALI MEANS "rows of lighted lamps" and it is also called the Festival of Lights. It is the most enthusiastically celebrated festival in India — which is saying a lot! Diwali is the equivalent of Christmas, a big, festive celebration that brings families together and is the highlight of the holiday season. There are five days of festivities, each marked with different pujas (prayers) and rituals, and people send Diwali wishes to each other. Read on to find out how to celebrate Diwali in India, the importance of Diwali and when is Diwali celebrated.
On my first Diwali in India, I celebrated in Delhi at my friend Ajay's house. I helped his Mother shop for decorations, flowers, and sweets a few days before, and on the morning of Diwali she had me decorating the family mandir (temple) before my eyes were completely open. Later, I helped fill hundreds of small diyas (small clay lamps filled with oil or ghee) with oil and wicks, and then place and light them around the terrace and down the stairs, and all over the house.
In the early evening we had a puja in the mandir, which was my favourite part of the entire day. And at night, we joined the millions of other Delhi-ites blasting fireworks and firecrackers into the night sky. It was deafening and created hazardous smog, but I appreciated the gusto with which people were celebrating.
Another time, I celebrated Diwali at a homestay in Delhi – this was how I got to know the Gupta family of Prakash Kutir B&B in Hauz Khas. It was a wonderful experience to celebrate Diwali with them. And now we are bonded, and I always stay at Prakash Kutir when in Delhi.
And another time I celebrated in Jaipur, which is one of the best places to experience Diwali. The entire city lights up in elaborate displays.
Join us in India for Diwali!
Come to India with us and experience the Festival of Lights!
The India for Beginners Diwali and Fabulous Rajasthan small group tour, from Breathedreamgo.
Tour includes sunrise visit to the the Taj Mahal, two tiger safaris, and celebrating Diwali in Jaipur. NEW DATES COMING SOON!
When is Diwali in 2023?
Diwali is not held on a fixed calendar date, it's different each year because the date is determined by lunar cycles. Diwali takes place on the night of the new moon in the Hindu month of Karthik. The date for Diwali this year, 2023, is November 12.
There is actually five days of celebrations around Diwali, and Diwali itself is the third day. Each day has special significance, and unique rituals are observed — and these rituals change from region to region in India. Even the name of the festival changes. Below I've listed the festivals names as they are known in some parts of North India.
November 10: Dhanteras. Traditionally, people buy housewares and gold on this auspicious day.
November 11: Choti Diwali
November 12: Diwali / Lakshmi Puja. The primary celebration day when people hold a Lakshmi Puja in the home and light diyas around their houses in the early evening.
November 13: Padwa. The fourth day of celebrations is dedicated to the love between husband and wife.
November 14: Bhai Dooj. A celebration of the bond between brothers and sisters.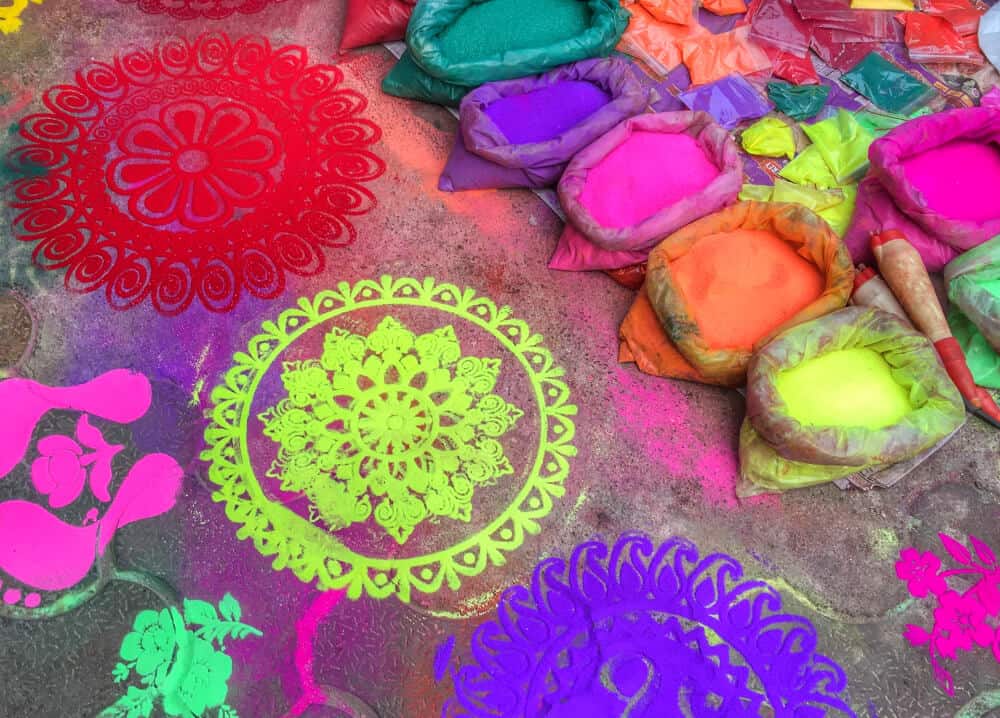 The importance of Diwali
The Diwali festival celebrates the triumph of good over ill, and the ascendancy of light over dark. The diyas symbolize this, and also help light the way for Lord Rama's return from exile. Lord Rama is the hero of the epic The Ramayana, which is one of the major texts underpinning Hinduism and Indian culture (along with the Vedas, the Upanishads, and the Mahabharat).
Lord Rama, King of Ayodhya, was driven into exile for 14 years, and then had to rescue his wife Sita from the demon Ravana in Lanka, along with the help of Hanuman and his monkey army. Ravana is vanquished and Rama, Sita, and his brother Lakshman return to Ayodhya. This is the drama played out in the Hindu epic, The Ramayana.
Millions of people all over India light up their homes with diyas to ensure that Lord Rama, Sita, and his brother Lakshman are safely guided home from Lanka. The Festival of Lights is a celebration of victory and homecoming, and it is a time of families returning home to be together (much like Christmas in the west).
How is Diwali celebrated
Indian festivals have deep spiritual significance, apart from the celebratory and fun aspect. They almost always involve performing a puja to one of the deities. Most of the time, they are celebrated at home with family and friends. Diwali is no different.
Before Diwali, people clean their homes and buy new clothes and housewares. On the day of Diwali, they decorate with flowers and places little diyas all over the house, and especially outside on balconies and driveways. The women of the family create elaborate rangolis on the floor – beautiful designs made from coloured powder, candles, diyas and flowers.
In the early evening, a puja to Goddess Lakshmi is performed, to bless the home with wealth and prosperity.
After the puja, people enjoy getting together with extended family to have fun. Gifts are exchanged, love is shared, diyas are lit, and the fireworks and crackers start. There are lots of Diwali foods to eat too, such as laddoos.
Where is Diwali celebrated in India
There are lots of places to celebrate Diwali in India, and many places that have their own unique way of celebrating. Keep in mind, however, that Diwali is a family festival, not a public one.
I spent one Diwali in Jaipur and was really impressed with the way the markets, temples, and the Pink City (the Old City), decorate with lights. In fact, they compete for awards so they can get very creative and spectacular.
The Golden Temple, or Sri Harmandir Sahib, in Amritsar is another spectacular place for Diwali celebrations and festivities. The light up thousands of diyas, and the site is incredible.
In Mumbai, go to Shivaji Park in the evening and you will see people of the neighbourhood bursting crackers. You can also visit the potters village of Kumbhar Wada in Dharavi, Mumbai.
My advice is to stay in a homestay, just about anywhere in North India for Diwali, and you will get a glimpse into how an Indian family celebrates.
How is Diwali celebrated in Varanasi
Varanasi is one of the most spectacular places to celebrate Diwali as they have their own very unique way of marking the Festival of Lights. The celebration is called Dev Deepavali and it's held 15 days after Diwali, on the night of the full moon in the Hindu month of Kartik, also known as Kartik Poornima. This year, 2023, Dev Deepavali will be on November 26.
Dev Deepavali means Diwali of the Gods, and the gods and goddesses are believed to visit earth to dip into the Ganga River. Pilgrims arrive from all over, pujas and feasts are held, and – spectacularly – all the 84 ghats in Varanasi are decorated and lit up with oil lamps.
UPDATE: Delhi has banned the private use of crackers and fireworks unless they are eco-approved. I was in Delhi for Diwali in 2019, 2020, and 2022 and the pollution was not as bad as previous years — there was only a small fraction of people lighting crackers and fireworks compared to previous years.
---
If you enjoyed this post, you can….
Sign up to The Travel Newsletter in the sidebar and follow Breathedreamgo on all social media platforms including Instagram, TripAdvisor, Facebook, Pinterest, and Twitter. Thank you!