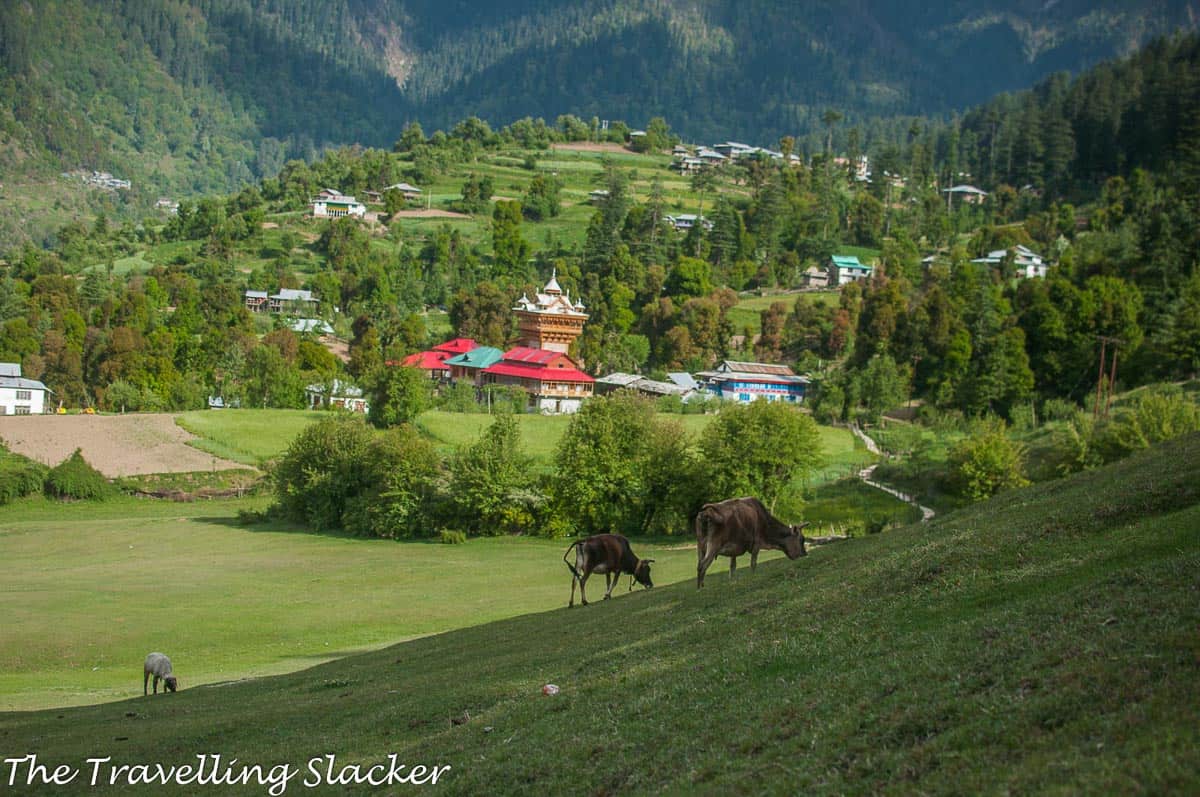 22 stunning offbeat places to visit in India now
INDIA IS THE SEVENTH largest country in the world, and has one of the oldest existing cultures. There are so many amazing places to visit in India that it would take several lifetimes to see them all. After five years of travel in India, I still feeling I am scratching the surface of travel and tourism destinations. Yet so many people go to the same places: Delhi, Agra, Jaipur, the Taj Mahal, and Goa. There are so many amazing offbeat places to see in India! Listed below are just some of them.
There are also just as many good reasons to visit offbeat places in India. It bolsters the local economy and encourages local entrepreneurs, especially women (when it's well managed), it can involve the entire community, and it eases the burden on overly touristy areas. Plus, it gives tourists a more authentic cultural experience and an opportunity to transcend typical tourism and really get to know the local people and culture. So next time you travel in India, and are looking for the best places to visit in India, please take a responsible tourism approach to India and consider some of these on the list.
---
If you are planning to travel in India, let us help you! We offer itinerary planning, India for Beginners custom tours, and much more to make sure your trip to India is memorable and magical.
---
22 of the best offbeat places to visit in India now!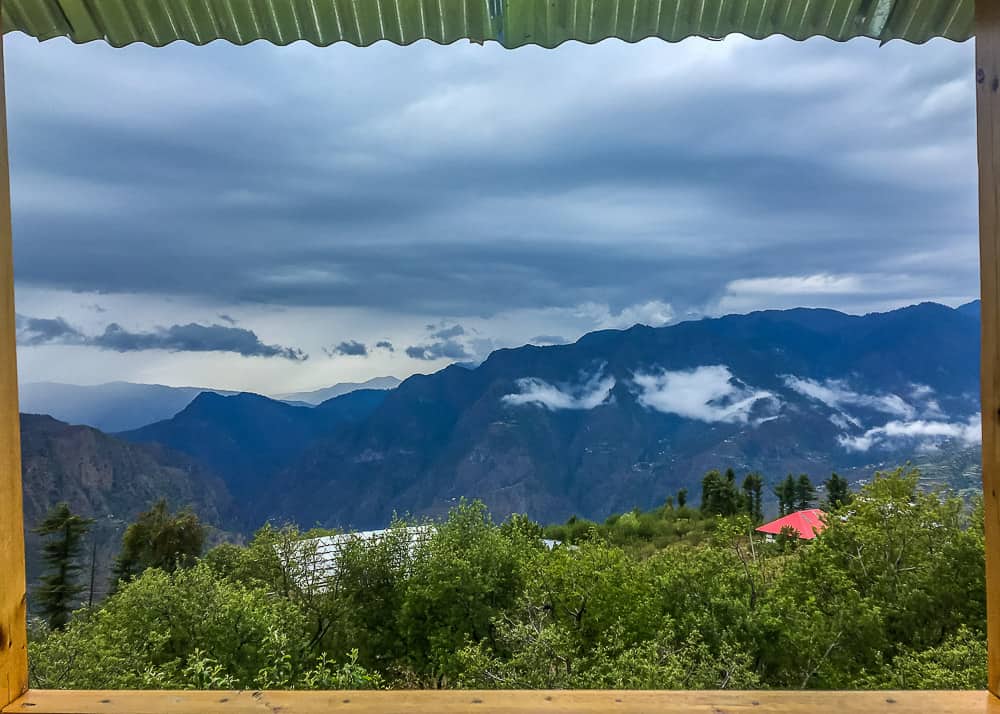 Thachi Valley, Himachal Pradesh
Thachi Valley is a little known region in Mandi District of Himachal Pradesh. It is blessed with the magic of offbeat places to visit in India, there are no tourists to be seen, no shopkeepers trying to sell them souvenirs. The joy of exploration lies exactly in places like Thachi Valley, where nature reigns supreme and the only sounds that you hear are of nature itself – rather than the honking of horns!
Among many ancient temples in Thachi, the Bithu Narayan Temple is the presiding deity of the valley. The architecture was beautiful and the wood carvings on the small temples looked very intricate. The unforgettable thing here was the 11 headed stone statue of Lord Vishnu. We were among the towering deodhar trees and the aroma of nature was refreshing.
How to Reach Thachi Valley from Delhi? A Volvo Bus to Manali and getting down in Aut where you might sometimes find a direct bus to Thachi Valley crossing through Balichowki.
Shubham Mansingka is a professional travel blogger from India focusing on culture, trekking, food & heritage. His stories and photographs have been published in many reputed newspapers, magazines and online mediums. He chronicles his trips on his award winning travel blog TravelShoeBum.
---
Please read more posts in my series on off-beat and undiscovered places:
---
Kumaon Village homestays, Uttarakhand
Kumaon is a world of its own. There's so much vivid beauty to savour that it makes you want to live in the mountains forever. Well, I got to experience the true-blue Kumaoni village life at a couple of authentic homestays in Almora district.
My sojourn at Deora village was exceptional in many ways. My homestay was the traditional double storey Kumaoni house with two rooms and a porch on the first floor, the kitchen and the cattle space were underneath. It was a small, basic room with just a bed. The porch had a nice, cozy lounge space with some books on the shelf and a traditional fireplace called Bukhari. Contrary to what I was used to, the bathroom was a little away from the house. The doors and windows of all Kumaoni homes are vivid blue or green.
I woke up to the scent of a wood fire. The moment I peeped out of the window, I was asked if I wanted tea. Of course, who wouldn't want tea in such a beautiful setting? So, I stepped down to enjoy the smoke laden tea. While I sat on the outdoor chair sipping my tea, I could see the members of the homestay family around the fire. They smiled at me shyly. One of the women of the house was ploughing the lawn and I chatted with her.
It was nice to learn that whatever they served me on my plate was hundred percent organic and homegrown. They didn't buy anything from the market. It was my privilege to enjoy authentic Kumaoni meals, which were simple, yet exceedingly delicious. And to be surrounded by lemon and malta trees.
I loved the fact that they offer their guests local experiences without the touristic frills. I can't thank Yogendra, my host, enough for crafting an amazing local experience for me. This is one of the best offbeat places to visit in India
Renuka Walter is a travel blogger, writer and a digital influencer. She shares her travel stories on Voyager For Life, a solo female travel blog.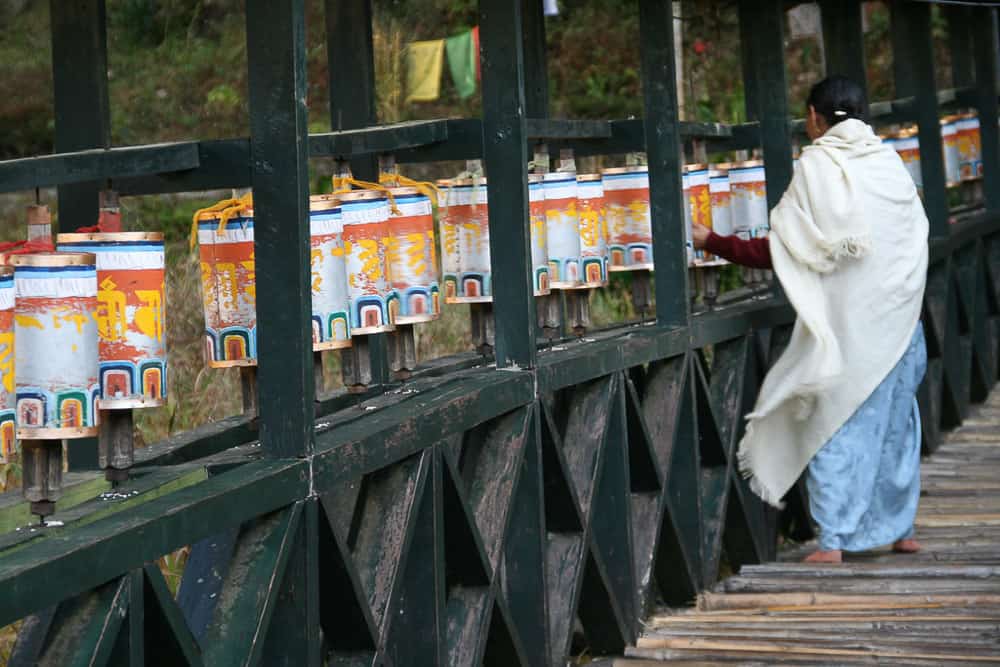 Khecheopalri Lake, Sikkim
Sikkim is a small Indian state bordered by Nepal to the west, Bhutan to the east, and Tibet to the north. It has historically been separate from India and still feels more like the former Himalayan kingdoms nearby than India itself.
Sikkim is home to many mystical places, including Khecheopalri Lake. Local Buddhists and Hindus alike consider Khecheopalri Lake to be sacred. The lake water is said to have curative properties and can only be used for rites and rituals; no bathing, fishing or other recreational activities are allowed.
The surface of the lake is remarkably clean. It is said that, as soon as a leaf falls on the lake from one of the surrounding trees, the birds instantly swoop down to clear it away. A boardwalk lined with prayer wheels leads out to the lake, and prayer flags flutter all around it.
But, while the lake was beautiful, the best part for us was staying in tiny Khecheopalri village. A 20-minute scramble uphill from the nearest road, the village has 23 houses, about 100 residents and one monastery. There are no roads or transport in the village and most of the houses are wooden, creating a picturesque scene.
We spent two nights relaxing there, chatting with the 12-year-old boy at our homestay who can speak five languages, eating simple vegetarian Indian food, playing cricket with the other kids and enjoying the peace and quiet.
The lake is located about 30 kilometers northwest of Pelling. The journey takes about one hour by taxi. Then, from the taxi stand, it's about a 15-minute walk to the lake.
Wendy Werneth is an intrepid world traveler, vegan foodie and animal lover. She is the author of the book Veggie Planet and the creator of the award-winning vegan travel blog The Nomadic Vegan, where she uncovers vegan treasures across the globe so that you can be vegan anywhere and spread compassion everywhere.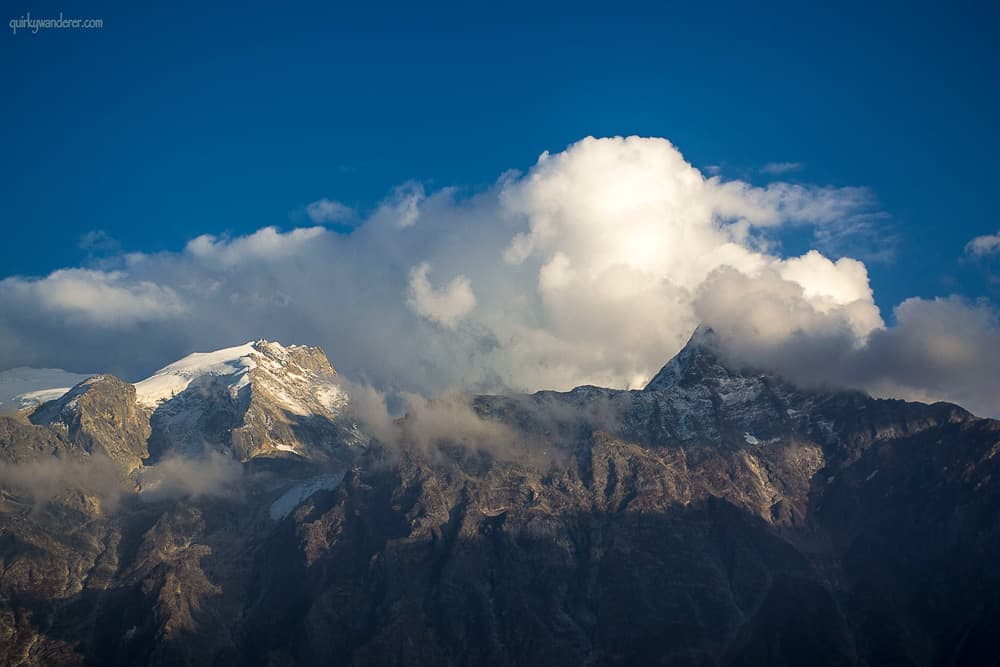 Kinnaur, Himachal Pradesh
If I close my eyes and think of one place that can make me happy even when I am not present there, it has to be Kinnaur.
A lesser frequented district in Himachal Pradesh, Kinnaur is primarily known for its apple orchards, dangerous roads, deep gorges, and beautifully carved, intricate wooden temples. Very different from other touristy districts, Kinnaur has a distinct culture: It is a mix of Buddhism and Hinduism.
Some villages worship trees and even protect trees and cordoning of Van vihars. Some worship 'local goddess' idols, which are brought out only during public fairs and processions. The temples are built in wood and are exemplary examples of craftsmanship. Especially the famed Badrinarayan temple of Batseri and the Chandrika Kothi temple in Kalpa.
Even Kinnauri marriages are different. The brides are dressed in a unique manner – almost head to toe in silver. But the real magic of Kinnaur is its natural beauty. Hike up to the source of the Baspa river off Batseri or dip your feet in its chilling waters in the last village on the Indo-Tibet highway, Chitkul.
The best season to go is the apple season of course: end of September you will find the orchards laden with apples like stars shining on trees. The route to Kinnaur via NH 22 is long: from Chandigarh to Shimla to Sangla to Chitkul to Kalpa but worth every hiccup.
So while you are there do not miss the glorious sunrises over the Kinner Kailash range, meet the Kinnauri shawl weavers and gulp down juicy apples!
Divyakshi is a travel blogger and social media consultant who loves traveling to offbeat places to collect stories, memories, experiences and in the process find her self. She blogs at QuirkyWanderer.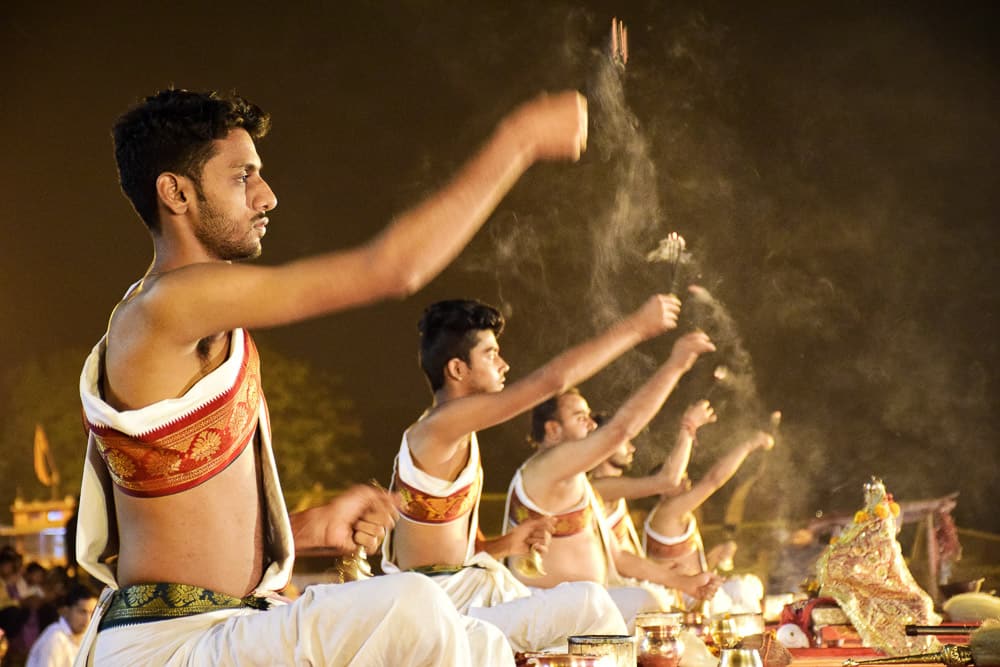 Jabalpur, Madhya Pradesh
Jabalpur in the state of Madhya Pradesh, India is one of the most underrated destinations in the country given that it has much to offer to every kind of traveler. It's easily one of the best offbeat places to visit in India. Easy access to wildlife sanctuaries in Kanha and Bandhavgarh, an awe-inspiring waterfall where one can see an entire river forcefully tumbling down a cliff at Bedaghat, an opportunity to ride the same river a bit ahead with the boatman navigating his way through the sparkling marble rock formations on both sides. This while regaling you with witty couplets or a musical routine, which you'll definitely want to take back to your family living room.
If that's not your thing, consider spending time haggling for prices in the numerous artisan shops lining both sides of the streets for marble sculptures of varying sizes. Add the charm of ancient temples, some in half ruins and other managed by pandits whose ancestors have been taking care of the temple for several generations, and you're basically covered.
The town itself has a unique charm to it. If you're vegetarian like us, it's easy enough to lose yourself in the lanes of the old town around Kamaniya Gate which comes alive in the evening. If you have a sweet tooth, head over to Badkul for a Khoya Jalebi, which they've been serving customers for over a century.
The Narmada Aarti at Gwari Ghat, which starts sharp at 19:00 every evening, is a must do. Although it happens on a smaller scale than the Ganga Aarti in Varanasi, it just means you do not have to fight for space just to view it. You can leisurely sit on the steps of the Ghat and feel spiritually connected to the place and to what is one of the holiest rivers in the Hindu religion.
All in all, Jabalpur has a lot to offer and is well connected by flights, trains, and highways.
Rishabh & Nirali had an arranged marriage and connected through their mutual love for travel. They started Gypsycouple.com as a platform to share their experiences traveling as a new couple and now they help inspire couples and vegetarian luxury travelers to get the best out of their next trip.
Great Himalayan National Park
The Great Himalayan National Park (GHNP) is sort of an enigma in the Indian tourism circuit. Located in the Kullu district of Himachal Pradesh, it was declared a UNESCO World Heritage Site in 2014 but still, most people draw a blank when the name is mentioned. Nevertheless, smaller components of the park, such as the Tirthan Valley and Sainj Valley are better known and have good tourist facilities.
GHNP is unlike the usual national parks in India. Although birds and animals can be seen, it is not exactly a wildlife destination. It is a Himalayan utopia, a combination of valleys and mountains, covered with dense vegetation. Numerous well-marked trekking trails make it a delight for hikers and both short day hikes and strenuous long trekking expeditions are possible inside the park.
The delights are not only limited to trekking. The ecozone of the park has dozens of villages with their unique culture, cuisine, festivals, and temples, which also makes it a cultural and ethnographic delight. They are also some of the friendliest people you will ever meet and many of them have turned their traditional homes into homestays. The rivers are rich in trout fish and angling is also a popular activity.
Jitaditya Narzary has been to most parts of India but prefers to focus on the Indian Himalayas and the North East.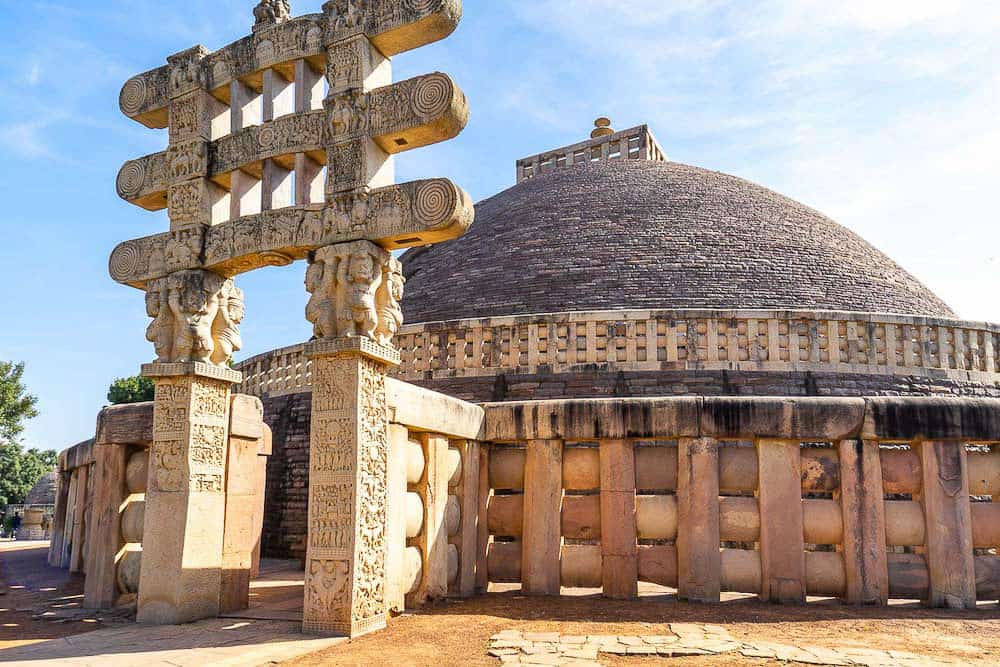 Sanchi, Madhya Pradesh
Today, we know Buddhism as one of the world's major religions. But that may never have happened had it not been for the Indian Emperor Ashoka. In the 3rd century BC, he spread Buddhism across India, taking it from a small faith to the official religion of an enormous country. As he did so, he erected grand Buddhist monuments across the land.
The most incredible of these monuments that remains is the Great Stupa of Sanchi, about an hour's drive from Bhopal, the capital of Madhya Pradesh. The enormous stupa sits at the top of a hill, with a terrace around the structure that you can walk on. Most interesting, though, are the stone gateways at the four cardinal points. They have beautifully-detailed carvings that tell the spiritual story of Buddhism and also historical events of the time.
Visiting Sanchi is about more than just the one stupa. There is a whole complex of Buddhist sites in the region, both historical and contemporary. Also in the area are the stunning Udaigiri Caves, with statues carved into the rock faces; the 11th-century Hindu temple of Bijamamdal that was converted into a mosque; and the palaces of Islamnagar.
Sanchi is one of India's World Heritage Sites and, if you base yourself in Bhopal, you can easily visit another in the area – Bhimbetka Rock Shelters. Here you'll find cave paintings that stretch from 30,000 years ago until the Medieval period, telling the history of humankind in the region.
Michael Turtle has been travelling the world full-time for more than eight years and shares his stories from the road at Time Travel Turtle.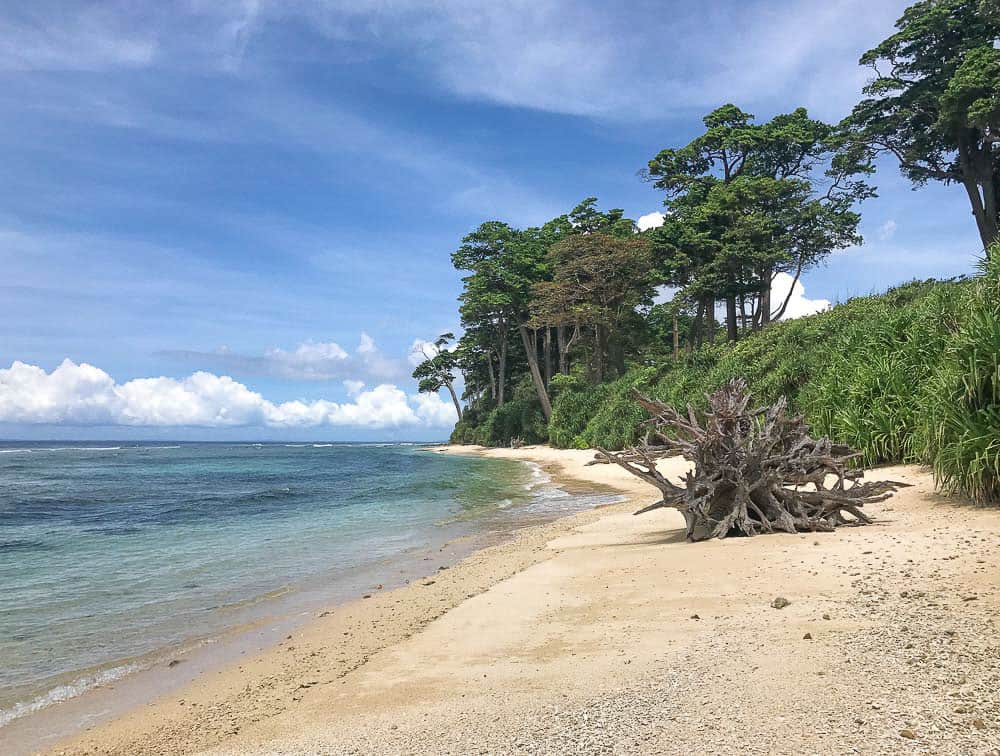 Andaman and Nicobar Islands
Remote, intriguing and breathtakingly beautiful, the Andaman and Nicobar Islands are off-beat India at its best. Clustered in the Andaman Sea, this forgotten archipelago has close to 600 islands, though only a handful are inhabited and even fewer are set up for tourists. It's home to one of the world's last uncontacted tribal people. The cultural and colonial influences are absorbing. Dense jungles edge sandy beaches lapped by a turquoise sea. The skies go on forever.
Like us, most tourists fly into the capital, Port Blair, from one of several hubs on the Indian mainland (we flew from Delhi). A couple of days in and around Port Blair is plenty to get oriented with the story of the Andamans, before exploring further afield on South Andaman and its nearby islets, or ferrying to the picture-perfect islands of Havelock and Neil.
Things move slowly here, so time is important if you're looking for adventure. There's plenty to be had, from jungle trekking to secret beaches and hiking up mountains, to mangrove kayaking, scuba diving and exploring haunting penal colony ruins.
We loved the freedom of hiring scooters to explore the lush, green landscapes of Havelock and Neil, searching out tiny, family-run restaurants and beaches with no one on them. No matter where we were though, we ended each day by the sea with a camera: Andaman sunsets are the most spectacular we've seen.
We were first drawn to the Andaman Islands for their reputation as a scuba hotspot. What we found was an extraordinary, far-flung, low-key paradise still flying largely below the tourist radar. Word is getting out though. Now's the time to visit.
Danielle and John are two incurable travellers searching out epic and off-the-beaten-track nature and urban adventures at TwoForTheWorld.
Basar, Arunachal Pradesh
Basar in Arunachal Pradesh redefined the word 'offbeat' for me. Can you imagine a place in India that reminds people of the Amazon Forest? And that can't be found on Google maps?
When I finally visited Basar, it changed so many perspectives for me. The vegetarian food on my plate was limited to just rice and vegetables boiled in bamboo sticks. The only hotel was a government hostel. The attractions were completely novel experiences. The treks were the most unique I've experienced. And the Galo people, who live there, were the warmest people I've met on my travels. They did not have much exposure to the outside world – it was like traveling back in time.
I was in Basar to attend the Basar Confluence, an eco-friendly festival that's still in its infancy. I attended the third edition and fell in love with the Galo songs performed on stage. I also appreciated that chips in plastic bags and plastic water bottles were not allowed, and even coffee was served in bamboo cups.
Basar is such a pristine and special place — truly one of the best offbeat places to visit in India — that I worry about promoting it. If it becomes a popular destination, will it be ruined? Will cement houses start replacing wood huts, and the raw character disappear?
The Basar Confluence takes place in November, and I highly recommend that you go. Before it's too late.
Abhinav Singh is a travel blogger with 20 years of experience in writing for India's leading magazines and newspapers. He has traveled to more than 200 destinations and 11 countries.
Thar Desert Villages, Rajasthan
Although I've lived in several countries around the globe, Rajasthan is my native place, where my grandparents lived all their lives. A year and a half ago our family visited Rajasthan – after 22 years and it was my kids first visit. During our trip, I was most touched by villages or rather hamlets in the deep Thar desert. We skipped the touristy desert camp in favour of creating our own experiences in desert. I'm so glad we did that.
The villages of the Thar desert are tiny and spread out. There are many distinct cultures and religions in these little settlements, so each village looks entirely different in their decorations, workmanship, clothing and food habits. As we zoomed past these villages, we were drawn into them. After passing a few, we stopped and visited several villages. We spent time with the women and children. They showed us around, told us all about their village and lifestyle. Some even offered us tea and snack.
We learnt why the Thar desert region is so sparsely populated, what is the source of income for the families and so much more. Life in the desert is hard in the extreme heat, cold and sand. But chatting with the locals reveals how we as humans can be happy, content and make the cards we're dealt.
We are Nirmal and Jyoti, a travel-loving couple always ready to hit the road. We're sharing our travel stories and pictures and hope to inspire everyone to travel and open up hearts and minds to people around the world.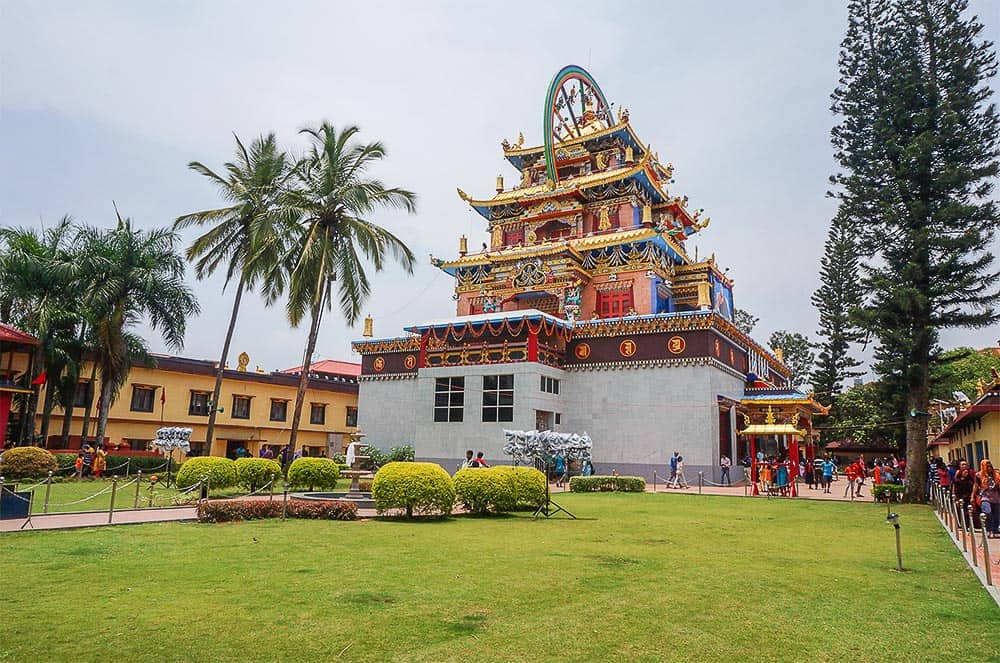 Bylakuppe, Karnataka
Did you know there is another Golden Temple in India – outside of Amritsar? It is in Bylakuppe, a small town in Karnataka that is also the second largest Tibetan settlement in India.
You can visit both popular and silent monasteries there, traditional Tibetan cafes and the University town. One of the most culturally interesting experiences, however, is meeting the monks and listening to their stories.
Namdroling Monastery is known locally as Golden Temple, and it's the key pilgrimage destination in the town. However, I strongly recommend exploring smaller monasteries. These are the places to experience the silence and the ambiance of the town.
If you are planning to enter the monasteries, I recommend researching the official functions, as visitors are not allowed in the temples during important prayers and events. They are well worth it as some of them have fascinating interiors.
If you are visiting South India, you can plan a day trip to Bylakuppe from Mysore or stay over at Kushalnagar, the neighboring town. Overall, if you are interested in unusual cultural experiences, I recommend adding Bylakuppe town to your itinerary.
Note: if you would like to stay in one of the monasteries in Bylakuppe, you need to apply for official permission a few months in advance.
Natalia is an Eastern European who left everything for her dream destination – India. She blogs at MyTripHack.
Vijayawada, Andra Pradesh
Located in the southern part of India, in Andhra Pradesh, Vijayawada gained popularity because of the beautiful Kanaka Durga Temple and the warm and welcoming nature of the locals. This city is a must visit while you are in South India.
The city is more than its culture and monuments, the best part of this place lies in its simplicity. The beautiful landscapes and breathtaking views from places like Gandhi Hills and Kondapali Fort are definitely worth experiencing.
Apart from the amazing range of tourist spots, Vijayawada is also known for its traditional culture and a lot of delicious and authentic Andhra food. When in Vijayawada, do try some of the famous street food items like pungulu , mirchi bajji, and Mysore bajji.
Vijayawada is unique because of the beautiful attractions, temples, and an amazing range of caves and historical masterpieces including Prakasam Barrage, Kanaka Durga Temple, Gandhi Hills and Undavali Caves.
Other reasons why Vijayawada is so popular among tourists are that it has very good connectivity via airports, railways, and roads and that it has a plethora of food options to try. Plus, it is quite cheap to explore and won't dig a hole in your pocket.
Seema Gurnani is a 24-year-old food and travel blogger from Vijayawada, Andhra Pradesh who loves to travel and explore places along with traditional vegetarian cuisines.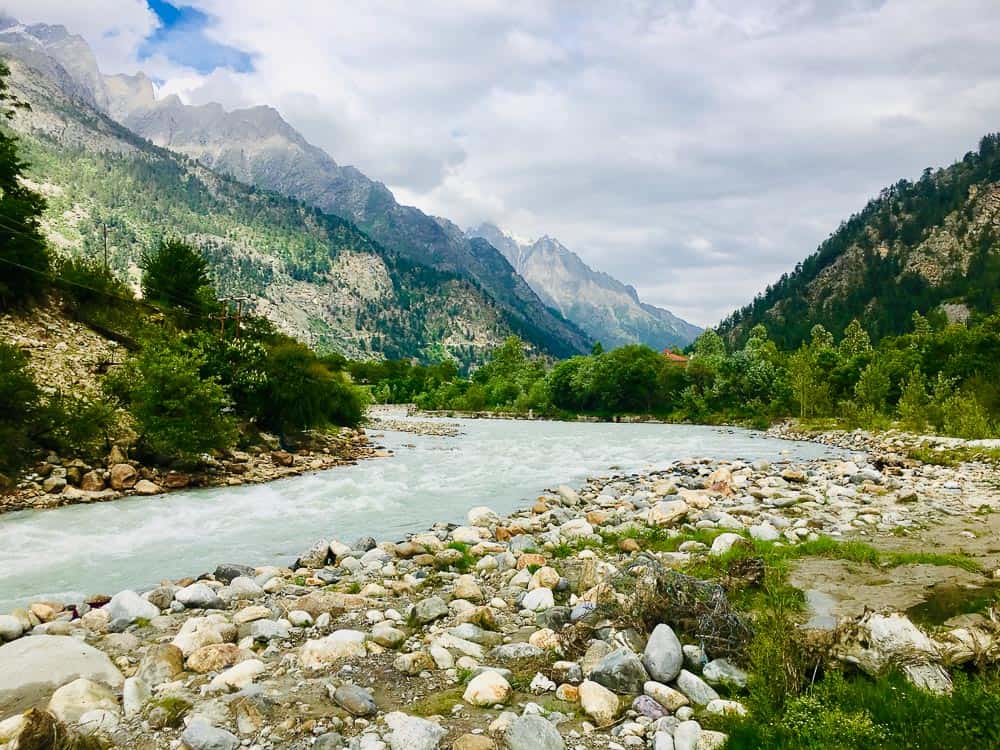 Sangla Valley, Himachal Pradesh
Would you drive on one of the World's Deadliest Roads to find a postcard-perfect village with lush meadows surrounded by snow-capped mountains and a river flowing through the valley? This is Sangla, in upper Kinnaur almost near to Tibet border. About 600 kilometres from Delhi, Sangla doesn't seem that far away, but the hairpin bend roads make for an adventurous road trip, to say the least. Despite all the perils, a road trip to Sangla is worth the risk, although, I'd highly recommend taking a pit-stop near Narkanda or Shimla.
Reaching Sangla is certainly not effortless, it requires amazing driving skills and preferably in an SUV (for comfort). If driving is not your thing, take a flight to Manali and then cover the rest of the distance by bus or cab. There are no direct buses for Sangla from Delhi so breaking the journey at Shimla is a reasonable way to travel.
Sangla valley is yet to be swarmed with tourists making it perfect for those looking for a serene holiday. Apart from this, the valley is as beautiful as you can imagine. The Baspa river is untouched, just a river bed with huge rocks and no commercialization. Also, most of the hotels come complete with panoramic views of soaring snow mountains.
The village is highly influenced by Tibetan culture. Buddhist flags can be seen in many parts of the village and even the Bering Nag Temple (Snake God) also has Buddhist bells. Sangla valley is also home to the 15th century Kamru Fort, a wooden fort where 33,000 gods reside as per the locals. Hence the entry to the Fort is prohibited, but the Kamakhya Devi temple in the premises is open for tourists.
Almost an hour away from Sangla is Chitkul, the last village of India bordering Tibet. My recommendation is don't visit Chitkul without including Sangla in your itinerary.
Shivani is a full-time techie and part-time traveller/ blogger at The Wandering Core. She likes to explore her hometown – Delhi, India – when not working & travelling. Travelling solo and with family, Shivani shares her best travel stories, itineraries & travel hacks.
Longwa, Nagaland
Longwa Village in Nagaland, home to former head-hunters of the Konyak tribe, is easily one of the most colourful destinations we have ever been to. The little village, which straddles both India and Myanmar, is ruled by the Chief Angh – whose house is actually located in both countries.
Longwa is surrounded by spectacular hills and forests, typical of Nagaland. But the prettiness of the setting belies some fascinating facts. Former head-hunters, sporting facial tattoos, still live in Longwa. These villagers take pride in their Christianity, as well as their headhunting legacy, and they enjoy openly smoking opium, easily brought over from Myanmar. This ex-headhunting, opium-smoking, Christian village is as puzzling as it is welcoming.
Many people in Nagaland speak some English, so communication is not usually difficult, but getting to Longwa village is not for the faint-hearted. We quickly discovered that the roads in Nagaland are dreadful, and one must travel for very long hours on crowded, shared transportation via long, winding roads to get anywhere. Also, schedules are subject to change – so travelling to Longwa took some determination.
Despite all this, the experience of meeting local people with such a curious heritage and a fascinating culture, made it all worthwhile.
Michelle and Nikki are a couple from Malta struck by wanderlust and curiosity. A pharmacist and a mechanical engineer, they have travelled to over 60 countries on 5 continents and have traded their full-time jobs for an indefinite trip around the world, whilst documenting all on CheekyPassports.
Munroe Island, Kerala
Sometimes, we visit places that we know very little about, but that turn out to be highlights of your trip. Munroe Island in Kerala was such a place. While most people head to busy Allepey to see Kerala's backwaters I decided to stay in a homestay on a small island in the Ashtamudi lake near Kollam.
From the very first moment I set foot on the island, I felt a warm welcome in the village of my homestay. As the only tourist around, I received genuine smiles and curiosity wherever I went, and I loved being immersed in green jungle and forests of palm trees. Munroe Island is one of those few truly peaceful and serene places in India, where the chaos of its cities seems miles away.
The backwaters at Munroe Island are quite unique and very different from other places in Kerala. The palm-fringed canals are so narrow here that they can only be explored in a small canoe. Early morning is the best time, when the sun is rising and the waterways are teeming with birds. Kingfishers, Herons and Brahminy kites are a common sight.
Munroe Island is easy to reach. From Kollam you can take a taxi or if you are more adventurous the local train. You could only come to do a canoe tour, but I can recommend that you sleep in a homestay to get the full experience, which includes some of the best Keralan home-made food. Kerala's backwaters sees more tourists every year, but Munroe Island remains an off the beaten path destination.
Ellis is a cultural anthropologist from the Netherlands who has travelled for more than 20 years to over 50 countries along the ancient Silk Road with a special love for India and Nepal. This geeky and introvert travel blogger is a lover of good food, mountains, nature, wildlife and everything that lightens up the night sky.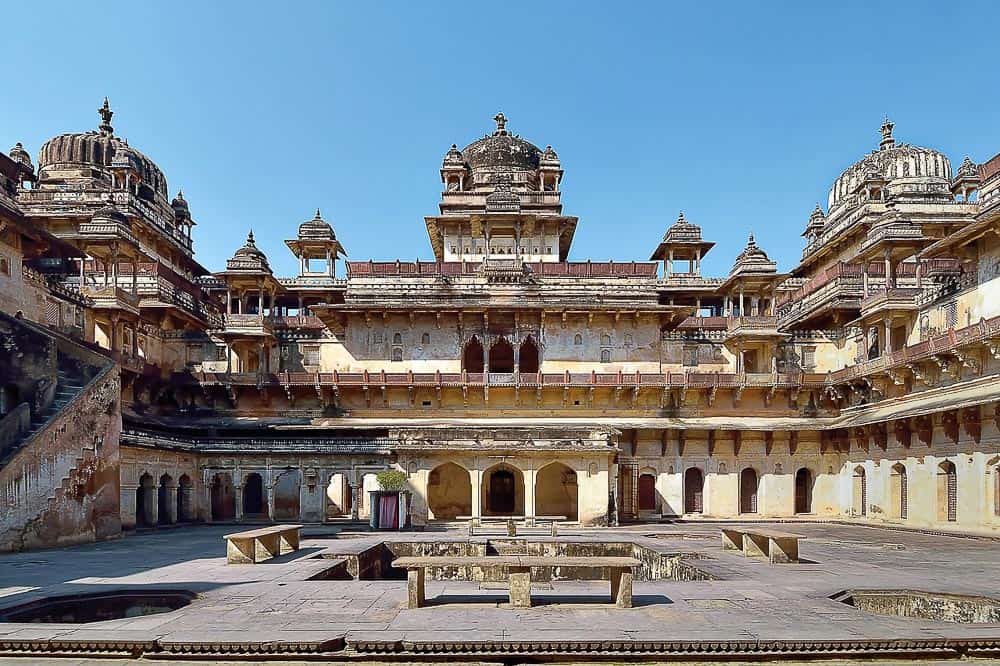 Orchha, Madhya Pradesh
The medieval city of Orchha is found near the Betwa River about four hours train ride from Delhi. It was the capital of Central India in the 15th century, and is a town frozen in time.
There are many temples, palaces, and forts located in Orchha. My favourite is Jahangir Mahal, which is a beautiful piece of architecture that features elephants carved into the pillars. The palaces are quite plain on the outside, but most contain murals and have ornately designed roofs.
The King built a palace here that he stayed in for only one day – so it is aptly nicknamed the One Day Palace. You will find large monkeys with long tails running through these palaces. Stay out of their way! One of them stepped on my foot as it was running past and let me tell you he was quite heavy. I'm glad I was wearing trainers instead of sandals.
The best place to eat in Orchha is Open Sky Restaurant. They have everything there you could want and the staff are so friendly. My favourite activity though was heading down to the river to watch the sun set over the Betwa River.
Pattadakal Group of Monuments, Karnataka
The group of monuments at Pattadakal, Karnataka are a unique and harmonious blend of North Indian and South Indian architectural styles. It includes nine temples and one Jain sanctuary that were all built in the 7th and 8th centuries by the rulers of the powerful Badami Chalukyan empire.
Pattadakal is believed to have been their cultural capital. It was here that the coronation ceremonies of Chalukyan emperors were held. The practice had a special name. It was called the "Pattavishekham," and that is where Pattadakal gets its name from.
It was during this golden period that Pattadakal became a center for the highest echelons of art and architecture, which led to the creation of an unusual but interesting set of temples. Some of these shrines have been designed the Dravidian way while others have a distinct Nagara (north Indian) style. This is what makes the group truly exceptional.
The temples have largely withstood the ravages of time and appear in full glory today. On the walls, you will see beautiful carvings of Hindu gods, damsels, and mythological stories. Friezes at the Mallikarjuna Temple are especially striking.
Pattadakal was inscribed on the UNESCO heritage list in 1987. However, it is still one of the least-known archaeological sites in India. Only a few hours' drive from its more famous UNESCO cousin Hampi, Pattadakal sees hardly any tourists.
If you are an art and history lover and wish to experience a few moments of ancient India all by yourself, try visiting Pattadakal. It will not disappoint you. Getting to Pattadakal is easy even though it does not have an airport or railway station of its own. Just hop in a taxi from Badami (closest railway station) or Belgaum (nearest airport) and let your driver know where you wish to go.
Soumya is a passionate traveler and history addict. She loves to chronicle her experiences on her travel blog, Stories by Soumya and dreams of visiting all UNESCO heritage sites one day.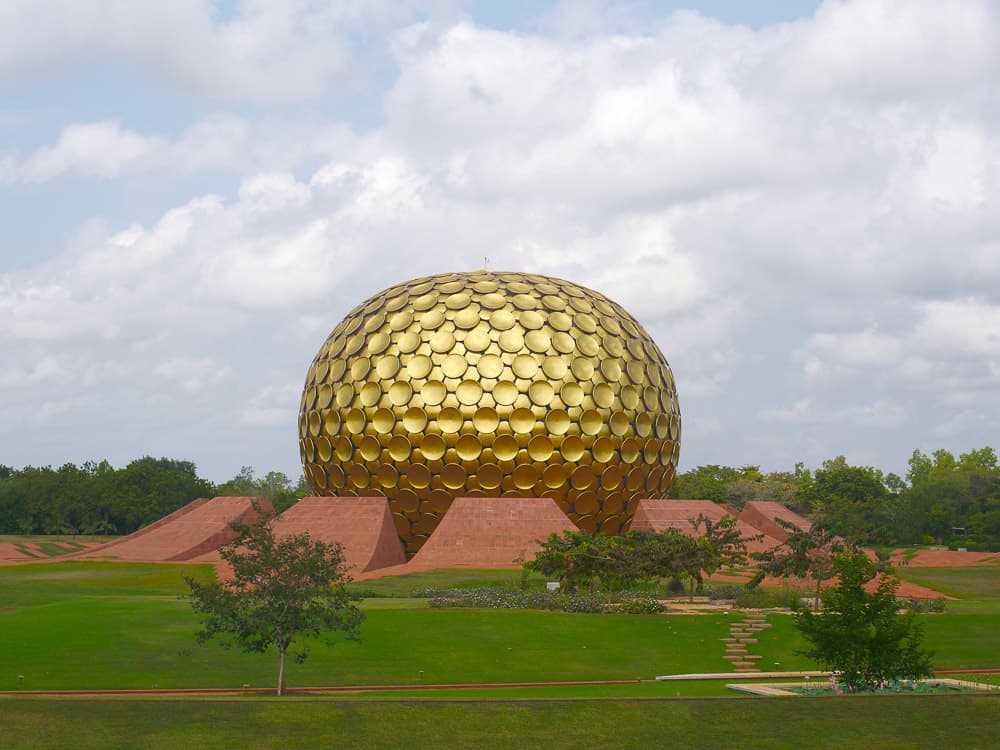 Auroville, Tamil Nadu
Auroville is one of the most fascinating places to visit in India – yet one that is not well known outside the country or by those who do not have a spiritual mindset.
Started in 1968 by The Mother as an experimental global community, Auroville aims to be a model of the future. The community is filled with members from all countries of the world, who work together and grow spiritually. Auroville is part of the Aurobindo Ashram, opened by The Mother and the spiritual leader Sri Aurobindo in Pondicherry in the 1920s.
When you visit Auroville you can explore the center of peace, called Matrimandir, and the forested area that leads to it. You can't get too close to the Matrimandir as it is reserved for the spiritual members of the community for meditation purposes, but you can observe it from a platform. You can also participate in the community. Every visitor must start their visit with a video that explains Auroville – its charter, philosophy, and origins.
There's lots to see and do in Auroville, including a variety of cafes and restaurants and shops that sell handmade products. There are often markets that sell handicrafts and workshops on various topics. One of the most interesting things to explore is the International pavilions, where you can read about Auroville's presence in other countries.
Mar is a luxury and out of the ordinary travel writer and blogger from Barcelona living in Singapore
Mawlyngot, Meghalaya
A little away from Shillong in Meghalaya lies a somnolent village, Mawlyngot. We had not known about this place until we visited there. Tucked in the East Khasi hills, Mawlyngot is one of the best producers of tea in Meghalaya. The village surrounded by hills has stretches of tea gardens, quaint village houses, and cheerful people. But what attracted us to this beautiful place is its story.
A long time back, Mawlyngot was notorious for alcoholism and drunken brawls. The locals were very poor and the men were addicted to the local made alcohol, pyrsi. Penury and illiteracy became a vicious cycle and the people became the laughing stock of the neighbouring village. This was until a noble school teacher arrived to teach at the government school. He found that tea could be grown at Mawlyngot. After much difficulties, tea plantations and production started there and today Mawlyngot is one of the finest producers of tea in Meghalaya. The people lead a much better life now.
At Mawlyngot, you can visit the tea gardens and the tea factory known as Urlong Tea Integrated Village Cooperative Society. Here, you can see how the tea is manufactured and packaged. There are some hiking trails into the forest where you can also go camping. The Laitlum Canyons and the Smit village are also nearby and can be visited from here.
The tale of this lesser known destination is truly inspiring. As travelers, discovering stories like this motivates us so much. Next time you are in Meghalaya, keep a couple of days aside to visit Mawlyngot.
We are Agni and Amrita, the husband-and-wife storytelling team behind Tale of 2 Backpackers. We travel and meet new people, know about their history, heritage and culture. Visiting local and colourful festivals are one of our favourite things. And yes, we both love trekking in the Himalayas.
Kumbhalgarh Ranakpur Wildlife Sanctuary Rajasthan
The Kumbhalgarh Sanctuary in Western India offers something for Wildlife and History fans, as the highlight of the park is Kumbhalgarh Fort, part of the UNESCO World Heritage Site of Hill Forts of Rajasthan. And there is also plenty of wildlife to spot – if you are lucky.
I stopped at Kumbhalgarh on my way from Udaipur to Jodhpur and stayed at the stunning Rawla Narlai Heritage Hotel and I can highly recommend it. From there, I did a Leopard Safari. As we were chasing the tracks of leopards, time got away from us though and we did not have time to visit the Fort, unfortunately, as I was on a tight schedule.
So what kind of wildlife can you expect to see? Of course there are no guarantees, but this area is a prime location for leopard spotting. While I did spot a leopard, unfortunately, I did not have the luck to see the Indian wolves that call Kumbhalgarh home. Sloth bears, hyena and jackals also eluded me, but my first leopard sighting definitely made my safari a worthwhile experience.
After doing a couple of safaris in the jungles of Madhya Pradesh, I enjoyed the desert views of Rajasthan, which reminded me of my home in San Diego. If you are traveling between Udaipur and Jodhpur, I highly recommend adding a stop at Kumbalgarh Ranakpur Wildlife Sanctuary.
Maria publishes IndiaUpClose.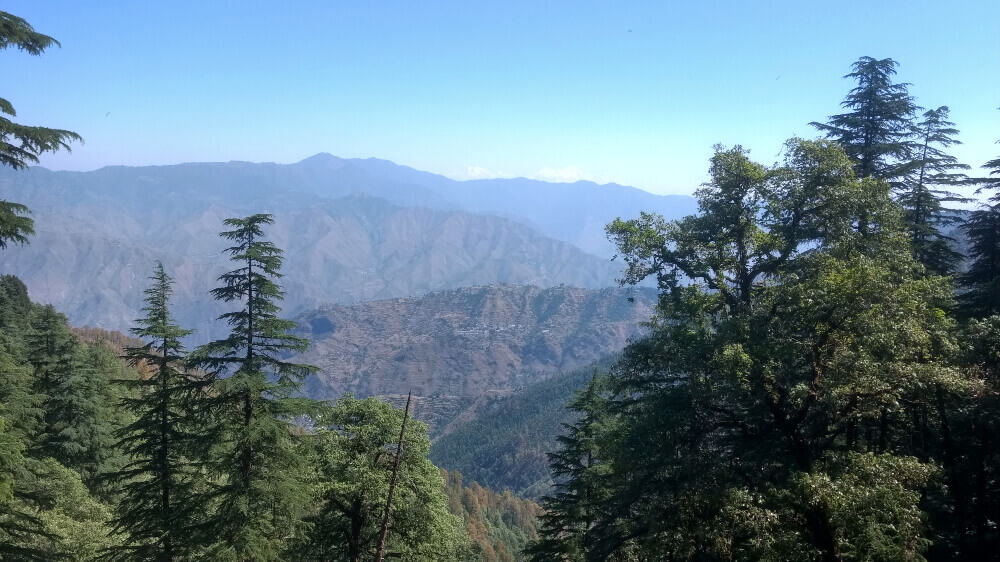 Landour, Uttarakhand
Landour is one of the few places in India which has managed to escape the frenetic and chaotic overdevelopment which has taken over the rest of the country, including nearby Mussoorie. It was originally a sanatorium built by the British in 1827 and has a preservation order; 24 cottages were originally built and it still only has 24 today, the climate is akin to that of Scotland, cold, harsh snow fed winters and cool summers when temperatures rarely reaches above 26C.
A walk around the chukkar a 3.4 km deodar clad stroll also takes in Sister's Bazaar, Char Duccan where Anil's Parathas and chai (and yes, Maggi too) can fill a gap and an hour or two, Lal Tibba for it's sunset view, and past the houses of its famous literary and thespian residents. More recently, Ivy Café has become the newest, and certainly the most chic place in town to hang out.
Nature lovers should also visit Jabarkhet, India's first privately nature reserve, which opened in May 2015. The landowners, took over the control of this 10 acres, which was being decimated by woodcutters and desecrated by picnickers. Several years of management later and it has returned to being a pristine, natural environment that is a sheer pleasure to trek through.
Philippa Kaye is an Indophile, traveller, budding author, lover of dogs and rider of horses, entrepreneur and eternal optimist. She enjoys getting off the beaten track both personally and professionally and has dedicated her life to sharing her stories and helping others find their own off-road path. She currently lives in Delhi though has previously lived in Kanha, Madhya Pradesh and Jaipur, Rajasthan. Her blog www.memsahibinindia.com contains diaries from life in India as well as slightly more unusual travel pieces.
---
Pin it on Pinterest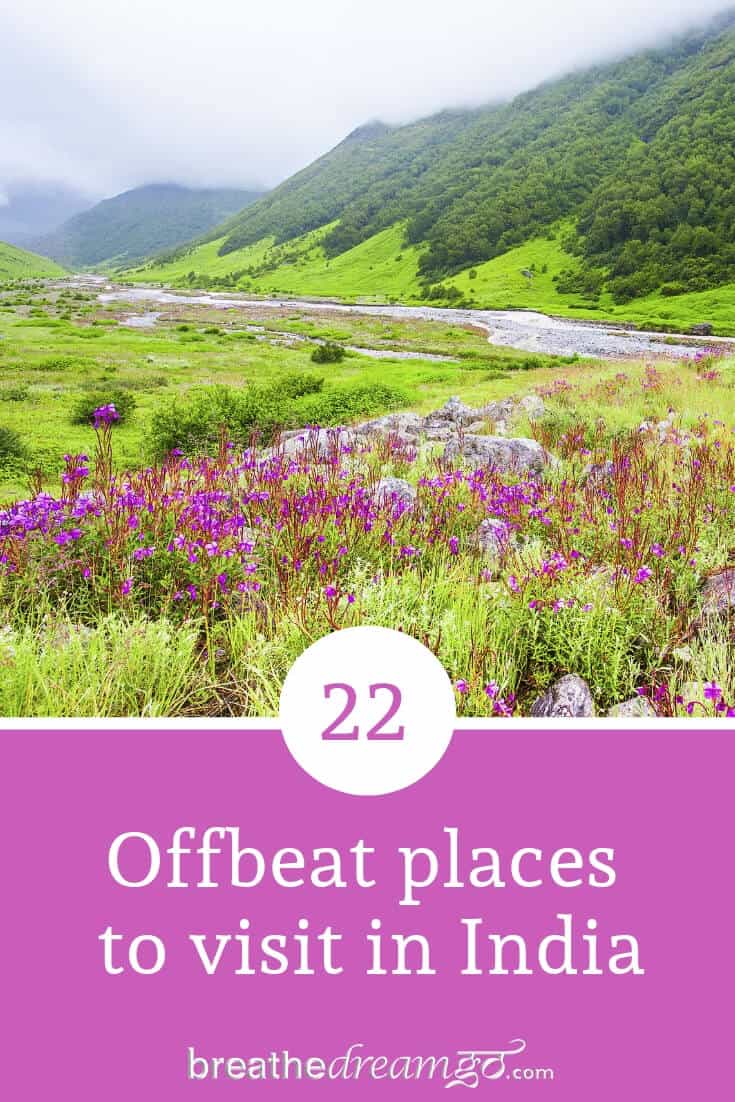 ---
If you enjoyed this post, you can….
Sign up to The Travel Newsletter in the sidebar and follow Breathedreamgo on all social media platforms including Instagram, TripAdvisor, Facebook, Pinterest, and Twitter. Thank you!