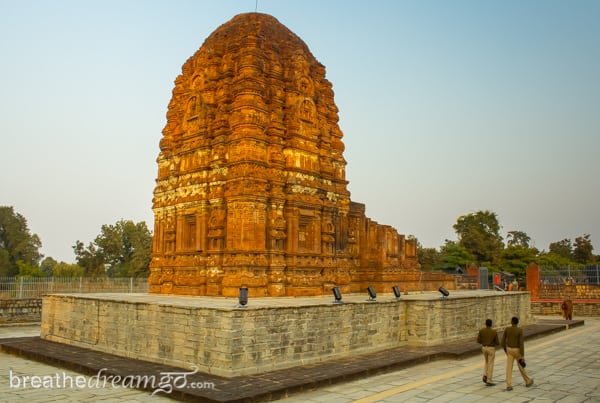 3 reasons to travel in undiscovered India: Tribal culture, ancient ruins and the Sirpur Festival
OVER THE COURSE OF FOUR DAYS in remote and undiscovered Chhattisgarh, I toured 2,600 year old ruins, watched soul stirring Indian classical music performances under the stars and had a brief glimpse into the intriguing tribal cultures of the state. But the moment I remember most was in the Raipur hotel parking lot. It's the moment that will make me go back to Chhattisgarh again and again.
I was in the car, along with several other travel writers and bloggers, getting ready to depart for the airport and fly back to Delhi. We had just said goodbye to our hosts in Chhattisgarh, three people from the state tourism board. To my surprise, they literally ran after us as the car started to pull out of the drive, waving, smiling and thanking us with a level of warmth and gratitude that was completely unexpected, and completely genuine.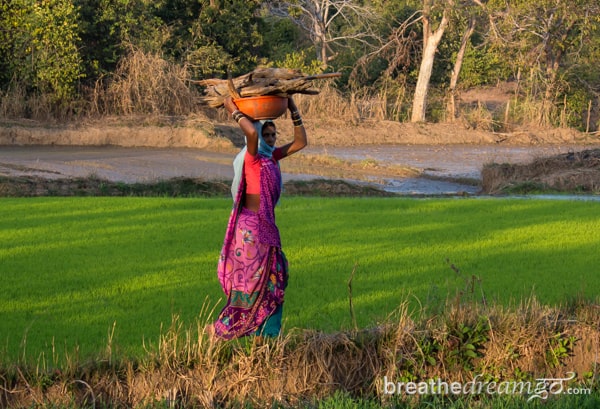 Chhattisgarh is a very special place, with much to offer the intrepid traveler who loves to get off the beaten tourist trail. Under the direction of Chhattisgarh Tourism Board's Managing Director Santosh K. Mishra, IAS, the state is very intelligently positioning itself as an up-and-coming tourist destination for those interested in eco-tourism, hiking, biodiversity, ancient civilizations, tribal cultures and experiencing an undiscovered and unspoiled slice of India. I am sure they will do a good job.
But the secret ingredient, the USP, the magic of Chhattisgarh is what we felt in the parking lot of the Babylon Inn. It's the genuine warmth of the people. These are not people hardened by tourist footfalls, they do not think of their state as a product, they do not see visitors as walking wallets. Rather, they genuinely want to share their forests and history, their arts and culture, their temples and ruins.
In Chhattisgarh, I found an India waiting to be discovered. For an adventurous traveller, who yearns to travel off the beaten path, like me, going to Chhattisgarh was like striking gold. This place has it all: vast ruins that date back 2,600 years, extensive forest cover (44% of the state) resulting in extreme biodiversity, an incredible Tribal belt with more than 30 separate and distinct tribes and a savvy, passionate state tourism director who's committed to developing tourism that makes sense. I am coming away from Chhattisgarh extremely excited about the potential I sensed and saw.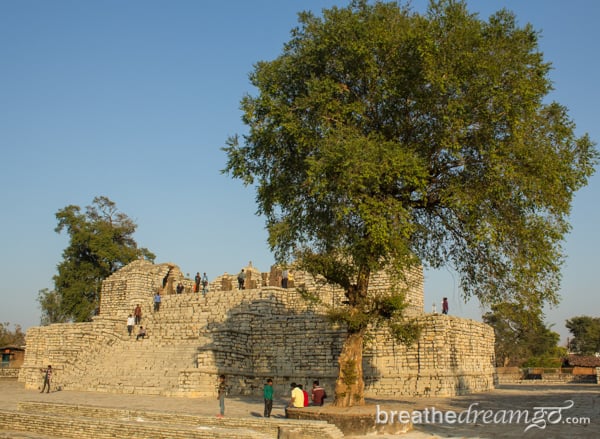 Chhattisgarh is just waiting to be discovered
I was invited to attend the 2015 Sirpur Dance and Music Festival in Chhattisgarh, and jumped at the chance to visit a state that I might otherwise miss. For me, if offered the perfect combination of adventure and culture.
Though tourism is Chhattisgarh is in a nascent stage, the success of the annual Sirpur Dance and Music Festival is a testament to what these people can do. I have been to the renowned Konark Dance Festival and Sirpur is on par. And this is only after three years of operation. I will be writing in detail about the Festival shortly.
Each day of the three day Festival, we drove 80 kilometres from Raipur to Sirpur, an ancient capital of this region. Sirpur is a small town with a big past. It's a vast heritage site that dates back about 2,600 years, rich in Buddhist, Hindu and Jain temples and ruins, surrounded by rolling countryside and bisected by a major river. It's the perfect place for an extravagant cultural festival, on the lines of the Konark and Khajuraho festivals.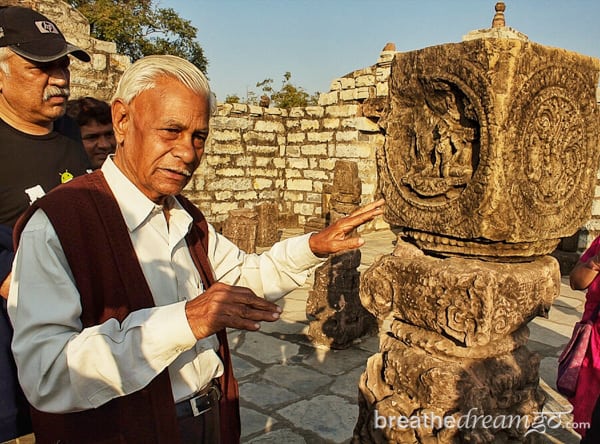 Luckily for us, we had the opportunity to tour the vast site with noted archaeologist Dr. Arun K. Sharma, who has directed the excavation for the past 15 years with wit and vigour that belies his 80 years. A slim, elegant man with a movie star mustache and thick white hair, he sprints among the ruins with the agility of a mountain goat.
I feel blessed to have been introduced to this site by this man, who has made it his life's work, and who shows no signs of slowing down. He walked us through only a few of the temples, monasteries and markets that have been excavated, and all of us — about 15 travel writers and bloggers — agreed. We would love to have a week here with him.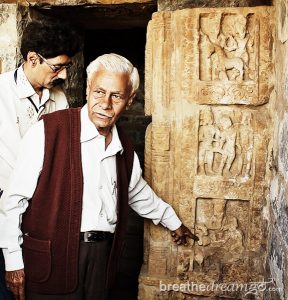 He knows every carving, every brick, every stone like they're his children. And in a way, they are, he has dug them out of the earth with his hands. I asked him who helped in all this work, and he replied, "About 60 local people. We trained the local people in a month. They're more intelligent than you. This is their home, they know this place."
As we walked through Sirpur, he told us the stories living in the stones. He showed us carvings of the deities of at least three religions, Hinduism, Jainism and Buddhism. He pointed out small stories in the secular carvings, a honeymoon couple, a man walking a dog. At the site of the ancient market, we discovered the foundations to a very large and sophisticated settlement. Dr. Sharma showed us an Ayurvedic spa, with a bathtub that drained into an underground system, and a locker for valuables.
He also shared the wisdom of the ancient people of India. In the video below, he explains the reasons for erotic temple carvings.
What is the reason for erotic temple carvings in India?
The ruins at Sirpur paint a picture of a vibrant capital city dating from 2,600 years ago. The famous Chinese traveller Hsuan Tsang visited in the early 7th century. Buddhism was practised here at one time and important gurus meditated here. The many Buddhist statues and monasteries (viharas) pay testament to the importance of Sirpur as a Buddhist heritage and pilgrimage site. In fact, the Dalai Lama has visited here twice recently.
Reality check in Chhattisgarh
I will long remember attending the Sirpur Dance and Music Festival for the magical evenings of brilliant dance and music performances. Unfortunately, I will remember it for another reason, too. I had an unpleasant run-in with the security at the Festival, which almost marred the evening for me. Security was very, very tight due to the presence of high-profile political guests, including the Chief Minister. Everyone was carefully checked, especially at the VIP entrance where we, as media, entered. As I was standing there waiting to go in, one of the over-zealous security guards pushed me out of the way, to make way for the dignitaries who were arriving.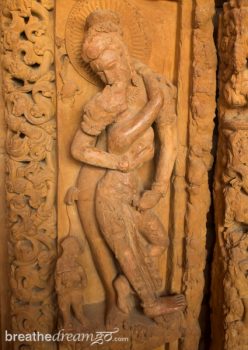 I understand that security is a very real concern in India. Some areas of Chhattisgarh have unfortunately been the site of Naxalite attacks, which have tarnished the state's reputation. However, it's sometimes quite a shock for a Canadian, like me, to run into the realities of life in India — in this case, the need for tight security and the traditional hierarchical society that places some people above others. It's so different from the values I was brought up with in Canada. I struggle with respecting some aspects of the culture and traditions of India, which perhaps arose for good reasons in times past, but which are out of step with modern notions of human rights and equality.
I'm proud of myself for speaking up and not letting this happen without comment. After addressing my complaint, the tourism people and organizers apologized profusely, and as usual, the incredibly warm people of India came to my aid when they saw I was distressed. The woman sitting beside me in the audience gave me her VIP pass. This is why I don't worry about traveling in India. I know what the people are like, I know they are very warm and very helpful, I know that no matter what happens, amazing people will step out of the crowd to assist me.
We were also briefed by the tourism department about the attacks in Chhattisgarh, which were aimed at specific political targets, and have been confined to an area of Chhattisgarh that is not under tourism development, and therefore should not be a concern. I personally feel, having met them, that the people in the tourism department of Chhattisgarh would not steer visitors wrong.
My testimony to my experience in Chhattisgarh is that I will go back. I will go back to spend time in the forests. I will go back to learn from the tribal people about how they live in harmony with nature using sustainable practices that would be the envy of eco-experts anywhere in the world. And I will go back to again experience the genuine, unspoiled warmth of the people.
NOTE: Thanks to the Chhattisgarh Tourism Board for hosting me.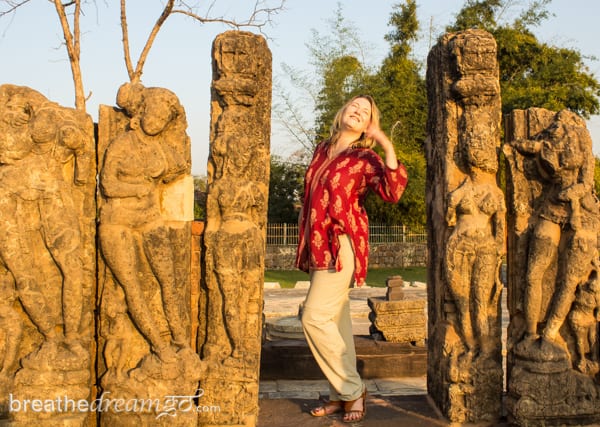 ---
If you enjoyed this post, please sign up to The Travel Newsletter in the sidebar and follow Breathedreamgo on all social media platforms including Instagram, TripAdvisor, Facebook, Pinterest, and Twitter. Thank you!