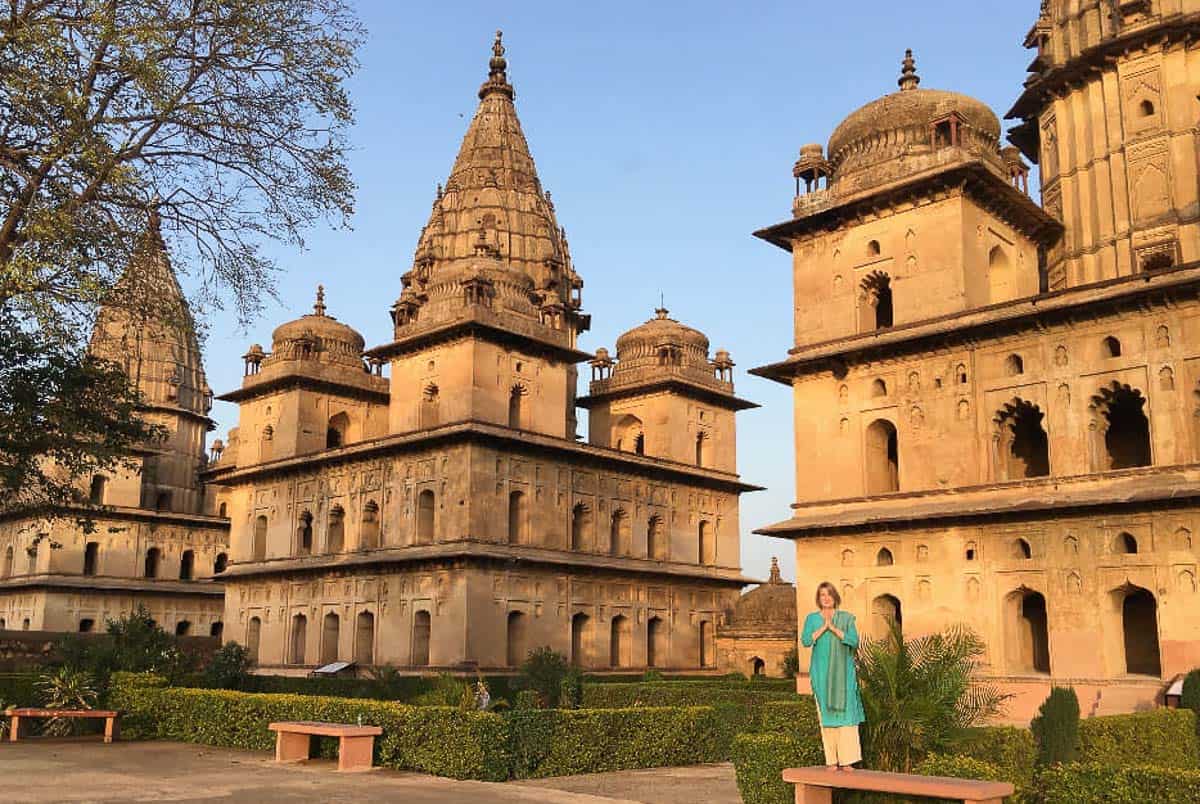 Madhya Pradesh is a state in the very centre of India, often referred to as the heart of India. In Madhya Pradesh, they do things on a smaller, more local scale. They treasure the offbeat. They preserve traditions. They protect nature and wildlife, especially tigers. And they take a responsible approach to tourism that empowers women, supports local communities, promotes traditional arts and crafts, manages waste sustainably, offers accessible travel solutions, and much more.
Madhya Pradesh is the ideal location in India for a local, offbeat itinerary. In this offbeat and local tour of Madhya Pradesh, you will visit a magnificent fort in Gwalior, ancient temples in Khajuraho, community-run homestays, a tiger reserve, and much more. 
But to be honest, this itinerary only captures a fraction of the amazing destinations tourists can visit in Madhya Pradesh. The state captured my heart years ago, and it remains one of my favourite states in India. I loved putting together this offbeat and local Madhya Pradesh itinerary for others to follow and enjoy.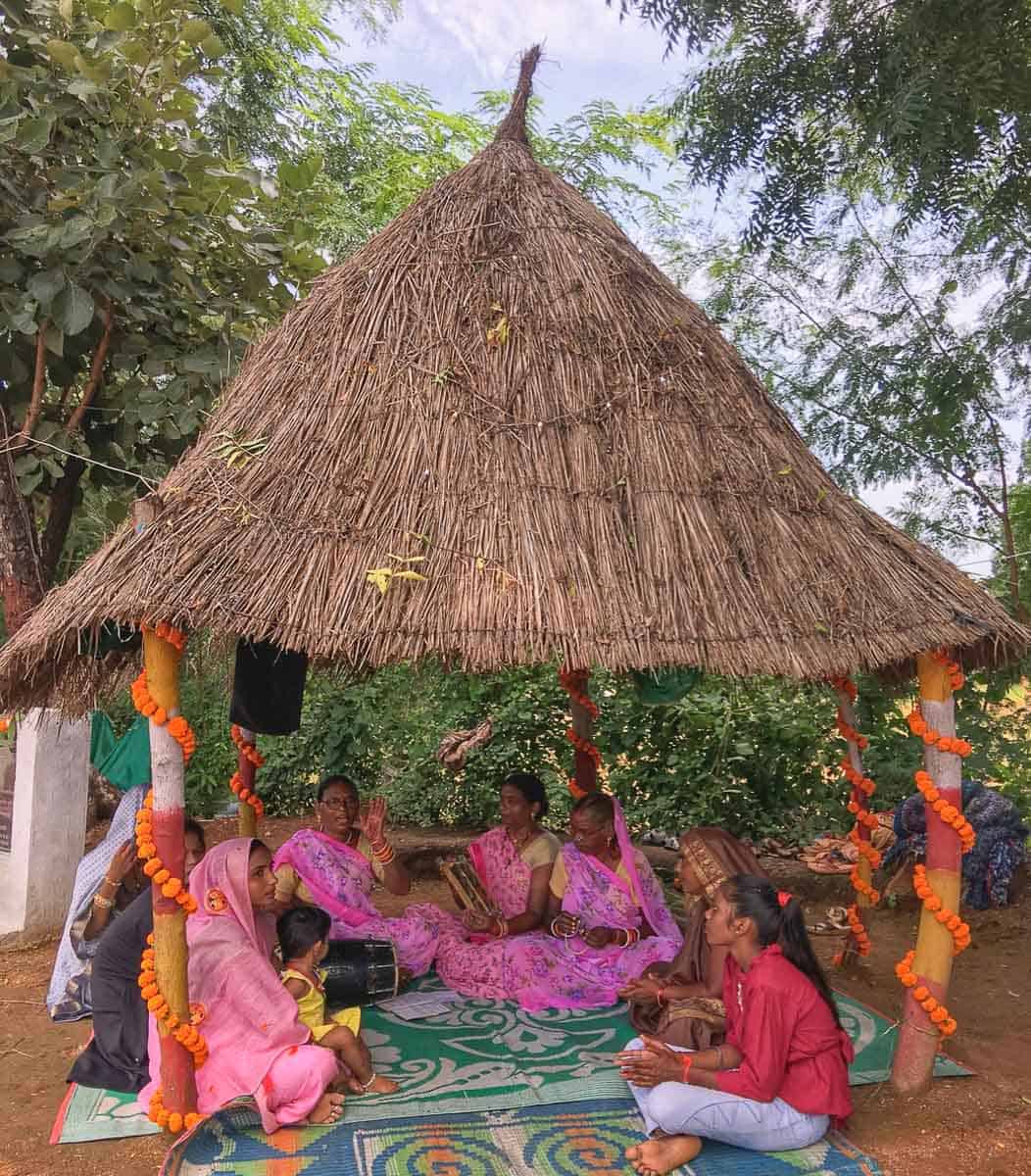 The Offbeat and Local Madhya Pradesh Itinerary is based on many trips to Madhya Pradesh and a very special trip that took place in September 2022 when I was part of a group led by Harold Goodwin, founder and director for the International Centre for Responsible Tourism, and the Madhya Pradesh Tourism department to explore responsible tourism initiatives across the state.
The Responsible Tourism Mission in Madhya Pradesh (RTMMP) is driving the support for many innovative programs including rural tourism, home stays, responsible souvenirs, clean destinations, accessibility, Safe tourism destinations for women, tribal tourism, solar energy, and more. This has resulted in both community development and immersive and culturally authentic experiences for visitors. I was able to experience many of them myself on the 2022 trip, and was extremely impressed with the results. I was particularly pleased to see so many confident women working happily in the tourism sector — a rarity in India.
Madhya Pradesh is not well known to foreign visitors – with the exception of tiger and wildlife tourism – so I hope those adventurous travellers who like to go a little off the beaten path will consider this itinerary. You will not be disappointed.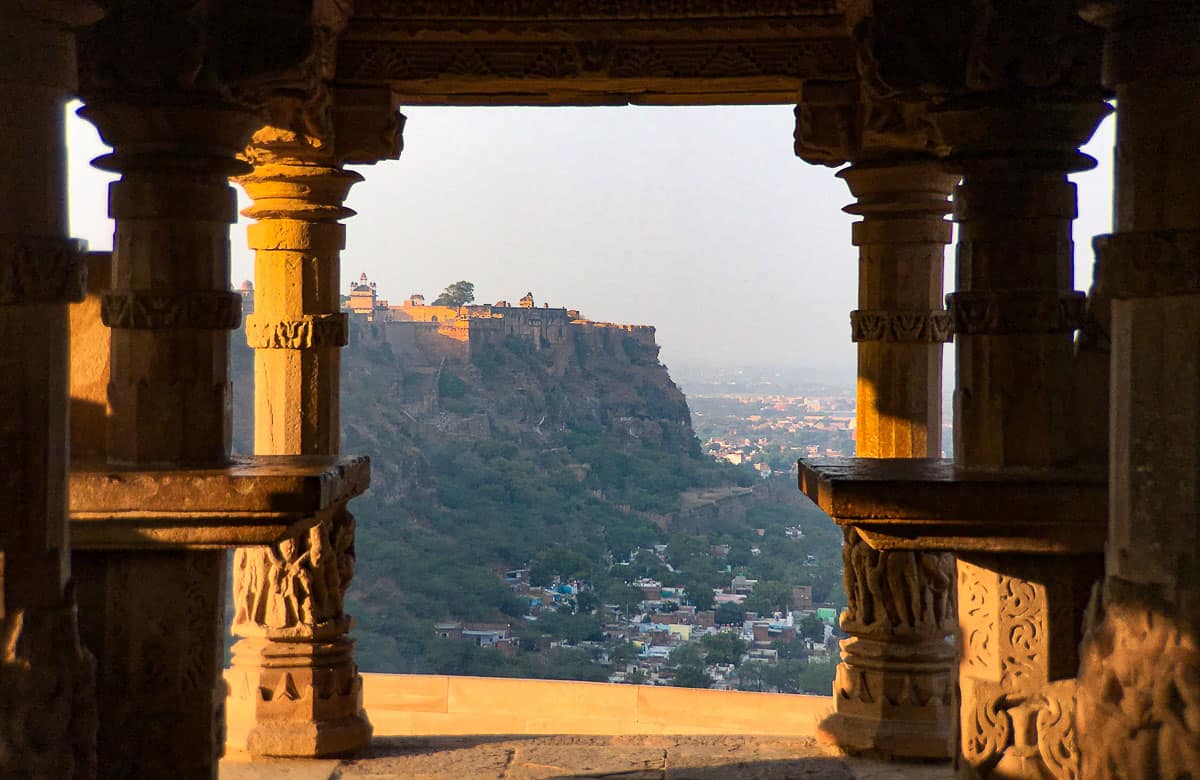 ---
Itinerary
Gwalior (2N/3D)
Gwalior Fort and city tour
Morena temples
Stay at Krishnayan Homestay
Orchha (1N/3D)
Orchha city tour
Stay at Amar Mahal Hotel
Ladpura Khas Homestays (1N/2D)
Khajuraho (1N/2D)
Western Group of Temples tour
Madla / Panna Tiger Reserve (2N/3D)
Jungle safari in Panna
Walk with Pardhi activity
PashooPakshee souvenirs
Stay at Ken River Lodge, Sarai at Toria, or Tendu Leaf Jungle Resort
---
Gwalior
Gwalior ~ A historical city with a modern heartbeat, there is a lot to see and do in Gwalior, and this is where we start our itinerary. Gwalior is easily reached by rail or flight and is only a three-hour drive from Agra, home of the Taj Mahal. The Taj Express Highway connects Gwalior to Agra (120 kilometres) and Delhi. You can easily travel from Delhi to Agra, and then on to Gwalior – gateway to Madhya Pradesh.
The 8th-century Gwalior Fort is worth the trip to Gwalior alone. One of India's largest and most magnificent forts, it sits on a plateau overlooking the city. Amazingly, the colourful frescoes that adorn the exterior walls are still intact. The extensive grounds around the fort also feature the 9th-century Sas-Bahu Temples, covered in exquisite carvings. Sas-Bahu means "mother with her daughter-in-law," indicating the close relationship between the twin temples.
Gwalior Fort is also home to a small, 9th-Century temple carved into its solid rock face. Chaturbhuj Temple is much like many other ancient temples in India – except it's famous for being the oldest example of zero as a written digit: carved into the temple wall is a 9th-Century inscription that includes the clearly visible number 270.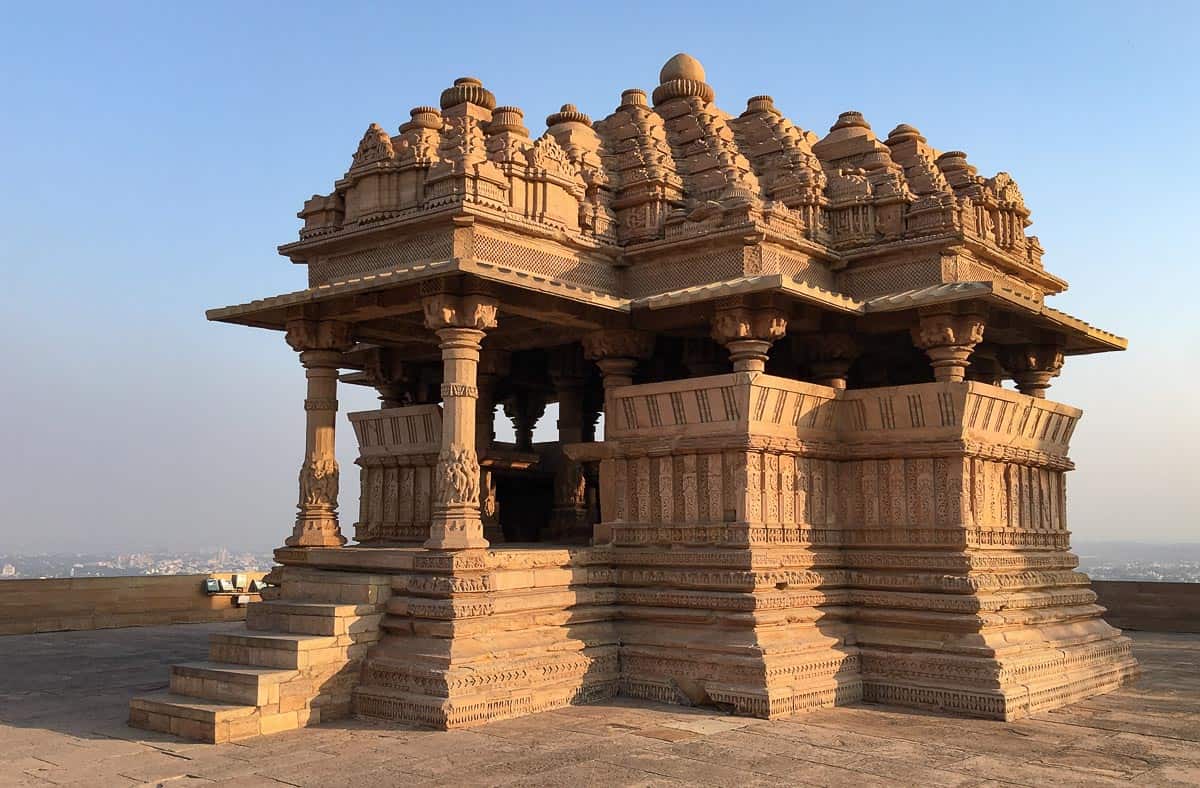 Of course, there's much more to see and do in Gwalior aside from the fort, such as Gopachal Parvat (a series of 24 soaring Jain sculptures), Man Singh Palace, and Jai Vilas Palace. Both palaces display wonderful – and sometimes eclectic – collections of art, antiques, weaponry, artefacts, and photographs. Gwalior is also known for lively markets, so shopping should be included in your itinerary.
There are also fascinating sites to see within driving distance of Gwalior, in Morena district, and these should also be on your itinerary. At Mitawali (about 25 kilometres from Gwalior) is the impressive Chausath Yogini Temple – said to be the inspiration for India's Parliament buildings in Delhi. The Bateswar Temples, near the village of Padavali (about 40 kilometres from Gwalior), are a group of about 200 temples spread across 25 acres. It's an active archaeological site under the direction of renowned archaeologist K.K. Muhammed.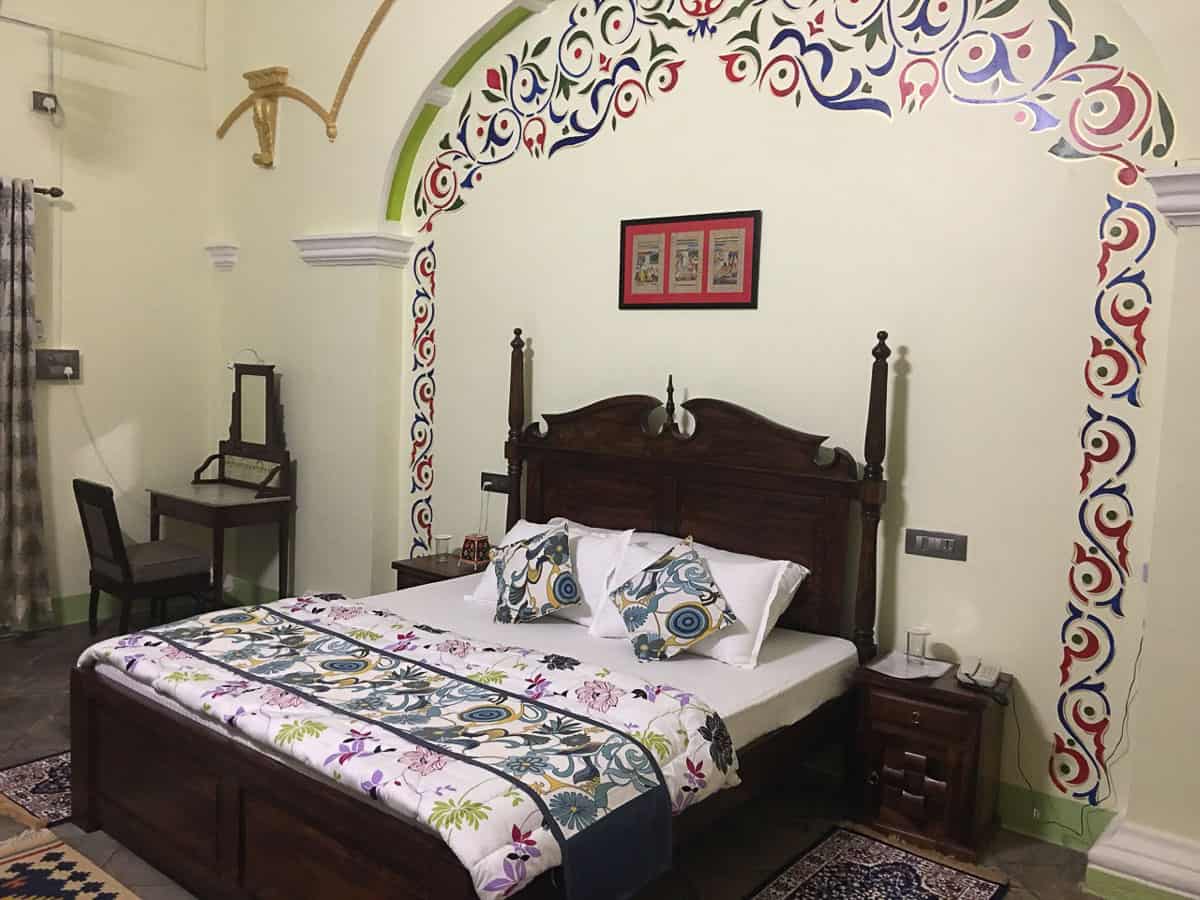 Where to stay in Gwalior
The ideal place to stay to absorb the historical culture of Gwalior is Krishnayan Homestay. Built more than a century ago, in 1920, this stately haveli captures the regal ambience of the past when Gwalior was a princely state. Seven spacious rooms, plus courtyards, and a lofty lobby, are beautifully decorated with antiques, family heirlooms, artworks, chandeliers, swings, and carpets. The family lives on the property and warmly welcomes guests, generously sharing their home and their culture.
---
More reading on Breathedreamgo about Madhya Pradesh
---
Orchha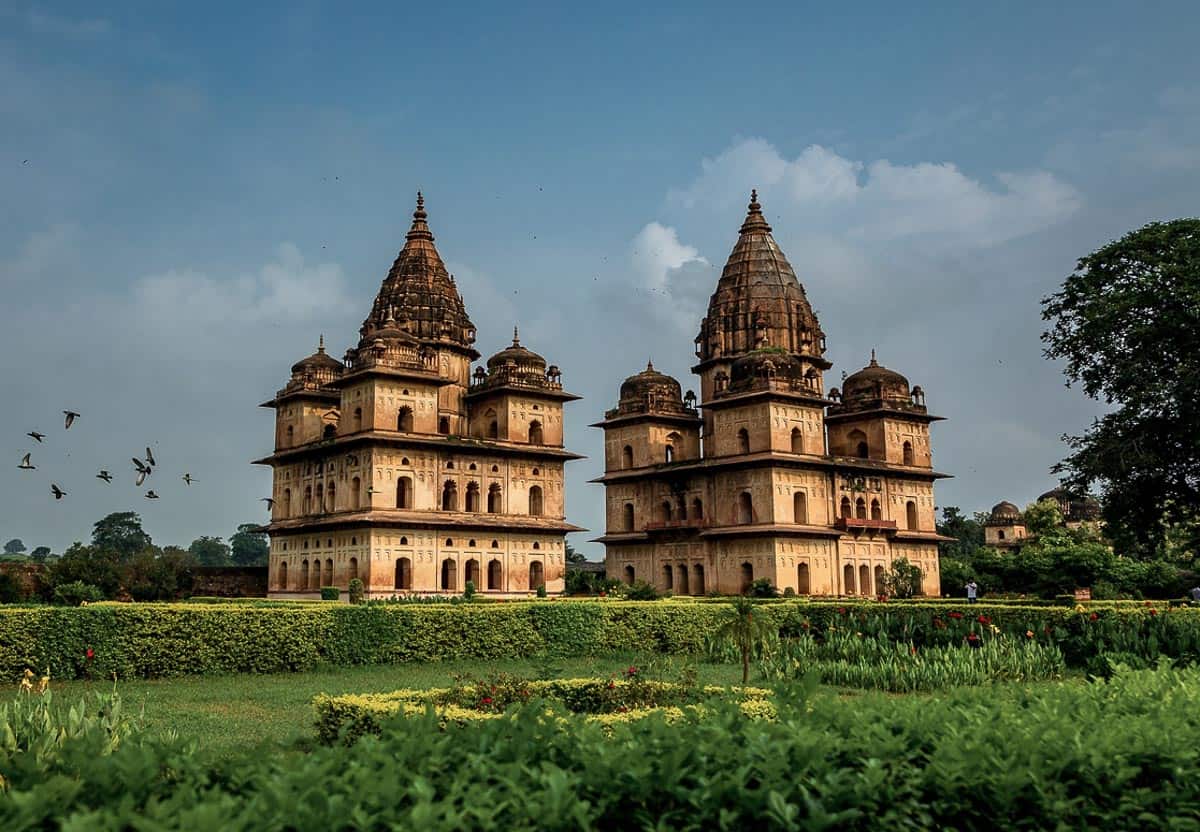 Orchha ~ Just about a two-hour drive from Gwalior, Orchha is a very special place, one of my favourite places to visit in India. This small, picturesque town on the Betwa River features both the peace and beauty of a rural setting and a treasure trove of antiquity in the form of palaces, forts, monuments, and temples, surrounded by forests.
Within a two-kilometre radius, visitors will find an astonishing array of buildings in an excellent state of maintenance. The unexpected sight of these architectural gems gives credence to a belief that the word Orchha means hidden, and the incredible treasures of this historic city were actually built to be hidden by the Bundela Rajput ruler Rudra Pratap Singh in the 16th century.
The buildings fall into four groups:
The palace complex consists of Jahangir Mahal, Raj Mahal, Sheesh Mahal, and Rai Parveen Mahal
The Ram Raja complex consists of Ram Raja Temple, Chaturbhuj Temple, Dinman Hardol Palace, and Sawan Bhadon
The Laxminarayan Temple and Sundar Mahal complex
The Chhattris on the Betwa River
Collosol Jahangir Mahal – with 236 chambers – is perhaps the most magnificent of Orchha's treasures. Building probably began during the reign of Mughal Emperor Akbar, but it was completed in Emperor Jahangir's time, and named after him by Bir Singh Deo, ruler of Orchha. But the most evocative view in Orchha is the sight of the magnificent chhattris, lined up along the Betwa River, their reflections shimmering in the water. There are 14 chhattris – cenotaphs – that date from the 16th to the 18th centuries. They are designed to look like temples and were built in memory of the royal rulers of Orchha.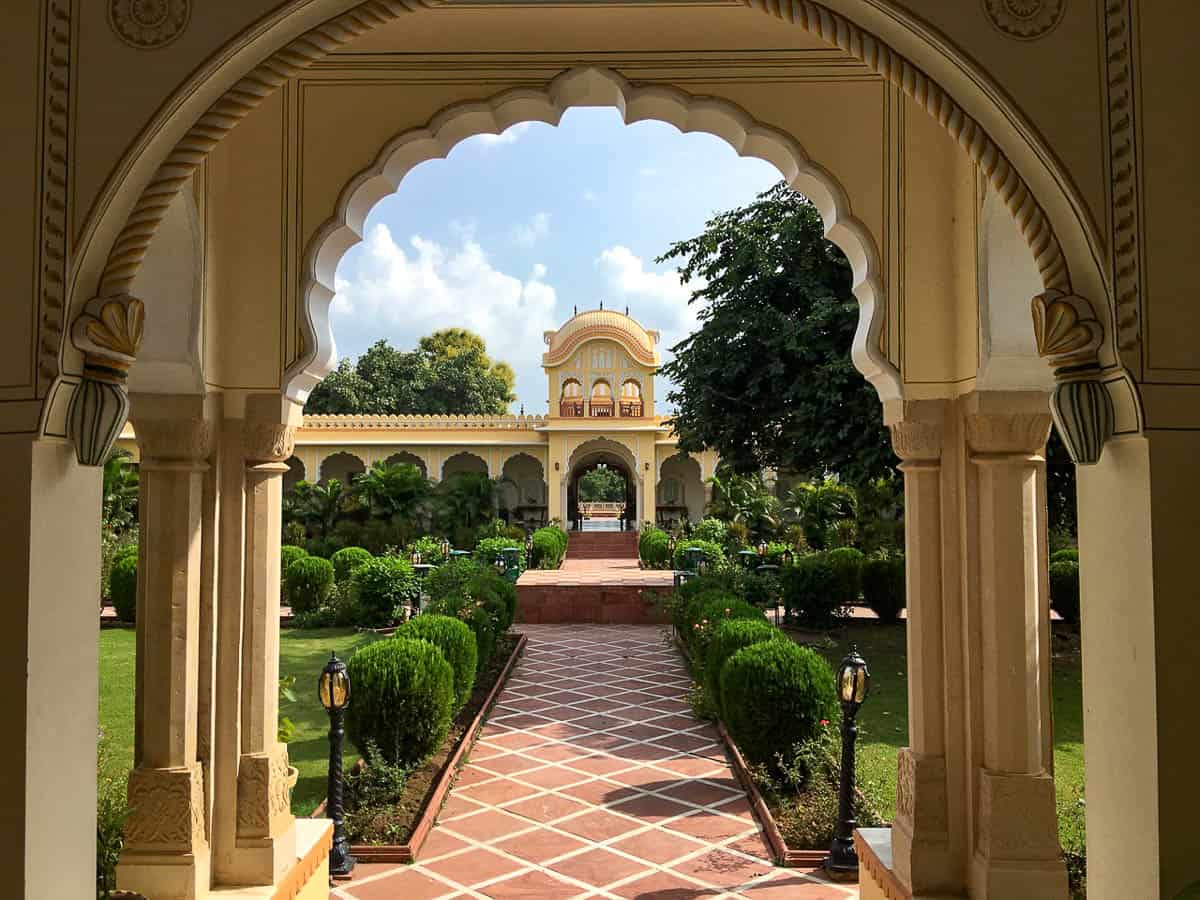 Where to stay in Orchha
There are several good heritage hotels in Orchha. On our trip, we stayed at the Amar Mahal Hotel. A comfortable hotel designed in a style that reflects the beautiful architecture of Orchha, the large property includes several courtyards and a swimming pool. The Sheesh Mahal has been converted into a hotel and offers a very atmospheric stay as it is adjacent to Jahangir Mahal.
---
Ladpura Khas Homestays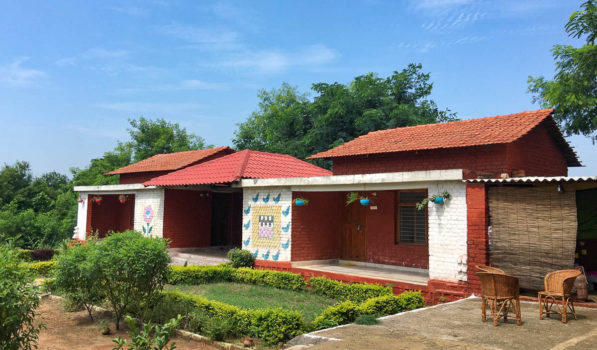 Ladpura Khas Homestays ~ Just 15 minutes' drive from Orchha, you reach Ladpura Khas and another world. This rural village is host to several homestays including Rekha and Kamla Homestays, Mahua Hill View Homestay, and Sheetla Greens Homestay. They were developed under an innovative program from Madhya Pradesh Tourism to support the local community, empower women, promote cultural traditions, and preserve the environment.
These charming homestays are owned and managed by women of the community, and they offer guests the opportunity to really experience rural Indian life – which is something not to be missed. Each homestay has separate rooms or cottages that were purpose-built to meet international standards and expectations. They are simple and rustic, but very clean and comfortable and they have all the amenities a traveller needs.
But more than that, when you stay at one of the Ladpura Khas homestays (or any of the many other homestays developed across Madhya Pradesh under this scheme), you really immerse in the local culture. You follow the rhythms and patterns of village life, enjoy food made from ingredients sourced from the fields around you, take part in local festivals, learn about traditional arts and crafts, and much more.
Staying at one of the Ladpura Khas homestays is an opportunity to have a completely authentic cultural experience and engage with local people, who welcome visitors with open arms and open hearts. It is an indelible and unforgettable experience.
---
Khajuraho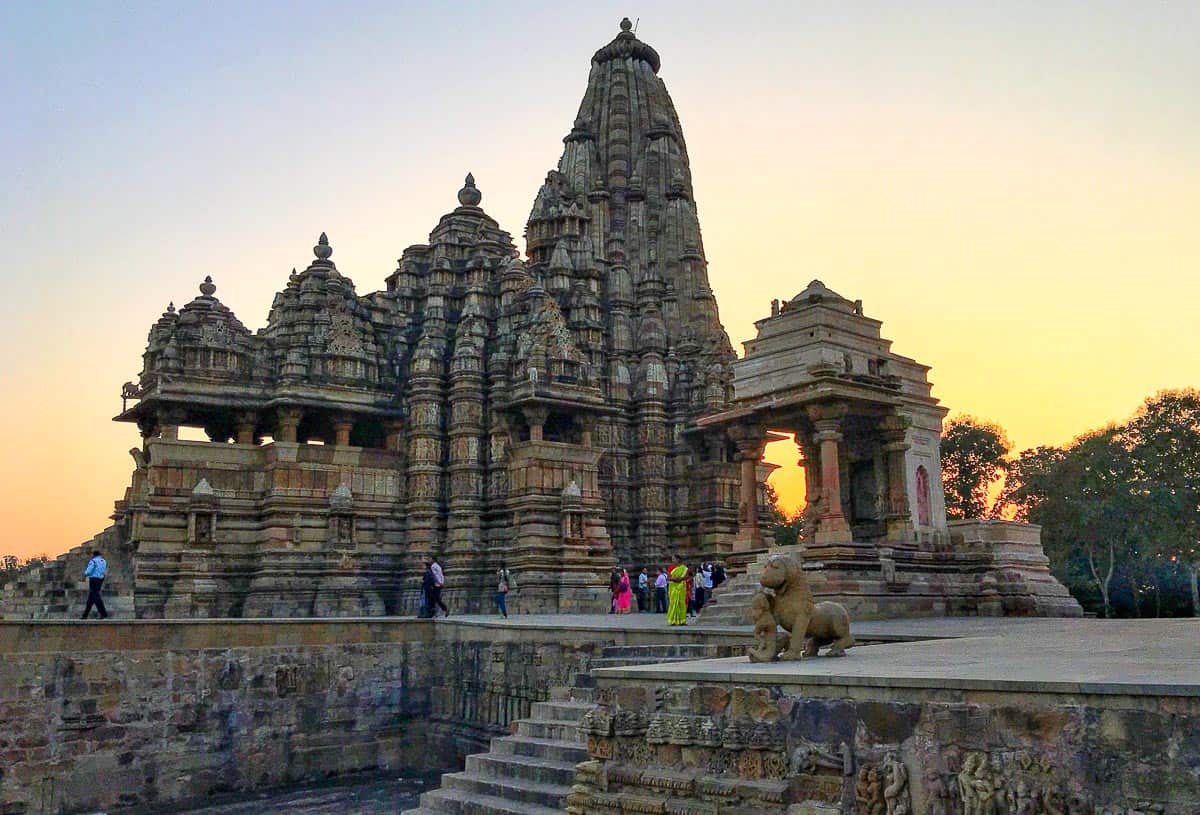 Khajuraho ~ Khajuraho is s small, sleepy town just a three-hour drive from Orchha – and only 30 minutes' drive to Panna National Park. It's a charming place with one major draw: the Khajuraho Group of Monuments (and especially the Western Group). The 23 temples are distributed across six square kilometres and surrounded by a picturesque landscape. They form the western, eastern, and southern clusters of the Khajuraho Group of Monuments.
Many people – including experts – agree that the UNESCO-inscribed temples of Khajuraho are the finest in India, both in terms of the quality of the carvings and the architecture. They represent the pinnacle of temple architectural development in northern India. The best temples are in the Western Group, which requires an entrance fee. There is also a sound and light show there each evening.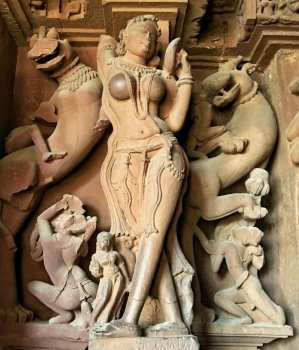 Khajuraho is infamous for the "erotic" carvings on some of the temples. There is a lot of speculation and misunderstanding about these carvings. A guide at Khajuraho said the figures are neither erotic nor obscene. He said they are Mithuna figures that represent divine love, and the union of Shiva (male) and Shakti (female) energies. There are thousands of temple carvings that show people doing everyday things such as eating, dancing, and fighting. The idea is that pilgrims visiting the temples were supposed to reflect on all aspects of life as they circled the temples and eventually rise above them in spiritual ecstasy.
But Khajuraho is not just a historic tourist destination – it's also an innovative one, thanks to the Madhya Pradesh Tourism Board. They initiated a Safe Tourist Destination for Women in Madhya Pradesh program in the Khajuraho-Panna region to help make women tourists feel safe. There are many aspects to the program, but ultimately the goal is to employ more women in the tourism sector, giving them more visibility. Women are now driving e-rickshaws, working as safari guides, selling souvenirs, and even providing security. Several hundred women have been trained in self-defence and they work at tourism events – wearing jackets that proclaim "you are safe in the heart of India."
You can either choose to stay one night in Khajuraho, or stay at a lodge near Panna and drive to Khajuraho to see the temples. See lodge options below.
---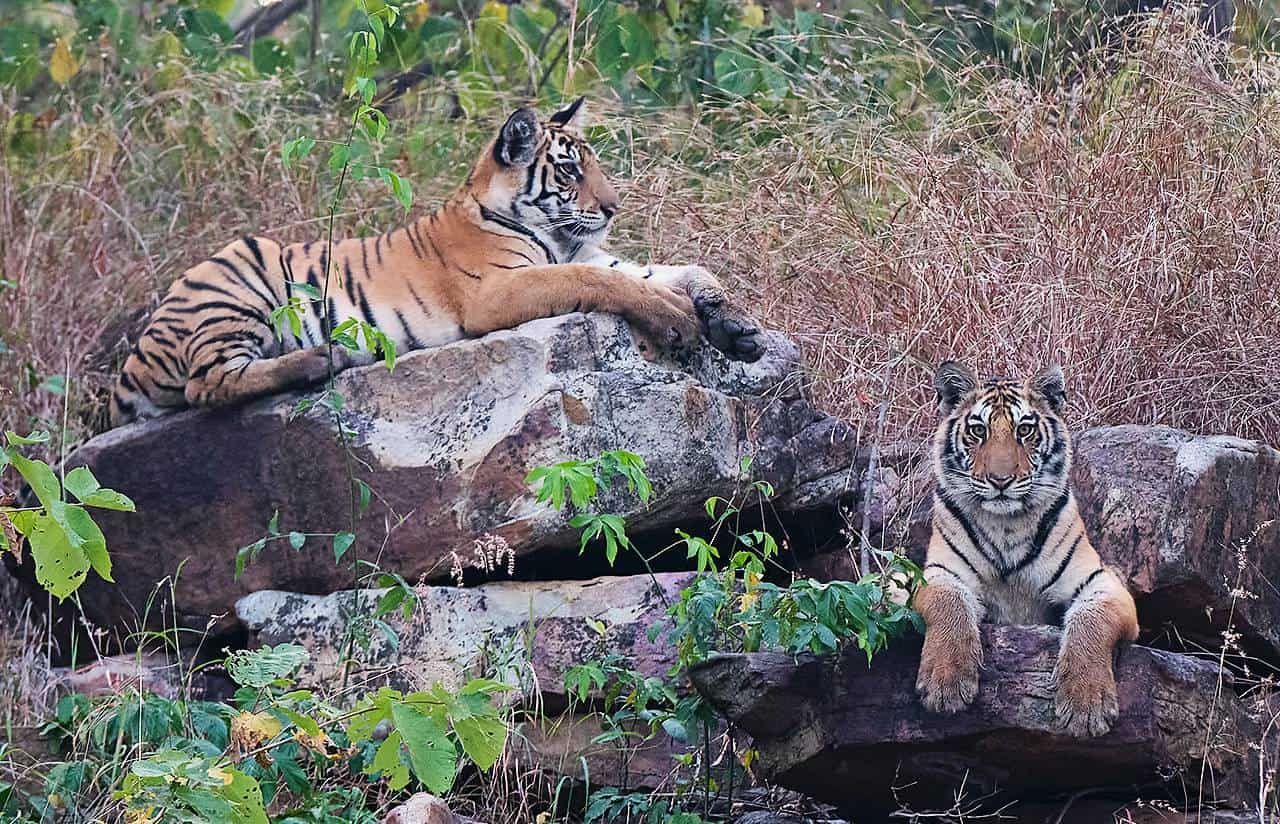 Madla / Panna Tiger Reserve (2N/3D)
Madla / Panna ~ Just 30 minutes drive from Khajuraho, Panna National Park is one of India's premier tiger reserves. And right at the entrance gate is Madla, a small town that has been developed by Madhya Pradesh Tourism Board's rural tourism project. Madla's intangible heritage includes folk music and dance, local festivals, and Bundelkhand cuisine. Bundelkhand is an historic area that is now spread over 13 districts in Uttar Pradesh and Madhya Pradesh and includes Orchha and Khajuraho within its boundaries.
A highlight of visiting Madla is a stop at the Madla Craft Centre, a livelihood program run by Pashoo Pakshee and supported by Madhya Pradesh Tourism. The organization trains and employs women to make souvenirs that celebrate the diversity of Indian flora and fauna. They work with communities that share their boundaries with protected forests, and the animal-themed, hand-made, and very charming souvenirs are sold at tiger reserves. A wonderful byproduct of their endeavours helps to raise awareness of the need for conservation among these communities. Stop in to find a wide assortment of unique bags, toys, wallets, jewellery, scarves and many other artfully made items.
Of course, Panna National Park is itself a big draw as it is a popular and very beautiful tiger reserve. A jungle safari in Panna is a perfect way to see this park up close, and to enjoy the both the scenic beauty of the park and the array of wildlife. Panna is about 543 square kilometres, and the rugged landscape is hilly, with plateaus and gorges, and dotted with several ancient temples.
Panna is home to various species of birds, animals, and flora, including tigers, leopards, chinkara, sambar deer, wolves, and many more. Since 2009, they have made a big effort to restore the tiger population (after poaching completely wiped them all out). They are now 80-86 adult tigers in Panna.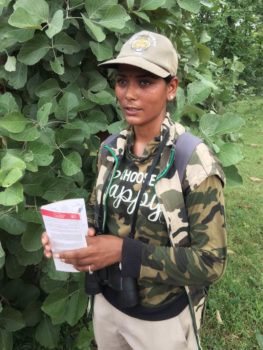 As well as going on a wildlife in Panna, you can also go on a Walk with the Pardhis on a designated trail. Pardhis are a nomadic community that were hired to help with the shikar (hunting) since the time of the Mughals. Nowadays, due to combined efforts of the Forest Department and NGO's, many have given up hunting. The Walk with the Pardhis offers these knowledgeable people (both men and women) an alternate livelihood – and gives visitors an incredible opportunity to see the forest through their eyes. Walking in the forest with people from the Pardhi community can help visitors reconnect to the wilderness, learn to read the forest like a book, and gain some of the age old knowledge of the Pardhi community. Walk with the Pardhis is an initiative undertaken by Last Wilderness Foundation in association with Taj Safaris and the Forest Department, Panna Tiger Reserve.
Where to stay in Madla / Panna
Ken River Lodge: My number one choice is the Ken River Lodge. The very first wildlife lodge opened by Pugdundee Safaris, Ken River Lodge is right on the river, near the Madla gate of Panna National Park. It's just rustic enough to make you feel you are completely immersed in a natural environment, and just luxurious enough to make you feel safe and comfortable. Plus, the food is fabulous – and served in a kind of tree house dining room overlooking the river. Pugdundee Safaris is known for top-notch naturalists who will take you on wildlife safaris into the Panna.
Book here: Ken River Lodge.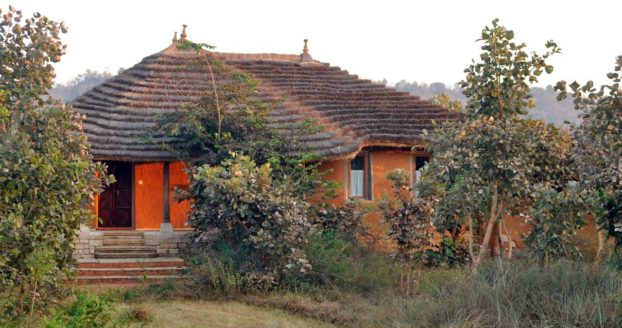 Sarai at Toria: Sarai at Toria is a very special place, lovingly created by husband-and-wife team Dr. Raghu Chundawat and Joanna Van Gruisen, both wildlife and conservation experts. As their website states: "Our aim is to manage the Sarai at Toria in an environmentally and socially responsible manner, providing comfort and indulgence while protecting the natural and the cultural environment." Sarai at Toria is set on a beautiful property, just slightly remote, and designed to resemble a local village. Cottages and the lodge building – the baithak, or pavilion – are made of natural materials and constructed in the local, time-honoured way with mud walls and thatch roofs. Peaceful, natural, and inviting – you will not want to leave.
Book here: Sarai at Toria.
Tendu Leaf Jungle Resort: Tendu Leaf Jungle Resort is a large, expansive lodge with wooden cottage spread out across the property. A dining room on the river, nature walks, a swimming pool, and lots of activities make it ideal for families and groups. The quality of the food at Tendu Leaf is exceptional, and adds to the experience of staying here.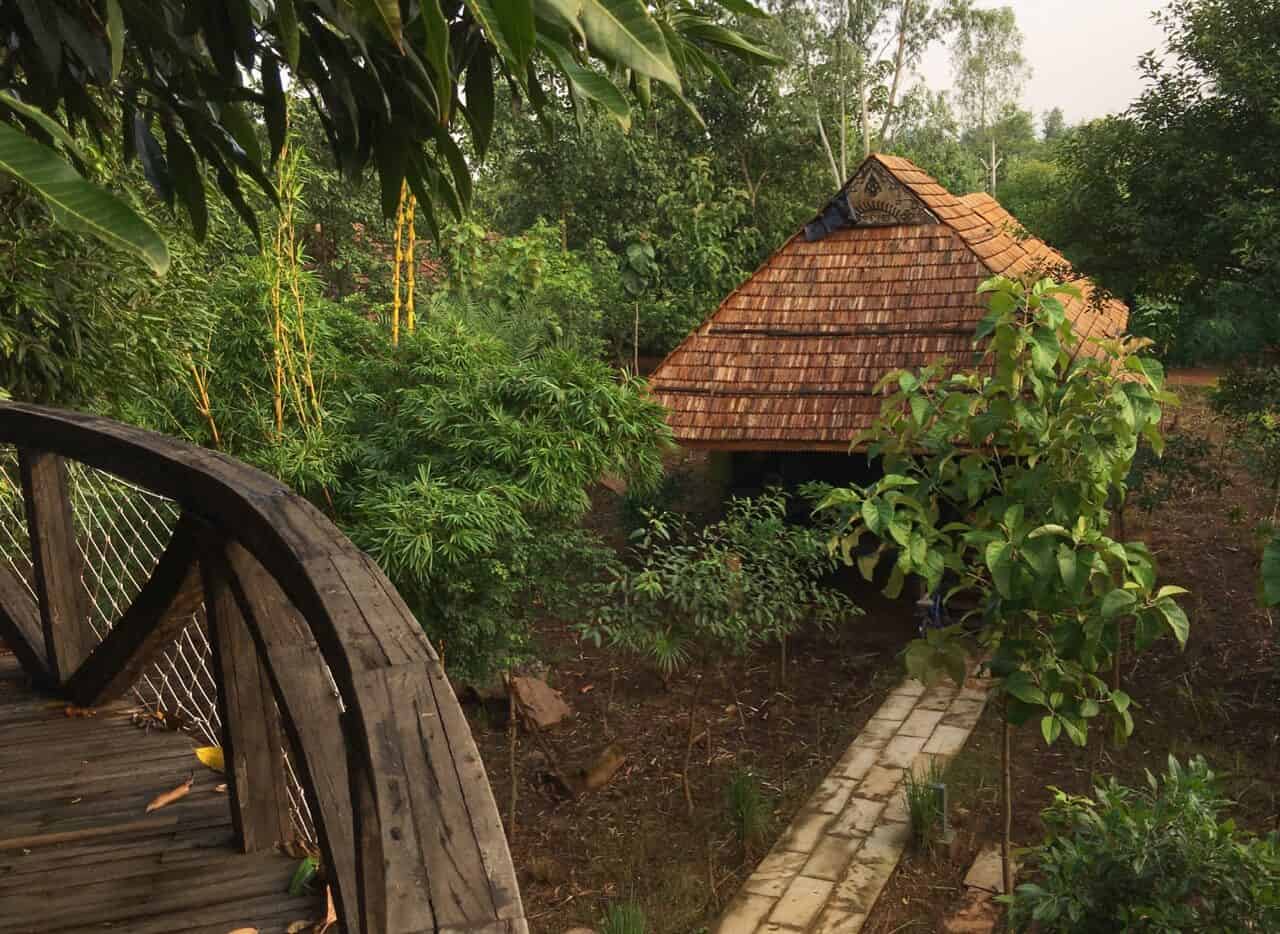 ---
If you enjoyed this post, you can.
Sign up for Dispatches in the sidebar and follow Breathedreamgo on all social media platforms including Instagram, Facebook, Pinterest, and Twitter. Thank you!