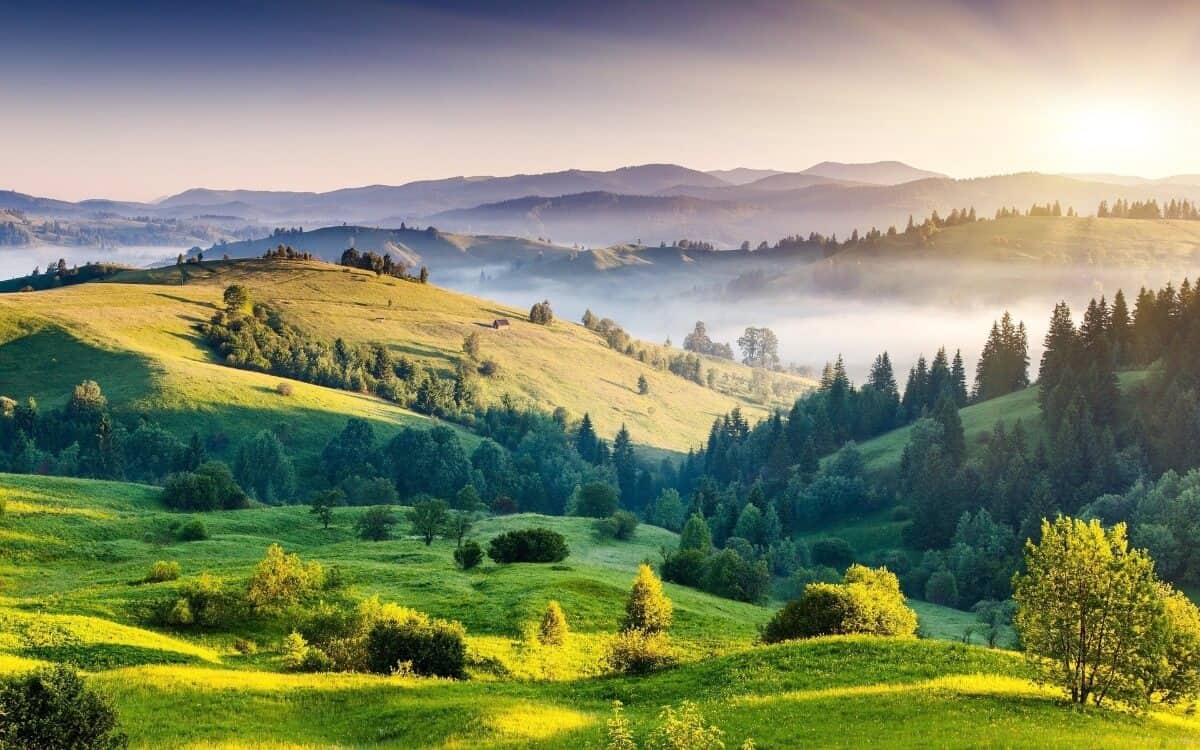 Best places to visit in Tamil Nadu, India
TAMIL NADU IS A STATE in South India famous for historic monuments, elaborate temples, the Mahabalipuram monuments, colourful Pondicherry, cultural Chennai, and much more. There are many great tourist attractions, and in this post, I asked travellers, bloggers, and locals who either hail from Tamil Nadu or know the state well to contribute their recommendations on best places to visit.
I studied Yoga in Chennai, Tamil Nadu in 2006 (at the Krishnamacharya Yoga Mandiram) and have spent time in Pondicherry and Tiruvanammalai. It's a rich, diverse and fascinating state. Historian Michael Wood, in the BBC documentary The Story of India, calls Tamil Nadu, "the only surviving Classical Civilization in the world."
There are many great tourist places to visit in Tamil Nadu and many wonderful things to experience such as beaches, historic monuments, great food, spiritual sites, diverse cultures, ancient and contemporary art, lively markets for shopping, throngs of festivals, adventure sports, and Bollywood movie locations.
The food and cuisine of Tamil Nadu is a particular favourite in India with delectable dishes such as Chettinad chicken, sambar, prawn curries, idli, masala dosa, and crispy vada to name a few. Tamil Nadu is also a foodie destination! Plus there are stunning offbeat locations such as Auroville, spiritual centres such as Tiruvanammalai, famous landmarks such as the Shore Temple, and wonderful organizations, such as TDH Core that provides homes for street kids.
Tamil Nadu history
In Tamil Nadu, there are more than 400 structures that are more than 1,000 years old. This kind of heritage density is unlikely to be found in any other part of the world. Tamil civilization (under the larger umbrella of Bharatvarsha) is old. When in Tamil Nadu, there is ancient wisdom and beauty in the very air you breathe.
If you take language as a marker of civilization, Tamil is a leading contender. A quick google search of "oldest language in the world" is likely to list Tamil as one of the oldest languages spoken by human beings. Some of the practices mentioned in Tamil literature are thousands of years old and are still practiced signifying a continuous civilizational thread.
For example, every village in Tamil Nadu has a guardian deity. If you drive along Tamil roads, you are likely to find sculptures by the roadside. You are welcome to satisfy your curiosity and stop and take a photo (but always remember to be respectful of local customs).
Vinayakan Aiyer lives in Singapore and has Tamil ancestry. He speaks Tamil fluently and knows many Tamils in Singapore who visit Tamil Nadu to this day in search of their heritage.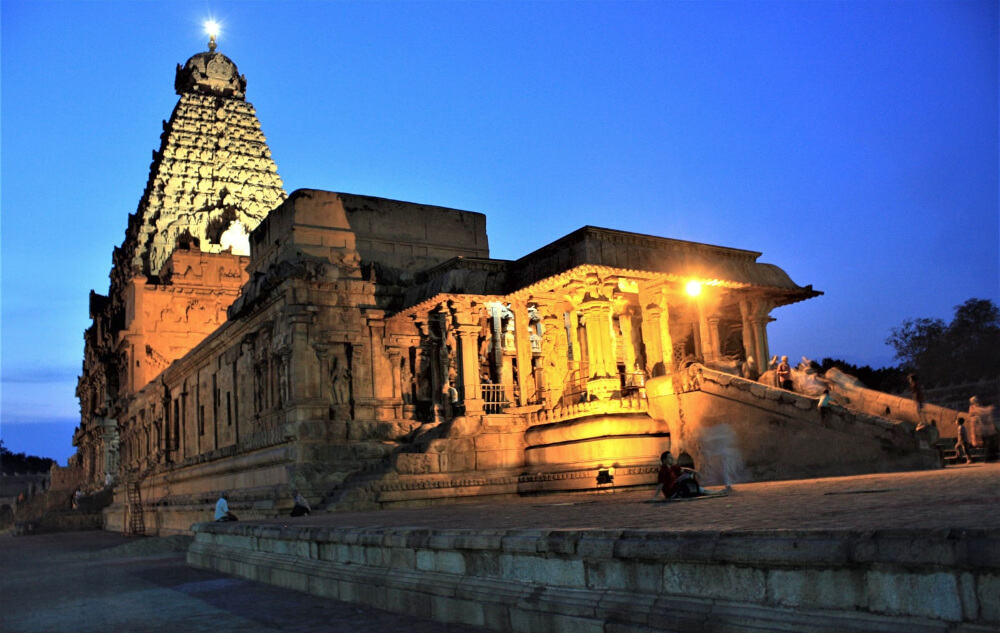 UNESCO Sites of Tamil Nadu
Tamil Nadu is home to incredible architectural treasures and ornate temples dating back hundreds of years. Three of them are UNESCO listed.
Great Living Chola Temples. Three huge temples built by the Chola dynasty lay scattered around central Tamil Nadu. Together they are categorised as the Great Living Chola Temples and listed by UNESCO since 1987. These temples dating from the 11th and 12th centuries are classic examples of Dravidian architecture. Many people visit Tamil Nadu with the sole purpose of seeing poetry and fluidity in these mute sculptures of various sizes and forms.
Start your trip from Gangaikonda Cholapuram Temple, 255 kilometres from nearest airport Chennai. From here Airavateswara temple is 38 kilometres away an hour's drive by road. Go 37 kilometres further southwest to see Brihadeeswarar Temple which is famed as a monument that casts no shadow and houses the tallest Shiva Lingam in the world. It is possible to cover all three in a day unless you really want to linger on in each temple, which most likely you will want to — such is the charm of these temples.
Group of Monuments at Mahabalipuram. This group of temples is the oldest among all the UNESCO sites of Tamil Nadu. Nine temples here are monolithic wonders and date back to the 7th and 8th centuries, which is amazing considering the rudimentary technological of that period.
Named according to their shapes, these monuments are worth seeing at least once in lifetime. There is an incredible amount of history here, plan for a stroll here in the later part of the day and walk to the beach close by while taking in Rathas (chariots), Mandapas (pavilion), Arjuna's Penance, and Bhagiratha's Penance.
Nilgiri Mountain Railway. The Nilgiri Mountain Railway is one among the three Mountain Railways of India that is recognized by UNESCO as a heritage site. It was built by the British in 1908. It is one of the rare meter gauge railways still functional in India. The experience of the scenic ride all the way from Mettupalayam to Udagamandalam (Ooty), via Coonoor in the Nilgiri Hills (a rugged hill region of the Western Ghats) is more than worth time and money.
Freelance Travel Blogger, Photographer, Social Media Influencer, and Travel Blog at IShareThese.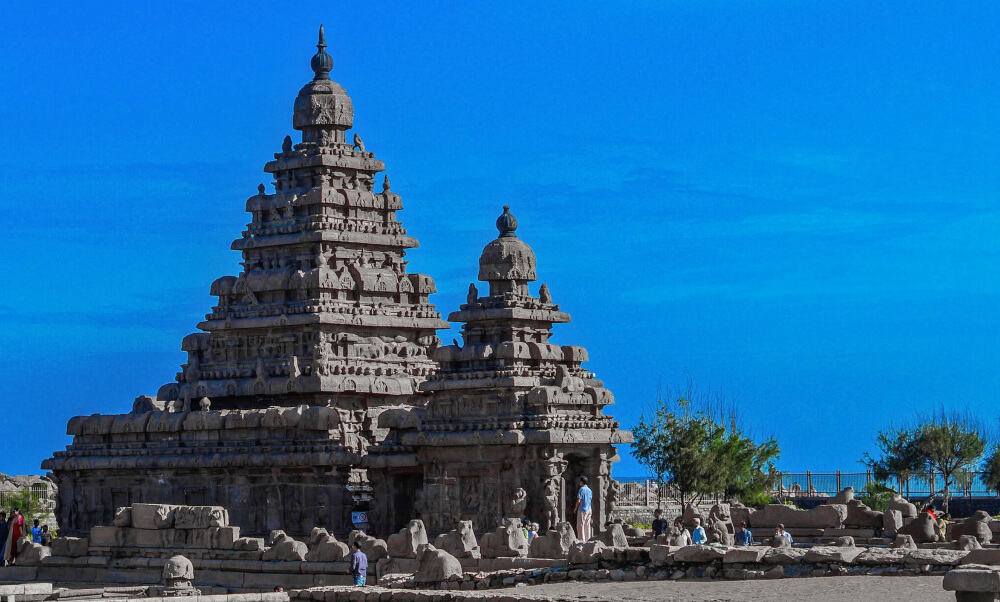 Temples of Tamil Nadu
A temple tour of Tamil Nadu is the perfect introduction to India for those who are interested in architecture and history, and those who are intrigued by the importance of religion in daily life.
Temple worship traditionally involves a long and uncomfortable journey to the temple. Upon arrival, the pilgrim sees the towering gopuram (gate), beyond which lies the enclosed shrine. The pilgrim leaves footwear outside the gate, undergoes an initial purification via a holy bath and therein begins the real journey.
The tall gopuram creates a sense of dynamism, a movement away from the gate and towards the centre that is locked away in the heart of the shrine. Here the pilgrim comes in touch with a higher power, and prayers are offered to help secure a peaceful and prosperous life in return for the sacrifice.
My favourite temple trail takes you to both the most-visited and lesser-known temples in the state. Here my recommendations.
The 16

th

C

Kapaleeshwar Temple

at Chennai, dedicated to Lord Shiva's consort-Goddess Parvati.

The

Shore and Rock cut Temples

at Mahabalipuram dating back to 8

th

century AD.

The spectacular

Kailashanatha Temple

(685-705 AD), considered the oldest structure in Kanchipuram and the

Ekambaveshvara Temple

, both dedicated to Lord Shiva, and the

Vaikuntha Perumal Temple

dedicated to Vishnu, all make for an amazing introduction to the temples of Tamil Nadu.

The

Nataraja Temple

at Chidambaram, dedicated to Shiva as the lord of dance, holds a special memory. This is where I witnessed a young girl offering her first public performance called an Arangetram. Oblivious to the crowd gathering around, her focus only on the deity, the fluidity of her movements, and the flashing of her kohl lined eyes kept us all spell bound. Her passion and the devotion have left an indelible mark on my memory.

In Tanjore, the Shiva dedicated exquisite

Brihadishvara Temple

exemplifies fully realised Dravidian architecture.

Arriving at Sittanavasal,

Ariyar Koil

created by the Jains in the 2

nd

century is a personal favourite. Off the usual track, the cave is approached after a short uphill climb. The cave paintings are in a fresco-secco technique and depict a beautiful pond with lotus flowers, dancing figures, elephants etc. The image of Jain monks making the arduous climb to the cave to offer prayers, dating back to 600 AD creates a feeling of deep spirituality and peace.

The

Vijayalaya Choleeswaram Temple

in Narthamalai is another Shiva temple from the 9

th

century. This rock-cut structure is again not on the usual trail, accessible only via a walk on a flat stone hillside, arriving at this beautifully isolated monument making the climb very worthwhile.

Towards the end of our temple trail, the

Meenakshi Amman Temple

at Madurai offers a spectacular finale. A complete antithesis of the rock temple, this complex attracts a few thousand pilgrims daily and is a hub of religious activity. The evening ceremony to put the Lord Sundareshwar and his consort Meenakshi to bed is a huge draw for locals and visitors alike.
Visit some or all these beautiful temples – you will be enthralled!
A curator of luxury tours in India, Mona Kapoor, Chief Executive of Indian Vistas, is a veteran of Indian tourism. Offering the highest quality of luxury services, she creates tailored itineraries with meticulous detail. Mona brings to the table a spectrum of experience, strong relationships and a passion for showcasing the best of the Indian subcontinent.
The food of Tamil Nadu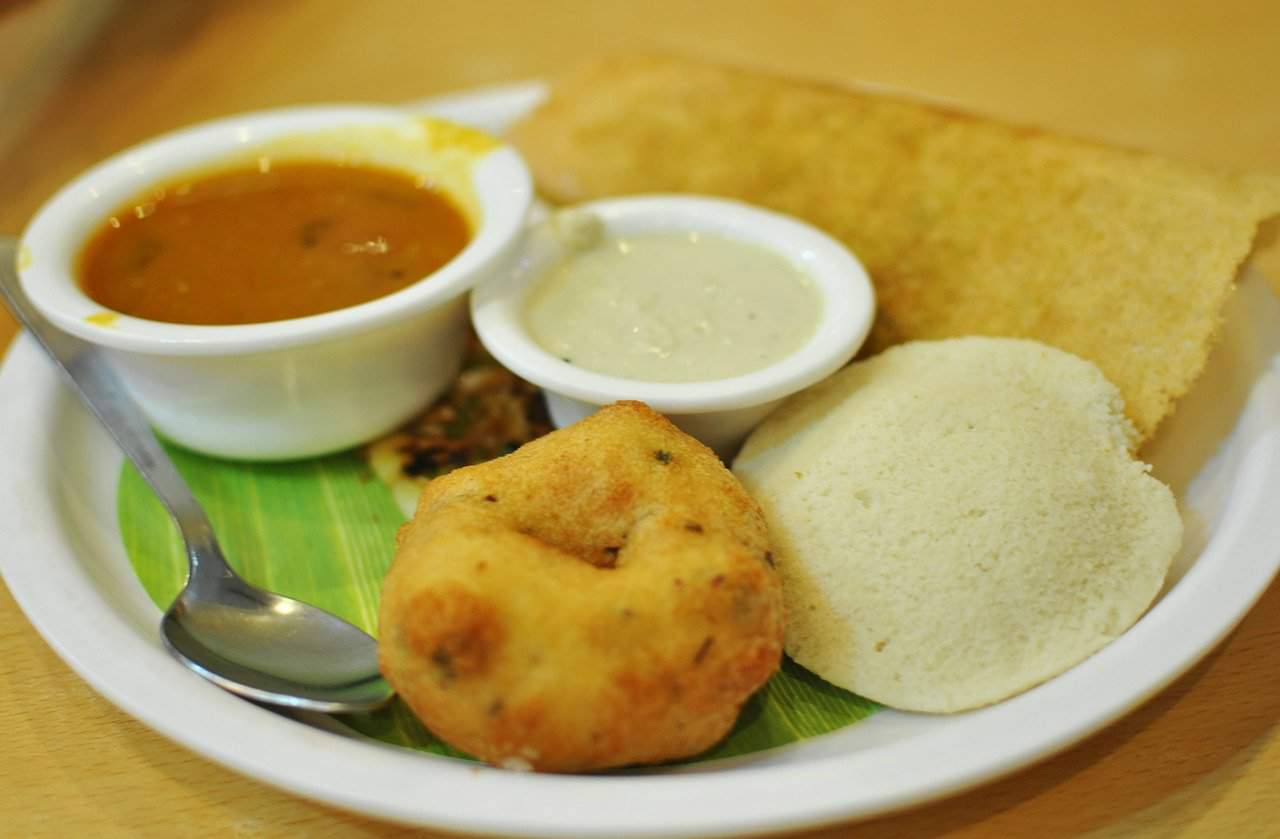 Tiffin Varieties in Tamil Nadu
We all know that Tamil Nadu is famous for its gorgeous temples, stunning coastlines, and colourful festivals! What you may not know (unless you have visited the state) is that Tamil Nadu is also a food hub, a melting pot of mouth-watering cuisines. Tiffin is a lighter version of a meal that can be had anytime of the day. Most popular times to have tiffin are either as breakfast, or around 3pm in the afternoon, which is christened as tiffin time in Tamil Nadu. Tiffin is usually accompanied by a cup of hot filter coffee or flavoured masala tea.
Each of these tiffin varieties are part of a deeply rooted culture that still exists in various parts of Tamil Nadu. For instance, dishes like Uthappam, Idiappam, and Kuzhi Paniyaaram hail from the Chettinad region. Puttu, Poli and dishes with a heavy coconut base are famous in Kongu region. Since the staple food in Tamil Nadu is rice, a lot of these tiffin varieties are made with rice flour, fermented rice, or coarse rice.
Here are some of the lip smacking tiffin varieties that are worth trying while you are in Tamil Nadu.
Idli. Steamed rice cake accompanied best with coconut chutney, coriander chutney and sambar

Masala Dosa. Thin crispy rice pancake stuffed inside with potato masala. Best accompanied with coconut chutney, tomato chutney and sambar

Vada. A doughnut shaped crispy fritter usually dipped in piping hot sambar.

Pongal. Mashed rice and moong dhal tempered with pepper and cumin, with oodles of ghee.

Uthappam. A thicker version of dosa, Uthappam is usually topped with onion, mixed vegetables, chilli or tomato.

Idiappam / Sevai. String hoppers made with rice flour.

Paniyaaram. Ball shaped dumpling made with fermented rice and lentil batter

Poori Masala. Deep fried bread best had with mashed potato side dish.

Upma / Rava Kichdi. Thick savoury porridge made with coarse semolina, vegetables, and minimal spices.

Adai & Avial. A mixed lentil pancake accompanied with cooked vegetables in a coconut and yogurt gravy.

Puttu. Steamed cylindrical rice pancake layered with coconut shavings

Bonda & Bajji. Deep-fried gram flour based popular snacks.
Anuradha & Srinath, the couple behind the travel blog Country Hopping Couple, are originally from Chennai and currently live in UK with their four-year-old twins. They have been travelling the world for 12 years in search of best kept secrets and hidden gems. They share their offbeat travel stories and destination guides on their blog.
Best places to visit in Tamil Nadu
Guide to Chennai
Chennai city, formerly known as Madras, is the capital city of Tamil Nadu. It is a city that has retained its charm in the form of retro culture and tradition.
These are my recommendations for the best places to visit in Chennai, and some of the best things to do, in order to gain a maximum feel of the city.
Must visit: Marina Beach is one of Asia's longest beaches. It features memorials of Tamil Nadu's political leaders, a tall lighthouse, and amusement parks for the kids. Take a stroll along the beach from sunrise to sunset, monitored by horse and ATV mounted police, and go up the lighthouse for a majestic view of the beach and city (10 am to 1 pm and 3 pm to 5 pm).
Recreational spots: VGP Golden resort and beach and MGM Beach resort are ideal family getaway points with numerous activities to try. Vandaloor Zoo, Guindy National Park, Muthukadu Boat house, Wild tribe ranch, Mahabalipuram, Nehru Planetarium, Rail Museum are other popular spots.
Temples: Kalaleshwara temple in Mylapur is Chennai's most popular and historic temple. Other popular temples include Parthasarathy Temple, ISKCON Chennai, Ashtalakshmi temple in Besant Nagar, and Anjaneyar temple in Nanganallur. St Thomas Mount and Santhom Cathedral are the most popular Christian centres.
Cultural hotspots: Music Academy, Valluvar Kottai, and Dakshina Chitra on ECR, are Chennai's most popular spots for experiencing cultural activities. Chennai is known as a cultural centre where you can experience Kollam celebrations during Pongal, music festivals held during November/December, and celebrations of various Indian festivals throughout the year.
Shopping: Chennai's T Nagar area is a hub for family shopping, with South India's largest shops and showrooms selling dress materials, sarees, jewelry, and other goods. Take a stroll here to feel the pulse of the city.
Food: Try traditional south Indian food at Saravana Bhavan, Murugan Idli shop, and Woodlands. Idli sambar, masala dosa, pongal, crispy vada are some of the most popular breakfast items. Do try coconut poli, different types of appalams, and spicy buttermilk.
Stay: ITC Grand Chola is Chennai's most luxurious seven-star hotel. Five-star luxury hotels including Marriott, Leela Palace, Trident, Hyatt, resorts and budget stay options are available across the city, including beach front properties along the East Coast Road (ECR).
Weather: Chennai is a hot, tropical destination most of the year. October to December is the usual rainy season. January and February has most pleasant weather. March to September is usually hotter.
Getting around: Chennai Airport (MAA) has flight connectivity from all major cities in India and numerous international destinations. Chennai has an excellent network of suburban trains that connect the city centre to different parts of the city. You can commute 20-30 kilometres for a low fare of just Rs 10. Metro service connects the airport to the city's main bus terminal and major suburbs. An excellent fleet of city buses, autos, self-drive car, bike rentals, and taxis ensure you can get around in comfort and budget.
NOTE: Did you know that USA vice-president Kamala Harris has often visited this city as it was where her Mother was born, and where her grandparents resided. Kamala Harris has spoken about walking on Elliot's Beach, at the southern tip of Marina Beach, with her grandfather P.V. Gopalan.
Shrinidhi Hande is a blogger by passion and senior business analyst by profession, who has traveled to 40 countries across 5 continents around the world. He has authored a book on budget travel and is considered one of the leading travel bloggers in India. Visit his blog eNidhi.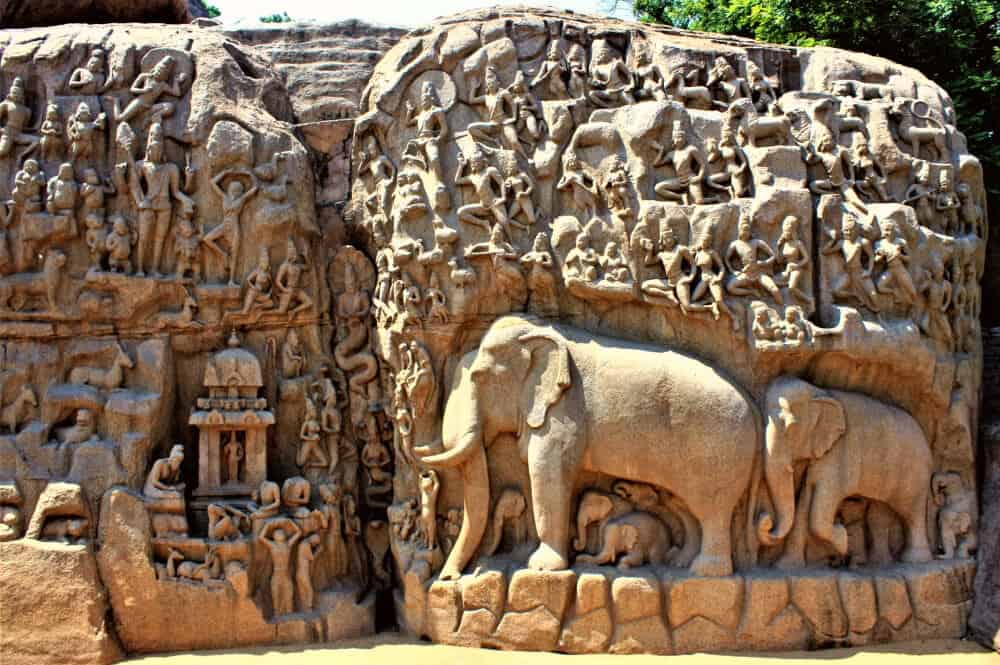 Mahabalipuram
Tamil Nadu is one of the most culturally rich states of India. It has beaches, heritage sites, colourful ancient temples, and soulful food that tempts me to visit it again and again. Mahabalipuram, just 58 kilometres from the capital Chennai, is famous for its beachside resorts and UNESCO Group of Monuments, which are elaborately carved from solid rocks.
The town is named after King Pallava Narsimhavaram-I who was known as Mahamalla (wrestler). Later it became Mahabalipuram. There are so many things to do in Mahabalipuram including a visit to the beach and visiting lesser-known Crocodile Park. But the main attraction is the Group of Monuments at Mahabalipuram, built by the Pallava dynasty in the 7th and 8th centuries.
The main monuments are the Panchrathas, which means five chariots, and Arjuna's Penance, which is said to be the world's largest bas-relief carved with Hindu gods and goddesses. One can't miss the Giant Krishna's butterball, which has been resting on an incline for 1,200 years! The star of Mahabalipuram is the Shore Temple, built of cut stones rather than carved out of rock face like the other monuments.
The Shore Temple faces east, and catches the sun's rays at sunrise. It's a glorious sight to watch the sun light up Lord Shiva, the main deity — and definitely worth getting up for. The monuments at Mahabalipuram are elaborately carved and demonstrate incredible artwork. If you walk the lanes of Mahabalipuram, you will come across so many stone-carved sculptures in the shops and you can see artisans working on it.
If you love architecture and artwork, this place will not disappoint you. You can visit all the monuments via a single ticket and one day is good enough to cover all the monuments, but if you love to be by the beach, you can stay longer. Mahabalipuram is located 58 kilometres from Chennai on the ECR route and it's an easy weekend getaway for locals.
Mayuri is traveling India and abroad for the last 10 years and journaling her experiences through the fernwehrahee blog.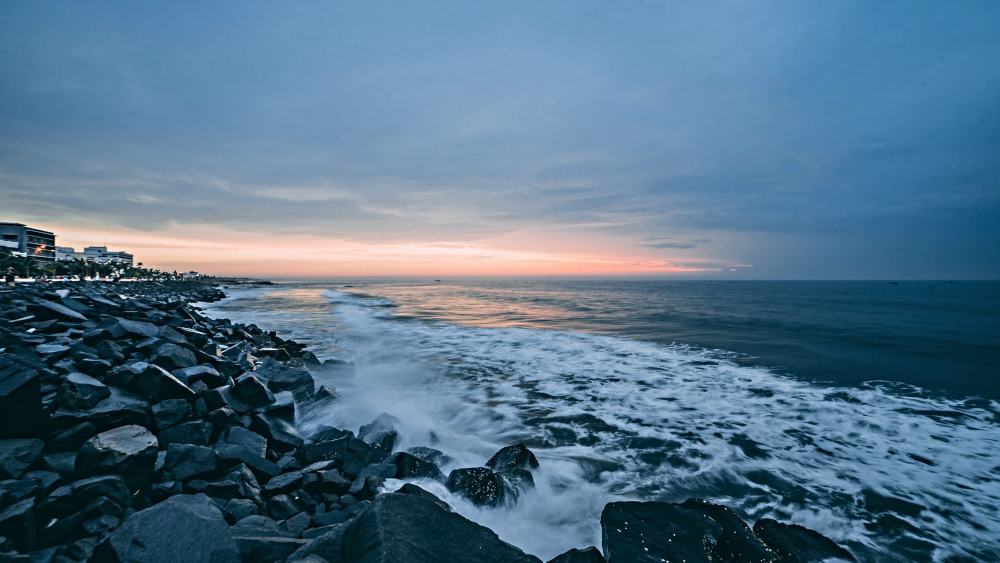 Pondicherry
Pondicherry (or Pondy) is one of South Indian's gems and a great place to have an amazing sun-kissed vacation by the beach. Also known as Puducherry, the town is a union territory town of India with a history of French colonial settlement. The town was home to Sri Aurobindo and an ashram dedicated to Sri Aurobindo dominates a section of the city.
There is nowhere else like Pondicherry in India. The colonial past has left behind a French quarter that is utterly charming. The leafy streets are lined with colourful French cafes and inns, and there's even an ocean front promenade. The town is a popular destination among backpackers as it has many quaint hotels and hostels catering for all. It is an ideal town for travellers who love a relaxed holiday exploring the cafe culture, where the aroma of both French favourites such as crepes and South Indian favourites such as dosas fill the air.
Pondicherry is definitely a favourite among the locals, tourists, and backpackers who enjoy visiting the temples, churches, and monuments. However, it is also a town that draws adventure junkies who love sports such as surfing and scuba diving.
Pondicherry is recognised by the global diving company PADI. With more than 20 dive sites, it is suitable for scuba divers at all levels. One of the most fascinating dive sites is the temple reef, which is an artificial reef constructed from fully recycled materials such as trees, bottles, iron bars and palm leaves. Created and managed by the local dive centre Temple Adventures, the reef was started to replenish the dying reef and marine life which was diminishing due to overfishing.
Pondicherry should be on every traveller's bucket list.
Raksha Nagaraj is an Australian and Indian travel blogger. She mainly focuses on solo female traveling, hiking and diving through her blog SoloPassport.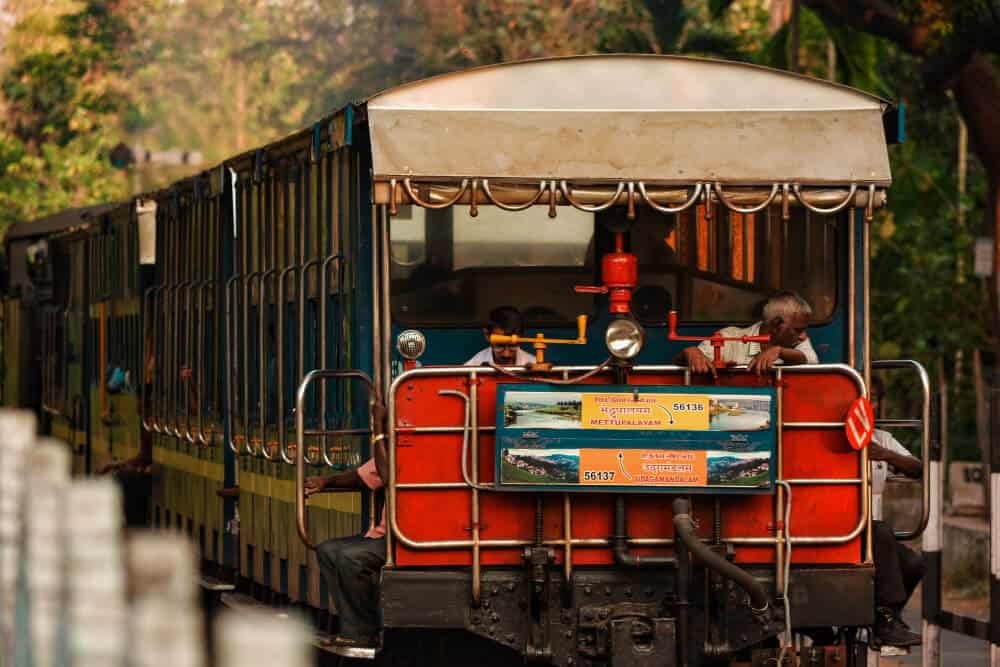 Ooty, Queen of Nilgiri Hills
They call Ooty the Queen of Nilgiri Hills. Located at a height of 2,240 metres above sea level, Ooty (or Udagamandalam) is the most visited hill station in south India. Even Bollywood has a soft corner for her. The captivating rolling hills of 6th Mile and 9th Mile (called Wenlock Downs), along with the towering pine forests and the beautiful Ooty lakes are part of many romantic Bollywood blockbusters.
There are not many tourists who would want to miss a boating opportunity in the pristine waters of Pykara Lake and Ooty Lake. A day trip to the enchanting valleys of Ketty, the tea plantations of Coonoor, and the quaint cantonment town of Wellington would be high on anyone's list of places to visit.
Even the train trip is a tourist attraction. The famous Nilgiri Mountain Railway is a UNESCO World Heritage train ride. Though the complete journey of 46 kilometres from the plains of Mettupalayam to the hills of Ooty takes five hours, the part from Ooty to Coonoor is the most picturesque and takes only an hour to complete.
Some other great places to visit include:
The Ooty Rose Garden has the largest variety of rose plants in India. While Ooty Botanical Garden houses 1,000 species of exotic and indigenous plants including a 20-million-year-old fossilised tree.

The century-old St. Stephens Church.

The Stone House, the oldest bungalow of Ooty

Ooty Club, where the rules of Snooker were first drafted

Traditional Toda huts, home of Toda tribe, the original inhabitants of Ooty

The Doddabetta peak, the highest peak of Nilgiri Hills

Avalanche Lake and the Emerald Lake, two amazing natural water reservoirs surrounded by green hills.
Plus, Ooty is located inside the Nilgiri Biosphere Reserve. That means you can visit some of the finest wildlife sanctuaries in India while in Ooty. Mukurthi National Park is famous for Nilgiri Tahrs, while Mudumalai National Park is home to a large population of Indian elephants, leopards, gaurs, and Bengal tigers.
To reach Ooty, you can fly to the nearest airport, which is in Coimbatore, 84 kilometres away. Or you can drive from Chennai (550 kilometres) or Bengaluru International Airport (265 kilometres).
Subhadeep Mondal is a travel blogger and photographer from Kolkata, India who loves to write his travel tales in his blog My Travel Frames.
Chettinad
The legacy of wealthy Chettiar families, in the form of culture, food, heritage, and ancestral mansions, still remains in the Chettinad region of Tamil Nadu. Centuries ago, the erstwhile mercantile community of the state occupied about 80 villages around the present-day town of Karaikudi.
The wealthy merchants and bankers lived in palatial mansions that had large courtyards, intricately carved Burma teak wood doors and pillars, colorful Athangudi and Japanese tiles, and chandeliers and glass from Europe. Most of the mansions are now abandoned, but make excellent stops for photography and culture enthusiasts.
Besides mansion hopping, there are plenty of other things to do in Chettinad. The temples in the regions are not only architecturally pleasing, but are quite unusual. One example would be that of the Horse Temple where clay horses of varying sizes and colour are left behind by the devotees.
The antique markets are not just places to shop, but living museums where people can appreciate the art collections that were once a part of the ancestral Chettinad mansions.
Your visit to Chettinad is not complete if you have not sampled their delightful food. In fact, it is the food that has made this region famous across the world. The rich flavours from freshly ground spices and unique ingredients like Maratti Moku and stone flowers, when blended in tamarind or tomato curries, is enough to convert any non-foodie. From Chettinad Chicken, Prawn curries and Mutton Chukka to Kuzhi Paniyaram, Dosai, and Brinjal curries – there are plenty of options for both vegetarians and non-vegetarians.
Ami Bhat is a full-time travel writer, photographer and blogger who believes in counting experiences and not just places. You can catch her adventures on www.thrillingtravel.in
Ancient temples of Kumbakonam
Located on the banks of River Kaveri, Kumbakonam is an ancient temple town. It gets its name from the word kumbam meaning a pot or vessel for holy water. This pot contained Amritam (ambrosia) and the seeds of creation for the next cycle of life.
The kumbam floated off during the last destruction of the world. It came to rest at Kumbakonam, with the help of Lord Shiva. Its contents were spilled and a huge lake arose. Mahamaham festival takes place every year around Mahamaham Tank to commemorate this cosmic event, and a big festival takes place once in 12 years.
Kumbakonam was a part of several successive kingdoms such as Cholas, Pallavas, Pandyas, Vijayanagaram, and Nayaks. As a consequence, the region developed a mix of cultures over the years, with each ruler adding more temples.
There are nearly 200 temples in this town and 1,000 more in the vicinity. Most of them are dedicated to Shiva and Vishnu of the Trimurti. The most important ones are as follows:
Adi Kumbeswarar is the oldest temple dedicated to Lord Shiva.
Sarangapani Temple is the largest Vishnu temple in Kumbakonam with 108 Divya Desam (Holy places) of pilgrimage for the followers of Vishnu. Not to be missed is the huge temple chariot weighing 300 tonnes, which is brought out during festivals.
Ramaswamy Temple is dedicated to Lord Rama who is an Avatar of Vishnu. Ramayana, the story of Rama, is painted on the walls of the temple and is quite unique.
Mahamaham Tank which is part of the legend of Kumbakonam is said to be spread over six acres with many mandapas and holy wells around the tanks, each dedicated to different gods and goddesses.
Kasi Viswanathar Temple is a Shiva temple dedicated to the temple at Varanasi with the same name.
About four kilometres from the centre of Kumbakonam is a huge temple of Darasuram called Airavatesvara Temple, a UNESCO world heritage site. The architecture, with its stone chariots, apsaras, sun dials and shrines for lots of gods and goddesses has to be seen to be believed. The highlight is "the singing steps," where each step produces a different note when you step on them.
All these temples and many more have beautiful towers, deep religious significance and have interesting legends attached to them which can keep the visitors enthralled.
Nisha & Vasu are Mumbai based couple travel bloggers, blogging at www.lemonicks.com for more than a decade. Counting memories, not countries is their mantra and they vouch for responsible tourism, look for untold stories from their slow & deep travels.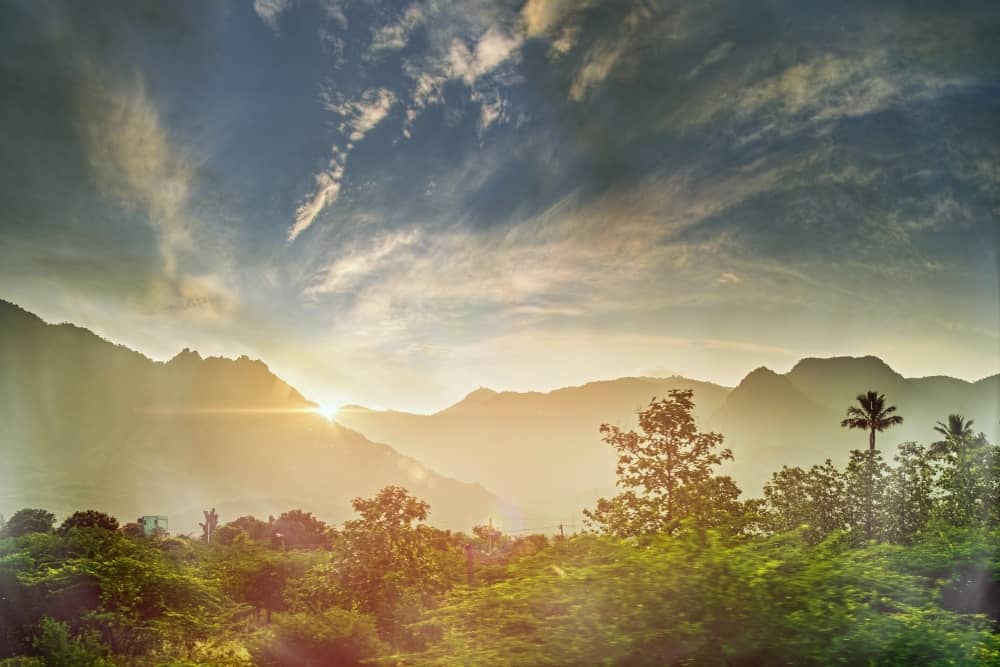 Masinagudi
Masinagudi is part of the Nilgiris district of Tamil Nadu. Sitting on the edge of Mudumalai National Park, it shares the border with Bandipur National Park of Karnataka state. The Nilgiri mountain ranges surrounding Masinagudi create lush, green scenery all year round. This incredible location makes Masinagudi a favoured vacation destination for nature and wildlife lovers.
Masinagudi is blessed with a wide variety of flora and fauna. Since this popular tourist town is located between two great national parks of India, this is also a popular wildlife corridor. You can take a wildlife safari in a jeep for a chance to see the animals from up-close in their natural habitat (of course without bothering them). Although tiger sightings are not as common here, elephant sightings are very common. In fact, when you drive through the jungle to reach Masinagudi, drive slowly and keep an eye out for possible wildlife sightings. Chances are good that you will encounter an elephant … or five.
There are many jungle resorts in Masinagudi offering stays ranging from budget to luxury. Whether it is for a romantic getaway or a family holiday, Masinagudi makes for a soothing vacation experience in the lap of nature. You may, while having breakfast at your jungle resort, get to see a herd of deer roaming around the resort property — and find yourself believing in the peaceful coexistence of humans and nature.
Although the nearest airport is Coimbatore (114 kilometres), Masinagudi is also close to Wayanad (90 kilometres) in Kerala and both Mysore (99 kilometres) and Bangalore (240 kilometres) in Karnataka. So, Masinagudi receives domestic tourists not just from Tamil Nadu, but also from its neighbouring states. When you are in Masinagudi, it is also easy to combine a side trip to Ooty, Tamil Nadu's famous hill station, lying only 30 kilometres south of Masinagudi.
Pubali and Indranil, the travel blogger duo of Paradise Catchers, are an Indian couple traveling across Latin America and Caribbean one bit at a time, while living in Costa Rica.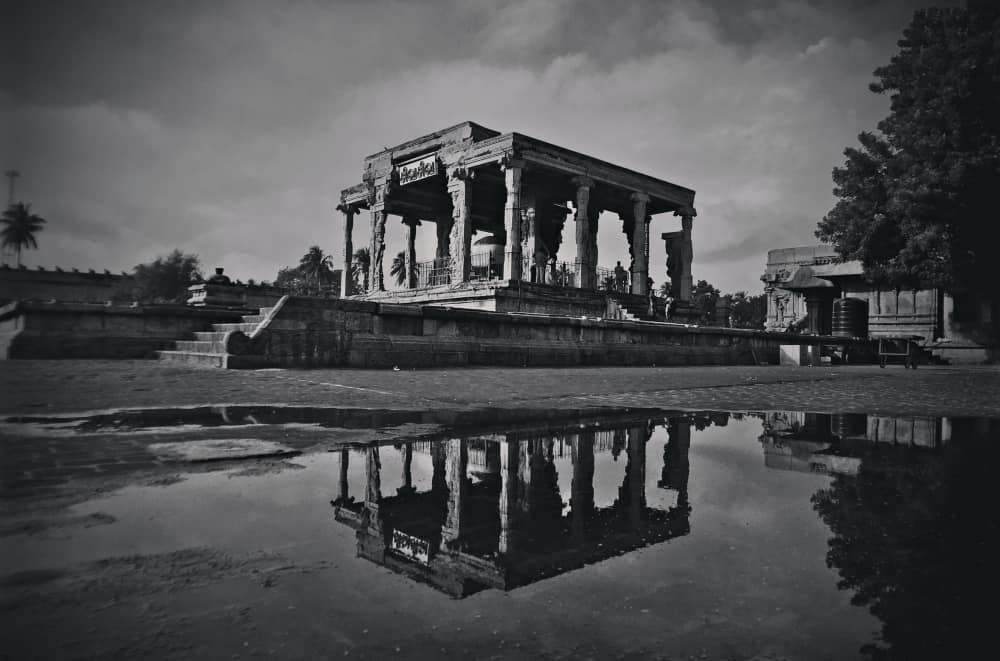 Thiruvarur District
Thulasendrapuram is a small village ringed by lush green rice paddies, in Thiruvarur district of Tamil Nadu. It's suddenly gaining a lot of attention because Kamala Harris's maternal grandfather P.V. Gopalan was born there more than 100 years ago. He was a big inspiration to the vice-president of the United States, who inspired her with his stories about fighting for the rights of Indians to win independence from Britain.
Since Kamala Harris was elected, interest in her Mother's birthplace has escalated. Her Mother, Dr. Shyamala Gopalan, a cancer researcher, was born and raised in Chennai, Tamil Nadu and emigrated to the United States when she was just 19 years old to study. There she married and gave birth to two daughters, Kamala and Maya. Born and raised in California, Kamala Harris is proud of her mixed race background.
Aside from the significance of this region to Kamala Harris, what makes Thiruvarur a special place? The story revolves around the temples and the globally renowned music festival Thyagaraja, named after the deity of the temple. There are 14 temples within a 14 kilometre radius of Thiruvarur town.
One of the most important temples is Thyagaraja Temple, a Shiva temple, located in the town of Thiruvarur. The huge temple complex covers 30 acres, and is one of the largest in India. It houses nine gateway towers known as gopurams. The tallest is the eastern tower, with four stories and a height of 30 metres. The temple has numerous shrines, with those of Thyagaragar (Veethi Vidangar) and Neelothbalambal (Alliyankothai) being the most prominent.
The world famous Thyagaraja Aaradhana is the annual festival of Telugu saint-composer Thyagaraja. The music festival is observed in the states of Andhra Pradesh and Tamil Nadu, primarily in Tiruvaiyaru (72 kilometres from Thiruvarur), the place where Thyagaraja attained samadhi. He was one of the renowned composers of Carnatic music, a form of Indian classical music. He was prolific and highly influential in the development of India's classical music tradition.
Thyagaraja and his contemporaries, Shyama Shastri and Muthuswami Dikshitar were regarded as the Trinity of Carnatic music. Tyagaraja composed thousands of devotional compositions, most in Telugu and in praise of Lord Rama, many of which remain popular today. Of special mention are five of his compositions called the Pancharatna Kritis ("five gems"), which are often sung in programs in his honour.
The Thyagaraja Aradhana festival is held in December or January, when most of the leading exponents of Carnatic music come to perform and are watched by thousands of ardent fans. A huge complex is built at this site to accommodate the large audiences.
Other popular places near Thiruvarur include Tanjavur and Kumbakonam. Brihadeswara Temple at Tanjavur is a world heritage site and the Navagraha temples around Kumbakonam are considered a must-see.
Closest airport to Thiruvarur is Trichy Airport (120 kilometres) and closest railway station is Tanjavur Railway Station (62 kilometres). It's about 300 kilometres from Chennai by road.
By Aneesh Babu of Dravidian Trails.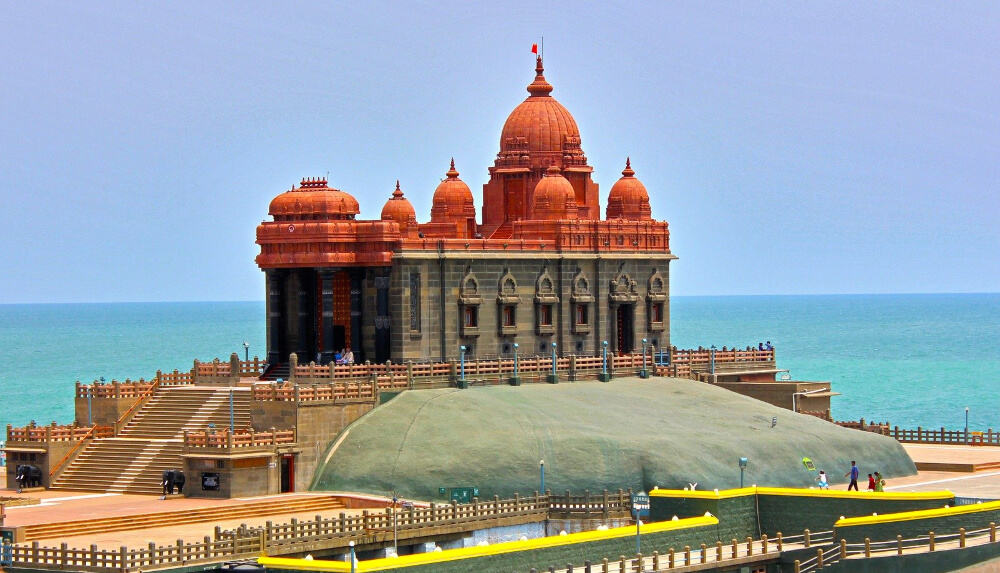 Kanyakumari
Located at the southernmost tip of India, in the state of Tamil Nadu, is the famous coastal town of Kanyakumari. Kanyakumari is the only place on earth where three oceans meet: the Arabian Sea, the Bay of Bengal, and the Indian Ocean. This confluence is called the Triveni Sangam. (Triveni means three and sangam means confluence). Each ocean is a different colour and it's fun to try and discern them. It is also considered auspicious to take a bath in this holy water.
You can watch both the sunrise and sunset at the Kanyakumari beach with only the waters, monuments, and the horizon within your sight. This indeed is an instagrammable picture, but there is much magic beyond the photo which you have to be there to experience.
Kanyakumari is a famous tourist spot in Tamil Nadu and also an important pilgrim place. Kanyakumari is named after Devi Kanya Kumari, an incarnation of Goddess Parvathi. It is believed that she was set to marry Lord Shiva, but he did not turn up on the auspicious day. This infuriated the Devi and she threw all the things and decided to remain unmarried all her life. Hence the name of the city: kanya means girl while kumari means unmarried.
The 3,000 year old Bhagavathy Amman Temple is dedicated to Goddess Kanya Kumari and is one of the most important temples in India. It is thronged by many disciples and cannot be missed.
You should also not miss the Vivekananda Rock Memorial and the Thiruvalluvar Statue, both on islands off the shore. These are accessible by state run ferries that have a nominal ticket price.
Tip: There's often a waiting time of one hour to board the ferry. Visit in the morning. The floors of the rock memorial can become too hot to walk on in the afternoon.
Neha is a traveler at heart and loves to travel with her husband and two kids all across the globe. She truly believes not all classrooms have four walls and want her kids to explore the culture, cuisine and architecture of other countries and become global citizens. She pens her experiences at Travelmelodies.com helping other families to travel.
Rameshwaram
Rameshwaram is one among the sacred char dhams for Hindus, the key pilgrimage centres of India situated in the four corners of India. It has been a great source of inspiration for countless saints and commoners alike from all walks of life, since time immemorial.
The pilgrimage is a unique one in many ways starting with the train journey to the revered land — which passes along the Pamban bridge. A 100 year old architectural marvel, this massive sea bridge, India's first, connects the Indian mainland to Rameshwaram island . Passing over it is an exciting experience in itself, with cool sea breezes gusting from the waters of the Indian ocean.
Before one enters the main Rameshwaram, or the Ramanathaswamy temple, one has to follow a special custom: bathing! Pilgrims must bath in water that comes from a well. The holy water is mysteriously sweet and has curative properties.
After bathing, comes the final leg of the Rameshwaram darshan yatra (holy pilgrimage), which is praying to the Shiva Lingam, one of the twelve Jyotirlingas in the world. (It was worshiped by none other than Lord Rama himself.) To get there, one has to walk through a gloriously ornate corridor. Considered to be the longest in the world at 3,850 feet in length and 30 feet in height, the famed corridor is supported by 1,212 pillars and is another highlight of the yatra.
Arti is a wanderer at heart and a wonderer in spirit; discovering, creating and simply being present for the gift called life. Her blog is MyYatraDiary.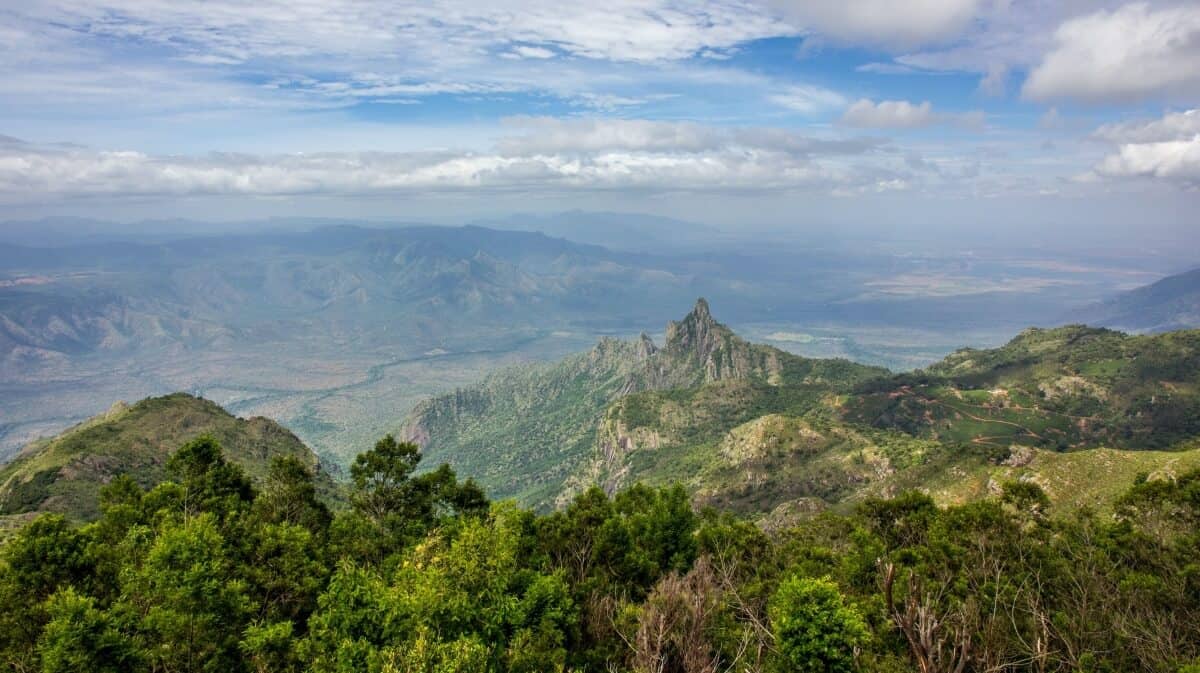 The natural world of Tamil Nadu
Western Ghats
Think Tamil Nadu and one thinks of the ancient Pallava rock cut cave temples of Mahabalipuram or the Great Living Chola temples. But there is more to Tamil Nadu than just ancient heritage. The Western Ghats which runs along the western coast of India is an integral part of Tamil Nadu, and it's one of the top four biodiversity hotspots of India.
The Western Ghats, a UNESCO World Heritage Site, is a mountain range that runs 1,600 kilometres through the Indian states of Gujarat, Maharashtra, Karnataka, Goa, Kerala, and Tamil Nadu, parallel to the western coast of the country. It contains a large proportion of flora and fauna endemic to India, and influences the monsoon weather patterns. The Western Ghats is one of the world's top 10 biodiversity hotspots, rivaling the Amazon basin.
World Heritage sites in Tamil Nadu include wildlife sanctuaries, hill stations, lakes, and waterfalls. From the Nilgiris to Anaimalai Mountains, from Sathyamangalam and Mudhumalai Wildlife Sanctuaries to Kalakad Mundanthurai Tiger Reserve, and from Valparai to Kodaikanal — Tamil Nadu has several natural destinations that cannot be missed.
Lakshmi blogs at LakshmiSharath.
---
If you enjoyed this post, you can….
Sign up to The Travel Newsletter in the sidebar and follow Breathedreamgo on all social media platforms including Instagram, TripAdvisor, Facebook, Pinterest, and Twitter. Thank you!