Freelance travel writer and blogger
Welcome to Breathedreamgo! My name is Mariellen Ward and I'm an award-winning professional travel writer based in Rishikesh, India. I launched Breathedreamgo in August 2009, inspired by my extensive travels in India. In 2019, I won the National Tourism Award for Best Foreign Travel Journalist / Blogger from Incredible India Tourism, and I have been short-listed several times for responsible tourism awards — most recently for the Outlook Indian Responsible Tourism Award (2020) for Best Communicator.
I have a BA in Journalism and write for leading international newspapers, magazines and online sites (see portfolio below). My passion is travel in India, the underlying theme of my writing is "meaningful adventure travel" and I am an advocate of women's solo travel and responsible travel / sustainable tourism practices.
I carry a reusable bottle when I travel and refill it with filtered water. I take great care to show cultural respect while travelling and in my writing. I try and promote fair trade artisans and organizations, responsible tourism companies, and well-managed wildlife tourism. I speak out against irresponsible practices and animal cruelty, such as elephant riding. These values are important to me personally and professionally.
I am co-founder of the highly successful Toronto Travel Massive, a monthly meetup group for travel bloggers and the travel industry; and I am also the co-founder of Delhi Travel Massive; and I started the #WeGoSolo movement to encourage women to travel solo safely.
To find out "why India" please read My Story. In 2010 I published my first book, Song of India: Tales of Travel and Transformation. You can get a free PDF copy of this book by signing up for my inspiring weekly newsletter in the sidebar.
Please scroll down to see a select portfolio of my travel-related writing. I am also a copywriter. You can find out more about my corporate communications work on my Linkedin profile.
For profile / travel pictures please visit this Flickr set.

Travel Writing Portfolio
Magazine and newspaper articles
WOMANKIND MAGAZINE
Two cover stories: Yogis in India and My Life in an Ashram May 2019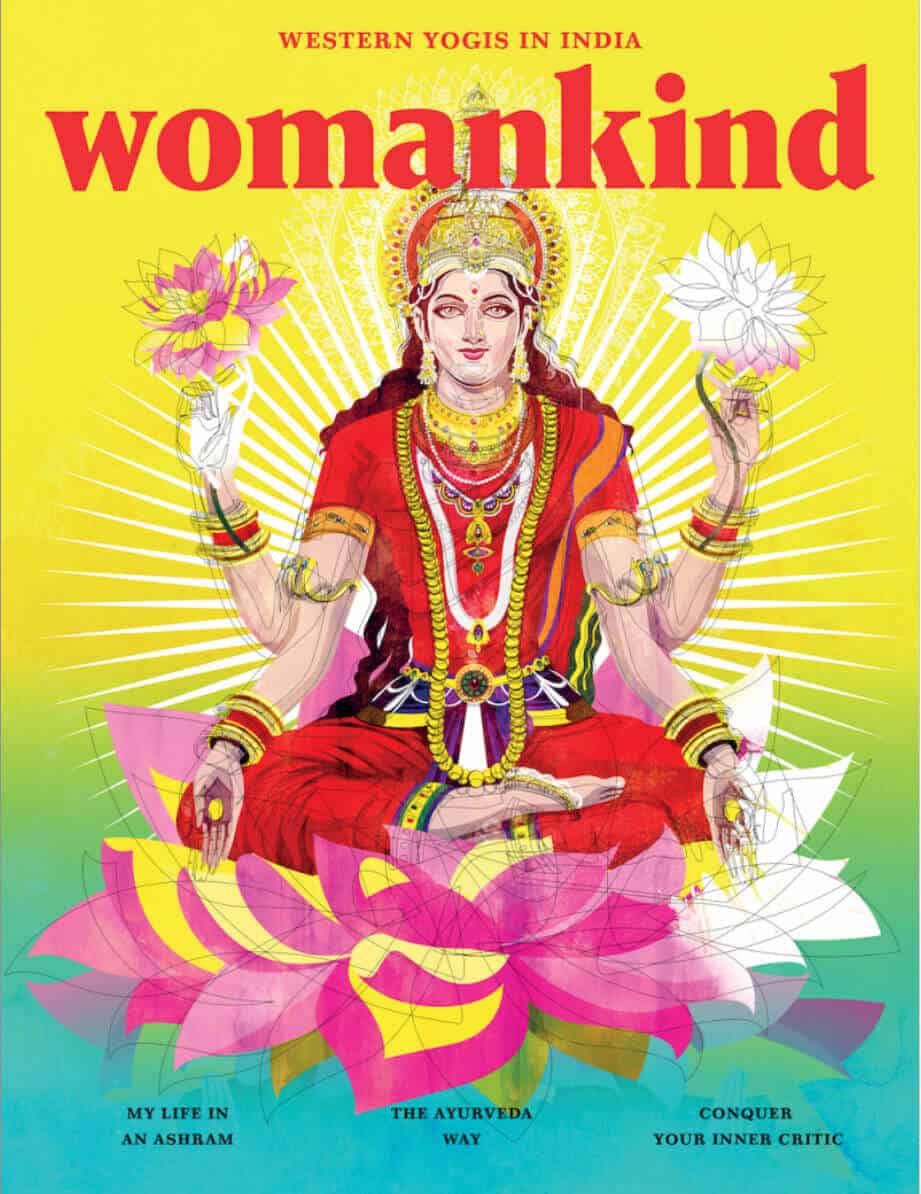 NATIONAL GEOGRAPHIC TRAVELLER India
March 2018 Cover story: A Place in the sun — 26 Summer Trips
April 2018 Cover story: Beyond Capital Limits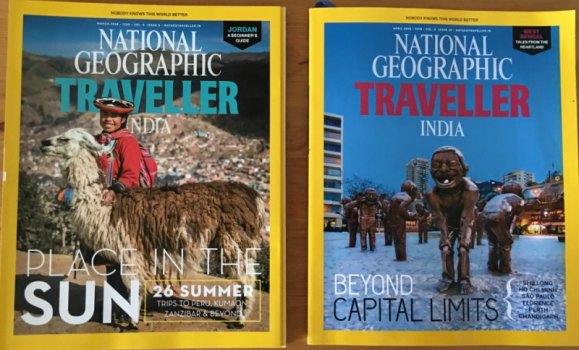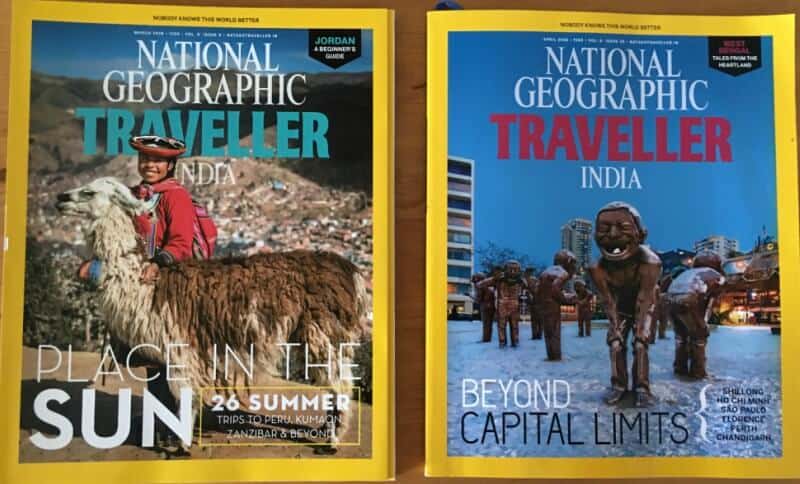 VOGUE India
The Travel Issue: Oysters in PEI (PDF)
Living the Legend: Following in the footsteps of Mirabai (Vogue Mirabai PDF)
OUTPOST Magazine
Just Breathe, Dream, Go (16-page feature on my travels in India)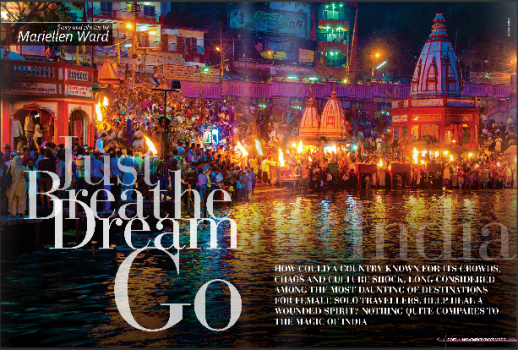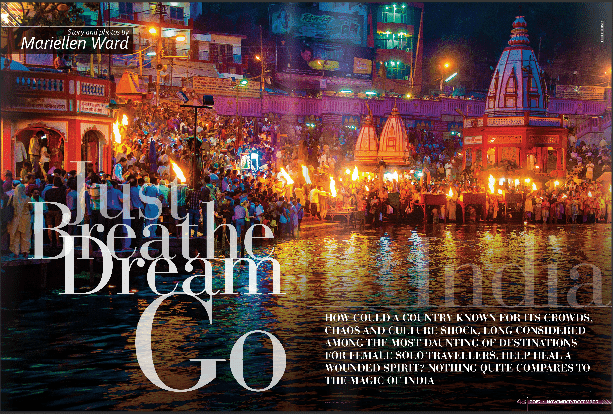 Ensemble Magazine
Dreamscapes Magazine
– Yoga in India (page 12-14) or PDF
Zoomer Magazine
– Happiness: What do they know that we don't? (PDF)
Toronto Star
Canadian Living Magazine
– Change is a process, not a destination
Homemakers Magazine
– Sacred Journey (PDF)
Zoomer Magazine
– Lotus Blossom: Turning 50 in India (PDF)
Discover India
– Bengaluru: Impressions of a city (16-page cover feature) (Bangalore PDF)
Acura Style magazine
– Golden Mirage: Jaisalmer (PDF)
Dreamscapes Magazine
– India is Yoga (PDF)
Online travel and yoga magazines / sites

BBC Travel
Atlas Obscura
Gastro Obscura
CN Traveller India
World Nomads
UnearthWomen
Inside Himalayas
Horizon Guides
International Expeditions
Zeghram Expeditions
Better Places Travel blog
G Adventures
Mantra Wild
WomensWeb.in
Following in the footsteps of Mira
Toronto Tourism: My Toronto
Nostalgia, Toronto Style
Vacay.ca
– India masala in Toronto
– On Titanic 100th, Halifax remembers
– Halifax respectfully honours the Titanic
– Titanic memorabilia in Halifax
– Titanic feast proves Halifax seafood supremacy is unsinkable
– Riding the rails into Group of Seven Country
– Chasing Justin Trudeau in Ottawa
SoloTraverlBlog
– Recovering from loss by following a dream
Transitions Abroad
– Yoga as a window into Indian culture
Journeywoman
– Top 10 tips for women travelling in India
– Shopping in India
– Bed, bugs, bacteria, and bad guys

Bootsnall
India: A Healing Journey
TravelersUniverse.com
The art of solo female travel: Go your own way
Hotelscheap.org
Expert Interview with Mariellen Ward
Canadian Living Magazine
– Change is a process, not a destination (PDF)
Travelblog
Mariellen's India Travel blog
~ between December 2005 – April 2009 I spent 11 months living, traveling, studying and volunteering in India. Please visit if you want to share my adventures on the subcontinent.
All material on this weblog is copyright Mariellen Ward 2019