Freelance travel writer and blogger
Welcome to Breathedreamgo! My name is Mariellen Ward and I'm an award-winning professional travel writer based in Rishikesh, India. I launched Breathedreamgo in August 2009, inspired by my extensive travels in India.
I have a BA in Journalism and write for leading international newspapers, magazines and online sites (see portfolio below). My passion is travel in India, the underlying theme of my writing is "meaningful adventure travel" and I am an advocate of women's solo travel and responsible travel / sustainable tourism practices.
I carry a reusable bottle when I travel and refill it with filtered water. I take great care to show cultural respect while travelling and in my writing. I try and promote fair trade artisans and organizations, responsible tourism companies, and well-managed wildlife tourism. I speak out against irresponsible practices and animal cruelty, such as elephant riding. These values are important to me personally and professionally.
I am co-founder of the highly successful Toronto Travel Massive, a monthly meetup group for travel bloggers and the travel industry; and I am also the co-founder of Delhi Travel Massive; and I started the #WeGoSolo movement to encourage women to travel solo safely.
To find out "why India" please read My Story. In 2010 I published my first book, Song of India: Tales of Travel and Transformation. You can get a free PDF copy of this book by signing up for my inspiring weekly newsletter in the sidebar.
Please scroll down to see a select portfolio of my travel-related writing. I am also a copywriter. You can find out more about my corporate communications work on my Linkedin profile.
For profile / travel pictures please visit this Flickr set.

Portfolio
Magazine and newspaper articles
NATIONAL GEOGRAPHIC TRAVELLER India
March 2018 Cover story: A Place in the sun — 26 Summer Trips
April 2018 Cover story: Beyond Capital Limits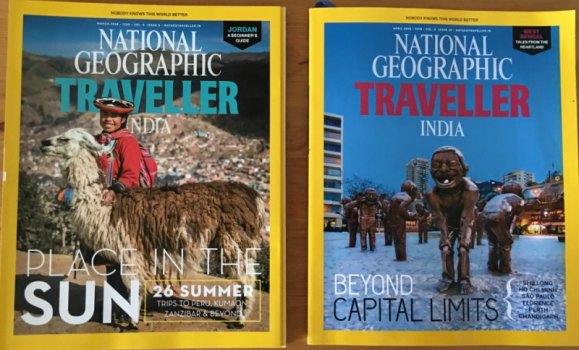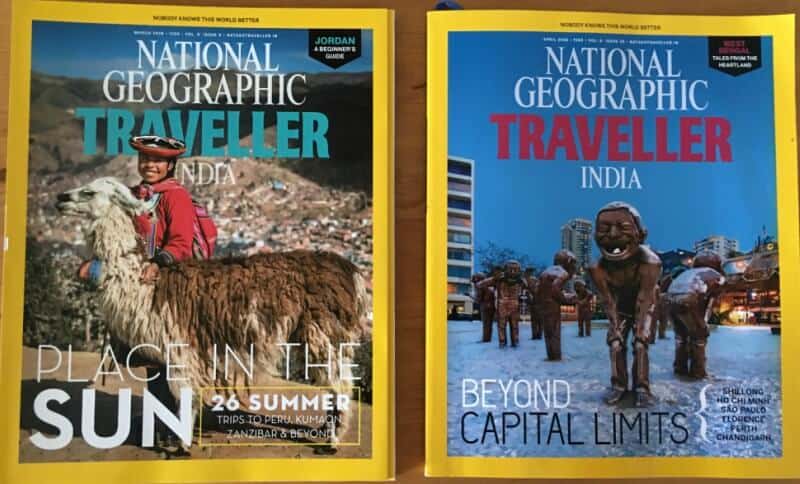 VOGUE India
The Travel Issue: Oysters in PEI (PDF)
Living the Legend: Following in the footsteps of Mirabai (Vogue Mirabai PDF)
OUTPOST Magazine
Just Breathe, Dream, Go (16-page feature on my travels in India)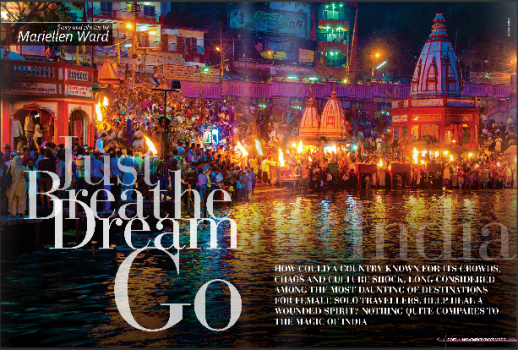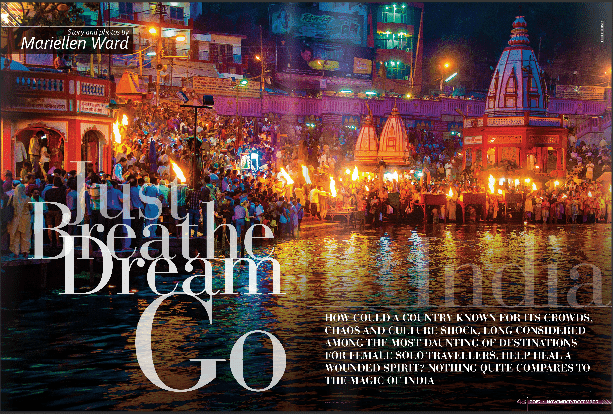 Ensemble Magazine
Dreamscapes Magazine
– Yoga in India (page 12-14) or PDF
AMEX Essentials Magazine
– The Best of India
Travel+Escape iPad Magazine
– Tea and Sympathy in Darjeeling
– On the Goosebump trail in Ireland
Wild Junket Magazine
– PDF of Shangri-la in the Himalayas
Zoomer Magazine
– Happiness: What do they know that we don't? (PDF)
Toronto Star
– Aging Gracefully: Delhi at 100
Homemakers Magazine
– The Joy of Cheap
Toronto Star
– Mumbai Mesmerizes
Maple Tree Literary Supplement
–Defining Indo-Canadian Writing
Canadian Living Magazine
– Change is a process, not a destination
Toronto Star newspaper
– Life in an ashram in India
Homemakers Magazine
– Sacred Journey (PDF)
Zoomer Magazine
– Lotus Blossom: Turning 50 in India (PDF)
Discover India
– Bengaluru: Impressions of a city (16-page cover feature) (Bangalore PDF)
Asian Woman (Canada) Magazine
– Role Models: Rani Mukherjee, Pryianka Chopra and Seema Biswas
This magazine
– Booming trade in slum tourism dispels some myths, create others
Arrival Magazine: Aeroplan's monthly magazine and Arrival online
– Winter wonderland: Cool, colourful things to do in India in winter
Acura Style magazine
– Golden Mirage: Jaisalmer (PDF)
The Toronto Star travel section
– India: Journey to the other side
Dreamscapes Magazine : Globe and Mail supplement
– India is Yoga (PDF)
Online travel and yoga magazines / sites

BBC Travel:
Atlas Obscura
Gastro Obscura
CN Traveller India: When you write a travel book, you need to have terrible things happen to you
CN Traveller India: Tips and advice from a solo woman traveller
World Nomads
UnearthWomen
Inside Himalayas
Horizon Guides
International Expeditions:
Zeghram Expeditions
The Volunteer Traveler
Better Places Travel blog
HappyTrips
Toronto Guides
Vancouver Guides
Huffington Post
G Adventures
FreshBooks
How to plan and save for your dream trip
How the pros run their business on the road
When a vacation is good for business
Mantra Wild
WomensWeb.in
Following in the footsteps of Mira
Frommer's
Three Iconoclasts in Travel
Coolhunting.com
Kensington Tours Explorer in Residence Series
TheDailyMuse.com
How you (yes you) can make a sabbatical happen
Killing Batteries
A vomit anthology
Toronto Tourism: My Toronto
Nostalgia, Toronto Style
Travel+Escape
Bi-monthly Immersive Travel column
– Comfort and Joy: Three heavenly havens
– Are you a tourist or a traveler?
– New Year's Eve in Kerala
– Have you found your soul culture?
– A perfect winter moment
– Tom Cruise, lost in Havana and the real Cuba
– Deep in the jungle of Costa Rica
– Exhale at a tropical health spa in Kerala
– A Tale of two Beaches
– India's sustainable tiger safaris
– Help save India's most sacred river
– The Healing Power of Travel in India
– 10 (More) Inspiring travel books
– Twilight at the Cottage
– Don't get scammed in Delhi
– Busting the Blessing Scam
– At the New Delhi Train Station
Vacay.ca
Senior Writer
– India masala in Toronto
– On Titanic 100th, Halifax remembers
– Halifax respectfully honours the Titanic
– Titanic memorabilia in Halifax
– Titanic feast proves Halifax seafood supremacy is unsinkable
– Riding the rails into Group of Seven Country
– Chasing Justin Trudeau in Ottawa
Travel Wire Asia
Regular Contributor
– The dust of India
– How to "do" a yoga ashram in India, Part 1
– How to get ready for your ashram adventure, Part 2
– What to expect at an ashram, Part 3
– How to shop in India, Part 1: Top 5 tips
– How to shop in India Part 2: Top 5 things to buy
– Favourite places in India: Rishikesh
Mahindra Homestays
– The "Queens of the Hills"
Green GlobalTravel
– On the Trail of tigers in India's Ranthambore National Park
– Travelllll
– Why India? The advantages of destination specific blogging
Sympatico Travel
– On the trail of the tiger in India
– Fit for a Prince: Rolling out the red-and-white carpet
FreshJuice
– The menu on the Titanic: A Moveable Feast
ZipSetGo
– What is Transformative Travel?
Brave New Traveler / The Matador Network
– Travel is an exercise in perception
Bootsnall
– 10 Ways to Experience India Now
Passports with Purpose
– Why I support Passports with Purpose
Bootsnall
– Five hard truths about long term travel
The Art Gallery of Ontario : Maharaja
– If these walls could talk
Travel Writers Exchange
– How to work with tourism boards
Travel Writers Exchange
– The importance of finding your travel niche
Matador Abroad, The Matador Network
~ India, poverty and the fear of traveling to poor places
SoloTraverlBlog
– Getting ready to go: Four top solo travel tips
– Recovering from loss by following a dream
Transitions Abroad
– Yoga as a window into Indian culture
Transitions Abroad
~ Learning to love Delhi
Journeywoman website and e-newsletter
~ She packs for India: packing tips for travel in India
– Top 10 things to buy in India
– Top 10 tips for women travelling in India
– How to dress for social success in India
Trazzler
~ Strolling in Lodhi Garden, Delhi
~ Falling in love with the Jaisalmer desert
What travel writers say
~ Ashrams in Rishikesh
SoloTraveler
~ Recommended: Traveling solo in India
The Matador Network
~ 11 reasons to visit India in the summertime
Humantimes.com
~ What Yoga is
Examiner.com: Sustainable Travel
~ Butterflies are free: volunteering in Dharamsala
The Mindful Word
– How I learned to accept change

Guest Posts
Hostelbookers
– How to fall in love with travelling solo: 11 lessons from 4 WeGoSolo experts
Interviews
QiRanger.com
How to be safe in India, podcast
Backpacking Spirit
India Packing List
TravelersUniverse.com
The art of solo female travel: Go your own way
Hotelscheap.org
Expert Interview with Mariellen Ward
Pure Xahir
– profile of Breathedreamgo on site that curates and reviews blogs
Bootsnall
India: A Healing Journey
Where.ca
Travel Tuesday Q&A with Mariellen Ward of BreatheDreamGo
MyBindi
Canadian travel blog makes list of top Indian blogs
Desi News
Wide-eyed Wanderer: A profile
Citizen Lou
Helping Hands
8 Women Dream interview
Breathedreamgo: A mantra for living
Weekly Voice
How one woman found solace in India PDF
Interview: How one woman found solace in India
Interview with Rashi Khilnani, Indo-Canadian Report on CBC
– Blogging about the IIFAs
Appearance on Nat & Marie, Ustream TV talk show
Masti Magazine
– Song of India book-review
Canadian Living Magazine
– Change is a process, not a destination (PDF)
Akshara Yoga blog
– Of Breathing, dreaming and blogging
India-Asia News Service
– Raj Kapoor martini marks IIFA in Toronto
Travelblog
Mariellen's India Travel blog
~ between December 2005 – April 2009 I spent 11 months living, traveling, studying and volunteering in India. Please visit if you want to share my adventures on the subcontinent.
All material on this weblog is copyright Mariellen Ward 2013