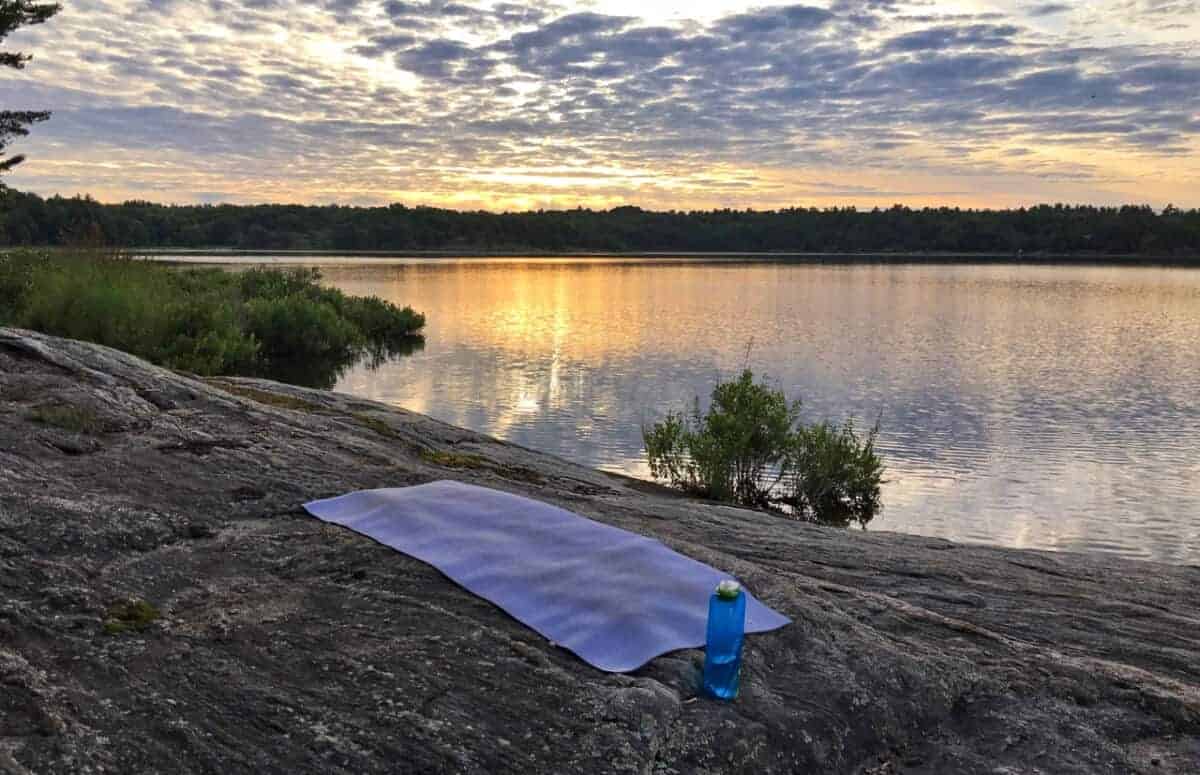 Round-up of responsible travel products includes filtered water bottles, reusable straws, zero waste containers
EVERYONE CAN TAKE STEPS towards being a more responsible traveler and supporting sustainable tourism. It just takes some thought and research about your choices. Ecotourism and eco travels can mean a number of different things, from the places you choose to go, to the gear and products you take with you, to how you travel. For example, are you carrying a filtered water bottle instead of single-use plastic water bottles that you throw away? Are you making eco friendly choices – such as choosing reef-friendly sunscreen, carrying a reusable straw, and packing some zero-waste products like collapsible tupperware?
In this post, travel bloggers review their favourite eco friendly travel products, and make suggestions and recommendations for how you can be a more responsible traveler. These are all products you can use at home and take with you on the road, and they are all the best products we could find in their category. If you want to purchase any of these products, click the links or Amazon ads below. For more ideas, read this post on Best Travel Gifts.
Reusable water bottles
Starting with a reusable water bottle is a good first step, so here's a selection you purchase from Amazon at various prices. Trustworthy names include Nalgene, Kleen Kanteen, and Brita, to name a few.
Lifestraw Go by Bret and Mary of Green Global Travel
Plastic pollution has become an increasingly important environmental concern over the past decade. The Great Pacific Garbage Patch has grown to an estimated 80,000 metric tons covering approximately 1.6 million square kilometers, halfway between California and Hawaii. But, as travelers who frequently visit remote places where potable drinking water can be difficult to come by, how do you stay hydrated without buying bottled water and contributing to the plastic pollution problem?
As a teen, I learned my lesson about the importance of quality H2O the hard way. While camping and hiking in north Georgia (the southeastern U.S. state, not the country), I ran out of drinking water. So I simply filled my canteen from what appeared to be a crystal clear, remote mountain stream. The intense dysentery that resulted remains one of my worst early travel memories.
But these days I know that microbiological water bottles are essential backcountry camping gear, and they're great for world travelers as well. The Lifestraw Go is extremely affordable and very effective. The bottle boasts a 2-stage filtration process that removes 99.9999% of all waterborne bacteria and parasites, lasting up to 264 gallons before you'll need to replace it with a new filter. And when we're in a place where potable drinking water is available, we simply remove the filter and use it like a normal water bottle. No need to buy bottled water ever again!
Best of all, for every LifeStraw product purchased, one child in a developing country receives clean drinking water for an entire school year. Their "Follow the Litter program" has already provided safe drinking water to more than 629,000 children in Kenya and India.
Tip provided by Bret Love & Mary Gabbett of Green Global Travel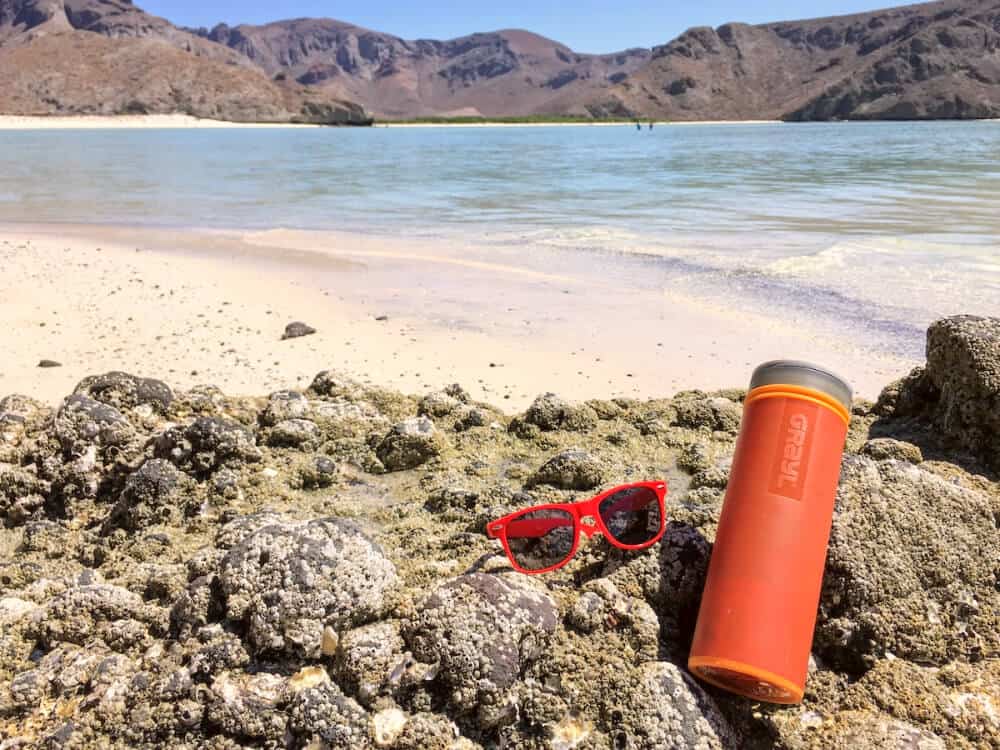 GRAYL by Kristen Gill
I tested my GRAYL water bottle extensively in Nepal, Mexico, Europe, North and South America, and the Middle East, and I can attest that the GRAYL is easy to use, lightweight, convenient, and reliable.
GRAYL makes safe, clean water from any freshwater source, be it river, stream, waterfall, or hotel room tap. Admittedly, it can take some getting used to at first, but the water from these sources, once purified, is just as good, if not better, than pre-packaged, single-use plastic bottles of water.
My favorite thing about the GRAYL purifier is that it works quickly and is discrete so you don't have to awkwardly pump with a filter.
I just hook it on to my backpack or carryon hand luggage, and know that I'm safe wherever I go since I know I'll be able to confidently find a water source and be able to hydrate.
It also makes me feel better to know that I'm not littering the earth and oceans with tons of unnecessary plastic bottles, which have become a real problem.
A GRAYL water bottle creates a healthy, stress-free way to stay hydrated!
Tip provided by Kristen Gill, Travel Expert and Journalist
Water Bottles with Filters
Water bottles with filters are really handy, especially in locations like
India
, Asia, and
Africa
, so here's a selection you purchase from Amazon at various prices. Trustworthy names include Water-To-Go, Grayl, Lifestraw, and Drinksafe System, to name a few.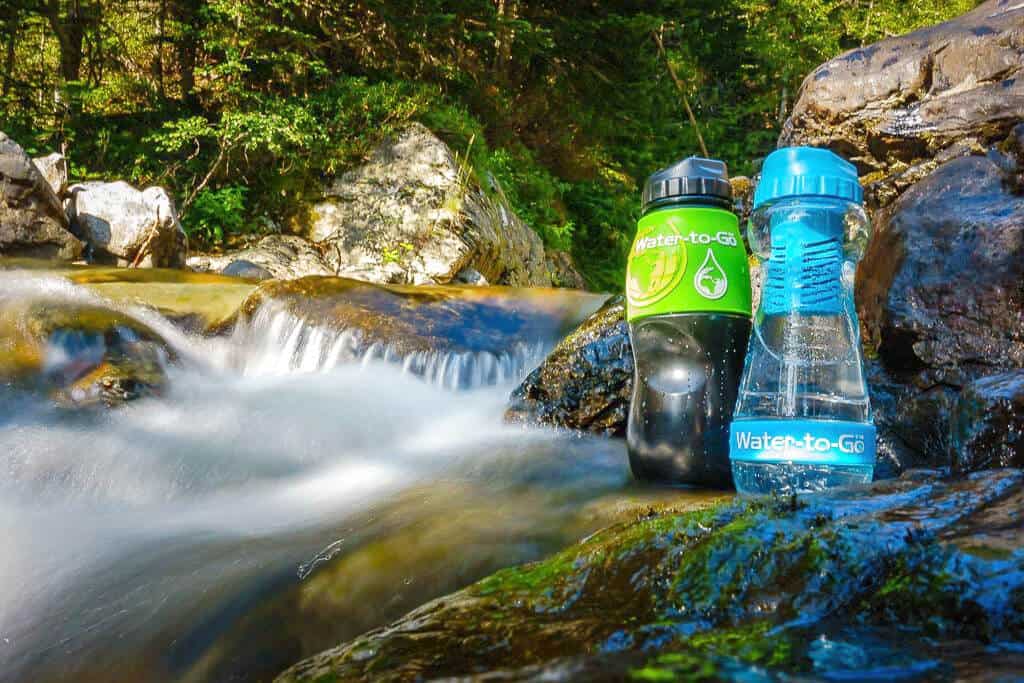 Water-To-Go by Vicky of Earth Changers
Having worked in travel since the mid '90s, in ski, adventure and activity holidays, not to mention transatlantic Caribbean and European mass-package beach holidays, and travelled independently solo all over the world, I've certainly been through my fair share of reusable water bottles.
Since the mid 2000s I've worked in responsible tourism, often in developing countries, and often in remote destinations. So whether I've been volunteering on or visiting sustainable development projects, hiking iconic treks on charity challenges like up Kilimanjaro, supporting projects in cities like Delhi, working in conservation and safari guiding on reserves, places where water is not often or necessarily clean, I want the best filter bottle I can get.
Which is why I now work with Water-To-Go. They came to me when I first launched my start-up Earth Changers, which focuses on positive impact tourism for communities and conservation, and I truly believe there isn't a better water bottle which aligns with what we do and where we go.
In such developing destinations, public service refuse collection and recycling are also not necessarily readily available, so of course we want you to avoid single use plastic and carry your own bottle instead, but you might quite possibly need a filter too. But this is no ordinary water filter bottle! No, it's a Portable Water Filtration System Bottle, using NASA developed technology no less!
This eliminates well in excess of 99.9% of all microbiological contaminants including viruses, bacteria, chemicals and heavy metals from any non-salt water source instantly. The filters aren't just strong enough to remove bad smells, tastes, protozoa, chlorine, and fluoride, but even typhus, cholera and hepatitis. So you can tap those rivers and streams and rehydrate with pure clean safe water where ever you are, whilst avoiding adding to plastic pollution.
They're FDA-approved BPA-free too and have been independently tested against international recognized standards by industry specialists including The London School of Hygiene & Tropical Medicine (UK), BCS Laboratories (USA) and Bangalore Test House (India).
Technically, three different (1 traditional and 2 nano) technologies are forged together in one filter: Mechanical (a tiny pore size stopping contaminants passing through); Electrical (by a positive charge to reduce the pore size further and attract contaminants like a magnet, trapping them inside the filter); and Activated carbon within a membrane.
So they keep you safe, hydrated, save you money and protect the environment from the damage. Win-win-win! The perfect travel companion for Earth Changers where ever you go!
Water-To-Go offer a 15% discount on water bottles and products with "EARTHCHANGERS" discount code here. Various designs and colours are available to choose from, and there's more coming.
Tip provided by Vicky Smith from Earth Changers.
Reusable bottle and carry bag by Ella of World Travel-Able Blog
The more I travel, the more I realize how important it is to take care of our beautiful planet! It's not that difficult nowadays because there are so many options, especially to avoid single-use plastics.
I have a few items that I always carry around with me, whether in my city Barcelona, or when I travel. I always have a BPA free reusable bottle with me. I use one that I can squeeze depending on the amount of water I want to carry with me. It's very useful as it adapts to my needs.
When I go to the airport, I always squeeze it because I know I am not allowed to pass through security with water. So I just take a small quantity with me and empty my bottle before I reach the security gate. I can fill it in with tap water once I am inside the terminal. Which saves me a lot of money when I travel!
The other thing I always take with me is a reusable cotton bag. I have several ones depending on my mood, my activities or the clothes I wear. I also use other items too but those two are basics I never leave the house without!
Tip provided by Ella Travels World Travel-Able Blog
---
More responsible travel reading on Breathedreamgo
---
Responsible travel products: Daypacks and carrybags
To avoid single-use plastic bags when you travel, pack a reusable carrybag or a small backpack or daypack. There are lots of places that still use plastic or don't have recyclable bags available. Take it with you and use for shopping, day hiking, and traveling. Ideally, get one that can easily accommodate your reusable water bottle, bamboo cutlery, and foldable tupperware, and you're all set.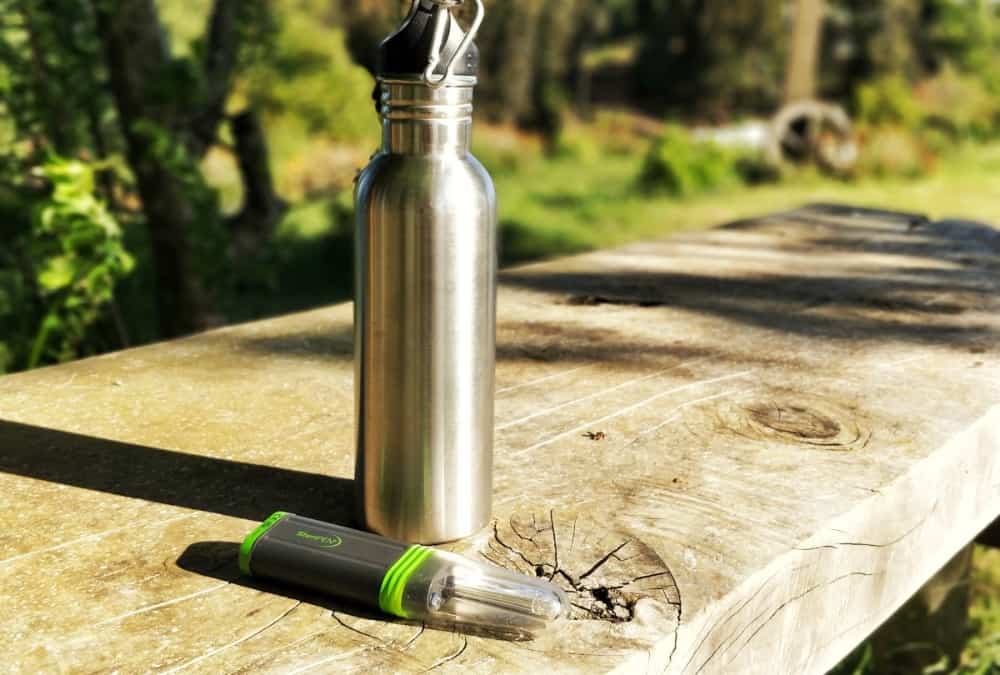 Steripen Adventurer by Steph of Worldly Adventurer
I've been using the Steripen Adventurer for four years now, and it's never let me down. Travelling in South America, tap water is generally a no-no, so my Steripen and wide-necked water bottle have saved me plenty of money. More importantly, though, I've avoided contributing to the growing environmental crises brought on by our addiction to single-use plastic bottles.
Unlike other water filters on the market, the Steripen sterilizes the water using UV light, zapping out practically all viruses and bacteria. It also does this fast: in 48 seconds for half a litre and in 90 for one litre. Although it's not suitable for water with visible debris (you'll want a filter for that), it's efficient and practical for travellers with access to otherwise unsafe tap water.
It's one of the more expensive options but for the ease of use, you can't beat it. It comes with detailed user instructions and the batteries last for around 50 treatments (although mine have definitely managed longer). The only point to note before you buy is that the batteries are an unusual size and difficult to find on the road, so be sure to stock up with extras before you go.
Tip provided by Steph Dyson, Worldly Adventurer
Reusable utensils and coffee mug made from bamboo by Uncornered Market
Although we always traveled with a refillable water bottle and thought of ourselves as conscious or responsible travelers, we realized last year that we could – and should – do better when it came to reducing our single use plastics. Two travel-related items that we added to our standard packing list to try and reduce the environmental impact of our travels:
Reusable coffee cup made from bamboo fibers
We chose this type of reusable coffee cup because of its weight and convenience. The bamboo fiber used for the cup not only is environmentally friendly, but it also is incredible light. Same goes with the flexible silicone lid. We can easily stack our two cups together in our carry-on bag when we travel so that we can enjoy airport or airplane coffee in our own cups instead of disposable ones. These coffee cups might not keep the liquid as hot as insulated reusable cups, but we find that the light weight and convenience more than compensates for that.
Portable Cutlery and Chopsticks
When traveling we tend to eat a lot of street food or take out, which usually means single-use plastic cutlery or single-use wooden chopsticks. But, we realized that it's so easy to carry your own reusable cutlery and avoid that waste. This portable cutlery (fork and spoon) and chopsticks kit is easy to carry around as it has its own case. It's made from wheat straw which is not only good for the environment, but it also makes it very light. And, as a bonus the case serves as bowl for soy sauce if you are eating take out sushi.
Tip provided by Audrey and Dan of Uncornered Market.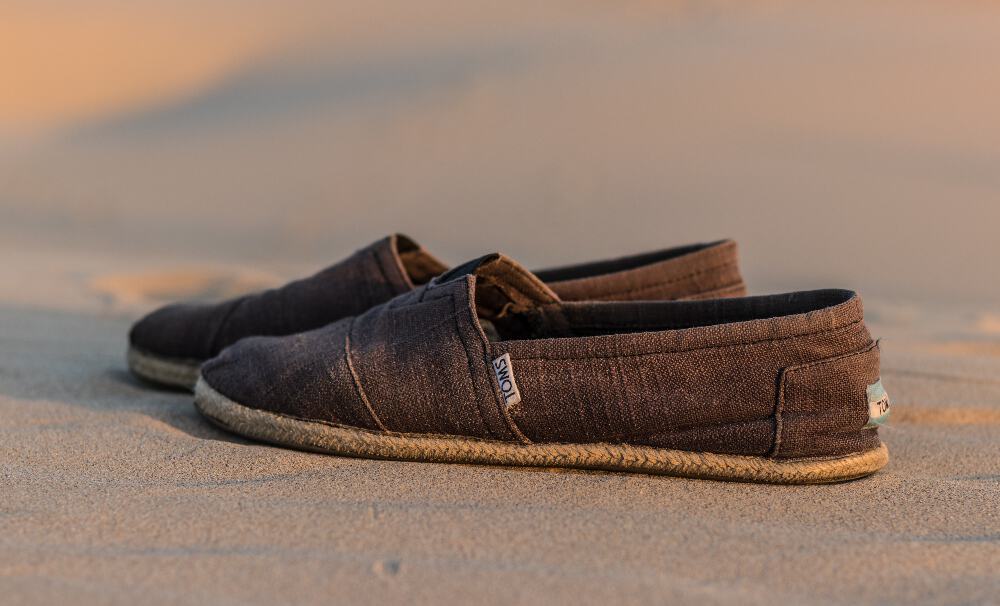 TOMS Shoes by Flora of Flora the Explorer
I first discovered TOMS shoes when travelling in the U.S., and these lightweight slip-on shoes have been a constant element of my travel wardrobe ever since. Made primarily from canvas and organic cotton, TOMS are wonderfully comfortable, perfect for hot temperatures, suitable for a range of activities and work with any outfit from casual to smart.
But the main reason I love TOMS is thanks to their 'One for One' policy: for every pair of TOMS sold, the company gives another pair to a child in need, and so far they've been able to donate 86 million pairs of shoes to children around the world. The TOMS founder Blake Mycoskie says his company's mission is to help improve lives through business, and as TOMS expands into different products they've also started to help impoverished communities with sight-saving eye-care, safe water systems and and safe birth practices.
Tip provided by Flora of Flora The Explorer
Collapsible tupperware by Nora of The Professional Hobo
I recently started going everywhere (while traveling and at home) with a "zero waste" kit in my purse. It's a selection of specially-chosen ultralight/compact tools that mean I never use any kind of single-use products, plastic or otherwise.
A big part of my zero waste kit is my collapsible tupperware. I use it whenever I get street food, order take-out, or can't finish my meal at a restaurant. Because it's collapsible it takes up relatively little space, so it's always in my purse. This is important because sometimes I'm out for longer than I anticipated, or I see a delectable street food calling my name, and I can whip out my tupperware and order it, knowing I'm not generating any waste in the process.
When coupled with my spork (a full-sized spoon on one end and fork on the other) which fits into my tupperware when collapsed, I'm ready to eat anything, anywhere, anytime!
Purchase collapsible tupperware here.
Tip provided by Nora Dunn of The Professional Hobo


Bamboo toothbrush by Karen of Wanderlustingk
One of my sustainable travel products is my toothbrush! We often forget about our teeth when it comes to sustainability, but in the past couple of years, there's been an explosion of brands offering high-quality toothbrushes made from 100% recycled plastic that decomposes as well as non-plastic toothbrushes that made of bamboo. In many cases, the packaging is also made of paper to ensure that the box that your toothbrush comes in doesn't generate more plastic waste.
Paired with a vegan-friendly toothpaste, your teeth will be shining and you'll feel good every time that you take care of your teeth! I have a toothbrush that is made of 100% recycled plastic, which does just as good of a job cleaning my teeth as a non-sustainable toothbrush. The great thing about buying a toothbrush is that you'll get plenty of use out of this eco-friendly product after you come home from your trip!
Buy Bamboo toothbrush here.
Tip provided by Karen Turner, Creator & Owner, Wanderlustingk
Shampoo Bar by Annika of Midnight Blue Elephant
One of my favourite eco-friendly products when traveling is a shampoo bar. Not only do they obviously come without plastic packaging and I can store them in a cute tin can but they are super practical if you are traveling with hand-luggage only. I am currently trying the shampoo and conditioner bars from STOP THE WATER WHILE USING ME!, an awesome German company. Not only do they make eco-friendly products but generally promote a more conscious water consumption as it is quickly becoming one of the scarcest resources in the world.
In addition, reef protection is very important to me as a diver so I make sure whenever I go into the water to use sunscreen that is reef-friendly. Two of my favourite products are Biotherm Waterlover and the products of Stream2Sea. They not only make sunscreen but have a whole range of reef-friendly products – a must for any mermaid above or below the surface.
Tip provided by Annika of Midnight Blue Elephant
Reef friendly sunscreen
Sunscreen is a good idea for keeping your skin protected, but if it contains oxybenzone and octinoxate it's damaging to the environment, and especially coral reefs. Tip: Some sunscreens are labelled reef-friendly, but you still have to check the label to make sure they don't contain oxybenzone and octinoxate.
Diva Cup by Alissa of In Locamotion
I can't recommend menstrual cups enough for traveling menstruators. A menstrual cup is a small device, typically made from medical-grade silicone, that is inserted into the vagina during menstruation to catch the blood. It is removed, cleaned, and reinserted throughout the cycle, and can be reused for years. I use the Diva Cup brand, though there are many brands available with cups of various shapes and sizes.
Menstrual cups are invaluable for travellers for a few reasons. They are eco-friendly, generating no waste beyond the initial packaging. They are also very cost-effective, requiring no additional expenditures after the initial purchase. And they're convenient—no need to pack stocks of pads and tampons for use during travel. Finally, I feel that there is something empowering about using a menstrual cup, which combats the pervasive opinion is that menstruation is gross or embarrassing. Menstrual cups necessitate comfort with one's blood, allow menstruators greater agency and awareness over their bodies, and normalize menstruation as the natural and healthy process that it is.
This post goes into more detail about sustainable menstrual products, including menstrual cups, reusable pads, period underwear, and more, and the pros and cons of each during travel!
Tip provided by Alissa Murray of In Locamotion.
OrganiCup by by Andreja of Adventurous Journeys
OrganiCup is a younger and greener version of DivaCup. If you haven't lived in some sort of cave for the last decade, you've probably heard of at least one version of the cups. But OrganicCup is probably the greenest version you can find on the market at the moment. OrganiCup is made from 100% medical grade silicone, it's certified with the Vegan Society and the company assures, they don't test on animals! It comes in a nice package from recycled materials with a cute little bag in natural beige color, to keep your cup safe.
OrganiCup is always with me, no matter where I go, not only when I'm traveling. Since I got it for myself I saved tons of time and money. No more running around and searching for pads and tampons in third world countries! I clean it when I take shower and I boil it after my period is finished. OrganiCup holds up to 3 tampons worth and can be worn for up to 12 hours. You can easily order it from the OrganiCup website and If you're not satisfied after 90 days they will give you a refund. OrganiCup lasts years and it's also a great present for your friends — not just travelers and eco-conscious consumers.
Tip provided by Andreja Jernejčič Adventurous Journeys
Modibodi Period Proof Underwear by Emma of Small Footprints, Big Adventures
My favourite sustainable travel product is my underwear! Specifically, it's Modibodi period proof underwear, which I have found to be the most comfortable and easiest way to have zero-waste periods, especially for travelling. They can be worn all day, minimize odours from perspiration or my flow, and are much easier to use than a cup in my opinion.
For travel they are also handy if I'm expecting my period, as I can wear them and know that I'm protected, even when on a bus all day. They don't feel any different to regular underwear, and I haven't had a single leak in over two years of wearing them for every one of my cycles.
They're easy to care for and just need rinsing before a wash with other clothing. They don't need to be changed when out and about. When I travelled for four months through Southeast Asia all I wore were these underwear, in different absorbencies depending on the time of the month. That's another travel bonus: not having to remember several reusable products all the time, or needing to find disposables in unfamiliar places.
I think we are very fortunate to have these options available now, and it's a great way to reduce waste and stresses while travelling.
Tip provided by Emma of Small Footprints, Big Adventures
---
Pin it on Pinterest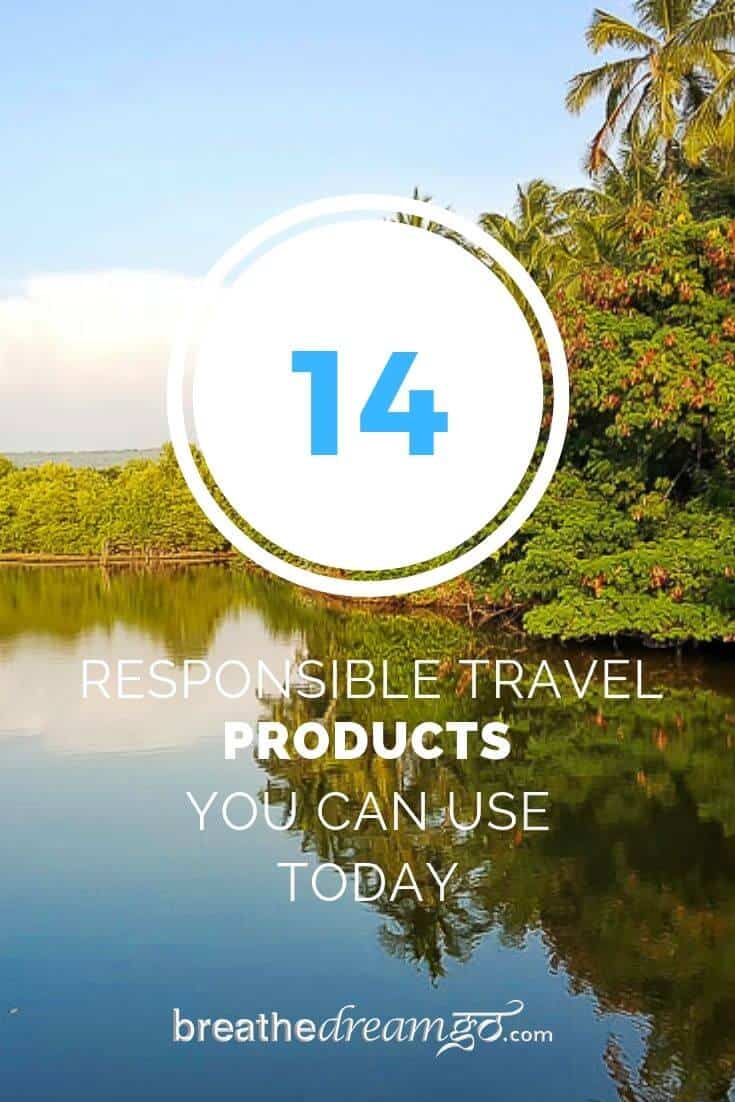 ---
If you enjoyed this post, you can….
Sign up to The Travel Newsletter in the sidebar and follow Breathedreamgo on all social media platforms including Instagram, TripAdvisor, Facebook, Pinterest, and Twitter. Thank you!