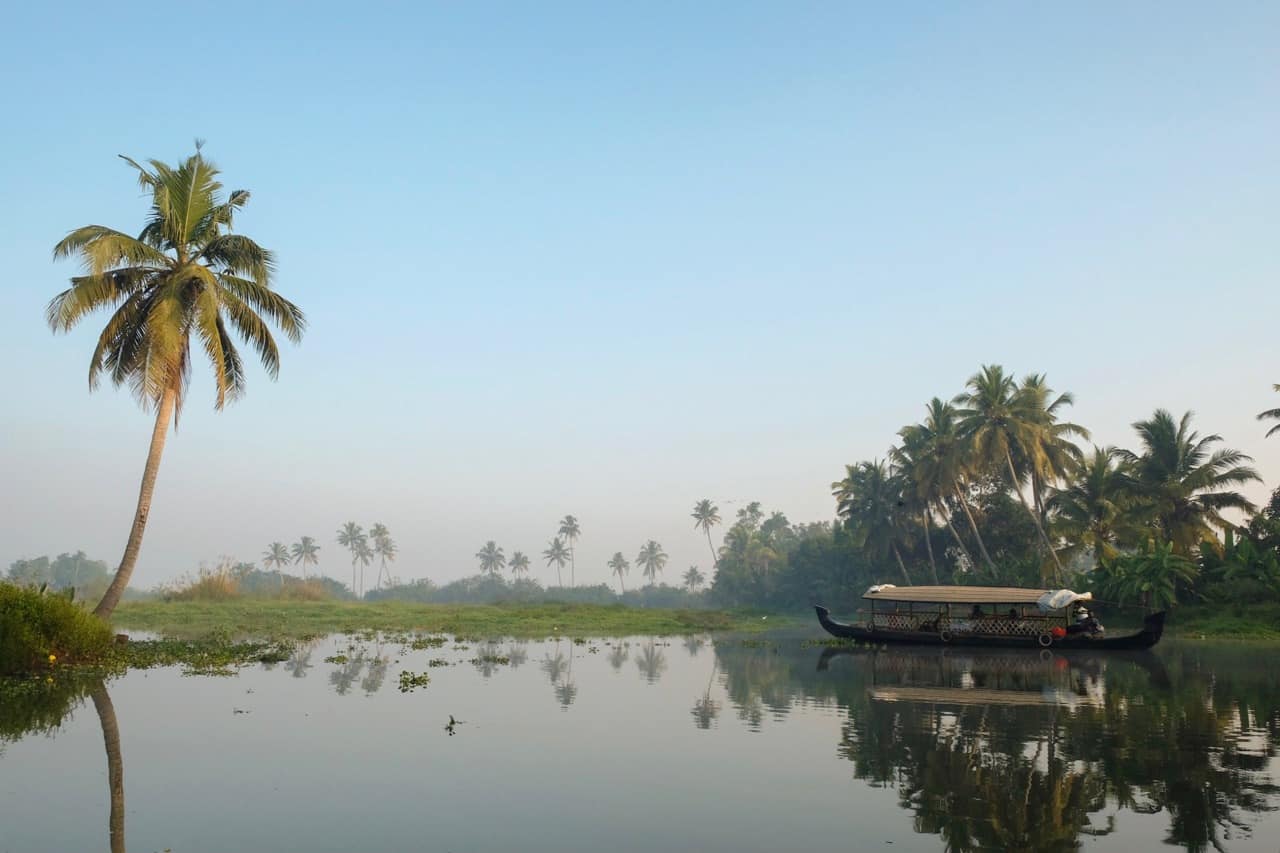 Ideal two week Kerala itinerary
Kerala is a tropical state in South India known for white sand beaches, languid Backwaters, the Western Ghats mountain range, spice gardens, tea plantations, and Ayurveda. It's got a rich, and unique culture — there's nowhere else like it in India — and it's a gentle place that makes for a great place to land on your first trip to India. This two week Kerala itinerary covers all of the highlights of the state, from historic cities, to the network of Backwaters, to the spice and tea gardens of the mountains, to the most popular tiger reserve, to tropical beaches and finally to a relaxing and healthy Ayurvedic treatment experience at a luxury resort.
Why visit Kerala?
You can visit Kerala all year 'round as it's lush in the monsoon season (June to September) and is an ideal tropical vacation destination for escaping from cold winters from November to March. The beaches of Kerala are among the best beaches in India, and there are lots to choose from — from the quiet, secluded beaches of the north to the busy beach towns of the south that are popular with foreign tourists. When you get tired of relaxing on the beach, you can do a deep dive into the unique culture of Kerala, and try the spicy cuisine, featuring rice and fish, visit some of the most beautiful temples in India, and enjoy traditional dance performances such as Kathakali and Mohiniyattam. And there's much more … which I have tried to cover in the two-week Kerala itinerary.
All photos in post by Andrew Adams Photography. Andrew is a superb chronicler of India in image. Check out out his photography here on his website AndrewAdamsPhoto.
---
Kerala featured on Amateur Traveler Podcast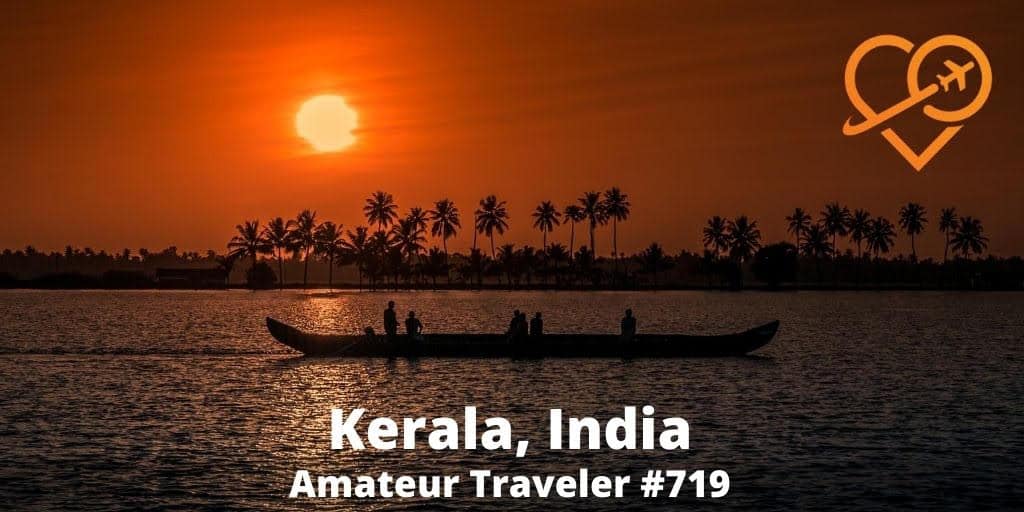 This post was created for my appearance on the Amateur Traveler Podcast with Chris Christensen. You can listen to our conversation and the details of the itinerary here.
Travel to Kerala, India – Amateur Traveler Episode 719

---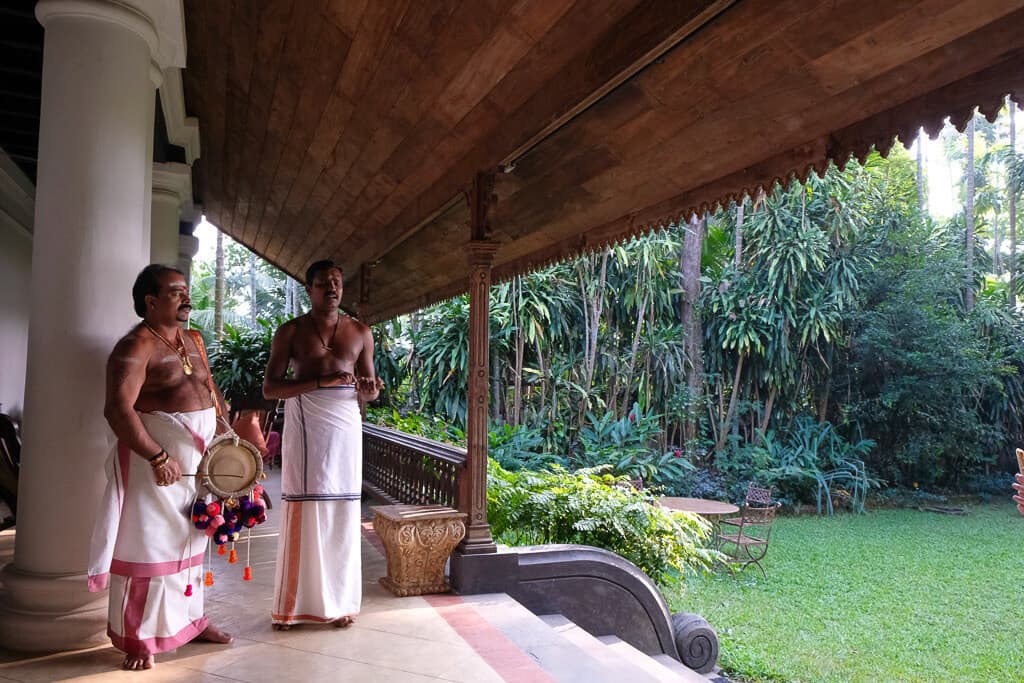 ---
Two week Kerala Itinerary
Cochin / Fort Kochi (3 days)

Kumarakom Backwaters (3 days)

Thekkady (3 days)

Beaches (4-5 days)

Ayurveda (additional 2 weeks extension for Panchakarma)
---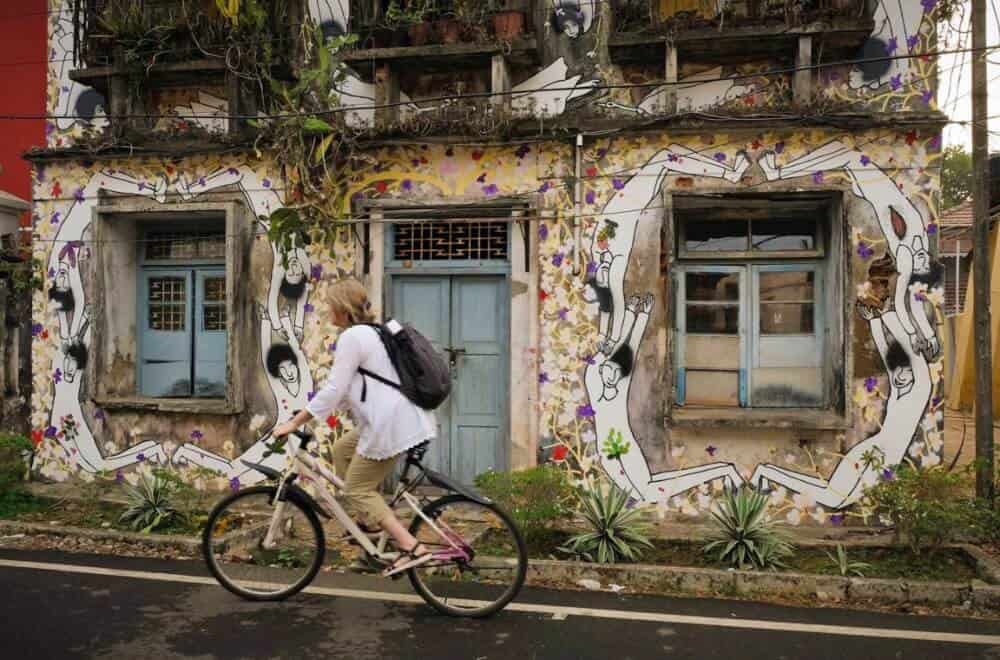 Why visit Cochin / Fort Kochi?
Most visitors fly into either Cochin (which is in central Kerala) or Trivandrum (which is in south Kerala) airports. In this two week Kerala itinerary we are going to start from Cochin and head south, and up into the Cardamom Hills of the Western Ghats. (Though we are not including North Kerala, it's also a very special area, less popular with tourists, and well worth visiting. Wayanad especially is a great offbeat destination in India.)
Cochin is a historical city on the Malabar Coast — famous for hundreds of years as a spice trade port. It also saw several colonial invasions, most notably the Portuguese and the Dutch. The Portuguese and Dutch took turns ruling Cochin for 444 years (from 1503 until India's independence in 1947). Though the historic section of Cochin is actually quite small, it's packed with things to see and do — and very walkable. Tree-lined avenues, colonial architecture, cafes, and art galleries abound. There are two main areas of Cochin to focus on. You could spend one-two days getting to know each.
1. Vasco da Gama square and River Road. 
This historic area runs along the coast, facing the harbour, and it's where you find the famous Chinese fishing nets. These nets were said to have come to India in about 1400 from traders from the court of Kubla Khan.
At Vasco da Gama square there's a beachfront promenade where food stalls are set up. You can pick the fresh seafood you want to eat, and they will cook it for you. The ideal time to be here is sunset, especially for photographers.
St Francis Church was built by the Dutch in the 15th century and it's where Portuguese explorer Vasco da Gama was originally buried. This church is supposedly the oldest in India. From here, you can walk along Church Road to Princess Street. This area is full of shops, cafes, and guest houses for tourists. One street over is Burger Street where you will find the delightful, and hip, Kashi Art Cafe.
In this region, at the tip of the peninsula, you will find some of the best hotels the city has to offer. My favourites are Brunton Boatyard at the very high end, or the boutique hotels Eighth Bastion or The Malabar House. For a romantic dinner, eat in the courtyard of The Malabar House. There are lots of homestays in Cochin, as well.
2. Mattancherry
The other main historic area, about 2-3 kilometres from Vasco da Gama Square, is Mattancherry. The central focus is the 16th century Mattancherry Palace, built by the Portuguese in 1555 (and renovated by the Dutch in 1663, which is why it is sometimes referred to as the Dutch Palace). The star attractions are the sublime paintings that depict scenes from the Hindu epics.
Next to the palace is the small area known as Jew Town, where Jewish people settled in the 16th century. The Paradesi Synagogue was built in 1568, and well worth seeing, and a walk along Synagogue Lane will take you through the historic spice trading area. At the end of the lane is the Spice Market. There are great places to stop such as the Mocha Art Cafe along the way. On the waterfront, you will find the Ginger House Museum, which is also a hotel. Ginger house was where — you guessed it — ginger was traded.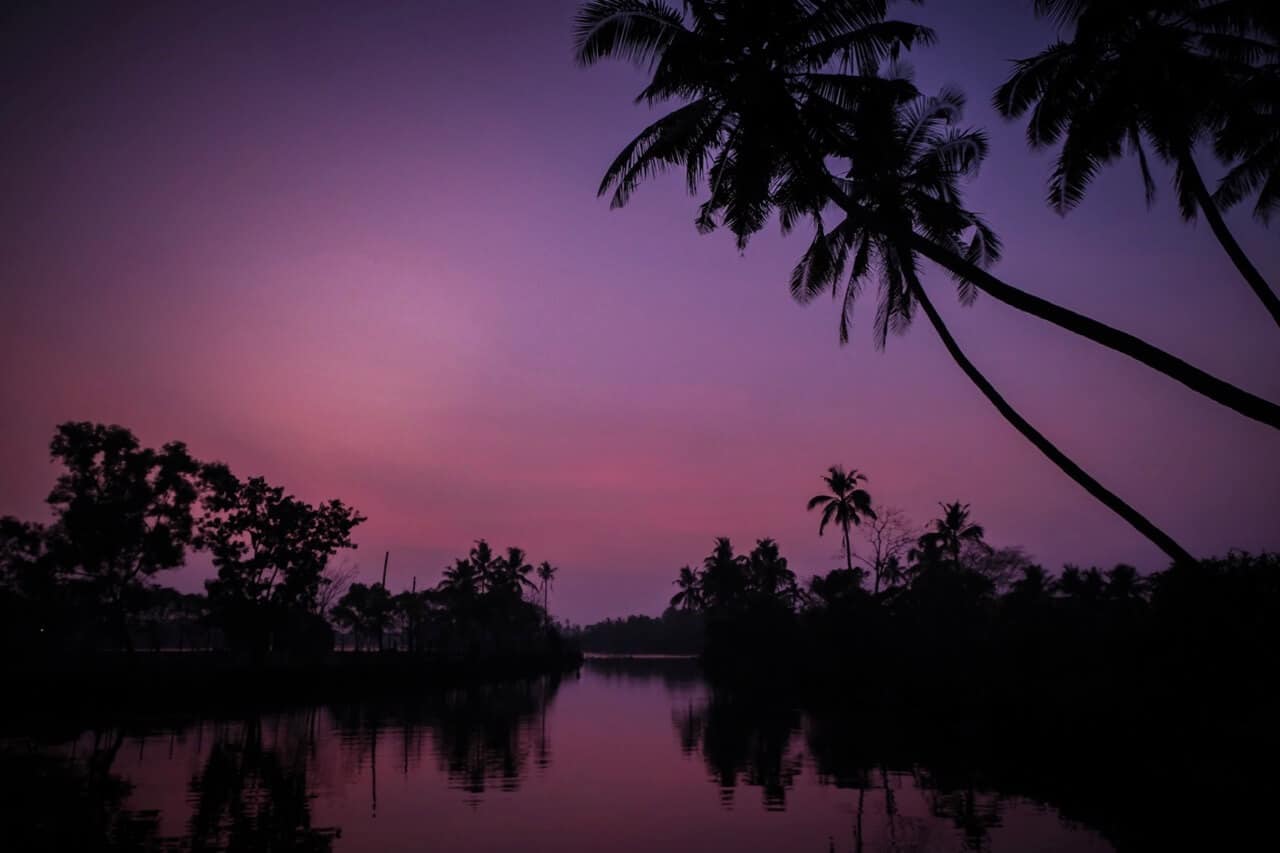 Why visit Kumarakom and the Backwaters?
The Backwaters of Kerala are one of the state's star tourist attractions, and for a reason. It's a very unique 900 kilometre network of canals, home to traditional farming communities that make or grow products such as coir (coconut fibre), copra, (dried coconut kernels) and cashews. There are several centres from where you can rent a fully staffed rice barge, or houseboat, to languidly cruise the Backwaters. The main one is Alleppey (also known as Alappuzha), which has become very busy and congested. I much prefer quieter and more laid-back Kumarakom. Here, you can both relax and witness a traditional culture that is largely unchanged.
It's about an hour-and-a-half drive from Cochin to Kumarakom. In Kumarakom you can stay in a mid-range or luxury resort, and enjoy boat cruising during the day; or rent a houseboat, and stay on the houseboat. This area includes Vembanad Lake, the biggest lake in the Backwaters. The thing to do in Kumarakom is relax, eat fresh seafood, watch sunsets, and enjoy soaking up the local atmosphere.
My recommendation is to stay in a resort, and go on a sunrise boat ride, in a small, local boat, through the narrow canals. You can also do a day trip on one of the big houseboats, for the experience. There are places where you can go ashore and meet the locals and see the traditional lifestyles and farming methods. Or just relax on the boat. On the big boats, staff will make you a lunch of local specialties.
Kumarakom Lake Resort and Coconut Lagoon are the two top resorts in this area and you can't beat them for atmosphere, service, and amenities. Coconut Lagoon is one of my favourite properties in India. It's location, at the meeting point of a canal and Lake Vembanad is ideal, and makes for amazing sunsets. Coconut Lagoon has painstakingly captured and preserved the local culture by buying up traditional wooden Kerala homes and rebuilding them onsite. It's also one of the most sustainable properties in India. They have many systems in place to preserve and conserve, such as rain water harvesting and a biogas plant.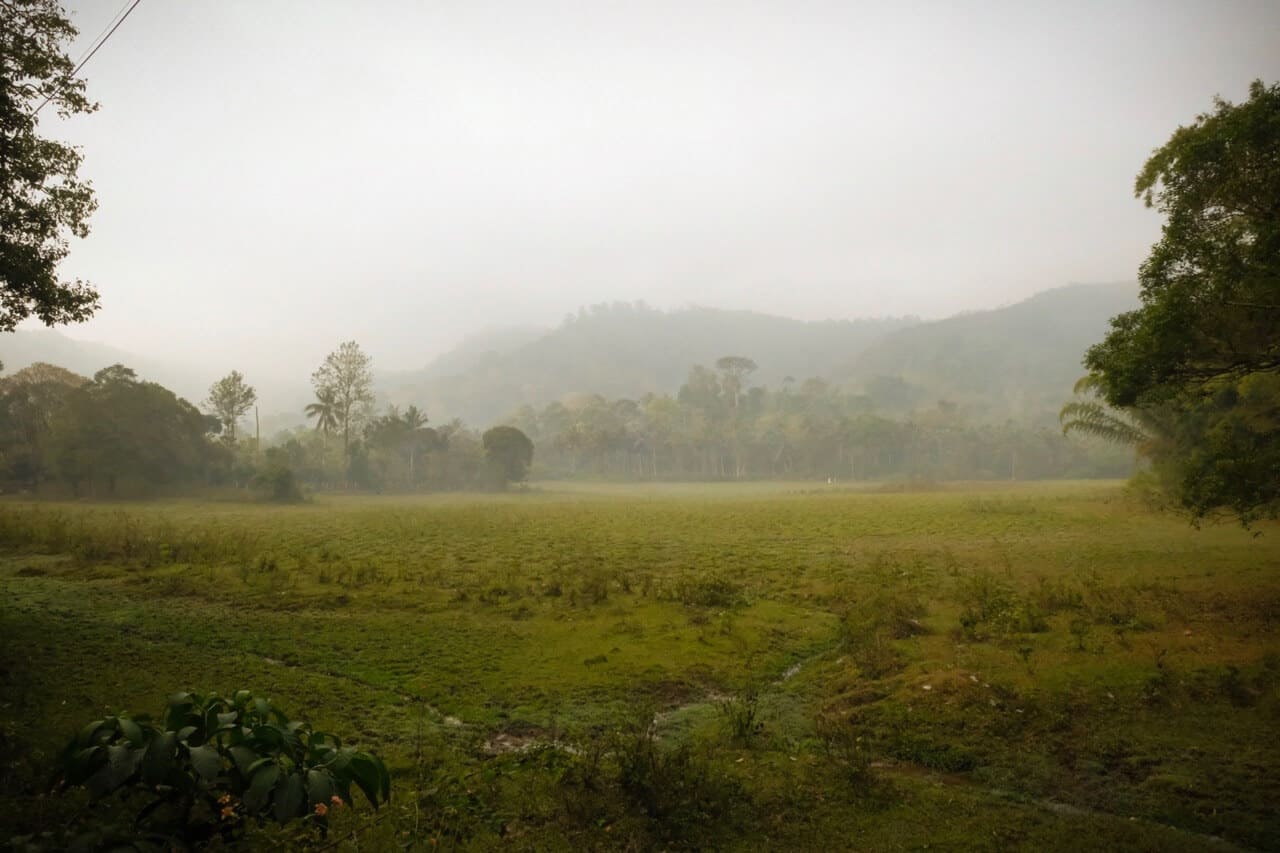 Why visit Thekkady?
It's a three-hour drive from Kumarakon to Thekkady — a bit long, but very interesting and beautiful as you drive up into the Western Ghats. This mountain range is one of the world's top biodiversity hotspots, and an important region for spices, tea, and coffee. In fact, Kerala is called the spice bowl of India. The mountains in the Thekkady region are called The Cardamom Hills, a romantic name that conjures visions of spice scented plantations and misty mornings. In Kerala, humans and nature coexist in harmony.
Thekkady is beautiful and worth seeing for the mountain vistas and rolling tea plantations, and it's also a good spot to stay while you explore one of the most popular wildlife sanctuaries in India, Periyar.
There are a lot of resorts, hotels, and wildlife lodges close to the entrance to Periyar Wildlife Sanctuary, within one to four kilometres, in a town called Kumily. My favourite is Spice Village, a destination lodge unto itself, built on 12 acres and patterned after a local village. You stay in a thatched roof cottage, and can wander the grounds and see spices and tea growing in profusion. There's also a large organic garden, an in-house naturalist (who you will find at The Tiger Club), and The 50 Mile Restaurant where, you guessed it, everything served comes from within 50 miles.
Your time in Thekkady will be very active, there's so much to do — from a sunrise walking safari in Periyar, to visiting local tea plantations and spice gardens. The cooler air and misty mornings help invigorate your days.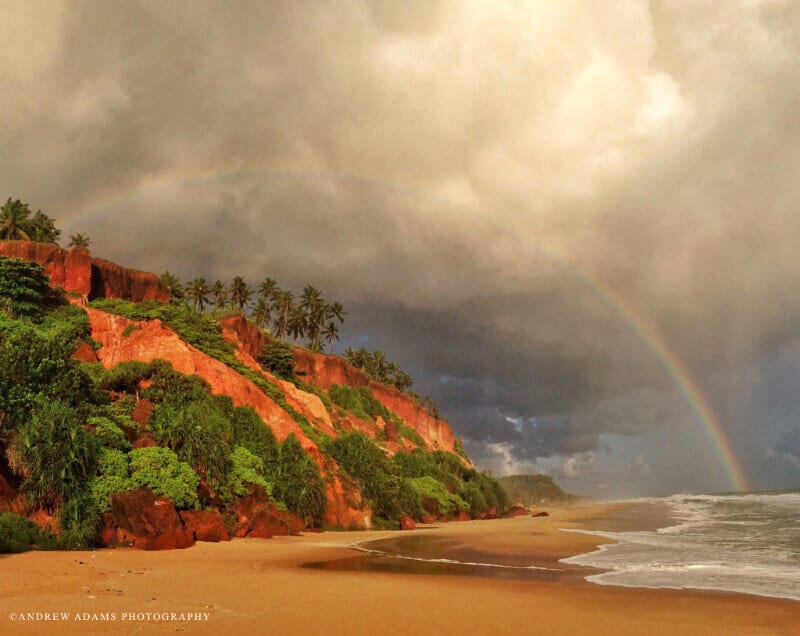 Why visit Kerala's beaches?
After a busy time at the higher-altitudes of Thekkady, you will be ready for some time relaxing on Kerala's famous beaches. A four-hour drive down to sea level and out to the coast takes you directly to Marari Beach on the Arabian Sea. This is one of Kerala's many well-known beaches, and from here we will be travelling south down the coast to hit a few other top beaches.
Marari Beach is popular because it's so close to the Backwaters. Here, you can experience both beach life and boating in the Backwaters. I stayed at the Marari Beach Resort, which is gorgeous. A huge property, designed to replicate a fishing village, it features cosy, upscale cottages, a fabulous swimming pool, a beachside seafood restaurant and a long, palm-tree lined beach, perfect for swimming, sunbathing and watching glorious sunsets.
Varkala is about a three-hour drive directly south down the coast of Kerala. It's a popular hang-out town for foreigners … the type of place you could find yourself not wanting to leave. In fact, there are lots of foreigners who spend months at Varkala.
Varkala is famous for dramatic red cliffs and surfing beaches. In some places, the surf is quite strong here, so you do have to be careful. All along the north cliff top is a row of small cafes, restaurants, guest houses and resorts. It's a busy place, bustling with tourists.
At the south end of town, however, it's much less busy and peaceful, and you can walk along to beach and get away from the crowds. Here you will also find an ancient temple and a sacred beach, where pujas are performed for families who have lost loved ones. This area has less tourists and more locals, so in Varkala you can get the best of both worlds: amenities for tourists and authentic local culture. I like to stay at Kaiya House partially because it is located at the meeting point of these two areas (and partially because it's a great guest house!).
Varkala also has a thriving Yoga and Ayurvedic culture, so you can have a health conscious vacation here, too.
South from Varkala you come to Trivandrum (Thiruvananthapuram) the capital of Kerala (it's only about a one-hour drive). Trivandrum is not particularly recommended for tourists, but south of Trivandrum are some of the best beaches in the state, as you head towards the bottom tip of Kerala. The area around Kovalam Beach (which has become too touristy for my liking) is also home to some lovely Ayurveda resorts, especially if you travel south about eight kilometres.
Here you can find a number of good places that hit the sweet spot for being both authentic and reliable, as well as lovely resorts with varying degrees of luxury.
---
More reading about Kerala on Breathedreamgo
---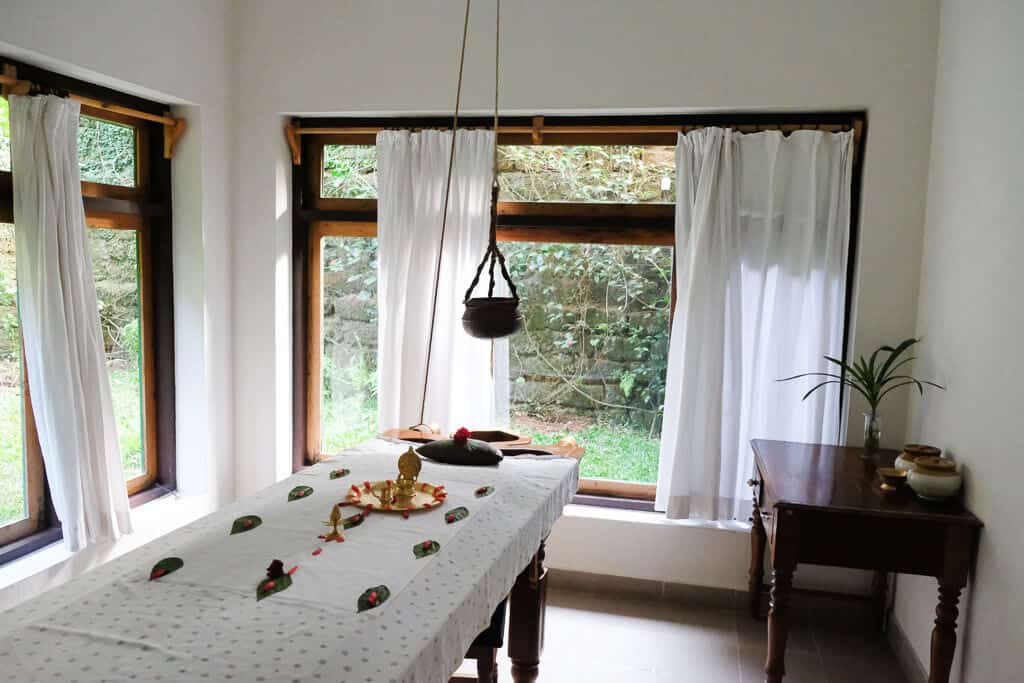 Why try Ayurveda treatment in Kerala?
Ayurveda is the science of life — that's literally what it means — an ancient Indian system of healthcare based on observations of nature, and using all natural healing methods such as oil massage and herbal medicine. Kerala is the acknowledged centre for Ayurveda in India, and here you can find a very wide range of places that offer Ayurvedic treatment — from hospitals to luxury resorts.
The first thing you need to know about Ayurveda is that it's a serious healthcare system. Going for Ayurvedic treatment is not like going to a spa. It is ideally suited for people who have some health issues that need addressing — anything from weight-loss, to diabetes management, to digestive issues, to hormone imbalances.
A treatment package usually runs about two-to-three weeks (and longer for serious illnesses), so it is a commitment. First you meet with an Ayurvedic doctor for a consultation, and they design your program, which includes all aspects of life such as diet and exercise. You will eat Ayurvedic foods (fresh, bland, and healthy) prescribed specifically for you and spend a couple of hours each day getting treatments that almost always include oil massage. Prepared to be hot and oily for the duration!
The point of Ayurveda is to cleanse the body and help it regain balance. When in balance, we don't succumb to illness. It's a preventative approach that can really help invigorate you, boost your immunity, and increase energy.
Make sure that you thoroughly research any place you decide to take Ayurvedic treatment. You want well-trained doctors and therapists, a hygienic environment, fresh food, and safe, comfortable accommodations.
Depending on your situation and state of health, you can choose from a very wide range of places that offer Ayurvedic treatment — from hospitals to luxury resorts. I can recommend two lovely resorts from personal experience (Shin Shiva and Kairali), and several places by reputation. These are all resorts that provide authentic Ayurveda. For an Ayurvedic hospital, you would need to research and ask professionals in the field.
Shin Shiva Ayurvedic Resort, Kovalam

Soma Manaltheeram Ayurveda Beach Village, Kovalam
---
If you enjoyed this post, you can….
Sign up to The Travel Newsletter in the sidebar and follow Breathedreamgo on all social media platforms including Instagram, TripAdvisor, Facebook, Pinterest, and Twitter. Thank you!