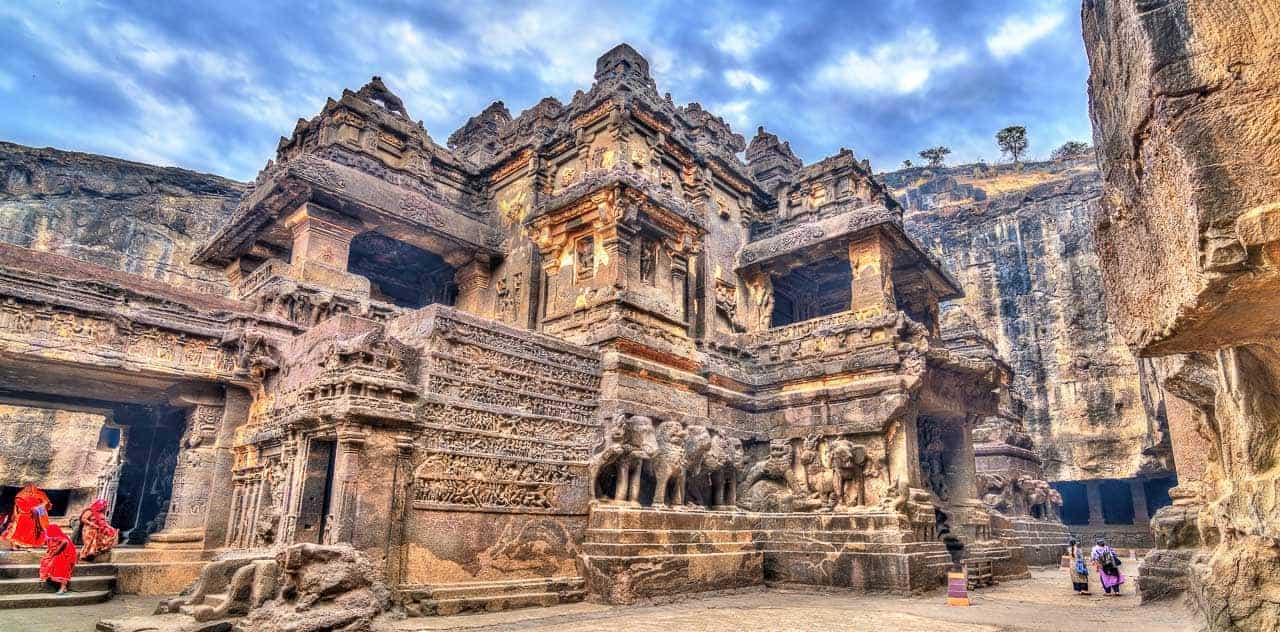 Ellora and Ajanta caves are a must-see in India
ELLORA AND AJANTA CAVES are located outside of Aurangabad, in Maharashtra. It's an eight-hour train ride from Mumbai, heading towards the geographical centre of India. The centre of India is actually quite a remote area and many tourists give it a pass, in favour of the more well-known places like Goa, Rajasthan, Kerala and Agra / the Taj Mahal.
But if I have my way, the caves will join the Taj Mahal on the must-see list both for visitors to India and Indians. I am not a scholar or expert on ancient Buddhist and Hindu painting and sculpture, but I know a good thing when I see it. These caves are magnificent. I knew, of course, that they were amazing and worth a visit, but I was overwhelmed by their beauty, antiquity, immensity and scope.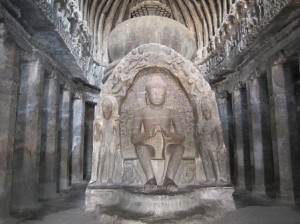 Ellora Caves
I visited Ellora first, which is closer to Aurangabad (just a 45 minute drive). The caves were built between the 5th and 10th centuries, and are a UNESCO World Heritage site.
The wonderful people at IndiaTourism arranged a car, driver and guide for me, Sheetal, who explained that the name Ellora was a British concession because the real name was hard to pronounce. There are 34 caves, some Hindu, some Buddhist and a few Jain.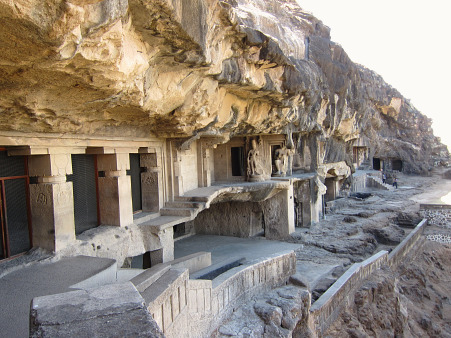 The Buddhist caves are austere and atmospheric and some of them are much larger and more elaborate than I ever would have imagined. I enjoyed walking in the dark cool interiors, among the serene yet imposing statues. I remembered that Joseph Campbell had visited these caves and was really struck by their spiritual power.
After touring about 10 Buddhist caves we came to Kailash Temple, which is approximately the centre cave, and divides the Hindu from the Buddhist caves. I was thunderstruck by Kailash Temple, and completely unprepared for its size, the intricacy of its carvings and its achievement in terms of engineering and architecture.
I was unable to capture a sense of this magnificent creation using photography (I would have needed scaffolding and a very large-format camera); and I am at a loss for words to describe it. The most amazing thing about it is that it was carved from the rock of the mountain. It was not built. They had to take out some 220,000 tonnes of rock to create a "trench" around it, leaving a massive centre rock, which they then carved into the shape of a giant chariot that is also a temple. The whole thing is covered in sculptures depicting many scenes, such as the great Hindu epics, the Mahabharata and the Ramayana, the descent of river Ganga, and Ravana shaking Mount Kailash.
The temple was built in honour of Shiva and named after his abode in the Himalayas. It holds the distinction of being the single largest monolithic structure in the world, and it covers an area double the size of the Parthenon in Athens.
Ajanta Caves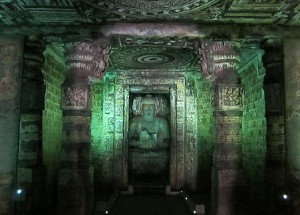 The next day, we left early and drove more than two hours to get to Ajanta. The Ajanta Caves, like the temples of Khajuraho, were "lost" for centuries until an Englishman discovered them in the mid-19th century. They are all Buddhist, and known more for their paintings — which were largely destroyed by water damage. But what remains is impressive enough to make these caves as remarkable as those at Ellora, but in a different way.
The rock-cut cave monuments date from the second century BC, and contain paintings and sculpture considered to be masterpieces of Buddhist religious art. The Ajanta caves were declared a UNESCO World Heritage site in 1983.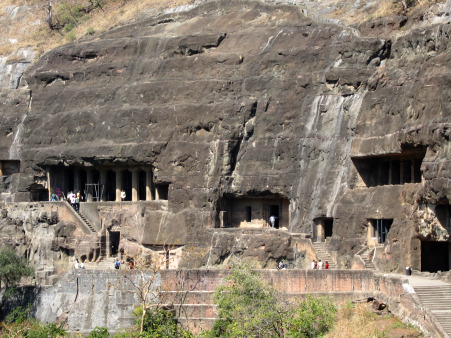 Unfortunately, I had only about two hours to spend at Ajanta — but one could easily spend the whole day. They have a leafy shopping "arcade" set up and some restaurants and picnic areas. It's really well-presented and organized. I was happy to see that, like the Taj Mahal, they are trying to keep car pollution away by making people park quite a distance from the caves. Shuttle buses take people back and forth.
My guide, Syed, was passionate about India's culture, and spoke eloquently, respectfully and knowledgeably about Buddhism and Hinduism. I am absolutely delighted when I come across people and situations that manifest the religious and secular pluralism of India in such a positive and celebratory way.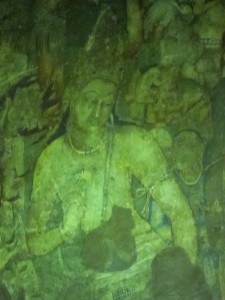 Knowing I was pressed for time, Syed showed me the most impressive caves. In Cave 1, I saw one of the paintings that Ajanta is famous for, the portrait of the Bodhisattva Padmanapi. I have a gorgeous batik of this painting in my room in Toronto, but this was my first time seeing the real thing.
Many of the paintings depict scenes from the life of Buddha, in several of his incarnations. Although the paintings are in poor repair, and the caves are only faintly lit (with special lights that do not damage them), with a good guide like Syed, you can really see many of the stories that the walls tell — like that of the fainting queen, who died after her husband renounced her, and his life as a king, to follow the Buddha. It was very moving to see these scenes, in the dark, ancient cave. They are very atmospheric, to say the least!
(NOTE: No flash photography is allowed in the Ajanta caves.)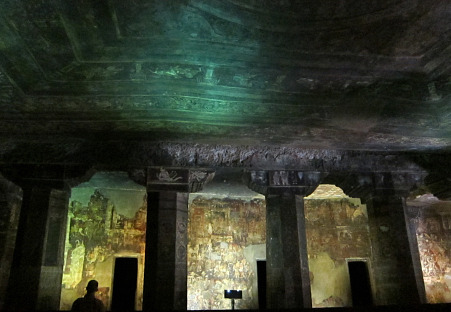 I hope to go back and spend much more time at both Ellora and Ajanta, and to do my part in helping India promote these incredible treasures. They exemplify the spirit of Incredible India. I would also like to learn more about the lesser-known tourist destinations in India, and to that end I was very happy to meet a local journalist in Aurangabad who specializes in writing about India's unsung treasures. I have invited Rafique Aziz (a reporter with the Lokmat Times) to do a guest post on my blog, so I hope that will be posted soon. Rafique and I had a really meeting of the minds as we share the same passion: sharing the beauty of India.
After leaving Aurangabad, I was musing about how life sometimes imitates art. I am very fond of the film A Passage to India, it's one of my favourites, and I have a great memory of seeing it for the first time on the big screen at the gorgeous art deco Eglinton Theatre in Toronto with my Mom, who was also fascinated by India (but never visited). The Ellora caves reminded me, at times, of the Marabar Caves from that book/movie; and then I met a Mr. Aziz in Rafique Aziz (though in the book/movie, he was called Dr. Aziz). I sometimes feel that India has been calling me my entire life, and now that I am here, I am experiencing my destiny unfolding.
Before ending this blog, I want to mention the Rama International Hotel, which I stayed in while in Aurangabad. It is one of only a handful of five-star hotels in Aurangabad, and it is both a really lovely resort hotel, with expansive gardens and an excellent swimming pool; and a professionally run business hotel with stunning rooms that feature all the mod cons. I highly recommend it as a luxurious base for touring this region (if you can afford it — it's a splurge). Even its understated elegant exterior and decor, that features carved elephants and goddesses, seems to harmoniously match the experience of seeing the region's heritage sites.
I left Aurangabad feeling so happy to have met my friend Mr. Rao of IndiaTourism (who used to be posted in Toronto); to have met Rafique Aziz; to have enjoyed the hospitality of IndiaTourism, especially through the efforts of Ram; to have stayed at the Rama International Hotel; and, of course, to have finally seen the Ellora and Ajanta caves. It was a great way to end my road trip.
---
If you enjoyed this post, you can….
Sign up to The Travel Newsletter in the sidebar and follow Breathedreamgo on all social media platforms including Instagram, TripAdvisor, Facebook, Pinterest, and Twitter. Thank you!