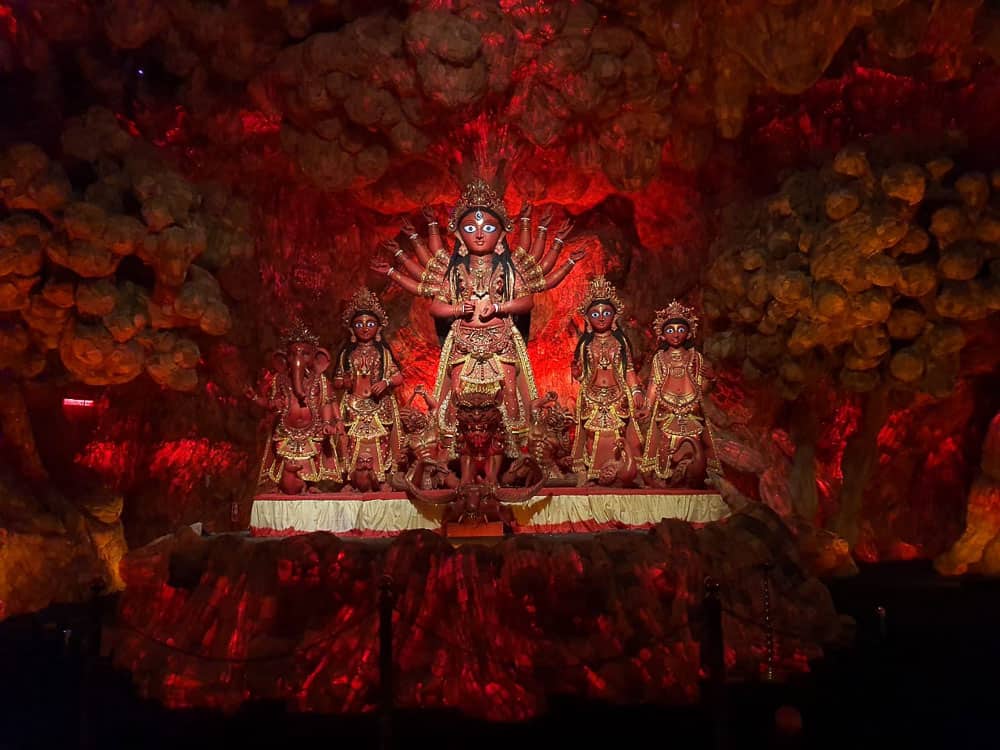 A complete guide to pandal hopping at Durga Puja in Kolkata, India
UPDATED 2023: DURGA PUJA IN KOLKATA is one of the biggest Indian festivals, attracting huge crowds who delight in pandal hopping — the favourite activity at the festival. Durga Puja, known locally as Pujo, literally takes over the city of Kolkata (formerly Calcutta) for five days each fall. Some say there are upwards of 4,000 Durga Puja pandals scattered throughout Kolkata, and attendance by millions of people. The Durga Puja Festival is the event that people of Kolkata — and all Bengalis — look forward to all year long. This post will tell you everything you need to know about Durga Puja, and how to attend.
Durga Puja celebrates the yearly visit of the goddess from her home in the Himalayas, and it's a festive time for Bengali families (Bengalis are affectionately known as Bongs). Like Christmas or Diwali, family members flock home to be together for the five days of the festival, to dress up in new clothes, feast on local specialties and sweets, and attend pujas. It's also a public event that literally takes over the city of Kolkata, and that's the focus of this post — written specifically for foreigners, tourists, and people who've never been before.
In 2021, Durga Puja was inscribed on the UNESCO Intangible Cultural Heritage of Humanity list. Learn more about Kolkata, and best places to visit, here.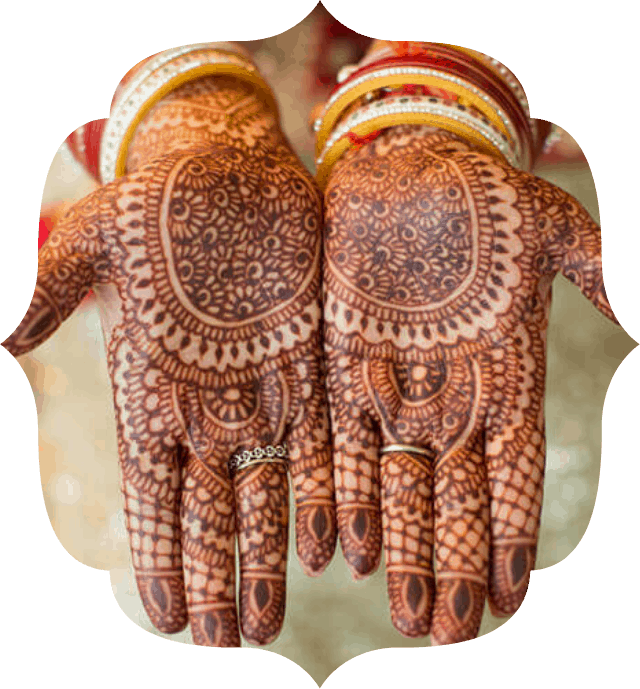 Come to India with us!
Are you dreaming of a trip to India? Come to India with India for Beginners custom tours, from Breathedreamgo and let us show you the India we love. With India for Beginners, we help you design a tour based on your interests, preferences, and budget. We pick you up at the airport and we are available by phone 24/7. We hold your hand in India!
FIND OUT MORE
A giant public art show
I attended Durga Puja in Kolkata for the first time in October 2019. Previously, I celebrated Durga Puja at CR Park in Delhi, but nothing prepared me for the size and scope of Pujo in Kolkata! Durga Puja is a massive, multi-day, city-wide art festival with extravagant public art installations dotting the cityscape.
Durga Puja is one of the world's largest carnivals of art." Sinjana of Backpacknxplore
In fact, I would say that Durga Puja is the original all-night art crawl, and probably one of the world's greatest public art shows. It's a kind of Oktoberfest meets the Venice Biennale, meets Rio Carnival — with of course a huge dash of Hindu piety.
The focus of the festival are the pandals, found in every corner of the city. They are created by local communities or organizations that pour a lot of effort (and money) into them. Prizes are awarded — so creating a prize-winning pandal is an immense source of pride. Each pandal is created around the central theme of Durga and the four figures that surround her — her "children" Ganesh, Lakshmi, Saraswati, Kartik, and the demon king Mahishasur. In this respect, they are all similar; but in other ways, they differ widely — depending on the creativity of the artists and the budget of the committees.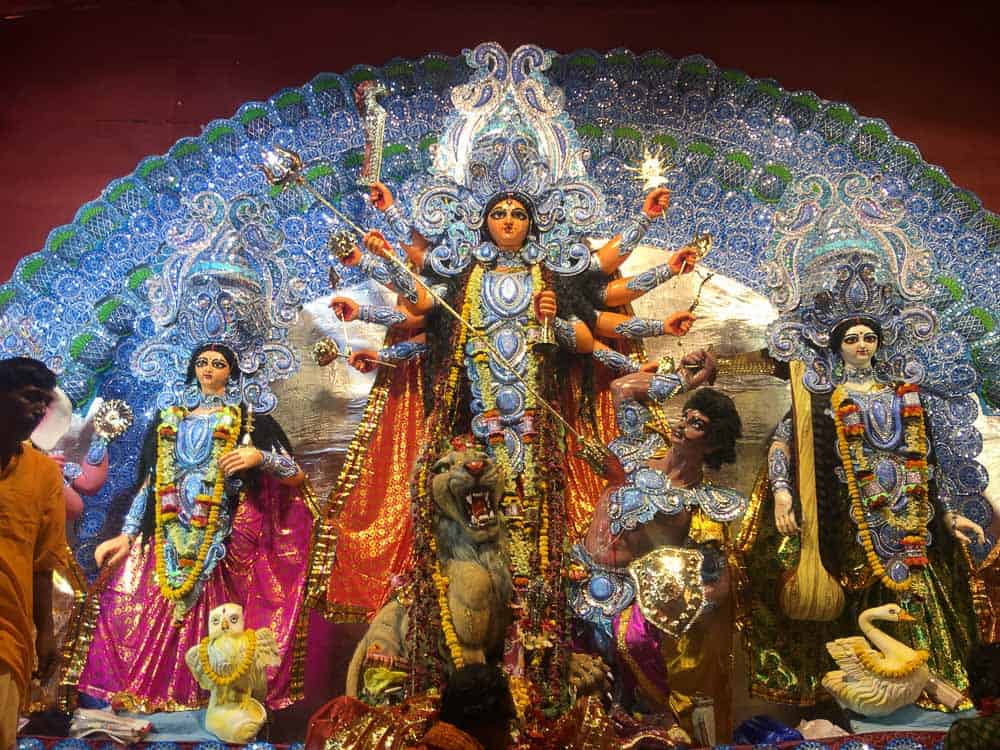 About Durga Puja
Durga Puja is a Hindu festival that honours the goddess Durga. Also known as Ma Durga (Mother Durga), this goddess symbolizes the power of women, which includes both her nurturing aspect and her fierce warrior. In the fall, when the weather turns milder, and many flowers are in bloom, Durga returns from her husband's home in Kailash, in the Himalaya, to visit her family in West Bengal. You can learn more about Durga Puja here on the Incredible India Tourism site and on the West Bengal Tourism site.
Beautifully explained in this post, people find this myth relatable, as women in India live with their husband's family after marriage and return home only for the holidays. Also relatable is Durga's 10 arms — needed for all the multi-tasking women do!
The Hindu festival that honours goddess Durga goes back a long time (possibly the 10th century), and it was originally a religious event (pujo means worship) that took place in people's homes. In the mid-eighteenth century it evolved into a festival and party after a special pujo to honour Robert Clive, the victor of the Battle of Plassey (Palashi). Kolkata zaminder (aristocrat) Nabakrishna Deb bought Shovabazar Rajbari, a mansion, in 1757 to hold a special secular pujo for Robert Clive to attend.
In the late 1700s, the first community pujo was held when 12 friends got together and created a community festival. But according to my guide, it's only been in the last 80 years, or so, that many of the pandal committees started hiring artists to create unique, one-of-a-kind theme pandals. And thus one of the world's great art crawls was born!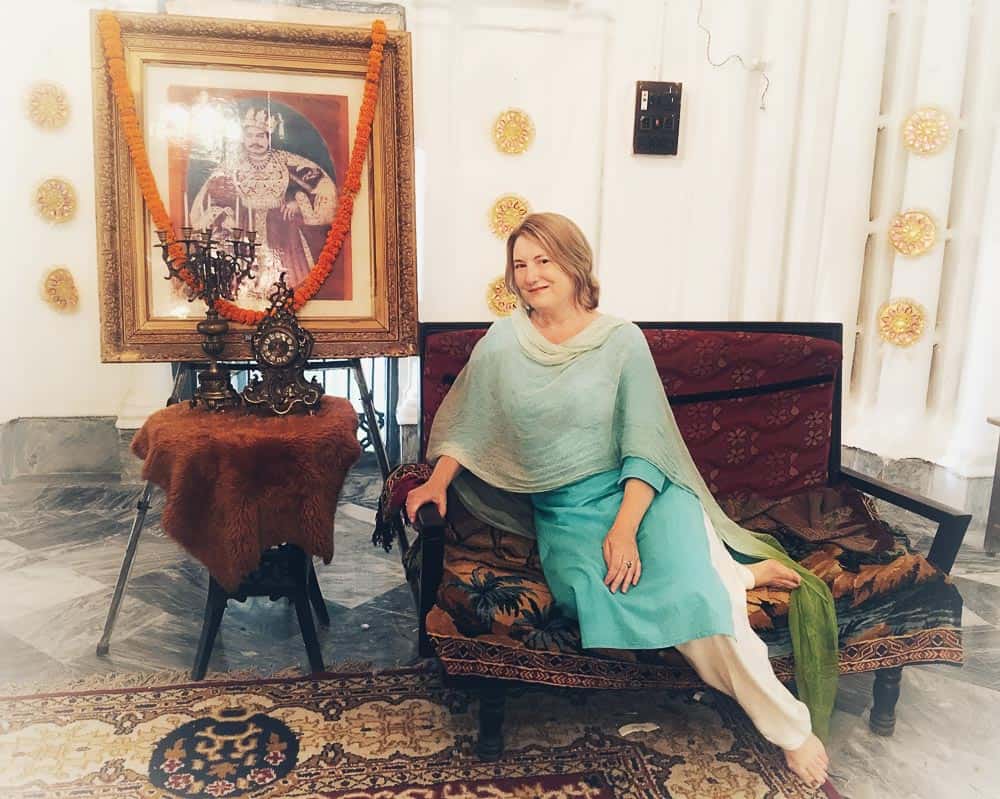 How to do Durga Puja
Durga Puja takes place both in the home and out on the streets, where the community made pandals are located. There are approximately 4,000 pandals in Kolkata open to the public. But tourists and pandal-hopping enthusiasts tend to gravitate towards the spectacular and award-winning theme pandals.
Word spreads quickly among festival goers about which pandals are the most spectacular, and which ones are likely to win the top awards. The big, popular ones can attract 300,000 to 400,000 visitors per day — creating some logistical challenges on the part of the designers, the police, and the municipal authorities. But somehow it all works and as long as you're prepared for traffic slowdowns, detours, and long walks to get to, and through, the pandals, you'll be fine. Needless to say, comfortable shoes and a water bottle (preferably a reusable one) are musts!
Hardcore pandal hoppers like to go out about 9 pm, and pandal hop until the wee hours. This activity is also known as "pujo parikrama." The pandals stay open until 4 am, and lots of street food stalls do likewise. The event becomes a big street party, with everyone dressed up in new clothes. Women wear their best saris, so a pulsating sea of bright colours and bling will greet you on the streets and add the party atmosphere.
My advice is to stay in a centrally located hotel like The Fairlawn, a charming heritage property, or if you like shiny five-stars, The Lalit Great Eastern, which is where I stayed, and get yourself a guide to the pandals (the local newspapers produce lengthy and detailed guides) or check out this one from West Bengal Tourism and this one from the Kolkata Traffic Police. Then, plan your attack. I would do a different part of the city each day — and make sure you don't miss South Kolkata and North Kolkata. North Kolkata is a more historic area and South Kolkata has a lot of the most stupendous pandals. Maddox Square and College Square are not to be missed at night for their lively atmospheres.
Weather can be unpredictable in October, when Durga Puja usually falls. It can get very hot and humid in the afternoon, and showers are not uncommon. It's wise to be prepared for anything! I found that by going out in the morning and evening, and resting in the hotel in the hot afternoons, I was able to pace myself.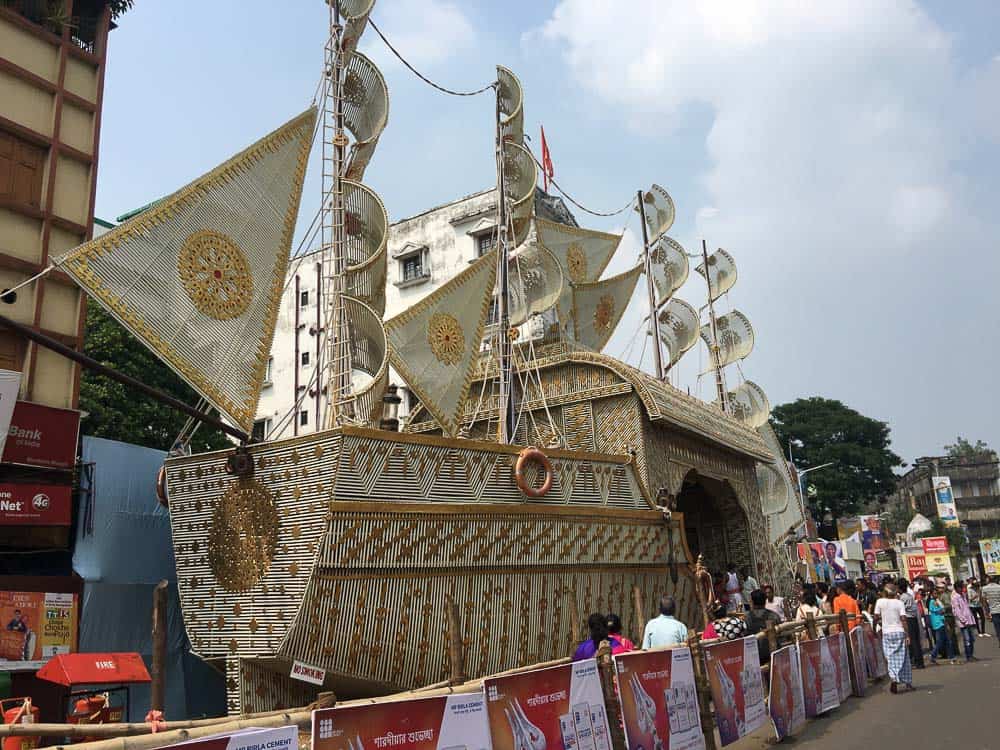 What are the dates for Durga Puja 2023
Like most festivals in India, Durga Puja does not fall on a fixed date, it is decided by the lunar calendar. There are actually 10 days to the Durga Puja ritual, starting with Mahalaya, but the community pujas usually commence rites on Mahasahthi, day six.
In 2023, the Durga Puja festival is October 20 – 24, 2023. 
Mahalaya is a significant ritual because it's the day that artisans draw the eyes on their Durga statues. The statues are made in Kumartuli, a neighbourhood of Kolkata, by thousands of artisans in their workshops. They use straw and clay to craft the idols and then paint and dress them. A visit to Kumartuli is well worth it, to see the process and artistry that goes into them.
For much more detailed information on Durga Puja rituals visit this dedicated site.
Durga Puja dates for 2023
Shashthi: October

20

Saptami: October 2

1

Ashtami: October

22

Nabami: October

23

Dashami: October

24
Where to stay in Kolkata
Central Kolkata is the place to stay, close to the Maidan, the Victoria Memorial, Park Street and a lot of the leading tourist attractions, plus best restaurants, cafes, shops, and markets. Another option would be South Kolkata, which is a more upscale, residential and leafy area of the city. Here are some good choices for hotels:
Bonedi Barir Durga Puja
Travel blogger Madhurima Chakraborty of the blog OrangeWayfarer took me out one night on a very special Durga Puja tradition called Bonedi Barir. You can read more about this lovely tradition in this post Bonedi Barir Parikrama of Kolkata: "Bonedi Barir Durga Puja takes you through the century old Bengali Zamindar or wealthy households of Kolkata where traditional rituals, customs are observed."
Durga Puja merges with mutton biryani and craft beer in a silk saree, seamlessly, for five days. And we love it like that!" Madhurima Chakraborty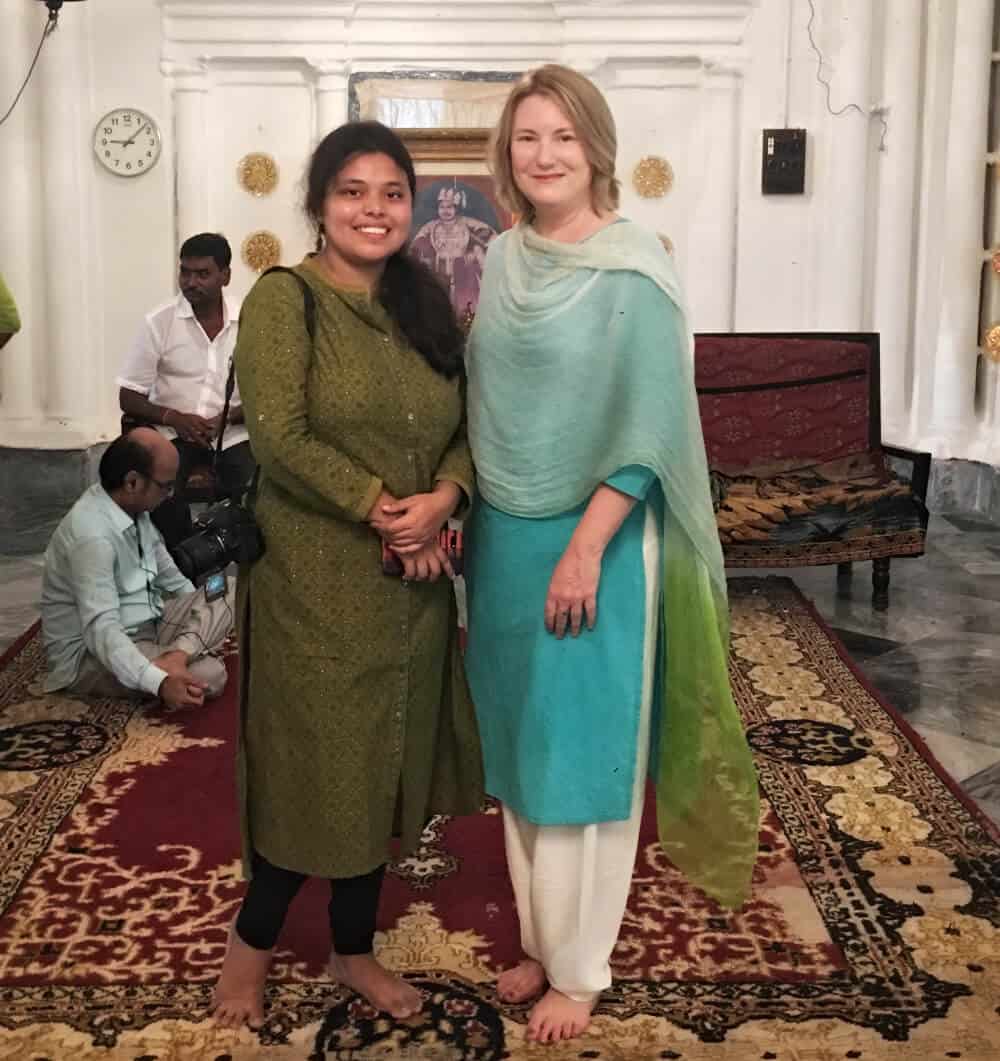 We went out about 8 pm to North Kolkata and visited three of these old mansions, each connected through time, including Babu Khelat Ghosh House, Pathuriaghata. I loved visiting this mansion, it was truly like stepping back in time.
Afterwards, we walked to two more Bonedi Barir Durga Puja mansions nearby: Jorasanko Dawn Bari Bandookwala (the Narasimha Dawn Family's Puja) and Jorasanko Dawn House. These families have been observing Durga Puja for more than 100 years, and open their houses to the public. It is said that the goddess loves to enjoy music and entertainment in one household, eat in another, and dress up in the third!
Walking through the lively streets of North Kolkata at night to visit these traditional pujas, and even meet some of the family members, was one of my absolute favourite things to do during Durga Puja. We stopped at a 100-year-old sweetmaker, and savoured melt-in-your-mouth, rose flavoured sweets, visited several theme pandals, and enjoyed the carnival atmosphere until close to midnight. I headed back to my hotel, like Cinderella, but Madhurima and her friend continued on, planning to pandal hop all night.
Durga Puja at home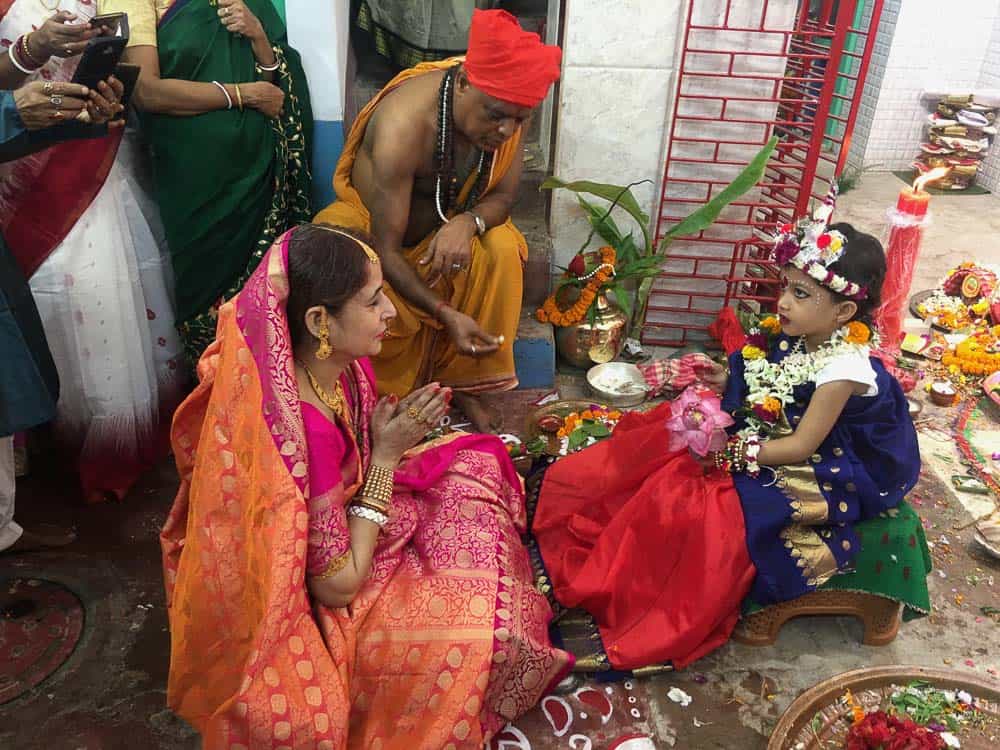 It is not within the scope of this post to go into the many intricate religious rituals, and other traditions, encompassed by Durga Puja. (But if you want to know more, read this post.) Suffice to say that each day there are one or more, and many families go to great lengths to celebrate each one — and many of these rituals have been going on for hundreds of years. I was very lucky to get invited home to several Durga Puja events.
Kumari Puja
On the eighth day of Durga Puja, Ashtami, I experienced Kumari Puja, thanks to a generous invitation from Äyandrali Dutta of Wanderlust Craving. Äyandrali's family have been holding Durga Puja rituals in their home in North Kolkata for 165 years. On this day, the child form of the goddess is worshipped.
Bongs go bonkers at Durga Puja!" Äyandrali Dutta
It was really amazing to be part of this women-centric ritual. I went up several flights of narrow stairs to an upper floor bedroom to watch as the child was dressed and made up by the women of the house. She was a very well behaved little girl, who sat patiently as she was wrapped in silk and loaded with jewelry and flowers.
Back downstairs, she was taken to the mandir where she was the central focus of a puja, performed by a local pandit. Äyandrali's Mother also took part in honouring this small replica of the goddess, and after the rituals were over she swept her up in her arms and hugged her. It was a very joyful moment — and just in the nick of time as the girl was starting to get tired and fidgety.
Sindoor Khela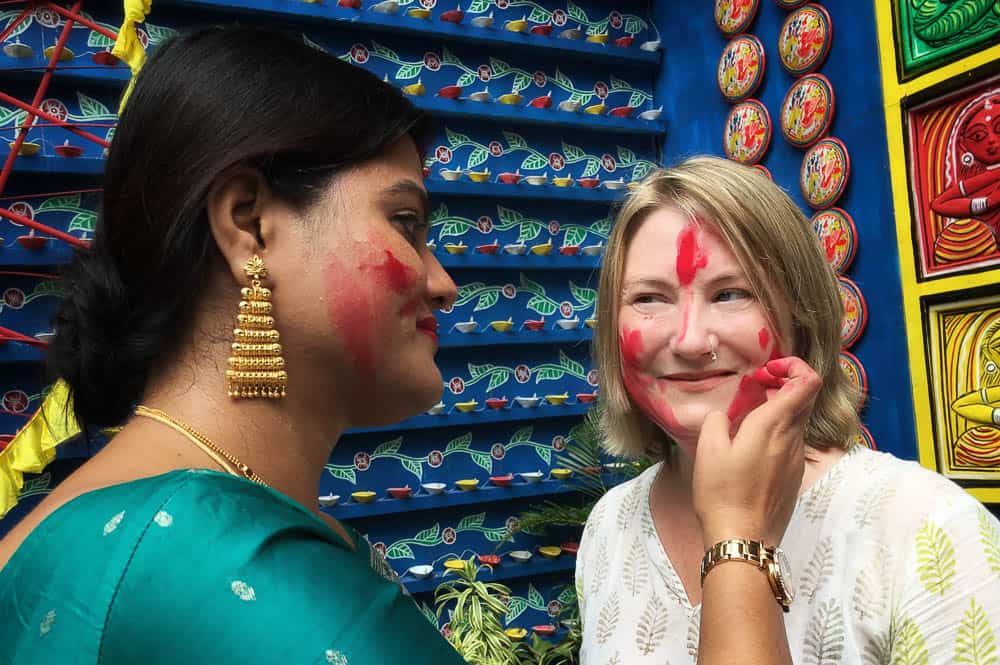 On the last day of Durga Puja, Vijaya Dashami, I got caught up in Sindoor Khela at some pandals in South Kolkata. This is the day married women dress up in white saris with red borders and playfully smear sindoor on each other. It celebrates the status of the goddess as a married woman (lightly criticized in this article) because wearing sindoor is the sign of a married woman. Although I am not married, because I am a foreigner, the crowd obviously thought it would be fun to include me in the ritual — and it was!
Vijaya Dashami
My Durga Puja ended on the last night, Vijaya Dashami, with an immersion party in South Kolkata with new friends Pritha Dasmahapatra and Vikramaditya Ghosh aka Babu and Bibi. We gathered in the community centre and watched as the women first honoured the goddess by each ascending a ladder and performing a ritual that included blessing the goddess with leaves. Then we danced to live musicians as the idols were taken down, and loaded onto trucks — to be taken to a nearby lake for immersion.
On this day (and the next), the idols are taken to the river for immersion, which marks the symbolic return of the goddess to her home in the Himalayas. Apparently, the best way to watch is from a boat. West Bengal Tourism and several private organizations also offer tour packages.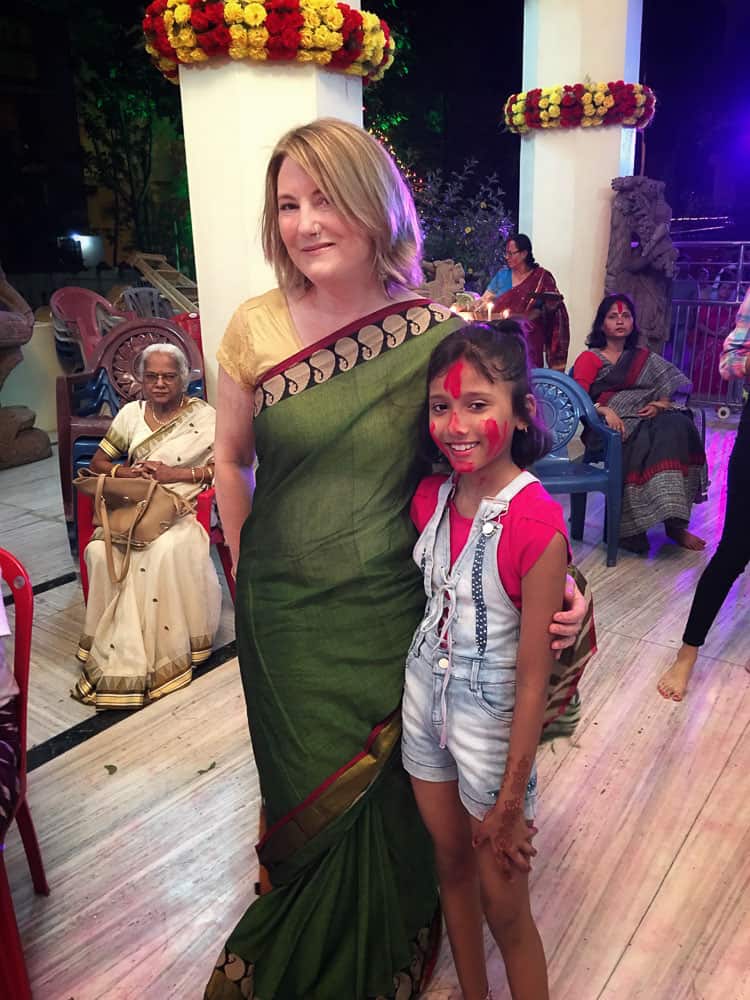 Wearing a saree for Durga Puja
I bought a light cotton saree to join the fun and wore it to the immersion party on Vijaya Dashami — though it was not a traditional style. The traditional Durga Puja saree is white cotton with a red border. Shopping for Pujo sarees is a hallowed tradition, and many women buy a new one for each fo the five days.
Pritha Dasmahapatra explains the significance of sarees during Durga Puja: "For a Bengali woman Durga Puja marks the culmination of the year's sartorial exploration. In the run up to the event they would carefully plan the Puja lookbook, spending hours hunting for the perfect clothes and accessories. I say clothes because Puja is not just a one day affair, at least not when you have serious fashion goals to meet. Whilst Mahashtami, or the day when the Goddess is said to have finally annihilated the evil powers, is considered the most important one (and therefore warrants the best of clothes), the ceremony itself lasts traditionally for five days.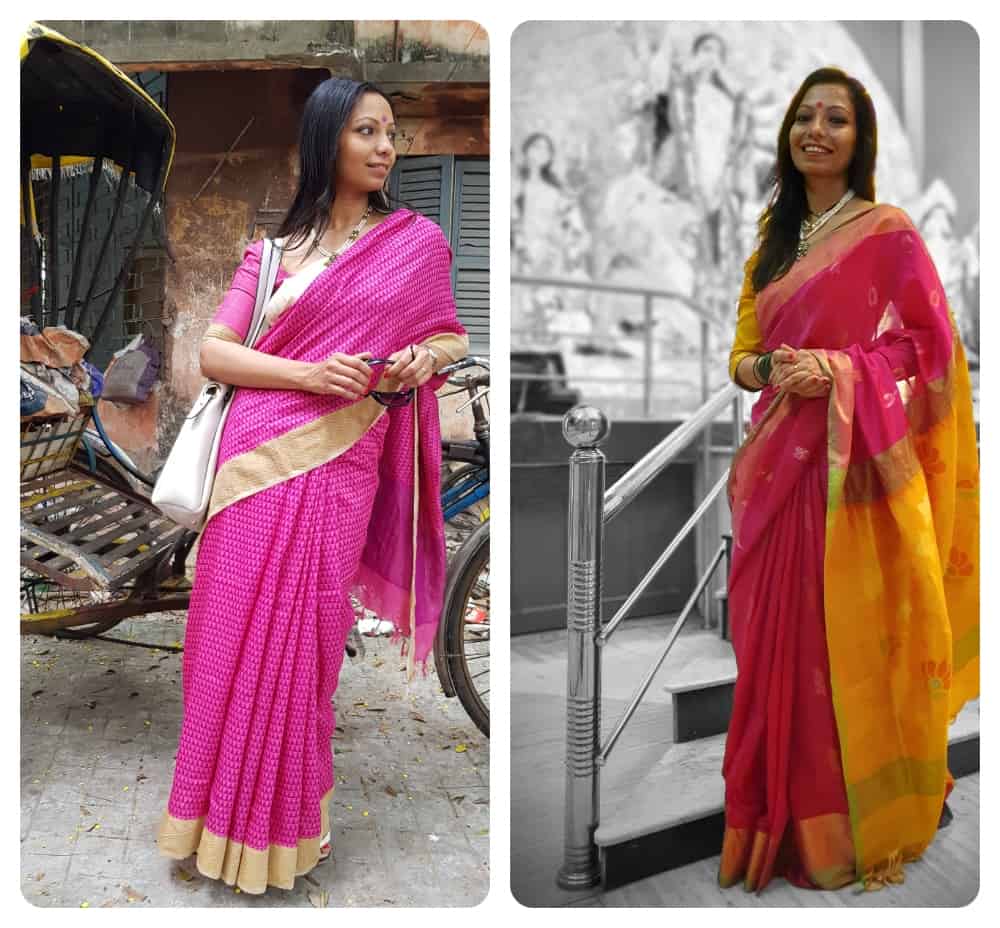 Bengali women have always been progressive, both in their views and the clothes they wear. At Puja though, the flavour is full on traditional. Even the sarees they choose have a recurrent theme in keeping with the mood of the religious rituals. It is customary to begin the Puja with comparatively simpler sarees. On the morning of Mahashtami when devotees offer floral prayers to the Goddess, womenfolk will be seen in the temples wearing red border white saree, a very Bengali colour combination. Mahashtami is mostly about red, the colour associated with the Goddess, the colour celebrating feminine power.
The following day or Nabami, also the penultimate day of the ceremony adds modern touch to the ubiquitous saree. Out will come the brave backless blouses, the shimmery chiffons, the experimental drapes with the saree.
On Dashami the Goddess leaves her mortal world but not before her female devotees bid her adieu with sweets and vermillion. And thus comes the most famous moment of the Durga Puja, the Sindoor Khela. As the women smear each other with vermillion, what better saree to wear than the quintissential Bengali weave- a crisply starched cotton tant (handloom) or a gorod (untreated silk) saree in white with red border."
Top Durga Puja pandals in Kolkata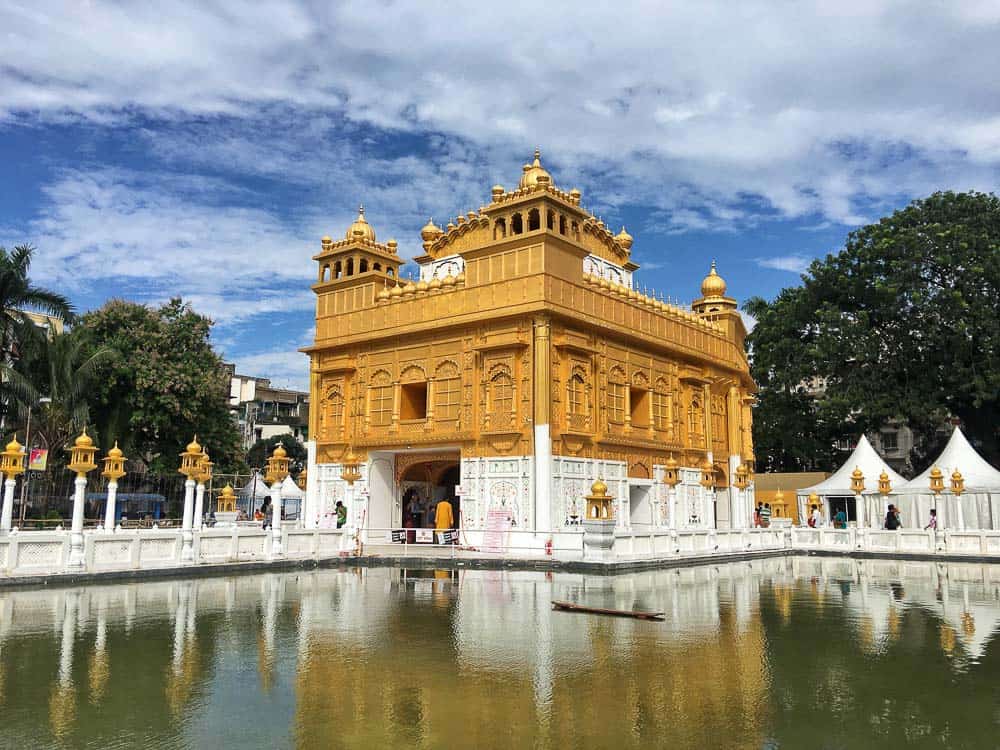 Each year, there's an overall theme for the pandals during Durga Puja. In the past, these themes were things like "castles" and "temples" but more recently many of the pandals address social issues like pollution, domestic violence, and diversity. In 2019, the theme was around conservation and many of the pandals were made with natural materials like hemp, and clay pots, and wood.
Some of these pandals are created by committees that date back 80 years. To see a list of the award winners from 2019, visit the West Bengal Tourism Durga Puja site.
Manicktala Chaltabagan Lohapatty Durga Puja

Santosh Mitra Square

Bagbazar

Sikdar Bagan Sadharan Durga Puja.

Mohammad Ali Park Durga Puja

Ekdalia Evergreen Club

Hindustan Park

Hindustan Club

Singhi Park

Badamtala Ashar Shangha

Samaj Sebi Sangh

Shib Mandir

Barisha Sarbojonin

Mudiali Club Durgatsab

Tridhara Sammilani Durgatsab

Behala Club

Kumartuli Sarbojanin

Ahiritola Sarbajanin Durgotsab

Ballygunge Cultural Association

Desapriya Park

Telengabagan Sarbajanin Durgatsab

Dum Dum Park Tarun Sangha Durga Puja

Naktala Udayan Sangha

Suruchi Sangha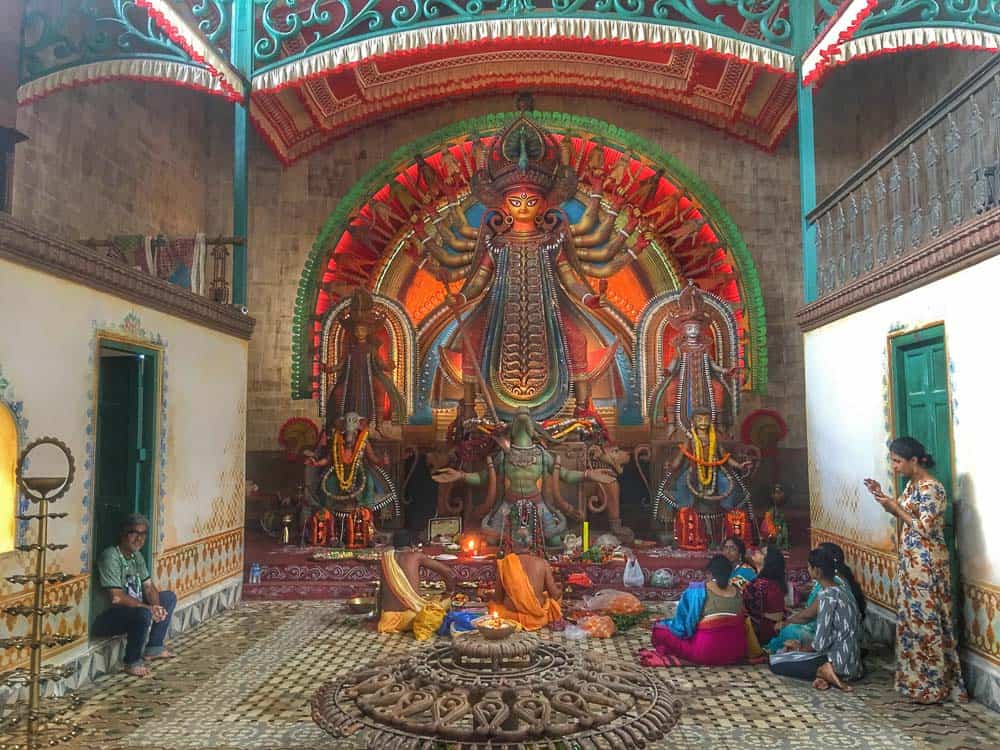 My favourite pandals of 2019
Over the course of the four days I attended Durga Puja in Kolkata in 2019, I saw about 10-15 of the outstanding theme pandals and they, including some that won awards for "best in show" and they were incredible.
Chorbagan Sarbojonin: The inside of a volcano, made entirely sponge gourd, which is a natural plant- based loofah.
Chaltabagan Lohapatti Sarbojanin Puja: a giant ship seemingly washed ashore on a street in Kolkata
Northern Park Bhawanipore: a model of the Golden Temple with puja inside. Loved the mashup of religions.
This city is bursting with art and creativity!
Chetala Agrani puja: This spectacular pandal honoured the post office and it was absolutely luminous inside, as a city skyline was illuminated across the cavernous walls and ceiling.
Suruchi Sangha Durga Puja pandal: a purpose-built heritage house, where deconstruction and creativity met and created a uniquely poignant atmosphere.
66 Pally, next to Badamtala Ashar Sangha, used wooden banknotes to create a cascading interior.
My favourite was Naktala Uddyan Sangha Durga Puja pandal.
Plus, a few that I loved, but didn't get their names:
A replica of Ellora Caves — absolutely gorgeous.

One that honoured the Kumartuli artisans who make the statues.

A very moving one was made completely from jute to express the hypocrisy of honouring women and abusing / oppressing them.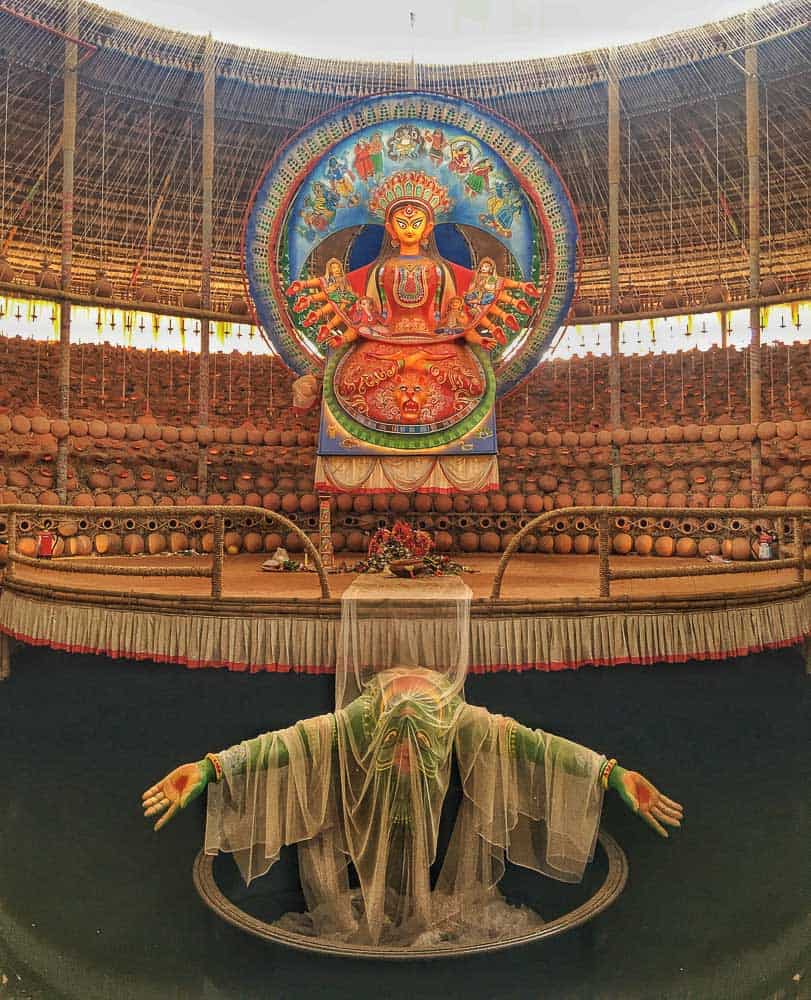 Thanks to Incredible India Tourism
Thanks so much to Incredible India Tourism for giving me this opportunity, and hosting me on this media trip. I wouldn't have missed it for the world.
I think this event could be marketed as an arts/tourism event to foreigners. In fact, I would love to bring my sister Victoria Ward who is an artist next year. I loved Durga Puja and am already planning to really do it right next year! Who's in?
---
If you enjoyed this post, you can….
Sign up to The Travel Newsletter in the sidebar and follow Breathedreamgo on all social media platforms including Instagram, TripAdvisor, Facebook, Pinterest, and Twitter. Thank you!