What you need to know about female solo travel India
FEMALE SOLO TRAVEL INDIA. It's a hot topic! If you are a woman planning a solo trip in India, please read this post to find out what you need to know about female solo travel in India. I've been travelling alone in India for more than  three six seven eight years over the past 12 14 17 years, and writing a solo female travel blog the entire time. I now live in India and I've learned a few things about how to successfully travel in India as a solo woman. In fact, there's one KEY thing I've learned about solo female trip, so read on to find out the number one thing you need to learn.
For a comprehensive list of India travel tips for women, make sure you read Top Tips for Women Travelling in India.
Before I started travelling in India, I had rarely travelled by myself. I jumped into the deep end of the female solo travel pool when I arrived in Delhi, December 5, 2005, to begin a six-month solo trip in India. I had never done anything like this before. Never back-packed, never went on a long journey alone, never been to India — or indeed anywhere like India. (Is there anywhere like India?) If you want to know what would make me undertake this bold step, you can read My Story or Quit my Job to Travel.
For the past 14 17 years, I've spent many years travelling solo in India (as well as Thailand, Sri Lanka, Costa Rica, Bhutan, Ireland, and Canada). I think it's safe to say, I've learned a lot about travel, about myself, about India, and about being a solo female traveller in India. Here, I want to offer the most important tips for solo female travellers in India.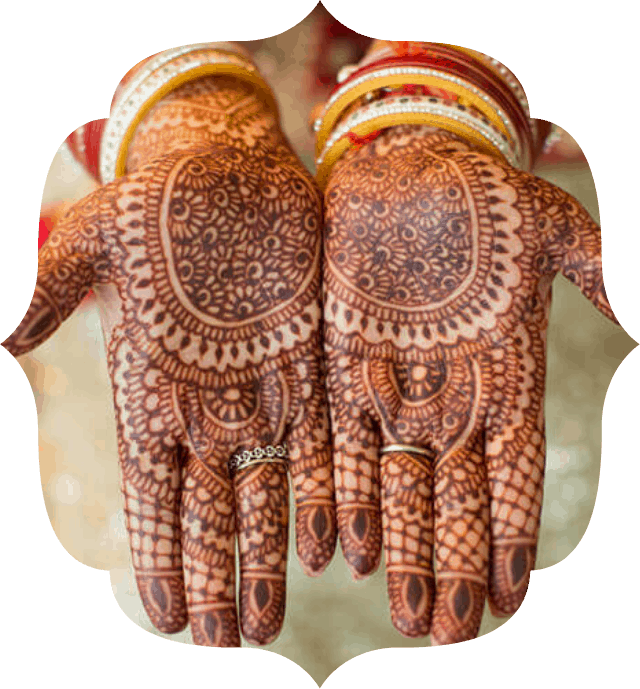 Come to India with us!
Are you dreaming of a trip to India? Come to India with India for Beginners custom tours, from Breathedreamgo and let us show you the India we love. With India for Beginners, we help you design a tour based on your interests, preferences, and budget. We pick you up at the airport and we are available by phone 24/7. We hold your hand in India!
FIND OUT MORE
My top female solo travel India tip: It's okay to be rude.
It's okay to be rude when someone (let's face it, usually a man) invades your space. It's okay to be rude when someone makes inappropriate remarks. It's okay to be rude when your gut instinct — your intuition — tells you something is off. It's okay to be rude when someone is following you. It's okay to be rude when someone is making you feel uncomfortable.
Basically, it's okay to be rude whenever you feel the situation demands it. All female solo travelers need to realize this.
Girls and women are taught to be polite, conciliatory, and kind, and told "don't rock the boat." We're made to feel bad, even humiliated, when someone says or does something inappropriate, when we are sexually harassed, even when we're abused and raped. We're made to feel responsible, as if we are to blame, for a man's bad behaviour. It could be our dress, or being out late, or travelling alone. Somehow, we are made to feel ashamed when it is his behaviour that is shameful.
But here's the thing. If we don't kick back, if we don't stand up and say "NO," if we don't let these guys know, in no uncertain terms, that their creepy behaviour is NOT OKAY, we are subtly condoning it. We are creating a situation in which we are allowing it to continue. In which the next girl who comes along will also be treated with disrespect or worse.
We are NOT responsible for a man's behaviour, but we ARE responsible for how we respond to it.
We are not victims. We are powerful. But: Society doesn't want women to be powerful — which is why there is so much oppression in the first place.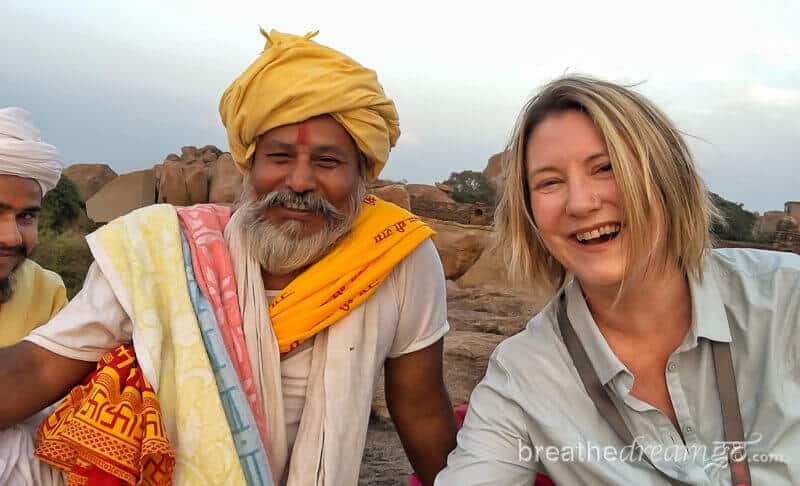 Overcoming inner fear, insecurity, and timidity is a necessary step to becoming a solo female traveller, in my opinion. We do not possess the physical strength of a man, but we possess something just as powerful: We possess gut instinct. Women's intuition.
I strongly urge young women, solo female travellers, and every other girl or woman reading this to LISTEN to your intuition. If you think something is off, it probably is. Trust yourself, trust your rising anger. Anger is a protective emotion. Use it.
If you don't feel comfortable with a confrontation, walk away. Ask for help. Overcome any resistance you may have to reaching out for help if you feel it's needed.
Top female solo travel India tip number two: Try a custom tour
Over the many years I have been a female solo traveler in India, I have come to understand what it's like to travel as a foreign woman in India, and what is needed to support a safe journey. I founded India for Beginners custom tours in 2019 based on my extensive experience. My number two tip for first time visitors to India is to join a small group or arrange a custom tour with my company India for Beginners. It's the perfect way to "get your feet wet", get to know the culture and the country, and have a safe trip.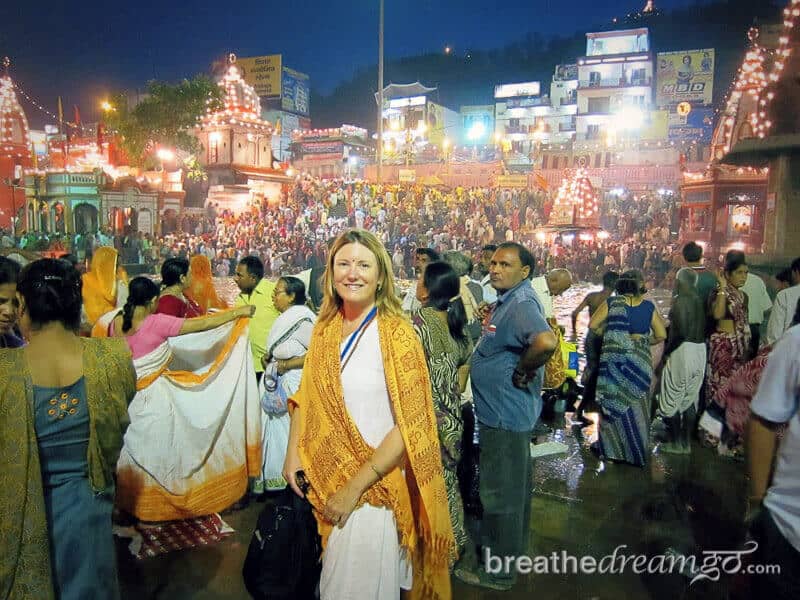 How to stay safe while travelling in India
If you plan to be a female solo traveler In India, you need to learn a bit about the culture — and don't miss reading my Top Tips for Women Travelling in India.
Here's one thing you need to know: In India (and probably other countries too) being polite can sometimes be construed as consent. The culture is hierarchical, patriarchal, and traditional, and roles are more fixed than in the west. If you are too polite to service workers — like auto drivers, waiters, touts, travel agents, sales people — they might get the wrong impression. And this is doubly true if someone is bothering you.
I'm Canadian, a country of people known for politeness. I've had to overcome ingrained politeness to move around comfortably in India. I ignore a lot of people on the street, from beggars to auto drivers. And if someone is bothering me, I am very quick to snap, "Jao!" at them (which means "go away" in Hindi).
This same social structure will help you, however, should someone be harassing you in public. If you are in trouble, you can call out for help. Aunties and uncles will rally around you, and chase the "badmash" away. Social shaming really works in India. So don't be afraid to call for help, and call out your abuser, if you are in a situation (like a train or bus or busy market) where you feel that good people will come to your rescue.

Becoming confident as a female solo traveller
I've travelled solo in India for many years, since I was 45, in 2005. And in all this time, I've experienced uncomfortable situations, but luckily have never felt unsafe or threatened. If I notice a man following me or leering at me, or if I just sense a "vibe," I listen to my instincts and I do something about it. I walk into a store, or follow behind a couple very closely, or even stand near a policeman.
Travel with caution — not fear.
I urge women to travel with confidence — and it does take time to build. Start within your comfort zone. Build it up. If you are a young woman planning to start your solo travels in India, I urge you to reach out to me and my team at India for Beginners. We can help support your journey.
I don't think anyone should be afraid to travel in India. If you are, don't do it. I feel the media has created a lot of fear around women travelling alone, especially in India. Fear and sensationalism sell.
But I don't think fear is a positive emotion. I think fear attracts negative people and experiences. Many studies have shown that men who assault women look for signs of vulnerability. If you stride with confidence, and let a man know when he's crossed a boundary, you are giving a clear signal: Don't mess with me.
Travel with caution, yes. A million times yes. Read My Top Tips for Women Travelling in India. I practise cautious, safe travel strategies every day. There is no guarantee that if you do all the "right things" – wear conservative, Indian clothing, follow cultural norms, use safe travel strategies, and stay alert and confident – that nothing bad will happen to you. But based on my experience, I think it does mitigate risk.
There is a stigma around female solo travel India that I feel is somewhat undeserved. Personally, I have found travelling in India to be the most rewarding adventure of my life. I know I have an affinity for the culture here, and perhaps my attitude plays a part. I am open and trusting, I like India and Indians, and I feel happy and privileged to be here. I have always approached India with the attitude of a seeker, which essentially means I try and accept everything that happens as a life lesson. And I always stay alert to my surroundings, and use my razor-sharp instincts — honed from years of use — to keep me safe.
---
Solo female travel India: Five top tips
Use a local SIM card. You can get one right at the airport when you land in Delhi or Mumbai. I recommend Airtel, Vodafone or Jio.
Research your destinations and learn about the culture before you travel to India.
Dress modestly. Read What to wear in India.
Join a group or take a custom tour with India for Beginners.
---
20 Solo female travellers in India, in pictures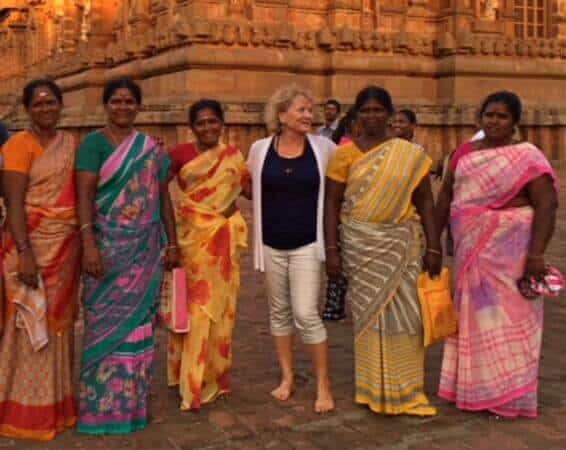 Janice Soderholm
This photo is from Fall 2017 travelling on my own to India and then meeting up with a DMC. These women were such fun and so wanted a pic with me. Travelling in India is special. It is not always easy but the challenge is what brings me back again and again. Transforming how I view everyday living happens best in India. No where else in the world have I learned to appreciate EVERYTHING and at the same time realize how most things I think are important really are not. OmJV. Website YogaTravels.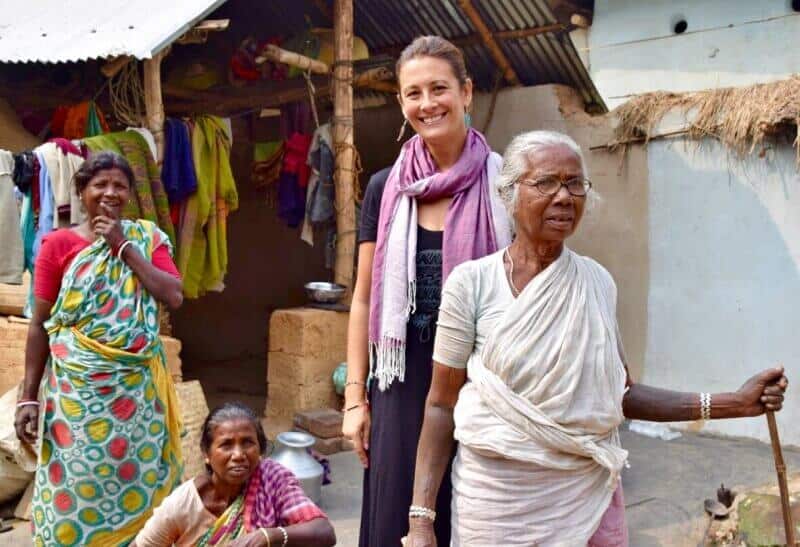 Kelly Campbell
I run Experience the Village and take women all over India on adventures, sight seeing trips, and visits to our partner projects in Kolkata. I often arrive before the group or stay longer and continue traveling to discover more of India each time. The photo is from Shantiniketan where we have a community based tourism program and hotel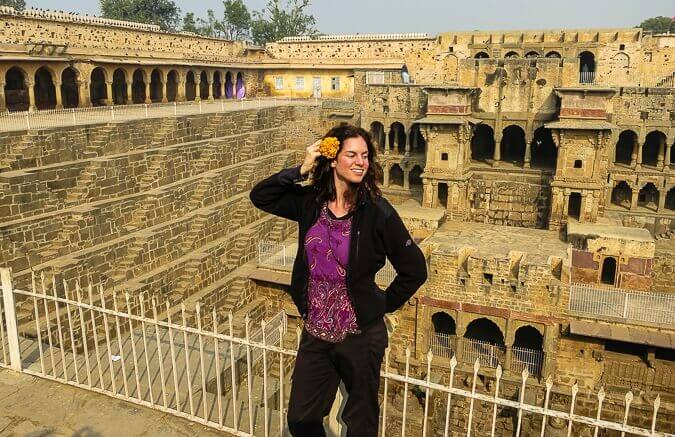 Lillie Marshall
As a teacher, my schedule was such that I could only spend one week in India. People told me, "That won't be worth it — wait until you can go longer," but I'm so glad I didn't listen to them! India was, indeed, incredible. My saying is, "There's never a perfect time to take a trip. Just go when you can, or you may never go at all!" During that week in New Delhi, Jaipur, and Agra, I took over 4,000 photos, and when I got home, I wrote over 30 articles about India, which meant I was able to re-live the experience and research more in depth over the 2 years it took me to write it all up. I am clear that I've only scratched the very edge of the surface of India, and need to go back soon to learn and explore more, but I am so thankful that I was able to see what I did, even for a week! Website is AroundTheWorldL.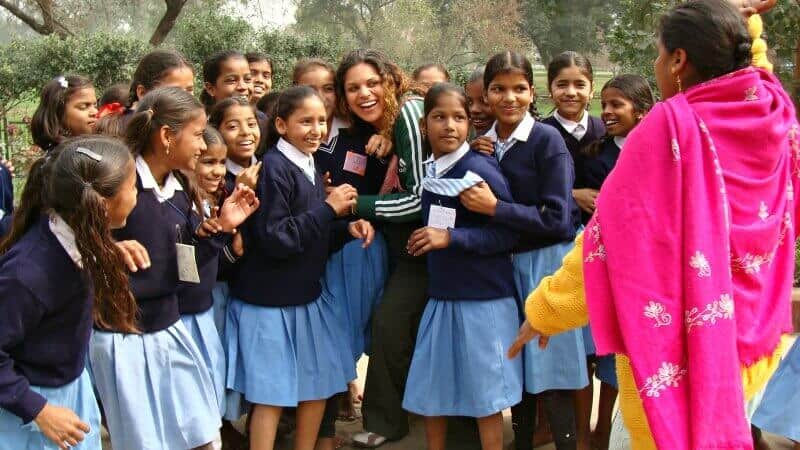 Reena Tory
Reena Tory is Chief Experience Officer of Mantra Wild Adventures, a boutique travel company specializing in wilderness and cultural safaris to the Indian subcontinent for solo travellers, couples and small groups, supporting local community initiatives and tiger conservation. "I absolutely love school kids and somehow I get asked to be photographed with them. On this occasion, atRaj Ghat in 2010, I was nearly trampled on and then their teacher armed with a stick came to break up the commotion. It was all in fun and we had a blast!"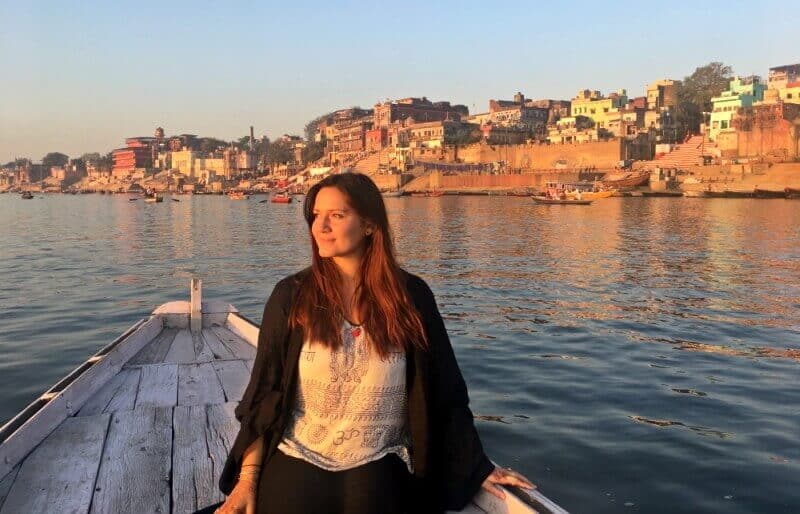 Lola Méndez
Lola Méndez is a full-time traveler sharing her adventures on Miss Filatelista. She travels to develop her own worldview and recently spent six months exploring India. She's passionate about sustainable travel she seeks out ethical experiences that benefit local communities.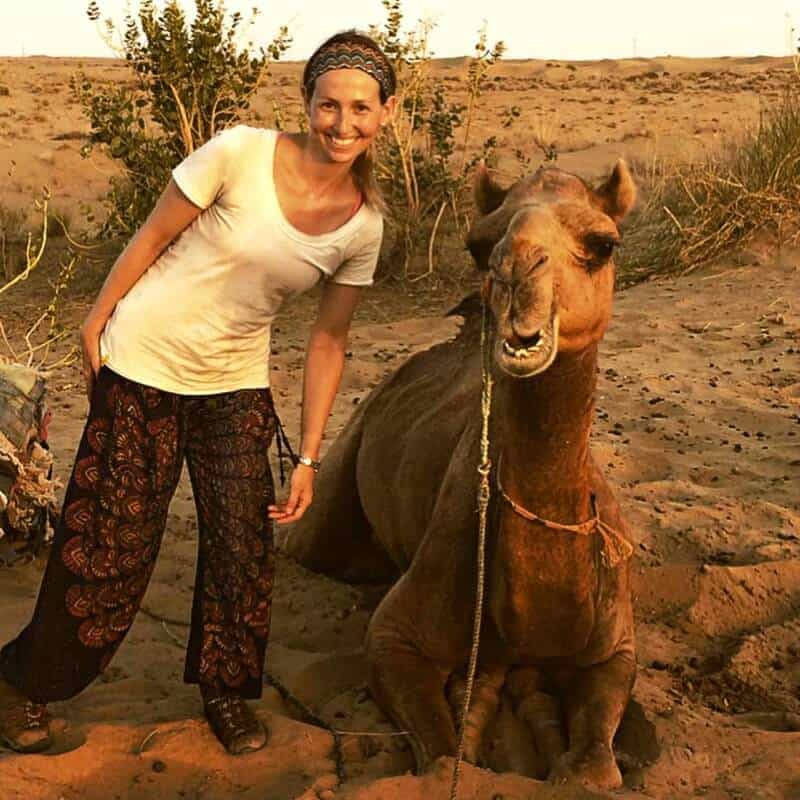 Stephanie Huff
Steph is a Canadian traveller and the founder of The Pink Backpack travel blog, where she writes about solo adventure travel. In 2015, Steph traveled through India on her own, making her way from Kerala up to Himachal Pradesh over the course of three months.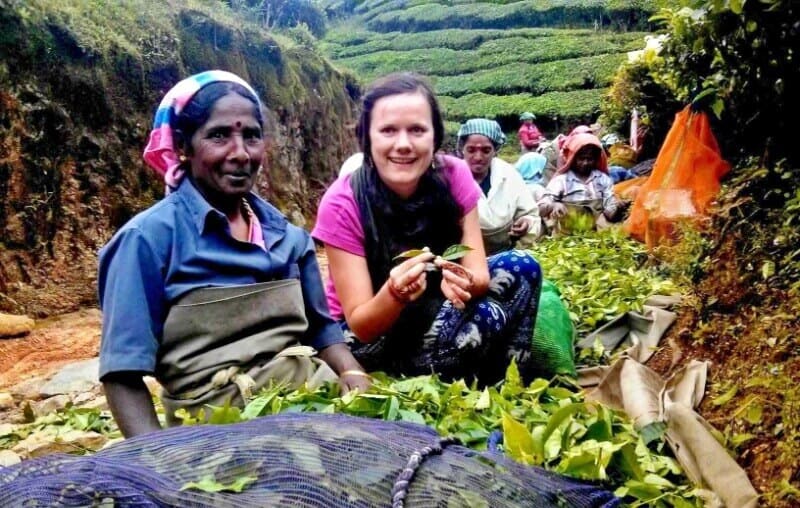 Kathy, Walkabout Wanderer
Kathy is the face behind Walkabout Wanderer, a blog in solo female adventure travel. In 2008 she went from package holidays to travelling solo around the world. She fell in love with India and has travelled there five times. This photo was taken whilst touring Kerala, in a tea plantation in Munnar.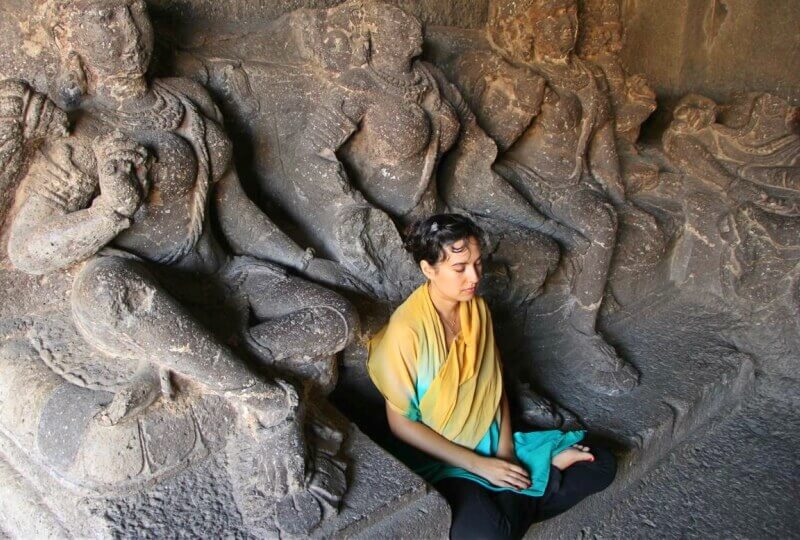 Lyric, AsherFergusson
Authentic Indian temples gave me some of the most spiritual and heart opening experiences I've ever had. Yes, it's probably going to be loud, and people might squish up against you, pushing your comfort zone a wee bit, but if you can just be easy with the whole experience, the spiritual power of the temples will be a highlight of your trip. Our website is AsherFergusson.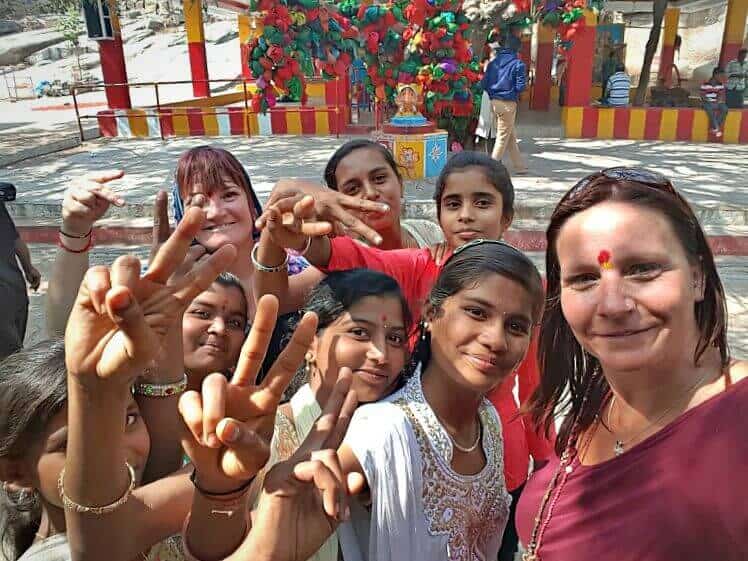 Liza Williams
Travelling to India changed my perspective of the world. It opened my mind, taught me compassion and raised my spiritual awareness. There are parts of India that are so beautiful and majestic that out of all the places in the world this is where I will always return. Pictures taken at Durga Temple, Hampi. Our website is SoulDrifters.
Natalia, MyTripHack
Budget traveler, advanced haggler, living with local people to explore India from a different angle! Beyond traveling, Natalia is an events & marketing specialist by day and a blogger at Mytriphack.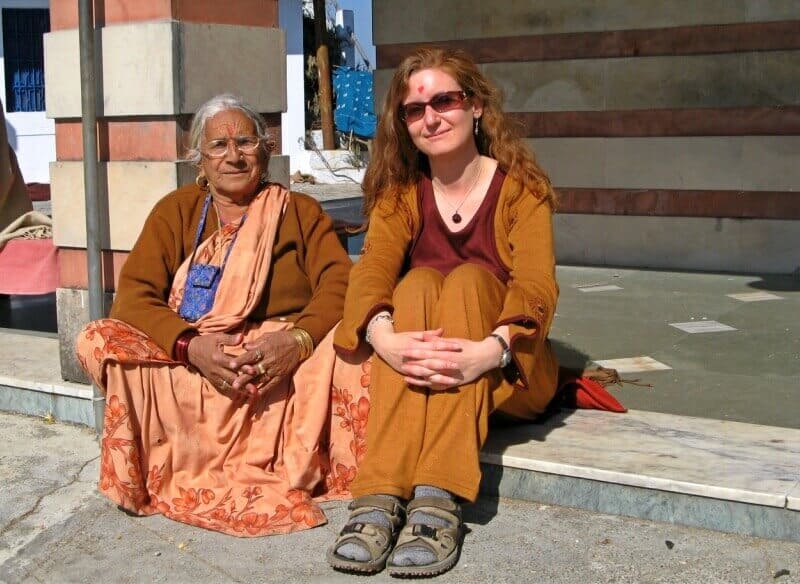 Srila Devi
I have been travelling solo in India since 2008, and altogether spent four years of my life there. I found my spiritual path, my Guru and my vocation in this beautiful land. Website is TizianaStupia.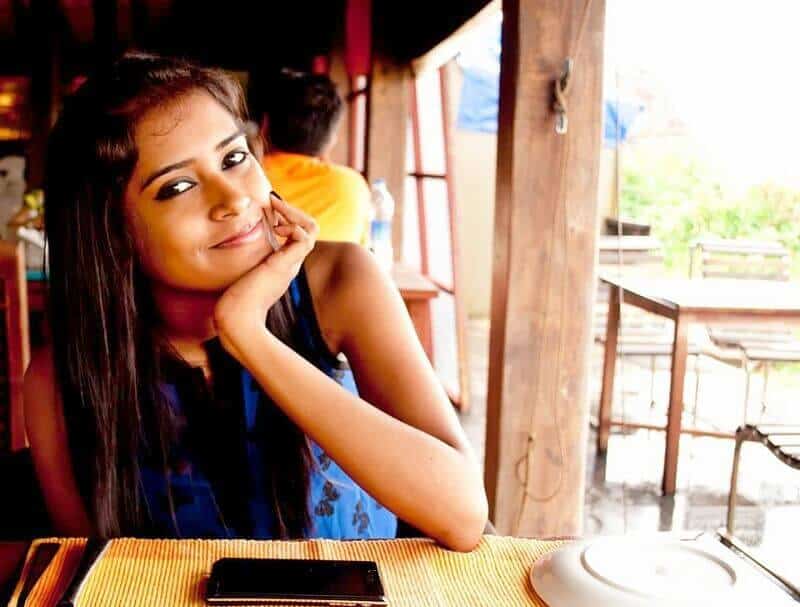 Priyanka Bhattacharya
As I pursued to meet new people and experience new flavours. Have been travelling ever since by taking time out of work. My craze to wander continued for which I worked 2 jobs, and later took a time out to explore the world around me. I was introduced to travel writing through a group of bloggers I met on one of my trips to Rajasthan, India. The fact that I can share my experiences through blogs and that people are actually interested to know more fascinates me. Travel blogging brings the quote, 'It's a small world after all…' close to reality. People connect through it.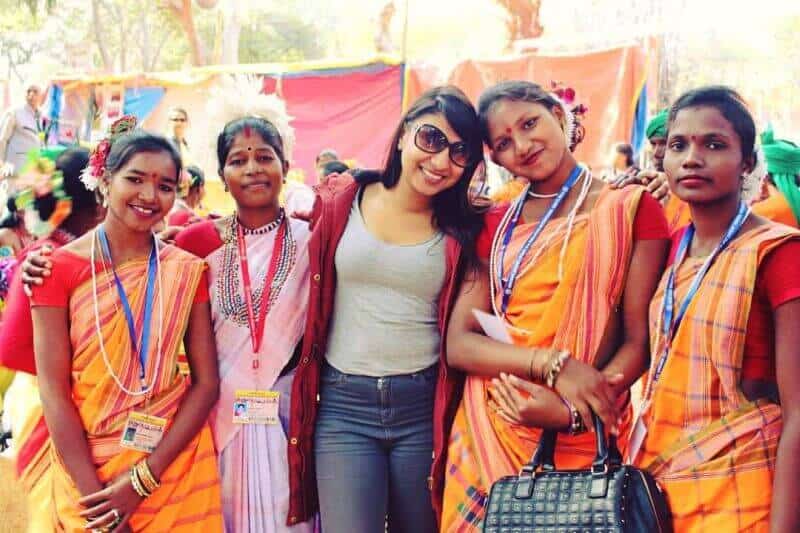 Shilpi Bansal
I am an Entrepreneur, Latin dancer and a Yoga enthusiast from India, who loves backpacking and traveling all over the world. I have travelled solo within India to lovely places like Jaipur, Dharamsala, Mysore, Coorg, Allepey, etc. Travel for me is my best friend, philosopher and guide for life.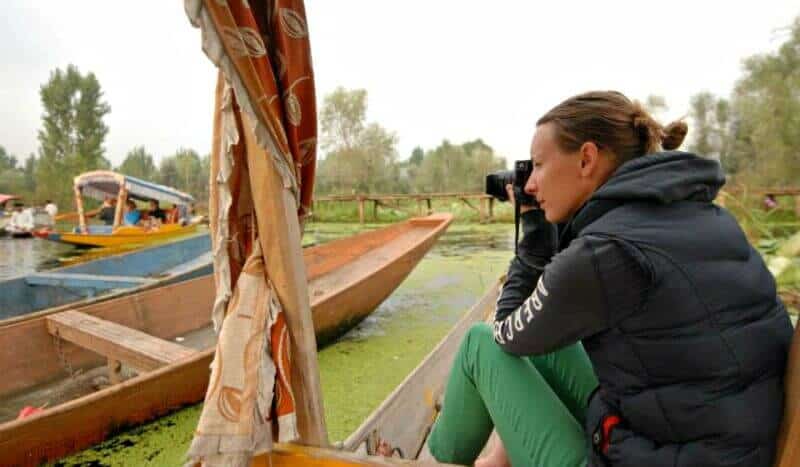 Sophie
Going solo you see India in a very different way. You're more aware of your surroundings — the good and the bad — and people all around you invite you into their daily lives, to break bread, and to share experiences.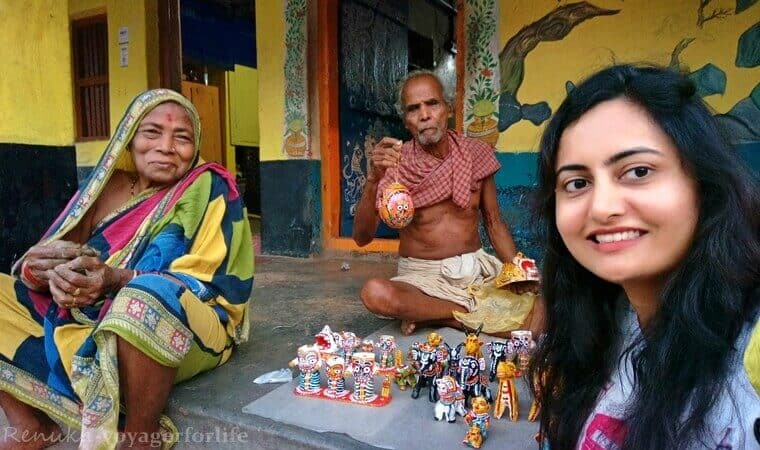 Renuka Walter
Renuka Walter is a solo traveler who likes to follow her heart and travel as much as possible. She blogs at Voyager for Life.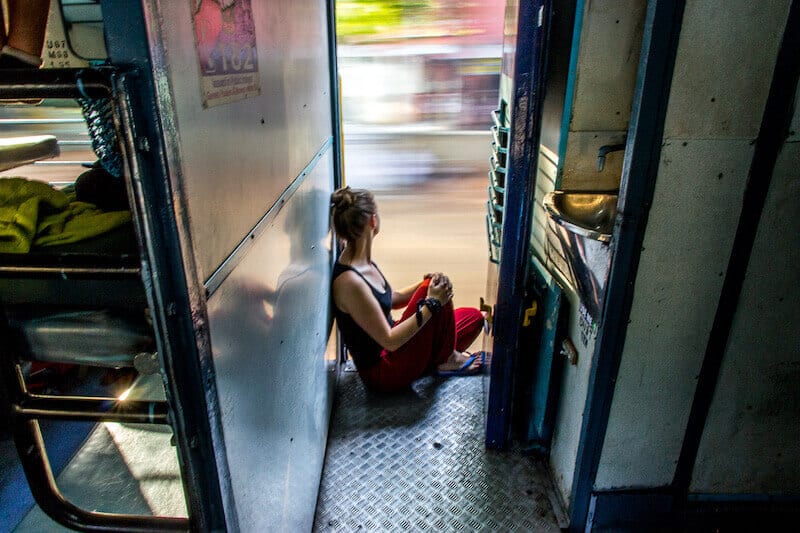 Odette, Omnivagant
Taking the sleeper class trains overnight are still some of my favourite memories of my journey through India. Laying on your bunk bed, windows wide open, watching time slowly pass by with a warm cup of chai and a crunchy samosa. Website is Omnivagant.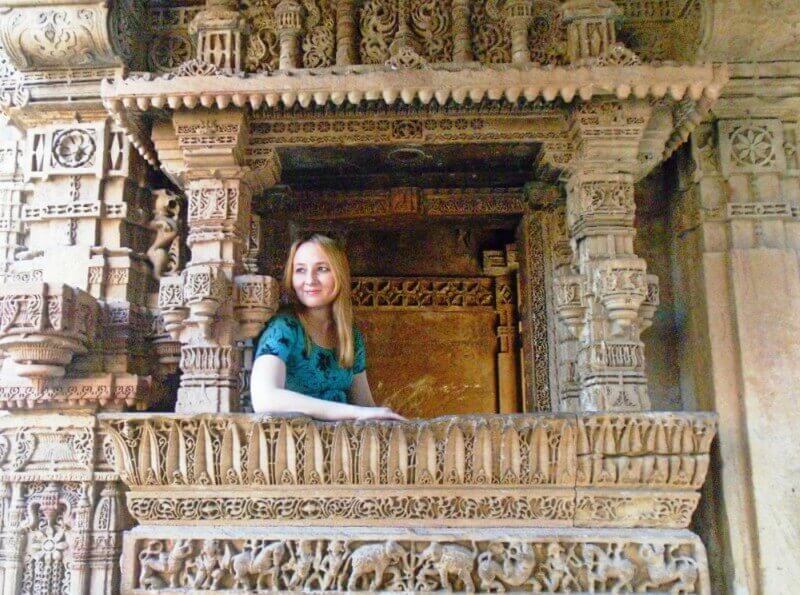 Antonina, IndiaPalette
I'm Antonina, Originally from Ukraine, I've been living in Mumbai for 10 years. Traveling around India is my favorite pastime and a chance to take a break form being a busy housewife and mom of three. I prefer places of architectural significance and natural beauty. Photo is of me at the Adalaj Stepwell in Gujarat. My blog is IndiaPalette.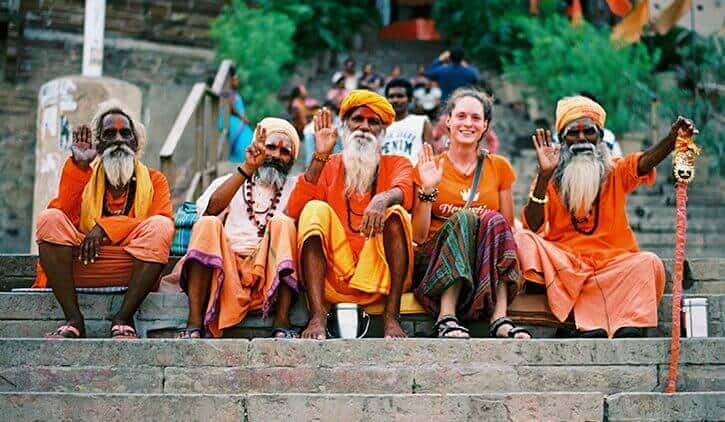 Anja Babic
My name is Anja Babič, I am a 23-year-old enthusiastic traveler from Slovenia, sometimes discovering world solo, many times accompanied with my dearest. Since I started with uni, I've travelled to Bolivia, Turkey, Switzerland, India, Romania and China, the latter also for educational purposes. In summer 2018, I am planning my clinical research in infectious diseases in Ghana. On the attached photo, you can see four Sadhus and me hanging in Varanasi, India. Website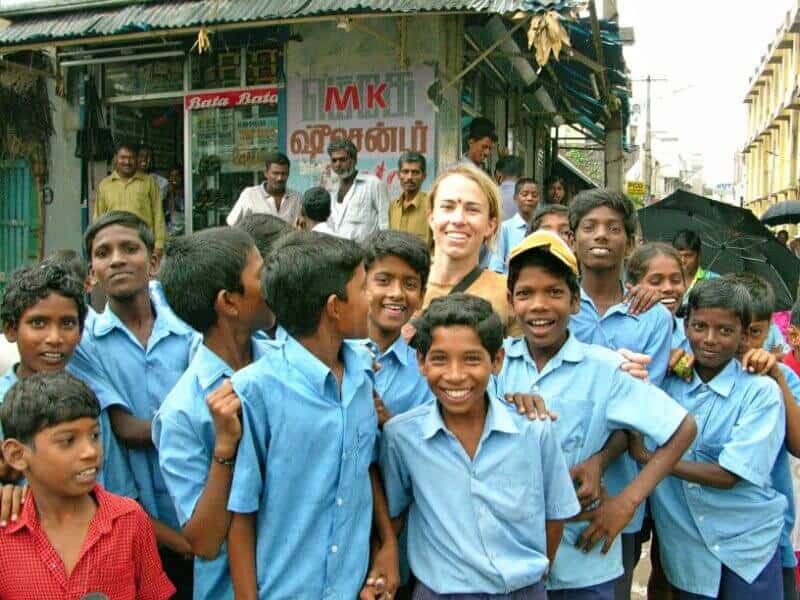 Ashley Melin
The one of me with the crowd was a crazy story. I met a guy at Arunachala Temple in Tiruvannamalai. I ended up going to his nondescript village to stay with his family. This photo was from that time.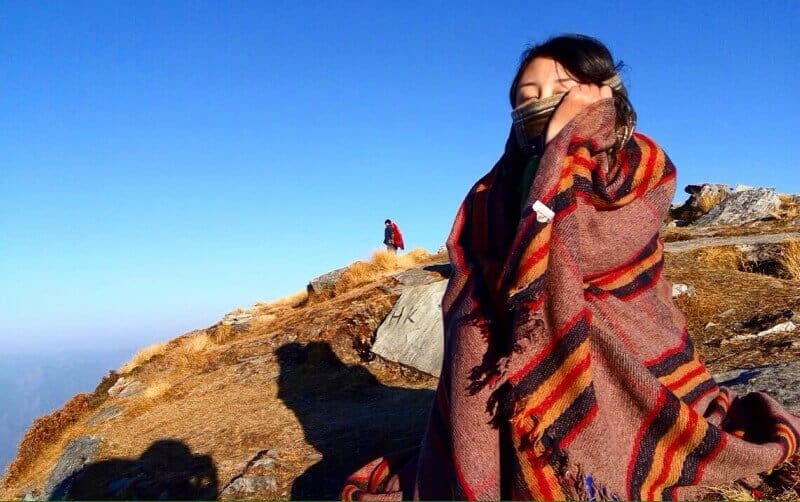 Daisy Li
My travels in India was quite different from the norm. Aside from biking into the Himalayas and visiting 9 different cities, I lived on $3 a day. I backpacked solo, rode night buses with broken doors, and devoured street food by the handful. Despite safety cautions by my family, I met some of the most fascinating, generous, and welcoming people. For me, traveling is not just about the tourist sights. It is a learning process comprising cultural differences, overcoming language barriers and a never-ending curiosity for an adventurous life. My blog is Beyond My Border.
---
If you enjoyed this post, you can.
Sign up for Dispatches in the sidebar and follow Breathedreamgo on all social media platforms including Instagram, Facebook, Pinterest, and Twitter. Thank you!