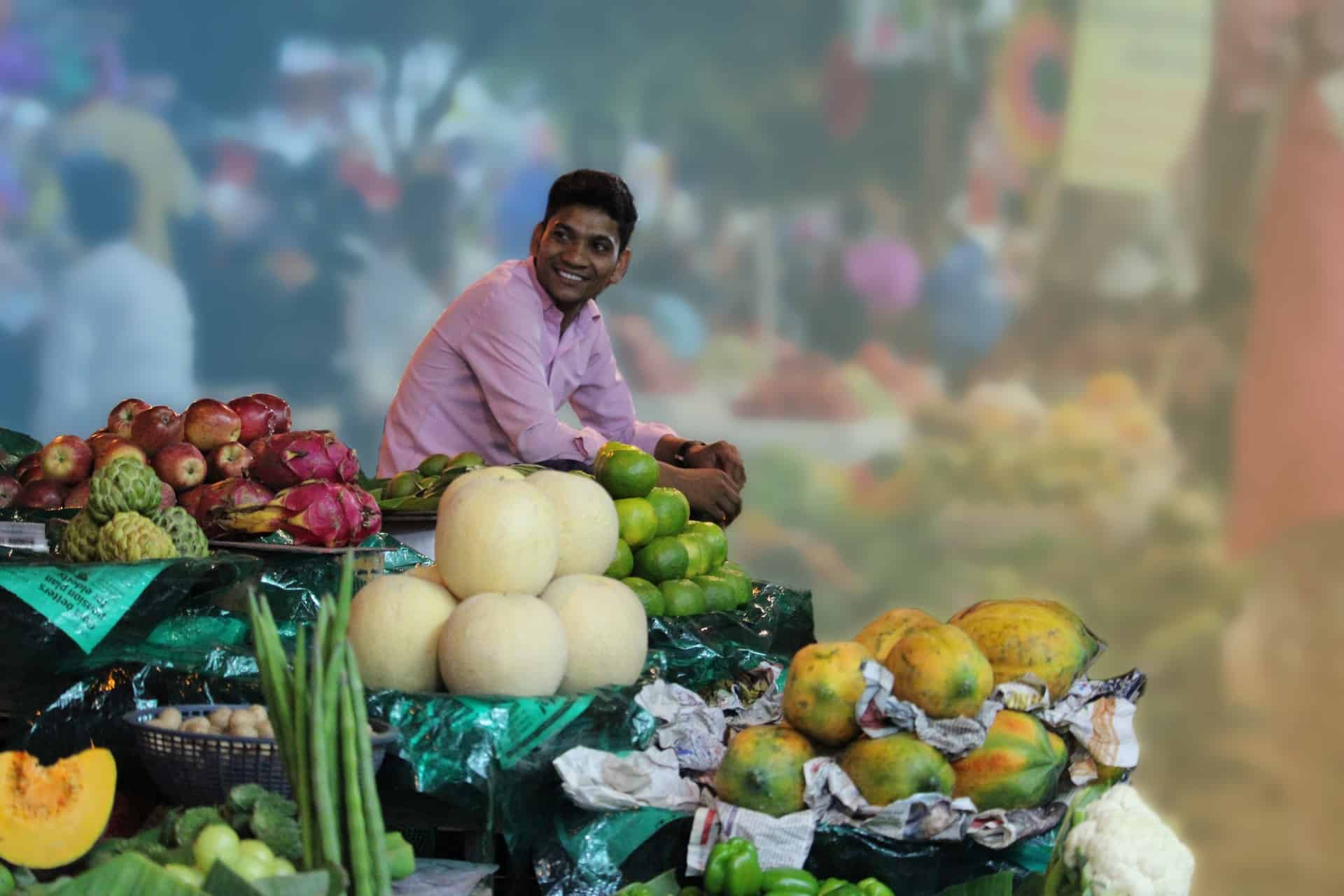 A Unique Guide to Mumbai Street Food with recipes
This unique guide to Mumbai street food will introduce you to some heavenly dishes, including step-by-step recipes so you can re-create these famous street snacks at home. Mumbai is known for some of the best street food in India, such as Pav Bhaji, Vada Pav, Bhel Puri, Pani Puri, Bombay chaat, and Bombay Duck. In this guest post, you will learn where to find these tasty treats in Mumbai. 
The Unique Guide to Mumbai Street Food is a guest post by Shraddha Maheshwari, a travel blogger from Pune (which is close to Mumbai). Heading to the big city for food is a passion for Shraddha, she has many memories of culinary trips to try street food in Mumbai. Shraddha looks for both the well-known and the familiar, the classic dishes — as well as the unique and off-beat. Shraddha is not afraid to try new dishes, or a new twist on a classic dish, which is why this is the Unique Guide to Mumbai Street Food! 
Shraddha's favourite Mumbai street food experiences
Every time I visit Mumbai from Pune, I look forward to tasting something unique or having an offbeat culinary experience. It's hard to choose what I love the most, but the Cheese Burst French Fries Dosa wins my heart always. 
Pav bhaji is of course a famous food of Mumbai. I remember going to Sardar Pav Bhaji on a Sunday and facing the crowds. I must have waited for 20 minutes to give my order, and another 15 minutes to get served, but it is totally worth the effort. If you are not in a group, you may have to share your table with strangers. Or, you can get takeaway — obviously the best option in COVID 19 era. 
Vada Pav is another favourite Mumbai street food, and Karjat station is a hotspot for this tasty dish. There are many Vada Pav sellers who will jump on your train, or come at the windows at Karjat station. It is a must-try!
---
More reading on Breathedreamgo
---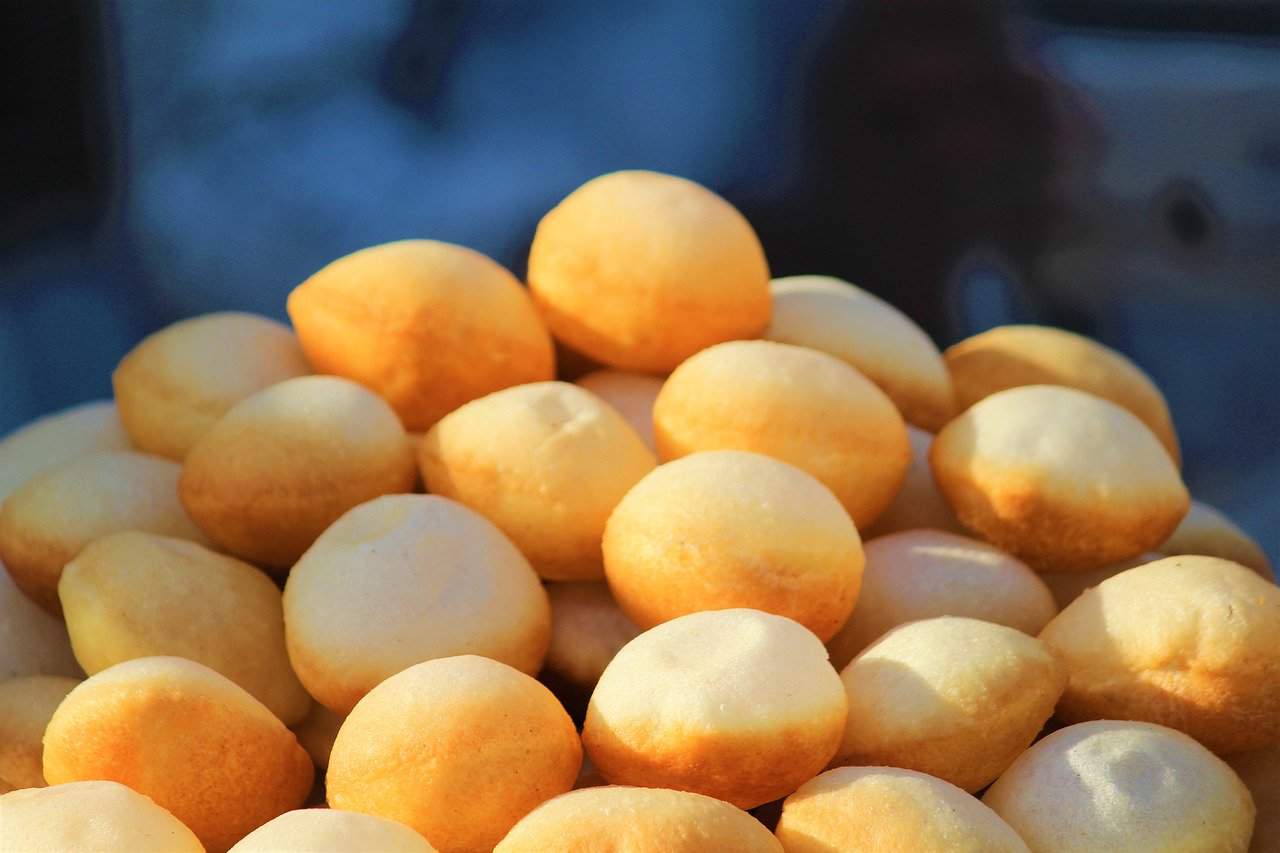 Why visit Mumbai for street food?
When it comes to tasty street food in India, you must head south to the financial, film, and fun capital of India —  Mumbai. Mumbai city in Maharashtra is the melting point of various Indian and international cultures. You will find everything from south Indian dishes to Punjabi food, and from Italian to Chinese around Mumbai. But all of these are served with a distinct Maharashtrians twist. While Marathi cuisine is local to Mumbai, the city accepts flavours and foods from all over the world.
Also, Mumbai is the city that never sleeps! This means you have the whole night to eat what you like. Most of the shops and outlets work well past midnight. Thus it is relatively easy finding delicious food for your midnight cravings.
Khau Gallis for best street food in Mumbai
The best place to try Mumbai Street food is the Khau Galli's in Mumbai. Khau is snacks and Galli means a lane. Khau Galli's are lanes full of vendors selling snacks. Some of the best food in Mumbai can be found at such places. A Khau Galli is without any doubt the best street food destination in Mumbai city. Following is a list of the best Mumbai Khau Gallis:
Carter Road Khau Galli

Princess Street Khau Galli

Zaveri Bazar Khau Galli

SNDT to Cross Maidan Khau Galli

Girgaon Chowpatty

Tardeo Khau Galli

Chembur Khau Galli

Ghatkopar Khau Galli
Below you can find some of the best street food in Mumbai. And if you are visiting Mumbai the nearby city of Pune should also be on your list. There are some crazy things to do in Pune.
Mumbai Vada Pav
Vada Pav was invented by the locals of Mumbai to counter the cheap and healthy south Indian food. A man called Ashok Vaidya in Dadar started selling a Vada with a Pav as an alternative to snacks like Idli and Dosa. Today more than two million Vada Pavs are sold in Mumbai every day. One Vada Pav costs around Rs 15. If you do the math, the Vada Pav economy makes Rs 3 crores in a day! 
The chances are that you will come across a Vada Pav shop as soon as you are in Mumbai. This snack is also called a Bombay burger or Indian burger. It is made from potato paste mixed with spices and fried into a patty. And it is served with Pav, an Indian bread. Some spicy groundnut chutney or green chutney and salted fried chilies make it complete. 
Where to eat Vada Pav
Ashok Vada Pav is the best Vada Pav in Mumbai
Address:

 Kashinath Dhuru Marg, Dadar West, Dadar, Mumbai, Maharashtra 400028.

Timings:

Mon to Sat – 11.00 am to 9.30 pm
Recipe for Vada Pav.
Pav Bhaji
Pav Bhaji is another flavourful delight in India. While Pav Bhaji is originally a Punjabi dish, it can be found all over India. In Mumbai too you will find some vendors selling lip-smacking Pav Bhaji.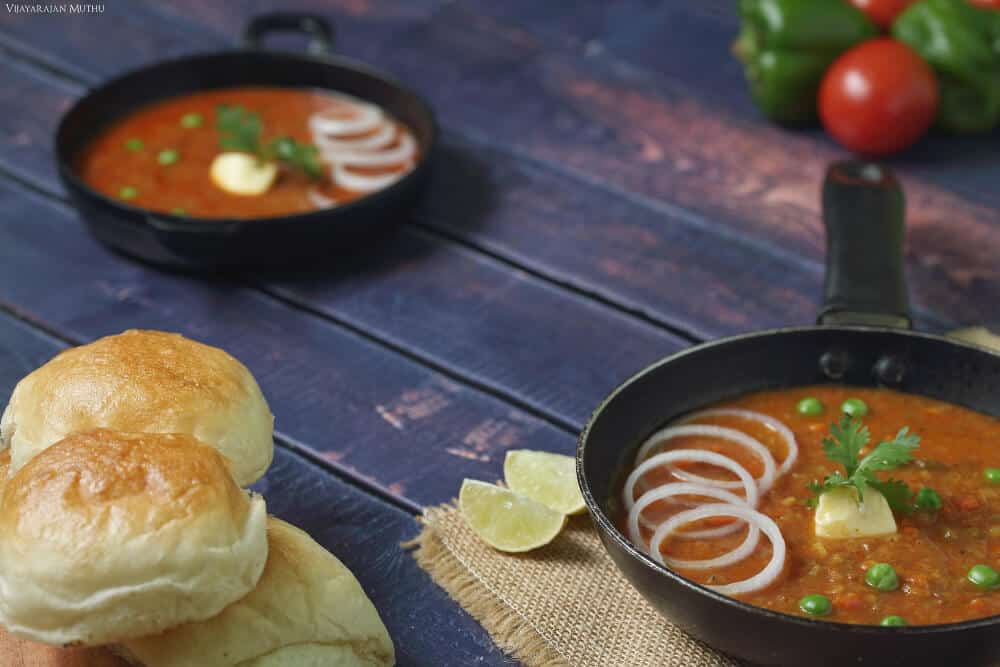 The Bhaji is made from smashed Cauliflower, tomatoes, potatoes, peas, capsicum all mixed with spices. This is like a dip with which you will eat your Pav (yeah the same one used in Vada pav). On the side are sliced onions and lemon to mix with the Bhaji. There are many variations in Pav Bhaji, depends on whether you like extra butter in your Bhaji or want it topped with Cheese.
Where to eat Pav Bhaji
Sardar Pav Bhaji is the best Pav Bhaji in Mumbai. 
Sardar Pav Bhaji:

 Address: 166-A, Tardeo Road, Junction, Janata Nagar, Tardeo, Mumbai, Maharashtra 400034; 

Timings:

 12.00 pm – 2.00 am; Takeaway and delivery are available.
Canon's Pav Bhaji near Churchgate is also great.
Canon's Pav Bhaji:

Address: Mahapalika Marg, Opposite Chhatrapati Shivaji Terminus, Hazarimal Somani Road, Fort, Mumbai, Maharashtra 400001; 

Timings:

 7.00 am to 10.00 pm; Takeaway available.
Recipe for Pav Bhaji from The Tiny Taster.
Bombay
Chaat: Bhel Puri, Pani Puri, and Sev Puri
Bambai aye aur chaat nahi khaye?" (You came to Mumbai, and didn't eat chaat?) 
Bombay Chaat is a unique type of snacks found all around Mumbai. These include Bhel, Bhel Puri, Pani Puri, Sev Puri (my favourite) and many other such versions. Pani puri is a snack found all over India, with different local names and variants. It is made from small puris stuffed with mashed potatoes, onions, boiled gram, tamarind juice and spices or masala water. And it has to be eaten before it melts in your plate! Add lots of Sev to it and, you get Sev puri, which is, trust me the best Indian street food snack.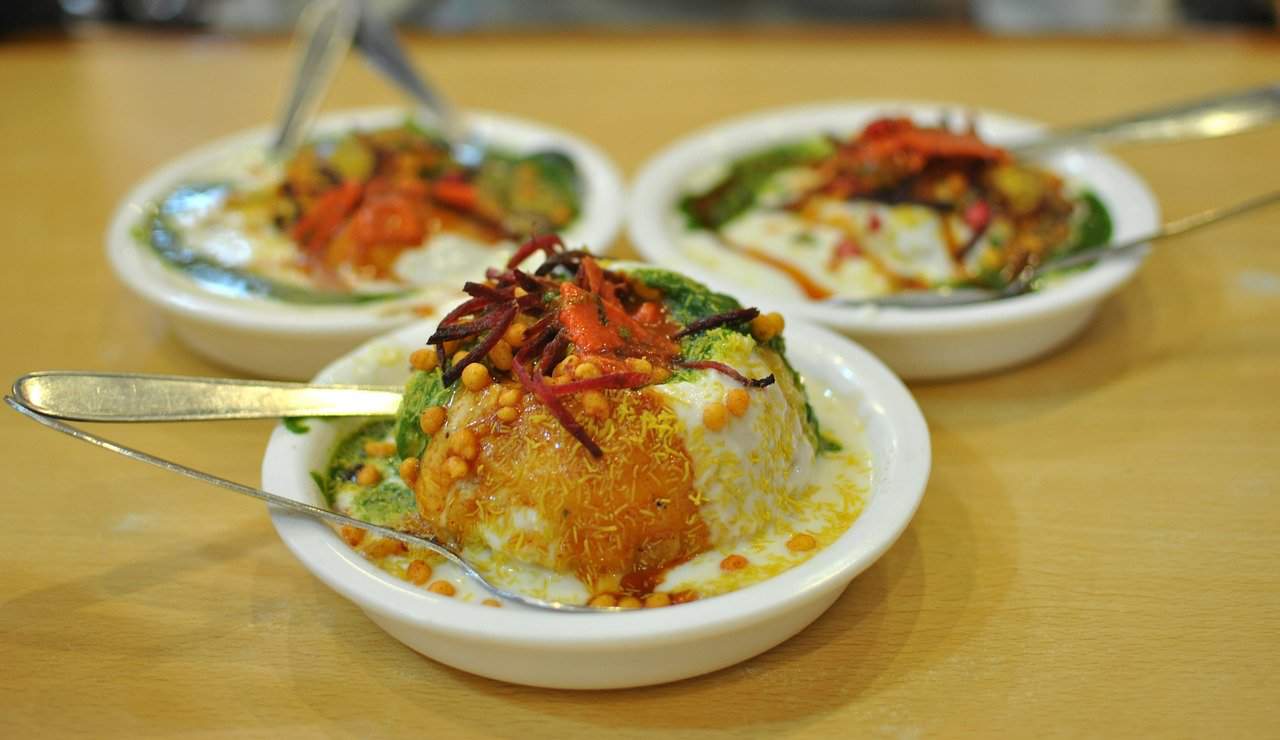 Bhel is a mix of Farsan (fried snacks), Murmura (puffed rice), tamarind juice, onions, tomatoes and spices. Add puris to this and you get Bhel puri. Add bean sprouts and you get Matki Bhel. There is also a dry version, which is called, as Suki Bhel. Sometimes even Samosa is mixed in the above dishes. Following are the four best places where you must try Bombay Chaat:
Ram & Shyam Chaatwala:

North Ave, Santacruz West, Mumbai, Maharashtra 400054.

Gurukripa:

 40, Rd Number 24, Near SIES College, Sion West, Sion, Mumbai, Maharashtra 400022.

Elco Restaurant:

2A, Elco Market, Hill Rd, Bandra West, Mumbai, Maharashtra 400050.

Gupta Chaat:

Shop. No. 3&4, Lbs market, SM Jadhav Rd, Matunga, Mumbai, Maharashtra 400019.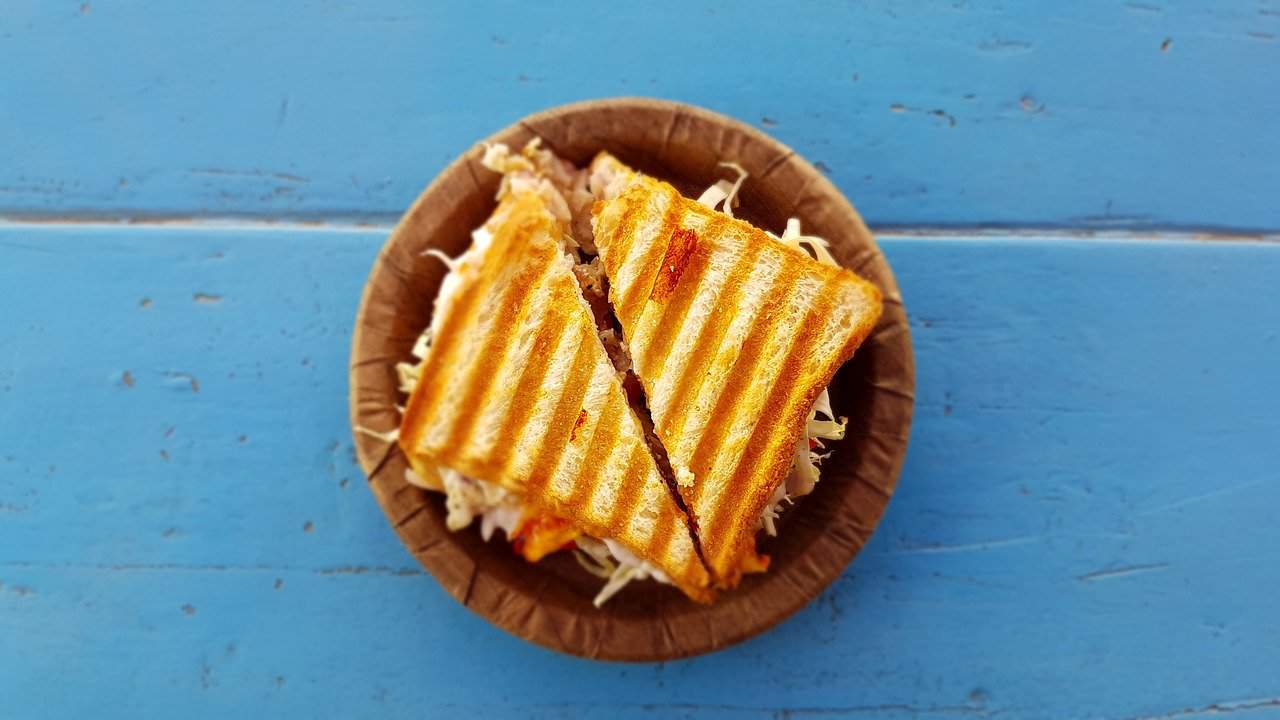 Bombay Sandwich
You probably won't think about sandwich when you are thinking Indian street food. But Bombay Sandwich is a must-try when you are in Mumbai. Here we are talking about buttery cheesy and crisp sandwiches from the streets that win hearts every day. When it comes to eating sandwiches in Mumbai, you should order a toasted sandwich, which is crispy and hot. Most sandwiches are filled with veggies and cheese. Inside every sandwich, you will find a tangy spicy flavour, which is very hard to forget. The sandwich in Mumbai is served along with tomato sauce and green chutney. Some potato wafers are also served, on the side along with salads like tomato, beet, onion or cucumber. There is also the chocolate sandwich which is full of Nutella and topped with chocolate shavings. 
Following are the sandwiches you must try when you are in Mumbai:
Melting Sandwich at 

Cafe Amigos

 in Thane.

Grilled Cheese Sandwich at 

Sandwizza

.

Cheese Masala Toast at 

Jay sandwich

 in Bandra.

Masala Cheese Toast at 

Raju Sandwich

 at Churchgate.

Double Trouble Grilled Sandwich at 

Akkad Bakkad Bombay Boo

 in Kandivali.
Bombay Fries
Bombay fries are a chain of restaurants in Mumbai and Pune which serve more than 25 different variants of the fries. Additionally, they also serve different types of potato tornadoes, milkshakes, Nachos, etc. Potatoes and potato lovers both are in love with this restaurant chain – Bombay fries. The interior of every shop from this chain is a beautiful mix of yellow and black, with unique artwork across their walls.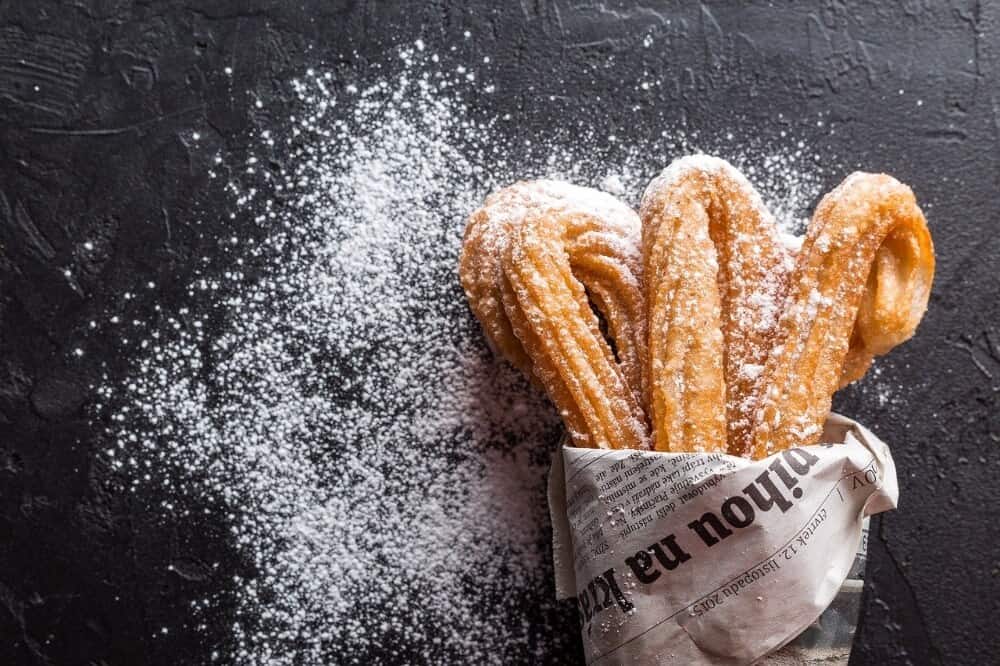 Bombay Churros 
You have a sweet tooth and love Churros then you should try out this Spanish treat in Bombay style. Sugar-coated, dipped in chocolate or just golden fried, every bite will melt in your mouth. And when it comes to choosing where to eat churros, you will be spoilt for choice. Following are some places in Mumbai to find best Churros:
Chocolateria San Churro:

Shop No 11, Silver Pearl Building, Waterfield Road, opp. China Gate Restaurant, Bandra West, Mumbai, Maharashtra 400050. 

Timings:

 Mon-Fri 11 am to 1 am, Sat-Sun 10 am to 1 am.

Amor Churros: 

Shop No.1, Gagangiri Cooperative Housing Society, opp. Hotel Malvan, Bhakti Mandir, Panch Pakhdi, Thane (W), Maharashtra 400602.

Timings:

11 am to 1 am every day.

Bombay Churros: 

Several chains all over Mumbai and Pune.

#Selfieccino: 

3, Commerce House, 140, Nagindas Master Rd, Kala Ghoda, Fort, Mumbai, Maharashtra 400001.

Timings: 

10 am to 1 am every day
Panki
Numerous shops sell traditional Gujarati and Rajasthani food in Mumbai. You cannot compare this Gujarati food to the ones served in Surat or Ahmedabad. But it is still a must-try when you are in Mumbai. One such traditional Gujarati snack is Panki. Panki is like pancakes usually made from rice. These thin and tasty pancakes are cooked by placing them between banana leaves. Then the piping hot Panki is served with spicy green chutney. Another Gujarati snack you must eat when in India is Dhokla. These spongy yellow cubes are cooked from fermented flour of rice and chickpeas. 
[Editor's note: Some foreigners don't like Dhokla. I am one of those foreigners. It's a texture I just can't get used to. Good luck! Mariellen]
Where to eat: 
Swati Snacks. Address 1:

Dalamal Tower, Free Press Journal Marg, Nariman Point, Mumbai, Maharashtra 400021.

Address 2:

Karai Estate, 248, Tardeo Rd, Opp. Bhatia Hospital, Tardeo, Mumbai, Maharashtra 400007.
[Editor's note: I am a big fan of Swati Snacks, it's a great spot to try a wide variety of Mumbai street food in a clean, chic, hygienic environment. The food is super tasty and the serving staff super nice, too! Mariellen]
Biryani
Biryani is a dish that is loved by all the Indians, particularly the non-vegetarians. In India, the best biryani can be found in Delhi, Hyderabad, or Lucknow. But Mumbai also gives good competition to these cities for best Biryani. Biryani is the dish you can eat by itself. It needs no accompaniment and it is light on the pocketbook. Biryani is made with rice and spices, mixed with juicy cubes of mutton or chicken. There is also an egg Biryani and a vegetarian Biryani served in Mumbai. Personally, being a vegetarian, I have never tasted a non-vegetarian Biryani. But I do know that the following places serve the best biryani in Mumbai:
Persian Darbar:

 Multiple chains in Mumbai at Bandra West, Kurla West, Byculla, Andheri East.

Hotel Deluxe:

 No.10-A, Pitha St, opp. Citi Bank, Fountain, Fort, Mumbai.

Kakori house: 

Multiple chains all over Mumbai.

Jaffer Bhai's Delhi Darbar:

 Multiple chains all over Mumbai.
Recipe for Bombay Biryani
Mumbai Seafood
Mumbai is a coastal city, and along with beach fun, it is also a heaven for seafood aficionados. Various types of fishes, prawns, and crabs etc. are cooked with local spices and served with amazing Indian curries. The Bombay duck is the most famous seafood dish in Mumbai. The duck is not a duck — it's a fish. It is dried with salt then cooked. The locals will call it Bombil or Boomla. 
Following are the places for the best seafood in Mumbai:
Trishna: 

134, B Bharucha Rd, Kala Ghoda, Fort, Mumbai, Maharashtra 400001.

Fresh Catch: 

Diamond Court Building, 144/C, PN Kotnis Rd, Mahim West, Mahim, Mumbai, Maharashtra 400016.

Oh! Calcutta: 

Ramee Guestline Hotel, Plot – 757, SV Rd, opp. Post Office, Khar West, Mumbai, Maharashtra 400052.

Gajalee:  

G2, The Metropole Condominium, Near INOX Multiplex Ground Floor, Bund Garden Rd, Pune, Maharashtra 411001.
[Editor's note: I am particularly fond of Bombay Duck and usually head to Soul Fry in Bandra. Mariellen]
Recipe for Bombay Duck
South Indian Food
As Mumbai city is in Central India, most of the south Indian dishes too can be easily found on the streets of Mumbai. South Indians may scoff at Mumbai's South Indian dishes, but you must not miss out on these heavenly dishes.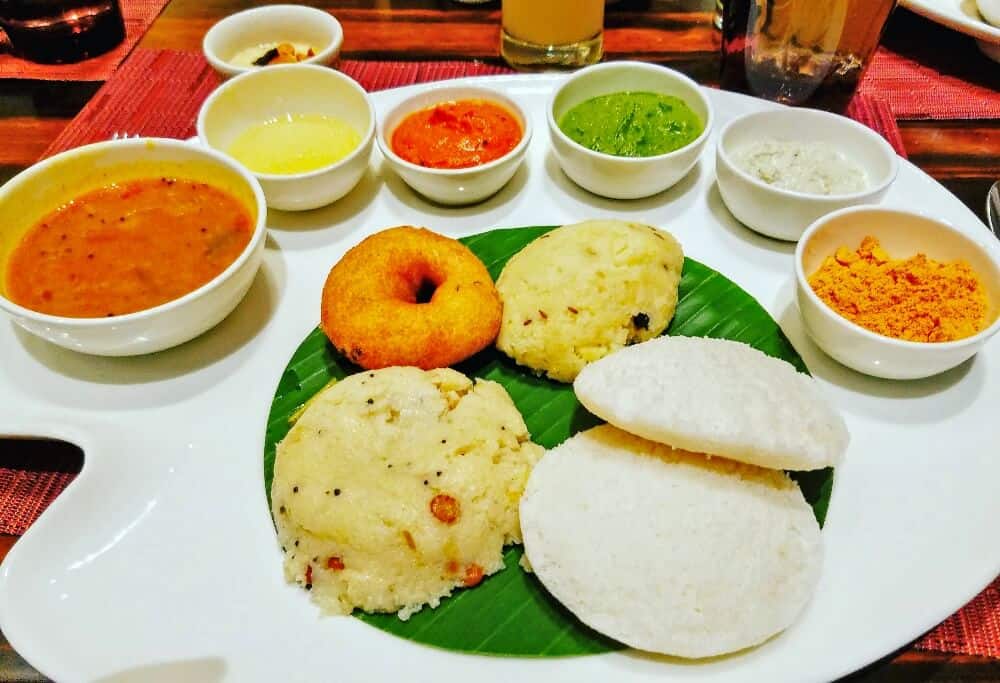 There's probably not a single person who doesn't like Idli, Dosa, or Vada with hot sambar and the divine coconut chutney. Following are some places where you must stop for some South Indian delights.
Where to eat
Cafe Madras: 

Kamakshi Building, NO. 391/B, Bhau Daji Rd, Matunga, Mumbai, Maharashtra 400019.

Arya Bhavan:

 Shop No. 9 & 10, Bhanujyoti Building Opposite Matunga Central Railway Station, Lakhamsi Napoo Rd, Matunga, Mumbai, Maharashtra 400019

Ram Ashraya:

 24 Shreeji Sadan Bhandarkar Marg opposite Matunga Kabutar Khana, Matunga, Mumbai, Maharashtra 400019.

Dakshinayan:

 183a, Walkeshwar Rd, Raj Bhavan, Malabar Hill, Mumbai, Maharashtra 400006.

Cafe Mysore:

 Durlabh Niwas, 1/461, Dr Baba Saheb Ambedkar Rd, Opp B.N. Maheshwari Udyan, Matunga, Mumbai, Maharashtra 400019.

South of Vindhyas:

 Western Suburbs, The Orchid Hotel, 70C, Nehru Rd, Vile Parle East, Mumbai, Maharashtra 400099.

A Rama Nayak & Sons:

 Shop No. 2/461-A, Ram Nivas, King's Circle, Maheshwari Udyan, Matunga Central Railway Workshop, Mumbai, Maharashtra 400019.

Cafe Vrindavan:

 37, Shamdham Building, Ground Floor, Sion West, opposite Sion Station, Mumbai, Maharashtra 400022.

Sharda Bhavan:

 Lakhamsi Napoo Rd, Matunga, Mumbai, Maharashtra 400019.

Kerala House:

 Swami Pranabananda Marg, Sector 30, Vashi, Navi Mumbai, Maharashtra 400703

Anand Bhavan Restaurant:

 Ram Niwas, 461/A, King's Cir Flyover, Matunga, Mumbai, Maharashtra 400019
Don't miss: The Cheese Burst French Fries Dosa at Pure Milk and Snacks, C-WING, RB Mehta Marg, Sindhu Wadi, Ghatkopar East, Mumbai.
Recipe for Dosa from Saffron Trail
See yourself in a coffee cup
Yes, you read that right. Have you ever had a coffee with an image of your face on it? In this beautiful cafe in Mumbai, you can order a coffee with your selfie on it. The coffee artists work their magic with cream and coffee, and then serves you the delicious potion, with an image of your face floating on top.
Where to eat: 
#Selfieccino. Address:

3, Commerce House, 140, Nagindas Master Rd, Kala Ghoda, Fort, Mumbai, Maharashtra 400001. Timings

:

 10 am to 1 am every day
A smokin' biscuit
The stories of Smokey Nitrogen biscuit are all over Mumbai city. This biscuit smokes as you start eating it. The process of making it is quite simple. A biscuit is dipped in liquid nitrogen. Then it goes straight in your mouth. As your body heat melts the nitrogen, it turns into a gas, and smoke forms in your mouth. The taste of the biscuit remains the same, except that it becomes really cold with the nitrogen. Take care while eating this, as overconsumption of nitrogen may cause body disorders
Where to eat: 
The Frosty Cream. Address:

Shop No. 25 Shreeji Heights, Plot no- 1A, B, C, Sector-46/A, Seawoods, Navi Mumbai, Maharashtra 400706. Timings

:

 12 pm to 12 am every day. 
Fried Ice cream
Ever heard of fried ice cream? You must try this unique and one of a kind heavenly food when you are in Mumbai. It is also called Ice Cream Pakoda by locals. Before you take your first bite, you will think you are eating something spicy. But then you will end up in the sweetest of all pleasures. 
Where to eat: 
Cafe Noorani. Address:

Plot No.5D, Tardeo Road Opposite Heera Panna Shopping Center, Haji Ali, Mumbai, Maharashtra 400034. Timings

:

11 am to 12 am.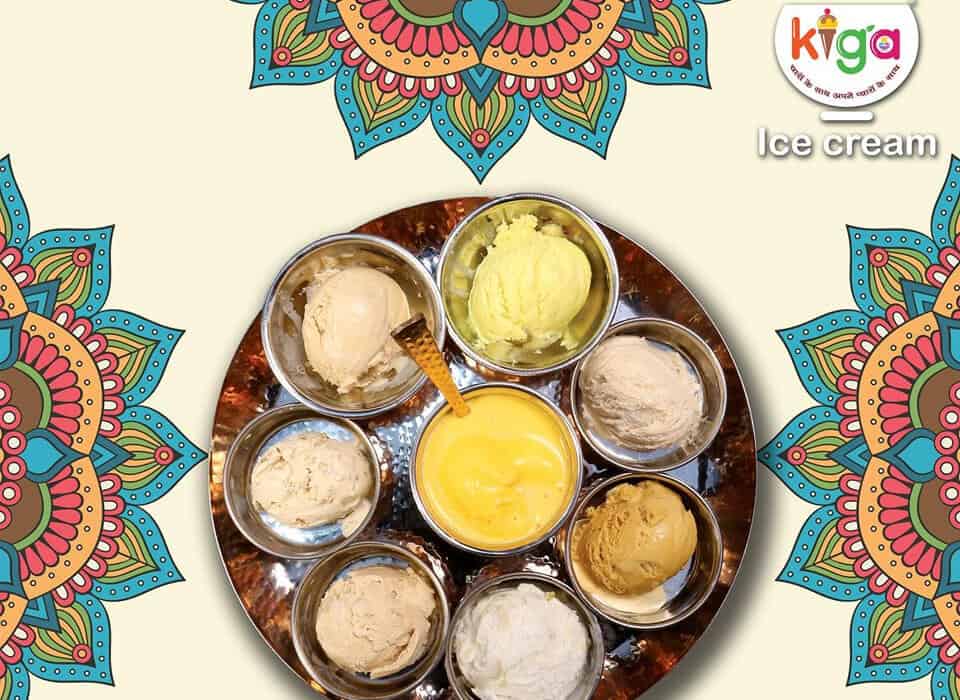 The Ice Cream Thali
When it comes to ice cream, why not have a plateful? Yes, this is exactly what Mumbaikars like the most. Ice Cream Thali is served at a few places in Mumbai, and there are several combinations. In a typical Ice Cream Thali, you will get 8-10 different flavours of ice cream. Once served you have to race against time and eat it before it melts! You can have the Ice Cream Thali in Mumbai at the following places:
Top N Town:

 

Shop No: 8, Meera Tower Society, Opp Mega Mall, Andheri West, Mumbai, Maharashtra 400102.

Kiga Ice Cream:

 Shop no. 13, Uttung CHS, Naupada, Vishnu Nagar, Thane West, Maharashtra 400602.

TiB: The Ice Cream Bakery: 

400077, MG Road, Opp. Sharyas Garden & Gurukripa Hotel, Raja Wadi, Sindhu Wadi, Ghatkopar East, Mumbai, Maharashtra 400077.
So these are some of the famous Mumbai foods and best places to eat in Mumbai that you dare not miss when you are here!
This is a guest post by Shraddha. Shraddha Maheshwari is a travel blogger from India who frequently writes about her experiences on her blog Shepherd Traveller. Apart from paragliding, bird watching and hiking in the mountains, she also loves watching sunrises. You can connect with her on Instagram @shepherdtraveller.
---
Pin it on Pinterest
---
Photo credits
Fruit seller photo by shivam Grover on Unsplash
Pav Bhaji photo by Vijayarajan Muthu
Idli photo from Nivedith of MacroTraveller
Bombay sandwich image by Pexels from Pixabay
Churros image by Дарья Яковлева from Pixabay
Pani puri image by Tanuj Handa from Pixabay
---
If you enjoyed this post, you can….
Sign up to The Travel Newsletter in the sidebar and follow Breathedreamgo on all social media platforms including Instagram, TripAdvisor, Facebook, Pinterest, and Twitter. Thank you!