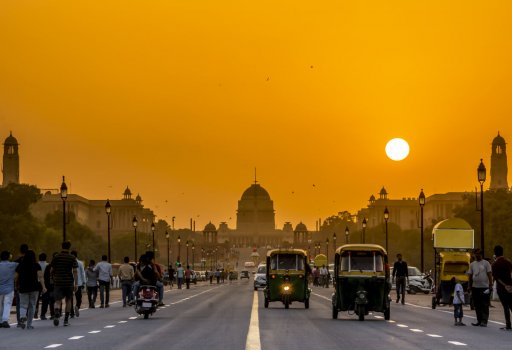 Perfect three-day Delhi itinerary: An insider's guide
Are you planning a trip to Delhi, India's fascinating capital city? This perfect 3 day Delhi itinerary includes all the must-visit places, and the best things to do, plus a lot of insider tips. Planning a visit to Delhi can feel overwhelming. There is simply so much of everything: History, culture, art, shopping, markets, parks, three UNESCO World Heritage sites, 174 National Protected Monuments, hundreds of state protected monuments, and more than 33 million people. Delhi is not a city you see, it's a city you experience. And the famous foods of Delhi cannot be overlooked, either.
This jam-packed guide on how to spend three days in Delhi will give you a solid plan to cover a lot of ground and experience the magic that is Delhi. From the crowded lanes of Chandni Chowk and Old Delhi, to the lofty architecture of Humayun's Tomb, a UNESCO world heritage site, to leafy Lodhi Garden and the grandeur of Connaught Place, this perfect Delhi itinerary will help you explore one of the most historical cities on earth. Note, Delhi is the first stop on every Golden Triangle tour of India.
This Insider's Guide to an ideal 3 day itinerary in Delhi is a guest post by Suzanne of Suzanne Wanders Delhi. Suzanne lives in Delhi with her dog Watson.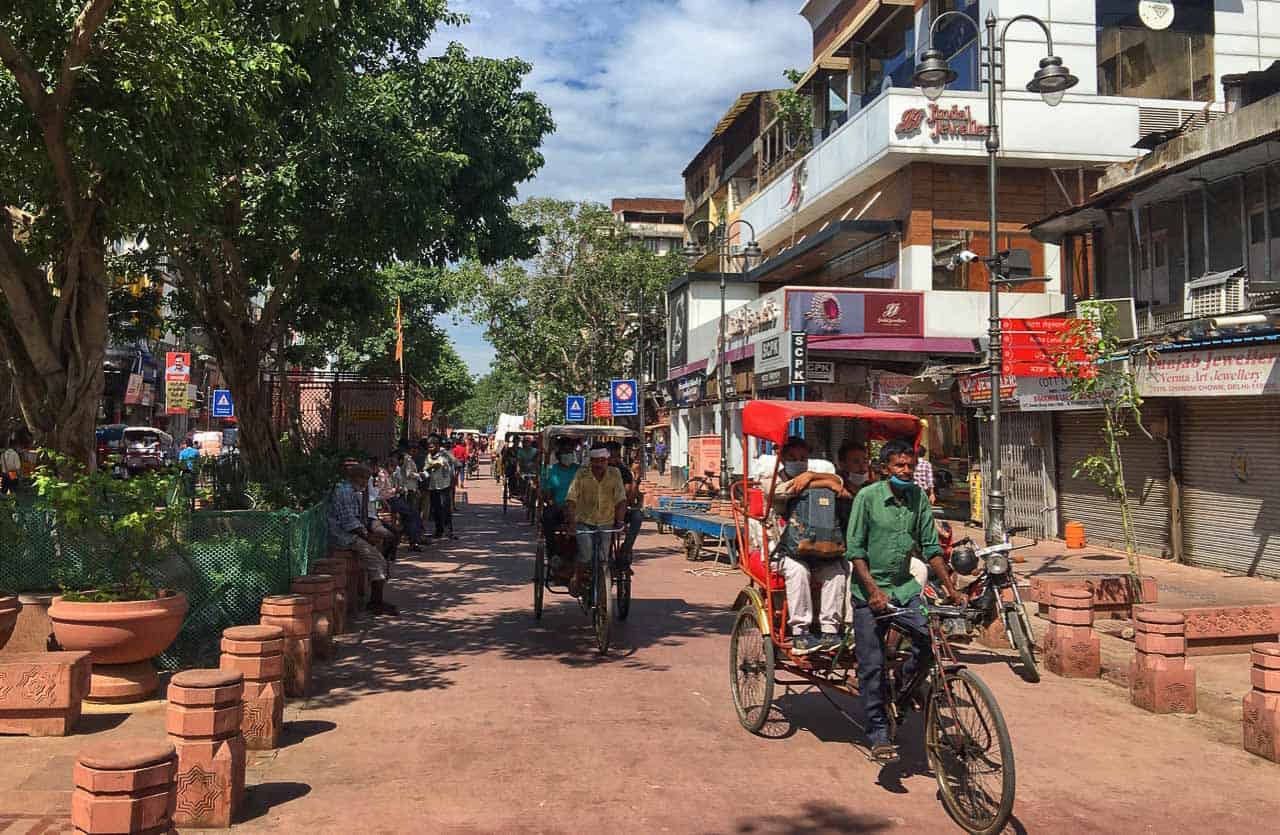 Top 10 tourist sites of Delhi
Old Delhi, Chandni Chowk, and Red Fort
Humayun's Tomb
Qutab Minar
India Gate, Rashtrapati Bhavan, and Kartavya Path (formerly Raj Path)
Raj Ghat
Lodhi Garden
Swaminarayan Akshardham Temple
Bahai (Lotus) Temple
Hauz Khas and Deer Park
Connaught Place
How to get around Delhi
The first thing you'll want to do in Delhi is buy a metro card. In my opinion, the metro is the fastest and easiest way to get around.
The Delhi Metro Network
You can go practically anywhere in Delhi using the metro. It's clean, easy to use, and much faster than driving. You can buy a metro card at any metro station.
If you're still unsure, read this step by step guide on how to use the Delhi metro.
India can be unpredictable so it's best to be flexible. Opening and closing hours change without notice, monuments and sites close unexpectedly, or you may see something that veers you off in another direction altogether.
This itinerary covers the must-see sites everybody visits, but also a few off the beaten path places only locals know about (my specialty!). Read on for an epic three days in Delhi itinerary.
I'm purposely starting you off with a soft landing in one of the most peaceful and lovely areas of the city. You'll gradually work your way up the bonkers scale and end your 3 days in Old Delhi, a place like no other!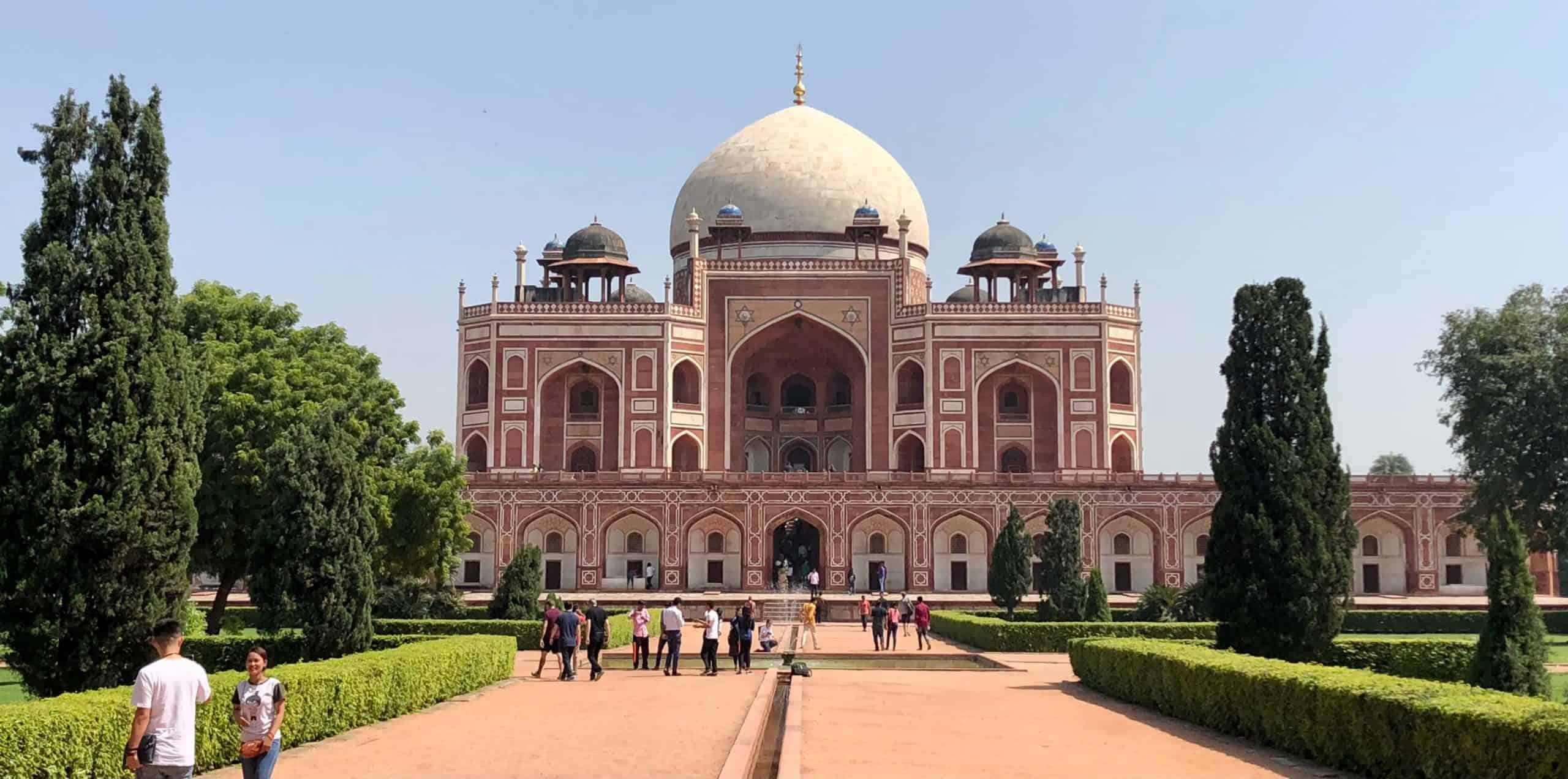 Three day Delhi itinerary
Day 1 in Delhi – Morning
If you're wondering what a traditional Delhi breakfast is, people usually eat parathas, (flatbreads, often made with potato and onion) with curd (yogurt) or chole bhature (chickpeas in gravy with puffy fried bread).
Instead of coffee, most Indians drink masala chai in the morning, spiced milk tea.
Once you're full and caffeinated, it's time to get on with your busy 3 day Delhi itinerary.
Humayun's Tomb (UNESCO)
Delhi is a historic city and your first day starts with one of the most beautiful historic sites in the city, Humayun's Tomb.
Take the metro to Jawaharlal Nehru Stadium station and exit Gate 2 or 3. Grab an auto rickshaw to the entrance of Humayun's Tomb. Don't let the rickshaw drivers rip you off! This should be no more than INR 100 for two people.
Humayun was the great-grandfather of Shah Jahan (the ruler who built the Taj Mahal), and one of India's great Mughal rulers. Humayun's wife commissioned the building of his tomb and financed it herself. It was the first garden style tomb built in India and completed in 1572.
This is a UNESCO site, so I recommend buying your ticket online through the ASI portal https://asi.payumoney.com/ to avoid the ticket counter line-up. You'll also get a small discount.
Hours & Cost: 8:00 am to 6:00 pm, daily – INR 600 for foreigners, children under 15 free
Lodhi Art District
Grab an auto rickshaw or Uber and head over to India's first outdoor art district in Lodhi Colony.
There are more than 50 murals painted on the facades of the British-built residential buildings. Many have a social or environmental theme. This map lists the murals and their locations, but feel free just to wander the lanes: St+Art India's location guide.
Hours & Cost: 24/7 but to see the murals go in the daytime – free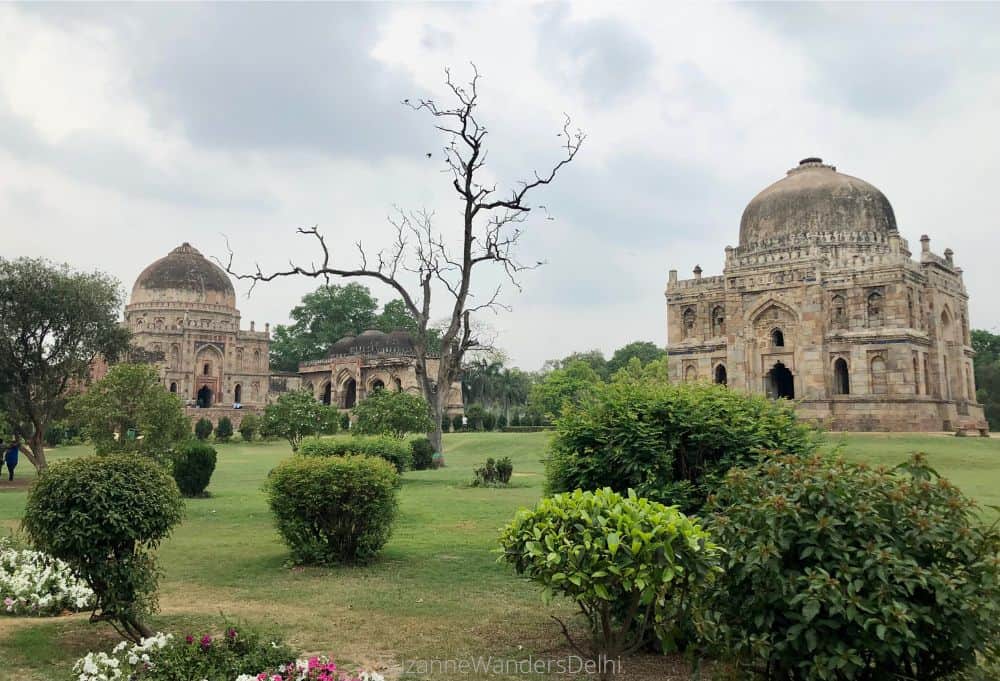 Day 1 in Delhi – Afternoon
By now you might be ready for lunch and Lodhi Colony has some wonderful restaurants, such as Jamun, Guppy, and Ping's Café Orient.
For a simple and local vibe, head to the dhabas in Khanna market at the bottom of Lodhi Colony. Leave room for ice cream at Jaatre, it's one of the best ice cream shops in Delhi.
Lodhi Garden
Across Lodhi Road is the most captivating park in Delhi, Lodhi Garden.
Among the trees and grassy laws are tombs, mausoleums, a mosque, and an arched bridge dating back to 1444. Make sure you have your camera ready!
Hours & Cost: 6:00 am to 7:30 pm, daily – free
Khan Market
Walk along Subramaniam Bharti to Khan Market (about 10 minutes).
Khan Market is a great market to browse around in a calm (by Delhi standards) environment. It's full of international and Indian brand shops, cafes, and restaurants and on this list of best places for shopping in Delhi.
There's a couple of really good bookshops (books are cheaper in India and I always stocked up at these shops before I moved here): Bahrisons and Faqir Chand.
If you're in need of a coffee break, Di Ghent and Perch Wine & Coffee Bar are great options.
Hours & Cost: 10:00 am to 11:00 pm, daily (hours may vary) – free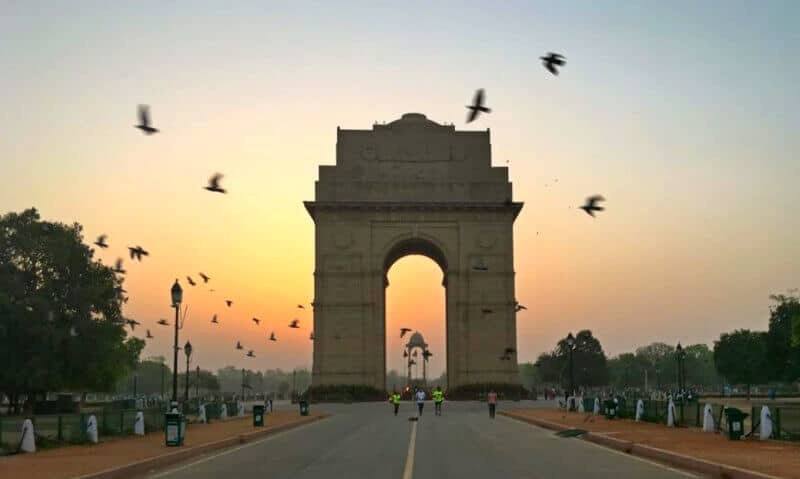 India Gate
Now it's time to see one of Delhi's most iconic sites, India Gate.
From Khan Market, either walk straight up Shahjahan Road or take an auto rickshaw to India Gate. This should cost no more than INR 100.
Built as a war memorial in the style of the Arc de Triomphe in Paris, India Gate is always full of activity. Honestly, the people watching is just as interesting as the monument.
If you're feeling energetic you can walk along Kartavya Path to Rashtrapati Bhavan, the British-built parliament buildings – it's about 2 km.
Hours & Cost: 7:00 am to 11:00 pm, daily – free
Day 1 in Delhi – Evening
By now you're probably realizing this 3 day in Delhi itinerary is jam packed! After India Gate and all that walking you might be ready for dinner.
Head to Pandara Market (if you've ventured as far as Rashtrapati Bhavan take an auto rickshaw, but if you're still at India Gate, it's an easy walk).
Pandara Market is a small complex of several restaurants. Gulati is my personal favourite but they're all decent. Save room for kulfi (traditional Indian ice cream) from the Krishna di Kulfi stand beside Gulati.
Night cap with a view at Cirrus 9
It's been a very full first day in Delhi but if you're not ready to go back to your hotel just yet, hop in an auto rickshaw for a short ride to the Oberoi Hotel.
The Oberoi has a lovely rooftop bar with a large terrace overlooking Delhi's green space (did you know Delhi is one of the greenest capital cities in the world?) and the Humayun's Tomb complex, where you started your day.
Hours: 5:00 pm to 1:00 am, daily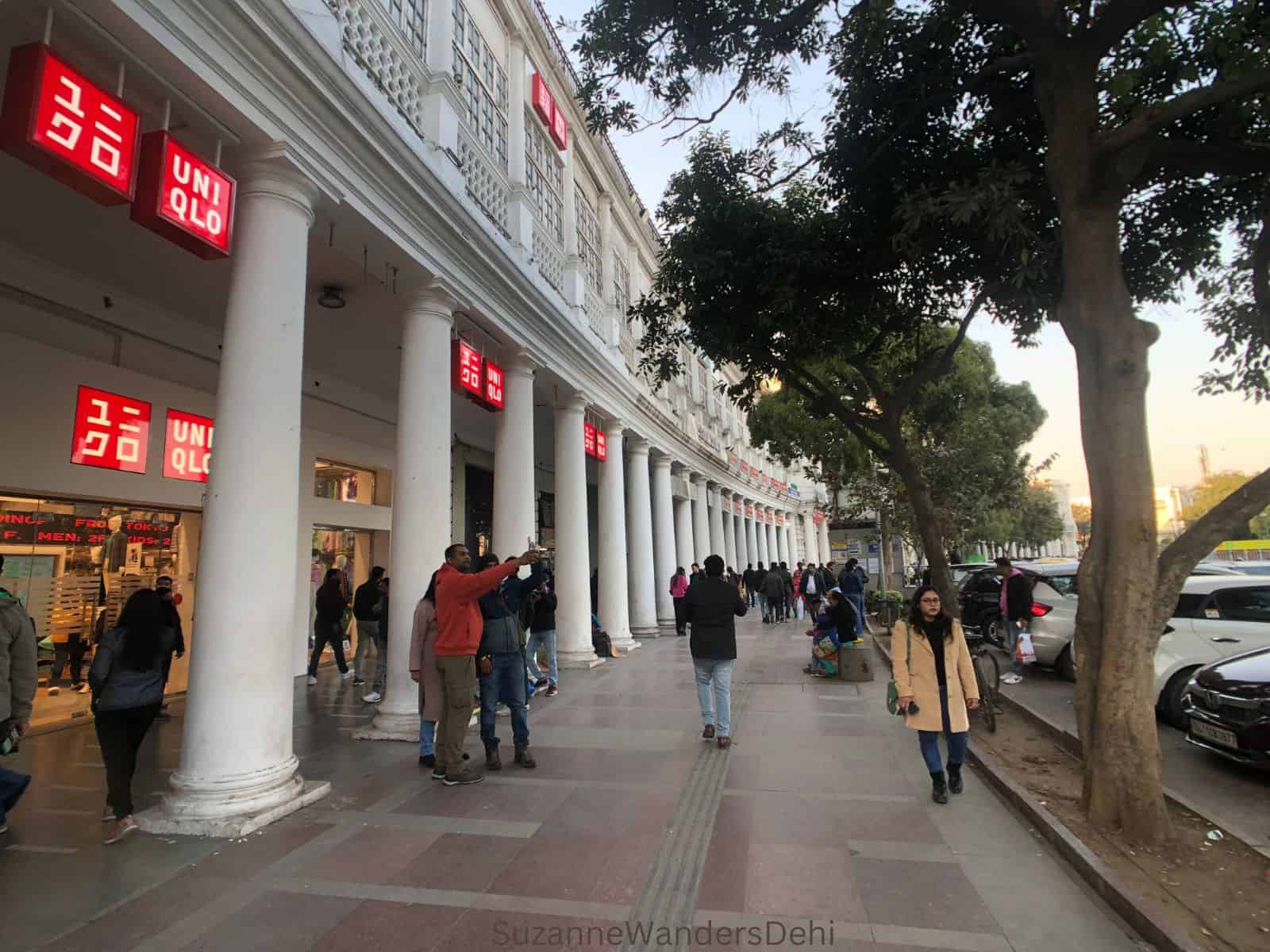 Day 2 in Delhi – Morning
Fuel up on breakfast and caffeine because it will be another full but epic day in Delhi.
Agrasen ki Baoli
Begin today at Delhi's most stunning stepwell. If you go early (it opens at 7 am) you'll probably be the only person there and will be able get some incredible photos.
Take the metro to Barakhamba Road station and exit Gate 4. Walk 10 minutes to the stepwell on Hailey Lane.
The original stepwell dates back to 3000 B.C. The current structure was built in the 14th Century by the Agrawal community. Walk down the 108 steps to the bottom, but don't stare at the black water pooled there for long – it's believed to have mystical powers!
Hours & Cost: 7:00 am to 6:00 pm, daily – free
Devi Prasad Sadan Dhobi Ghat
Just around the corner from Agrasen ki Baoli is one of the outdoor laundries India is famous for.
You will think you've stepped back in time when you see the hand cranked spinning machines, huge sudsy vats, and laundry being beaten and scrubbed on cement slabs.
The dhobis get started very early, so if you are having an early morning you can come here before the stepwell. They are a friendly community, but please be respectful – this is not a tourist site, it is their place of livelihood.
Hours and Cost: 5:00 am to 2:00 pm, daily – free
If you need a coffee break, there's a nice café, CAARA Café, in the British Council building on KG Marg, around the corner. Make sure you have ID with you to get through security.
Jantar Mantar
Hop in a rickshaw for a quick ride to Jantar Mantar. Jantar Mantar means "instruments for measuring the harmony of the heavens."
These are a series of 13 architectural astronomy instruments. In 1724, when they were built, they were extremely precise. Today the fine calibrated markings have eroded so the instruments are not as accurate. It's still a remarkable site.
Hours and Cost: 8:00 am to 6:00 pm, daily – INR 300 for foreigners, children under 15 free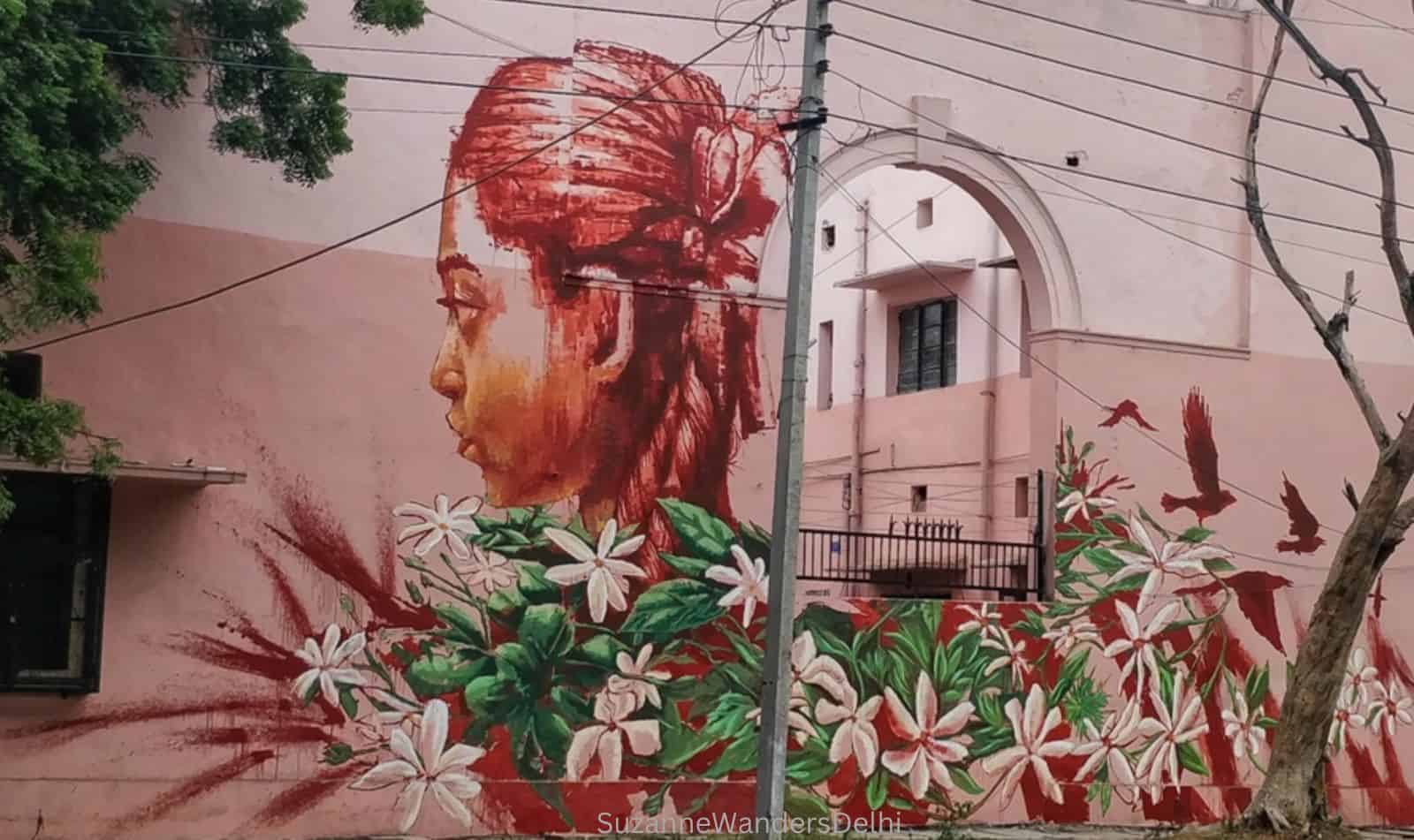 Day 2 in Delhi – Afternoon
Before you begin the second afternoon of your 3 day Delhi itinerary, take time for lunch.
There are great restaurant options on Janpath Road, close to Jantar Mantar and across the street from your next stop: Saravana Bhavan, Café Delhi Heights, Pujab Grill, and Pind Balluchi.
Janpath Market
Cross to the other side of Janpath Road from the restaurants and you'll be at Janpath Market. This is actually 4 markets in one – it's a great place to cover some traditional Delhi market ground!
There's a Tibetan section, Gujurati section, the main market, and a street market. You'll find all sorts of souvenirs, clothing, and small household items here.
Make sure to bargain! Unless prices are marked, start by offering less than half the quoted price and go from there.
Tip: if you have old denims you want to update, bring them to the Gujurati part of the market. You can get them embossed with hand embroidery, patch work, or decorative embellishments at a very reasonable price.
Connaught Place
Once you're done browsing at Janpath Market, walk straight up Janpath Road to the unofficial commercial centre of Delhi, Connaught Place (or CP as locals call it).
This is the British-built commercial and retail hub. It's immediately recognizable by the iconic white colonnades. CP is a favourite hangout and meeting place for Delhiites and always a hive of activity. Head to the inner circle (CP is made of 3 concentric traffic circles) for the most action.
CP is full of restaurants, bars, galleries, hotels, cinemas, a Museum of Illusions and a giant charkha wheel in the park. You could spend all day here, but keep moving – there is more to do in your 3 day Delhi itinerary!
Optional: State Emporiums on Baba Kharak Singh Road
If you want to satisfy a shopping craving and learn about Indian handicrafts and culture, check out the government run stores on Baba Kharak Singh Road.
They are a treasure trove of India's diverse art and culture. You can visit all the states of India in just a few hours here.
Each state has their own shop selling local handicrafts and cultural items. Tea from Assam, pearls from Telangana, woolens from Himachal, spices from Kerala, saris from Bengal – these are just a small sample of what the state emporiums offer. Prices are usually reasonable.
The emporiums are all located on one side of Baba Kharak Singh Road between Block P of Connaught Place and Shivaji Stadium metro station.
Hours and Cost: 10:00 am to 6:30 pm (hours vary between shops), closed Sunday – free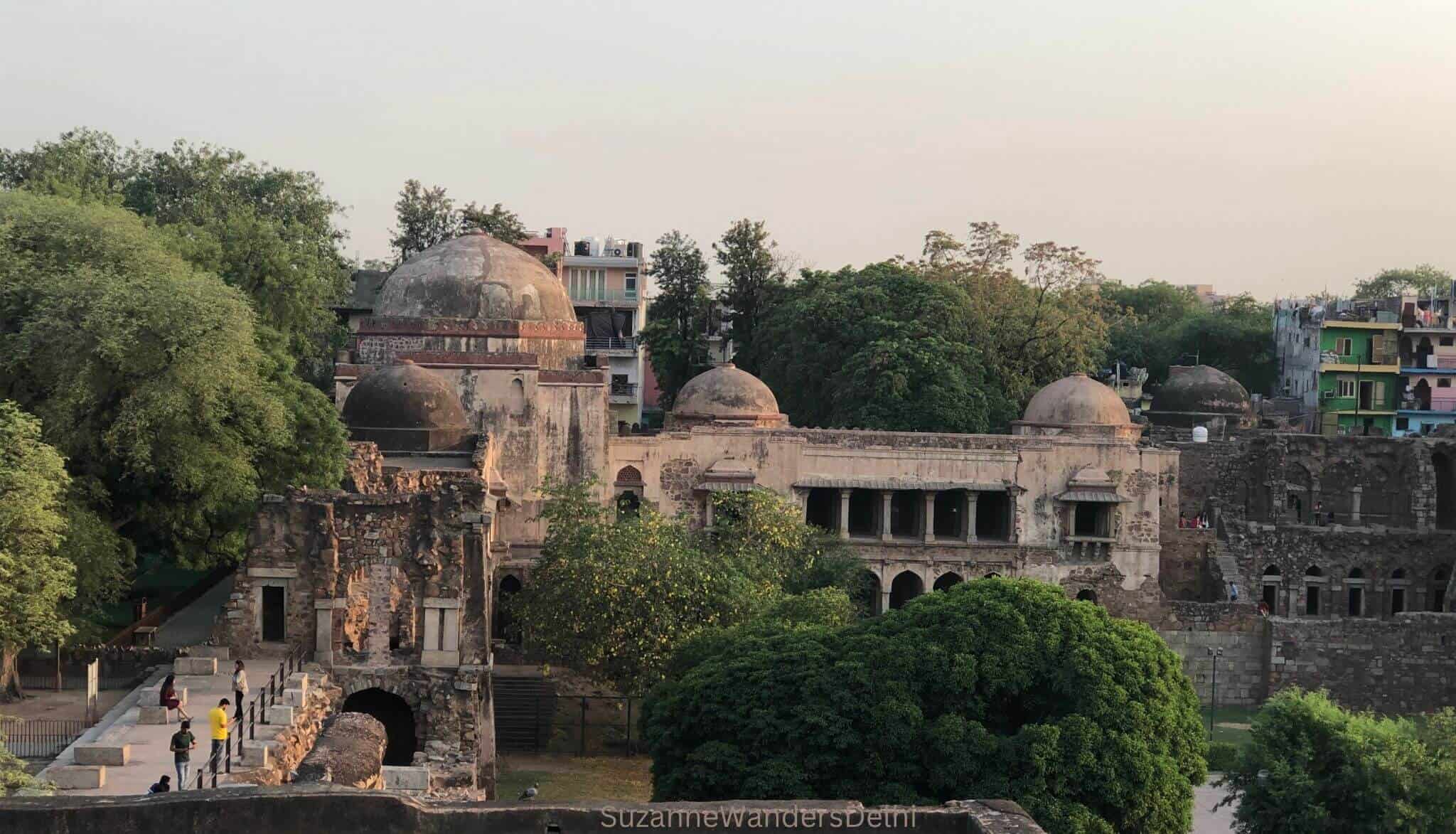 Hauz Khas Fort
It's time to check out one of my favourite places in all of Delhi, Hauz Khas Fort.
Hop on the metro from the Rajiv Chowk metro station in Connaught Place and take the Yellow line to Hauz Khas station. From here grab an auto rickshaw to Hauz Khas Village.
Walk straight down the main road of the village to the very end, which is the entrance to Hauz Khas Fort. The fort closes at 7:00 pm so make sure you give yourself at least an hour to see it.
Hauz Khas Fort is part of the second medieval city of Delhi, Siri, and was built in the 1300s. Besides the actual fort, there are tombs, a mosque, a madrassa, and an ancient reservoir that Hauz Khas was named after. It's one of the best things to do in Delhi.
Hours and Cost: 7:00 am to 7:00 pm, daily – INR 300 for foreigners
Day 2 in Delhi – Evening
After the fort, explore the lanes of Hauz Khas Village and have some dinner. There are several great options: Coast Café, Naivedyam, and Social.
If you don't eat at Social, make sure you go there for an after dinner drink or dessert. They have one of the very best views in Delhi from their outdoor terrace.
Shri Jagannath Mandir
Just up Hauz Khas Fort Road is a lovely South Indian temple devoted to Lord Krishna. Its formal name is Shri Neelanchal Seva Sangh, but it's commonly known as Shri Jagannath Mandir.
Before you enter the temple remove your shoes – you can leave them with the shoe minder (a small donation would be appropriate) or by the temple steps.
There are several small temples here, each with their own deities whose clothing and jewellery are changed daily. Every evening there's an aarti (religious ceremony) around 7:00 pm.
Hours and Cost: 4:30 am to 1:30 pm & 4:00 pm to 10:00 pm (March to September); 5:30 am to 1:30 pm & 4:00 pm to 9:00 pm (October to February) – free
Still have some energy left?
If you're not ready to call it a night yet, you're in luck because the night life in Delhi is thriving.
There's plenty of bars with dance and live music in the immediate area. Some of the ones I like are Imperfecto, Auro, Summer House and Molecule.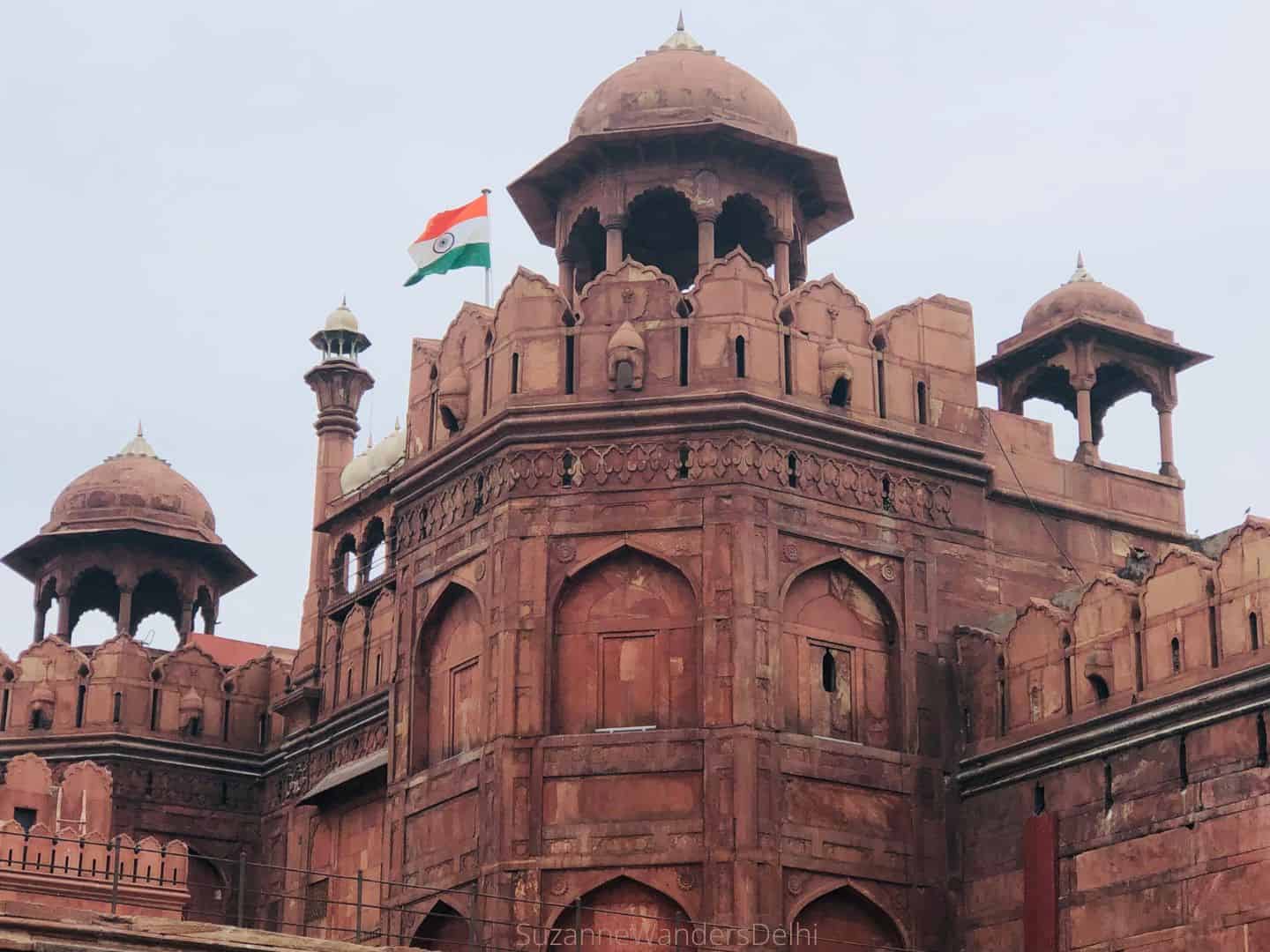 Day 3 in Delhi – Morning
This is the last day of your Delhi 3 day itinerary and it will be a memorable one! I've saved the craziest, most bonkers part of Delhi for last.
Today you'll visit a couple of important spiritual sites, so dress conservatively (shoulders and legs below knees covered, with a bandana or scarf for your head) and wear shoes that are easy to remove.
Fuel up on breakfast and head out to Old Delhi. But first there's one stop every visitor to Delhi should make.
Raj Ghat (Gandhi Memorial)
No 3 day Delhi itinerary is complete without paying tribute to the father of the nation, Mahatma Gandhi.
Gandhi is still revered across India. His birthday is a national holiday (October 2), his face is on the currency, and his portrait hangs in most government offices.
This simple but moving memorial is the place where Gandhi was cremated after his assassination in 1948. Many world leaders and dignitaries have paid their respects to Gandhi here, including Queen Elizabeth II and Barack Obama.
To get to Raj Ghat, take the metro to Delhi Gate station, exit Gate 4 and grab an auto rickshaw from there. It should be no more than INR 100 for two people.
Hours and Cost: 6:30 am to 6:00 pm, daily – free
Jama Masjid
Get back on the metro and go one stop on the Violet line to Jama Masjid station.
Not only is Old Delhi's Jama Masjid the largest mosque in Delhi (it can hold 25,000 people), it's also historic. This was the family mosque of Shah Jahan, the Mughal ruler responsible for the Taj Mahal. It was built in the 1650s.
It's quite beautiful, constructed entirely of red sandstone and marble. For a small fee you can climb the minarets for great views (and photos) of Old Delhi.
Jama Masjid is a working mosque and there's a strict dress code. Cover ups are available if your outfit is not suitable. Shoes must be removed and women must cover their heads.
Hours and Cost: 7:00 am – 12:00 pm & 1:30 pm to 6:30 pm, daily – free but there is an INR 300 fee for bringing in a camera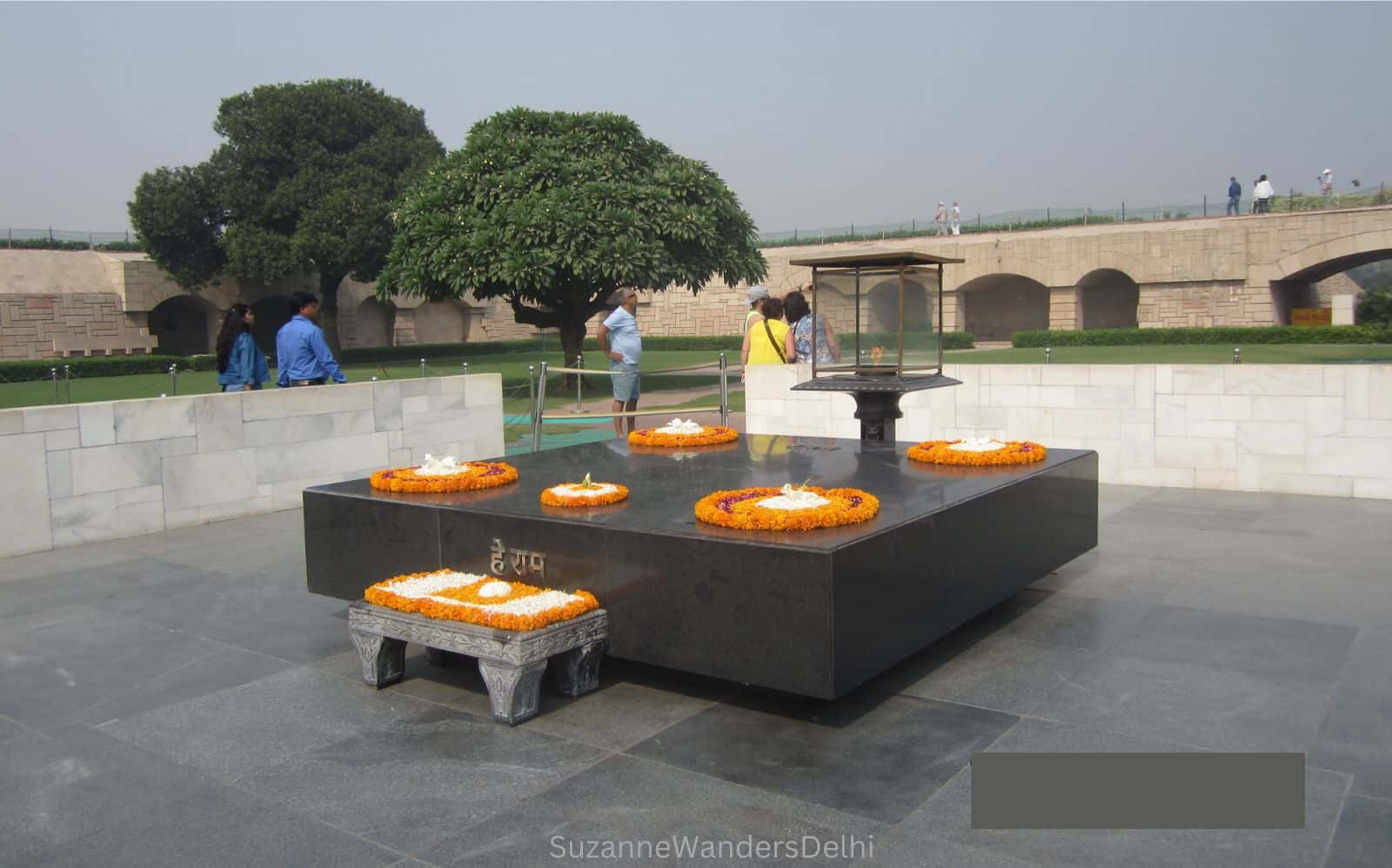 Day 3 in Delhi – Afternoon
Red Fort (UNESCO)
If you're intrepid you can walk to the Red Fort from Jama Masjid, otherwise grab an auto rickshaw.
By now you might be ready for lunch, so while you're visiting the Red Fort, stop at Café Delhi Heights. It's located at the visitors centre in the old army barracks.
Red Fort is one of the most magnificent sites in Delhi. It's the former palace and main residence of Delhi's Mughal rulers up until 1857, when the British exiled the last of the Mughal sultans.
Hundreds of people lived and worked at the Red Fort during Mughal times. It was a world unto itself with gardens, a covered bazaar, palaces, audience halls, and baths.
This is a UNESCO site and I recommend you purchase your ticket in advance at https://asi.payumoney.com/. You'll also get a small discount this way.
Hours and Cost: 8:00 am to 9:00 pm, closed Monday – INR 600 for foreigners, children under 15 free
Chandni Chowk
To really experience Old Delhi, all you have to do is walk along Chandni Chowk. This is Delhi's most famous road and it will be something you never forget.
Chandni Chowk is a pedestrian zone during the day (although cycle rickshaws and the odd motorcycle still ply the street). Start at the Red Fort and make your way along the south side where the temples are.
If you're energetic, you can walk all the way to Fatehpuri Masjid at the far end (just over 1 km). Khari Baoli, the famous spice market, is located here. If not, just take a cycle rickshaw.
Explore the lanes off Chandni Chowk and you'll find a silver market, wedding market, car parts market, stationary market, and paratha wali gali – the lane of paratha (stuffed flat breads) shops.
Hours and Cost: the market is open 11:00 am to 8:00 pm, closed Sunday – free
Gurudwara Sis Ganj Sahib
One of the most important and beautiful gurudwaras (Sikh temple) in Delhi is right on Chandni Chowk, near the Red Fort.
Cover your head, remove your shoes, and go inside. Everyone is welcome. One of the main beliefs of Sikhism is that everyone is equal, regardless of gender, social status, or ethnicity.
The shrine is located on the exact spot where the ninth Sikh Guru, Guru Tegh Bahadur was beheaded in 1675 ('sis' means 'head' in Punjabi).
Feel free to ask for a tour of the communal kitchen where thousands of meals are prepared daily by volunteers. For a special experience, join the community for langar in the dining room, the free vegetarian meal.
Hours and Cost: 24/7 – free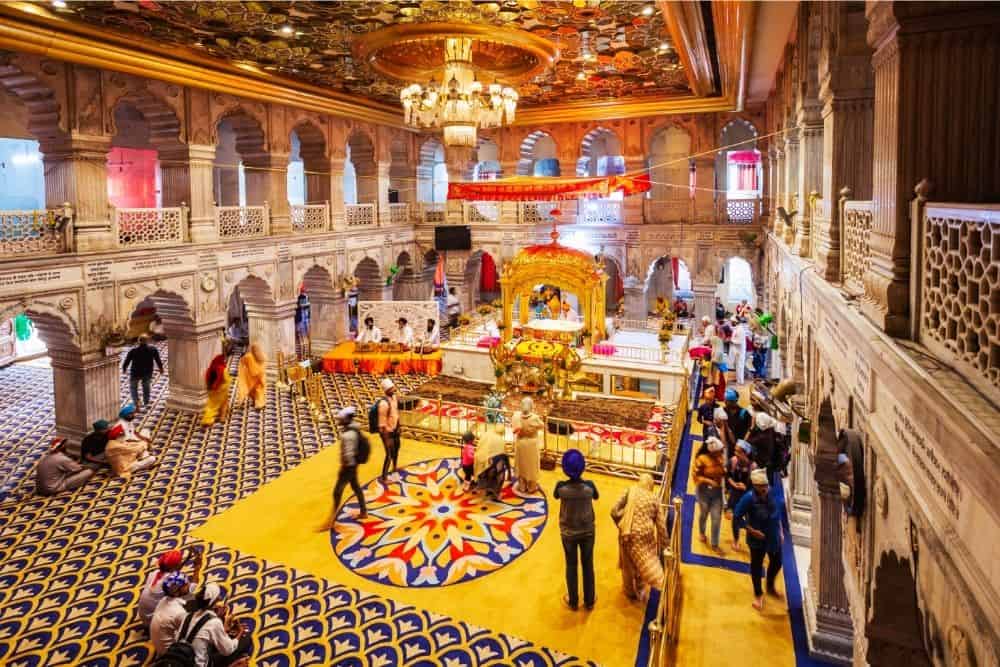 Day 3 in Delhi – Evening
It's time to leave the craziness of Old Delhi and head back to south Delhi. You may want to go back to your hotel to freshen up before your last evening of this 3 day Delhi itinerary.
Qutub Complex (UNESCO)
It's time to see one of the most magnificent sites in Delhi, the Qutub Minar. Take the metro to Qutub Minar station and hop in a rickshaw for the 2 km ride.
Qutub Minar one of the best and oldest examples of Indo-Islamic-Afghan architecture; much of the complex was built in 1192.
The complex is built on the site of ancient Hindu and Jain temples, which were torn down to make room for the Islamic buildings. Much of the stones and building materials were re-used in the structures at Qutub.
Take a good look at the columns in the Quwwat-ul-Islam mosque – you can see the carved, decorative stones that make up the columns have Hindu and Jain deities and designs. This is an example of the Indian practice of 'jugaad,' meaning frugal innovation or creative hack.
The Qutub Minar is a UNESCO site. For a better price and to avoid the ticket line-up, buy your ticket online through the ASI portal https://asi.payumoney.com/.
Hours and Cost: 9:00 am to 8:00 pm, daily – INR 600 for foreigners, children under 15 free
Dinner with a View
For your last night in Delhi, have dinner with a magical view of the Qutub Minar.
To ensure you get a table on the terrace so you can enjoy the views, I recommend calling ahead to make a reservation.
Great restaurants with a view of the Qutub are:
ROOH
Cho Vietnamese Kitchen & Bar
Dramz
Bo Tai
Not ready to end your 3 epic days in Delhi?
Lucky for you one of Delhi's very best bars, Miso Sexy, is in the Ambawatta One complex within walking distance of the above restaurants.
Miso Sexy has a fabulous outdoor terrace with great views of the Qutub Minar (until about 10 pm when the lights on the Qutub are turned off). It's the perfect, though not so quiet, place for a night cap on your last night in Delhi!
And there you have it – an awesome plan for how to spend 3 days in Delhi!
Delhi is vast and there's so much more you could see and do, but this is an excellent start. You'll just have to come back again to see more!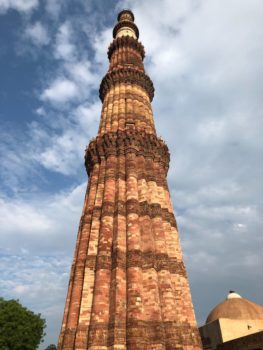 Where to Stay in Delhi
Now that you've got an amazing itinerary for 3 days in Delhi, you're probably wondering where you should stay.
Honestly, as long as you're in south Delhi, with access to the metro you're good to go. Most of the sites listed in this itinerary are in south Delhi and it's also one of the best areas of the city to stay.
Below, we recommend a few options for accommodation in Delhi to suit all budgets.
Best Hostels in Delhi
There are some excellent hostels in Delhi, which is great news for budget travellers. Avoid the Paharganj area, which is gritty and congested, and Karol Bagh, which is also highly congested, instead opt for one of these south Delhi hostels — and stay in a residential area lined with leafy streets:
Hosteller Delhi: Book on Agoda here.
Moustache Delhi: Book on Agoda here.
Booking.com city map of Delhi
Best Hotels in Delhi
Best Mid Range Hotels in Delhi
If you're looking for a hotel with many comforts and a good location but not a 5 star price, there are some great options:
Hotel Palace Heights, Connaught Place:
The Neem, South Delhi:
Udman Panchshila, South Delhi:
Best Luxury Hotels in Delhi
When it comes to luxury accommodations in Delhi, there are many beautiful properties. These are four of the very best:
Shangri-La Eros New Delhi:
The Imperial Hotel:
ITC Maurya:
The Claridges:
---
Best Guest Houses in Delhi
If you're the type of traveler who wants a more authentic experience, Delhi has some wonderful guest houses / home stays. These are two of my favourite and both include a home cooked breakfast:
Prakash Kutir Bed & Breakfast (Hauz Khas, South Delhi): Book on Agoda here.
Zaza Stay (Nizamuddin West, Central Delhi): Book on Agoda here.
---
Suzanne is a Canadian living in Delhi. She loves exploring Delhi and helping visitors discover the city. She blogs at Suzanne Wanders Delhi.
---
If you enjoyed this post, you can.
Sign up for Dispatches in the sidebar and follow Breathedreamgo on all social media platforms including Instagram, Facebook, Pinterest, and Twitter. Thank you!