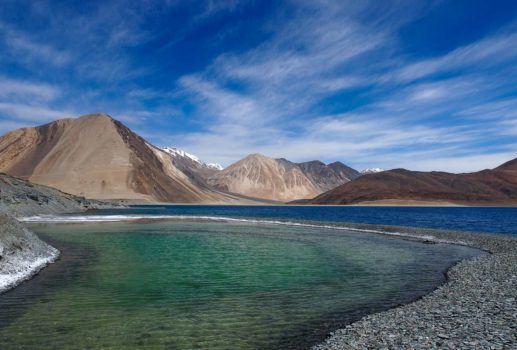 INDIA IS A VAST COUNTRY, teeming with incredible places to visit from ancient forts and palaces to friendly villages and pristine national parks. A subcontinent, India is home to a wide variety of landscapes from lush jungles and tropical beaches to sand-swept deserts and the highest mountain range on earth. There are 40 UNESCO World Heritage sites and four of the world's top biodiversity hotspots; one of the world's oldest cities, Varanasi, and 70% of the world's wild tigers. It's very hard to choose the best tourist places in India because there are so many – but here are some favourites from India's leading travel bloggers, arranged by the best time to visit for weather, festivals, and other factors.
Generally, most foreign tourists visit India between October and March for the most pleasant weather. May and June are the hottest months, and the southwest monsoon sweeps across the country from July to September. In December and January, North India is surprisingly cold, and foggy weather can snarl travel plans — especially in and around Delhi. Therefore, planning your travels to keep weather (and major Festivals of India!) in mind, can really help you have a great trip.
Best places to visit in India in January
Gokarna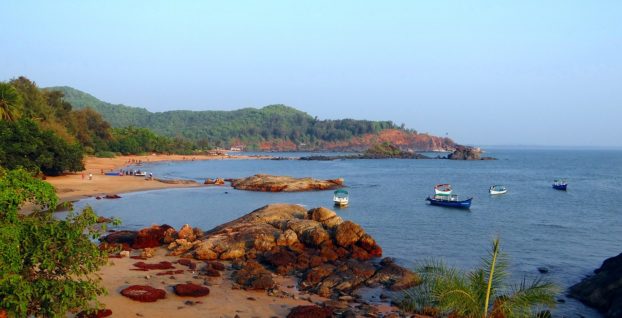 Gokarna, located on the coast in the southern state of Karnataka, is definitely one of the best places to visit in India. It is much more laid back compared to Goa — and that is the beauty of it. With endless beaches such as Om Beach, Half Moon Beach, Paradise Beach, and Kudle Beach, it is a must visit place in India for any beach lover. Here you will find some of the best beaches in India. You can also trek between the beaches and see incredible views of some of the beaches from the cliffs above.
If you are a spiritual person, Gokarna is also the site of an Atma Linga, a 4th century Shiva temple: the Mahabaleshwar temple. This is a site of religious pilgrimage for many Hindus, who perform the rituals for their departed relatives. There are numerous other temples in Gokarna as well.
Gokarna used to have some amazing cafes serving both Indian and continental food but many are currently shut because of the pandemic. Night life has also considerably calmed down compared to yesteryears, when there were secret rave parties around Gokarna.
If you are travelling by road, it takes approximately 9.5 hours from Bangalore, the capital of Karnataka. Alternatively, you can fly to Mangalore and then catch a bus from there which takes approximately 3-4 hours. Other beach towns to visit near Gokarna are Karwar, Murudeswar, Udupi and more.
Best time to visit Gokarna is between October – March.
Contributed by Soumya Nambiar of Travel, Books & Food.
Bikaner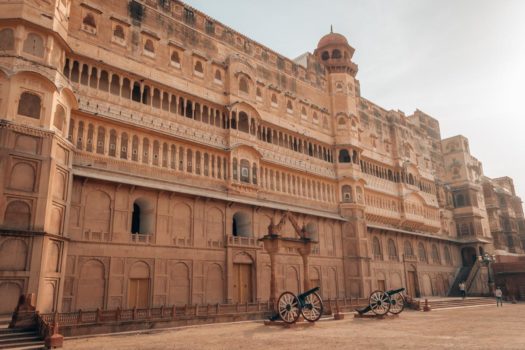 Bikaner is an underrated city in the state of Rajasthan. Boasting intricate havelis, beautiful temples, and spectacular forts and palaces, it is an architectural wonder that should be a must-visit destination for anyone looking for lesser-known places in India.
If you have a penchant for travel photography and bygone eras, the narrow lanes of Bikaner's old city will capture your heart. Start your day early and visit the charming Rampuria Havelis before traffic hours kick in. This group of seven ornate mansions belonging to a merchant family of Bikaner is a treat for the eyes.
The Rampuria family is one of the many that flourished because of the silk route. Bikaner's prominent location along the silk route is, perhaps, why Rao Bika, a descendent of Jodhpur, chose to set up his capital here when it was just barren land.
Some other places to see in Bikaner include Junagarh Fort, Karni Mata Temple, Bhandasar Jain Temple, Devi Kund Sagar, and the Thar Desert. Hotels like Narendra Bhawan, Laxmi Niwas Palace, and Lallgarh Palace also hold historical significance and are worth checking out.
You can reach Bikaner by road and rail from most other cities in India. There is also a direct flight from Delhi that operates a few days a week.
Best time to visit Bikaner is the winter months, between October and March, as they are ideal for pleasant weather.
Contributed by Charu is a travel blogger, photographer and writer behind travelwithcg.com.
Best places to visit in India February
Jaipur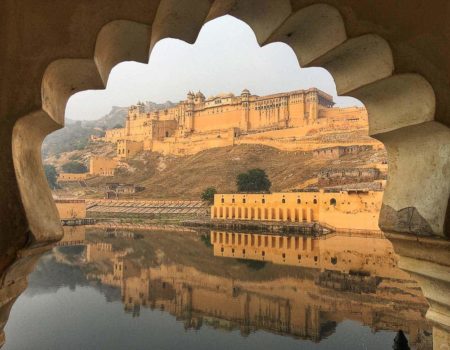 Jaipur, famous the world over as the pink city has been attracting travellers ever since it was founded in 1727 AD. It is no surprise that Jaipur takes pride of place on lists of top travel destinations across the world.
Jaipur offers so much, including forts, palaces, step-wells, markets, festivals, temples, and food. Very few cities possess the charm of attracting travellers again and again, but Jaipur is one of them. A traveller can definitely spend 4-5 days exploring all that the city offers.
Jaipur was founded as a trading city in the 18th century by Maharaja Sawai Jai Singh II. The city has carved out a niche in handmade craftsmanship the world over: textiles, jewellery, and art & crafts are in huge demand. The bazaars of Jaipur are a treat for visitors, an Aladdin's cave of riches and treasures.
Jaipur is also one of the best places to experience Indian festivals like Diwali, Holi, Kite Festival, Teej, to name a few. The tourism infrastructure is well-developed, offering a variety of stay options and activities. In fact, Jaipur arguably has the best range of hotels of any city in India. Many of the hotels in Jaipur were originally authentic palaces and havelis that have been transformed into enchanting hotels (at every price point).
How to reach? Jaipur is well-connected to all Indian cities where most international carriers fly like New Delhi, Mumbai, or Bangalore. You can reach Jaipur by flight, train, and taxi.
Best time to visit is winter, between October – February. The world famous Jaipur Literature Festival takes place at the end of January each year.
Contributed by Arv of Jaipur Thru My Lens.
Mumbai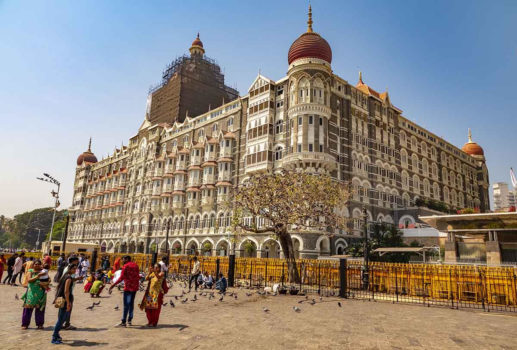 Mumbai, formerly known as Bombay, can be chaotic and overwhelming, but it's a fascinating city to visit with its beautiful colonial buildings and energetic atmosphere and cannot be missed. Mumbai is definitely at the top of any list of best places to visit in India, without a doubt. The city is rich in history and culture, home to Bollywood, and seriously delicious food. Mumbai is best visited during the winter season (October to March) when the temperature is pleasant.
Three of the best areas to base yourself in Mumbai are the districts of Colaba, Fort, and Marine Drive in South Mumbai. From here most major tourist destinations are within easy walking distance.
(Editor's note: The trendy suburb of Bandra is another great option for hip cafes, seafront promenades, and the charming atmosphere of a forming Portuguese fishing village.)
Mumbai is one of the oldest cities in India, and it boasts an abundance of historical and cultural things to see and do. The Gateway of India is the city's most iconic landmark. Mumbai also has many interesting museums, impressive architecture, and the Elephanta Caves, which are well worth visiting.
Throughout the city you will see signs of a rich cultural heritage that includes famous temples, as well as significant monuments such as the Chhatrapati Shivaji Terminus, Gandhi House, Haji Ali Mosque, and the Bhau Daji Lad Museum. Other must-dos include a visit to The Taj Mahal Palace Hotel, Dhobi Ghat open air laundromat, and watching the sunset at Nariman Point on Marine Drive.
Best time to visit Mumbai is winter October – March. Otherwise it is hot and humid, and often floods during the monsoon in summer.
Contributed by Peta and Jonas of Exit45 Travels, a couple in their midlife who took an adult gap year, and have been travelling full time ever since.
Living root bridges of Meghalaya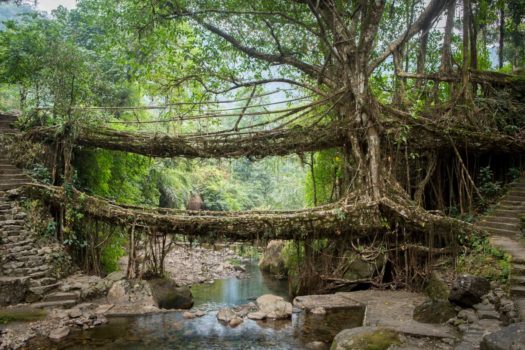 Meghalaya, the wettest state of India, is famous for its incredible living root bridges. The artwork of bending and constructing the roots of the rubber fig tree (Ficus Elastica) in the shape of a bridge is done by the Khasi and Jaintia tribes inside the dense rainforest of Cherrapunjee. They guide the pliable aerial roots of the rubber fig trees (Ficus Elastica) across the rivers and then allow them to grow strong.
A mature living root bridge protects itself from heavy storms and floods and can usually hold more than 35 people at once. Although there are many living root bridges in Meghalaya, the 150-year-old human-made, double-decker living root bridge is unique and most attractive.
To reach the 50 metres long and 1.5 metre wide bridge, you have to start a thrilling trek from Tyrna village, 20 kilometres away from Cherrapunjee. Winter is the best time for trekking to the double-decker living root bridge when you will get the pleasant weather, clear sky, and the path will be safe. You can reach there by crossing a hanging bridge over the crystal blue river, going up and down almost 3,500 steps through dense forest.
In the end, your exhaustion will evaporate when you dip your feet in the Umshiang River flowing under the bridge, and the small fish will nip your feet. A walk from one end of the bridge to the other will give you a memorable lifetime experience.
Best time to visit the living root bridges in Meghalaya is winter, from November to March.
Contributed by Koyeli Biswas of Nature Diary.
---
Video of living root bridge of Meghalaya by pabloenindia
Pondicherry / Puducherry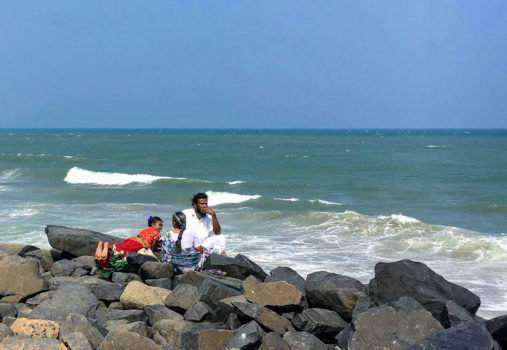 Pondicherry, known officially as Puducherry, is the capital of a district of the same name in south-eastern India. "Pondy" as the locals endearingly call it, is a former French colony that is still characterised by strong French influences to this day. The French East Indies Company claimed the city as its trading hub in the 1600's, and the city only merged with India in 1954.
The best things to do in Pondicherry are to spend time at its beaches, experience the old French Quarter, and visit Auroville township. Pondicherry borders the Bay of Bengal to the east, so the city has several beaches and a wide public promenade. Although the waters are too dangerous for swimming, many locals and tourists spend time picnicking and relaxing on the shore.
The French Quarter in Pondicherry consists of colourful, well-preserved colonial buildings repurposed to house chic restaurants and trendy cafes. Visitors will receive five-star hospitality here, at a fraction of the price of a similar setting in France.
One must-visit place when in Pondy is Auroville, an experimental township located a quick tuk-tuk ride to the north. Auroville is known for being a "universal township", focused on "realizing human unity." Visitors to Auroville can learn about the history of the township, meditate in its golden Matrimandir chamber, and learn about alternative living methods like organic farming, earthen architecture, and renewable energy.
Pondicherry is a transport hub that can be reached by air, rail, and bus.
The best time to visit is between December and March, which is after the monsoon season ends and when temperatures are cooler.
Contributed by Erika from Erika's Travelventures.
Best places to visit in India in March
Amritsar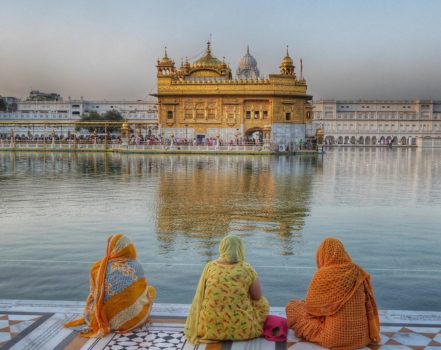 Amritsar (which translates to 'the tank of the nectar of immortality') is a spiritually and historically significant city in Punjab, India and one of the most fascinating places to visit. Amritsar is most famous for being the home to the spectacular Golden Temple but there's plenty of other unique experiences to have here.
The Golden Temple (the official name Harmandir Sahib means the abode of God) is the most important Gurudwara and the holiest place for Sikhs. It's one of the most beautiful places I've ever seen, and was a better experience for me than the Taj Mahal.
The Golden Temple's beauty lies not only in its gold-plated appearance, but also due to the special, serene atmosphere, the colourful pilgrims who visit, and the volunteers who keep the place sparkling clean while also managing to feed 100,000 people per day for free.
Personally, I found the experience of visiting the Golden Temple more profound than visiting the Taj Mahal because the Taj is a mausoleum and a tourist attraction, while the Golden Temple is a living, breathing place of worship.
While in Amritsar you can also explore the maze of dusty bazaars, witness the unique closing ceremony at the Wagah Border, visit the Mata Lal Devi temple – probably the most bizarre temple in the world, and pay your respects at Jallianwala Bagh.
The Golden Temple is open 24 hours and free to visit. You can visit any time of the year, but March offers the most pleasant weather and the three-day Holla Mohalla festivities. You can reach Amritsar in only six hours by twice-daily Amritsar Shatabdi Express train from Delhi.
The best time to visit Amritsar is March because it offers the most pleasant weather and the three-day Holla Mohalla festivities.
Anna Phipps is a travel writer and blogger from the U.K. who has been living in Goa, India since 2015. She writes tips for travelling in India, and around the world, on her blog GlobalGallivanting.
Rishikesh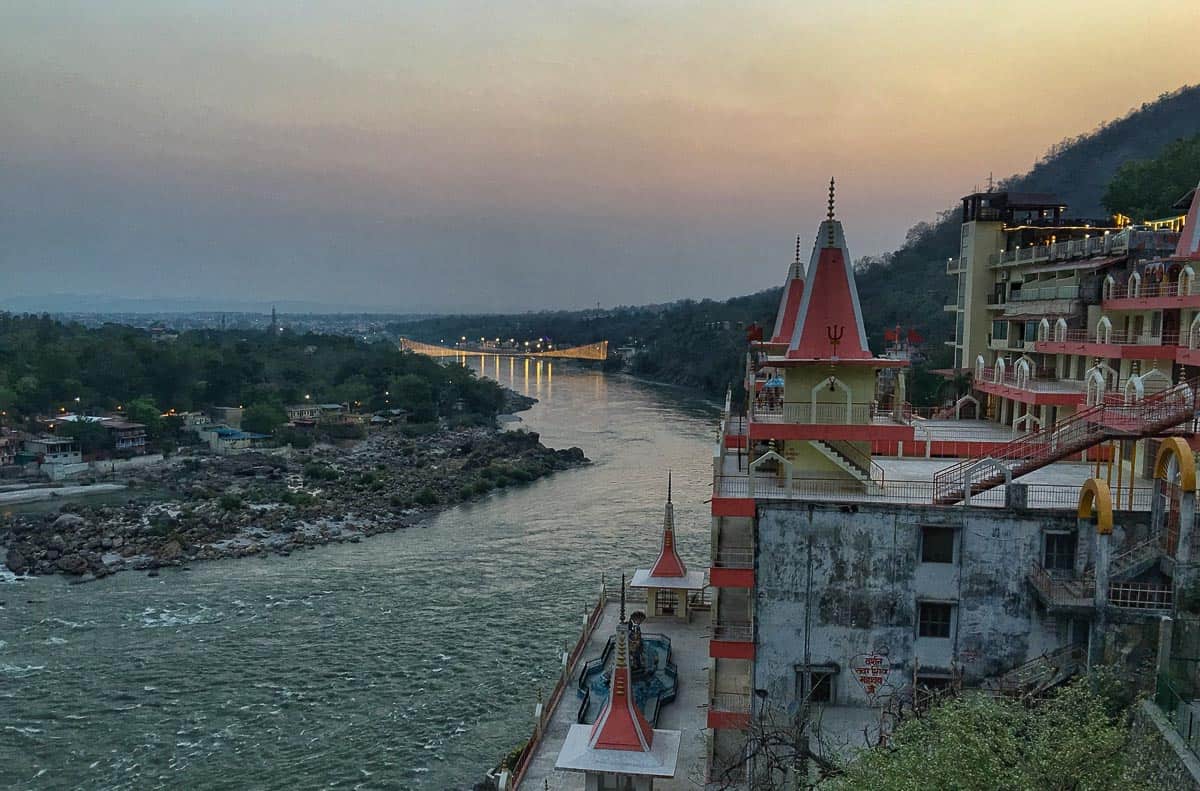 Rishikesh is a great place to visit almost all year 'round, but March is the best month for weather, the Holi Festival, and the Yoga Festival (which happens the first week of March every year). It's very warm during the day, and cool at night, and there's a fun, festive feeling in the air. Rishikesh is the Yoga capital of India, and a lot of Yoga teacher training programs happen in March — bringing an influx of students from all around the world. In March, Rishikesh feels like a global city!
Rishikesh is a small town in north India, scenically located at the spot where the Ganga (Ganges) River spills out of the foothills of the Himalayas and begins her long journey across the plains of India to the Bay of Bengal. Here, you are surrounded by robust, pristine nature.
Expect the signs and symbols of a sacred India town: holy cows, ashrams, and orange-robed sadhus, temple bells, and incense. There is a feeling in Rishikesh unlike anywhere else. The vibe is both relaxed and reverent — and consequently attracts genuine Hindu devotees as well as foreign Yoga students, digital nomads, and adventure travellers.
More recently, Rishikesh has also emerged as an adventure capital that attracts young Indian travellers who enjoy water water rafting, nearby trekking, staying in hostels, and hanging out in river front cafes. There is a growing digital nomad scene in Rishikesh too, as the internet improves and more long-stay accommodation opens up with hostels, hotels, resorts, and guest houses popping up like mushrooms.
Best places to visit in India in April
Dharamshala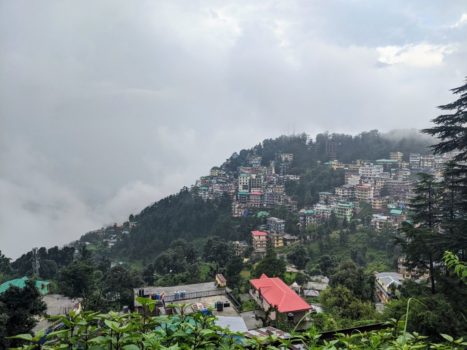 When you arrive in the spiritual, idyllic setting of Dharamshala in North India, you've landed in the wise, welcoming arms of Buddhist culture. It's no surprise that this region's nature, history, sutras, and tantras lure spiritual seekers from all over the world.
Dharamshala is home to the Dalai Lama and to the Tibetan government in exile. I was drawn to this region by the opportunity to meet his Holiness, who runs teachings all year round. Though they have temporarily been moved online since the start of the pandemic, early risers in Dharamshala will see Buddhist pilgrims walking on the temple road and chanting to the Dalai Lama's residence in Mcleodganj every morning, as well as monks clothed in red saffron robes carrying Free Tibet signs.
Based in the Kangra region of the Dhauladhar mountains, tranquillity seekers like myself will find an abundance of nature walks in the hilltop villages of Dharamkot, Mcleodganj and Bhagsu, which is famous for the sweet Indian favourite Bhagsu cake. You can take silent, serene walks through pine forests, and among misty mountains, and find hidden tea gardens and gushing waterfalls. In Dharamshala you can also enjoy Buddhist teachings, visiting bustling town markets, and a variety of local restaurants, and the opportunity to delve into Tibetan culture.
Dharamshala is a hiker's haven and I highly recommend visiting in the spring and summer months for the incredible views of the Himalayan mountains. For those brave enough, do not miss the spectacular trek up to Triund, the Snow Line, and Indrahar Pass. The monsoon season enriches and rejuvenates the land's lush, coniferous greenery.
Best time to visit Dharamshala is the spring and summer months for the incredible views of the Himalayan mountains.
Contributed by Sophia, who runs Beauty in a Backpack, a conscious slow travel blog.
Kanha National Park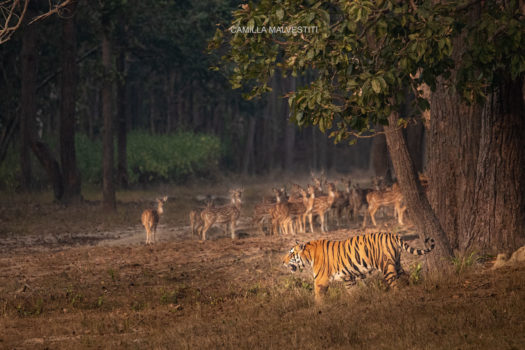 One of India's oldest and biggest national parks, Kanha Tiger Reserve is home to incredible biodiversity, and located on the banks of the Banjar River, in the heart of rural Central India.
Surrounded by spotlessly clean villages, abode of the Baiga and Gond tribal communities who still practice a very traditional form of agriculture, Kanha is also one of the best places to see tigers in the wild.
Impeccably managed by the local Forest Department, the park is the only place in the world where one can admire the endangered hard ground Barasingha or swamp deer.
The forest is nothing less than spectacular, thanks to the iconic green canopy of Sal trees that never goes dry, even in summer.
Kanha can be reached in a few hours by road from Nagpur, Jabalpur or Raipur.
Safari activities run from October to the end of June, when the core zone closes for monsoon.
All seasons are beautiful in Kanha. Expect an extremely cold winter (but a dreamy and misty atmosphere) and a relatively hot summer (up to 42 degrees).
The best time to visit Kanha for tiger spotting is April because the heat forces them to the waterholes.
Camilla Malvestiti is a naturalist, wildlife photographer and tiger safari mentor, author of the blog Tigers in the Wild.
Best places to visit in India in May
Munnar
Munnar is one of the most fascinating natural wonders of India. It's situated at an altitude of 1,600 metres (5,200 feet) in the state of Kerala, also known as God's own country, in the southern part of India.
Munnar and the villages surrounding Munnar are incredibly quiet and tranquil. They feature never-ending and postcard-perfect tea plantations, lush green valleys, forests and hill ranges, sparkling waterfalls, extremely rare and unique flora, and fauna. These places offer a myriad of activities to their visitors.
Munnar is famous for making the best teas in India. For this reason, the major highlight here is the lush green tea plantations. You can freely stroll among the tea plantations and take photos. The most beautiful tea plantations are the Pallivasal Tea Estate, the Kolukkumalai Tea Estate and the Chinnakalal Tea Plantation.
Hidden among the tea plantations, you can walk around spectacular lakes such as the Kundale Lake, Devikulam Lake and Mattupetty Dam and sparkling waterfalls such as the Attukad Waterfalls.
Furthermore, there are massive national parks in Munnar. For instance, the Eravikulam National Park where you can even spot wild animals such as elephants if you are lucky.
Winter is the best time to visit Munnar. The average temperature in winter is 23 °C / 73.4 °F which feels warmer than it sounds due to the high humidity in the region.
To reach Munnar, first travel to Kochi. From any major travel destination, you can get to Kochi by bus. Then, from Kochi, take a governmental bus to Munnar. The distance is 126 km and the ride costs only 130 rupees. And most importantly the way to Munnar is mind-blowingly beautiful.
Best time to visit is … anytime! Since Munnar is at a higher elevation, it is pleasant most of the year, and can be chilly in winter.
Contributed by Diana from The Globetrotting Detective.
Sikkim
Located in Northeast India, Sikkim is ringed on three sides by Nepal, Bhutan, and the Tibet Autonomous Region of China. The former kingdom only became part of India in 1975 and still retains its unique culture and traditions.
The capital, Gangtok, is located in East Sikkim. Perched on a ridge, Gangtok is home to museums, markets, monasteries, and restaurants. It also has a growing literary scene. Readings and talks are held regularly in the city's premier bookstore, Rachna Bookstore. A few hours away is the revered Rumtek Monastery where you can watch masked dances during the Losar Festival.
The old Silk route threads through the mountains of East Sikkim and for adventurous road-trippers, it is a trip of a lifetime! Ancient monasteries, ruins of the old kingdom, trekking trails that take you deep into the Himalaya, and forests full of pink and white rhododendrons are the main attractions in West Sikkim.
The Buddhist monastic trail that starts in Yuksom and ends at Tashiding takes pilgrims to some of the region's oldest, most isolated monasteries, including Dubdi Monastery which is Sikkim's oldest monastery. South Sikkim is known for its tea plantations. North Sikkim is a tapestry of icy peaks, azure lakes, ancient glaciers, and remote hamlets. Tucked in the folds of these mountains, is the Lepcha reserve, Dzongu. Here, you can go hiking and angling, birdwatching and butterfly-spotting, and stay at homestays with local families.
Sikkimese food is unlike the food in other parts of India. Spices are sparingly used and the Tibetan influence shows in dishes like thukpa and momos. Meat is widely consumed, but it is easy to find vegetarian preparations. Organic farming is widely practised and meals served at homestays are usually cooked with produce straight from the kitchen garden. Foraging is common: try stir-fried fiddlehead ferns and stewed stinging nettles.
Non-Indian nationals need a restricted area permit to visit Sikkim. Indian citizens do not need permits to visit Sikkim, but protected area permits are required for North Sikkim, for high-altitude treks in West Sikkim, and to visit the Tsomgo Lake, Baba Mandir, and Nathu La. More information can be found here.
Best times to visit Sikkim is between March to May for the blooming season. OR between October to mid-December for clear views of the Himalayan mountains.
Contributed by Mohana, who writes about food and places on her blog, Two Together.
Best places to visit in India in June
Spiti Valley
Spiti Valley is a high-altitude desert-scape blessed with stunning mountains and unique culture–it's absolutely one of the best places to visit in India. Located in the state of Himachal Pradesh, Spiti is comprised of numerous villages and gives travellers a taste of Tibet without leaving the country.
Spitians originally came from Tibet, and their language and traditions are very similar. Locals even look Tibetan and the landscape is even unique from nearby Ladakh. This is what makes this region so unique – it's unlike anything else you can find in the state, which is otherwise very green. The region is extremely remote and isolated, and can only be reached by a long and arduous road journey, though flight options may soon come.
While in the region don't miss out on the stunning village of Nako, the splendour that is the Dhankar Lake and its many yaks, and Mud, where you can literally see purple-tinted mountains. The Key Monastery is another famous landmark in the region, as is the Tabo Monastery which dates back to 996 CE.
As the entire valley is very high up, it experiences extremely harsh and long winters. The best time to enjoy the beauty of Spiti is in the months of June-September. This is also when it will be possible to do the full circular route, as the Rohtang Pass will be open. Due to snow, this pass is closed the majority of the year and in fact, could even be closed in mid-June. Be sure to check the status before planning your road trip!
Best time to visit Spiti Valley is June to September.
Contributed by Samantha, a freelance writer and travel blogger who writes about her adventures in and around South Asia at Intentional Detours.
Manali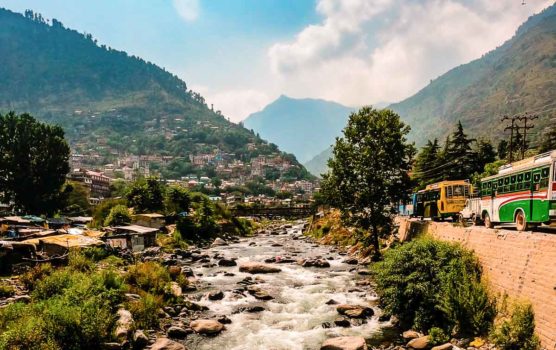 Located in the foothills of the Himalayan mountains in Himachal Pradesh, picturesque Manali is one of the best places to visit in India for stunning views of the Himalayan range, the laid-back vibe of Old Manali, and the plethora of adventure activities.
Old Manali has a bohemian vibe. There are plenty of bijou cafes, funky independent shops, street food vendors selling thukpas (noodle soup) and siddus (steamed buns) – which are favourites among locals and tourists alike. Pop into Dylan's Toasted and Roasted Coffee House and enjoy a fresh brew and chocolate chip cookies – they have fabulous artwork inspired by Bob Dylan. Popular nearby attractions include Hadimba Temple, Vashishtha Temple, and Jogini Falls, a magnificent 160 foot waterfall. You can occasionally spot Himalayan Yaks while trekking in this area.
If you are into adventure activities, Manali is the right place for you. You can do paragliding, water rafting, and skiing. Also, there are many short and long-distance walking trails in and around Manali such as Chandrakhani Pass Tre, Bhirgu Lake Trek, and Hampta Pass Trek. There is something for everyone in Manali. You can easily spend a few days, even weeks, in this resort town. You won't get bored!
Manali is about 350 miles north of Delhi, the capital of India. You can find good bus and train services from there.
Best time to visit Manali is March to June because the weather remains pleasantly warm and dry. Winter is also a good option if you fancy admiring the town in the snow.
Contributed by Moumita and Sankha of Chasing the Long Road, Indian travel bloggers living in Scotland who are passionate about photography and travelling.
Best places to visit in India in July
Ladakh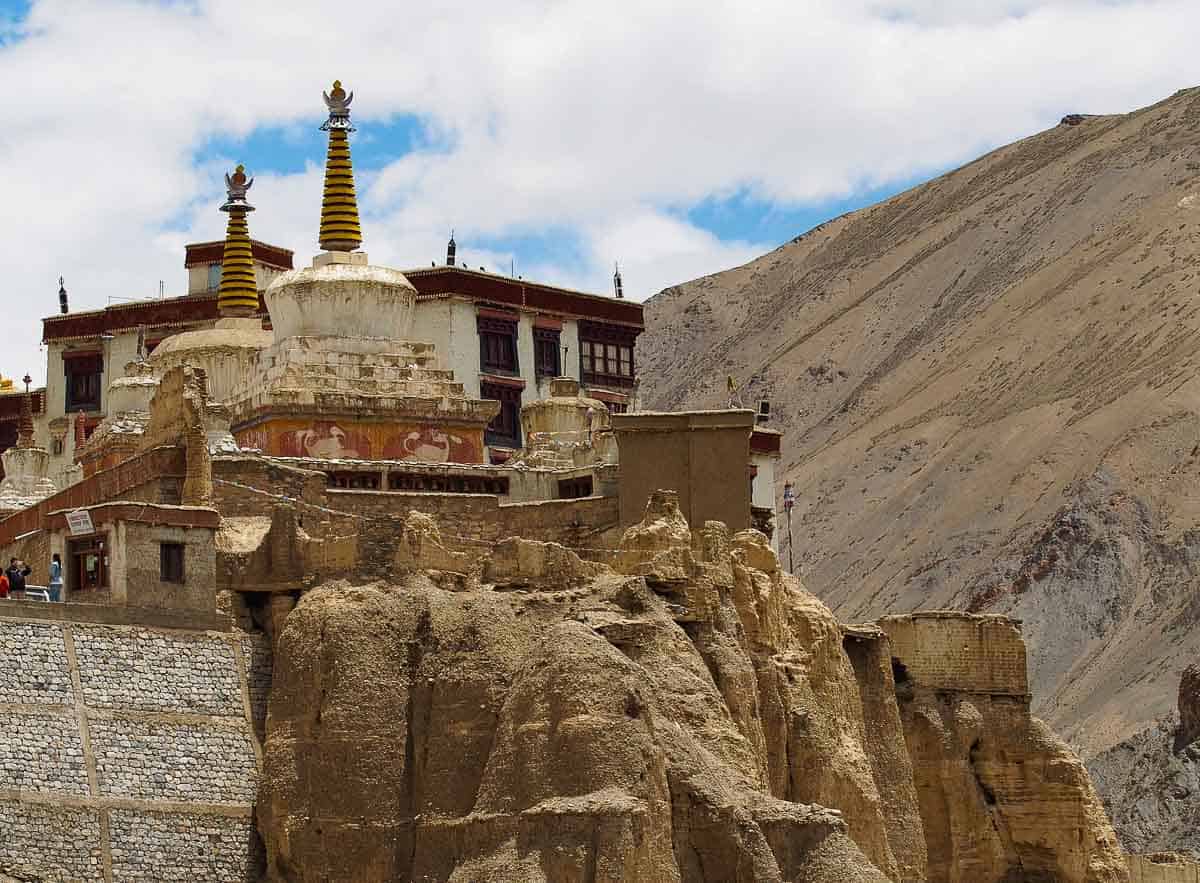 Ladakh, quite literally, takes your breath away. Its main gateway, Kushok Bakula Rimpochee Airport, a short, dramatic flight from Delhi, is situated at 3,256 metres while the Khardung-la Pass (5,600 metres), is promoted as the world's highest motorable road. Indeed the very meaning of La dak is "land of high passes."
For many, Ladakh's big attraction is the Tibetan connection. As the Tibetan Autonomous Region (TAR) becomes increasingly Sinicized and politicised, one has to look elsewhere to find vibrant Tibetan traditions thriving freely. Although Tibetans and Ladakhis have a shared culture, religion, and written language, since the Chinese annexation of Tibet in 1959 and the subsequent 1962 Sino-Indian War, they are draconically divided.
The numerous Tibetan refugees in Leh's marketplaces are most visitors' first tangible encounter with the Tibetan connection, closely followed by the glorious gompas — monasteries — of the Indus Valley, especially Hemis, Thiksey, and Stokna. But it is surely the achingly beautiful Pangong-tso lake(4,250 metres), which is the most potent symbol of the political division of a people and land which geo-culturally are one.
The southeast part of the lake is in the TAR, whilst the remainder is in Ladakh. With the disputed Sino-Indian border slicing through its width, unsurprisingly it is politically sensitive. No wonder H.H. the 14th Dalai Lama often comes here to gaze towards his beloved, unattainable homeland. The rest of us can likewise gaze and wonder.
Best time to visit Ladakh is the summer months from June to September. The Hemis Festival in July and the Ladakh Festival in September are two of the most beloved festivals and well worth attending.
Contributed by Lesley, a passionate trekker and writer / photographer of the Himalayan swathe, including Tibet and Nepal. You can follow her on her Facebook page.
Best places to visit in India in August
Goa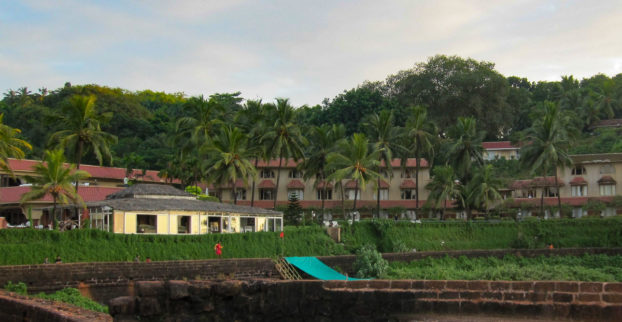 Goa is one of the most popular destinations to visit in India because of its laid back culture, the delicious local food in Goa, and the beautiful beaches. Due to its popularity, many people flock to Goa, especially in winter. However, during the shoulder season and monsoon season Goa is equally fun – and less crowded, too. Check out these tips to experiencing offbeat Goa.
I'm partial to Goa because I'm Goan! However, what makes it special is that even though it is one of the tiniest states in India, it packs a punch as not only are the people the friendliest, they are pretty liberal as well. This makes it one of the top places in India to head to if you're looking to relax without inhibitions.
The Portuguese colonised Goa, and they were the last to leave India. Therefore, the culture in Goa is a unique blend of the coastal culture in India intermingled with remnants of Portuguese colonisation, which can be seen in the architectural styles and some of the dishes as well.
It is possible to fly to Goa or you could fly to Mumbai and drive, which takes about 7 hours or so. Or take the train. The Konkan Railway offers a picturesque route down the coast.
Best time to visit Goa: Many people tend to think the best time to visit Goa is in winter, from December to February, when it gets cold in North India, and it's not overly hot in Goa. It's pleasant during these months, while hot and humid the rest of the year. But the monsoon in Goa, in July and August, has its own charm and should be experienced. 
Tip: Monsoon is a great time to travel. Read about the 12 Best places to visit in monsoon in India and the 14 Best monsoon travel destinations around the globe.
Contributed by Lavina, a journalist and the editor of Continent Hop, a multi-award nominated culture, food and photography blog that also has beautiful photography.
Valley of Flowers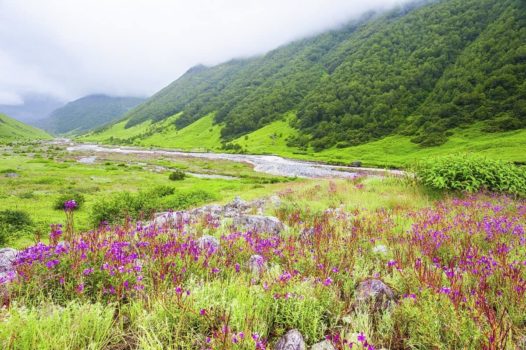 Valley of Flowers National Park, located in Chamoli district, is a UNESCO World Heritage Site, and considered to be the most popular trek in Uttarakhand. Within an area of 87 square kilometres, the valley boasts a wide range of endemic flowers, such as daisies, marigolds, poppies, orchards, primulas, and the endangered Brahma-kamal. Wildlife species such as red fox, snow leopard, black bear, langur, and the Himalayan weasel, can also be discovered in and around the valley.
You can either start hiking to Valley of Flowers from Govind Ghat or hire a shared jeep as far as Poolna, where you need to check in officially for the trek. From Poolna, it's a 10 kilometre hike to Ghangaria. By starting at Poolna, you can shave four kilometres of additional hiking off the first day.
Stay overnight in Ghangaria and trek about four kilometres to the Valley of Flowers. The gate opens at 7 am and you need to pay an entry fee of Rs. 150. Explore the valley till 5 pm and trek back to Ghangaria.
The best time for Valley of Flowers Trek is between July 15 to the end of August to find the valley in full bloom.
Contributed by Ipsita Paul, a solo female backpacker, hitchhiker, and travel blogger.
Best places to visit in India in September
Agra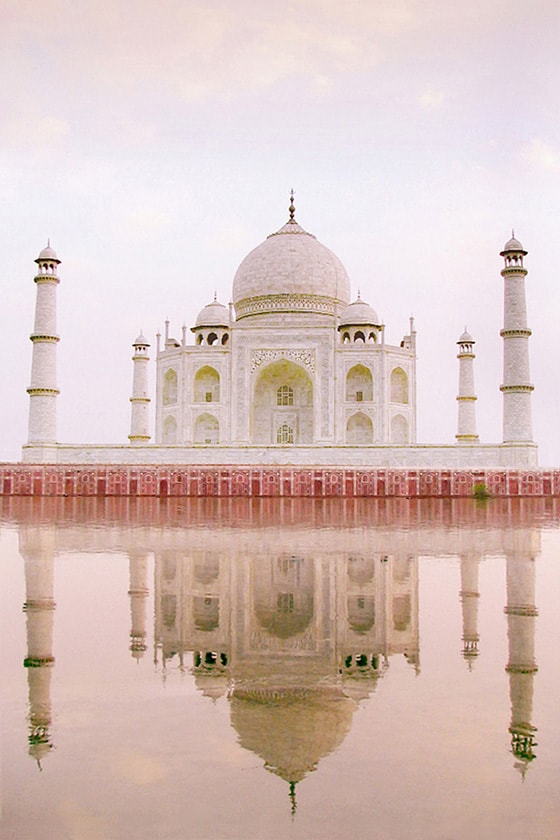 Listed among the seven wonders of the world, the Taj Mahal is an architectural marvel located in Agra, North India. With about 7 million visitors per year, it is the most famous tourist attraction of India and one of the top places to visit in Agra.
Visitors are amazed to see that the Taj Mahal changes colour throughout the day: milky white after sunrise, sparkling at noon, pale yellow in the evening, and iridescent on full moon nights. The Taj Mahal is widely considered the world's most beautiful building. And they are just as enamoured by the story behind the building of the Taj Mahal as they are by its magnificence.
In essence, the Taj Mahal is a monument to love. It was built by Mughal Emperor Shah Jahan in the memory of his beloved wife, Noor Jahan, who died giving birth to their 14th child. The Taj Mahal is a mausoleum made of white marble and one of the finest examples of Mughal (Indo-Islamic) architecture. The grandeur of the Taj Mahal is a result of 20,000 labourers working day and night for 16 years. The construction started in 1632 and was completed in 1648. In 1983, the Taj Mahal was listed as a UNESCO World Heritage Site. Spanning more than 17 hectares, the complex includes a mosque and several gardens surrounding the Taj Mahal.
You can reach the Taj Mahal easily from Delhi. The nearest domestic airport is the Agra Airport, while the nearest International Airport is Indira Gandhi International Airport, Delhi (220 km). The city has very good rail connectivity and the main railway stations are Agra Cantt and Agra Fort. Many national highways connect Agra to other parts of the country. It takes only 3-4 hours to drive on the Yamuna Expressway from Delhi to Agra. Note: there are offbeat places to visit in Agra too.
The best time to visit Agra is between September to March, as the weather is pleasant and favourable for sightseeing and other activities such as shopping. It can be foggy in December and January.
Best places to visit in India in October
Western Ghats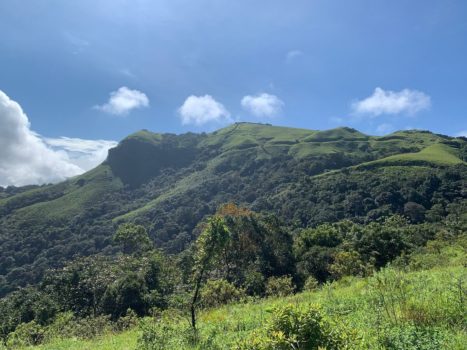 The Western Ghats, one of the UNESCO World Heritage sites in India, is a mountain range in the south-western part of India. The Western Ghats range for about 1,600 kilometres, from the state of Gujarat and to Tamil Nadu and is one of the world's top hotspots for biological diversity. The region is home to at least 300 threatened wildlife species.
Western Ghats is famous among trekkers and wildlife enthusiasts because of dense forests, including the tropical rain and montane forests, and the abundant wildlife. The trekking trails cater for all kinds of trekkers. Some of the trails are in the tiger reserves and wildlife sanctuaries and are perfect for adventurous trekkers. There are also plenty of waterfalls to be found among these mountains.
The best time to visit the Western Ghats is after the monsoon season (after the month of September) as the mountains are lush green and the weather is pleasant. The most economical way to reach the villages is by public transport. There are frequent buses and trains that connect the villages and towns in the Western Ghats to the cities. One can also drive to the villages and towns, but as the roads are windy and narrow, it is best suited for experienced drivers.
The best time to visit the Western Ghats is after the monsoon season (after the month of September).
Contributed by Raksha Nagaraj, an Australian and Indian travel blogger who publishes the blog Solopassport.
Best places to visit in India in November
Jodhpur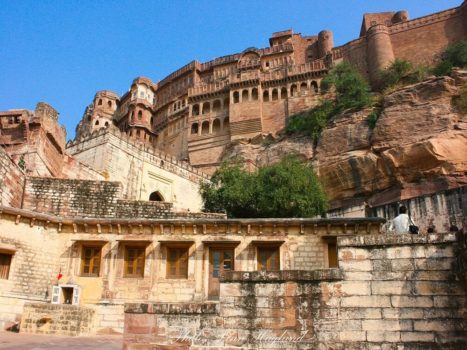 Jodhpur, also known as the Blue City, is one of the most beautiful places in Rajasthan and one that you should not miss on your trip to India. Jodhpur has so much more to offer but the astounding Mehrangarh Fort is the main attraction.Towering above the blue-painted city, it is impossible to miss its magnificence. You should take at least half a day to wander its interior and gaze at the city views. If you fancy an adventure, try the Flying Fox zip line from the fort. There are six different ones from 70 to 300 metres long.
Not far from the fort, you can explore Rao Jodha Desert Rock Park. In 2006, the park was created by Pradip Krishen as a rewilding project to restore the unique landscape that had fallen into barren, rocky wasteland. Stretching over more than 70 hectares of land, you can now witness how the native desert plants have grown back. For a bit of quiet in a busy city, this is a wonderful place to wander.
Stroll around the market near the clock tower to soak up local life. The astounding Toorji Ka Jhalara stepwell is only a short walk away and well worth a visit. Once an essential water source for the city, the stepwell is beautifully decorated with symmetric steps leading down to the water.
You can easily get to Jodhpur by train or bus from New Delhi and other big cities, and there is also a domestic airport. Check out this Guide to Rajasthan for more options.
Best time to visit Jodhpur – like most of Rajasthan – is the winter months from October to March. In summer it is blisteringly hot!
Contributed by Linn Haglund of Brainy Backpackers.
Kutch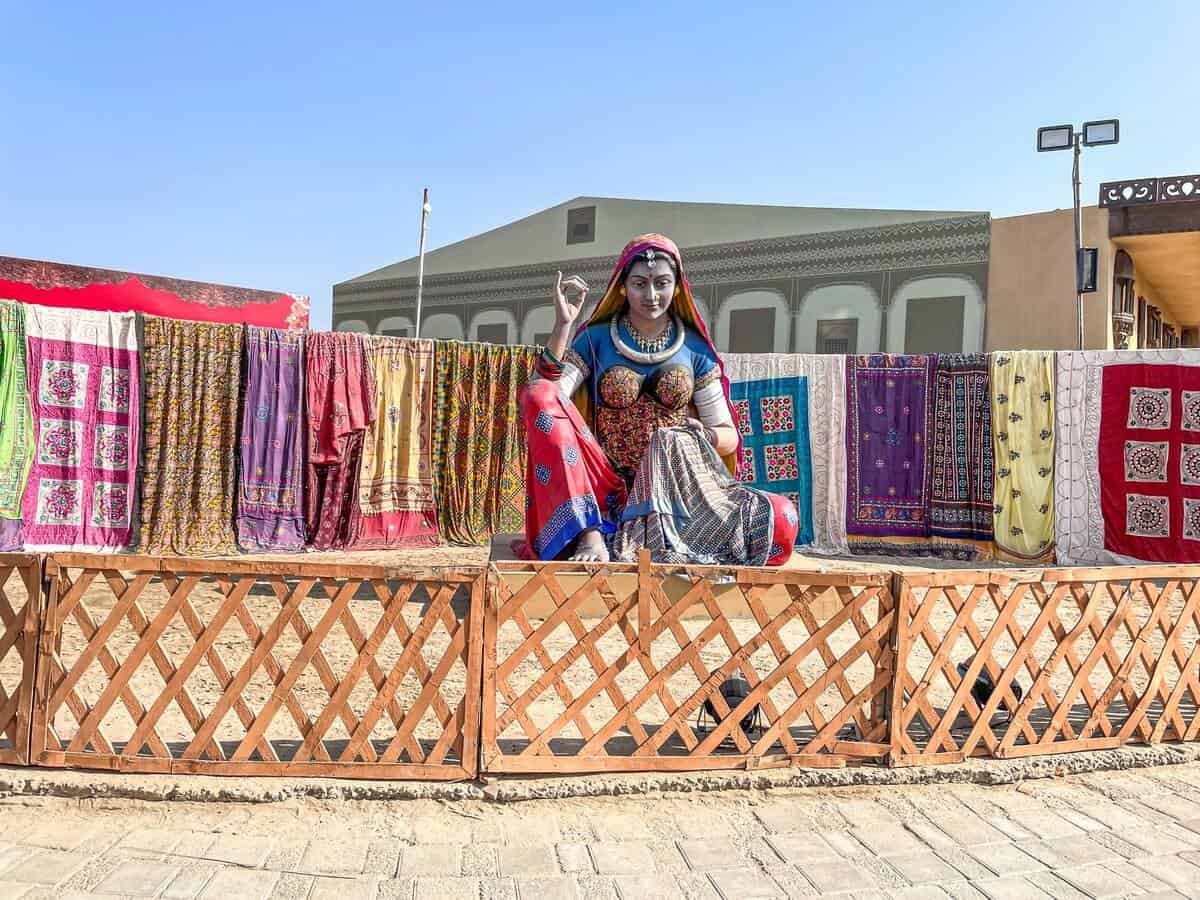 In India, there's an adage that goes something like this, "Kutch nahi dekha to kuch nahi dekha." If you haven't seen Kutch, you haven't really seen anything!
Kutch, with its arid landscape, colourful art forms, and unique culture, is one of the prettiest places to visit in India. Located in north-western Gujarat, bordering Pakistan and the Arabian Sea, Kutch makes for an interesting getaway for travellers of all kinds.
There are many wonderful places to visit in Kutch including the famous Rann of Kutch with its surreal landscape, the historical city of Bhuj, an intriguing UNESCO heritage site at Dholavira, and the majestic hills of Kalo Dungar. Hidden gems include Mandvi's pristine beaches, Nirona's craft village, and the colourful town of Gandhi nu Gaam that has risen like a phoenix after being completely devastated by the earthquake of 2001.
Do not miss an early morning safari at the Asiatic Wild Ass Sanctuary, only one of its kind in India. If you love shopping, be sure to head to Bhujodi where you will find all kinds of Kutchi handicrafts. Lippan mirror work, Rogan art, and Ajrakh prints are some of the most popular ones.
The easiest way to get to Kutch is by flying to Bhuj. You can also arrive at the Ahmedabad Airport which has more flight options and then take a train or bus to Bhuj.
The best time to visit Kutch is between November to February when the weather is pleasant. This is also the time when Kutch hosts the vibrant Rann Festival, a celebration of nature, people, and local culture.
Contributed by Soumya, a history buff and an avid traveller who loves to chronicle her experiences on her travel blog, Stories by Soumya.
Best places to visit in India in December
Kohima, Nagaland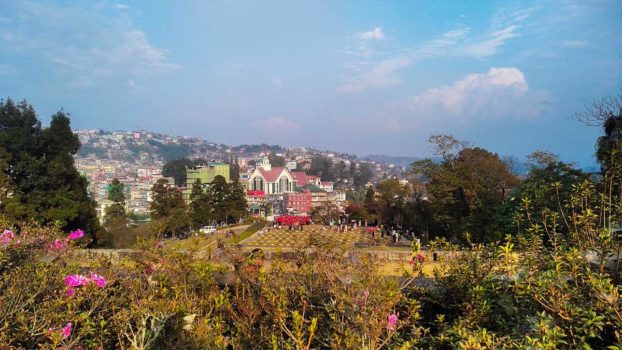 Kohima is a hill station located in the Kohima district of Nagaland in Northeast India. It is situated about 1,444 metres above sea level. Kohima is also the capital of the state. I consider Kohima one of the best places to visit in India because of its natural beauty, history and ethnic diversity.
Nagaland, home to 16 Naga ethnic groups, is the epitome of cultural diversity in India. Each ethnic group speaks a different language and dialect, and each have their own unique dress patterns and way of life.
If you wish to experience the culture of Nagaland, you must visit the Hornbill Festival organised in December every year by the government of Nagaland at Kisama Heritage Village. The village is just about 12 kilometres from Kohima.
One would be surprised to know that World War II was fought in Kohima. The Japanese forces were defeated there by the allied forces. The War Cemetery at the heart of the town is dedicated to their sacrifice.
Dimapur in Nagaland has a regional airport and a railway station. Shared cabs, buses or hired vehicles to Kohima can be availed from Dimapur.
The best time to visit Kohima would be from March to September for greenery and December for the Hornbill Festival.
Contributed by Joydeep Phukan, a travel blogger who writes travel stories and tips about adventure, food and culture of Northeast India and the world in his blog The Gypsy Chiring.
Sundarbans
Sundarbans is a fascinating place to visit in India, especially if you are interested in wildlife or want to learn about the mangroves and village life in this watery delta. As it is a unique ecosystem, Sundarbans is famous for many rare, endangered, and beautiful animals and birds. Sundarbans is the world's largest mangrove forest, and a completely unique place in India in terms of geographical features and culture.
Sundarbans is the only mangrove forest in the world where tigers are found. A tiger safari in Sundarbans is a very different experience compared to other national parks in India. Here, you will be searching for the elusive Royal Bengal tiger by boat. Plus, the tigers in Sundarbans are unique compared to other tigers as they can survive on salt water and can really swim. They have adapted themselves to hunt inside the swampy mangrove forest and they are smaller in size compared to other tigers. If you see a Royal Bengal tiger during your safari in Sundarbans, consider yourself to be extremely lucky. Due to dense forest and, since you can't get down on the land from your boat, tiger sighting is extremely difficult here. However, you must visit Sundarban for the experience.
Insider tip for Sunderbans wildlife safari: Keep an open mind while going to Sunderban and enjoy the scenic beauty rather than continuously looking for tigers during the safari. As I said earlier, getting to see a tiger in Sunderban is really tough (I have been to Sunderbans six times and got a quick glimpse of the elusive tiger only once).
The best way to experience the Sunderbans is to book a tour. It is not only easier in terms of planning, but also cost-effective.
The best time to go to Sundarbans is from October to April as the weather is extremely pleasant and you can enjoy the breeze while on the boat. The chances of seeing a tiger increase between February to April.
Contributed by Tanayesh Talukdar, who writes Shoestring Travel about travelling the world on a budget.
---
If you enjoyed this post, you can.
Sign up for Dispatches in the sidebar and follow Breathedreamgo on all social media platforms including Instagram, Facebook, Pinterest, and Twitter. Thank you!