India Tours and Travels: Let us show you the India that we love
Travel in India is not easy, especially if you're a first time visitor. Mariellen is a certified travel agent and has spent a total of 3 years travelling in India, over the last 12. She knows the country, the culture, and how to travel well in India. With India Tours and Travels, she wants to show you the India she loves. More magic and less madness! Your choices are:
India itinerary planning service
Join one of Breathedreamgo's custom, small group tours to India
Find a recommended travel & tour company on the Travel Resources page
---
India Itinerary Planning Service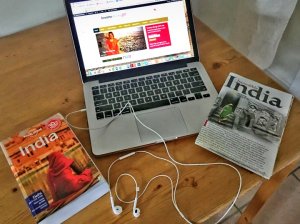 See India, your way — your style, your budget. Trip and itinerary planning is well worth the small fee if it saves you from making expensive, frustrating, and time-consuming travel decisions. This is especially true in India — where the learning curve for travel is very steep. It takes lots of time and experience to figure it all out, and Mariellen can help shorten the curve.
Read some testimonials on this page from five satisfied customers and contact Mariellen at info [@] breathedreamgo . com . A one-hour call is $50.00 USD, and you can send in questions ahead of time so that she can do some pre-call research on your behalf.
---
Breathedreamgo India Tours and Travels
We're creating custom tours to India, for small groups so that Mariellen can show you the India she loves. Each tour was designed by Mariellen with a leading travel & tour company to give you the best of both worlds: a unique, custom tour with a passionate India expert and the organization and backing of a leading travel company.
Tiger Tour with Pugdundee Safaris … and me
Seeing a tiger in the national parks in India was, hands down, one of my favourite travel experiences of all time. I loved this experience so much, that I want to bring you along with me! I am thrilled to announce that I will be offering a tiger tour to some of India's top tiger reserves, March 21 to April 2, 2018. You can learn everything you need to know about this tour by visiting Tiger Tour of India's National Parks here.
This is going to be a very special trip, a tiger tour with lots of extras. We will stay in Pugdundee Safaris award-winning lodges, be guided by their talented naturalists, enjoy delicious local foods, and take part in some very special, customized experiences – such as walking safaris, a boat ride, village visits, hiking, and one overnight camp in Satpura National Park.
At least 7 game drives, in Satpura, Bandhavgarh, Kanha, and Pench are guaranteed – which means your chances of seeing a tiger are excellent. I did a similar trip in Madhya Pradesh last winter, and saw 11 tigers! The national parks in India, are incredible, you will not be disappointed.
---
For more information contact Mariellen at: 

[email protected]
To book contact Ram Chandra Hembram at Pugdundee Safaris: 

[email protected]
---