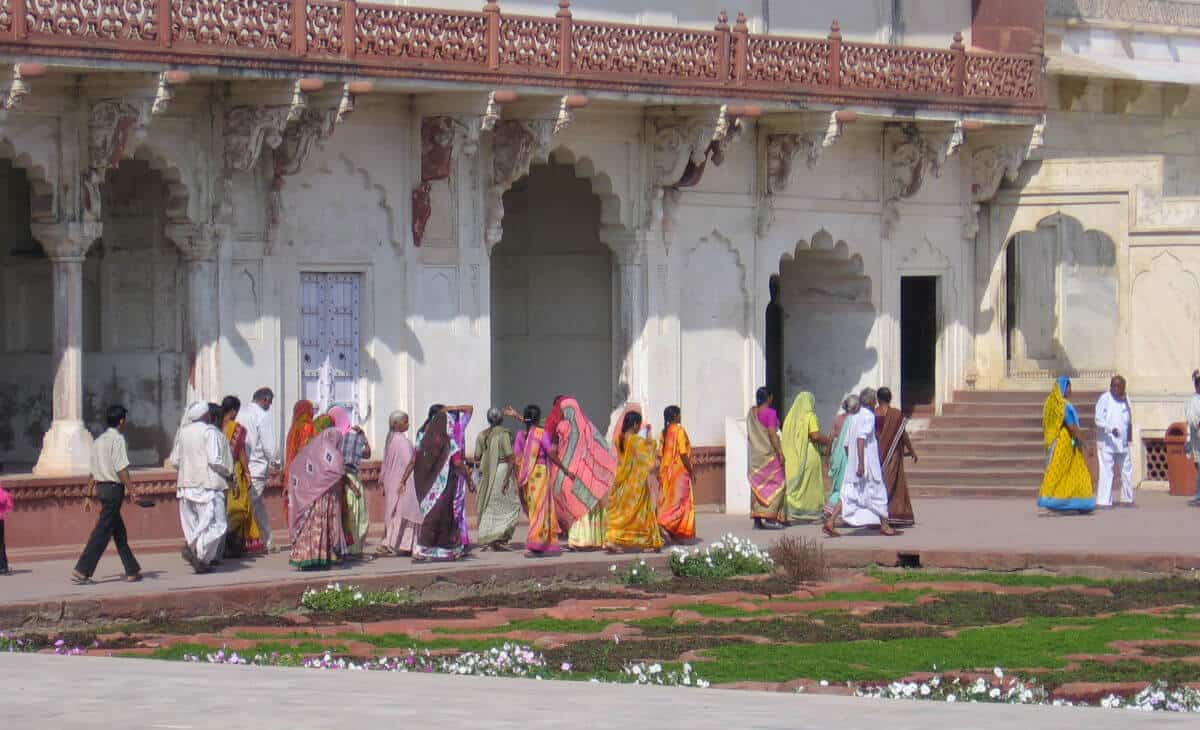 Tours to India: Let us show you the India that we love
TRAVEL IN INDIA is not easy, which is why I recommend taking a tour in India. And it's the reason I founded India for Beginners custom tours. We specialize in creating custom tours for first time visitors to India, and especially female solo travellers. India for Beginners is both for tourists new to India – and for anyone with a beginner's mind, who wants to see India in a new way.
We are dedicated to helping women travel safely and well in India, and we are committed to offering authentic cultural experience and a responsible travel approach that is sensitive to the impact on the environment and local communities.
We created India for Beginners Tours to show you the India we love – with more magic and less madness! With the India for Beginners Tours, you will see India, your way – your style, your dates, and your budget.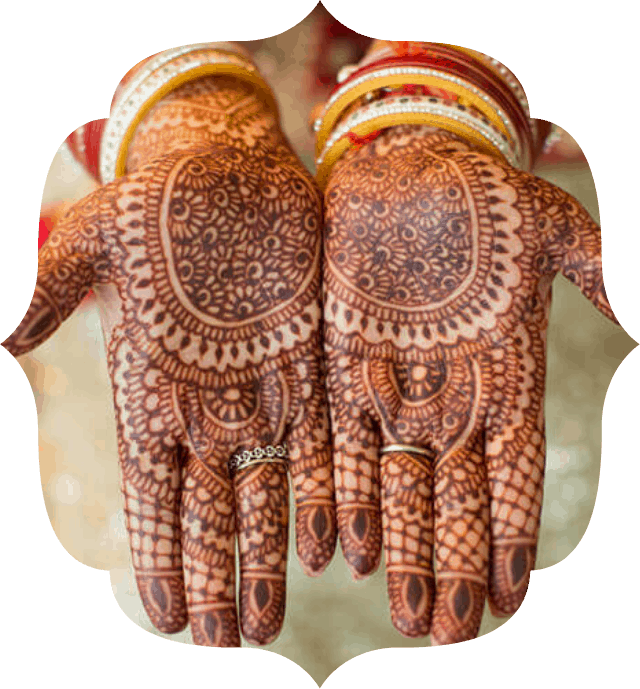 Come to India with us!
Are you dreaming of a trip to India? Come to India with India for Beginners custom tours, from Breathedreamgo and let us show you the India we love. With India for Beginners, we help you design a tour based on your interests, preferences, and budget. We pick you up at the airport and we are available by phone 24/7. We hold your hand in India!
FIND OUT MORE
There's a steep learning curve to travelling in India, and we can save you from making expensive, frustrating, and time-consuming decisions. It takes lots of time and experience to figure it all out, and we can help shorten the curve with our recommended tours to India.
---
IMPORTANT NOTES:
India for Beginners is owned and managed by BREATHEDREAMGO INDIA PRIVATE LIMITED, incorporated on July 28, 2020 by Ministry of Corporate Affairs, Government of India.
We will not arrange or condone any elephant rides on our tours.
---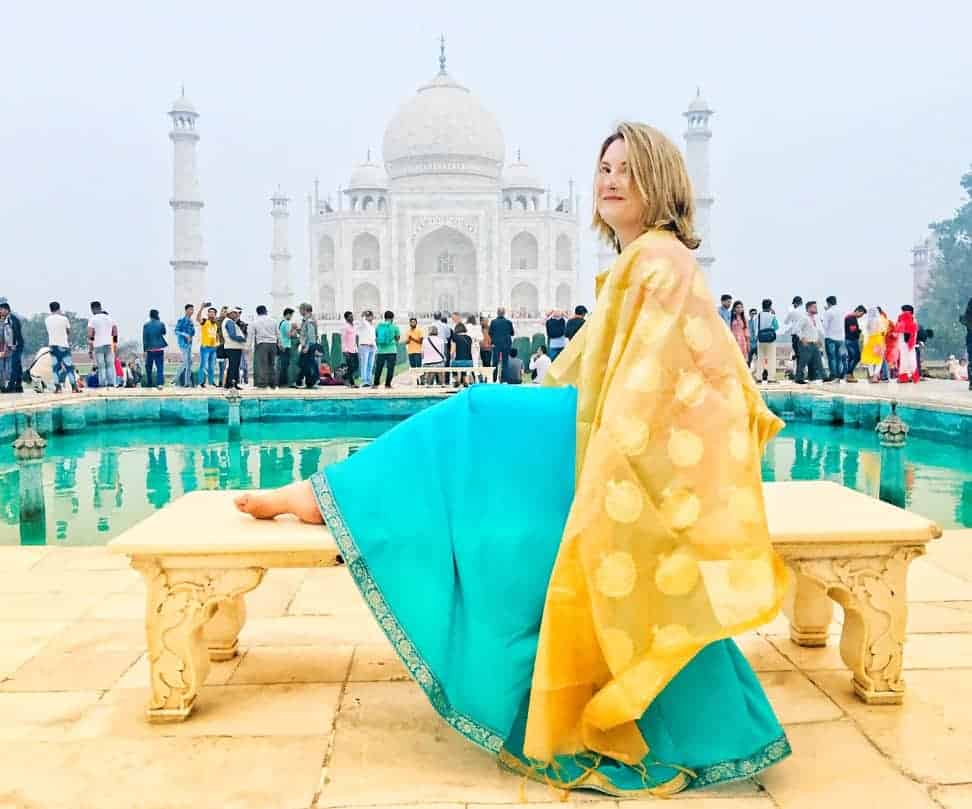 Why am I qualified to offer tours to India?
I've spent more than five six seven years travelling or living in India, over the last 13 14 17 years. I know the country, the culture, and how to travel well in India. I've also worked with the travel industry in India for many years. Currently, I live in Rishikesh, in the lower Himalayas – the Yoga capital of India. I am a certified travel agent (TICO certified in Ontario, Canada) and a certified Yoga teacher. With India for Beginners, I partnered with Anjani Nandan, who has more than 10 years' experience in the travel industry in India.
India for Beginners for first time visitors
If you want to travel in India, but feel daunted and don't know where to start, these India for Beginners tours are for you. We are currently offering three different India custom tour itineraries, designed especially for first time visitors to India, with women in mind, and female solo travellers, too.
We provide India travel tips and lots of support and extras such as airport pickup, carefully selected accommodations, and responsible tourism activities that support local communities and worthwhile organizations. With these India tours, we are combining a sustainable travel approach to itineraries designed specifically for people new to India travel.
When you book an India for Beginners Tour, you also get a one-hour telephone consultation with me to cover itinerary and trip planning, packing, travel tips and advice, and much more.
India tours that are safe and reliable
Having someone care for you while you are travelling in India is priceless. On these tours, someone will be available 24/7 while you are in India. We will meet you when you arrive in India, to brief you, and will help you get a SIM card and connect with you via phone and WhatsApp so you can contact us at any time.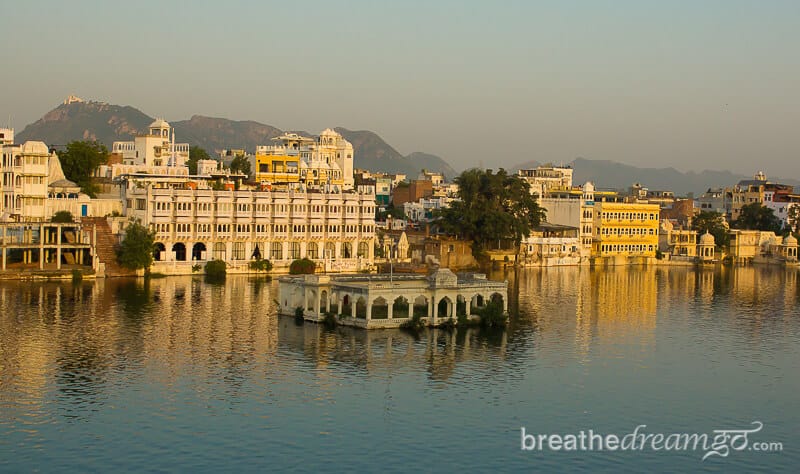 Land of Kings and Queens is about immersion into the world of classical India. This one is for people who want to see the India depicted in tourist brochures — the fairy-tale like forts and palaces, loping camels and dazzling peacocks. The itinerary includes diving into historic Delhi, visiting the Taj Mahal, exploring classical Rajasthan, and a sojourn at a very special heritage lodge. Click here for more information.
Captivating Kerala: Land of Sun and Spices is a South India tour of tropical Kerala, one of the most popular states in India and the one that provides tourists with a soft landing. The itinerary includes sun-swept beaches, the historic port town of Cochin, tea and spice plantations in the Cardamom Hills, Periyar Tiger Reserve, and a very special homestay that's immersion into spices, the cuisine of Kerala and village life. We will visit some of these Kerala destinations and these Kerala resorts. Click here for more information.
Yoga, Nature and Spirituality will show you a different side of India, giving you a more serene and green adventure. This one is for people who want a taste of Yoga in India, and also want to see some of the country's pristine forests, thriving with birds and animals. The itinerary includes Rishikesh, the Yoga capital of the world, Corbett Tiger Reserve, and Himalayan villages. Click here for more information.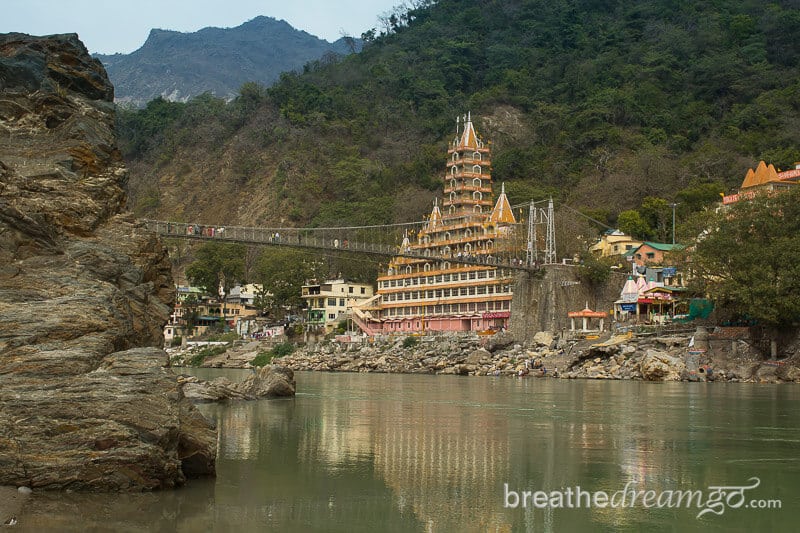 We can design the trips for every budget — 3 star, 4 star and 5 star — and will provide you the tour cost as per your preferences and budget. We can also customize the itinerary to suit your needs. Some accommodation options are suggested in the itineraries, however they will be based on budget and availability, and none are guaranteed.
Testimonials from guests
Vanessa R., from California, February 2020:
Vanessa R. traveled with us to Delhi, Jaipur, Rajasthan, and Rishikesh in February 2020. We caught up with her in Rishikesh and here's what she says about India for Beginners tours.
Jayne H, from Australia, May 2019:
My tour with Breathedreamgo completely blew my mind. They planned my trip with many emails prior to my Melbourne departure. They listened, picked out my interests, and made relevant suggestions. Mariellen chatted with me on the phone to answer all my travel queries, and planned a truly magical tour — tailored to me. I toured India alone and was so pleased to be met at the airport by a company manager, who introduced me to a wonderful, pleasant, calm, and extremely helpful driver. At each city, I was met by a very knowledgeable local guide, who opened my eyes to the wonder of the city — the amazing forts, monuments, palaces, and history. I loved every moment — and I have travelled a lot, and I'm very particular. If you're a woman who would love to see India, and you are hesitant — a little nervous and unsure — don't be. If the idea of India fascinates you, just go. My only problem is that I don't want to leave. I put my trust in the India for Beginners team and they delivered. Showed me a jewel on earth. I give them 10 out of 10 stars.
Betty Fox, from USA, March 2020
Betty and a friend traveled with India for Beginners to some off-beat locations in North India and for a tiger safari in Madhya Pradesh. We caught up with her on Delhi, as she was joining a group to hand out Days for Girls menstruation kits to women at a blind school.
Ziggy M., from Canada, March 2020
"A wise woman once told me that India is not a vacation, it's an experience. Wiser words could not be spoken.
"After we decided to go to India on the spur of the moment from Sri Lanka, we did some fast research on options. We knew we wanted to see the Golden Triangle and spotting a tiger had always been on our bucket list. We also knew that they were hundreds and hundreds of companies offering Golden Triangle tours. Referred by a friend, I was already familiar with Mariellen's amazing blog breathedreamgo.com. We reached out to Mariellen who helped build the perfect package for us. Working with her India for Beginners partner Anjani, we received a customized tour — Delhi-Agra-Ranthambore Tiger Safari-Jaipur — that exceeded our expectations. Their tour offered a private driver for the entire trip. The car was spotless, the driver professional and polished and very kind. In each city a local guide hopped in the car and escorted us through the major attractions. The driver and guide combination made sure we maximized time at each location and could avoid the inevitable 'hassling of the tourists'. Not only would they share the secrets of the sites, but they gave us glimpses into the real world of India, telling stories of arranged marriages and how they were brought up. Hotels didn't disappoint either; perhaps the best part was the full western/Indian buffet breakfast.
To top it all off we had a contact 24/7 to address questions should any issues arise. And lastly, before I forget to mention it, they knew I had an interest in photography and shopping and were only too happy to let me stop to take pictures and escort me into some fabulous markets. We loved every minute of his vacation and could not have imagined doing it without the help of Mariellen and Anjani. "
---
For a detailed itinerary, or for more information visit India for Beginners.
---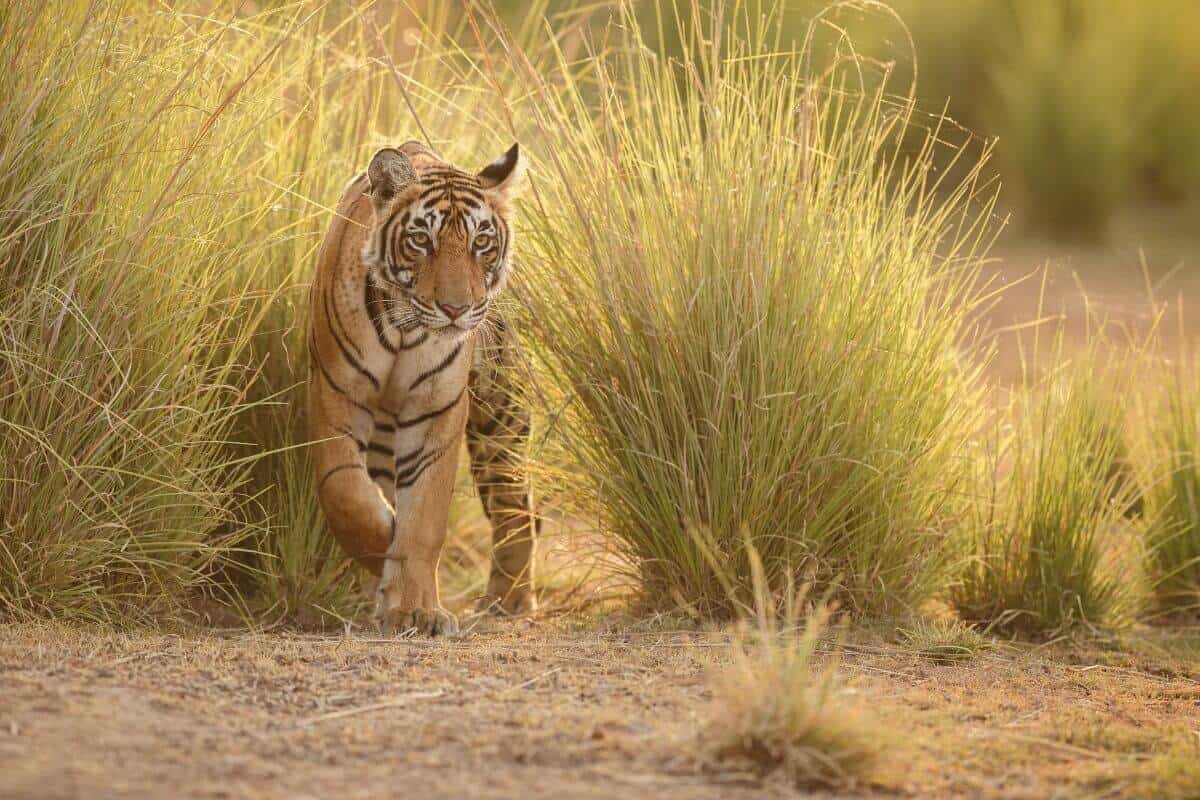 Wildlife and Tiger Tour
Wildlife tourism, and exploring the national parks and tiger reserves of in India, is my favourite travel activity. I am thrilled to offer a Wildlife and Tiger Tour to some of India's top tiger reserves as a custom tour. This is the trip of a life-time as you will be travelling with the top-rated safari lodge company in India, Pugdundee Safaris, and visiting the top tiger reserves in Madhya Pradesh – specifically Pench, Satpura, Kanha, and Bandhavgarh.
The Breathedreamgo Wildlife and Tiger Tour is organized and sold by Pugdundee Safaris, and was designed specifically for Breathedreamgo readers. I created this itinerary and have followed it twice – and I have seen 29 tigers in the past four years in Madhya Pradesh!
You can take this tour at your convenience, on the dates that suit you, and with the people of your choosing, or even alone, subject to availability. But remember to book at least four months in advance – these tiger reserves sell out! Click here for more details about the tour.
---
---
This is a very special wildlife and tiger tour with lots of extras. You will stay in award-winning lodges, be guided by talented naturalists, enjoy delicious local foods, and take part in some very special, customized experiences – such as walking safaris, a boat ride, village visits, hiking, and one overnight camp in Satpura National Park.
At least nine game drives are guaranteed, which means your chances of seeing a wide array of wildlife such as sloth bears, barasingha, wild dogs, and tigers are excellent. The national parks in India are incredible you will not be disappointed.
Seeing a tiger in the wild is on many peoples' bucket lists — but there is so much more to see and experience in India's national parks. It's about the entire experience of immersing in the jungles and forest of India, and learning about the trees, butterflies, and the diversity of animals – such as sloth bears, barasingha deer, golden jackals, wild dogs, and nilgai. And about the local culture, the indigenous people, the villages, and art forms. You can read about the diversity of India's animals here.
Yes, your guides will attempt to see tigers, but not to the exclusion of experiencing the culture and natural world of central India. There are only about 3,200 tigers left in the world, and 70% of them are in India. To see a tiger, you need three things: a good naturalist, a good opportunity, and of course good luck. On these tours, you will get the two things that are within control: good naturalists and a good opportunity. Kanha and Bandhavgarh are two of India's top tiger reserves, and two of the best places in the country to see tigers. So, you will definitely be in the right place!
Note: If you're looking for a honeymoon package in India, consider the Wildlife and Tiger Safari Tour.
---
For a detailed itinerary, or for more information visit India for Beginners.
---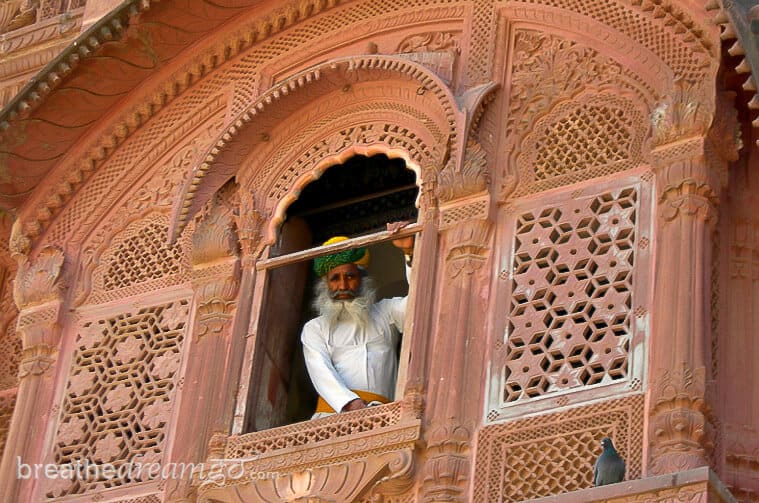 India for Beginners Tours Philosophy
India for Beginners Tours are for people who have a genuine desire to see and experience India. The tours are for those who are open-minded, adventurous, and not afraid to welcome new experiences, cultures, ideas, and ways of life. They are for travellers who love to go off-the-beaten path and have authentic cultural experiences. And they are ideally designed for people who have a daily spiritual practise, such as yoga or meditation.
India for Beginners Tours are for people who are flexible and willing to adjust – people who understand that things do not always go as planned in India. There is a certain amount of trust involved in travel in India: trust that the "right thing" will happen, even if it's not the "planned thing."
India is a very special place – however, it is not always an easy or a comfortable place. To enjoy the experience of travel in India, you have to adjust your expectations. Things do NOT go as smoothly or efficiently as they do in my home country, Canada, for example. The more flexible you can be, the better. "Go with the flow" is the best attitude you can have.
It's also important to leave pre-conceived ideas about India at home. India is an extremely diverse country – and for almost every statement you can make about it, the opposite is also true. "All life is here," as the saying goes.
India for Beginners Tours are not for everyone. But for those who want to experience the magic of India, we encourage you to take the leap …
---
If you enjoyed this post, you can….
Sign up to The Travel Newsletter in the sidebar and follow Breathedreamgo on all social media platforms including Instagram, TripAdvisor, Facebook, Pinterest, and Twitter. Thank you!