Top bloggers share their 18 favourite India landmarks and monuments of India
I'M A SUCKER FOR India landmarks. Whenever I see India Gate in Delhi, the Gateway of India in Mumbai, the Taj Mahal and other monuments of India, I always get a thrill. These structures are symbolic of the country and never cease to remind me that I am actually living my travel dreams, and exploring the country that continues to fascinate me after 12 13 years.
I'm also fascinated by the history of these India landmarks: how they changed over time and how they represent different epochs of Indian history and different values. Many of the well-known monuments of India were built by the Mughals and the British, for example, but they've been completely incorporated into modern Indian culture. This interactive tool from Expedia reveals images from past and present for 12 India landmarks ranging from Amritsar Golden Temple to Darjeeling Mall to Delhi's Connaught Place. It's quite eye-opening to see how they, or their surroundings, have changed over time.
Here, some of India's top bloggers, plus a few international bloggers, share their favourite India landmarks, such as the Konark Sun Temple, and what they mean to them. Also, check out the 24 Best places to visit in India.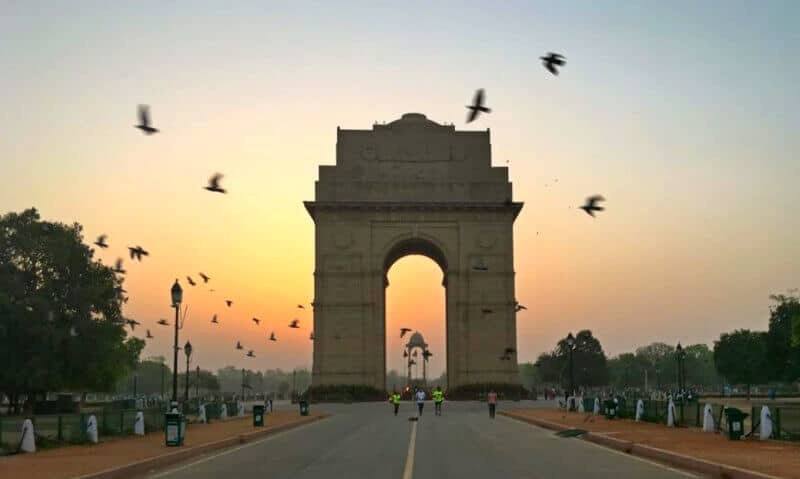 1. India Gate, Delhi
India Gate is one of the primary symbols of India, and it stands in the centre of the nation's capital, New Delhi. It was designed by the architect of New Delhi, Sir Edwin Lutyens. India Gate is a war memorial dedicated to honor the soldiers of the Undivided Indian Army who died during World War I, between 1914 and 1921. It was originally named All India War Memorial, and though it is a war memorial, the design is similar to the Arch de Triomphe in Paris, France.
Though it was designed by a British architect in 1921 to be part of the new capital of the British Raj they were building in Delhi at the time, it is today a beloved symbol of India and a favourite monuments of India. Families and couples flock there on the weekend to stroll, eat ice cream and of course take selfies. The empty cupola that sits behind once held a statue of King George. It stands in mute testimony to the victory of the freedom movement, the retreat of the British, and the independence of India.
I always enjoy driving past India Gate for the first time after my most recent arrival in India. (Now up to 10 trips – which means 10 drives past India Gate!) It always makes me realize I am really back in India. Last year, at the end of trip number nine, I finally achieved a dream and got up at 5:30 a.m. to be at India Gate at sunrise. It is a magical time, as the sun shines right through the arch, signalling new day and new possibilities.
Timing: 24 hours a day, all days of the week
Entry fee: None
How to reach: India gate is easily accessible from all parts of New Delhi by road and can be reached by bus, taxi, and auto. The nearest metro station is Central Secretariat (yellow and violet line lines junction).
Mariellen Ward is the publisher of Breathedreamgo.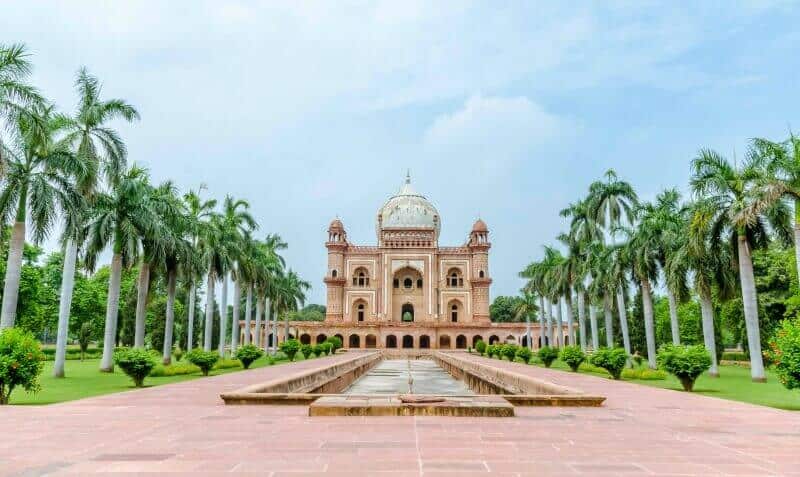 2. Safdarjung's Tomb, Delhi
On a walk in the surprisingly green area of Delhi, I ogled in disbelief at the great onion shaped dome of the tomb of Safdarjung. Safdarjung's Tomb was built in memory of Mirza Muqim Abul Mansur Khan, who was the Nawab of Avadh and was popularly known as Safdarjung. The tomb's construction was completed in 1754 by Nawab Shuja-Ud-Daula, Safdarjung's son.
Safdarjung's Tomb is the last monumental tomb garden built by the Mughals. The gardens are designed like a Charbagh (four gardens) – divided into four squares, pathways and tanks which are further divided into smaller squares. The effect of the perfect symmetry is almost enchanting, and even surreal at times.
This exquisite monument is built on a raised platform that lies in the centre, surrounded by manicured gardens that are well maintained. At the end of each square garden, there are private pavilions with names like Moti Mahal, Badshah Pasand, and Junglee Mahal.
Marble and red sandstone has been used in the construction of this structure. There's a dilapidated mosque with three domes that stands neglected in a corner. With a fewer number of visitors compared to the celebrated monuments in Delhi, Safdarjung's Tomb is a must visit for the heritage and history lover. One of the best monuments of India in Delhi.
Timing: Sunrise until sunset
Entry fee: INR 100 foreign tourists, INR 5 adults, plus camera fee
How to reach: Safdarjung's Tomb is located in Central Delhi. The closest metro station is Jor Bagh on the yellow line.
Shubham Mansingka is a professional travel blogger from India with an avid interest in photography, culture, trekking & food. He blogs at TravelShoeBum.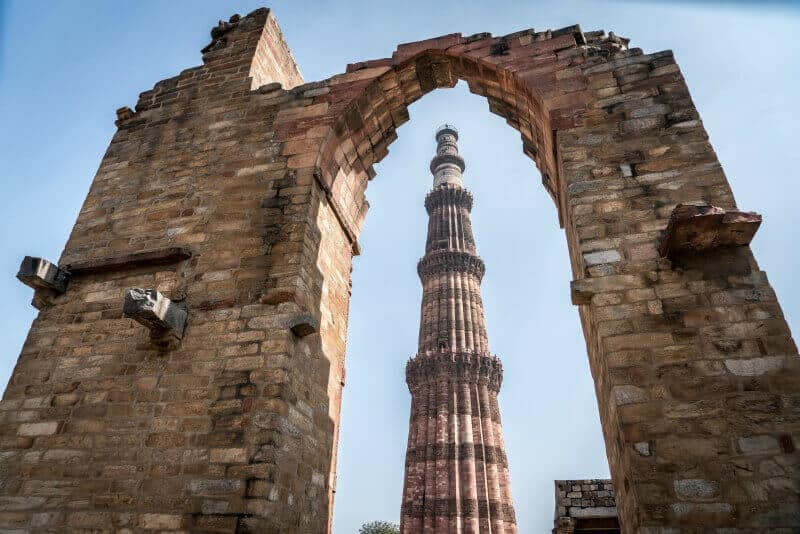 3. Qutb Minar
During my first trip to India, I visited all of the UNESCO World Heritage Sites in the Delhi region. Of all the sites I visited I was most impressed with the hard to pronounce Qutb Minar (aka Qutab, Qutub).
Qutb Minar is a massive minaret which was constructed in the 13th century by Qutab Ud-Din-Aibak, founder of the Delhi Sultanate. (Hence the name: Qutab's Minaret). The minaret had the top levels destroyed and rebuilt several times over history, but it still remains one of the largest and impressive towers dating back to that period of time.
The entire Qutb complex is more than just the minaret, however. You can also explore the Quwwat-ul-Islam Mosque and the Iron Pillar of Delhi, which may date back to 1,000 years before the construction of the minaret.
Timing: Sunrise until sunset
Entry fee: INR 500 foreign tourists, INR 30 adults
How to reach: Qutb Minar is part of the Qutb Minar Monument Complex, located in Mehrauli, South Delhi. The nearest metro station is Qutb Minar on the yellow line, and from there you can hire an auto.
Gary Arndt has been traveling the world for over 10 years and has visited many of the UNESCO World Heritage Sites in India.
India Landmarks: North India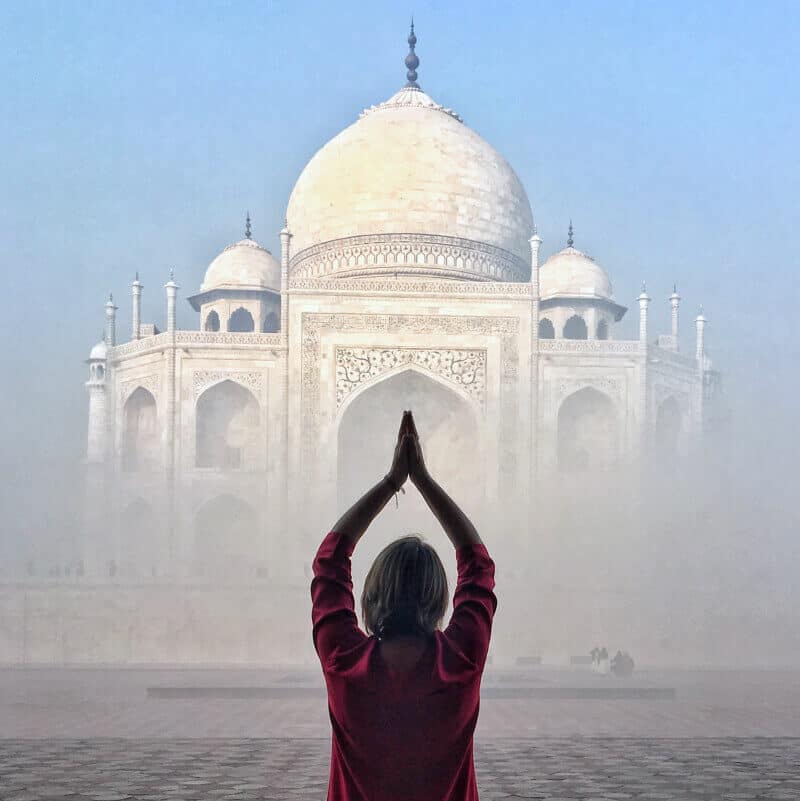 4. Taj Mahal, Agra
The Taj Mahal is of course the symbol of India, and a prominent item on many bucket lists. It's called the world's most beautiful building, and many gape in awe when they first behold it. It's partially because they can hardly believe they are seeing something so famous in real life. But it's also partially because it really is spectacular — and much bigger than most people expect.
I've seen it four or five times and I still feel that sense of euphoria when I walk through the huge red gate. It's definitely worth the trip to Agra — though you may want to also read this post about "the other Agra," with suggestions for off-the-beaten path things to do. My top tip is to get there just before it opens, at about 6 a.m. Way less people in line. Also, bring only a small bag with money, passport, water bottle and camera. There is a LONG list of items you cannot bring into the Taj Mahal. I once had a notebook confiscated.
And, finally, read up on the history of the Taj Mahal and the current controversy surrounding it. The building plays a pivotal role in Indian history.
Timing: 6 am to 7 pm. Closed on Friday. Full moon tickets are also available. Click here for purchasing online tickets in India.
Entry fee: INR 1,000 foreign tourists, INR 40 adults, free for children under 15 years of age.
How to reach: Agra is easily accessible from Delhi by train and car. Driving on the Yamuna Expressway takes only about 3 hours. There are many trains each day from Delhi to Agra — I recommend the Shatabdi Express trains. There's also a new train, the Gatimaan Express, that takes just 1.5 hours and runs between Nizamuddin Station and Agra every morning, except Friday.
Mariellen Ward is the publisher of Breathedreamgo.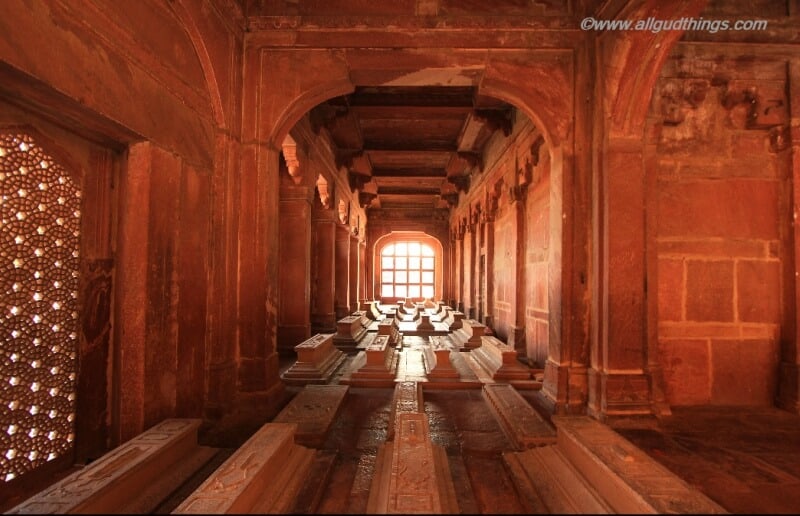 5. Fatehpur Sikri
Fatehpur Sikri is a 16th century city that was built by Mughal Emperor Akbar to honour Saint Salim Chisti. The red sandstone city is a perfect example of the architectural legacies of Akbar and is on the UNESCO world heritage list.
Fatehpur Sikri was the first planned city of the Mughal Empire. The city has huge fortified walls surrounding the grandiose complex. The architecture inside the complex is a perfect fusion of cultures and the whole construction was completed in a span of 16 years. The complex features a huge majestic entrance gate, the royal palace — Panch Mahal for housing several Queens — the royal chamber of the Emperor, Diwan-I- Khas, Diwan-I-Aam, Jodha Bai Palace, several courtyards, a white Saint Chisti mosque in the centre and Hiran Minar.
The Saint Chisti Mosque is made up of white marble and it looks magnificent when the light of the sun falls on it. The passageway around the tomb of the Saint is covered by carved intricate jalis (stone screens) forming several beautiful geometric designs.
Fatehpur Sikri was meant to be the capital of the Mughal Empire, but it was deserted before the court moved in due to a shortage of water supply and other resources. Today, the city is perfectly preserved by ASI and stands as a ghost town. Fatehpur Sikri is a masterpiece in sandstone, which glows in pink and red shades as the day progresses and light fades. Highly recommended add-on to a visit to the Taj Mahal. It takes about half a day in total, including driving to and from Agra if you are staying there.
Timing: Sunrise to sunset
Entry fee: INR 510 foreign tourists, INR 40 adults, free for children under 15 years of age
How to reach: Fatehpur Sikri is 210 kilometres from Delhi and 36 kilometres from Agra. It can be reached via bus, cab or train. Bus and train are most economical whereas cab is the most convenient.
Suruchi & Tashi are couple travel bloggers from Delhi who are passionate to travel and see the whole world. You can check their travel guides, adventures, and reviews at AllGudThings.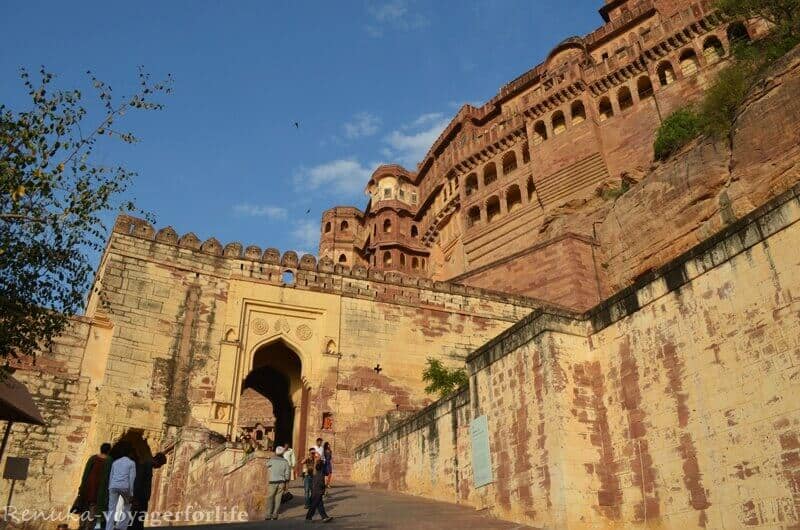 6. Mehrangarh Fort, Jodhpur
I'm fascinated by Rajasthan, and one of the most impressive sites that I have been to is Mehrangarh Fort, built in 1460 by Rao Jodha, in Jodhpur. The first thing that captivated me about this fort was its massiveness. It is huge!
For someone like me who loves to take pictures, it was bait. What I truly loved about Mehrangarh Fort was that it's not just a fort. It has so much to offer – there are temples, museums, art galleries, shops, and restaurants on the premises. Also, there are people who live in different portions of the fort, so you can see their daily activities, too.
I'd advise you to reserve plenty of time for Mehrangarh Fort, because you'll definitely want to explore every bit of it. The walk from the main gate to the top of the fort takes quite a bit of time, and it's beautiful! You can have an overview of the Blue City (the cluster of blue houses) and a distant view of Umaid Bhawan Palace from the top.
And, as I mentioned earlier that Mehrangarh is so massive, it is an obvious landmark of Jodhpur. It can be seen from different viewpoints of the city. I have fond memories of catching its view from my hotel's rooftop. Do I need to say that it's an excellent spot for sunsets, too?
Timing: 9 am to 5 pm
Entry fee: INR 500 for foreign tourists with audio guide (highly recommended!), INR 150 adults with audio guide, INR 30 for children and senior citizens.
How to reach: Mehrangarh Fort stands prominently on a hill in the centre of Jodhpur. It can be reached by auto or taxi.
Renuka Walter is a solo traveler who likes to follow her heart and travel as much as possible. She blogs at Voyager for Life.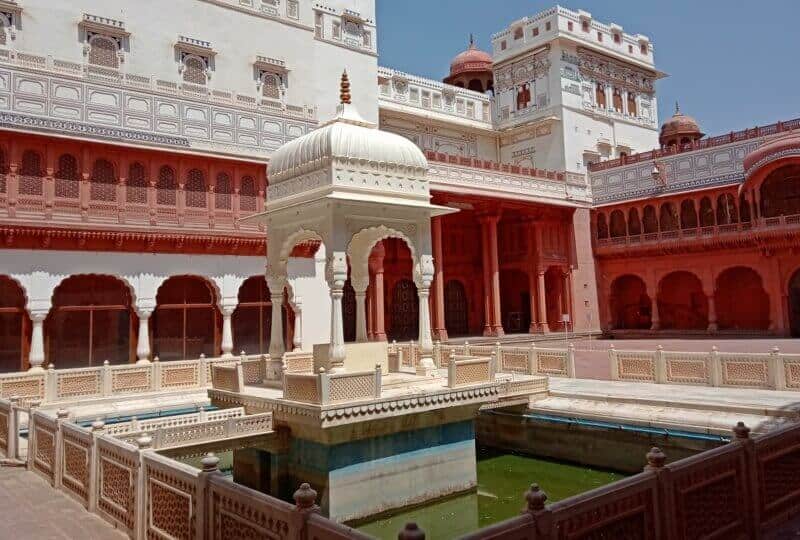 7. Junagarh Fort, Bikaner
Junagarh Fort, originally known as 'Chintamani,' was a big surprise for me. As someone who is not impressed easily by history or architecture, my plan was to spend a full 20 minutes there. Of course, the reality was that I ended up roaming around the fort in awe for more than three hours.
Junagarh Fort depicts different eras in history, as various rulers built and personalized small portions. You feel like you are walking through a time machine as you marvel at the stunning grandeur of each era.
My favourite part of the tour was comparing every era, and how the tile designs and other style details varied and changed from period to period. Plus, needless to say, it makes for some excellent photo backdrops, putting it right up there on my list of top Instagram worthy spots of Bikaner!
Timing: 10 am to 4:30 pm
Entry fee: INR 300 for foreign tourists, INR 50 adults, INR 30 students
How to reach: Junagarh Fort is located in Bikaner near Sursagar on Junagarh Fort Road. You can easily reach by RSRTC bus, local bus or local taxi.
Jyotsna Ramani is a professional wanderer and avid writer. She loves putting pen to paper and jots down her worldly escapades on her blog WanderWithJo.com.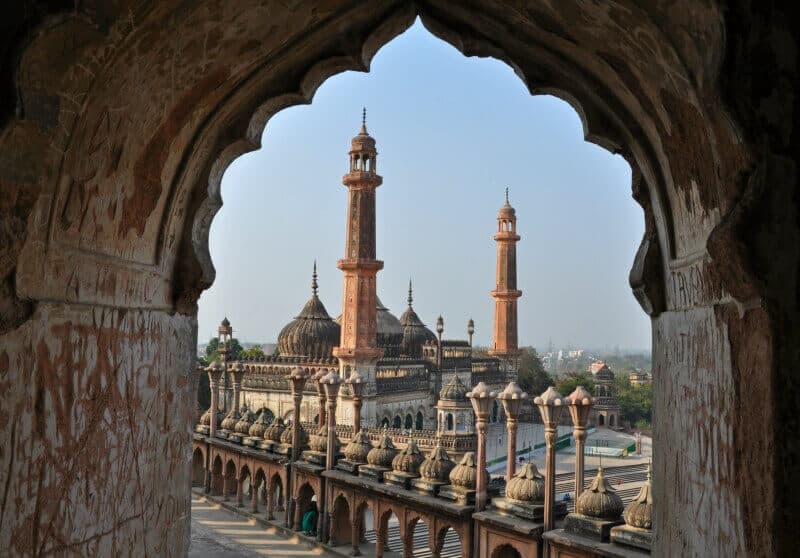 8. Bara Imambara, Lucknow
We are so used to the monuments we hear about in India, we have seen pictures, read blogs and travel articles, sighed over photo-shopped Instagram images and so in a way have become inured to their magnificence. But just occasionally one visits somewhere that literally overawes, this for me was the Bara Imambara in Lucknow. This was a destination I said I would not visit again, having been disappointed in 1999 however, I revisited last year and was made to eat my words! Having seen sights that charmed in Lucknow, it was mentioned that the next stop was the Bara Imambara. This in no way prepared me for the experience which followed. It's a phenomenal building which will, quite literally, take your breath away.
A little bit of history: Bara Imambara was commissioned, to the highest bidder, or maybe the lowest, Hafiz Kifayat Ullah, an architect from Shahjahanabad back in 1784 and it took 14 years to complete. Now for those of you who don't know what an Imambara is, it is a hall where Shia Muslims come together for various ceremonies. Of course, this one being commissioned by the Nawab of the day to provide employment during a time of great drought, it had to be big, and impressive hence the name Bara (big) Imambara (or one of the reasons anyway). And it is.
The challenge given to the architect was to make the main hall column free but still rather huge – 50 metres long, 16 wide and 15 high. It's one of the largest structures of its kind in the world. Naturally this posed a conundrum to him, but he found a solution and this I shamelessly have to admit, not being an architect, to Wikepedia: "There are eight surrounding chambers built to different roof heights, permitting the space above these to be reconstructed as a three-dimensional labyrinth with passages interconnecting with each other through 489 identical doorways. This part of the building, and often the whole complex, may be referred to as the Bhulbhulaya. Known as a popular attraction, it is possibly the only existing maze in India and came about unintentionally as the method by which to support the weight of the building." Not bad eh?
This labyrinth is now one of the major attractions of the Imambara due to the huge number of interconnected passageways which lead to nowhere, well, apart from another passage. Taking a guide is highly recommended! It is quite easy to get lost, however, many of these passageways open into windows which give you fabulous views over the complex and some also take you up on the roof. Oh, and watch out for the acoustics too – they are impressive. There is so much more to write, but I am limited by word count so suffice to say, go, visit, you will not be disappointed!
Timing: Sunrise to sunset.
Entry fee: INR 500 for foreign tourists, INR 25 adults. You can book online here through the UP Tourism website.
How to reach: You can opt for buses, taxis, auto rickshaws and cycle rickshaws from any part of Lucknow. The local bus can be taken from the Alambagh bus stand, and goes directly to the Imambara.
Philippa Kaye has been a specialist in travel to India since 1997. She currently lives in Delhi where she consults for travel companies specialising in India. Her job has her on the road a lot and the result is her blog Memsahibinindia.com.
India Landmarks: Mumbai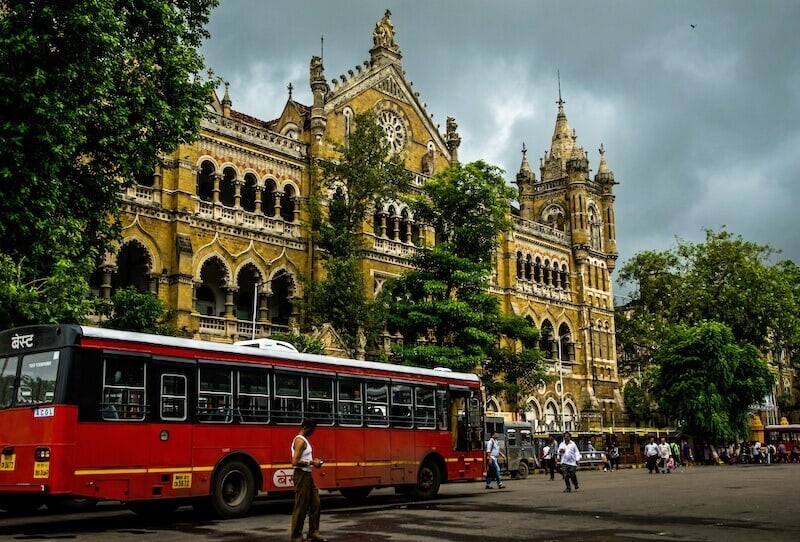 9. Chhatrapati Shivaji Maharaj Terminus
More affectionately known by the initials of its previous name, Victoria Terminus, VT has been through no less than three name changes since its construction by the British in 1887 for Queen Victoria's Golden Jubilee. It's also not the first railway station to have stood on the spot: prior to its construction, another railway station by the name of "Bori Bunder" had served this coastal stretch of Mumbai and saw the first passenger rail service in India run in 1853 from this station to Thane. In 1996 the station was renamed from Victoria Terminus to "Chhatrapati Shivaji Terminus" and then again this year to "Chhatrapati Shivaji Maharaj Terminus."
Regardless of its name, this beautiful station has long been drawing crowds both inside and out for many years. It serves as a terminus for both long distance and commuter trains into Mumbai. Not only is it India's busiest railway station, but reportedly one of the busiest in the world. The Victorian gothic style architecture is famous and well-photographed from the outside, but just as beautiful is the station's ticket hall inside, with its arches, stained glass windows and dramatic pillars. Don't forget to look up for a classic view of the ceiling as you pass through.
Timing: 24 hours a day, all days of the week
Entry fee: None
How to reach: The main train station of Mumbai, Chhatrapati Shivaji Maharaj Terminus is located in Colaba, the commercial and tourist hub of South Mumbai. You can reach by train (obviously) or by local transport.
Follow soul travel blog for responsible travel tips, and inspiration on how travel can have a positive impact around the world.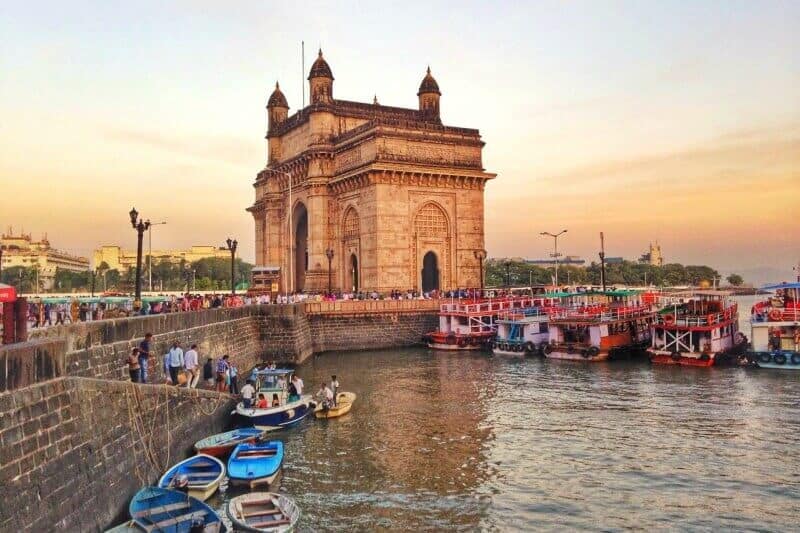 10. Gateway of India
Standing tall with the Arabian sea crashing on one side and the iconic Taj Mahal Palace Hotel on the other, the Gateway of India is one of the city's most attractive tourist spots. Built in 1924 after four years of construction to memorialize the visit of King George V and Queen Mary in 1911, the monument certainly is the gateway to one of India's most fascinating cities.
For me, the Gateway of India is THE symbol of Mumbai because of the amount of time I've spent there, from school trips, to dining at the Taj Mahal's famous Sea Lounge (which has the best view of the monument), to public festivals and events.
You can easily find the Gateway of India in the heart of Mumbai – and old Bombay – perched at the southern end of Apollo Bunder in Colaba, opposite the Taj Mahal Palace Hotel. There is no charge to visit, and you can wander about as you like, taking in its glorious majestic view from all angles. It makes for some of the best photo opps, especially at sun rise and sun set. It's also where you can catch a ferry to the island of Alibaug or even the famous Elephanta Caves (one of India's UNESCO World Heritage sites).
One of the most significant aspects of this structure, and something I find beautifully ironic, is that while it was built to welcome the British monarchy, it is also through this very gate that the last of the British troops left the city and the country.
Timing: 24 hours a day, all days of the week
Entry fee: None
How to reach: Prominently located on the seawall in Colaba, South Mumbai, opposite the Taj Mahal Palace Hotel.
Roxanne Bamboat, also known as The Tiny Taster is a prominent food and travel blogger in Mumbai.
India Landmarks: Central India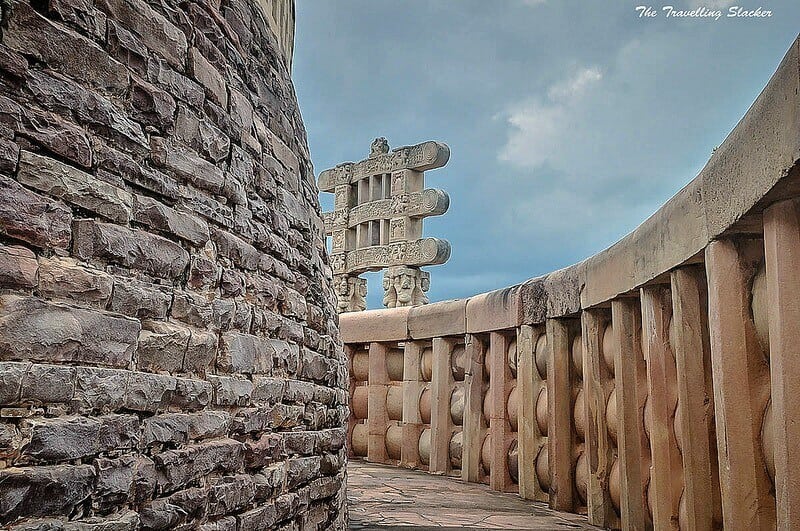 11. Sanchi Stupa, Madhya Pradesh
The Sanchi Stupa is not only a UNESCO World Heritage Site, but is also an iconic symbol of ancient India that has even made its way onto Indian currency notes. It was originally built by Emperor Ashoka the Great in the 3rd century BCE, which was the golden age of Buddhism in India. It flourished for more than 1,000 years, but then gradually lost prominence and went into oblivion in the middle ages. Thankfully, it was rediscovered by the British in the 19th century and now it has been restored to its former glory. The complex has many smaller stupas and relics apart from the main stupa. Merely absorbing the intricate sculptures on the toranas (gates) will take you the whole day.
Sanchi is 46 kilometres from Bhopal. The nearest town and railway station here is Vidisha. If you want, you can also explore other lesser known sites in the region such as the Udayagiri Caves, Heliodorus pillar, and Bija Mandal.
Timing: Sunrise to sunset.
Entry fee: INR 250 for foreign tourists, INR 10 adults, children free up to 15 years of age.
How to reach: Nearest airport is Bhopal. Sanchi is 55 kilometres north-east of Bhopal airport.
Jitaditya Narzary is mostly seen in the Himalayas but during the harsh winters he comes down to the plains and becomes a relic hunter. He wrote about Sanchi Stupa on his blog Travelling Slacker.
12. Khajuraho Group of Temples
The first thing that comes to your mind when you enter the portals of Khajuraho are the erotic carvings. Men and women sculpted in stone in various forms of lovemaking, letting go of their passions. But there is more to this UNESCO World Heritage Site than these carvings. Built more than 1,000 years ago by the Chandela Rajputs, there were over 85 temples here, but only 22 stand today. The Western Group of Temples is the most popular group. My favourite is one of the oldest, which is the tantric Chausath Yogini temple, though you hardly see any Yoginis there. But there is a mysticism that pervades the empty shrines. Standing there and watching the sunset, I wonder what made the Chandelas build these temples. Some thoughts here in this post about Khajuraho.
Timing: Sunrise to sunset. You can watch the spectacular Sound and Light show in the Western Group of Temples after sunset, for a separate fee.
Entry Fee: INR 500 for foreigner tourists, INR 30 for adults
How to reach: You can fly to Khajuraho from Delhi or Varanasi or take a train.
Lakshmi Sharath is a travel blogger and writer from Bangalore and story telling is her forte.
India Landmarks: South India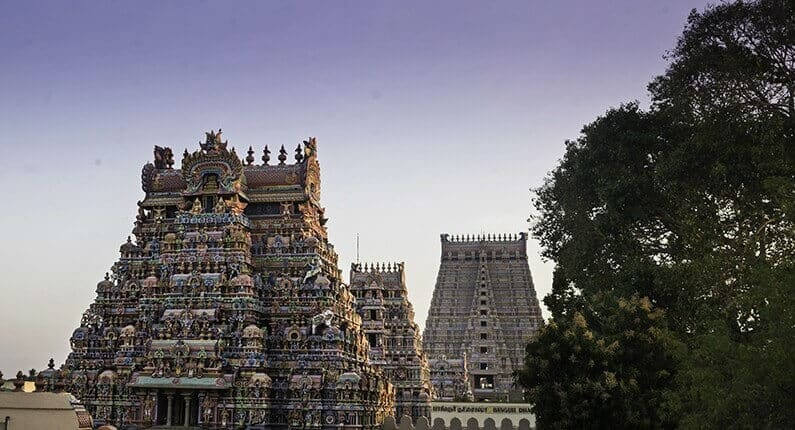 13. Srirangam Temple
I am often worried about visiting the famous temples of India because of irresponsible crowds, separate VIP lanes, and dirty floors (due to the left over offering). However, Sri Ranganathaswamy Temple, also known as Srirangam Temple, is such a beautiful work of art that it was hard to resist a visit. The temple occupies an area of 156 acres, which is large enough to get lost in the beauty, history, and mythological stories of the temple.
The story goes: the deity of Sri Ranganatha was first worshiped by Lord Brahma. The deity was later given to King Ikshvaku to worship, and he brought the deity to his capital, Ayodhya. Eventually Lord Rama worshiped Sri Ranganatha. When Vibhishana, the brother of Ravana, came to Ayodhya, he requested permission to take Sri Ranganatha to his capital in Lanka to worship. He was allowed to do so on the condition that if he placed the deity on the ground, he would not be able to move the deity from that spot. Vibhishana agreed and proceeded to carry the deity south to Sri Lanka. On his way, he placed the deity on the ground at Srirangam and that's how the beautiful temple of Sri Rangam came to existent.
The Srirangam temple complex follows the Dravidian style of architecture. It is one of the most illustrious Vaishnava temples in South India, rich in legend and history. The temple is enclosed by seven concentric enclosures with courtyards, and it is supposedly the largest functional Hindu temple in the world.
Timing: Sunrise to sunset.
Entry fee: None
How to reach: Srirangam temple is approximately 12 kilometres from Tiruchirappalli, which is well connected to Chennai, about 315 kilometres away. One can hire a taxi or rickshaw to reach to the temple.
Deepti Asthana is an award winning travel and documentary photographer based out of Mumbai.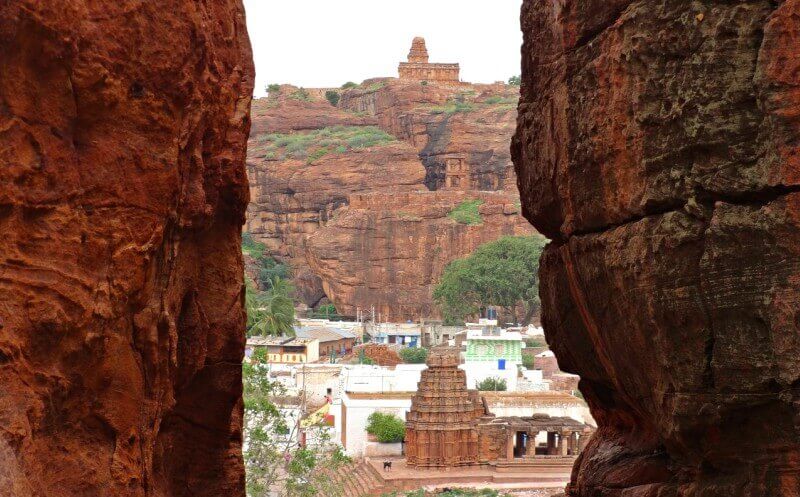 14. Badami Cave Temples
I will always remember being blown away by the Badami cave temples, just three hours from Hampi. This was the location of the empire of the Chalukya's back in 500 AD. The name Badami comes from the world "badam," which means almond, a nod to the color of the sandstone. Because Hampi is so popular for temples, not many tourists venture to Badami making it feel like a little secret world of caves and temples. The complex looks over Agastyatirtha Lake making for an amazing view and ideal place for photography. I suggest hiring a local official guide here so you can learn about these temples and hear stories about Vishnu, Shiva, Krishna, and Parvati which are written on the walls of the temples. If you have time, wander through the small town here which has very uniquely bright colored homes and was so much fun to meet the little kids and take pictures.
Timing: 6 am to 6 pm
Entry fee: INR 200 for foreign tourists, INR 15 adults, children free up to 15 years of age.
How to reach: The Badami caves are 5 kilometres from the Badami railway station. A bus from just outside the station will drop you at the city bus stand, and the caves are within walking distance.
Rachel Jones is a travel writer who has been living and traveling in India for almost five years. You can check out her blog, Hippie in Heels.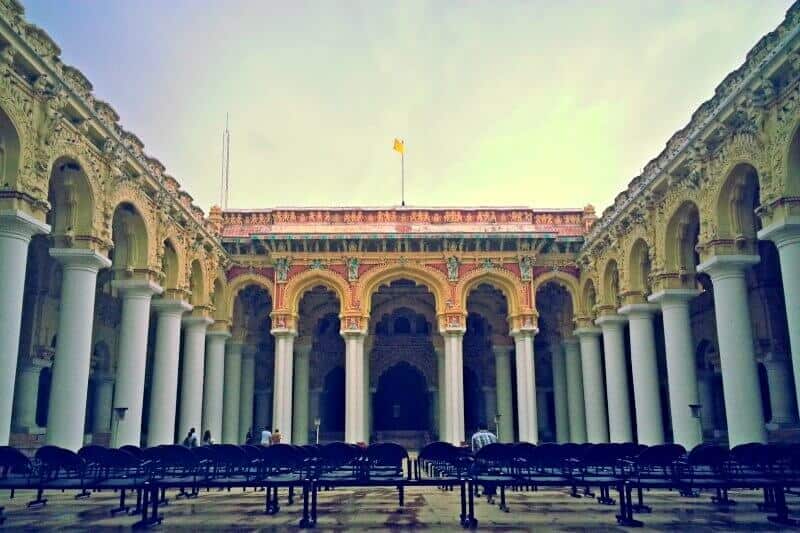 15. Thirumalai Nayakkar Palace, Madurai
Madurai is the second largest city in the state of Tamil Nadu. It is famous for its jasmine variety (but honestly, I hate flowers so I'll let this one pass).
My favourite landmark in Madurai is undoubtedly the Thirumalai Nayakkar Palace built by the 17th century King Thirumalai Nayak. What remains today is only a portion of what was originally there, but the architecture of the existing palace will blow you away. Don't miss the intricate workmanship on the roof of the palace and the huge pillars that can be seen in many an Indian film song sequence. I highly recommend visiting the palace during the day to see the artistry of the workers who built the palace and also again in the evening for the light and sound show.
The story of King Thirumalai Nayak, told with just sound and lights, will surely leave you speechless. As an Indian with Tamil (or Tamizh) roots, it just made me feel all the more proud. It led me to delve deeper into the history of the Tamils (Tamizh), and what I found was astounding: There is proof that many civilizations around the world had links to the Tamil (Tamizh) culture.
When in Madurai do make it a point to visit the Thirumalai Nayakkar Palace, you will not be disappointed.
Timing: Opening hours during the day –
9 am until 5 pm
Entry fee: INR 50 for foreign tourists, INR 10 for adults, INR 5 for children, free for children below age 5. Camera charge is extra.
Light and sound show:
Timing:
6.45 pm to 7.30 pm
English show: INR 50 for adults, INR 25 for students and children
Tamil show: 8
pm to 8.50 pm
Entry fee: INR 25 for adults, INR 10 for students and children
How to reach: This monument is located in the heart of Madurai city, a short ride from the Madurai Railway Station. You can reach Madurai by train or bus or take a taxi from any place in Tamil Nadu. Tip: Use the Ola app to hire autos in Madurai. Without this auto drivers fleeced us.
A biochemist turned writer who is setting off on an exciting journey to learn more about her roots in India, Hridya blogs at CoinsnMaps.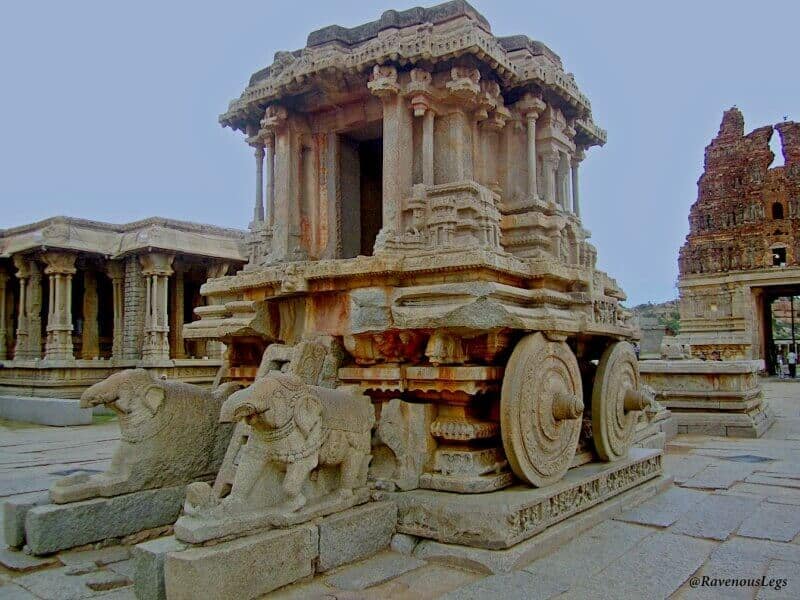 16. Stone Chariot, Hampi
Stone Chariot is the most iconic structure of the Group of Monuments of Hampi, Karnataka. Hampi, once a prosperous trading town in the medieval era, now lies in ruins and is preserved as a UNESCO World Heritage Site. Located on the banks of river Tungabhadra, Hampi looks magnificent on a hilly terrain covered with various boulder formations and over 1,600 monuments of different religions including Hindu, Jain and Muslim. Stone Chariot is a Hindu monument in the Vittala Temple campus. This architectural masterpiece is a shrine dedicated to Garuda (Eagle), which is considered to be the vehicle of Lord Vishnu in Hindu mythology.
The Stone Chariot seems like a monolithic structure, carved out of one huge rock, but it is actually built with many huge carved structures combined together to form a chariot. The four giant stone wheels on which the entire chariot rests are equipped with shafts and brakes. The stunning fact about the chariot is that the stone wheels are actually functional and they rotate around the axis. Two elephants carved out of stones are placed in front, in a position to pull the chariot. The intricate carvings on the chariot depict soldiers fighting a war. The stone chariot is used to symbolise Hampi and the luxury train of southern India, Golden Chariot, is named after this marvel.
Winter is generally a good time to visit Hampi as the weather remains dry and pleasant.
Timing: 8:30 am to 5 pm
Entry fee: INR 500 for foreign tourists, INR 30 adults
How to reach: Hospet is the nearest railway station and Bangalore is the nearest airport to Hampi. Buses ply regularly between Bangalore and Hampi or you can take a taxi.
Medhavi Davda is a solo traveler and an adventure travel blogger from India. She loves exploring the heights and depths of the planet by trekking and scuba diving and blogs at RavenousLegs.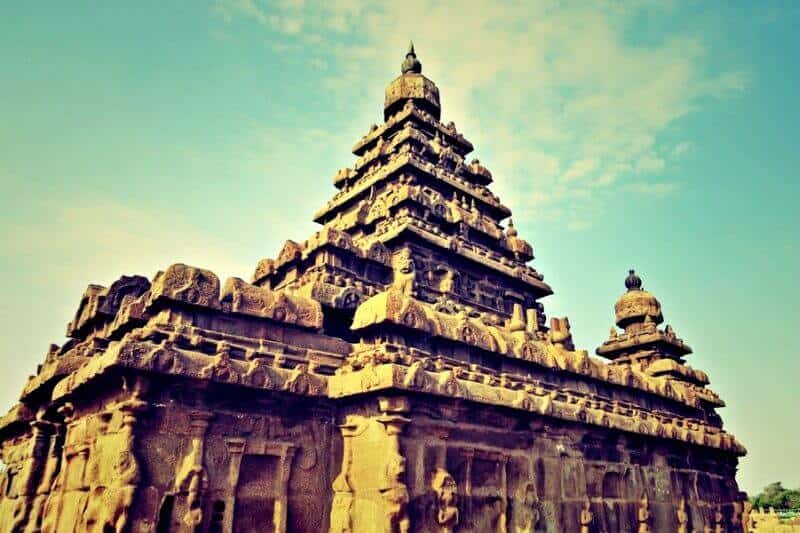 17. Shore Temple, Mahabalipuram
Located in Mahabalipuram, some 60 kilometres out of Chennai, stands the famous Shore Temple. A monument that has withstood the test of time, overlooking the sea and surrounded by beautiful gardens and restored courts, the magnificent Shore Temple symbolizes the stature of Pallava design and the aspirations of the Pallava kingdom. Built some 1,300 years ago, and constructed under the orders of Narasimhavarman II in the 8th century, it's the most noteworthy unattached stone sanctuary in Tamil Nadu. Many of the Shore Temple's carvings are now dissolved into enigmatic impressionist embellishments.
The two temples that comprise the Shore Temple are devoted to the Hindu gods Shiva and Vishnu, which is quite obvious from all the various carvings that adorn the temple. Between the Shiva altars is one to Vishnu, who is shown resting on his side. Columns of Nandi the Bull (Shiva's vehicle) statues outline the sanctuary patio. A rock-cut Durga statue, on her Singha (a lion is Durga's vehicle), can be seen on the temple's south side.
The temple compound has been denoted as a UNESCO World Heritage Site and is one of the best representations of its era. The vibe is quite sublime and peaceful.
Timing: 6 am to 6 pm
Entry fee: INR 250 for foreign tourists, INR 10 for adults
How to reach: Mahabalipuram is about 60 kilometres south of Chennai. Mahabalipuram is about 60 kilometres south of Chennai. You can take a direct train from Chennai to Chengalpattu, the nearest railway station. It's then about 30 kilometres by bus or taxi to Mahabalipuram. Shore Temple is located right on Mahabalipuram beach.
By Ozzy of Stayopedia, the ultimate guide for accommodations around the world.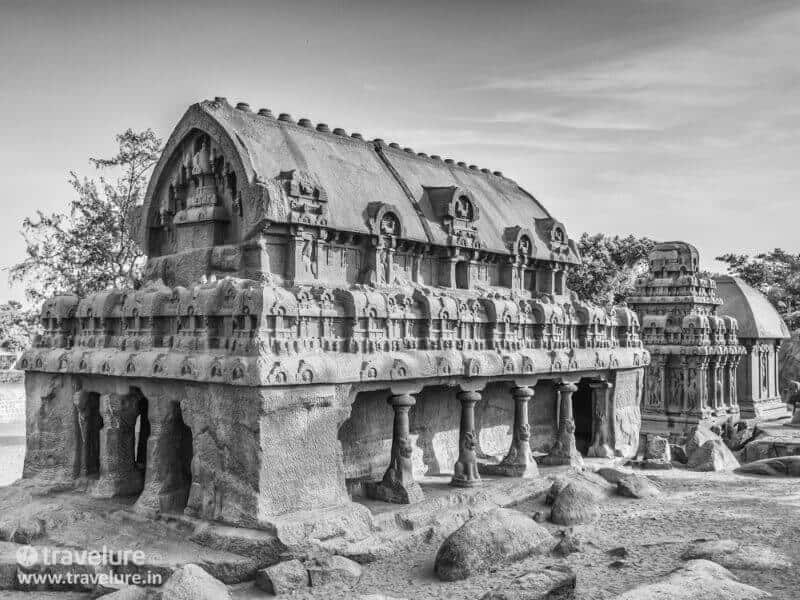 18. Mahabalipuram Group of Monuments
While is a small beach town just south of Chennai with plenty of sun, surf, and sand (Mahabalipuram is called Mahabs by millennial travellers), it is more significantly a place famous for its 7th and 8th-century Group of Monuments. Given their historical significance, UNESCO inscribed them on the World Heritage list in 1984.
Unlike most of the monuments of India, these monuments have not been created out of soft sandstone – they have been hewn out of solid granite, in some cases by carving a masterpiece out of a single huge boulder.
While the entire town is strewn with 1,400 year old monuments, notable amongst these are the Pancha Rathas (Five Chariots), the Descent of Ganges (also known as Arjuna's Penance), the Shore Temple, and the Varaha Cave Temple.
At Pancha Rathas, the artisans from the era of Pallavas had carved each ratha out of a single rock. These rathas, along with 'Arjuna's Penance,' are the most significant monuments in South India that have a reference to the Pandavas (five righteous brothers) of the famous Indian epic the Mahabharata — a story that takes place mostly in North India.
Arjuna's Penance is a bas-relief that has been carved out of two rocks and depicts many mythological tales including one about the descent of Ganges from heaven to the earth.
Legend has it that the Shore Temple is one of the seven temples that gave Mahabalipuram its identity in ancient and medieval times as The Land of Seven Pagodas. While this is the only one that remains on land, it is believed that the sea has usurped the other six. During the infamous tsunami of 2004, when the sea receded a couple of kilometres, locals saw the remains of a couple of those now-submerged temples. In an era when cement had not yet been invented, they used a mixture of palm sugar, limestone, and egg whites to cement together the granite slabs to create this stunning architectural marvel.
As the name suggests, the Varaha Cave Temple has been carved out of a granite cave. This temple shows the 10 avatars of Vishnu, the "Preserver God," according to Hindu mythology. This perfectly crafted work of art makes one marvel at how those craftsmen worked in a cave in low-light conditions.
Whenever you visit Tamil Nadu, do make it a point to spend a couple of days and savour this exquisite assemblage of glorious Indian heritage at Mahabalipuram.
Timing: 6 am to 6 pm
Entry fee: INR 250 for foreign tourists, INR 10 for adults
How to reach: Mahabalipuram is about 60 kilometres south of Chennai. You can take a direct train from Chennai to Chengalpattu, the nearest railway station. It's then about 30 kilometres by bus or taxi to Mahabalipuram.
'Making Destinations Desirable' is a passion with Ajay Sood. He blogs at Travelure.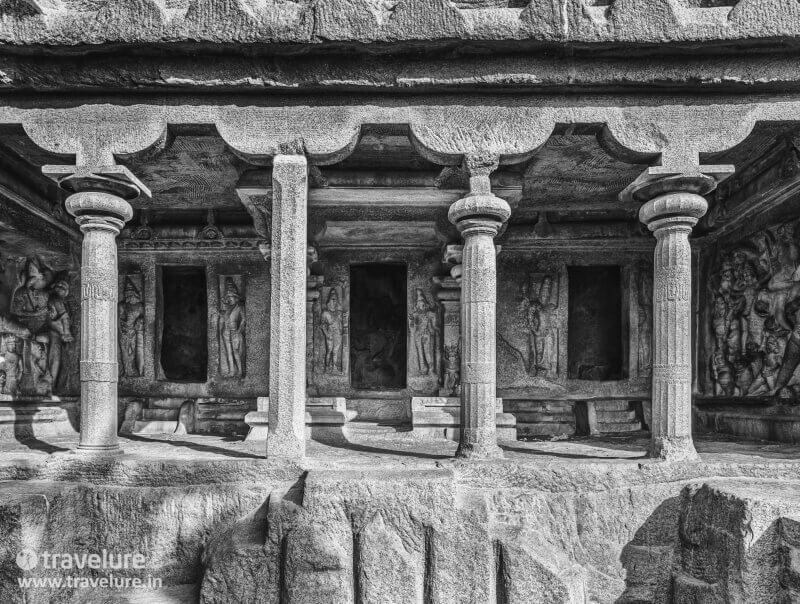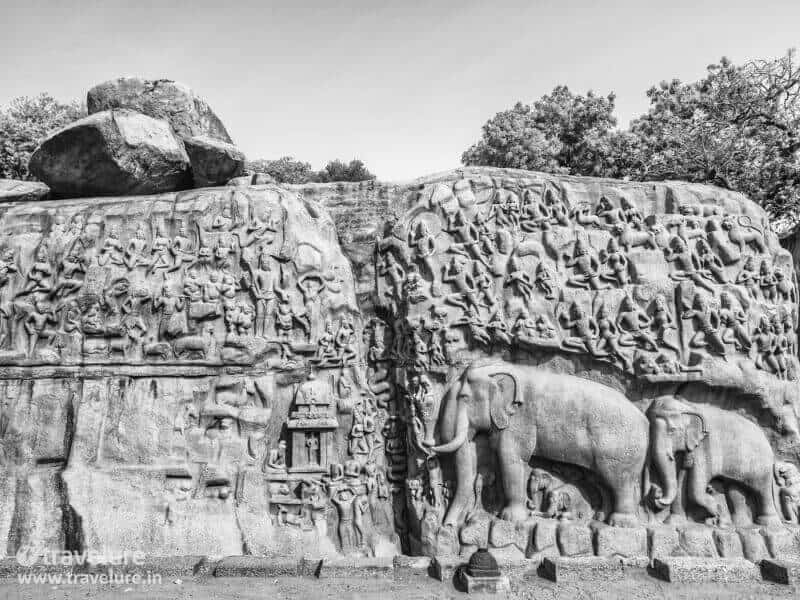 ---
NOTE: This post was brought to you by Expedia. #Sponsored
---
PIN it on Pinterest

---
If you enjoyed this post, please sign up to The Travel Newsletter in the sidebar and follow Breathedreamgo on all social media platforms including Instagram, TripAdvisor, Facebook, Pinterest, and Twitter. Thank you!