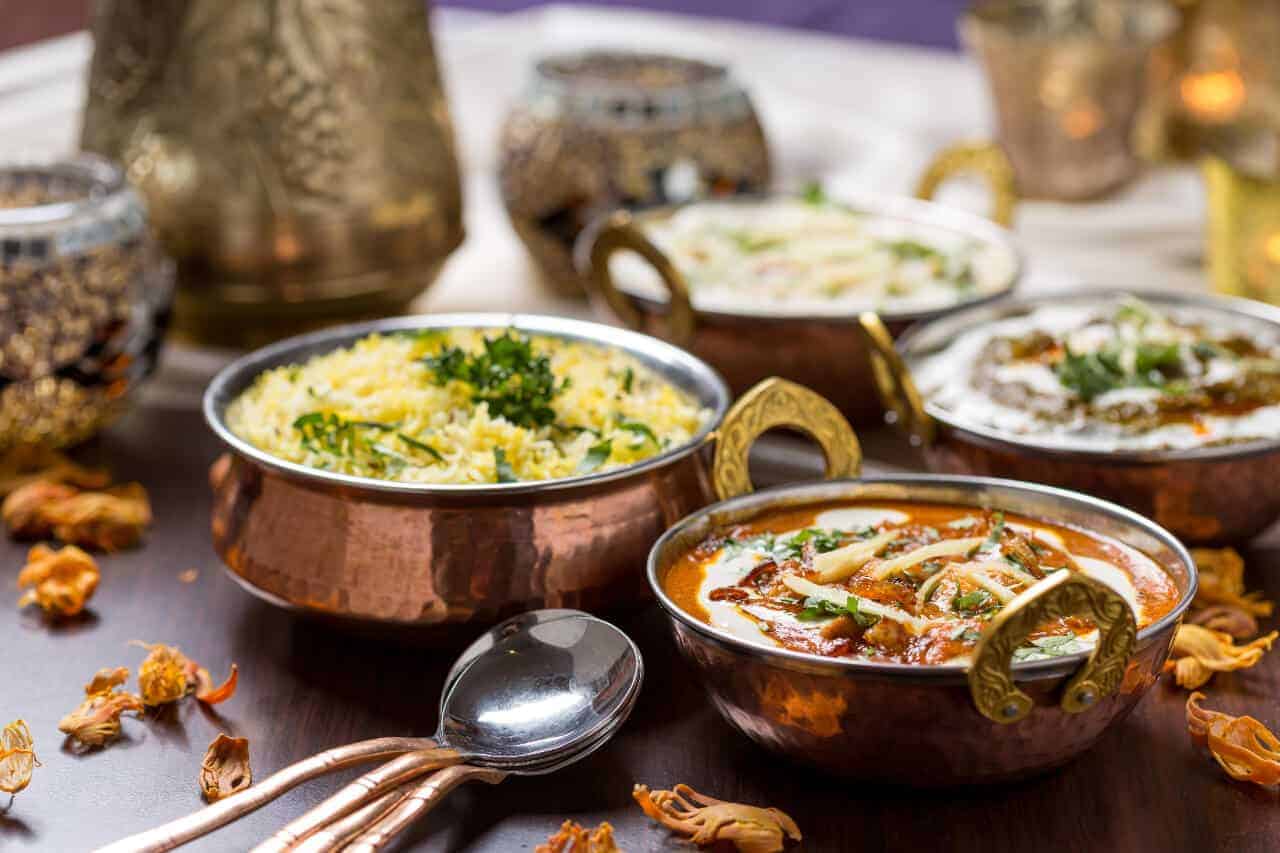 A guide to the most famous foods of Delhi, plus best restaurants, street food, and food tours
DELHI IS KNOWN as the food capital of India. The city is famous for a variety of foods, dishes, and restaurants. You can't miss trying the famous Delhi foods when you're visiting. This guide covers restaurants in New Delhi, street foods, sweet foods, and some recommended Delhi food walks.
I've lived in Delhi on-and-off for 13 years, and spent several winters in the city, which was recently named "Best Destination For Food/Drink in India" by Lonely Planet India magazine. I concur. Food all over India is great of course, but Delhi is a one-stop destination for famous local dishes and much much more.
---
Love Indian Food?
Read more posts about Indian food on Breathedreamgo!
---
Here are some of my favourite dishes, street food, sweets, restaurants, best places to eat in Delhi — plus suggestions for getting all of this yummy food delivered to your door. This guide also indicates if there is a vegetarian version (V) and whether it's gluten-free (GF). Enjoy. (Warning: do not read while hungry.)
Top 5 favourite famous Delhi foods
Top 5 favourite street foods of Delhi
Top 5 favourite sweet foods of Delhi
Top 10 favourite restaurants in Delhi
Top 5 favourite food tours of Delhi
How to get takeaway in Delhi
---
If you are planning to travel in India, let us help you! We offer itinerary planning, India for Beginners custom tours, and much more to make sure your trip to India is filled with more magic … and less madness.
---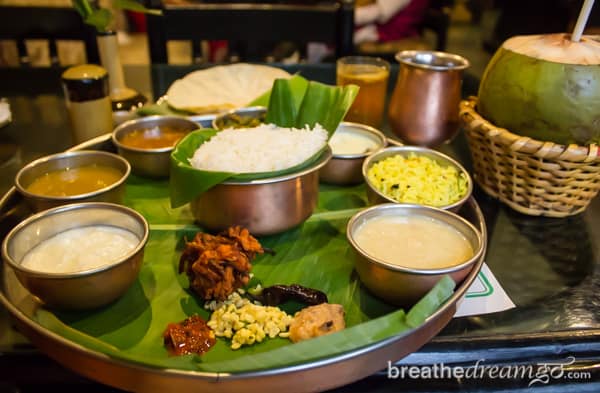 Top 5 favourite famous Delhi foods
Butter Chicken. I don't eat meat so I cannot attest to the awesomeness of Butter Chicken in Delhi, but everyone talks about it, so it must be true. Called Murgh Makhani in Hindi.
Kebabs. Kebabs come in many flavours, some meat and some vegetarian. They are sold all over Delhi in fine restaurants and on street corners. The kebab stalls in Khan Market are inexpensive and well-loved. The best kebabs I've had were at Dum Pukht, a very high-end dining room at the gorgeous ITC Maurya Hotel. V
Parathas. Alas, as someone who has to eat gluten-free, I can no longer enjoy thick, stuffed-bread Parathas. But I used to eat them, on my first few trips to India, so the memory lingers. Paranthe Wali Gali in Chandni Chowk, Old Delhi, is the place to go. V
Sarson ka Saag and Mukki ki Roti. There are a lot of Punjabis in Delhi, and the rich, filling and delicious food from this culture is one of the main reasons Delhi's cuisine is world famous. Sarson Ka Saag (made from mustard leaves) is probably the signature dish of Punjabi cuisine. Even if you have to eat gluten-free diet, like me, you can enjoy Missi Roti, which is made from gram flour (though wheat flour is sometimes mixed in, so you must ask) and Mukki ki Roti, which is made from corn flour (but ask about wheat flour in the batter). V, GF
TIP: When you see Bollywood stars running through fields of yellow flowers, that's the mustard fields of Punjab.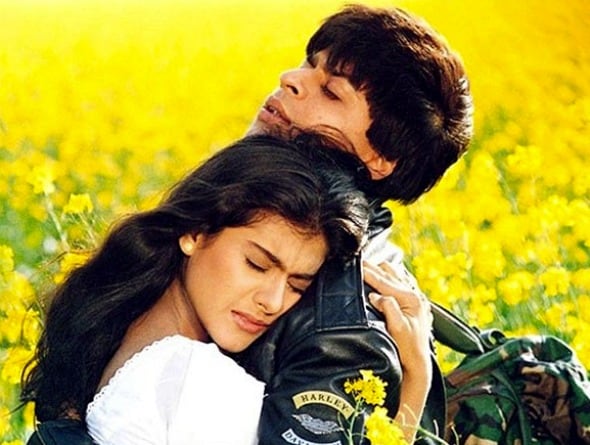 Dal Makhani. There are many types of dal (lentils), but somehow Delhiites seem to prefer Dal Makhani, made from red kidney beans and whole black lentils. You can get Dal Makhani in dhabas, restaurants, homes and fine restaurants. Well, everywhere. At Bukhara, often cited as India's best restaurant, they make a dish called Dal Bukhara, which is a lot like Dal Makahni, but only with black (urad) lentils. It's considered by many to be the best dal in the world, and I can tell you, it is melt-in-the-mouth amazing.
TIP: Here's a recipe for Dal Bukhara. Good luck. The secret is in the very, very long cooking time.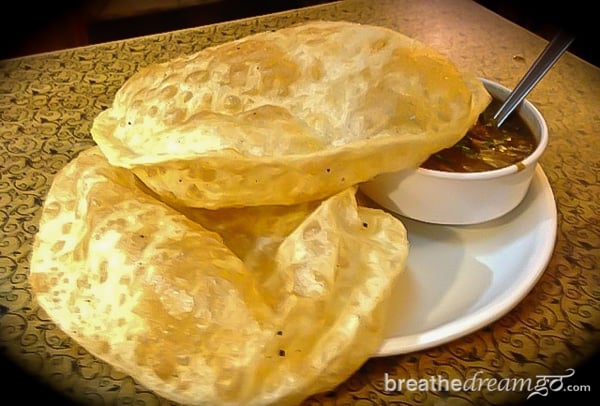 ---
Dilli ki Sardi
Winter in Delhi is sometimes affectionately called Dilli ki Sardi (after a very popular Bollywood song). Locals love the cooler temperatures and the excuse to get out the sweaters and indulge in rich, warming foods. Dishes like sarson ka saag, masala chai, and gajar ka halwa. The street vendors sell warm peanuts, and foggy mornings bathe the city in a romantic hue. It's worth spending a few days to get to know this aspect of Delhi.
---
More reading on Breathedreamgo about travel to Delhi
---

Top 5 favourite street foods of Delhi
Chole Bhatura. Spicy chole (chickpeas) and deep fried bread. This is Delhi food at its most calorific, filling, and sensation-exploding … not suitable for gluten-free diets, alas, unless you eat the chole with something else, like rice. V
Dahi Papdi Chaat. One of my absolute favourite street foods, it's sweet, tangy, light, filling … all good things. Wheat wafers, moong beans, potatoes, yogurt, chutney, spices and sauce are all layered together in a gooey mess. For those who avoid gluten, have it made without the papdi (wheat wafers). V, GF
Gol Gappas. These are called Pani Puri in Mumbai, where these treats are equally popular. Little crisp, fried flour balls are filled with a mixture of flavoured water, tamarind chutney, chili, chaat masala, potato, onion and chickpeas. No gluten-free option that I'm aware of. V
Aloo Tikki. Another one of my favourites, very good for eating when the temperature drops in winter in Delhi. Spicy, pan-friend potato patties, served with chutney. V, GF
Samosas. Everyone knows samosas, the stand-by Indian snack enjoyed all over Delhi and just about everywhere else on the planet. You can get meat or vegetarian versions, spicy or mild. V
TIP: Old Delhi's street food is famously good, and sometimes famously unhygienic (have you see the film Delhi Belly?). You can get everything in many of the small, traditional restaurants and cafes of Delhi such as these places — which are just as delicious but much more hygienic: Natraj Dahi Wale Bhalla, Nathu Sweets, Anupama Sweets, Moti Mahal, Bengali Sweets, Haldirams, Evergreen.
I say this every time and I'll say this again, Delhi is way better than Mumbai in terms of food. Be it street food or fine dining. It is a fact and it's coming from a Mumbaikar. Except the Gujarati chaat, which is better in Mumbai, Delhi can definitely be called the food capital for me as of now. – Ashrita, Caramel Wings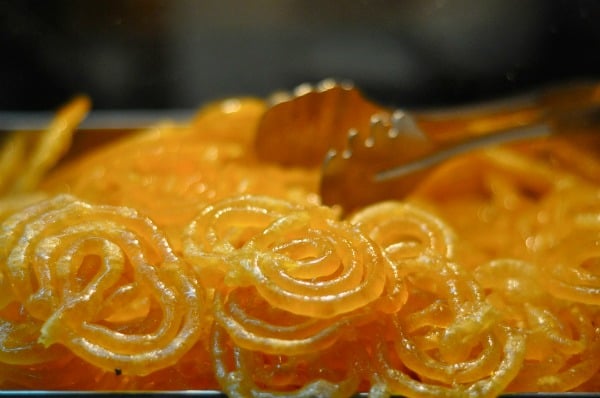 Top 5 favourite sweet foods of Delhi
Gulab jamun. I always say these little milk dumplings are the reason I gained 15 pounds in India. V, GF
Gajar ka halwa. Made from the red carrots of India, this dessert is best eaten fresh and warm. V, GF
Kulfi. Punjabi ice cream. Need I say more? Yes, Pista Kulfi. The pistachio flavour, is a favourite of many. V, GF
Jalebis. Many Delhiites would live and die for freshly made jalebis. Old Famous Jalebi Wala in Old Delhi is THE place to go. But as long as you are eating them right out of the hot oil, you're good to go. V
Rasmalai. Made from fresh cheese and sweet milky sauce, they are light and a little less sweet than many of India's over-the-top desserts that give you an instant sugar high (and sometimes a headache). V, GF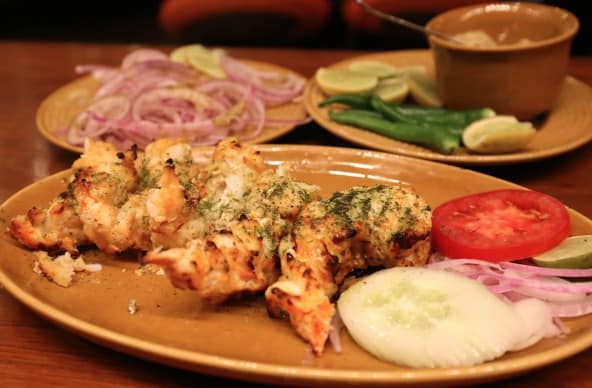 Top 10 favourite restaurants in Delhi
Bukhara. Often called India's best restaurant. I've had the incredible privilege of eating there on several occasions, including the time I stayed at the ITC Maurya Hotel, where Bukhara is located. Most recently I enjoyed a feast with fellow Torontonian Andrew Dobson, which you can read about here.
TIP: Do not miss the Dal Bukara and Tandoori Jhinga (Shrimp).
Sodabottleopenerwala. This is the new India — hip, fun, and creatively self-referencing. Located in trendy Khan Market, Sodabottleopenerwala is a post-modern take on Mumbai's iconic Iranian cafes.
Rajdhani. Going to Rajdhani is an experience. A small army of waiters swarm around your table, spooning never-ending servings of authentic vegetarian Gujarati and Rajasthani cuisine onto your thali (plate). V
Andhra Bhavan. Eating lunch at this busy canteen in the heart of Delhi is an experience in well-ordered chaos. Political leaders jostle with civil servants and tourists to eat very affordable, very spicy traditional food from Andhra Pradesh. An insider favourite.
Gulati Restaurant. Delhiites love to stop at a Pandara Road eatery on their way home from socializing, and Gulati's is the top choice. Open since 1959, it is elegant in a non-fussy way, and serves consistently good north Indian cuisine including kebabs, biryanis and tandoori.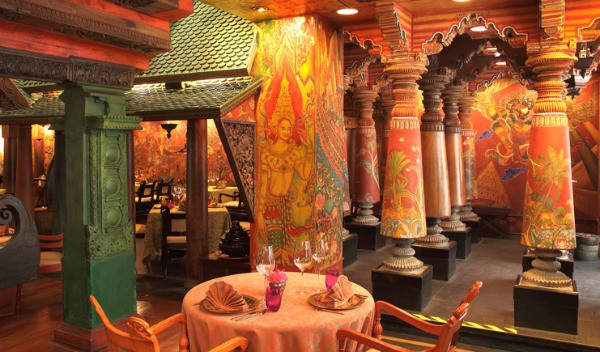 Potbelly Rooftop Cafe. Like Sodabottleopenerwala, this place is a fresh, new concept in India, and is located in the newly trendy Shahpur Jat neighbourood of South Delhi. Not easy to find, but worth it. Small rooms with large views and a very good Bihari-inspired cuisine. Affordable, unique and fun.
Naivedyam. My standby in Hauz Khas, it's very affordable and will transport you to traditional South India. V
Saravanna Bhavan. A chain of cheap 'n cheerful South Indian eateries, there are several in Delhi (though I always eat at the one on Janpath). The food is consistently good, no matter how busy the restaurant is. V
Spice Route. Voted one of the most beautiful restaurants in the world, this Imperial Hotel classic is also one of the most pricey in Delhi. I ate there once, and have never forgotten the food or the experience.
Dakshin. It's easy to get affordable South Indian food like dosas and idly's, but just once, you should try gourmet South Indian food. That's what this beautiful restaurant in the Sheraton New Delhi Hotel serves. It's a journey through the cuisine of four South Indian states.
TIP: You can find amazing Indian food in London, too, at Dishoom!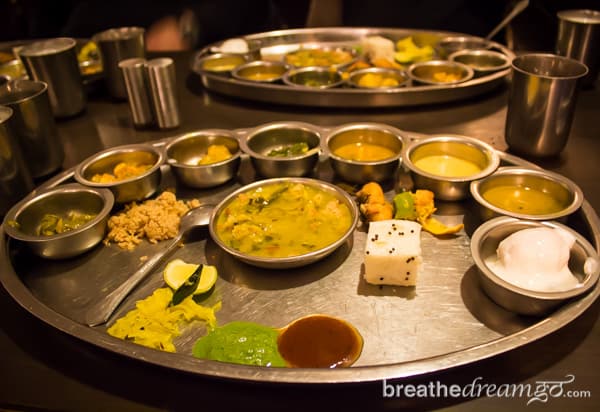 ---
Many people are concerned about getting sick in India and looking for ways to stay healthy and prevent travelers diarrhea aka Delhi Belly. Check out my top tips and comprehensive guide on How to avoid getting sick in India.
---
Best travel guide books for Delhi
I recommend these books for helping you discover Delhi, and there are more available … click the books to check them out.


---
Take out / take-away
Delhi is not only famous for food, it's also famous for traffic. If you don't feel like going out, Food Panda is a great service in Delhi (and 100 other cities in India) that will deliver food from many of the restaurants in Delhi for no extra charge. You can search the Food Panda website by neighbourhood, or cuisine and you can see the full menu for each restaurant listed, to make ordering easy.
Other take away options are Zomato and Swiggy.
---
Top 5 favourite food tours of Delhi
Taking a culinary, or food tour of Delhi, is by far the best way to get to know the local favourites, the insider secrets, and the best foods at the best prices. I have done it myself and I highly recommend it. Here are some fun food tours you cannot miss!
---
---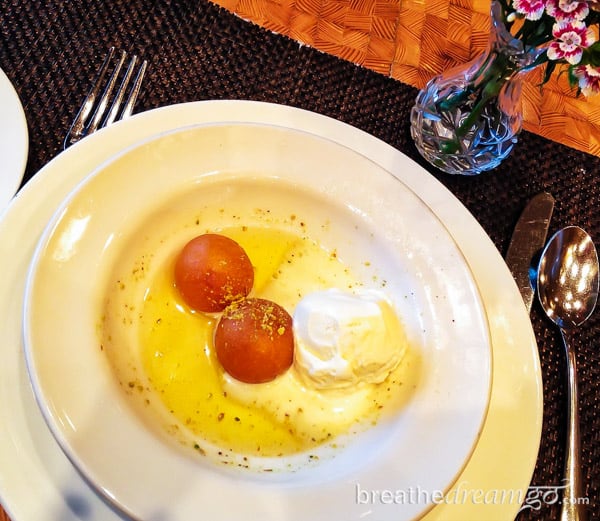 ---
PIN it on Pinterest
---
If you enjoyed this post, please sign up to The Travel Newsletter in the sidebar and follow Breathedreamgo on all social media platforms including Instagram, TripAdvisor, Facebook, Pinterest, and Twitter. Thank you!