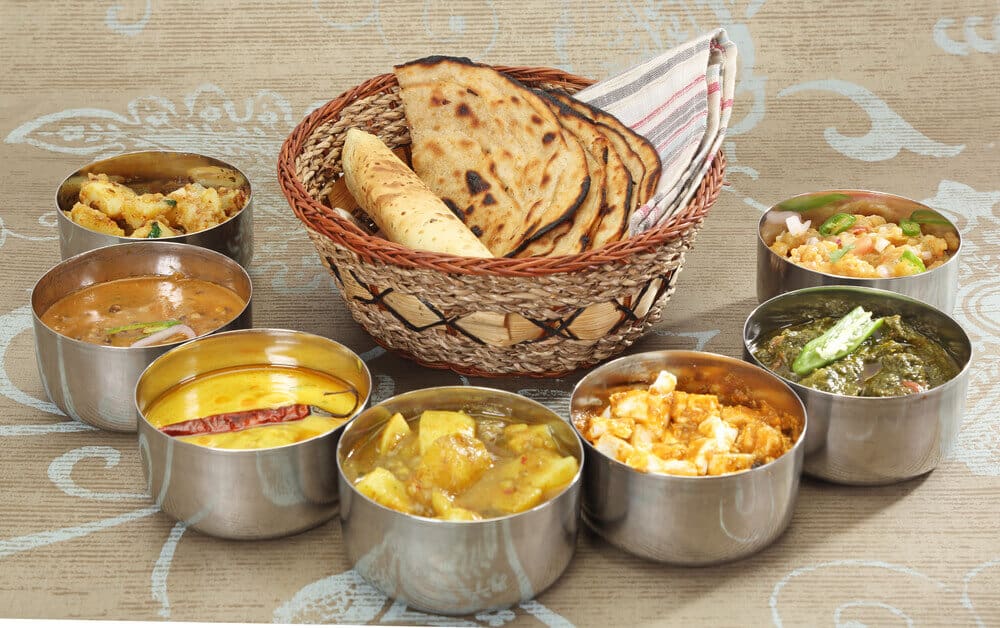 20 Famous Indian foods with easy to follow recipes
A list of 20 famous Indian foods and popular dishes from North and South India
Guest post from Arpita Bhattacharya. Indian cuisine is one of the richest and most varied in the world. It was very difficult to narrow this list to just 20 types of famous Indian foods and popular dishes! The list includes Indian sweets and desserts, South Indian food, North Indian food, Punjabi food, vegetarian Indian dishes, and drinks such as lassi and masala chai — and the video recipes we've included are easy to make. They have been modified so you can make these famous Indian foods at home.
India has a rich and varied food history. Every single region has their own type of cuisine that has been fine-tuned over hundreds of years to suit the local palate and to also match the availability of regional produce.
For a person visiting India for the first time, the abundance and diversity of food choices may seem bewildering and overwhelming to the senses. We have curated a list of 20 famous Indian foods that you must try as a newcomer to India, and included easy to follow recipes so you can make them at home. These include vegetarian Indian dishes, Indian sweets and snacks, and regional foods like Punjabi cuisine.
---
Love Indian Food?
Read more posts about Indian food on Breathedreamgo!
---
Be prepared for a culinary adventure of a lifetime, as we take you through 20 of India's most popular foods and dishes.
GF = gluten free

V = vegetarian
North Indian food including Punjabi food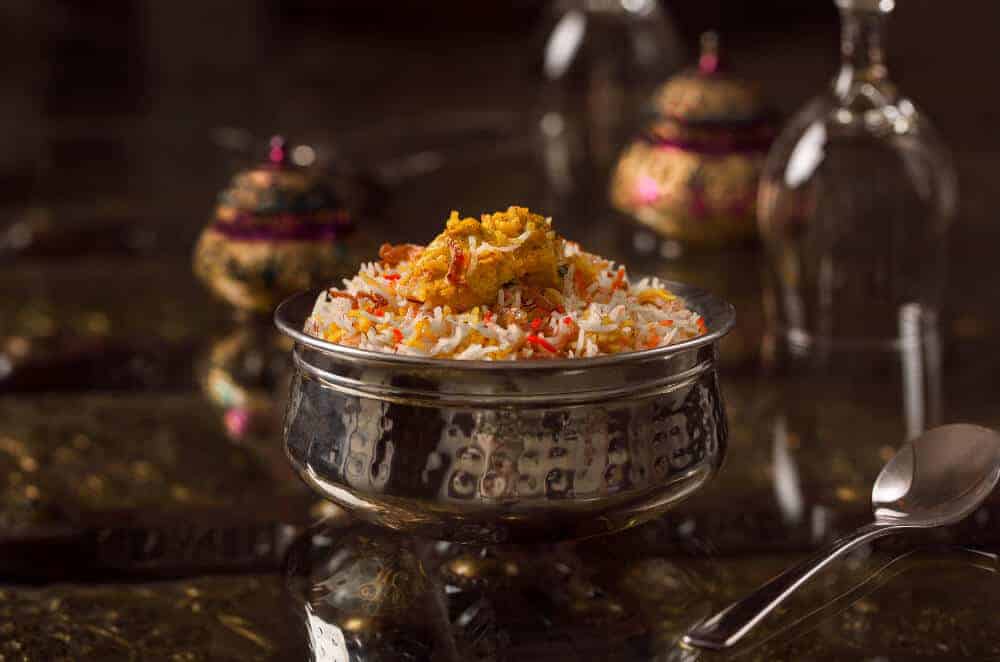 Biryani
I don't think many people can quibble with the divine accolades showered on biryani after sampling a plateful of the wonderful stuff. It's a traditional Indian food that is one of India's most famous and beloved dishes. Biryani is a dish that was popularized in the royal kitchens of the ancient Mughal Emperors. If cooked in the traditional way, a biryani takes many hours to prepare and cook. Alternate layers of meat and rice are piled on top of one another and drizzled with ghee and spices. Then the assembly is sealed in an earthenware pot or 'handi' and slow cooked for many hours in an oven.
The meat component in the Biryani might be chicken, goat meat, prawns, beef, lamb or fish. Alternatively, vegetables or paneer might be the mainstay of the vegetable biryani. A medley of spices lends this dish its heavenly appeal. Saffron, nutmeg, mace, cardamom, cinnamon, bayleaf, onions, garlic, ginger and so much more perfume this dish.The different types of biryanis can be as numerous as the plethora of ingredients. Choose from Hyderabadi Biryani, Awadhi Mutton Biryani, Sindhi Biryani, Kolkata Biryani et al. GF, V option
Hyderbadi Biryani Recipe
Butter Chicken
When you talk about popular Indian food, you have to include Butter Chicken. Did you know that Butter Chicken was made as a result of a happy accident? It is said to have been accidentally created one day when some leftover chicken curry was added to creamy tomato gravy. Butter chicken is one of Delhi's most famous foods.
Butter Chicken is a decadent main dish which is best eaten with naan bread or tandoori roti. The chicken is soft and tender and submerged in a buttery, silken gravy, flavoured with a variety of spices. The butter gravy with a tomato sauce renders this dish with pleasing mild but rich flavours. The success of the dish depends largely on the marination of the chicken in a mixture of lemon, plain yoghurt, ginger-garlic paste and spices. Ideally the chicken should be slow cooked in a tandoor oven but it may be cooked on the stove top too. Cardamom, cumin, fenugreek, cinnamon, cloves and coriander are the dish's secret ingredients. GF
Delhi Style Butter Chicken Recipe
Kebabs (veg and non-veg)
Kebabs are an Indian food that doesn't need a special introduction — they are an iconic Mughal dish that is well-known all over the globe. Although kebabs have become a household name, you will be amazed by the variation in types of kebabs when you come to India. Choose from vegetarian and non vegetarian options. The names of some well loved non vegetarian kebabs are murgh malai kebab (chicken cheese kebabs), boti kebab, reshmi kebab (relatively low spiced), galauti kebab, tangri kebab, hariali kebab and more. Pieces of marinated meat are pierced with skewers and then grilled to tender perfection. Vegetables like paneer, potato and cauliflower are particularly tasty when grilled using this technique. GF option, V option
Vegetarian Shammi Kebab Recipe
Tandoori (veg and non-veg)
You can't mention Punjabi food without tandoor. A tandoor is a wood or charcoal fired clay oven and the tasty morsels of meat or veg that come out of it are called tandoori. Tandoori Chicken is made by marinating chicken in yoghurt and tandoori masala and then grilling it in a tandoor. The tandoori masala lends the chicken its characteristic vibrant colour, which is due to the addition of cayenne pepper, Kashmiri chilli powder, turmeric and red food colouring. Tandoori chicken can be eaten as an appetizer or as a main dish. It is often eaten with naan bread. Using the same techniques of marination and grilling, vegetables or paneer can be used for preparing delicious tandoori vegetables. GF, V option
Restaurant Style Tandoori Chicken Recipe (can be made at home)
Choley Bhatura
Choley Bhatura is a satisfying dish that hails from the state of Punjab — a classic Punjabi food. It is a dish of spicy chickpeas (Choley) and a very large, fluffy, deep-fried bread (Bhatura). The meal is eaten with carrot pickle, onions, green chillies and chutney.The unusual fluffy texture of the Bhatura is created by kneading the flour with yoghurt, oil and either baking soda or yeast. Choley Bhatura can be eaten as a breakfast food but it's substantial portion size and the richness of the bread create a deep feeling of satiety. I would recommend eating the meal at lunchtime and taking a long walk afterwards to aid digestion. V
Amritsari Chole Bature Recipe
---
If you are planning to travel in India, let us help you! We offer itinerary planning, India for Beginners custom tours, and much more to make sure your trip to India is filled with more magic … and less madness.
---
Sarson Ka Saag, Makke di Roti
This is a unique and unusual combination from Punjab, another famous Punjabi food. The unleavened flat bread is made from corn (makke di roti) and the accompanying curry is made from fresh mustard greens. Mustard greens are relatively abundant during the winter and spring seasons in Punjab. This is an excellent example of the regional produce influencing the nature of the local cuisine. Dip the bread in the curry and enjoy each green, piquantly flavoured morsel. Remember not to skimp on the butter or ghee, liberally added to each roti. [Editor's note from Mariellen: This is my absolute all time-favourite dish in India!] GF, V
Sarson Ka Saag Recipe
Aloo Paratha
Aloo paratha is an unleavened flat bread that is filled with a potato filling. Most parathas are quite hearty and satisfying. The potato filling is tempered with a few spices. Ground cumin dominates the spice list along with red chilli powder, black pepper and sometimes asafoetida (hing). Each paratha is cooked on a heavy tawa, often with butter or vegetable oil. Eat them just as is, or with spicy mango pickle on the side. My favourite way to eat them is warm off the griddle, with a small bowl of crunchy cucumber raita to dip them in. V
Aloo Paratha Recipe
Dal Makhani
Dal makhani is a buttery smooth daal that is another creation of the Punjabi people. Made from whole black urad daal and kidney beans, butter and cream – the mixture is comforting and satisfying. You can enjoy the daal with naan, tandoori roti, masala kulcha or even the plain chapati. This dish is a versatile one that can be enjoyed by non-vegetarians and vegetarians alike and packs a lot of punch, regardless of being just a humble bowl of lentils. GF, V
Dal Makhani Recipe
Palak Paneer
Palak paneer (spinach and cheese) is a vegetarian that has a very pleasing silken texture and that is low on the spices. The palak, or spinach, component consists of cooked spinach that has been blended to a smooth pulp. The puréed spinach is then tempered with garlic, ginger and other spices. While the smooth spinach blend is simmering, paneer pieces are popped into the mixture and slow cooked to maintain their softness. You can eat palak paneer with plain white rice or scoop it up with pieces of naan or tandoori roti. A bowl of palak paneer is delicious and nutritious. You can skip the green smoothie on the days you opt for palak paneer. GF, V
Palak Paneer Recipe
South Indian food
Goan Fish Curry
Goa's long and meandering coastline means that it has access to abundant seafood. Goan Fish Curry is a popular dish that is eaten with steamed white rice. It's also probably the most reasonably priced dish and so addictive, it might become your staple diet if you are visiting Goa. The fish traditionally used is Kingfish but any firm, white fleshed fish will do. Goan Fish Curry uses tamarind paste in the gravy which provides the dish with a tangy kick. Spices, Kashmiri chilies, grated coconut and coriander for garnish, lend the curry its exotic flavours. GF
Goan Fish Curry recipe
Dosa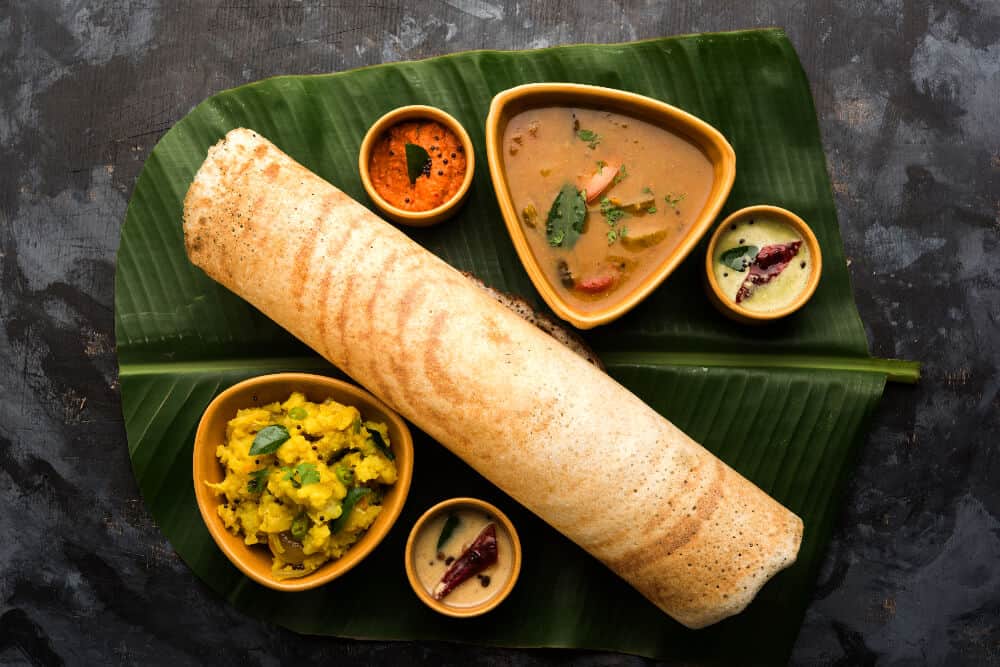 This is a dish that hails from South India and is the closest Indian counterpart to the continental crepe. Made from a fermented batter of rice and black gram daal, it is then cooked to a crisp on a heavy tawa. Dosas are wonderful as hearty brunch, lunch or even dinner food. The masala dosa usually has a mild potato and onion curry stuffing. The sada dosa, comes just as is. A paper dosa has been stretched to a paper thin texture and a rava dosa is crunchier due to the addition of semolina. All dosas have the obligatory hot vegetable daal or sambar as accompaniment, along with a minced coconut chutney. GF, V
---
Read this post to find out about the wonderful food of Mysore in South India. And for more tasty Asian cuisine, check out the Street food of Vietnam.
---
Dosa Recipe
Idli
Idlis are like the softest, fluffiest white cakes made of steamed rice and daal. The rice and urad daal is soaked for many hours, then stone ground to form a smooth batter. The carbohydrates in the batter are considerably broken down during the fermentation process of preparing the batter – making them easier to digest and also very tasty. The batter is steamed in an idli maker – and lo and behold you have idlis. They make the ideal breakfast food with sambar daal and coconut chutney. You can break them into pieces and pop them in your mouth or you can soak them in the daal and eat them in spoonfuls. They have a spongey texture which means they soak up any kind of liquid very well. Either way, they are the perfect healthy, non-greasy food to eat when you want to eat something non-spicy. GF, V
Idli Recipe
Indian sweets, desserts and snacks
Chaat
Prepare to have your mouth water as you enter the territory of India's finest street food snacks. The chaat is a medley of mysterious items that feels strangely like dipping into a wonderful Pandora's box of treasure. The chaat originated in Uttar Pradesh but has since migrated to different corners of India and has assumed different forms. The quintessential chaat consists of boiled potatoes, chick peas, dahi vada (fried lentil balls in yoghurt), coriander leaves, tamarind chutney and spices – all laced with finely whipped plain yoghurt. The resultant dish promises to tantalize your taste buds. Especially on a hot summer's day, this is the perfect way to eat something refreshing and highly appetizing. The chaat has been modified to papri chaat, dahi puri, sev puri and bhel puri and all of them are very enjoyable. GF option, V
Aloo Chana Chaat Recipe
Samosa
Available at every street corner and neighbourhood sweet shop, the samosa is everybody's favourite savoury snack. You can also find them as popular entrees on restaurant menus. The simple samosa is a pastry pocket, stuffed to the seams with a potato filling. The triangular shaped pastry pocket is then deep fried to a golden hue and then the samosas are served hot with a mint, coriander or tamarind chutney. The filling, though usually made from potatoes, can incorporate cauliflower and green peas when the vegetables are in season. You can even find meat filled samosas. Typically eaten as an evening snack in India, they must be accompanied by a cup of steaming masala chai. V option
Vegetarian Samosa Recipe
Pakora
The pakora is a classic Indian snack, typically eaten in the evenings with a cup of tea. Basically they are fritters. Pakoras consist of vegetables or meat dipped in a chickpea flour batter (called besan, which is gluten free), which are then deep fried. One popular filling consists of finely shredded onions, the onion pakora. Other vegetables used to make pakoras are cauliflower, potato, eggplant, tomato, and chilli peppers. They may also be prepared with paneer, meat, or fish. Forget about portion control with a plate of pakoras in front of you as they are immensely addictive! My favourite way to eat an eggplant fritter is as a side dish to accompany a steaming bowl of 'khichdi' or savoury rice and lentil porridge. GF, V option
Vegetarian Pakora Recipe
Vada Pav
Vada Pav is an iconic street food of Mumbai. The Pav is the name given to the bun that is toasted with butter and the Vada is a deep fried dumpling made from potatoes and loaded with spices. The Vada Pav is eaten with chutney and a green chilli on the side. Convenient to pick up and eat on the go, the Vada Pav is the Indian vegetarian equivalent of the American burger. V
Vada Pav Recipe
Gulab Jamun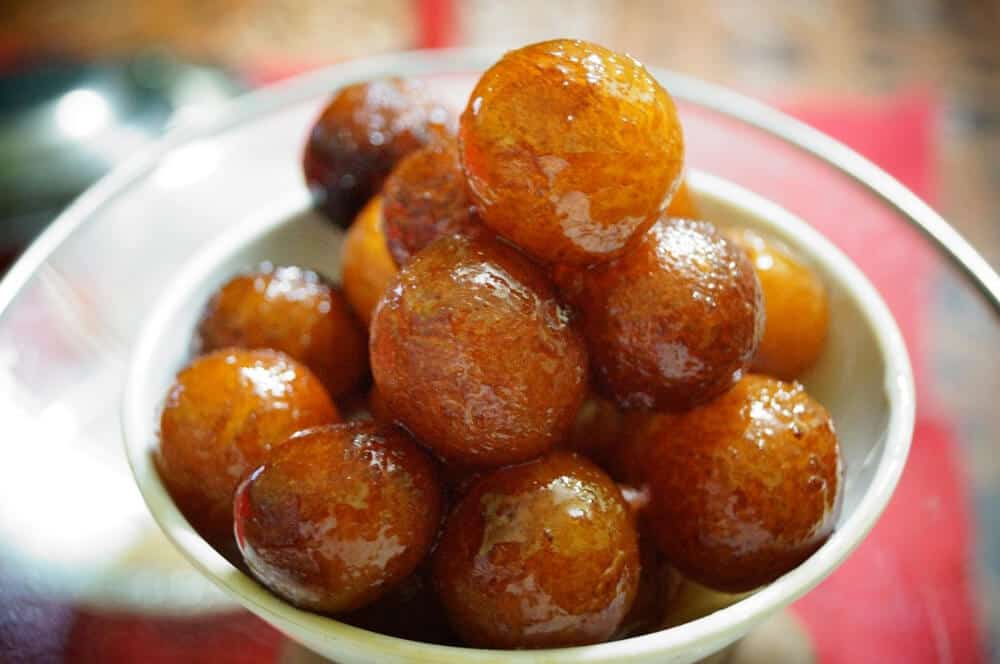 Gulab jamun is one of the most iconic Indian sweets and will surely give you that sugar high, particularly if you have a sweet tooth. 'Gulab' means rose in Hindi and 'jamun' translates to berry. The jamuns are made from milk solids or 'khoya' that has been reduced from milk by heating it over a low flame for a long time. They are then kneaded into small berry sized balls to the softest, fluffiest consistency with a little flour, then deep fried to a caramel colour in ghee or oil and then flung into the sweetest rose syrup. Flavoured with cardamom and sometimes saffron, they are the ultimate, decadent treat. V
Gulab Jamun Recipe
Kheer
Kheer is an Indian sweet dish that is made from milk and sugar that has been slowly reduced over a low flame and flavoured with either cardamom, pistachios, raisins, almonds, saffron, or other aromatics. Some type of grain is added to the kheer, either rice, vermicelli, tapioca or broken wheat (but usually rice). It's not unusual to have a bowl of kheer with rice and sweetened with molasses, known as 'payesh,' as a traditional birthday treat in Bengal. Birthdays wouldn't be birthdays without Mum's payesh. GF option, V
Kheer Recipe
Indian drinks
Lassi
Lassi is the perfect thirst quencher on a hot summer's day. Made from plain yoghurt that has been watered down and whisked to frothy goodness, you can drink a sweet lassi or a salty one with hints of cumin. Sweet lassis can be indulgent affairs with the fruit pulp of mangoes. Drink it from a tall glass with a long straw to quench your thirst. Alternatively, rosewater may flavour a sweet lassi. GF, V
Lassi Recipe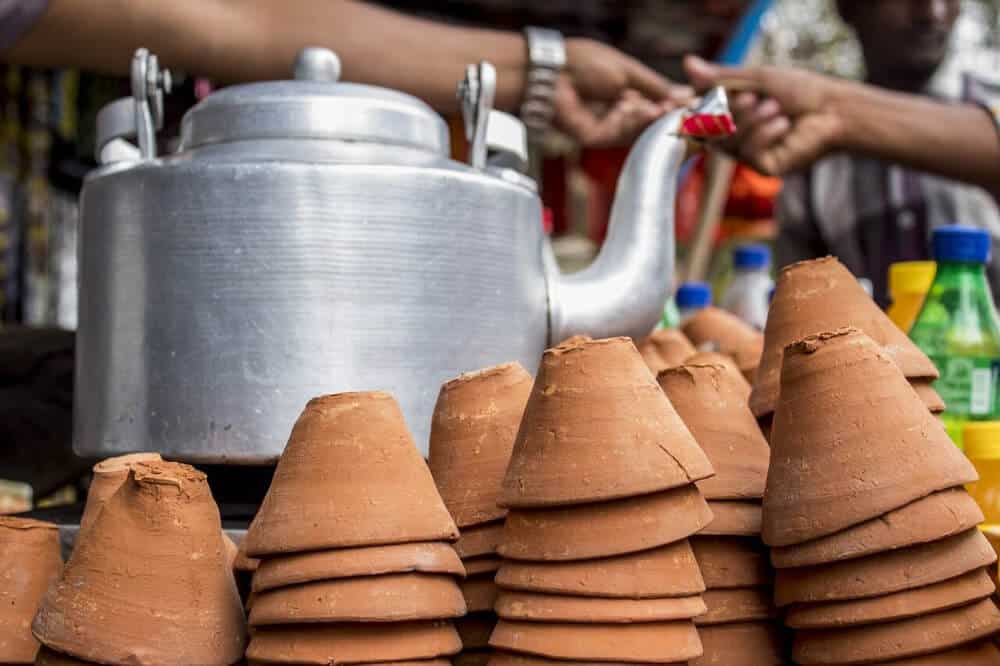 Masala Chai
The humble masala chai is the drink of India — the country basically runs on masala chai, and it's a social ritual as much as a hot beverage. It's the perfect pick-me-up after an afternoon of shopping, the warming elixir that will rejuvenate you after an exhilarating trek in the mountains or the drink to warm the cockles of your heart while watching the sunset on the beach. Milky and oh so sweet, masala chai is drunk in small shots, preferably from a small earthenware tumbler from a street side stall or shack.
The sweet, milky tea is usually prepared by brewing a decoction of a robust Indian black tea (perhaps Assam tea) with cardamom, cinnamon, ground cloves, ginger and black pepper. The recipe allows for subtle variations and the ingredients are thought to be sourced from ancient Ayurvedic texts. Masala chai, in different forms has spread all over the world, assuming new, sophisticated avatars in the shape of chai tea lattes and the likes. When you visit India, do sample the masala chai in its most original and authentic form. GF, V
Simple Masala Chai Recipe
---
Love Indian Food?
Read more posts about Indian food on Breathedreamgo!
---
Guest post by Arpita Bhattacharya. Arpita has a doctorate in Molecular Biology but reading world literature, particularly old, forgotten classics is her passion. She is a freelance writer who also writes about books at Bag Full of Books. You can find her mostly over on her Instagram account @Bagfullofbooks, engaging in bookish chat and posting photos of all the photogenic good reads.
---
Gulab Jamun Image by ikon from Pixabay
---
PIN it on Pinterest
---
If you enjoyed this post, you can….
Sign up to The Travel Newsletter in the sidebar and follow Breathedreamgo on all social media platforms including Instagram, TripAdvisor, Facebook, Pinterest, and Twitter. Thank you!