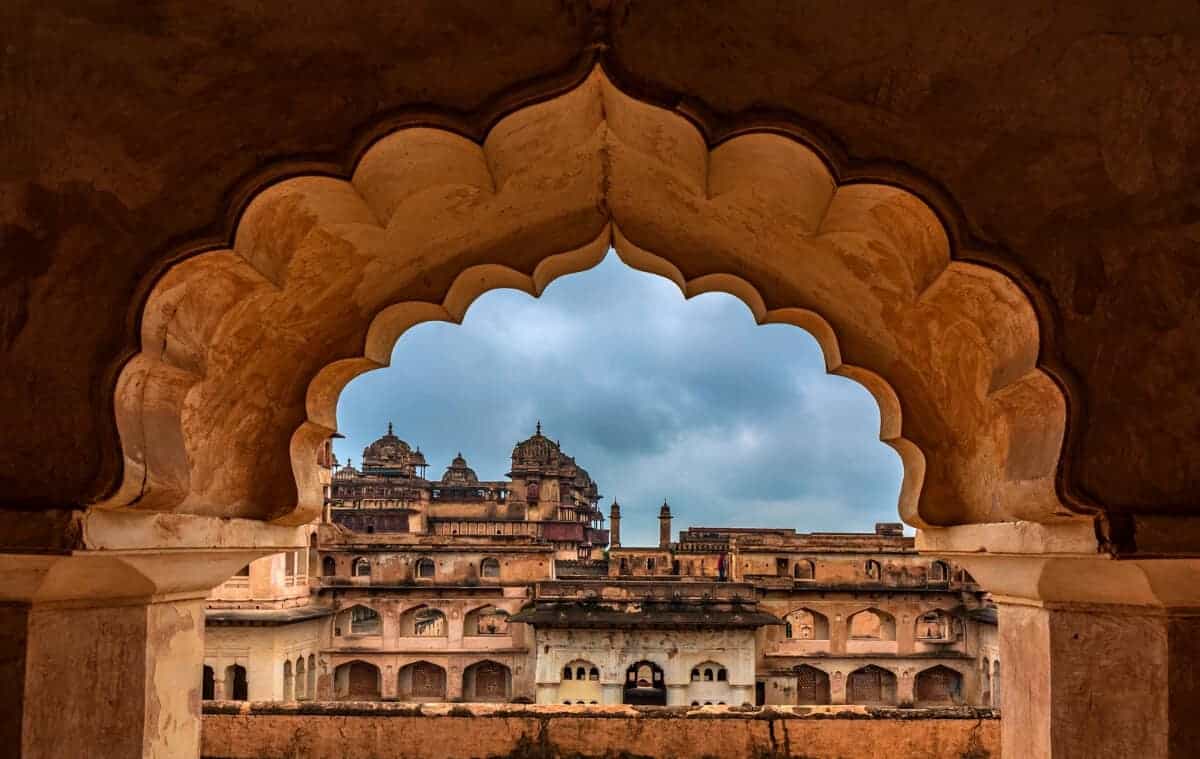 Namaste Orchha, India's hidden gem in Madhya Pradesh
INDIA IS A MASSIVE COUNTRY with no end of incredible historic sites, monuments, forts, and palaces. It would literally take lifetimes to see it all. I have done my best however, over many years of travel in India, and have been blown away more times than I can count. The temples of Khajuraho, the Ellora and Ajanta caves, the Konark Sun Temple, the Mahabalipuram monuments, the forts of Rajasthan, the abandoned city of Hampi, the stepwells of Gujarat … I could go on and on. But even though I have been to so many places, including many in Madhya Pradesh, I was truly impressed with Orchha.
The word Orchha literally means hidden, and the incredible forts, palaces, temples, and monuments of this historic city in Madhya Pradesh were actually built to be hidden by the Bundela Rajput ruler Rudra Pratap Singh in the 16th century.
Orchha is a very special place, one of those many incredible treasures intrepid travellers find all across India. A small town in the central Indian state of Madhya Pradesh, Orchha is built on the banks of the rushing Betwa River, surrounded by forest. It's a peaceful and beautiful place, one of those destinations that invite slow travel and lingering for a while to simply soak up the atmosphere.
Read my Offbeat and local Madhya Pradesh itinerary to discover a perfect getaway that's easily accessible from Delhi and Agra, and includes Orchha.

Namaste Orchha Festival
The Namaste Orchha Festival was organized to introduce the town to various delegates and the media, and to showcase its many attractions with inspired performances, fascinating local tours, a crafts and food bazaar, and a farm to fork curated brunch.
There were so many highlights to this amazing festival, it's hard to know where to begin. Organized by Festival Director Yasmin Kidwai with the support of Madhya Pradesh Tourism, Namaste Orchha took full advantage of both the stunning natural backdrop — the town itself — and the incredibly talented people that performed and contributed in various ways.
Opening night included performances at Orchha Fort followed by a lavish dinner curated by celebrity chef Saransh Goila on the Raja Mahal lawns — interrupted by an unexpected rain shower that did nothing to dampen spirits. Performances by dancers and musicians were fabulous — you can see a full list here — and my jaw dropped at a "projection mapping show" that was projected onto the architecture of the ancient fort to tell the story of Orchha.
The next evening, performances were in two places. At sunset, a series of performances on the Betwa Ghats, in the shadow of the gorgeous chattris, evoked a cultural atmosphere that I have rarely experienced. Emceed by actress Swara Bhaskar, I watched spellbound as Shubha Mugdal sang and afterwards Aditi Mangaldas danced. These were two of the best performances of Indian classical music and dance I have witnessed in my life — but the highlight for me was the aarti performance. The finale to an amazing show, the aarti completely swept me up in the intoxicating, spiritual feeling. I actually ran to the stage, like a teenager at a rock concert.
Dance group Sadhya are joined by priests onstage for Aarti
The ghat performances were followed by Music Under the Baobob Tree and another fantastic lineup of musicians in a unique and inspiring setting.
Activities during the daytime included rafting, kayakaing, cultural walks, and one of my favourite things, a photography walk with Sumiko Murgai Nanda. Himanshu Shekhar of Delhi By Cycle was there, offering bike rides around the town and into the surrounding countryside.
The final event was a luncheon set up on the banks of the Betwa River at the Bundelkhand Riverside. As I was staying at the hotel in a cottage — and it was my birthday — it was easy for me to walk across the lawn to the farewell luncheon and enjoy tea, vegetarian sushi, hand-crafted cocktails, and local dishes. Three cheers to Anamika of Anandini Himalaya Tea company for providing unique and delicious teas.
Anamika Singh of Anandini Himalaya Tea at Namaste Orchha Festival
How to get to Orchha
From Delhi, you can drive to Orchha in about 8 hours, or you can take a train to Jhansi, and then a taxi to Orchha. The Bhopal (or Habibganj) Shatabdi is about 4.5 hours, leaves at 6 am, and is very comfortable.
Though remote and unspoilt, Orchha is still within reach. The beauty of Orchha is its compelling combination of magnificent temples, fascinating historical sites, sublime architecture, pristine natural environment, and a laid-back, relaxed vibe.
History of Orchha
Orchha is one of the state's treasures, a stunning heritage city built on legend. The city was founded in the 16th Century by Rudra Pratap Singh and it became the capital of the Bundela Rajput dynasty. Orchha was planned along the Betwa River, a complex of magnificent forts, palaces and cenotaphs.
Orchha is known for something truly unique: it's the only place in India where Lord Ram is worshipped as a King. The stories of the gods and the Rajput rulers merge here in Orchha. You can learn more about the history of Orchha from this video below.
Where to stay in Orchha
Orchha is a small town with fairly limited options, but there are a couple of good hotels, some good homestay options, and inexpensive guest houses for pilgrims, too.
I stayed at the Bundelkhand Riverside, a premier heritage hotel that is one of the top three or four places to stay in Orchha. It's built on 50 acres of land and was used as a hunting lodge by the erstwhile royal family of Orchha, dating back to 1895. The hotel is a little bit tired, though one could argue that's part of it's charm. I liked the riverside location immensely. I stayed in a cottage and could walk directly out onto the rocky and unspoilt banks, where, in the distance, I could see the spires of ancient temples. Sunrise on the river is magical.
Other recommended hotels and homestays include
Amar Mahal Hotel
Orchha Palace Hotel and Convention Centre
Sheesh Mahal Hotel
Faagun Haveli Homestay
Top 5 places to visit in Orchha
Orchha Fort, Jehangir Mahal, and Raja Mahal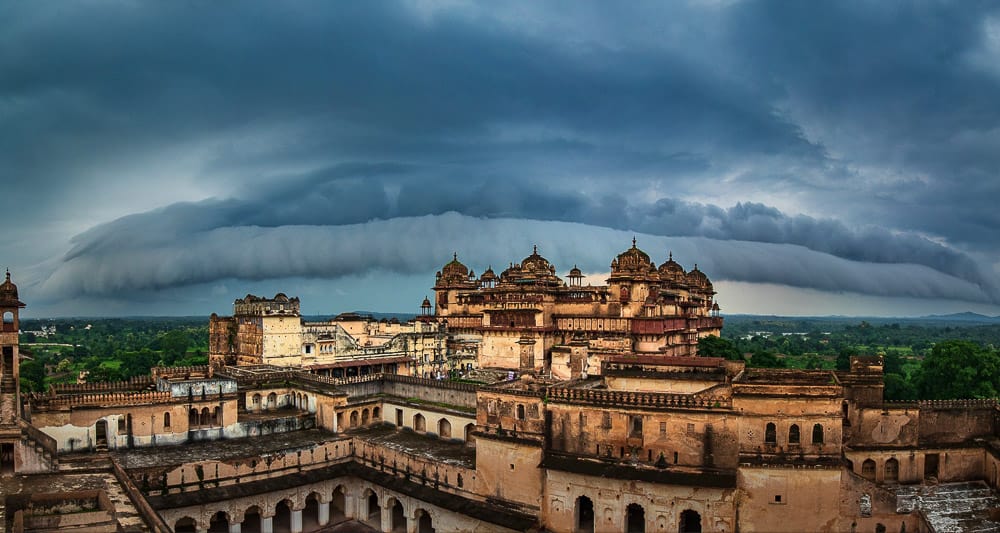 Chattris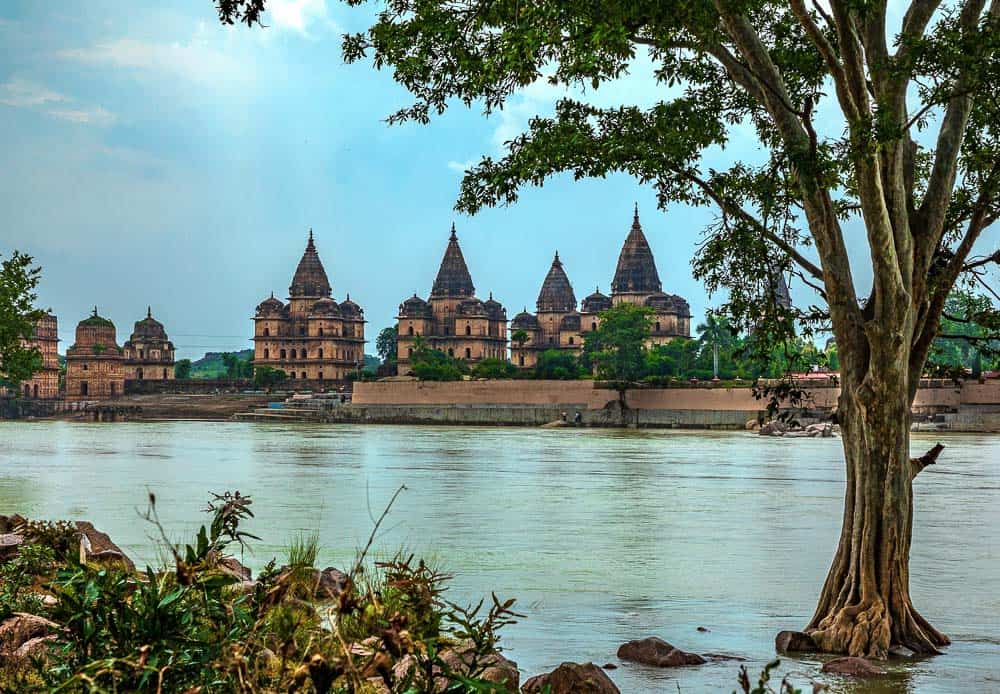 The Betwa River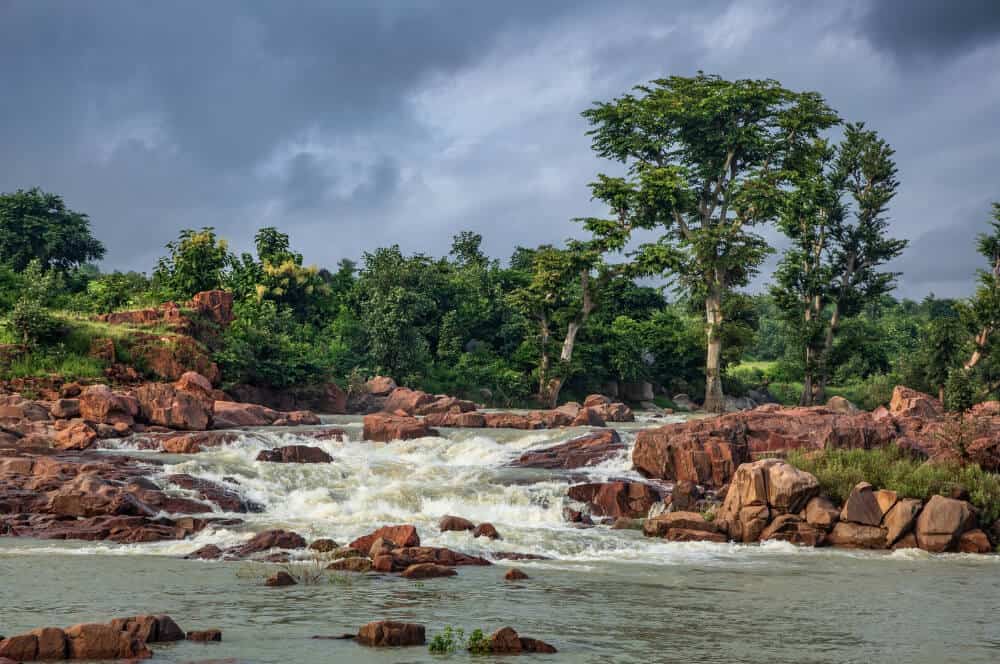 Laxmi Temple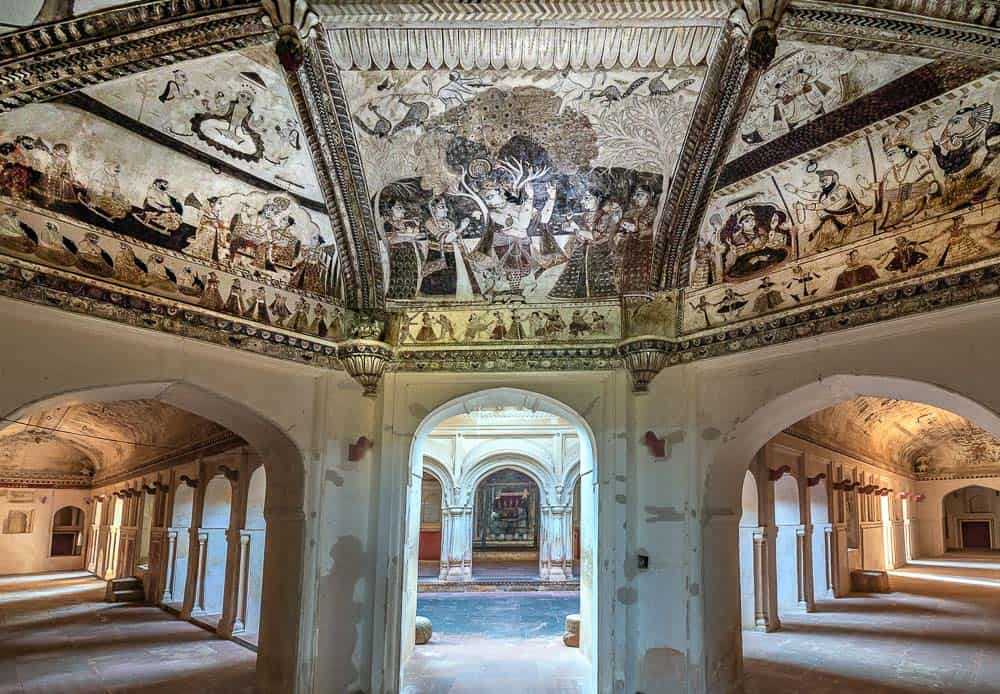 Chaturbhuj Temple and Ram Raja Temple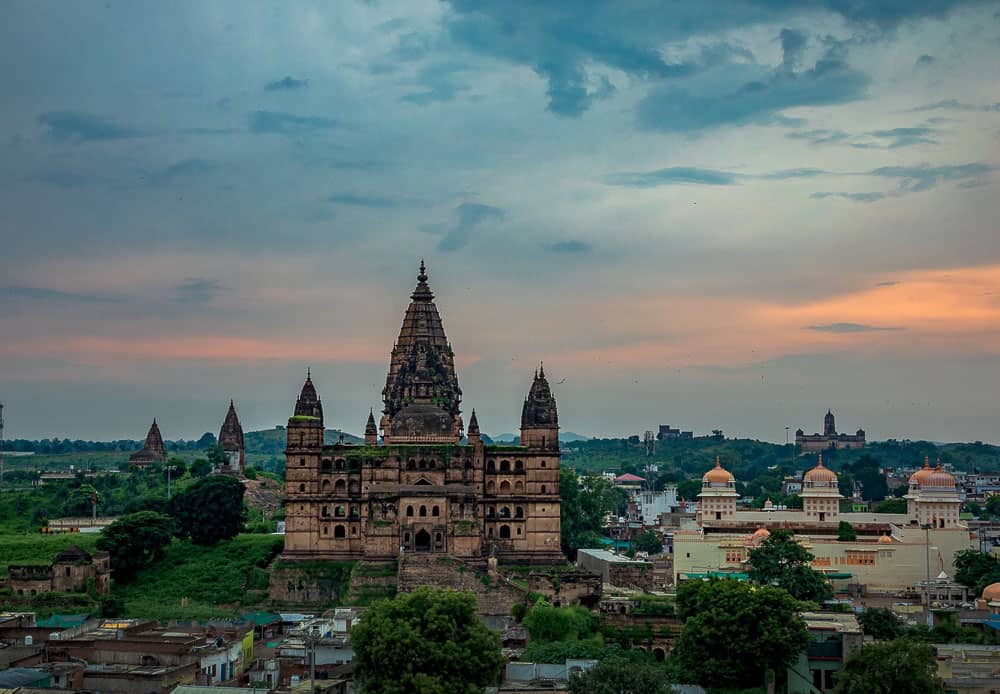 ---
Pin it on Pinterest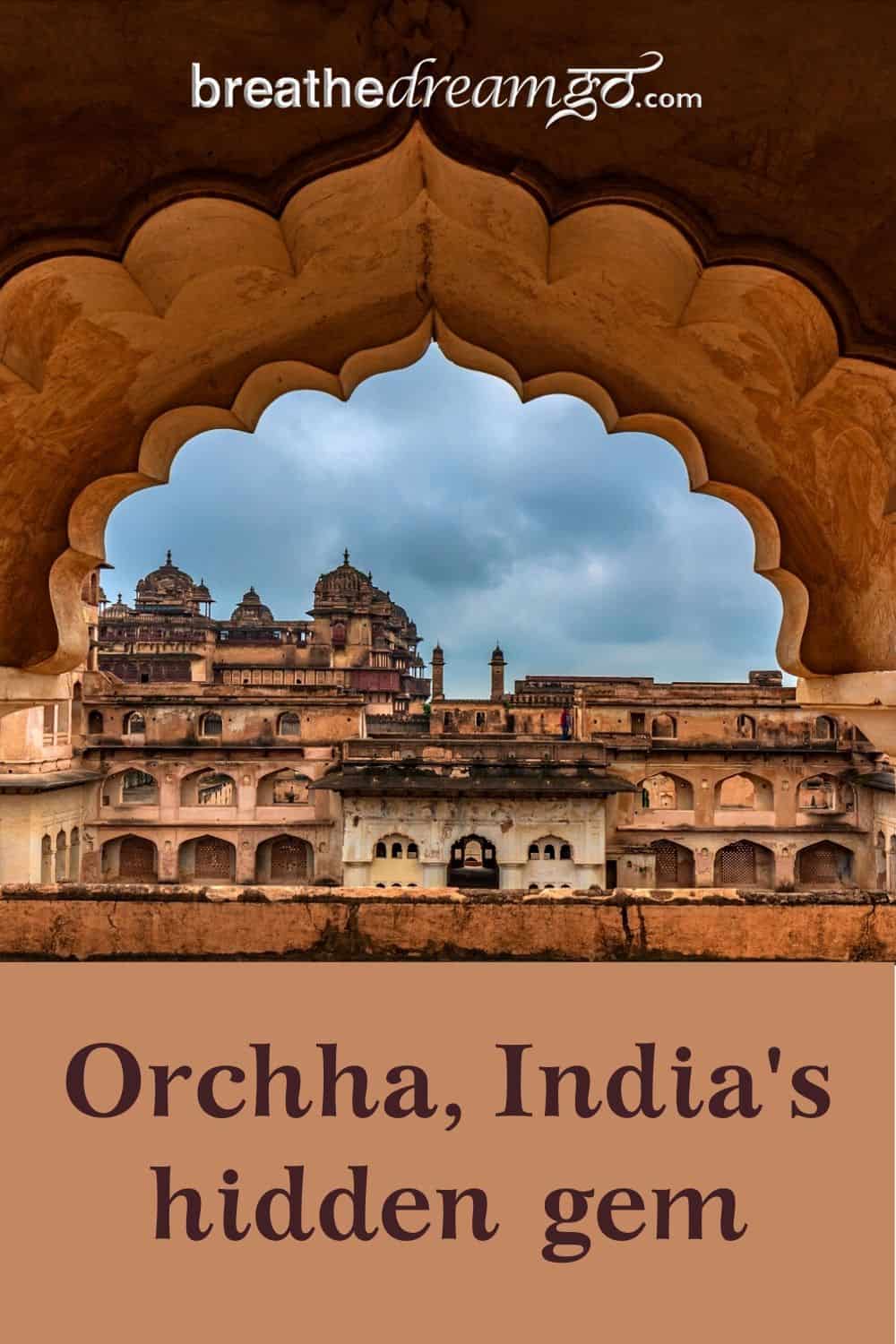 ---
If you enjoyed this post, you can….
Sign up to The Travel Newsletter in the sidebar and follow Breathedreamgo on all social media platforms including Instagram, TripAdvisor, Facebook, Pinterest, and Twitter. Thank you!