Travel advice, information, and inspiration
Breathedreamgo is an award-winning travel site dedicated to transformative travel – the kind of travel that changes you, and has a positive impact on local communities and environments. We offer inspiration, advice, information, and encouragement for anyone who wants to experience authentic, adventurous and meaningful travel. While our expertise is travel in India, we cover meaningful, authentic travel experiences all over the globe.
---
Breathedreamgo was founded by professional Canadian travel writer Mariellen Ward. Mariellen has a BA in Journalism and has been travel writing and blogging since 2005. She has won many awards, including Traveller of the Year from Outlook Media, and writes for some of the world's leading publications including BBC Travel and NatGeo Traveller India. Mariellen has spent more than four years travelling in India over the past 13 years, and now lives in Rishikesh, Uttarakhand, India.
Mariellen is a well-known expert on travel in India and an outspoken advocate for female solo travel and responsible travel. She has spoken at TBEX Asia (travel blogging conference), the Outlook Indian Responsible Travel Summit, and at the first Women's Travel Festival. Breathedreamgo has won many awards, has been on many lists on top blogs, and has been featured in many of the world's leading publications.


Breathedreamgo was awarded funding in 2016 and 2018 from the Canada Periodical Fund Program, Business Innovation Component, Department of Canadian Heritage, Government of Canada.
Click here to see the masthead and a list on contributors to Breathedreamgo.
---
To learn more about Breathedreamgo, including awards, stats and demographics, download the Breathedreamgo Media Kit 2018.
---
Women in Capes
in 2019, Mariellen was featured in a special "Women in Capes" website that featured 10 solo female travellers in Asia, produced by Expedia Singapore.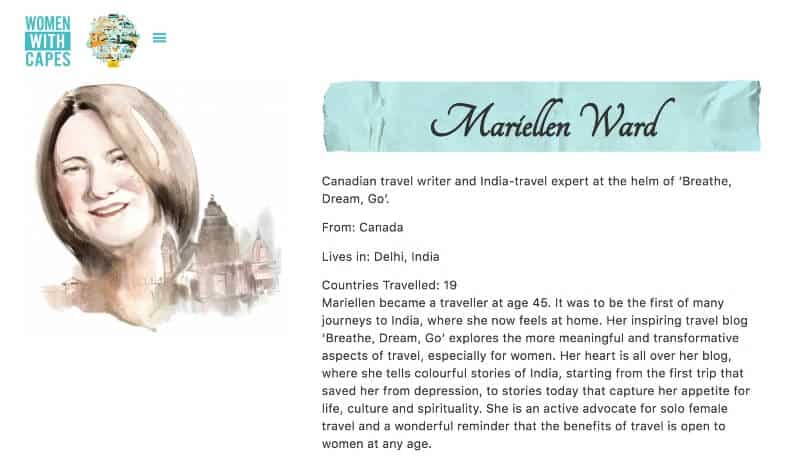 ---
Recent media coverage
---
Passion Passport interview
In this in-depth profile from Passion Passport, Mariellen shares her backstory and the reasons that compelled her to start travelling in India and blogging.

---
Traveller of the Year
Mariellen was named Traveller of the Year by Outlook Magazine in the first annual Outlook Social Media (OSM ) Awards, October 2016. The awards were given out to "the czars of social media" in India, including superstar Amitabh Bachchan, sportswoman Saina Nehwal, and movie star Priyanka Chopra, among others. Read: How it feels to win Traveller of the Year in India.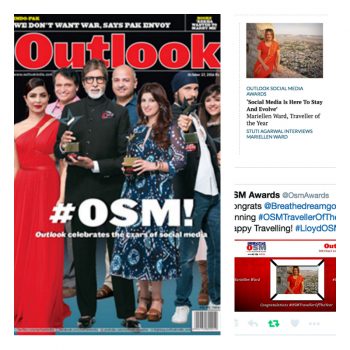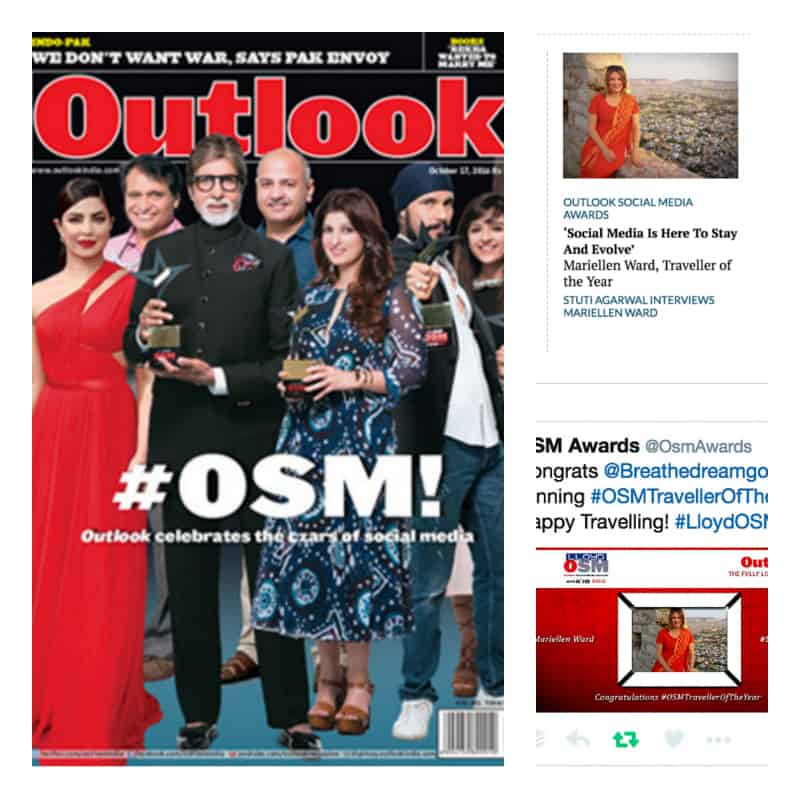 Women at Work credits Breathedreamgo with rise in tourism to India
In this article about Mariellen in Women at Work, Anwesha Mitra writes: "Breathedreamgo is her ode to India. Though the site now covers many other Asian destinations, it started with the pure intention of introducing authentic India to the West. When the world was ticking off India as a dangerous place, Mariellen stuck to her conviction and faith in the land that had renewed her soul. According to her, India is as much safe and as much dangerous as any other place in the world. Her commitment, love and untiring effort to portray the country's inherent beauty, culture and tradition through her blog paid off. There has been a 10% growth in the number of lone female travellers in India."
Mariellen Ward
You can learn more about Mariellen Ward on the About Mariellen page, which includes a travel writing portfolio. Mariellen has been writing and blogging about travel since 2005. For profile pictures of Mariellen on her travels, please visit this Flickr album.

About Breathedreamgo
Breathedreamgo was launched on August 23, 2009 and it has grown over the years to become one of the top two "India travel blogs" according to Google search.
Mariellen writes with a passion few other bloggers can reach, and with an honesty few people can take pride in. She is bound to India, physically, emotionally and spiritually, but this doesn't mean she doesn't take trips in other parts of the world. Her stories have a certain Oriental exoticism, a charm and a finesse that cannot leave anybody indifferent to the beauties and experiences seen through her eyes. It is not only about the author's traveling tips, useful, necessary, but about the way she tells her stories, a modern Scheherazade who intertwines magic and beauty in her tales. TenMania's 50 Travel Bloggers to Follow
The motivation for Breathedreamgo
Several years ago, after a series of devastating losses, I fell into a deep depression and yoga got me out of it. I literally "breathed" my way back to health. Then I started "dreaming" about what I wanted to do. I had recently lost both my parents (one to heart disease, the other to cancer), and I felt time was of the essence. If I didn't start living my dreams now, I never would. My first dream was to do a yoga teacher training course; my second dream was to go to India for six months; and my third dream was to become a full-time writer.
"Breathing" and "dreaming"gave me the motivation to "go."I went. Traveling in India for six months re-ignited my enthusiasm for life, inspired me to become the writer I always wanted to be, gave me a passion and a purpose — to share the beauty of India's culture and wisdom — and even gave me a new family and a new home. It was the best thing I have ever done.
In June 2009, I was about halfway through attending a four-day conference for writers, editors, authors and magazine publishers and I was feeling very demoralized and discouraged. The traditional media was shrinking, writers were struggling, editors seemed to have all the power, publishers seemed to be devaluing the written word … I came home after the second day feeling very low. I was wondering if I would ever be able to achieve my dream of being a full-time writer / travel writer in this economic climate.
The next morning, I didn't even want to go back to the conference. I was in the shower, when I suddenly got the idea of starting my own blog, online magazine and/or community. And the name came to me instantly. I turned it over in my mind and realized that it perfectly summed up my experience. It was one of those rare moments when an idea hits like a thunderbolt. In fact, it was an epiphany.
Breathedreamgo is a mantra. Breathe is the wisdom of yoga and the importance of prana, breath. Dream is knowing who you are and where you want to go. Go is doing it, taking the steps: creating, studying, volunteering, traveling, giving.
So, breathe, dream, go is a summary of my experience — but it's also a formula. If you are feeling stuck, if you want more from your life, if you feel you haven't achieved your potential or met your destiny … try it. It doesn't have to be yoga and a trip to India. Maybe for you it will be running and art classes. Or hiking and overseas volunteering. Or therapy and learning Spanish. Whatever it is that gets you breathing, gets your heart pumping and motivates you to "follow your bliss."
Campaigns
Mariellen / Breathedreamgo has successfully completed many campaigns with organizations such as Costa Rica Tourism, Kensington Travels, Fairmont Hotels, Emirates airline, Scotiabank American Express, India Tourism, Nova Scotia Tourism and Ireland Tourism. Here are a few highlights:
Select Media coverage for Breathedreamgo / Mariellen Ward
---
Speaking Engagements
Finding your niche in a digital world with TechSoup and NetSquared 2016
TBEX Thailand 2015: Status of blogging in Asia
Social Media Week panel: Getting serious about travel blogging 2010
PWAC panel on Travel Writing, October 2009
"Eyes on India" Panel, Masal!Mehndi!Masti! (Indian cultural festival), August 2011For YouTube video of my speech click here.-
India information session at Kama Indian Cuisine, September 2011
Meet, Plan, Go, October 2011
MagNet: The Niceties of Niche, June 2012
Travel Blog Success: Travel Writing for Bloggers
Song of India – Book reviews
Author Promoting Authors
The author experience: Mariellen Ward
Sandra Phinney
Author! Author! Mariellen Ward
Women Doing Literary Things
Song of Myself
Wandering Carol's blog
Important travel books
Masti Magazine
Masti Magazine – Song of India review