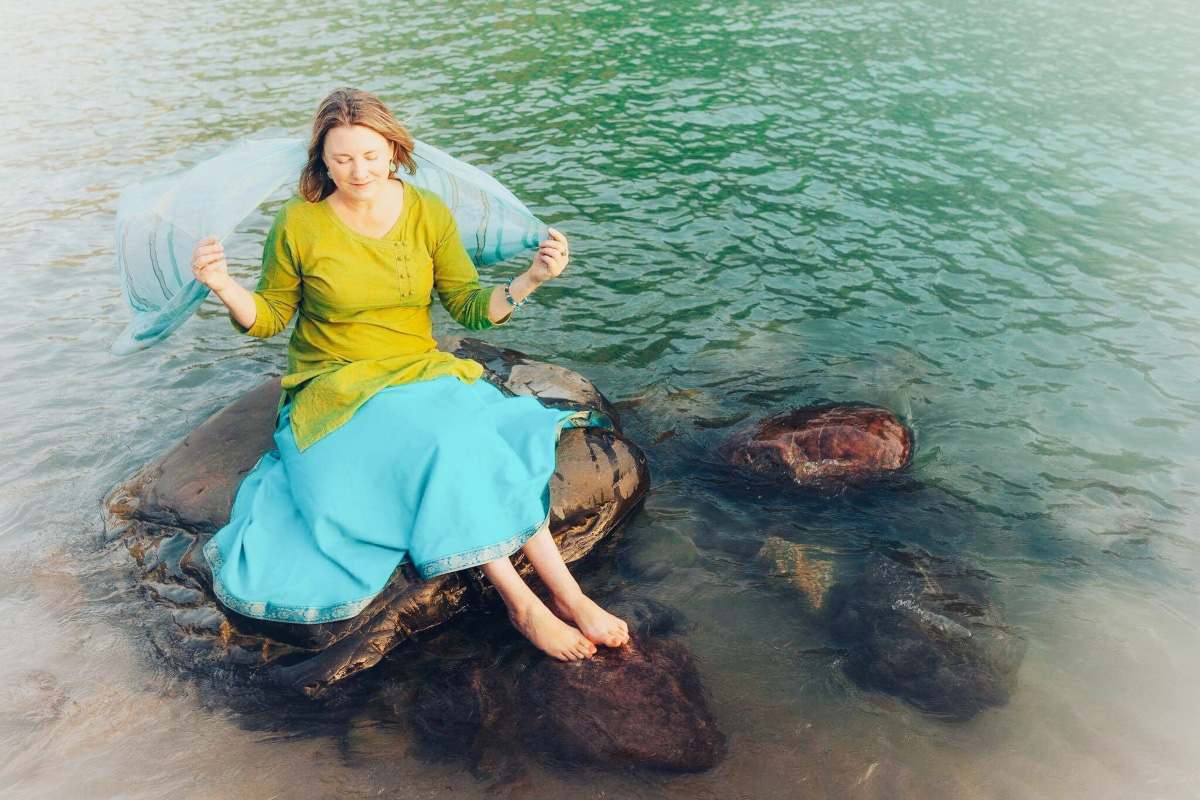 Find inspiration to live your travel dreams
BREATHEDREAMGO is an award-winning travel site published by Canadian travel writer and India travel expert Mariellen Ward. Breathedreamgo was launched in 2009 and focuses on transformative travel, travel in India, travel in Canada, responsible travel, and solo female travel. The purpose of the site is to encourage people to follow their travel dreams, to find out everything they need to know about travel in India, and to learn about travel in Canada (and other destinations).
"Our purpose is to encourage you with inspiration and information to live your
travel dreams."
On Breathedreamgo, Mariellen shares her own story of recovering from loss and finding a new life through travel, and by following her dreams. She also shares what she has learned on her inner and outer journeys over the past 13 15 years.
Mariellen has a BA in Journalism and started travelling and blogging in 2005. Originally from Toronto, she has travelled the length and breadth of India over the last 17 years and now lives in Rishikesh, the Yoga capital of the world. She is also the founder of India for Beginners custom tours.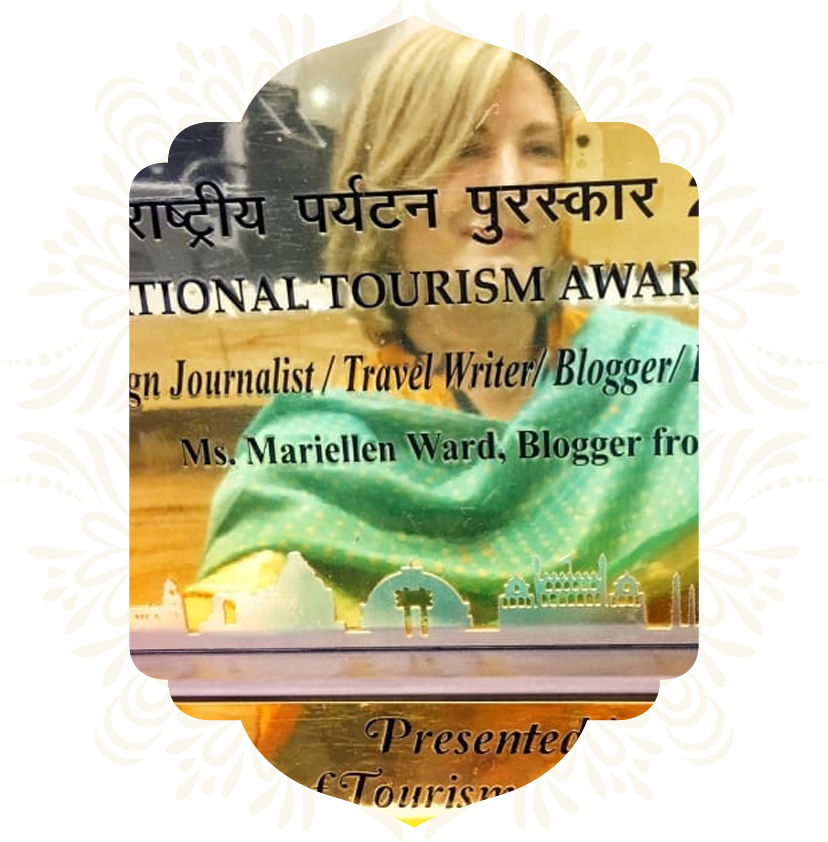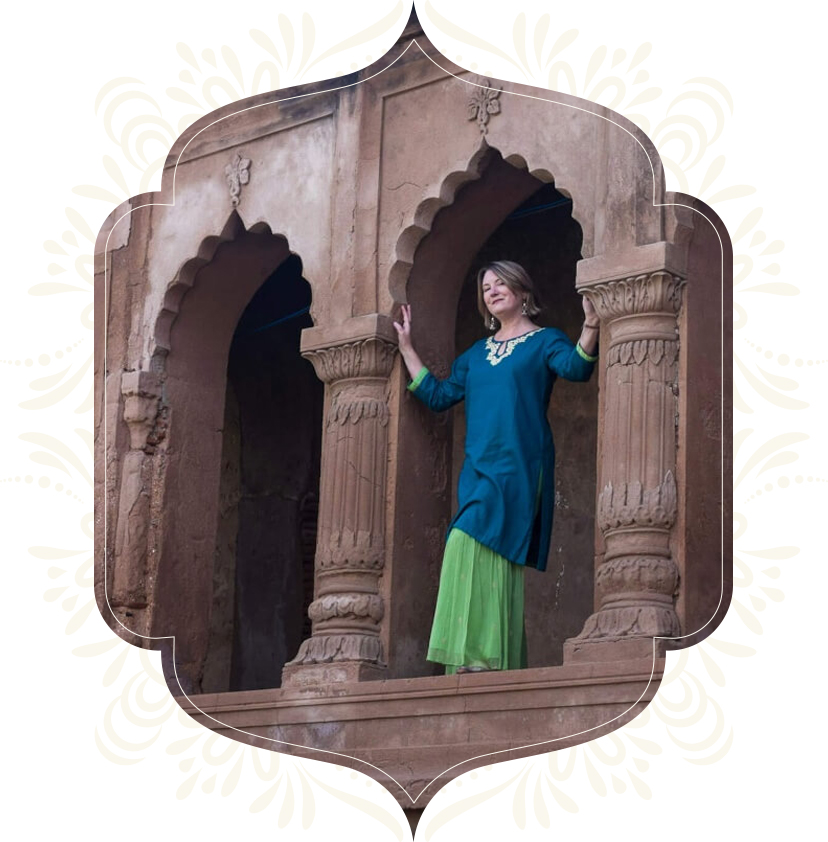 Breathedreamgo and Mariellen have won many awards including the National Tourism Award for Best Foreign Travel Writer / Blogger from Incredible India Tourism in Delhi (2019). In 2020, she was shortlisted for the Best Communicator Award, Indian Responsible Tourism Awards. Previously, she has won Traveller of the Year from Outlook Media in India and Best Travel Feature from Ontario Tourism.
Mariellen also writes for some of the world's leading publications including BBC Travel and NatGeo Traveller India and is an outspoken advocate for female solo travel and responsible travel. Mariellen has spoken at PATA Adventure Travel and Responsible Tourism Conference, Himalayan Travel Mart, TBEX Asia, the Outlook Indian Responsible Travel Summit, and at the first Women's Travel Festival.
Contributors
Victoria Ward is co-owner of Breathedreamgo and Business Development Manager, responsible for advertising, affiliate marketing, and sponsorship. Chris Richardson of TryAssistant is web developer for Breathedreamgo, responsible for all things technical and WordPress management.

---
To learn more about Breathedreamgo, including awards, stats and demographics, download the Breathedreamgo Media Kit.
---
Recommended by Lonely Planet
The 2022 edition of the Lonely Planet Guide to India includes a section for Women & Solo Travellers that covers safety issues and recommends a number of websites and blogs — including Breathe, Dream, Go!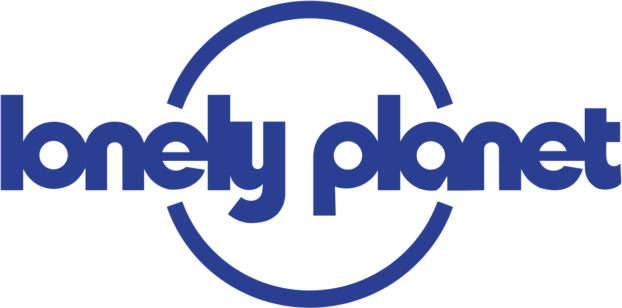 ---
Recent media coverage
---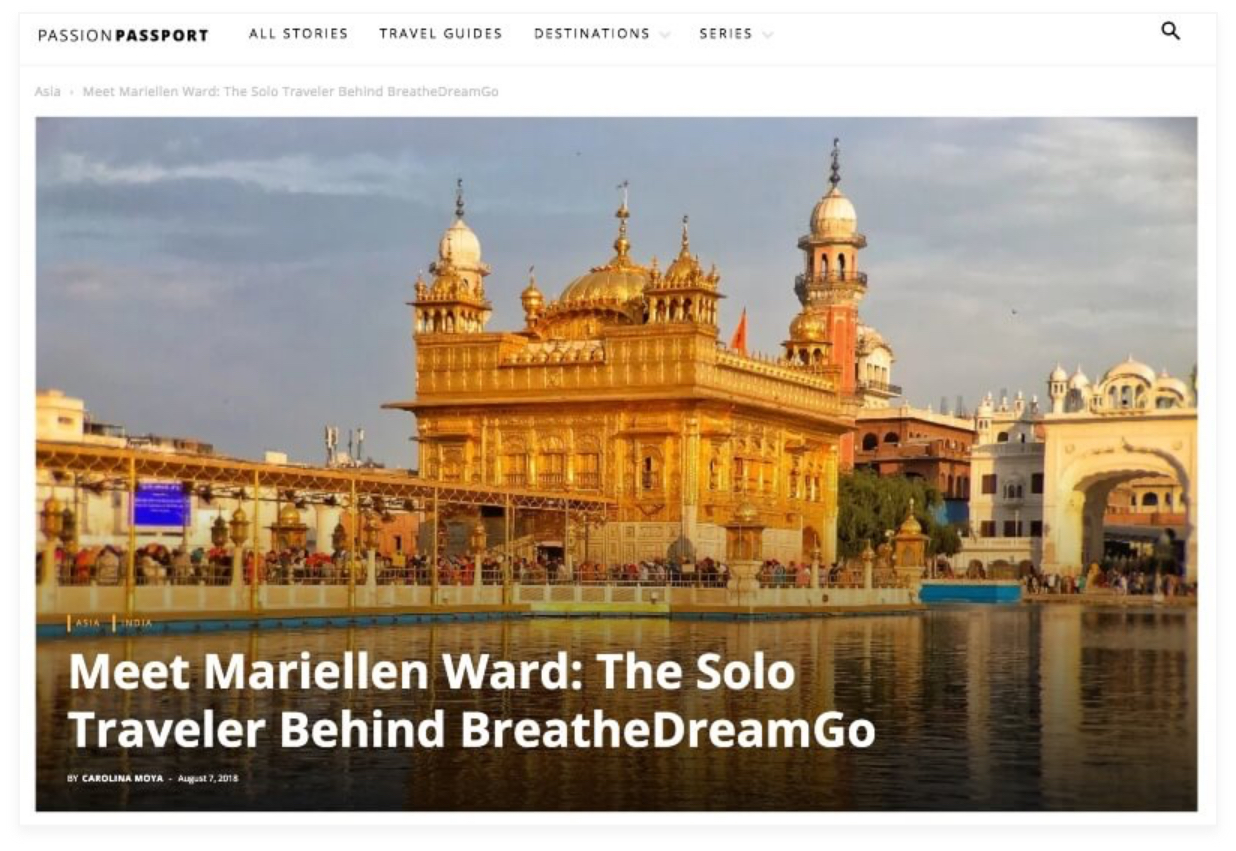 ---
Traveller of the Year
In this in-depth profile from Passion Passport, I shared Mariellen was named Traveller of the Year by Outlook Magazine in the first annual Outlook Social Media (OSM ) Awards, October 2016. The awards were given out to "the czars of social media" in India, including superstar Amitabh Bachchan, sportswoman Saina Nehwal, and movie star Priyanka Chopra, among others. Read: How it feels to win Traveller of the Year in India.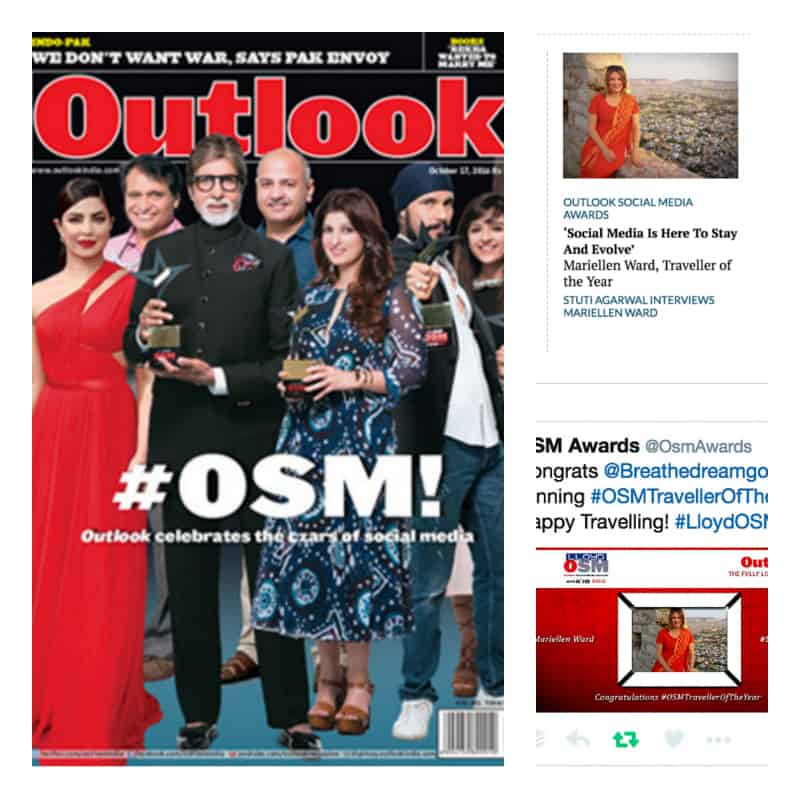 ---
Women at Work credits Breathedreamgo with rise in tourism to India
In this article about Mariellen in Women at Work, Anwesha Mitra writes: "Breathedreamgo is her ode to India. Though the site now covers many other Asian destinations, it started with the pure intention of introducing authentic India to the West. When the world was ticking off India as a dangerous place, Mariellen stuck to her conviction and faith in the land that had renewed her soul. According to her, India is as much safe and as much dangerous as any other place in the world. Her commitment, love and untiring effort to portray the country's inherent beauty, culture and tradition through her blog paid off. There has been a 10% growth in the number of lone female travellers in India."
---
The motivation for Breathedreamgo
I started travelling and blogging in 2005 when I went on a six-month "trip of a lifetime" to India. I blogged on Travelblog.org back then, because no one really had standalone travel blogs. Over the next few years, as I was trying to sort out my life, I came to realize that travelling, especially in India, and travel writing, were my passions and I wanted to build a career on them.
So, in June 2009, I attended a four-day conference for writers, editors, and publishers in Canada with the object of starting my travel writing career. I was about halfway through the conference when I started to feel very discouraged. The traditional media was shrinking, writers were struggling, editors seemed to have all the power, publishers seemed to be devaluing the written word … I came home after the second day feeling very low. I was wondering if I would ever be able to achieve my dream of being a full-time travel writer in this economic climate.
The next morning, I didn't even want to go back to the conference. I was in the shower, when I suddenly had an epiphany: I decided to take my career online, and make a name for myself as a blogger. Suddenly, the words "breathe dream go" dropped in my mind, as if put there by someone. I turned them over and realized the phrase perfectly summed up my story of breathing my way to recovery from loss through Yoga, dreaming of India, and finally going on the trip of a lifetime.
I jumped out of the shower to Google and see if it was unique — it was! I bought the domain before I was dry.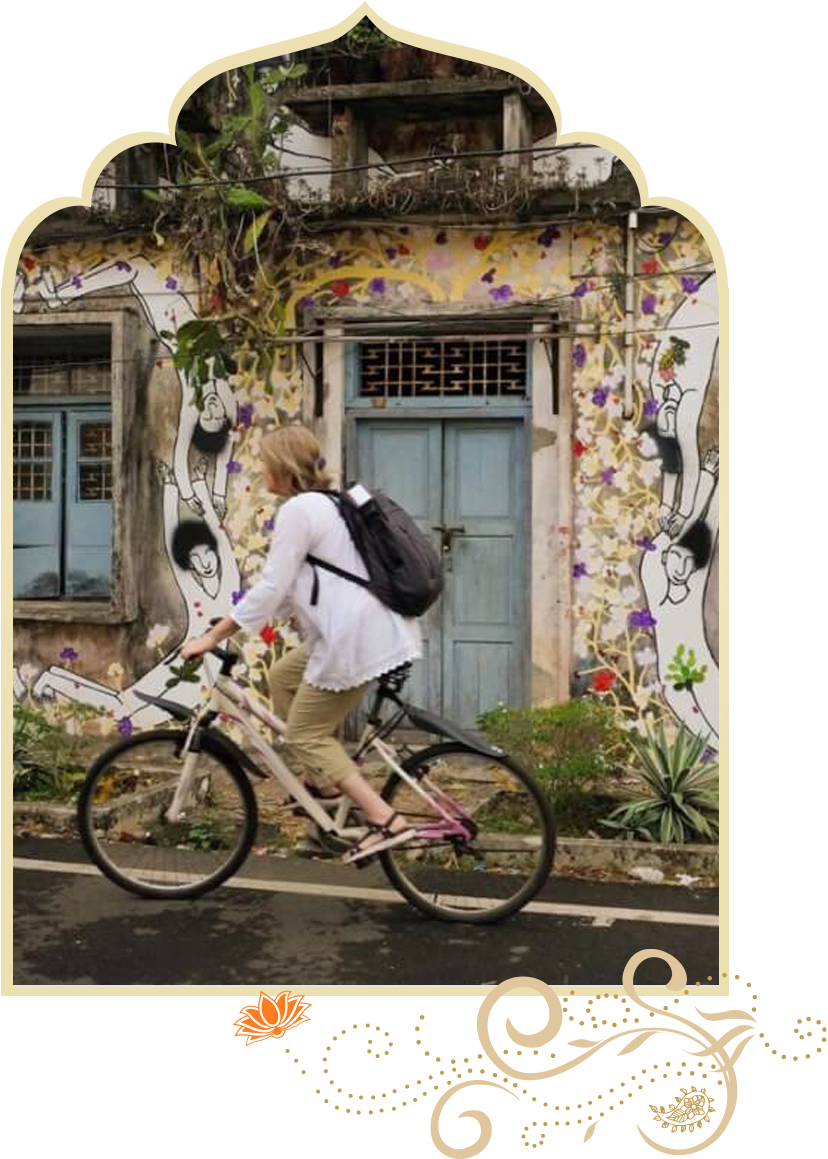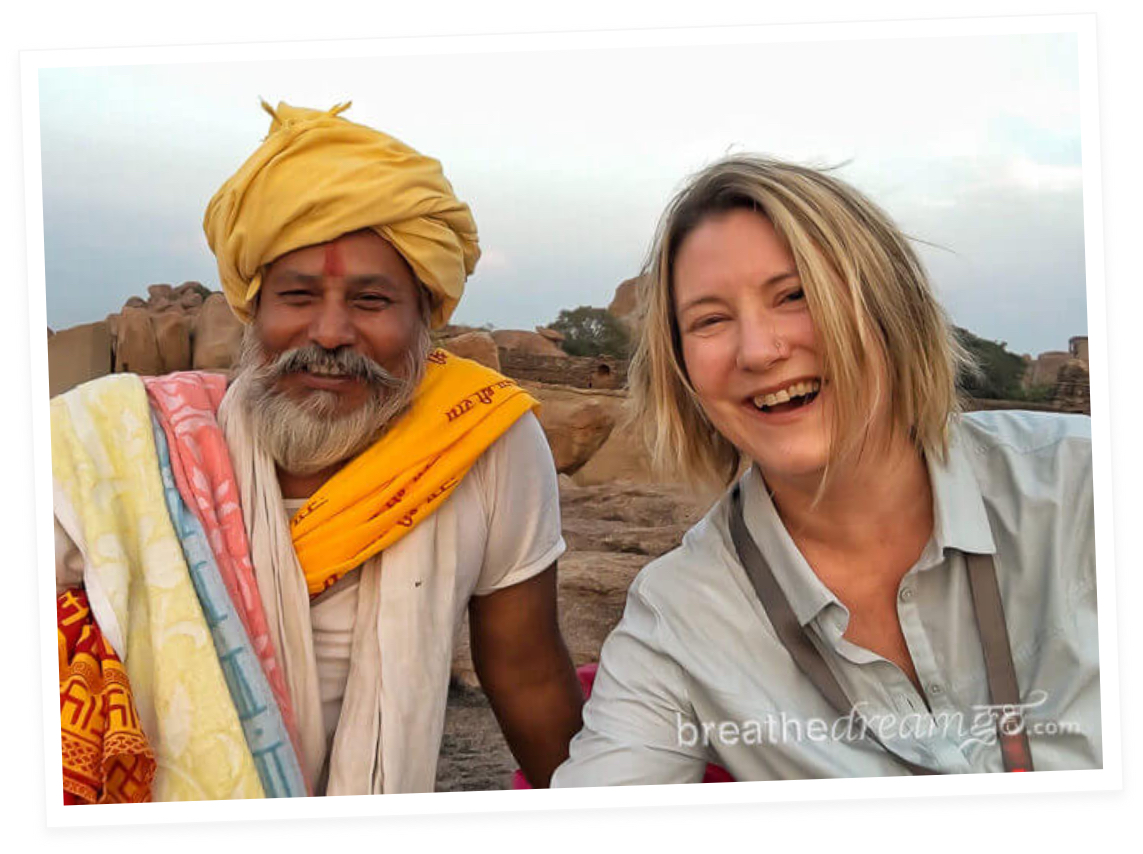 From that day to this, I have always loved this blog name, and it's allowed me to pivot and cover different topics. I'm also very grateful. I felt it was given to me, as a gift, and I have cherished it and tried to live up to it.
"Breathing" and "dreaming"gave me the motivation to "go." I went. Traveling in India for six months re-ignited my enthusiasm for life, inspired me to become the writer I always wanted to be, gave me a passion and a purpose — to share the beauty of India's culture and wisdom — and even gave me a new family and a new home. It was the best thing I have ever done.
Breathe, dream, go is a summary of my experience — but it's also a formula. If you are feeling stuck, if you want more from your life, if you feel you haven't achieved your potential or met your destiny … try it. It doesn't have to be yoga and a trip to India. Maybe for you it will be running and art classes. Or hiking and overseas volunteering. Or therapy and learning Spanish. Whatever it is that gets you breathing, gets your heart pumping and motivates you to "follow your bliss."
---
Select Media coverage for Breathedreamgo / Mariellen Ward
Solo Travel to India: Expert tips you need to know on Solo Traveler.
Inspiring women working to promote Indian culture from Homestays of India
Top India Travel Bloggers 2022 from The Grand Indian Route
India Centre for Soft Power Traversing Dimensions panel on travel in India.
Passion Passport profile: The solo traveler behind Breathedreamgo
Cision Interview: Meet the Blogger, Mariellen Ward
Times of India, Sunday magazine: cover story, The pursuit of Happiness
BBC Travel: How I quit my job to travel
CN Traveller India: Tips and advice from a solo woman traveller
The Hindu: No place for strangers
The Logical Indian: How India changed my life
Verge Magazine Q&A:
SheThePeopleTV Interview: Women, adventure and solo travelling
Girl About the Globe Expert interview: Solo travel in India
On the list of The Best Conscious Travel Blogs 2016
Adventurous Kate: Is solo female travel in India safe?
India Today, featured article: India breaks your heart on every street by Mariellen Ward
India Today, Independence Day issue cover story, August 15, 2013 Mariellen Ward, Publisher of Breathedreamgo
Frommer's Three Iconoclasts in Travel
---
Speaking Engagements
TBEX ASIA in Thailand 2022: Impact Storytelling presentation with Shivya Nath
PATA Adventure Travel and Responsible Tourism Conference, Rishikesh (2019)
Himalayan Travel Mart, Kathmandu (2018)
Outlook Indian Responsible Travel Summit (2019)
TBEX Thailand 2015: Status of blogging in Asia
Meet, Plan, Go, October 2011
MagNet: The Niceties of Niche, June 2012