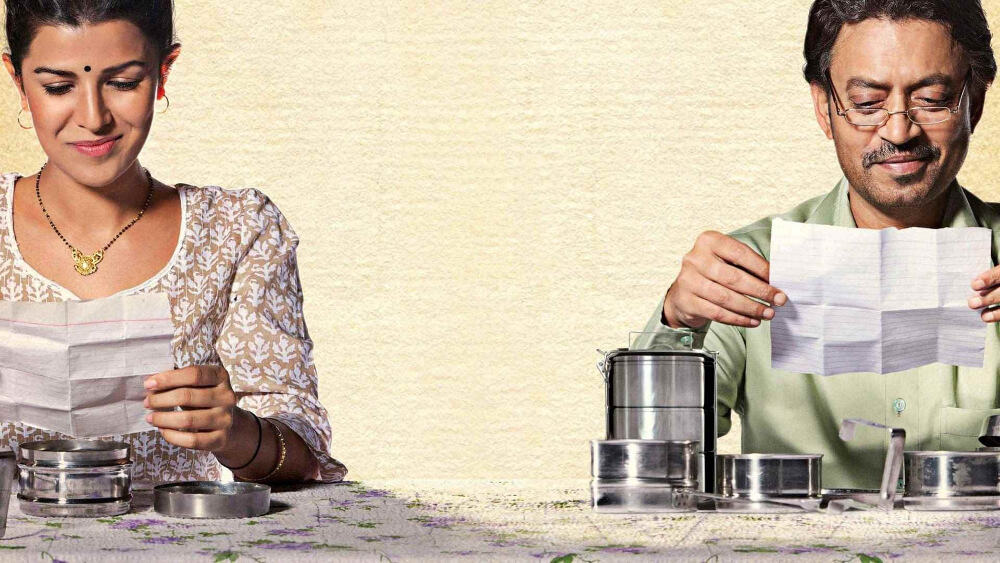 The 20 best movies about India and what they teach you
I LOVE MOVIES and I love India. I have poured my heart into this post — some of my favourite movies about India. There are lots more, but these were chosen because I feel they are instructive in some way about the culture of India, and also accessible to foreign viewers.
The following list of some of my favourite movies about India are not necessarily Indian-made movies — but movies that reveal the history and culture of the country. I have arranged them in chronological order of the time period they depict (not when they were made), so if you watch them in this order, you will get a sense of the history of India over the past couple of hundred years. Not too many "Bollywood films" on the list — but if you want to know more about the booming Hindi cinema industry in Bombay/Mumbai, read my Bollywood Primer.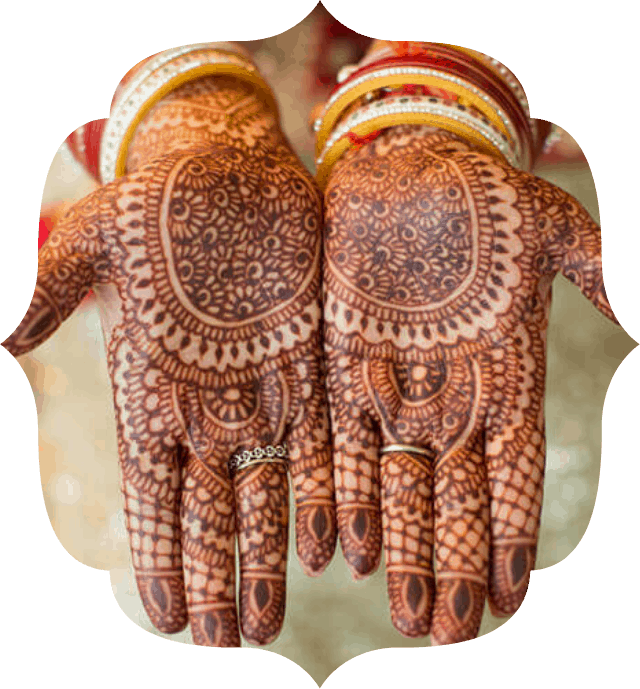 Come to India with us!
Are you dreaming of a trip to India? Come to India with India for Beginners custom tours, from Breathedreamgo, and let us show you the India we love. With India for Beginners, we help you design a tour based on your interests, preferences, and budget. We pick you up at the airport and we are available by phone 24/7. We hold your hand in India!
FIND OUT MORE!
UPDATED APRIL 2020: This post is dedicated to Irrfan Khan, who died of cancer on April 29, 2020. After his death I re-read this post and realized he is in four movies on this list, more than any other actor.
Historical movies about India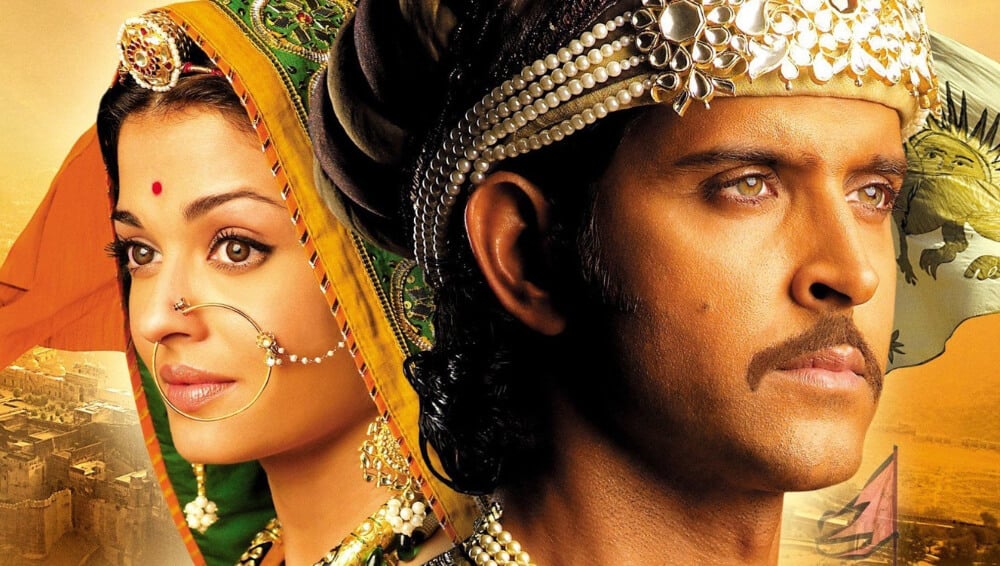 Jodhaa Akbar
Jodhaa Akbar is a big Bollywood blockbuster of a film; it swept all the awards the year it was released. It's about the relationship between India's Mughal Emperor Akbar, who was Muslim, and his Rajput-Hindu wife Jodhaaa. It stars the impossibly good looking on-screen couple Aishwarya Rai Bachchan and Hrithik Roshan. Jodhaa Akbar, set in the 16th century, is a sweeping historical saga dripping with romance, intrigue and absolutely fabulous REAL jewelry. A very satisfying film experience.
WHAT YOU LEARN: India has been a diverse and sophisticated civilization for hundreds (if not thousands) of years.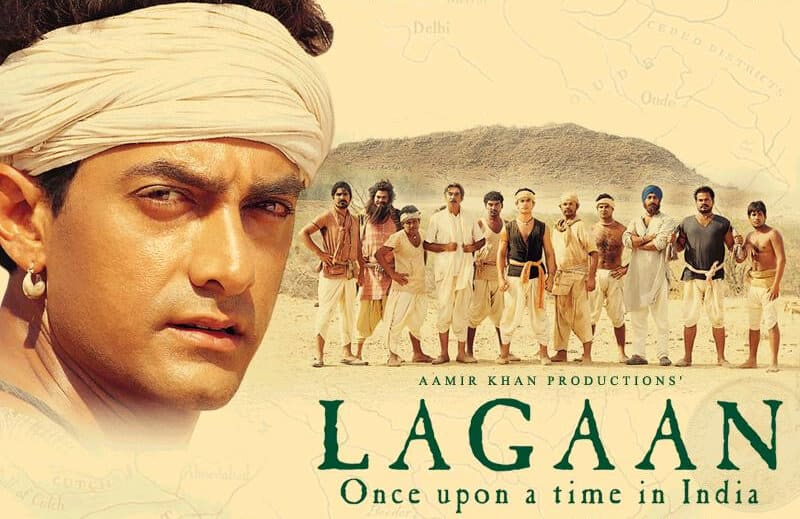 Lagaan
Lagaan means "tax" — the tax paid by Indian subjects to their British overlords; and the film Lagaan, set during the Victorian era, is about a tax revolt by overburdened villagers. The tax revolt crisis leads to a cricket match challenge between the villagers, who have never played the game before — led by Aamir Khan, in the role that propelled him to stardom — and the British. It's a feel-good movie on a grand scale about national pride. Made by the same director as Jodhaa Akbar, Ashutosh Gowariker, but earlier in his career. It's great to watch post-colonial people taking pride in their culture and history, even if it means playing up stereotypes and formulaic plot lines. Aamir Khan is awesome. As usual.
WHAT YOU LEARN: Cricket may have came from England, but India has taken it to heart.

Pather Panchali
Some people think its Orson Welles, some Stanley Kubrick, others Kurosawa. But I think Satyajit Ray, who hailed from Bengal in eastern India, is the greatest film director in the history of cinema and this "little" film (budget was purportedly $3,000) was his debut. Pather Panchali, which means "Song of the Little Road," is a study of rural family life in India in the early part of the 20th century. It is perhaps the most sensitive and true-to-life film I have ever seen. A lyrical masterpiece, and the first of the three Apu Trilogy films that also includes Aparajito and Apur Sansar.
WHAT YOU LEARN: Why Indians glorify traditional, pastoral life. And why Ray is lionized.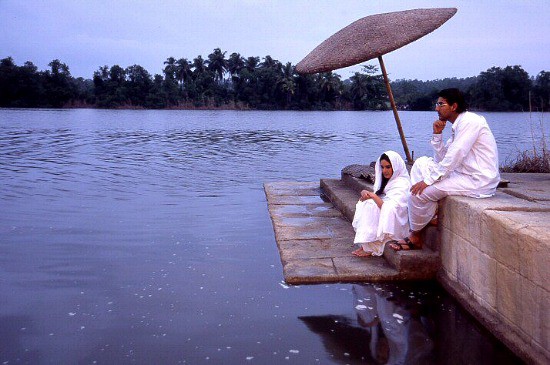 Water
Water is one of my all-time favourite films. When I saw it for the first time at TIFF the year it debuted, I cried my eyes out at the dramatic end. Directed by Indo-Canadian powerhouse Deepa Mehta, Water is about life in a widow's ashram in India in the 1930s. The freedom struggle, which was gathering steam at the time under the charismatic leadership of Mahatma Gandhi, provides the backdrop. It took Deepa Mehta years to make this film as her set was burned by Hindu fanatics. Eventually, she shot it in Sri Lanka. Personal note, my long-time friend Mychael Danna wrote the very beautiful film soundtrack. He later won an Academy Award for the soundtrack he composed for Life of Pi.
WHAT YOU LEARN: Life for women in India is unfair; and when personal conscience triumphs societal beliefs, good things happen.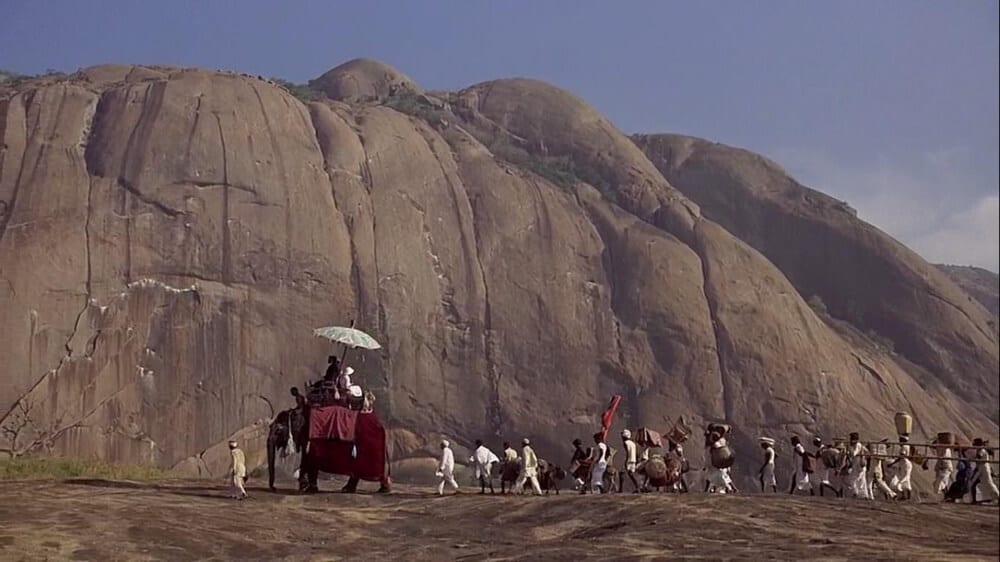 Passage to India
This is perhaps my favourite film about India. Based on the book by E.M. Forster, directed by David Lean and with an all-star cast that includes Victor Banerjee, Alec Guinness, and Peggy Ashcroft, Passage to India is about the clash between the British colonizers and their Indian subjects in the years just before independence. The story centres on Judy Davis' character, Adela Quested, who "goes out to India" with her future mother-in-law, Mrs. Moore (Peggy Ashcroft) to be with her fiance, a British bureaucrat. I love the scene when Mrs. Moore meets Dr. Aziz in the mosque; it has haunted me for many years; and I recall studying the significance of the Marabar Caves in university, long before the film was made. The book, the story and the film has made an indelible impression on me.
WHAT YOU LEARN: The dynamics between Britishers and Indians, the oppressors and the oppressed, was complex. Plus, there are mysterious forces at work that can overturn any political or societal structure built by men.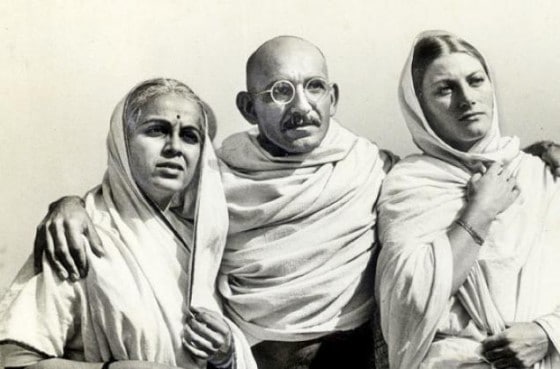 Gandhi (1982)
Can't have a list of films about India without the epic Gandhi figuring prominently. Directed by David Attenborough and starring Ben Kingsley as Gandhi, it swept the Oscars in 1982. It's a historical, biographical, cultural epic and an acting tour de force. There's really no point in reviewing it; everyone has seen it; it's about the greatest figure of the 20th century (in my opinion) and one of the most incredible stories in history — and Ben Kingsley pulled it off. I love that scene when John Gielgud as Lord Irwin says, "You mean he wants us to just walk out of India?" Yes. Yes he does. And they did. Freeing 350 million people. Incredible.
WHAT YOU LEARN: Non-violent, passive resistance can be a very, very powerful weapon.
Earth
But … then the Partition of India happened. Earth was the second film in Deepa Mehta's elements trilogy (Fire, Earth and Water), and it's about what happens to a group of friends in Lahore when Partition divides their lives in half. At the centre of the friendship circle is Lenny, a little Parsi girl crippled by polio, and her ayah, who is a ravishingly beautiful young Hindu woman (Nandita Das). They go regularly to the park, where a group of men — Muslim, Hindu and Sikh — surround them in quiet appreciation of ayah's beauty. As August 15, 1947 and the independence of India approaches, Partition is announced: a line will be drawn through the populous state of Punjab to create Pakistan, and no one knows where the line will be, and whether Lahore will end up in secular India or Muslim Pakistan. Tensions start to erupt as the various religious-based factions form. Aamir Khan is excellent (as always) as the Ice-candy-man, an intense young Muslim man in love with ayah; and I fell in love with Rahul Khanna in this film, who played the sensitive masseuse who wins her love. The film was based on a book called Cracked India by Bapsi Sidhwa, which is superb.
WHAT YOU LEARN: The decision to rip India apart and separate brother from brother, and sister from sister, was brutal — and its force is still being felt.
Heat and Dust (1983)
James Ivory, Ismail Merchant, and Ruth Prawer Jhabvala were a powerhouse film-making trio, and this is one of their best (it picked up a lot of awards). The film was adapted by Ruth Prawer Jhabvala from her novel of the same name, and like so many of the movies on this list, it deals with the complex relationship between foreigners / British oppressors and locals in India. It's a superbly nuanced examination of the issues at play as it cuts across generations and time periods.
Julie Christie's modern-day character travels to India to find out what happened to her great aunt, who disappeared during the time of the British Raj, after having a scandalous affair with an Indian prince — played to perfection by Shashi Kapoor. He is the epitome of a movie star, handsome, suave, and charismatic in a beguiling way — another handsome Kapoor, like his nephew Rishi Kapoor.
I loved what Roger Ebert said about Heat and Dust: "It is seductive, treating both of its love stories with seriousness; these are not romances, but decisions to dissent."
WHAT YOU LEARN: Romance is not always what it seems, especially when it's between foreigners and locals, the oppressors and the oppressed. And, wow, Indian men can be very handsome indeed.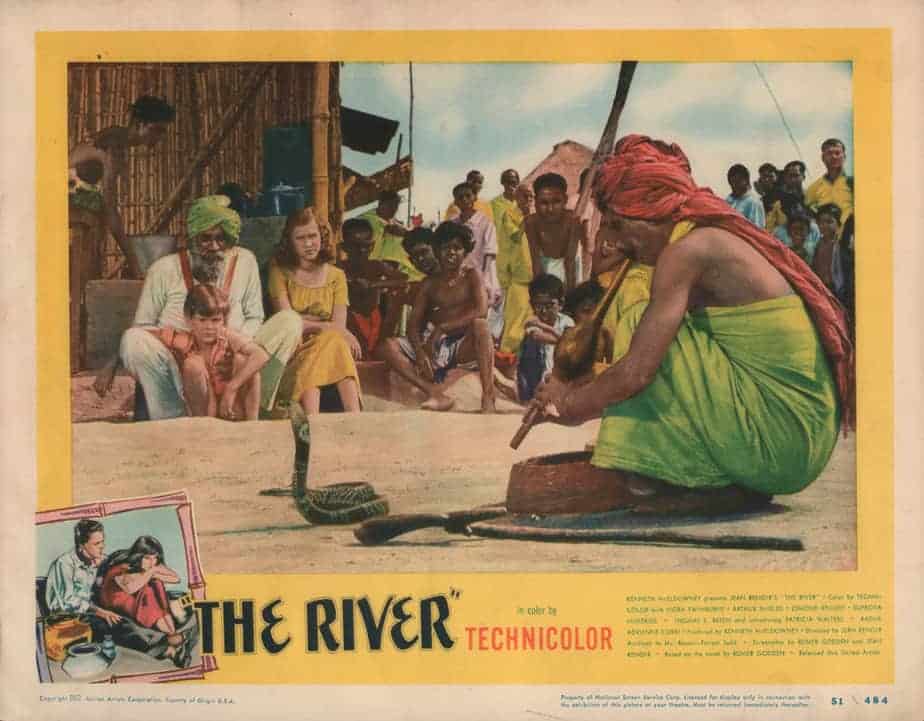 The River (1951)
The movie is based on a book by Rumer Godden and directed by Jean Renoir. Rumer Godden grew up on the Brahmaputra River in eastern India, where her father was a shipping executive with the Brahmaputra Steam Navigation Company. It's a semi-autobiographical, coming-of-age story about a sensitive, impressionable young woman living in an English household that's immersed in the heat, sensuality, and bold colours of India. It's an unusual story and movie that follows the rhythms of life on a mighty river, and has a kind of hypnotic quality.
Rumer Godden also wrote Black Narcissus, about nuns trying to establish a convent in the Himalayas, which was turned into a film in 1947 with Deborah Kerr. She is a master at capturing the atmosphere of India with vivid, sensual writing that appeals to all the senses. One of my favourite writers.
WHAT YOUR LEARN: "Once you have felt the Indian dust, you will never be free of it." Rumer Godden
Modern movies about India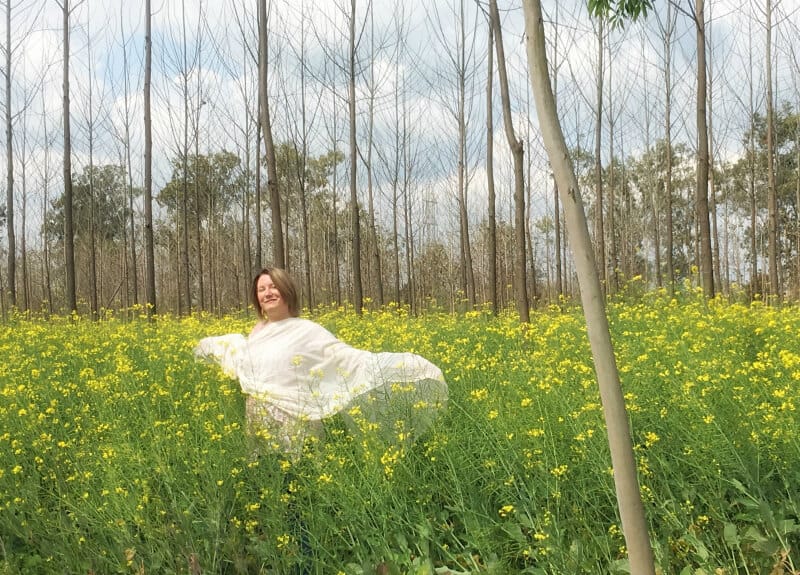 Dilwale Dulhania Le Jayenge (1995)
Couldn't resist using my photo, above, in imitation of one of DDLJ's most iconic scenes. This is one of the all-time hit movies of India — it's actually been playing continuously at a movie theatre in Mumbai since it opened in 1995. Starring Shahrukh Khan and Kajol as star-crossed lovers Raj and Simran. From different backgrounds, their love is forbidden and all seems lost … until the moment that gets everyone's tears flowing — every damn time — at the train station. Simran's father, played convincingly by Amrish Puri, holds on tight to his daughter's hand as Raj's train leaves the station … and … well, just watch it!
WHAT YOU LEARN: Sometimes, love triumphs … even when families oppose the match.

Rang de Basanti (2006)
A film about the making of modern India. A British woman whose grandfather was a police officer in India in the 1920s travels to Delhi to make a film based on his diaries and about his involvement with the famous freedom fighters Bhagat Singh, Chandrashekhar Azad (played by Aamir Khan) and their contemporaries. She meets a group of young people with no political convictions, but after she casts them in the documentary to play the freedom fighters, and one of their circle dies because of political corruption, they become activists. When I was in India the first time, in 2006, Rang de Basanti was a huge hit, and it galvanized a lot of young people to take action. In fact, they copied the candle-lit, India Gate sit-in from the film. With this film, you'll learn a lot about both the early days of the freedom struggle and modern-day India.
WHAT YOU LEARN: Indians are very proud of their culture, their heroes, and the successful outcome of their struggle for independence.
Slumdog Millionaire (2008)
Directed by Danny Boyle, famous for the film Trainspotting. I walked into the theatre with an Indian friend and a skeptical attitude. But Slumdog Millionaire blew both my friend and I away. It's a tour de force. Though made by a "foreigner," this film really captures something truthful about the realities of life in modern-day India. Plus, it is entertaining, well-made, fast-paced and engaging.
The composer A.R. Rahman won an Academy Award for Original Score, which included the rousing song Jai Ho, an anthem to the human spirit overcoming the most adverse conditions on the planet.
WHAT YOU LEARN: Life can brutal in the slums of India. But, like everywhere else, hope is a potent elixir.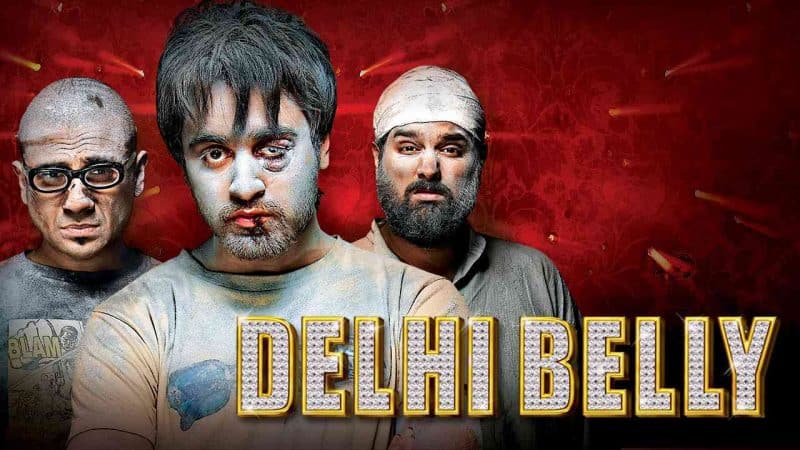 Delhi Belly
This film answers the burning question, is there a Quentin Tarantino in India? Well, no. But if there was, it would be the people who made Delhi Belly. I like it a lot better than Tarantino, though, because it's way more fun and doesn't take itself seriously — you can read my review here, Why Delhi Belly is a good thing. This film is on the list because it's so "modern." It's not a "Bollywood" film and it's not serious — it's a dark comedy with lots of vulgarity and a completely implausible plot — but it does show a slice-of-life of modern, middle-class, creative professionals. In other words, people like me, but in Delhi. And running from murderous diamond smugglers.
WHAT YOU LEARN: Never eat tandoori chicken from a filthy street vendor in Old Delhi.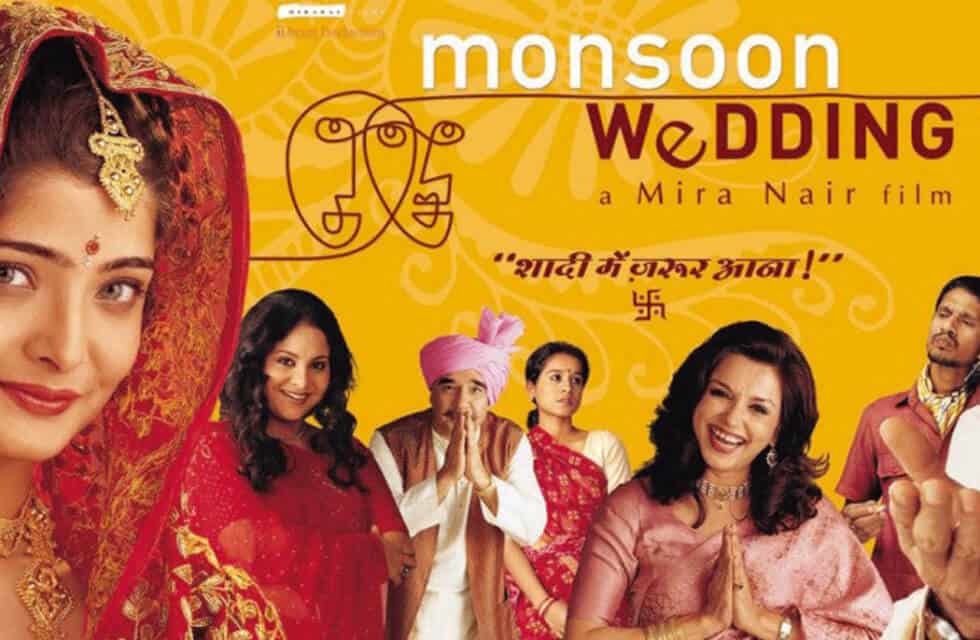 Monsoon Wedding
Mira Nair is a fantastic director who tackles social issues head on. (She also directed Salaam Bombay, which was set in the slums of Bombay/Mumbai.) Monsoon Wedding is about an upper-middle-class family preparing for a wedding and it's one of my favourite films (like Water, it features the music of my good friend, Canadian musician Mychael Danna). As someone who's been part of a big Punjabi family in Delhi, I can tell you from personal experience that this film is true to life, and does show what it's like on the "inside" of family life.
WHAT YOU LEARN: In India, family is everything.
3 Idiots (2009)
3 Idiots is one of the highest grossest films of all time — a list that is dominated by star Aamir Khan. Based on the book Five Point Someone by Chetan Bhagat, it's about three friends at India's most illustrious engineering college (IIT is thinly disguised here). Highly intelligent and entertaining, with some truly great performances, the film takes a very critical look at the pressure students at places like IIT are under; and also the pressure families place on their sons (usually sons) to succeed. The Zoobi Doobi dance sequence between Aamir Khan and Kareena Kapoor is one of my all-time favourite Bollywood production numbers.
WHAT YOU LEARN: It's a cliche that families in most Asian cultures place a lot of importance on education, and India is no exception.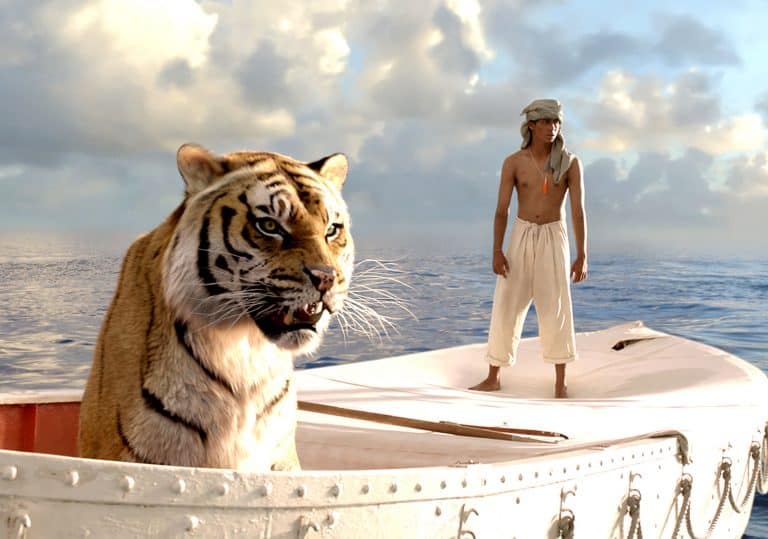 Life of Pi
Based on the stunning book by Yann Martel, and directed by Ang Lee, Life of Pi is a cinematic achievement in just about every way. It garnered Lee an Academy Award for Best Director and composer Mychael Danna an Academy Award for Original Score. The song, Pi's Lullaby, was also up for an Oscar and it's one of my favourite songs — you can listen to Pi's Lullaby here.
Life of Pi is an enchanting film that manages — almost purely through story, visuals and music — to express very profound thoughts about how humans relate to god and to life as sentient beings. I was deeply impressed with the film's ability to capture the myth-making that artists (and everyone else) use to creatively process traumatic life experiences. The book also has one of my favourite quotes of all time:
If you stumble over mere believability, what are you living for? Love is hard to believe, ask any lover. Life is hard to believe, ask any scientist. God is hard to believe, ask any believer. What is your problem with hard to believe? Reason is excellent for getting food, clothing and shelter. Reason is the very best tool kit. Nothing beats reason for keeping tigers away. But be excessively reasonable and you risk throwing out the universe with the bathwater." Yann Martel
Irrfan Khan has to be singled out for his performance in this film and especially for this scene. It is inconceivable to imagine anyone else in the role of adult Pi Patel. And of course with the passing of this sublime actor, this scene is all the more poignant and memorable.
WHAT YOU LEARN: Without belief, life is colourless and meaningless — which explains why India is so colourful. And spiritual. P.S. There is no zoo in Pondicherry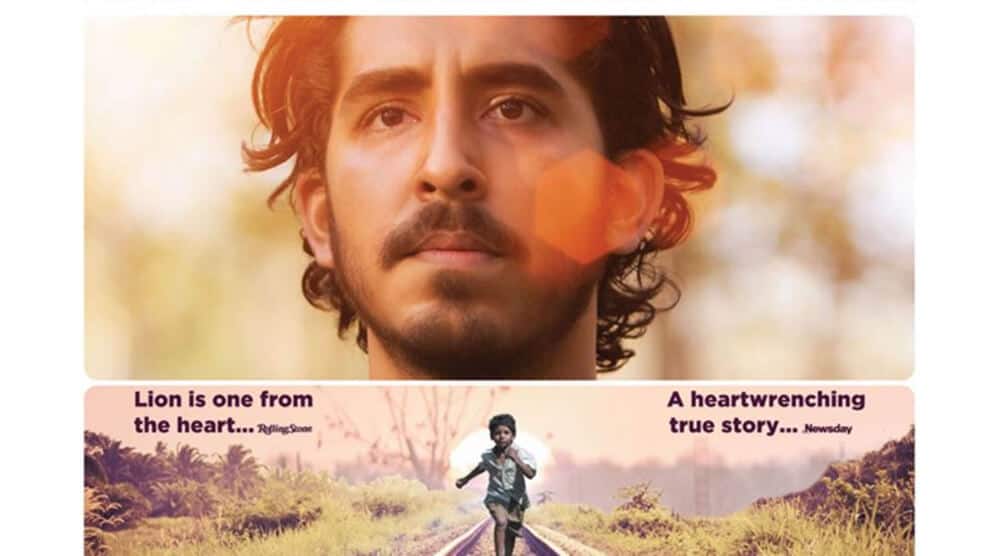 Lion
Lion is a heart-wrenching film — made even more so because it's a true story. A young boy and his older brother from a small, impoverished village go out one day to find food and try to make some money. The young boy falls asleep in a train and wakes up hundreds of miles away in Calcutta (Kolkata). He goes through some terrible times and is finally adopted by an Australian couple. As an adult, the boy — played by Dev Patel — decides to try and find out where he came from.
The scene when he returns to his village after so many years, and sees his Mother, who presumed he died (by chance, his older brother died the same day), ripped my heart out. I saw the movie in Delhi, and remember having to recover afterwards from the emotions it evoked.
WHAT YOU LEARN: There is no place like home. Indians may emigrate to various countries all over the globe in large numbers (including my home country, Canada) … but they almost always feel a strong pull to home.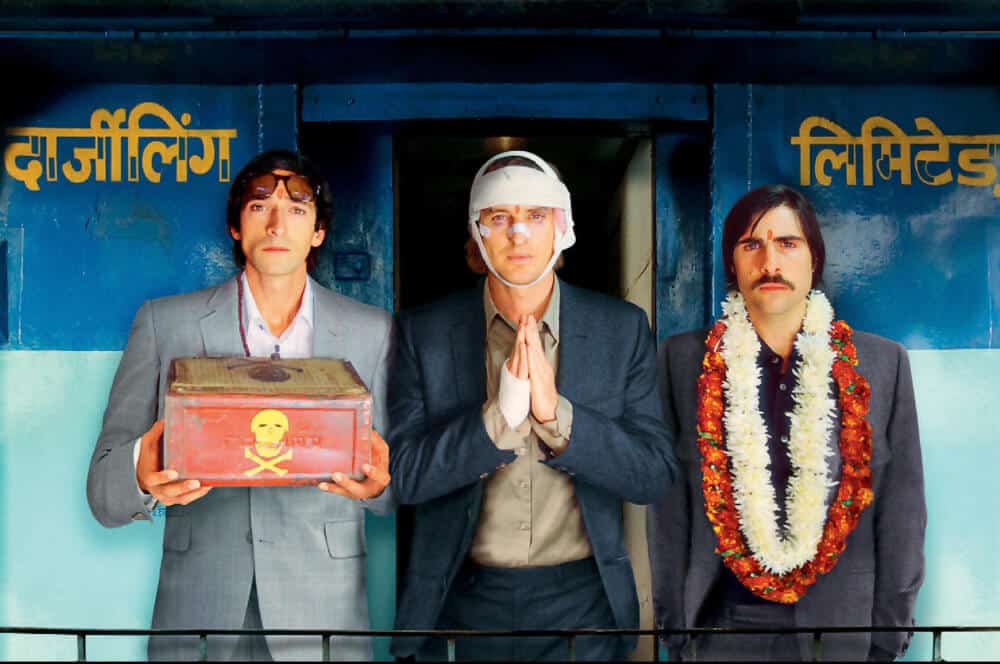 The Darjeeling Limited
I know there are people who scoff at the idea of travelling to India to "find yourself" — and indeed, it has become something of a cliche. This movie, about three American brothers who travel to India on a pilgrimage of sorts after the unexpected death of their father, plays with the cliche in the director Wes Anderson's usual quirky style. But while Wes Anderson is known to skewer modern culture, his films have a heart of gold, and this one is no exception.
While walking through the Indian countryside, the brothers come across three young boys who are drowning in a river, and they jump in to save them. Two of the boys are saved, but one drowns — the one Adrien Brody's character Peter tries to save. They take the boys back to their village and stay for the funeral. The father of the dead boy is played by the wonderful Irffan Khan, and it's a very moving, and pivotal, scene.
Later, on a bus as they're leaving, a man asks them, "What are you doing in this place?" Owen Wilson's character Francis replies, "Well, originally we came here on a spiritual journey, but that didn't really pan out." In fact, their trip has a profound life-changing effect on all of them, and especially on Peter — who comes to terms with his own impending fatherhood.
WHAT YOU LEARN: Yes, you will probably have a life-changing experience in India, but it will not be what you expected at all … and if you're too jaded or not paying attention, you could actually miss it …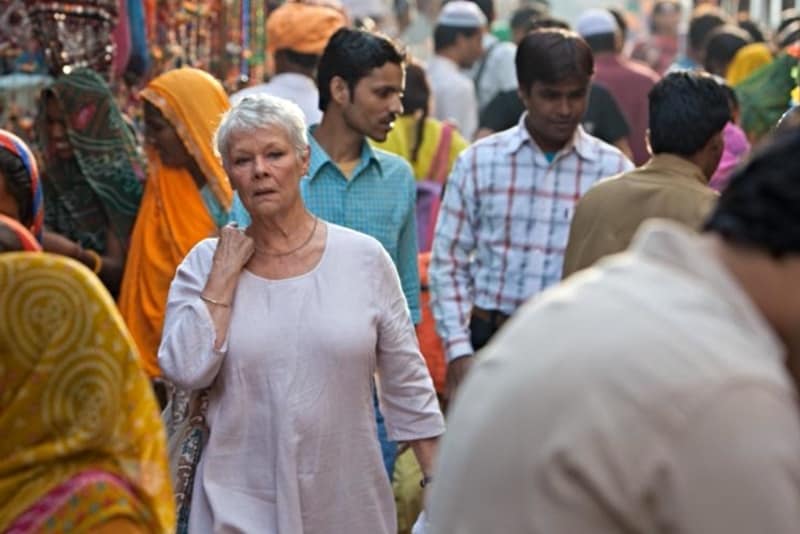 The Best Exotic Marigold Hotel
The film is about seven British pensioners who are forced to retire in India for financial reasons, and they end up at the shabby Best Exotic Marigold Hotel "for the elderly and beautiful." There are so many things to like about this movie. (I wrote a film review of The Best Exotic Marigold Hotel here.)
For a start, the performances by the ensemble cast of some of Britain's leading actors is phenomenal. These people are all at the top of their game, and it's a master class in understated acting. Also, I feel the filmmakers really loved India, there is so much affection for the country and the people. When asked what he likes about India, by one of the characters who is terribly unhappy and retreats into seething negativity, retired high court judge Graham Dashwood, played by Tom Wilkinson, answers, "The light, the colours, the smiles. The way the people see life as a gift, a privilege — and not a right. All life is here."
You don't see a celebratory movie about ageing every day. In fact you rarely see movies about ageing people, so I liked it for that reason, too. Plus, Judi Dench is a goddess.
WHAT YOU LEARN: "India hits you like a wave. If you resist, you will be knocked down. But if you dive into it, you will be all right."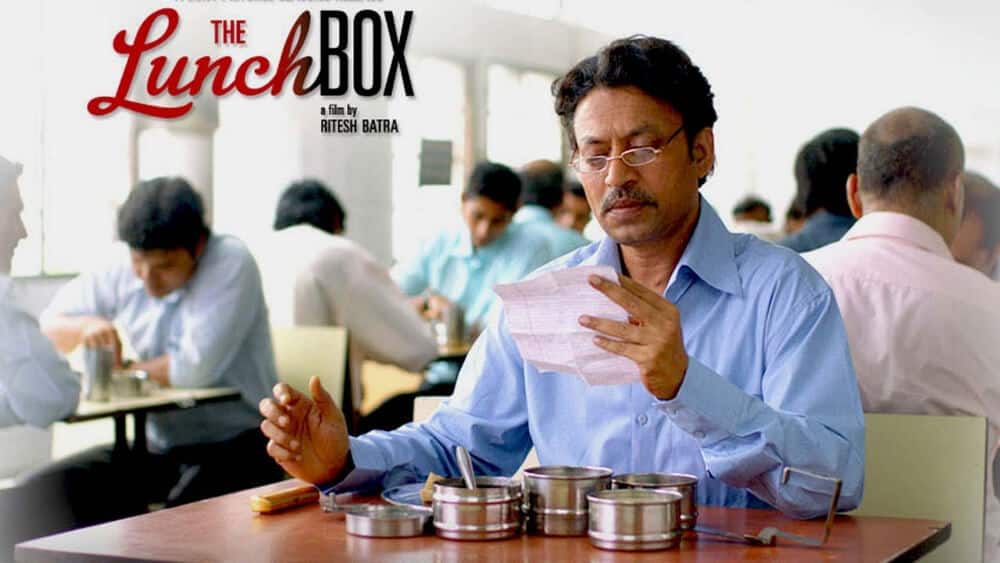 The Lunchbox
The Lunchbox is on my top 10 list of favourite movies of all time. I absolutely love this movie, and wrote about it in this post, The Dabbawallas and The Lunchbox. It's a film that works on every level. It is sweet without being cloying, sentimental yet realistic. The acting is superb, especially by Irrfan Khan, who plays Saajan, a lonely widower nearing a joyless retirement when the errant lunch box lands on his desk. Much to his surprise, instead of the usual lacklustre meal he gets delivered from a local restaurant, he opens the lunchbox to a rich and fragrant feast, cooked with hope and longing by Ila (Nimrat Kaur).
The movie is both about their budding romance and also about Mumbai itself. Mumbai is a major character in The Lunchbox. The crowded trains, the hard-working dabbah-wallahs, the monsoon rains that drench the city streets — Mumbai is portrayed as an ever-present reality against which its residents hopes and dreams are realized, or not.
WHAT YOU LEARN: "Sometimes, the wrong train can take you to the right station."
---
Pin it on Pinterest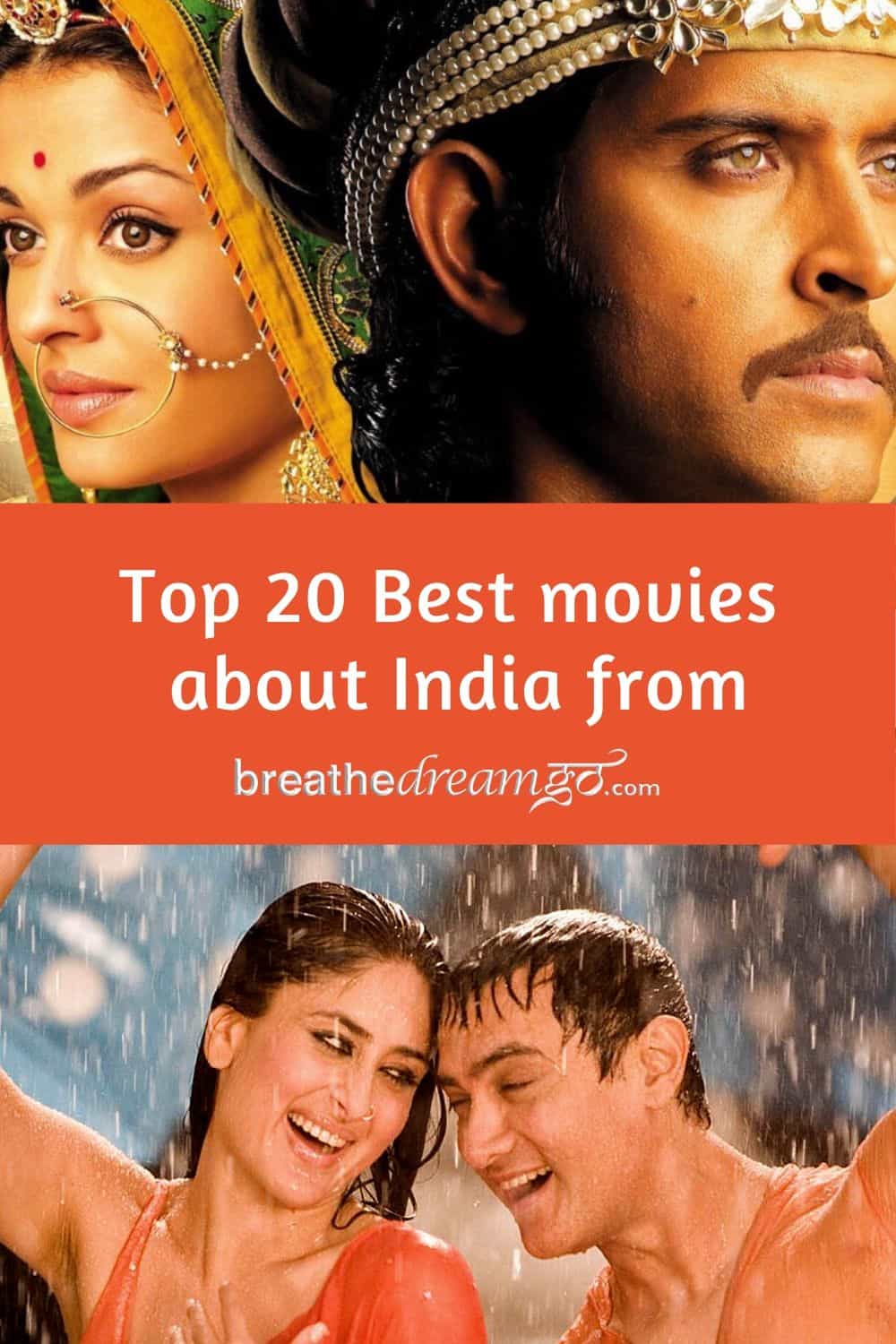 ---
If you enjoyed this post…

Please sign up to The Travel Newsletter in the sidebar and follow Breathedreamgo on all social media platforms including Instagram, TripAdvisor, Facebook, Pinterest, and Twitter. Thank you!