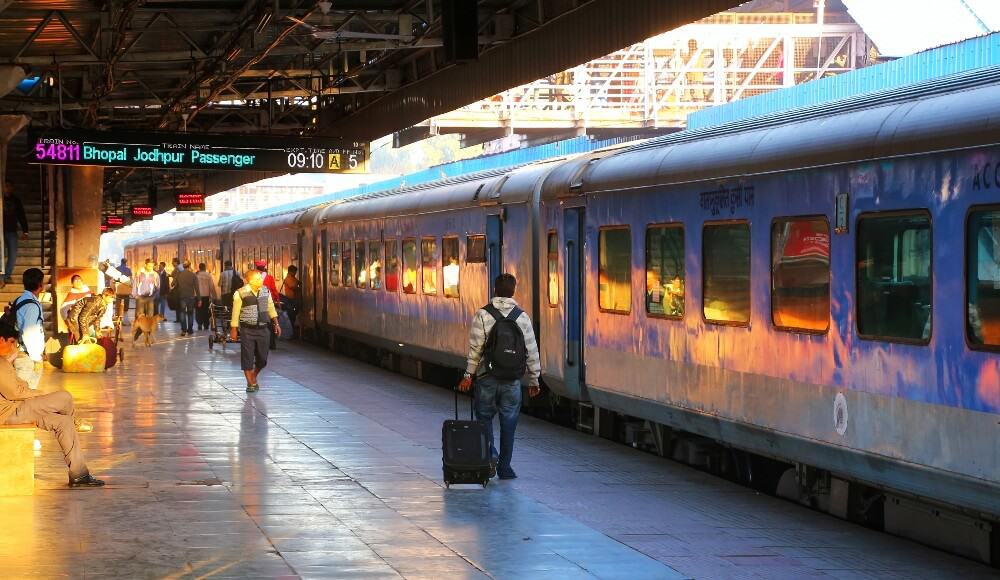 Everything you need to know about train travel in India … and planes, cars, autorickshaws, buses, and more
WHEN PLANNING A TRIP to India, people often wonder about train travel in India, and how they are going to travel from place to place. How are Indian trains? Should they travel by Indian Railways in India, and how do they reserve a ticket? What about flying in India? Is it hard to book air tickets? And what about cars, taxis, autorickshaws, and automobiles? How much does it cost and is it safe to travel with a car and driver in India? These are just some of the questions I get asked, and that I often see in traveller's forums.
After spending more than four eight years, over the last 13 17 years, travelling around India by plane, train, automobile – and motorcycle, camel, bus, and bicycle – here are my thoughts and guidelines for booking tickets, and reducing as much stress as possible. Plus, recommended travel apps you can download and install.
---
What you will learn:
How to travel by train in India
All about Indian Railways classes
Train safety, food, and other tips
Booking train tickets in India
Travel India by luxury train
Packing and luggage
Flying in India
How to book flight tickets in India
India travel by car
Bus travel in India
Taxis and autorickshaws
Other transport options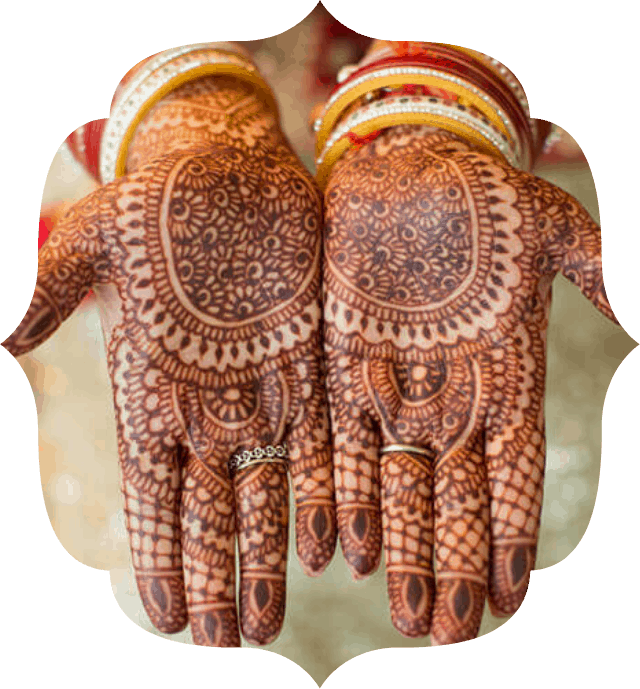 Come to India with us!
Are you dreaming of a trip to India? Come to India with India for Beginners custom tours, from Breathedreamgo and let us show you the India we love. With India for Beginners, we help you design a tour based on your interests, preferences, and budget. We pick you up at the airport and we are available by phone 24/7. We hold your hand in India!
FIND OUT MORE
How to travel by train in India
Indian Railways (IRCTC) is one of the largest employers on the planet, and the rail network in India is one of the largest, covering more than 115,000 kilometres and plying more than 23 million passengers a day. Travelling by train in India is a great way to see the country, it's economical, and it is much more eco-friendly than flying or driving. I've taken countless trains in India and I highly recommend it. But keep these tips in mind.
All about Indian Railways classes
Navigating the various classes of trains, and also the booking classes, can boggle the mind at first. I recommend 1AC / first class or 2AC / two-tier second class or EC (executive chair) or CC (chair class). It may sound fun and romantic to go third class, sleeper, or general class … but almost everyone I know who has done it, said it was gruelling, crowded, and not fun at all.
For overnight trains (trains with berths), 2AC / two-tier second class is often the best option if you are travelling alone. There are four berths in the compartment, which has a curtain and not a locked door, and another two berths with curtains along the corridor. For safety, this is the best set-up.
If you are a woman alone, in a first-class compartment filled with men, it can be disconcerting to be locked in with them. This happened to me once, and the conductor moved me. I like to book an upper bunk, as I tend to think it's safer. Personally, I've never had a problem … and I've been on a lot of trains. I DO however, use a cable lock to lock my bags to the lower bunk when I sleep on a train.
There are many classes or grades of trains in India. The Rajdhani trains are the best (there are Rajdhanis that run overnight between Delhi and Varanasi, and Delhi and Mumbai for example). Next best are the Shatabdi trains. I have taken the Dehradun Shatabdi from Delhi to Haridwar dozens and dozens of times (to get to Rishikesh) and it's almost always on time. Booking either EC or CC is fine on the Shatabdi. The Gatimaan Express train — aka the Taj Mahal Express — that travels between Delhi and Agra is also a very fast and comfortable train.
Update: India launched Vande Bharat Express trains in 2019 and now there are 18 routes across the country. These trains are the state-of-the-art trains in India.
INSIDER TIP: Try and book a train that starts with the number "2" or "02" or "12" or "22." These are the best trains.
Train safety, food, and other tips
My experience is that trains are generally safe, but I always lock my luggage to the metal frame of the seat with a cable lock when I am travelling long distance or overnight.
Personally, I don't eat the food on the train. I always take my own snacks and buy water, juice, and tea. There are also several app-based services for ordering food, which are delivered to you while stopped at a train station that offers the service. I tried this once, and had a very good vegetable biryani. Even the IRCTC has an eCatering app that offers food delivery at major railway stations.
Train washrooms are never good, even on the best trains. I bring wet wipes with me and use the washrooms as sparingly as possible. It's a good idea to carry a small overnight bag if you sleep on the train, which should include:
Wet wipes, tissues, and hand sanitizer
Ear plugs and an eye mask
Socks
A small flashlight or headlight
Reusable water bottle and thermos
A sweater or shawl as the air conditioning can be chilly
A book. Here are some recommendations for my favourite books about India.
Booking train tickets in India
Train travel in India is a big adventure … but … nothing is easy in India, including booking train tickets, especially if you are a foreigner. However, everything is made easier if you have a local SIM card and an Indian phone number. With a local number, you can register with the IRCTC website and book trains directly, although you may need a local credit card or debit card for paying.
If you register on the IRCTC as a foreigner, you can book Foreign Quota tickets on the IRCTC website – which means you don't have to stand in an infernally long queue at New Delhi train station (NDLS). However, you have to register with a foreign number and it can be difficult to complete the process. I managed to do it this summer when I was in Canada, but I had to seek help via social media. (I couldn't get the OTP needed to complete the registration.)
There are several reservation codes you need to know, too.
CNF means that you have a confirmed ticket, even if you don't have an actual seat or berth. Sometimes these are allotted when the chart is prepared.
RAC means that you have a reservation against cancellation. You can definitely board the train, and you will find out if you get a seat or a berth when the chart is prepared.
WL means you are on a waitlist. You can't board the train unless and until the chart is prepared and you are allotted a seat or berth. There are several classes of WL tickets that you can read about here.
Tatkal. There are seats reserved in every train for Tatkal bookings, or last-minute bookings made the day before.
Best apps: IRCTC Train Connect, Trainman PNR Status Prediction, RailYatri, WhereisMyTrain, Ixigo, Confirmtkt
---
Planning a trip to India?
If you are planning to travel in India, let us help you! We offer itinerary planning, India for Beginners custom tours, and much more to make sure your trip to India is filled with more magic … and less madness. I offer several India for Beginners itineraries that can be fully customized to your dates and budget.
---
Travel India by luxury train
If you really want to splash out, India is home to some of the world's most luxurious trains. There are several, including the Palace on Wheels, the Deccan Odyssey, the Golden Chariot, and the most luxurious train of all, the Maharajas' Express.
I road the Maharajas' Express on a route in North India and it was an incredible experience.
Packing and luggage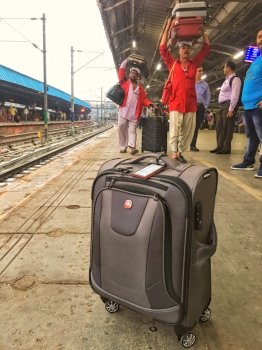 Elsewhere on Breathedreamgo, I have blog posts about what to pack for India. But here I want to stress the importance of packing light. There are several good reasons:
Only smaller luggage such as backpacks and carryon bags fit under seats in Indian Railways trains
Domestic air flights have very strict rules about luggage size and weight, usually just 15 kgs.
You will be carrying your luggage a lot due to infrastructure challenges.
I like my Swissgear spinner. It's super light, durable, and versatile. Perfect for India — where you never know what can happen! You need light luggage that can take a beating. On my very first trip with it, the train porter knocked over my 19-inch spinner into a puddle of dirty water. I was so disappointed that it got dirty so fast … but awhile later, after the water dried, the stain was virtually gone!
Flying in India
It's much easier to book a flight in India than a train, and there are a lot of options. India is home to a number of local carriers, and the domestic flight record is very good. It's a safe place to travel by airplane, and it can be surprisingly cost effective, too. There are seat sales several times a year, and I always try and jump on those.
I usually fly if I am going a long distance, such as Delhi to Kochi / Cochin in Kerala. But sometimes to save time, I fly from Dehradun airport to Delhi, which is less than an hour. You can book all kinds of flights in India, the combinations are endless – but be warned, many flights go through Delhi or Mumbai, rather than direct.
Personally, I am partial to IndiGo. IndiGo is a fun and friendly budget carrier, great for short flights. (I just wish these airlines would have more gluten-free snacks and meals available.) I also like Vistara.
INSIDER TIP: Flights are generally on time, or delayed by one hour at most, in my experience. Except for flights in and out of Delhi in winter. December and January can be very foggy in Delhi, especially in the morning. The fog has a notorious habit of delaying all transportation, especially planes and trains. Don't book any early morning trains or flights in and out of Delhi in the morning during these months.
How to book flight tickets
I use Skyscanner and Google flight search to search for flights, and I often book directly through the air carrier's website . I have never had a problem booking directly through IndiGo, Vistara, or SpiceJet.
Best apps: Skyscanner, Kayak, Momondo, Goibibo, MakeMyTrip
India travel by car
Hiring a car and driver is often a great option if you're staying within a prescribed area. I did a tour of Rajasthan and we drove an average of four hours per day, and I was able to cover most of the main cities in the state in just over a week. It's a very convenient way to get around, but your experience will all depend on your driver. They can make, or break, your trip.
It's absolutely essential to book with a reputed company who can supply you with a courteous and responsible driver, who speaks English, and is not insistent on taking you to stores that offer him a commission on your purchases. I wouldn't dream of hiring a driver for a two-day or longer trip who I didn't like or trust. The roads in India are treacherous and you need someone who can handle the intense driving conditions.
The cost of hiring a car and driver will depend partly on the car you choose. The most common cars are the Toyota Etios, which is a smaller car, and the Toyota Innova, which is an SUV-type vehicle.
Don't expect the driver to double as a guide. They may be informative about the culture, but they are not trained as guides and may not be knowledgeable about the region they're driving in.
INSIDER TIP: I run a custom tour company called India for Beginners and can help arrange top-notch drivers and guides.
A word about bus travel in India
When I was planning my first trip to India, back in 2005, I promised my brother I would not take a bus in India. He had gathered the impression that it was dangerous. This may be true, as I have read about a lot of bus accidents in the mountains, and I know a travel blogger who was in a bus accident in Rajasthan. One of the absolutely worst travel experiences I have had in India was on an overnight bus between Goa and Mumbai. I really don't recommend overnight buses!
I generally avoid buses just because I don't think they are all that comfortable. I make exceptions if the route is straightforward and flat, like the Rajasthan Transport (RSRTC) bus that plies between Delhi and Jaipur. I almost always take that bus between Delhi and Jaipur. It's inexpensive and convenient, and it's a nice, plush Volvo luxury bus. (However, they moved the boarding point from Bikaner House to either Old Delhi or Gurugram, check the RSRTC website.) My only complaint is the terrible places the bus stops for a rest break. It's frustrating to drive by large, shiny, fabulous restaurants and stop at the shabby, dirty, broken-down government-run rest stops.
But sometimes, the bus is the only option. In that case, you can try booking through Red Bus. But not in the mountains. Please promise me you won't take a bus in the mountains!
Best app: Red Bus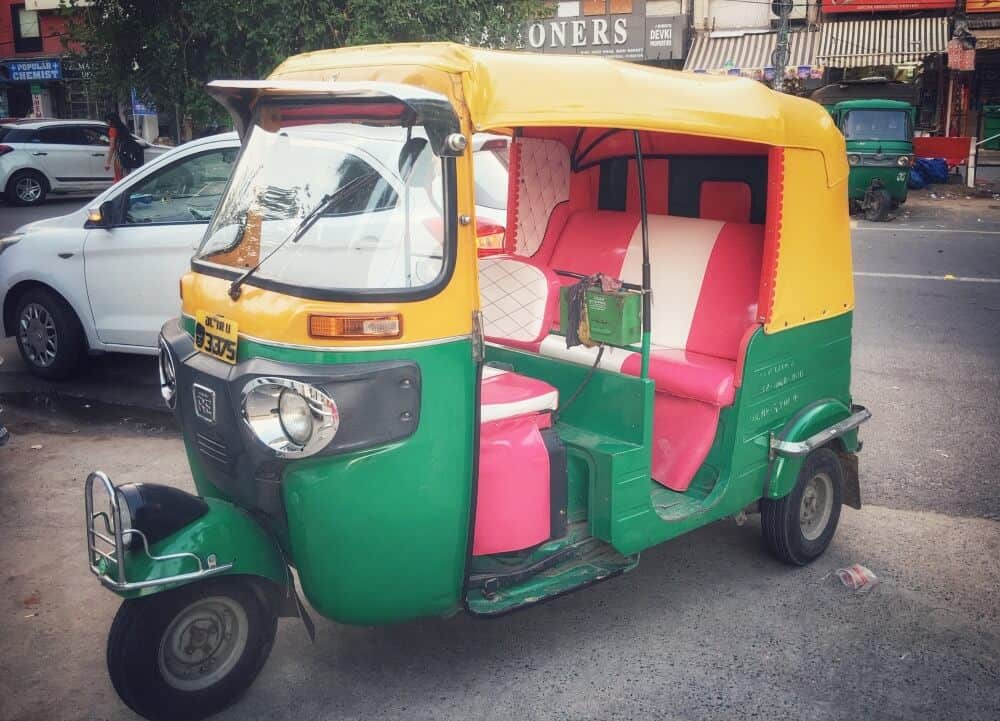 Taxis and autorickshaws
For getting around within a city, taxis, and autorickshaws are the best. To call a taxi, I recommend Uber, or downloading the Ola app and using it. It's generally much cheaper to use Ola than a local taxi stand.
Autorickshaws can be a great way to go shorter distances. Make sure you have the fare fixed before you start. There is usually room for some negotiation. In touristy areas, they tend to inflate the fares for foreigners, sometimes even doubling them. It's good to know what the real fare is.
And in really crowded places like Old Delhi, Varanasi, or the Haridwar bazaar, the cycle rickshaw is the way to go. Personally, I tend not to negotiate with these guys because they work so hard for their money.
Best apps: Uber
Other transport options
These are the most common ways to travel in India, but there are many other options. If you ride a motorcycle or scooter, you can rent them, or join motorcycle trips. In Rajasthan, you can go on camel or horse safaris. In Kerala, you can travel by houseboat on the Backwaters. In national parks and tiger reserves, you can travel by an open, jeep-type vehicle, the Maruti Gypsy.
Some people may want to ride an elephant in India, but I strongly advise against it. You can read about why you shouldn't ride an elephant here.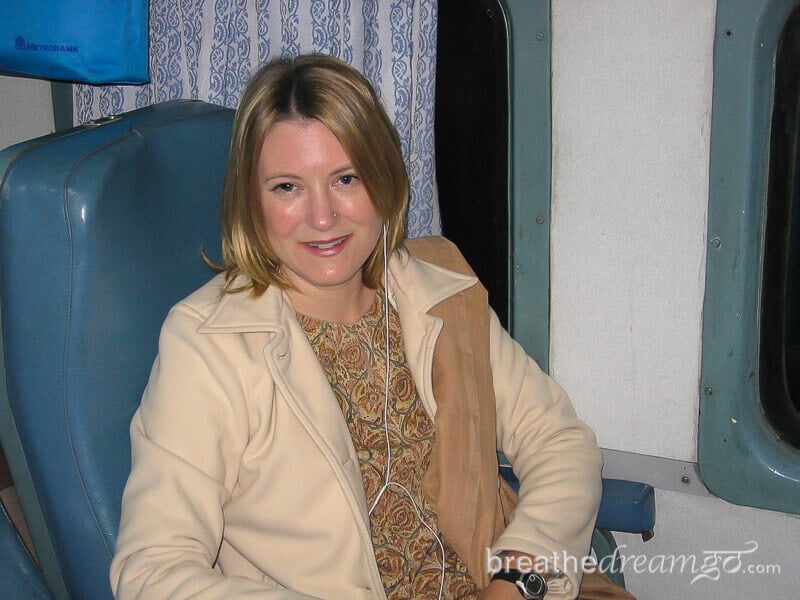 Taking the train in India: A Story
I arrived at the New Delhi Train Station in the muggy pre-dawn hours, amid the usual chaos of honking autorickshaws and hordes of people. A pack of red-turbaned porters stood at the ready as the fat ambassador taxis disgorged their passengers.
I steeled myself for the usual assault. And sure enough, before my foot hit the broken, moist pavement, three of them were on me.
I didn't really need a porter to carry my bag, I could do it myself, but I needed one to help me find my platform, my train and my bogey. And yes, as I was barely awake, it was a relief to have someone carry my bag through the teeming railway station to the platform that was almost a kilometre away.
"How much?" I asked, knowing what was coming.
"200 rupees," came the answer.
"Are you kidding?! I'll carry it myself." There is actually a fixed tariff, though you would never know it.
"I live in Delhi!" I exclaimed, in Hindi. "I know the charge is supposed to be 40 rupees per bag!"
"Okay, okay 150," came the retort.
And so on, until finally we met sort-of in the middle at 80 rupees (about $2.00), which was high, but manageable. I have come to expect a "foreign tax," and I know these guys really do need the money.
I followed my porter, who was of course running ahead, thinking it was my lucky day: he was very tall, which made him easier to spot as he raced through the crowd with my luggage on his head.
We arrived at the platform and I showed him my ticket. After some confusion, and consultation with a notice board that listed all the passengers, he pointed out that I had a waiting list ticket only. Number 48 on the waiting list. I thought 48 was my seat number.
Panic. I really needed to get to my yoga ashram. The Kumbh Mela was only days away and millions of people would be streaming to my destination. There would be no chance to get another train. "I need to get on that train!" I told my porter.
He grasped the situation immediately, and sprang into action, sprinting up and down the platform looking for a conductor. We found the first class conductor surrounded by questioning passengers. A chubby, satisfied-looking babu in a worn uniform, he said it was impossible. All the trains to Haridwar were booked for weeks.
But still, my porter didn't give up and neither did I. With only minutes left before departure we found the second-class conductor, a handsome man with a thoughtful face who simply said, "You can have my seat," and told the porter the number.
On to the train we jumped, together, united in our sense of urgency and exhilarated by our success. The train was packed, but the porter found a place overhead to squeeze in my bag as the final boarding call resounded up and down the damp, cavernous platform.
The porter and I looked at each other and smiled, accomplices now, and I gave him a heart-felt thank you as I thrust a small handful of 100 rupee notes in his hand, much more than he tried to scam off me.
---
Pin it on Pinterest

---
If you enjoyed this post, please sign up to The Travel Newsletter in the sidebar and follow Breathedreamgo on all social media platforms including Instagram, TripAdvisor, Facebook, Pinterest, and Twitter. Thank you!