Visas, insurance, food, snow and more: A resource for everything you need to visit Canada from India
CANADA IS ONE of the world's most desirable tourist destinations. The second largest country on earth, Canada is blessed with abundant natural resources and wildlife, four distinct seasons, dynamic cities, culinary delights, pristine wilderness regions, and more outdoor adventures than you can shake a paddle at.
If you are visiting Canada from India or other countries that require a Visa to Canada, read this post carefully. It will prepare you for what you need to know, including:
Visa requirements
the new Super Visa for parents and grandparents
climate, food, top tourist attractions
where to go and what to do & see
Visas and getting started
First things first. Click here for the Government of Canada's Visit Canada page. This is where you will start your Visa journey. On this page you will see several links.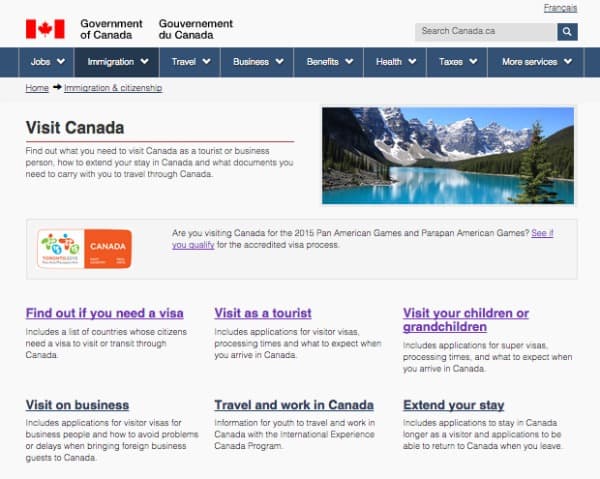 Click here to find out if you need a Visa. Choose your country from the drop-down menu and click GO. From this page, you will see links to apply for several different types of Visas. If you don't know which Visa you should be applying for, you can choose the Come to Canada Wizard.
From here, click through to the How to apply page. On this page, you can choose to apply online or on paper. There's also a list of questions and answers, and another drop-down menu, which should answer all of your questions. You can also go through an online questionnaire to determine if you are eligible to apply.
There are numerous requirements that must be met to visit Canada. To see the entire list, click here. Some of the requirements include having a valid travel document, such as a passport and being in good health.
Note: To apply online, you must have access to a scanner or camera to create electronic copies of your documents to upload, and a valid credit card to pay with.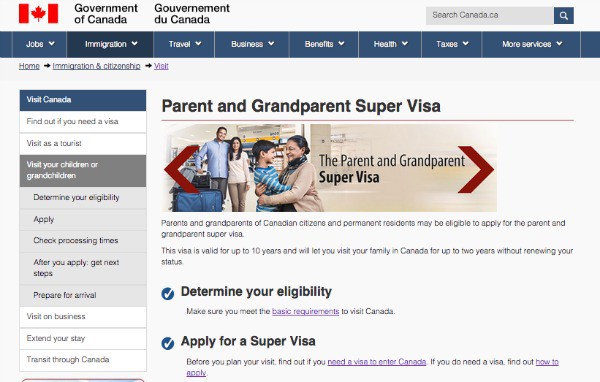 Parent or grandparent Super Visa
Canada is of course a proudly multicultural society. There are about 1.2 million people of Indian heritage living in Canada (and many more from just about every country on earth), and the government has a "Super Visa" available to the parents and grandparents of Canadian citizens and permanent residents.
The Super Visa really is Super — if eligible, you can get a multi-entry Visa, valid for up to 10 years, that allows you to visit your family in Canada for up to two years without renewing your status.
Visa officers consider several things before they decide if you can come to Canada on the Super Visa, including your ties to your home country, the purpose of your visit and proof that your child or grandchild in Canada meets a minimum income threshold. You also need to have valid Canadian health insurance coverage for at least one year and an immigration medical exam.
For a full list of requirements for the Super Visa, click here.
Health insurance for Super Visa
If you apply for the parent or grandparent Super Visa, valid Canadian health insurance coverage is one of the requirements: You must show proof that you have private medical insurance from a Canadian insurance company to get the Super Visa.
The health insurance must be valid for a minimum of one year, provide a minimum of $100,000 coverage and it must cover health care, hospitalization and repatriation. To learn more and get a quote, click here for information on health insurance for the Canadian Super Visa.
Travel insurance
Travel insurance is not always a requirement for visiting Canada, but it is certainly a good idea. Depending on the policy, travel insurance can cover trip cancellation and interruption, protection of travel baggage and personal effects plus emergency medical bills. It can also offer assistance if you have a travel or medical emergency such as language interpretation, access to a doctor on call and a 24/7 emergency call service. If you are applying for a Visa or Super Visa, health insurance is mandatory for the duration of your trip, as mentioned above.
To learn more and get a quote click here for information on travel insurance for visiting Canada.
Canada's Climate
Canada has an extreme climate, from very warm and humid summers to very cold and snowy winters. It's a good idea to research your specific destination and find out what the weather will be like, so you can be prepared. Wearing layers is always a good idea as temperatures can change surprisingly quickly.
Everyone loves snow, and it's fun to see, especially the first time. But if you come to Canada in winter, or travel to a cold place such as the Rockies or the Yukon, make sure you have the right clothing. Warm boots, a thick jacket, plus a scarf, hat and gloves or mittens is usually necessary.
Canada's Food and Cuisines
Canada is blessed with teeming oceans, wheat-filled prairies, fertile farmlands, abundant game and many meat and dairy farms. It's a veritable food basket. The food scene in many of the major cities — especially Toronto, Vancouver and Montreal — is hopping, spawning celebrity chefs and internationally renowned restaurants. Canada's multiculturalism gives rise to ethnic food of every hue.
There is no end to the fresh and delicious food available in Canada. If you are vegetarian, or vegan or have any specialty dietary requirements you should have no problems, especially in the major cities. Read How to find vegetarian food in Canada.
 Where to go and what to do
Over the last year or so, I produced more than a dozen articles about the top Canadian Signature Experiences for the Indian market. Here's the full list, below. Read these and you will have a very good idea about some of the fun, exciting and adventurous opportunities available to visitors to Canada:
Important Links
Note: This post is intended for your information only, it is not intended as advice.
PHOTO CREDITS
Top Photo of the Rocky Mountains by: digitaldust via Compfight cc
Red maple leaf photo credit: Iguanasan via Compfight cc
If you enjoyed this post, you can….
Get updates and read additional stories on the Breathedreamgo Facebook page.
Follow Breathedreamgo on Instagram.
Follow Breathedreamgo on Pinterest.