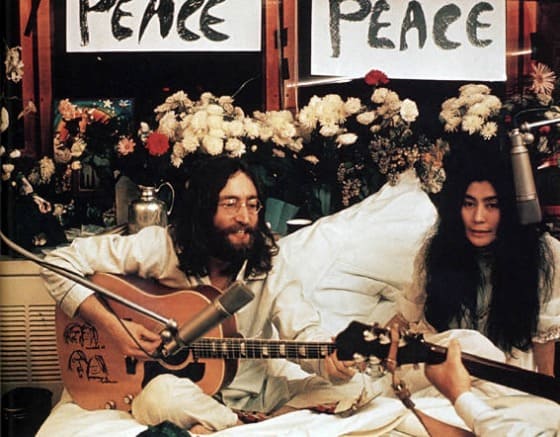 My peace-filled weekend in Quebec
I checked into the John Lennon – Yoko One Suite (#1742) at the Fairmont Queen Elizabeth Hotel and didn't know what to do first. The Peace Suite, as this room is known, was where John and Yoko staged a world-famous bed-in for peace in May 1969, and where they and a rag-tag crew of peaceniks recorded the anthem, Give Peace a Chance. (They checked-in on May 26.)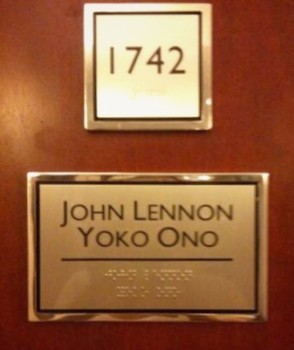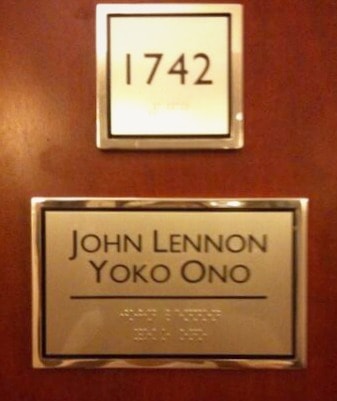 I was too young to actually remember the event, but as a long-time Beatles fan, and someone interested in attaining peace of mind, I was intrigued to discover that the Fairmont Queen E has commemorated this room, and that people can actually book and stay in it. (Click here if you want to find out about the Bed-in for Peace Package.)
Would the room carry a residual feeling of peace 'n love? How would it feel to sleep in the same room as John Lennon? How does the hotel commemorate this famous moment in Canadian history? And, most importantly, would staying in this room inspire my own in-born idealism? This was what I wanted to know.
On the Peace Train
I conceived the idea of going to Montreal and Quebec for a "peaceful" weekend in a flash. The good people at the Sivananda Yoga Camp north of Montreal had earlier invited me to spend a weekend, and when someone I know mentioned staying on the same floor as the Peace Suite at the Fairmont Queen E, I decided to try and combine visits, and take the VIA Rail train — the most peaceful way of travel between Toronto and Montreal that I could think of.

Who doesn't love train travel? I travel in India by train a lot, and I think it's a great way to see the country and travel as a local. It's a different experience in Canada, much more comfortable, perhaps somewhat less adventurous (well, on the Toronto-Montreal corridor anyway). A year or two ago I went to the opening of the Panorama Lounge for business class passengers at Union Station in Toronto and one of the VIA Rail executives quoted, "If train travel survives the 20th century, it will own the 21st." I get that. Life is fast-moving and stressful. Air travel is particularly stressful.
But when you are on the train, there is nothing to do but relax and stare out the window.
You get served food, drinks; you can get up and walk; you can use the washroom. And when you arrive, you are in the centre of the city, not way out beyond the suburbs. And lest you think train travel in anachronistic, on VIA Rail, at least, there is free WiFi. Plus, there are the environmental benefits. A recent study comparing travel between London and Paris concluded: "Taking the train to Paris instead of flying cuts CO2 emissions per passenger not just by a measly 10% or 20% or even 50%, but by a staggering 90%."
So travelling by train was the peaceful option to begin (and end) my peace-themed weekend to Sivananda Yoga Camp and the Peace Suite. I am writing this on the train, and feel I moving and still at the some moment, inspired and expressing my inspiration at the same moment too. It's exhilarating and peaceful, and the gentle, pastoral scenes of rural Canada streaming past are very restful.
John Lennon, Montreal and me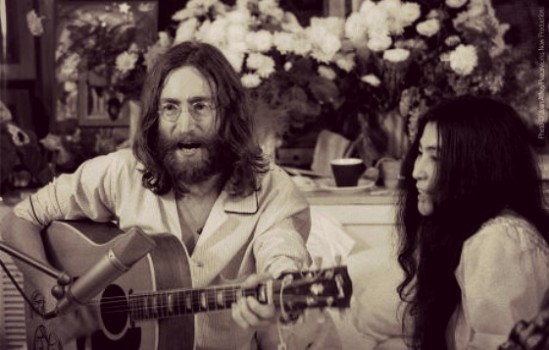 When I got to Montreal, I went immediately to the Montreal Sivananda Centre on Blvd. St-Laurent, where Swami Vishnudevananda settled after he arrived from India to bring yoga to the west, in the late 1950s. From there, I was driven to the ashram, an hour north of the city. Over the course of the weekend I meditated on the theme of attaining peace of mind and de-stressing, and looked for messages on how to move forward in my life. I am writing about my inspiring weekend at Sivananda in a separate blog — it was re-invigorating in every way. I was sad to leave the beautiful Laurentian Mountains, but of course I had a night in Montreal and staying in the Peace Suite to look forward to.
So, what did I do first upon entering the Peace Suite?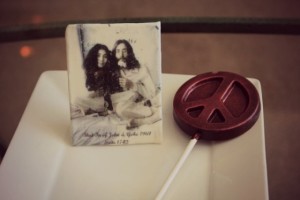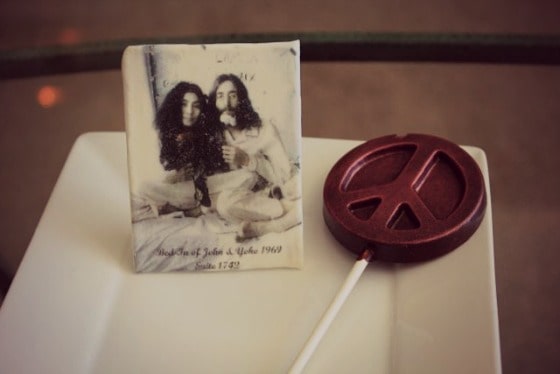 I went around the suite and looked at all the photographs of John and Yoko, and the framed newspaper clipping. There are about a dozen in all, beautifully framed — including a collage of gold records and a delightful photo of John posing in bed with his feet in the air. I also noted the chocolate welcome gift from the Fairmont Queen Elizabeth Hotel — and ended up eating the peace sign, but not the photo-emblazoned chocolate (which is now in my fridge at home).
The suite does seem to have a calm feeling, and big windows that look out over downtown Montreal. During the bed-in, John and Yoko pulled the bed into the living room, and set it up under the window. Before going to bed, I meditated there, in the spot where the bed was during the bed-in for peace. And of course I listened to Give Peace a Chance and Imagine, one of my favourite songs.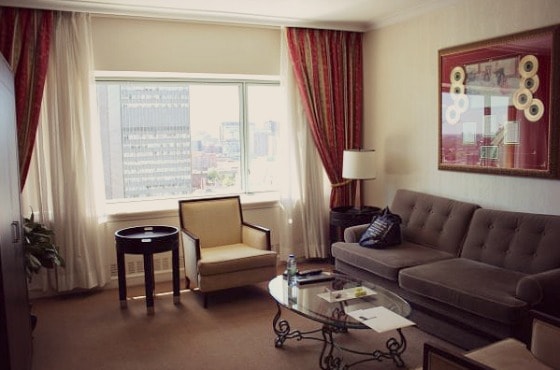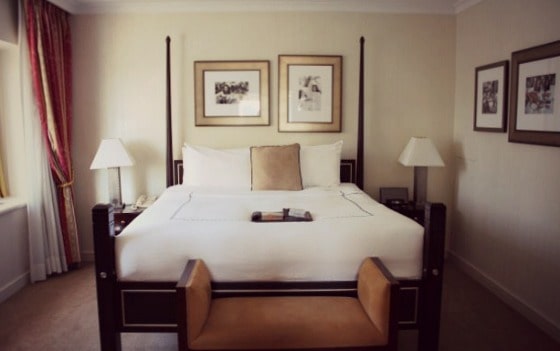 That night, I slept very, very deeply — much better than I usually do when in a new hotel room. So perhaps there is some peaceful magic lingering in the room. But there is also sadness.
Which brings me back to John Lennon. My heart has often ached for this man, who was both a trickster and a hero; arrogant and idealistic; ruthless and naive. In the video clip, below, about the bed-in for peace — that was staged while the unpopular Vietnam War was waging — Lennon quoted Mahatma Gandhi and Martin Luther King, and remarked they were shot for their beliefs. It's very sad that he was inadvertently predicting his own untimely demise.
I say untimely because he was happily married and father to a young son, and his restless, critical and idealistic spirit seemed to have found peace, when he was murdered in 1980, only 11 years after the bed-in for peace and only 9 years after writing one of the greatest pop culture songs of all time, and the idealist's anthem, Imagine. This is the song I played at the very end of my mother's memorial. She was an ardent John Lennon fan. And it's also one of the songs I played when I was in the Peace Suite.
Green initiatives at the Fairmont
I appreciate that Fairmont Hotels has designated this room; and I also appreciate the hotel chain is showing greater and greater dedication to sustainability and health (you can watch their green video here). The hotel's Beaver Club was recently listed one of Montreal's top "green restaurants" by Tourism Montreal. In the morning, at breakfast, I was thrilled to discover a gluten-free breakfast menu — as well as vegan, macrobiotic and even raw menus, too. I chose the vegan breakfast and it was incredibly tasty, and left me feeling full, but not bloated, satisfied and healthy.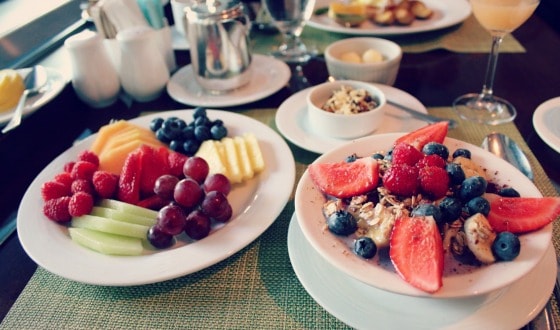 Before leaving the hotel, public relations director Joanne Papineau gave me a tour of the rooftop garden. It was a bright, sunny day and it was fun to be up on the roof, with views of the St. Lawrence river, the mountain and Olympic Stadium in the distance. It was indeed peaceful to stand among the planters filled with 25 types of tomatoes, edible flowers, herbs such as pineapple sage, all kinds of vegetables such as eggplant and peppers and even fruits — lemons, limes and melons. Though they don't produce enough to meet the needs of the hotel, the chefs do include the produce in their dishes and also in cocktails. Last year, the rooftop garden produced 163 kilograms of produce, which is quite impressive. What a great use of a rooftop!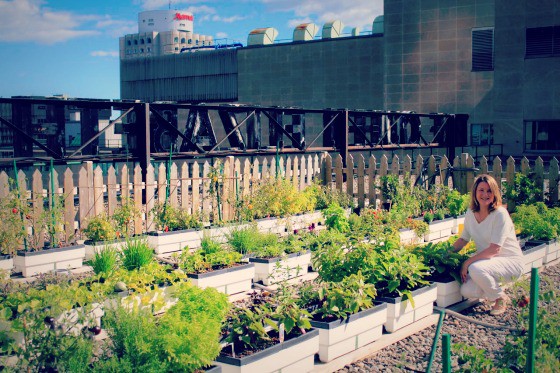 Another unique feature of the rooftop garden is the apiary. Like sister hotel Fairmont Royal York in Toronto, the Queen Elizabeth is home to several bee hives that produce honey sold in the hotel shop. Joanne proudly showed me the aviary, which produced 140 kilograms of honey last year. Four employees are trained as bee keepers, and they produce the honey in a "honey house" on the roof — the only working honey house in Montreal.
Green peace in Montreal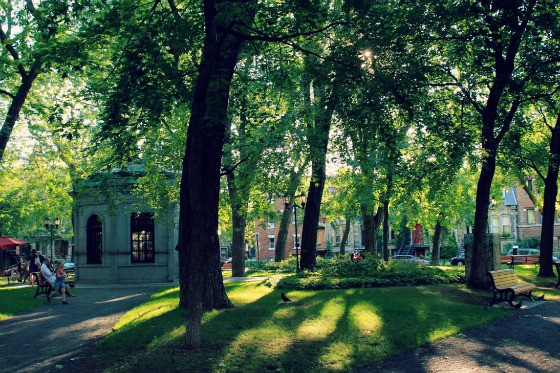 On the last evening of my peaceful weekend I went for a long walk through downtown Montreal and came by chance upon a peaceful park, Saint-Louis Square. I bought iced tea and sat by the fountain and felt transported to Europe. The square has a historic and relaxed atmosphere. Very charming.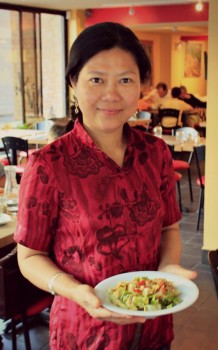 From there I walked a short distance along Prince Arthur, a pedestrian street lined with cafes, to Ruby Burma (3685 Blvd. St-Laurent) for dinner. Ruby Burma is, to my knowledge, the only Burmese restaurant in either Toronto or Montreal, so it was a treat to be able to sample this food for the first time. I found it very delicately spiced, a mild cross between Thai and Indian, but somehow seemed like a healthier option than either of them. I especially loved the Tea Leaf Salad, which features tea leaves imported from Burma (also known as Myanmar).
Owner Thet Thet Tun told me she started the restaurant with another Burmese woman, but she is running it alone now, a lot of work for one person and a small staff. It is especially hard to find Burmese employees as there are only a handful living in the city. But with an obviously very talented and dedicated chef in the kitchen, I am sure Ruby Burma will do well. The food is fresh and delicious and there is a serene feeling in the restaurant. Burma / Myanmar is a Buddhist country — though the peaceful philosophy of Buddhism did not prevent the country from being ravaged by war and a repressive, militaristic regime.
And with that, and after a peaceful sleep in the Peace Suite, I headed home to Toronto on VIA Rail train #61, and again enjoyed great service as I gazed out window at the sunny scenes passing by. I was thinking about how both John Lennon and Swami Vishnudevananda ended up in Montreal, Canada, almost by chance; and from there sent out their revolutionary messages of peace. More on that in my next blog post, about my weekend at the remarkable Sivananda Yoga Camp.
[NOTE: This weekend was entirely my idea, driven as usual by my passions for travel and personal development, and I was hosted by VIA Rail, the Fairmont Queen Elizabeth Hotel and the Sivananda Yoga Camp.]
If you enjoyed this post, you can….
Get updates and read additional stories on the Breathedreamgo Facebook page.
Buy Song of India, a collection of 10 feature stories about my travels in India. E-book version is now only $1.99.
Subscribe to the free — and inspiring! — e-newsletter, Travel That Changes You.