This is a guest post from Mikaela, the voice behind Voyageur Tripper, an outdoor adventure blog. However, I also love camping in Ontario, my favourite place in the world to go camping, and some of my favourite parks, like Algonquin, are on this list. I think all international visitors to Canada should try camping in Ontario and immerse in our glorious wilderness — this is how you experience the real Canada!
---
WE HAVE SO MUCH incredible wilderness in Ontario and I believe the best way to experience it is through camping. I've camped throughout the province and spent several summers working as a wilderness guide, so today I'd like to introduce you to five of my favourite places for camping in Ontario.
This list includes two fantastic national parks – Georgian Bay Islands and Bruce Peninsula – and three of the best provincial parks in Ontario – Killarney, Algonquin, and Bon Echo.
One thing to remember: since these are some of the best campgrounds in the province, they tend to get reserved early in the year. As soon as reservations open for your dates, reserve your campsite. If you can, visit on a weekday as this will make the reservation process easier and there will likely be fewer people on the lakes and on the trails.
---
More reading on Breathedreamgo about Ontario and Canada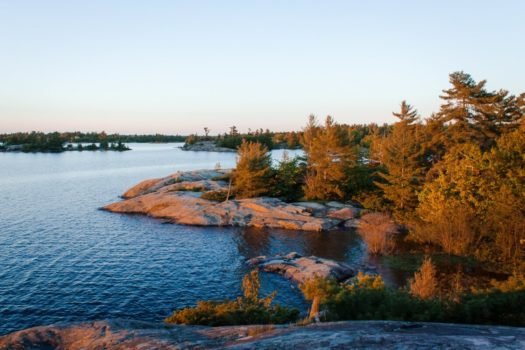 1. Beausoleil Island at Georgian Bay Islands National Park
Georgian Bay Islands National Park is a beautiful park just two hours from Toronto and a great place to experience camping in Ontario. The largest island of the bunch is Beausoleil Island, which has an interesting geography. The northern part of the island is Canadian Shield — the ground is hard, with exposed granite and quartz, and windswept pine trees jut from the surface. The southern part of the island is part of the St. Lawrence Lowlands, which has soft soil and maple trees.
Getting There
The hardest part about visiting Beausoleil Island is getting there. After driving two hours north of Toronto, you'll arrive in the small town of Honey Harbour, which hosts the boat launch closest to the park.
If you only want to go for the day, you can take the national parks shuttle service, called the Daytripper. If you're staying overnight, you'll need to arrange your own water taxi. If you have multiple people in your group, the shared cost makes it more affordable.
The Campground
There are several campgrounds on Beausoleil Island, however, my favourite is Honeymoon. This is a campground on the north side of the island, sitting in a cove with a nice, protected beach. Out of all the campgrounds, this one gets the best sunsets in my opinion. It's also nearby my favourite hiking trail on the island: Fairy Lake.
You'll need to hike from the Visitor's Centre to Honeymoon, so this campground should only be booked if you're packing light. Otherwise, I suggest booking Cedar Springs or Tonches. These campgrounds also have more developed facilities.
Things to Do
Hiking is the best activity to do on the island. There are several excellent trails throughout the island, my favourites being the Fairy Lake and Georgian trails. The Georgian Trail leads to a lighthouse, which is a great lunch spot.
You can also rent fat wheel bikes from the Visitor's Center for the flat trails on the southern part of the island. There are also plenty of places to go swimming, one of the best being Beausoleil Point. Beausoleil Point is the most southern point on the island and has a long sandbar stretching out into the water.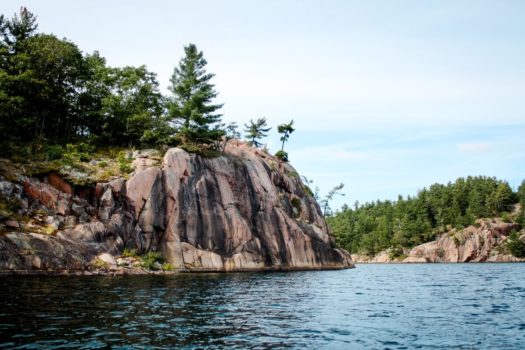 2. Georgian Lake Campground at Killarney Provincial Park
Killarney Provincial Park is easily one of the most beautiful places in Ontario. It protects a region of the La Cloche Mountains, known for white quartzite ridges that sparkle in the sunlight. Camping in Ontario doesn't get much better than this!
Getting There
Killarney is about five hours north of Toronto, on the northern shores of Georgian Bay. George Lake Campground is on Google Maps and is road accessible, so this is one of the easiest campgrounds to find.
The Campground
The park is home to one campground, dozens of backpacking campsites and over a hundred canoeing campsites. The most popular lake in the park is George Lake, which is home to the Visitor's Centre and the campground.
The campsites are all very nice, with a picnic table and shared washroom/shower facilities. Considering how popular the campground is, you can get an impressive amount of privacy at some of the sites. George Lake has a long stretch of beachy shoreline, so you can go swimming in the water or launch a mini canoe trip from there.
Things to Do
There is an outfitter nearby from whom you can rent canoes. Leaving from George Lake, I recommend paddling to O.S.A. Lake via Freeland Lake and Killarney Lake. This route requires three short portages each way, so it'll be a full day trip. Pack a picnic and enjoy it on an island on the lake.
Don't forget to make a stop at The Crack, the most popular hiking trail in the park. It'll require a half day of hiking but provide you with an incredible view of the park.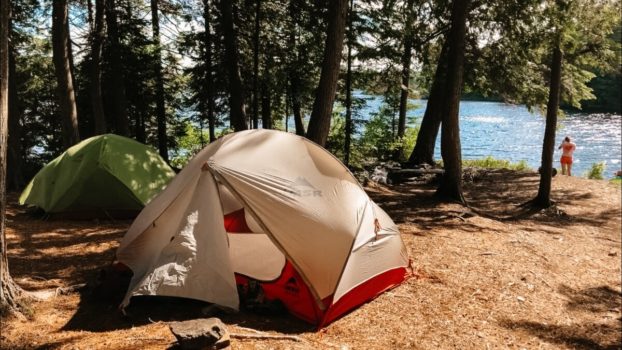 3. Lake of Two Rivers Campground at Algonquin Provincial Park
Algonquin is Ontario's oldest provincial park and one of its best. Thousands of lakes are scattered in and among maple, pine, and birch forests, an intricate network of portage trails connecting them. Visit at the right time of day and it's common to see moose.
Getting There
Lake of Two Rivers Campground is right off Highway 60, 32 kilometres beyond the West Gate. It's about three hours from both Toronto and Ottawa. When planning your trip, keep in mind that Highway 60 is a two lane road that can get very busy on the weekends – especially the Friday before a long weekend.
The Campground
There are tons of campgrounds throughout the park, any of which would make for an enjoyable weekend stay. If you're new to the park, you can't go wrong with Lake of Two Rivers Campground, which sits on a beautiful and large lake called, you guessed it, Lake of Two Rivers.
Lake of Two Rivers Campground is one of Algonquin's largest campgrounds, and it can accommodate tents, trailers, vans, and RVs. Although the campground is large, don't let its popularity deter you. It has some of the best facilities (comfort stations, electric sites, laundry, and a store) and is nearby several fantastic hikes.
Things to Do
Staying at this campground will put you in close proximity to two recommended hiking trails. The first is the Lookout Trail, which is a short trail to a point overlooking the maple forest below. It's best done in October when the park is at peak colours. The second is the Track and Tower Trail, which is 7.5 kilometre round trip and offers beautiful views over Cache Lake.
While you're in Algonquin, it is imperative that you rent a canoe for at least one day and go for a paddle. Personally, I like launching from Canoe Lake and stopping at The Portage Store afterwards for an ice cream.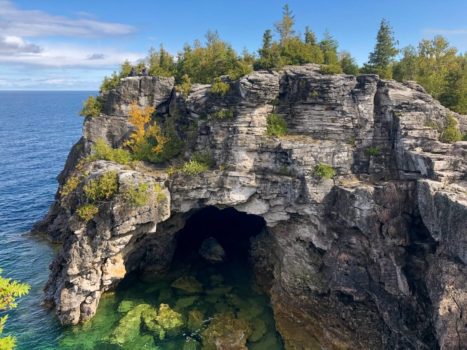 4. Cyprus Lake Campground at Bruce Peninsula National Park
Bruce Peninsula National Park protects a portion of the east shore of Bruce Peninsula, which separates Georgian Bay on the east from Lake Huron on the west. The geography is rocky, with colourful lichen and moss growing on granite rocks. The water is bright turquoise and blue, and the cliffs drop sheer into those waters below. A favourite place for camping in Ontario.
Getting There
Bruce Peninsula National Park is about four hours from Toronto. Cyprus Lake Campground is easy to access – just make sure you take the right entrance into the park (I made this mistake on my first trip). The first road into the national park is Emmett Lake Rd – don't take this one. The second road is aptly named Cyprus Lake Road. You can just put it into Google Maps though and save the hassle!
The Campground
Cyprus Lake Campground has more than 300 sites divided into three sub-campgrounds. All of the sites are drive-in, each with a picnic table and grill. The campground best accommodates tent and car campers, though you can get away with a tent trailer. There are no serviced sites at this campground. There are, however, plenty of nearby hiking trails.
Things to Do
Near Cyprus Lake Campground lies the infamous Grotto, one of the most popular rock formations in all of Ontario. Its popularity means it can get very crowded – to visit for a day trip, you'll need to book a parking reservation in advance and share the view with dozens of other people. Or, stay at the campground, have your parking included, and visit the Grotto for sunrise or sunset… without the crowds.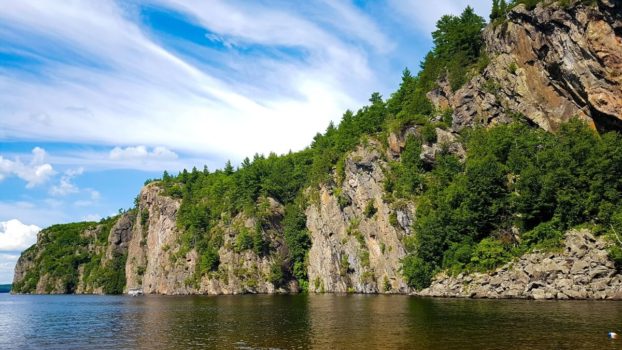 5. Mazinaw Lake Campground at Bon Echo Provincial Park
Bon Echo is a beautiful provincial park not too far from Toronto. Its crown jewel is Mazinaw Rock, on Mazinaw Lake, which is 100 metres tall and features 260 Indigenous pictographs. The cliff itself is dramatically impressive, jutting out of the lake into the sky. The lake is very accessible, so you don't need to be an experienced paddler to view the rock. 
Getting There
Bon Echo is three hours northeast of Toronto and two hours southwest of Ottawa. Highway 41 cuts right through the park, and the campground is at the end of a short road to the east of the highway. 
The Campground
Mazinaw Lake has a developed campground that can accommodate everything from single tents to RVs. They even have roofed accommodation if you don't have your own camping shelter. There are comfort stations throughout the campground and some of the sites have electrical hookups for trailers.
Things to Do
While you're in Bon Echo Provincial Park, you must visit Mazinaw Rock. You can launch a canoe at the Lagoon and paddle directly to the rock. If you're feeling more ambitious, you can do the full Kishkebus Canoe Route, which is 21 kilometres (with one 1.5 kilometre portage) and takes about six hours to complete. If you'd rather not canoe, there are also interpretive boat tours to the rock. Or if hiking is more your style, there are several hiking trails in Bon Echo, ranging in length from 1 kilometre to 17 kilometres. It's an ideal place to experience camping in Ontario.
Camping in Ontario – Final Thoughts
Ontario is a huge province with thousands of camping destinations — it can be overwhelming to decide where to go. I hope this post has helped you find your next camping destination and given you some inspiration on what to do there.
Mikaela is the voice behind Voyageur Tripper, an outdoor adventure blog. Through information how-to's and destination guides, Mikaela enables readers to get outside in meaningful ways. She spent five summers as a wilderness guide in Ontario, Quebec and Nunavut and is currently based on the West Coast. You can find her on Instagram. 
---
If you enjoyed this post, you can…
Sign up for Dispatches in the sidebar and follow Breathedreamgo on all social media platforms including Instagram, Facebook, Pinterest, and Twitter. Thank you!