In Prince Edward Island, all that matters is on the platter: oysters, lobster, mussels and clams
I'm in a sprawling white tent on a red sand beach watching a vivid sunset over the Atlantic Ocean and eating a plump lobster, freshly cooked in a briny bath of seawater. Celebrity chef and island local Michael Smith gets up to talk to us, a group of travel media from Canada and around the world. He stands, tall and rangy with a mop of wild hair, and addresses us in a booming voice brimming with passion for food and for his adopted homeland, Canada's smallest province.
"Prince Edward Island is a great big giant green farm, surrounded by an abundant deep blue sea and filled with people and stories," he booms out. I'm having my first defining moment of PEI.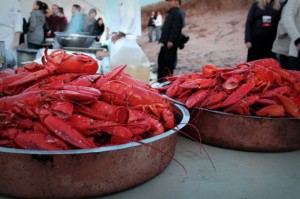 Michael Smith went on to tell stories of many of the people he has met on the island, people who are also passionate about cultivating PEI's natural treasures. Dubbed the "million acre farm," PEI is famous for its various land harvests, including corn, apples and of course potatoes; and its harvests from the sea, especially lobster, oysters, mussels and clams. PEI potatoes and Malpeque oysters are two of the island province's most renowned exports — along with everyone's favourite feisty red-head, Anne of Green Gables.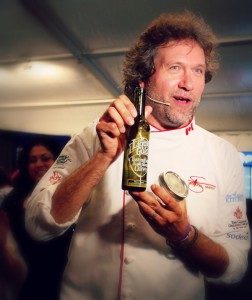 It was while Michael Smith was talking that I felt I sensed the essence of PEI. And the following week, as I toured the island, met locals and collected my own stories, my experiences confirmed my sense that Prince Edward Island is indeed a gentle island; home base to thriving natural and creative industries driven by passionate, talented people.
It's also extremely picturesque.
(See how Michael recommends cooking a lobster in the video below.)
Stories from the land and sea
Prince Edward Island really does live up to its billing. I really did see lots of charming clapboard houses in cheery hues perched atop the rolling verdant landscape that's hugged by gently rugged low red cliffs and a strip of red sand lapped by the teeming waters of the ocean. It's all true. I saw story book apple orchards, sheep nibbling emerald green turf, white sail boats in Charlottetown Harbour, towering cloud banks over the coast. The whole island in September was washed by the golden tones of end-of-summer bounty, with just a tinge of nostalgia for summer memories. Many of PEI's visitors return year after year to holiday on the gentle island — and it is easy to see why.
---
Planning a trip to Canada? The Canada Travel Guide has everything you need to know to visit Canada!
---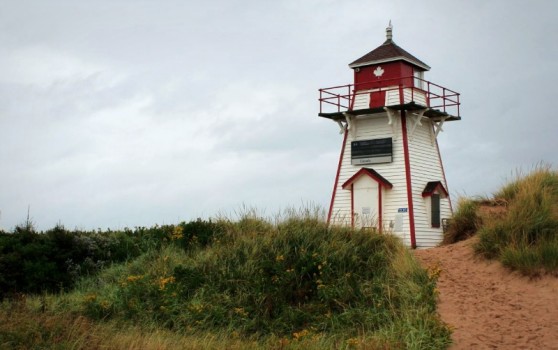 In fact, our family too came to PEI, many years ago when I was four; and when we drove past an old Tudor-style "haunted house" I recalled being there many years ago. Bittersweet feelings of nostalgia washed over me like waves from the sea. I was very happy to finally be back in PEI and happy to be enjoying the modern stories of how the people and the land are collaborating and thriving.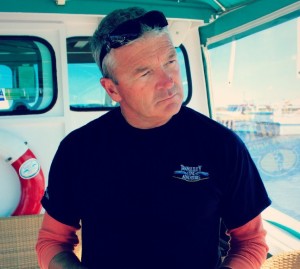 My second defining moment in Prince Edward Island was going out on a refitted lobster boat with Captain Perry Gotell of Tranquility Cove Adventures on the most perfect day for a seafaring adventure in Atlantic Canada. The sky was maritime blue, splashed with high white clouds and the rolling ocean waves provided just the right feeling of the sea beneath the boat.
I loved the salt air and being surrounded by a natural landscape of sea and shore almost entirely free of signs of human habitation. Captain Perry, a red-cheeked Hemingway character, was a lobster fisherman for 28 years, the third generation of his family to fish the relatively tranquil waters of a large PEI bay off the coast of Georgetown on the eastern side of the island. He is retired from fishing, and now takes tourists out to experience the life of a lobster fisherman, and he is having the time of his life.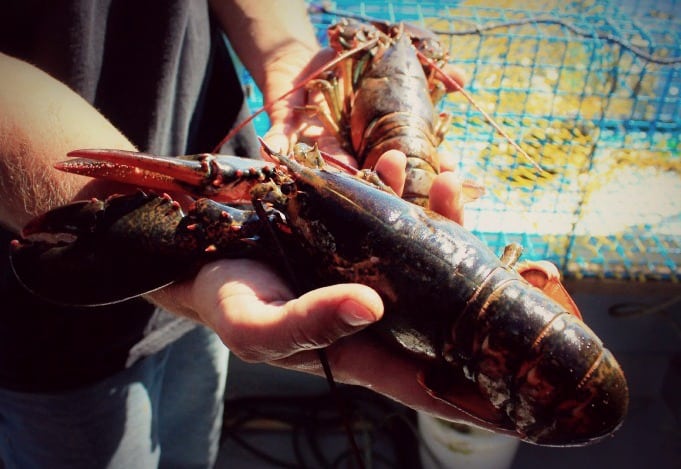 Perry and his mate Lucais helped haul in a lobster trap, mussel sock and rock crab cage to show us how they are caught; but the highlight was fishing for mackerel. We caught several small ones and Perry made ceviche, which we ate immediately. Fish just can't get fresher than that, and it was exciting to eat a "raw" fish dish right out of the sea.
Fish and seafood is one of the big industries of Prince Edward Island and one of its big tourists draws too, and on my food tour I had lots more in store. My third defining PEI moment was also centred around seafood, spiced with the warmth of the island people.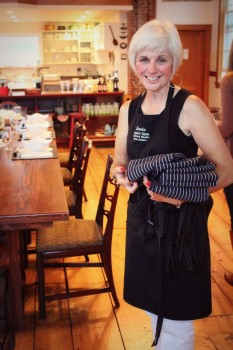 Our small group of travel journalists were invited to spend the evening at Annie's Table, which is a culinary studio in New London, in the centre of Prince Edward Island. Annie greeted us at the door and ushered us into a converted church, which she has decorated with beautiful pieces of furniture and artifacts hand-picked at island auctions. The back half of the room is a large kitchen outfitted with everything a cook could want, and probably more. She introduced us to chef Norman Zeledon, originally from Nicaragua, but who now seems to have caught the island passion for PEI seafood.
With Norman's help, we shucked some oysters — a first for me — and helped make a dish of mussels. Then the lobster delivery arrived and as we marveled at the pre-historic looking creatures, I grew a bit wary about killing them to eat them. However, I overcame my resistance and watched as Norman put them in a pot of boiling salted water (not too much water, as he was in fact steaming them). The lobsters in the pot banged against the sides after Norman put down the lid, which was quite eerie.
Alas, somewhat like The Walrus and the Carpenter by Lewis Carroll, I helped shuck my own lobster — another first — and ate it with gusto, along with the mussels and oysters. And clarified butter.
"I weep for you," the Walrus said:
"I deeply sympathize."
With sobs and tears he sorted out
Those of the largest size,
Holding his pocket-handkerchief
Before his streaming eyes.

"O Oysters," said the Carpenter,
"You've had a pleasant run!
Shall we be trotting home again?'
But answer came there none–
And this was scarcely odd, because
They'd eaten every one.
Two more defining Prince Edward Island moments and this story is done (for now!). On the next day, I took a side trip to Cavendish, to visit the home that inspired the setting for Anne of Green Gables. The book by PEI-born writer Lucy Maud Montgomery is of course an international sensation (especially in Japan, where it is on the curriculum), and the Campbell family home has been restored and preserved to honour the writer, the book and most of all her fictional character Anne "with an e" Shirley.
I am one of the many who identified with the feisty young heroine's struggles to find her identity and fit in. And as an adult, I identify with the author's struggles to get published and gain recognition and a livelihood from her creative endeavours. I also identify with someone whose inner world of imagination is often more important and vibrant than the so-called real world; and I admire her ability to see the world of wonder that is so aptly depicted in the Anne of Green Gables books.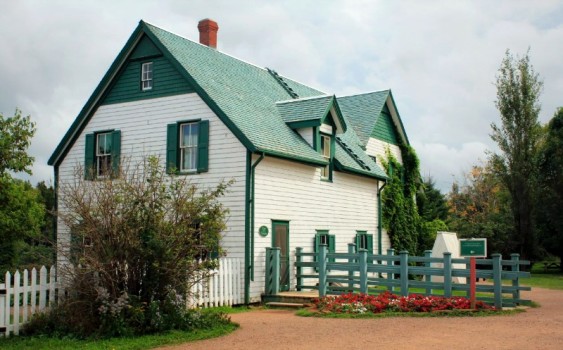 I do admit to feeling a bit teary as I toured the home and gardens. They have been very carefully restored, and even recreated, to match descriptions in the book. A middle-aged woman was slightly overcome when we stood in the kitchen together. "This is where she wrote!" she exclaimed. In fact, Montgomery never lived there, but she lived nearby and spent a lot of time in the house; and named Green Gables after it due to the ivy that grew (and still grows) along roof line.
Everything was invested with a kind of fairy grace and charm emanating from my own fancy." L.M. Montgomery
Finally, one last defining Prince Edward Island moment before the sun sets. Together with Tara, one of the wonderful people from PEI Tourism, we drove a short distance from the Anne of Green Gables Museum to the north shore, kicked off our shoes, rolled up our jeans and walked in the water along the beach.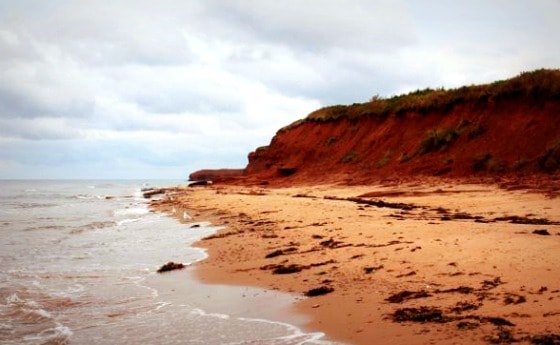 This is PEI, I thought, fresh air, gently dramatic scenery, a relaxing stroll along the beach with memories of ocean fresh seafood and the product of a local creative imagination freshly imprinted on me. Prince Edward Island is indeed a gentle island, and also abundant in every way. And I have found my soul relaxing here, along with my body, and my heart beating a slightly redder PEI hue, tinged by the beauty of the landscape and the genuine hospitality of the people.
[NOTE: Thanks so much to Prince Edward Island Tourism, the Canadian Tourism Commission and especially Isabel MacDougall for hosting me in PEI and making my trip truly madly deeply memorable. I'm coming back!]
---
If you enjoyed this post, you can….
Sign up to The Travel Newsletter in the sidebar and follow Breathedreamgo on all social media platforms including Instagram, TripAdvisor, Facebook, Pinterest, and Twitter. Thank you!