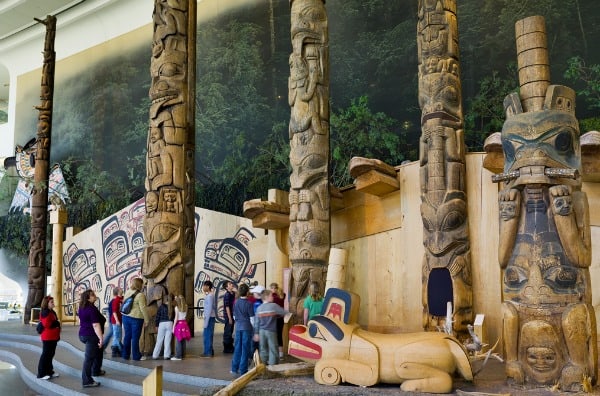 Canadian Museum of History: Soaring totem poles, a freedom fighter's jacket & Canada's most artful building
THE FIRST MARVELLOUS thing I saw upon entering the Canadian Museum of History was a huge totem pole from the west coast of Canada. Carved with fantastic birds and animals, I imagined walking through the gigantic raven's beak that was once used as a door. According to Native spirituality, entering a building through the mouth of a raven allowed one to take on the power of the mighty bird.
While no longer used this way, the totem pole sits majestically in the Great Hall and towers over the busy museum, a "portal to transformation." Across from it are floor-to-ceiling windows that showcase the nation's stately Parliament Buildings across the river and the effect is stunning — possibly the most "Canadian" view you will ever see.
[soliloquy id="21782″]
A museum design inspired by the geography of Canada
The most striking aspects of the Canadian Museum of History are its position and design. Designed by Métis-Blackfoot architect Douglas Cardinal in 1989, the unique architecture highlights Canada's geological past with curved shapes alluding to retreating glaciers.

The Canadian Museum of History is one of most dramatic buildings in Canada. The cream-coloured limestone on the river-facing side mirrors Parliament Hill and the plateau on which some of Canada's most regal buildings sit, including the Canadian Parliament Buildings, the Fairmont Chateau Laurier hotel and the National Gallery of Canada. The Museum completes the classic Ottawa view, with the wild Ottawa River and Quebec's shoreline in the background. This is Canada's most powerful real estate.
This sweeping vista alone is worth the price of admission, and will immerse you in the Canadian experience — fittingly, just a short trip from the heart of Canada's capital city, Ottawa. A small city set on a picturesque location where the Ottawa River meets the Rideau Canal, Ottawa is home to many fine buildings, parks, art works, vistas and landscapes. But the Canadian Museum of History is one of the most special places you can visit in this city of sites and attractions. And to be here during the Canadian Tulip Festival in May adds a splash of colour and a dash of history. (Read about the historical legacy the Tulip Festival honours here.)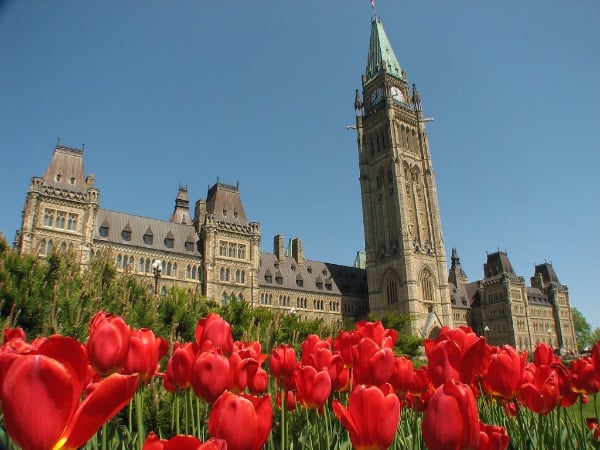 An engaging way to discover "all things Canadian"
The Museum is a noted Canadian Signature Experience because it captures the power of both the Canadian past and present, held together in an artfully designed moment. While the Museum houses an enormous array of art and artifacts that explore and explain Canadian history, it also reflects the present. This is no dusty museum of olden days; it will entertain, educate and engage you about "all things Canadian" and is a must-stop for foreign visitors.
Your tour begins in the Great Hall. It is steeped in Canadian wilderness motifs where even the marble on the floor was designed to reflect tidal changes. Here you come face-to-face with astonishing artwork, which only begins with the magnificent totem pole.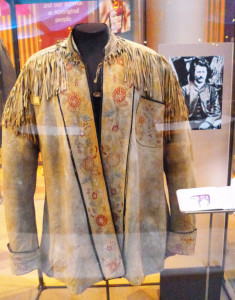 In the First Nations Hall of history you are treated to such compelling objects as the buckskin coat once worn by Canada's most famous freedom fighter, Louis Riel. Riel is a legend in Canada, a Métis leader considered to be the founder of the province of Manitoba and a powerful opponent of British colonialism. As kids in Canada, we all worshipped Riel and his revolutionary zeal, so I was a bit star-struck by this piece of clothing. For Indian visitors, it would be a bit like seeing Mangal Pandey's uniform.
The displays include both historical and modern items, such as the jerseys of Aboriginal hockey players in the National Hockey League. I was very pleased to see contemporary artists from my own generation, such as playwright Thomson Highway celebrated — an example of how the museum highlights the First Nations continuing contributions to Canadian culture.
Three contemporary Native Canadian art pieces stand out: Bill Reid's plaster version of The Spirit of Haida Gwaii, Alex Janvier's Morning Star and Mary Anne Barkhouse's 'namaxsala. They are not only beautifully made, they also tell stories that blend historic fact and mythology. Once again tales of transformation abound.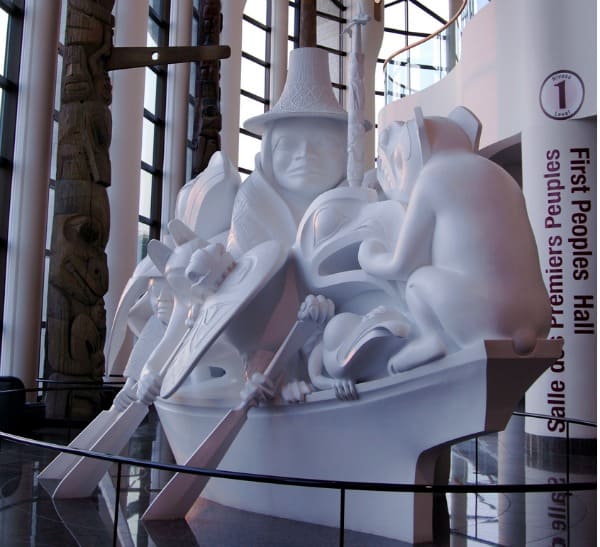 Contemporary Native Canadian artwork at its best
Reid's plaster version of a canoe containing 13 Haida spirits is one of the most famous works of Aboriginal art in Canada. In fact, it adorned the Canadian $20 bank note until recently. The original is in Washington, D.C. The Spirit of Haida Gwaii captures the mythologies of First Nations people traveling through time and place, towards an uncertain future, but with their identities in tact. It's hopeful, playful and mindful.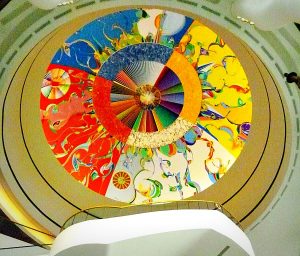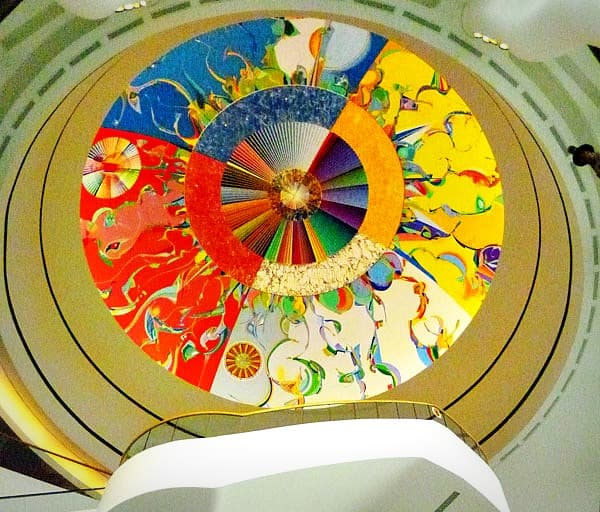 Janvier's Morning Star adorns a cathedral ceiling and is every bit as intricate as the European medieval masters who influenced the piece. Gorgeously painted with bright colours, it shows the importance of the morning star First Nations' people used to navigate their nomadic existence.
Sitting quietly and poignantly outside the museum, and pointed toward our nation's seat of government, is the lovely 'namaxsala by Mary Anne Barkhouse. The piece evokes a tale told to the artist by her grandfather, about an ancestor who rescued a wolf from drowning by offering it refuge in his boat. It illustrates the importance of animals to First Nations' people. Watch this video about the making of 'namaxsala to understand its significance.
Each of these art works reflects people who have struggled to maintain their identities in a changing world. Their stories are not only the myths that sustain them but also work as universal truths any of us can understand and relate to.
The Canadian Museum of History offers visitors something far more unique than just a repository for our nation's mementos and objects of significance. Tales are told through the visual medium of art and based on ancient mythologies. As relevant today as they were many years ago, these stories place us all on a journey of struggle, transformation and hope.
The Canadian Museum of History is a wonderful place, important and inspiring and an international destination in its own right. It is also located a short trip from the heart of Ottawa and surrounded by other great places to visit. After your tour, walk across the Royal Alexandra Interprovincial Bridge to visit the National Gallery of Canada. Stroll through the popular Bytown Market, have brunch or tea at the Fairmont Chateau Laurier and spend some time taking in the majestic Canadian Parliament Buildings. By the end of your day, you will have increased your understanding of the history of Canada and the spirit of Canadian culture.
Resources for planning your trip to Canada
Travel Ontario
Other posts in this Explore Canada Series
If you enjoyed this post, you can….
Get updates and read additional stories on the Breathedreamgo Facebook page.
Buy Song of India, a collection of 10 feature stories about my travels in India. E-book version is now only $1.99.
Subscribe to the free — and inspiring! — e-newsletter that helps you live your travel dreams.