How to visit the Ice Hotel in Quebec City … without getting cold
CAN YOU IMAGINE a hotel made completely of ice and snow? No? I couldn't either. And that's the reason I wanted to go the Ice Hotel in Quebec, Canada. I wanted to experience it for myself. What I discovered was beyond my imagination. If you are reading this on a sweltering hot, sunny day … come along with me and cool down …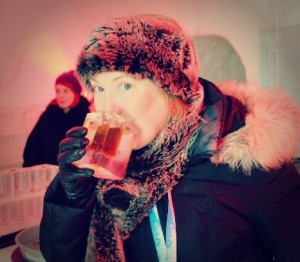 The Ice Hotel — known in French as Hotel de Glace — really is a hotel made almost entirely of ice and snow. But it's also much more. It's an inspired meeting of art and nature, a scene of crystallized beauty in a serene Canadian forest, and a portal into Nordic myth.
"Magical is part of our philosophy," my Ice Hotel guide, Julie Richard, told me.
I went on a perfect weekend in March, when everything in Quebec was carpeted with a thick layer of fresh white snow, and it was not too cold to enjoy being outdoors for a couple of hours (if you are suitably dressed in a parka and lined boots).
---
Planning a trip to Canada? Start here! My First time visitor to Canada, eh? post is full of Canada travel tips, ideas, suggestions and two awesome itineraries, starting in Toronto and Vancouver.
---
The Ice Hotel is only open in the cold winter months. It is created from largely man-made snow in a real Canadian forest near Quebec City, the capital of the province of Quebec. This province is known for being historical, French and, in winter, cold. The cold keeps the hotel from melting from January until March, and also provides a picturesque snow scene setting. However, you don't have to actually get cold to experience the beauty and magic of the ice hotel.
A castle, cafes and croissants
Here's what I did and what I recommend that you do, too, to enjoy a magnificent weekend experiencing the beauty of Canada in comfort and luxury. I took the VIA Rail train from Toronto to Quebec City. It's about a nine-hour train ride, with a short stopover in Montreal (just long enough to buy some of their famous bagels).
---
More reading on Quebec City
---
But this is not like a nine-hour train journey in other countries. VIA Rail trains are the ultimate in comfort, and business class is truly luxurious. Thickly padded seats, ample leg room, free WiFi and non-stop service from attentive and friendly staff regrettably shortened the journey. Snacks, full-course lunches and dinners, tea, coffee, drinks … it virtually never stops rolling down the centre aisle. You just have to sit back and watch the Canadian landscape flow past through huge picture windows.
When I arrived in Quebec City, it was a five-minute taxi ride from the train station to the 100-year-old Fairmont Chateau Frontenac. This hotel is one of the most magnificent in Canada, inspired by the medieval castles and regal chateaus of Europe and ideally located on a bluff overlooking the mighty St. Lawrence River and Vieux-Quebec (Old Quebec). From here, you can easily walk to many fine restaurants, bakeries and cafes offering French pastries, chic shops selling fashion and art and areas of historical interest.
Fairmont Chateau Frontenac overlooking Vieux-Quebec
Like an enormous fairy tale castle, the Fairmont Chateau Frontenac towers over Vieux-Quebec.
Quebec City in winter is a wonderland. The old city is a UNESCO World Heritage Site, North America's oldest settlement and the only fortified city north of Mexico. The upper and lower towns are a warren of narrow streets and old stone buildings, some dating back to the 17th century and all beautifully preserved and housing cafes, galleries, fine restaurants and shops. A fine silting of snow is like a garnish on the European atmosphere.
Where frozen art warms the soul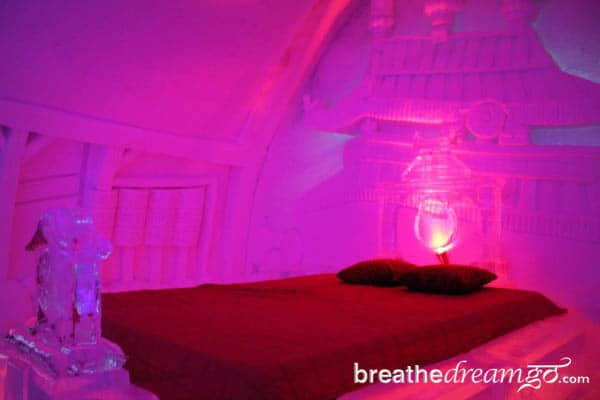 Quebec's Ice Hotel is about 14 years old, and was inspired by the original Ice Hotel in Sweden. Each year they have to re-make it of course, and each year it gets bigger and more ornate. In 2014, there were 44 rooms, plus the Ice Bar, Ice Cafe, chapel, children's slide, spa and a couple of heated, wood buildings (the reception building and the change room and washrooms for overnight guests). Also, each year there's a different them to the ice and snow carvings that decorate the hotel and the suites. I was very lucky to go during the winter of 2014, as the theme was Myths and Legends from Around the World.
There was a suite decorated with Easter Island statues, another with the Greek flying horse Pegasus, and one richly carved with images from Lhasa. But the one that made my eyes pop and my soul stir was called Le Combat de Durga.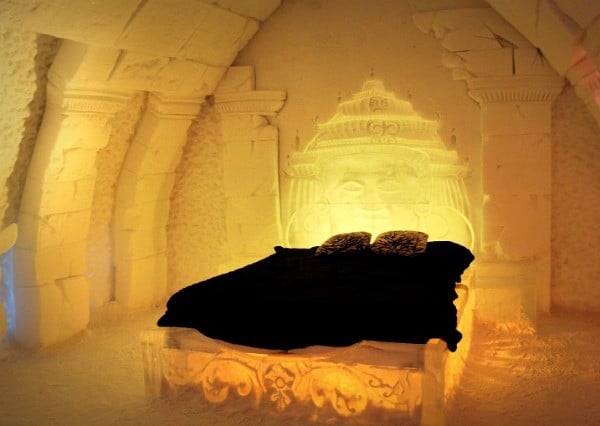 When I entered the Le Combat de Durga suite through a door cut into the snow, I felt transported into a shadowy world of fire and ice. Inside, the large room was lit by a soft yellow spotlight and my eyes took a minute to adjust. I was struck immediately by the large, intricately carved figure of Durga, riding her lion and slaying the demon Mahishasura. The entire relief was carved into the hard-packed snow wall of the room. In fact the entire room was made of snow and most of the furniture, except the fireplace, made of ice.
The fireplace does not actually heat the room, of course; it just adds drama and coziness to the atmosphere. And if there's one thing that the Ice Hotel has plenty of, it's atmosphere. Even the staff who work there never tire of the atmosphere, nor the way the hotel changes during the season, and in different lights and different weather.
"It's alive, it has a cycle," my guide Julie says. "The hotel is always changing, and I am always seeing new things, every time I come to work. At night it is truly mystical, and so quiet. There is no sound at all."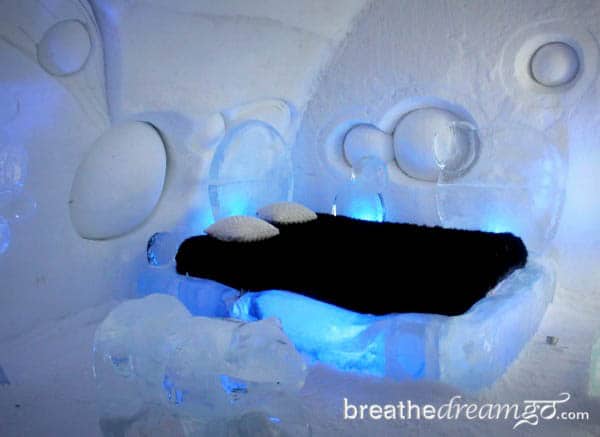 Julie tells me that people are surprised and delighted by the hotel. "At first, they're not sure how to walk. And they notice things, like the sweet smell of snow, they never noticed before." During my tour, I gained an immense admiration for the many artists, crafts people and specialists who built the Ice Hotel. Julie told me that it took 45 people six weeks to construct, and used 25 tonnes of snow and 500 tonnes of ice. The builders included 15 snow specialists and 15 ice specialists, and some came from as far away as Peru to work on it. And it all started because owner Jacques Desbois began building igloos for his kids.
Near the end of my tour, Julie and I stopped in the Ice Bar to redeem my drink coupon and I had a shot of vodka and maple cider in an ice glass that I made myself. There were several groups of people obviously enjoying the atmosphere, and even relaxing around a fire. The drink warmed me up so much that I had to open my parka, and I could imagine spending the night. Soaking in one of the outdoor hot tubs to get warm, staring up above the evergreen trees to the sparkling clear night sky, and then bundling down into a thick sleeping bag on a mattress that separates you from the ice bed. I could imagine the deep quiet, all sound muffled by the snow, not even the buzz of electricity.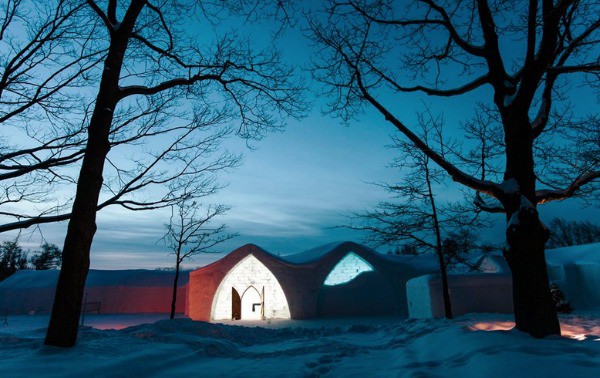 To get to the Ice Hotel and back, take a shuttle bus, there are two daily that leave from the Fairmont Chateau Frontenac. It's a drive of about 20 minutes, into the country outside Quebec City. You can actually stay overnight at the Ice Hotel, but most people report getting cold. I recommend a morning or afternoon tour; there are about four to choose from.
Staying overnight is definitely an experience I want to try, but on this visit I was whisked back to my warm and lovely room at the Fairmont Chateau Frontenac, where I sat sipping a warm tea and watching the mesmerizing movements of ice on the St. Lawrence River.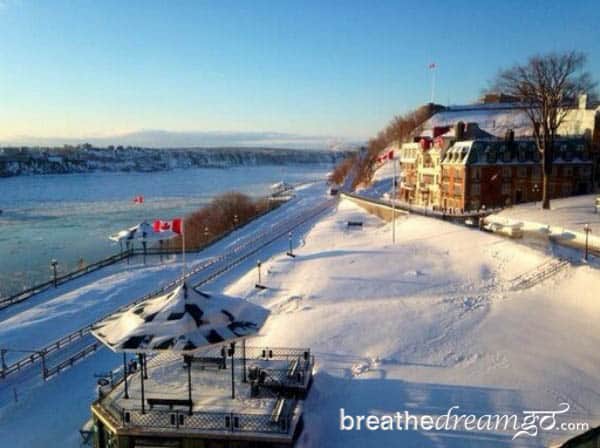 ---
If you enjoyed this post, you can….
Sign up to The Travel Newsletter in the sidebar and follow Breathedreamgo on all social media platforms including Instagram, TripAdvisor, Facebook, Pinterest, and Twitter. Thank you!