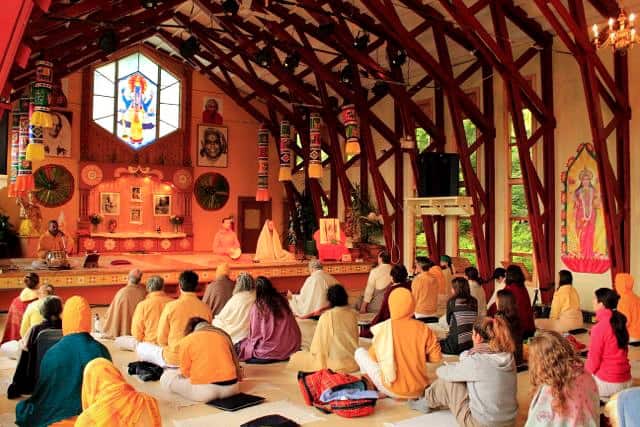 My reinvigorating weekend at the Sivananda Yoga Camp in Quebec
I awake at 5:15 am in the women's dorm and begin to get ready for the 6 am start to the day at Sivananda Yoga Camp. I walk out into the half-light of dawn in the Laurentian Mountains, and the cool air spiked with dew is refreshing. I feel part of a big, green, living eco-system. After a quick shower in the communal women's bathhouse, and a stop at the artesian well to fill my water bottle with sweet water, I take my place in the temple for morning satsang. The community gathers around me and we begin the day with meditation followed by joyful chanting and a talk by one of the spiritual leaders.
After a short break, we assemble for yoga — there is a class for beginners and another for intermediate students, who are familiar with the Sivananda style of yoga. The beginner's class is gentle and instructive; the intermediate class is invigorating and challenges students to push the comfort zone we habitually occupy. After a lengthy sivasana and more devotional chanting, we head to the dining hall for a big, healthy vegetarian breakfast. I sit outside at a wooden picnic table, surrounded by glorious views of the rolling, forest-covered mountains and the big, dramatic sky that changes moment to moment. It is an incredibly energizing way to begin the day and will, I hope, help give me the clarity I need to face an anxiety-provoking dilemma in my life.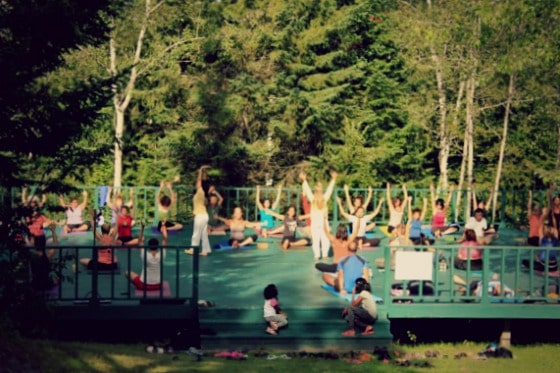 Rugged Canada meets devotional India
I conceived of the idea of going to Quebec for a "peaceful weekend" (see my blog post, Peace, Canadian style) because I was invited to the Sivananda Yoga Camp. I had been there before, four years ago, and was longing to go back for the fresh mountain air, friendly community, rigorous spiritual practices and devotional energy that fills the air like peace pollen. And while I was drawn to the Sivananda Yoga Camp to soak up the inspiring and healthy atmosphere, I was also going to face a problem, seek answers and hopefully get a much-needed recharge.
My journey to Sivananda Yoga Camp in the Laurentian Mountains began in earnest when I reached the Sivananda Yoga Centre on Blvd. St-Laurent in Montreal. Swami Vishnudevananda founded this yoga centre in 1959, after being sent on a mission by Swami Sivananda of Rishikesh, India to bring yoga, and its message of peace and harmony, to the west. He soon realized his students were disappearing on summer weekends, and followed them up to the rolling mountains and fresh water lakes of the Laurentians. In 1962, he founded the yoga camp on a large and beautiful property.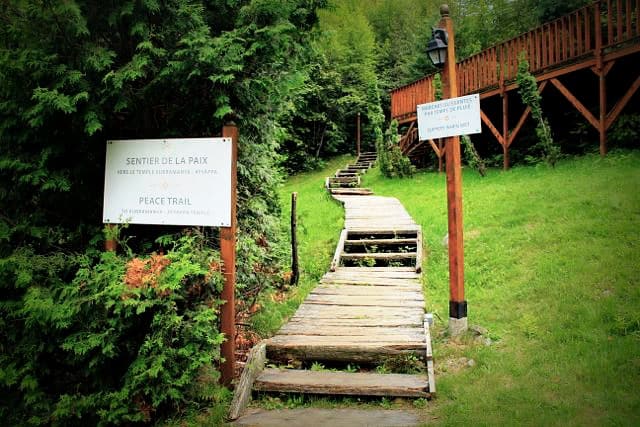 It is precisely this combination of genuine, authentic Indian yoga teachings / spiritual practices and the rugged, pristine beauty of the Canadian wilderness that makes the yoga camp such a special place. You sleep in a pine-scented room, wake up to mountain fresh air and start the day intoning devotional chants in Sanskrit and going through a rigorous two-hour asana class.
But I still didn't know if a long weekend away at a yoga ashram could really help me feel substantially better, especially as I had arrived exhausted and wracked with worry about my career path. However, having spent time at ashrams and other spiritually charged places, and being an experienced India traveller, I knew the best approach was just to be there with an open mind and heart. My job was not to make something happen, but just to be aware, and notice when it did.
So, I threw myself into the daily routine and the great joy of being in a Canadian wilderness setting in summer. I ate the two big, healthy vegetarian meals per day outdoors on the patio, often at rain-spattered tables as the weather in these hills changes so often. The first afternoon I spent walking in the woods that surround the large ashram property, visiting the Hindu temple up the hill and alternating between the extreme heat of the sauna and the extreme chill of the unheated pool.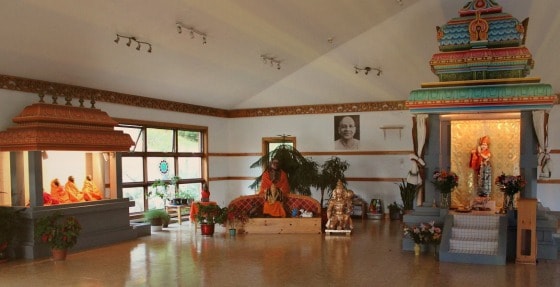 In the evening, I joined the satsang in the big hall, and sat on the floor under airy rafters and stained glass windows depicting joyful Hindu deities like Shiva and Krishna. The first night, there was a special post-satsang concert with Ken Whitely — a talented Canadian musician and yogi who had everyone clapping and singing along to folksy rhythms. On Sunday morning, a group of us walked in silence to a huge rock in the woods, the highest point on the ashram grounds, and in the netherworld atmosphere of early morning in the boreal forest, we chanted to the accompaniment of birds, and listened to the gentle, wise words of yoga camp director, Swami Shivabhaktananda. It was a very special experience, one of the highlights of the weekend.
Looking for peace in all the wrong places
I had the privilege of sitting with Swami Shivabhaktananda, who is a gentle, calm and hard-working young man (everywhere I walked around the ashram I saw him, hauling wood or cooking in the kitchen or moving furniture or doing something!). Originally from Brazil, Swami Shivabhaktananda has been at the yoga camp for four years and was only recently appointed the director.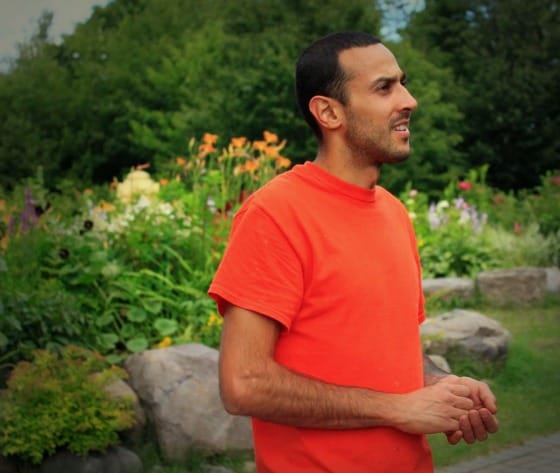 I asked him about finding peace. He told me that the founder of the Sivananda Yoga Camp, Swami Vishnudevananda, was on a mission to spread the message of yoga and bring people together to live in peace. "He would do whatever was needed to reach people," Swami Shivabhaktananda said. "Including flying peace missions in his peace plane to troubled spots around the world, such as the Berlin Wall."
When I asked Swami Shivabhaktananda about finding personal peace he said, "According to yoga philosophy, peace is found when you overcome your thoughts, and your identification with your thoughts. Peace is the absence of desires and cravings that disturb peace of mind.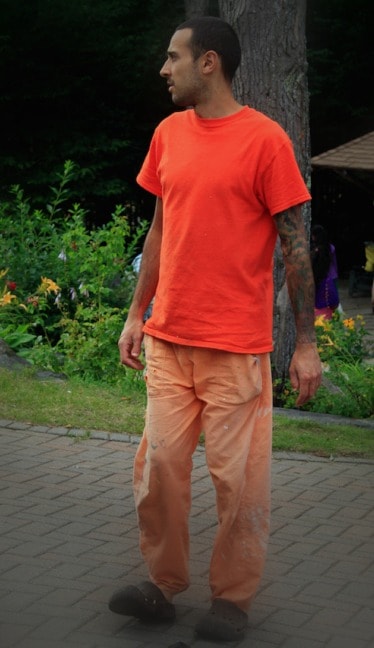 "First, you have to find peace within yourself. Once you find it inside, you can create peace around you. By becoming peaceful, you change the relationship you have with the outside world. You see things from a different perspective. You have more understanding about others, more compassion and you love people for what they are, not for what you expect them to be. You can't impose peace; the best way is to lead by example.'
I also wanted to know who comes to Sivananda Yoga Camp, and why — since relatively so few people in North America pursue spiritual studies and practises. "People tell me they come here for peace, for quiet, for a break from normal life, to rest and to feel good about themselves.
"To me, an ashram is a school for life. It gives you tools to know yourself better, to live a better life and to manage your reactions in a better way. The goal of spiritual life is to create awareness of the self, to become self-realized. An awakening has to happen.
"There is a big mix of people who come to the ashram, but everyone here is looking for something they realize cannot be found outside themselves. But how many people have the courage to look within themselves? It can be painful — many people choose to escape through abuse of drugs or alcohol. They are looking for happiness, too, but in the wrong place. When you find there is something missing, even though you have everything, all the devices, all the technology, you can come to a place like this and turn your mind inwards and find what you are missing inside.
"People tap into something here that they can't find outside anymore. There is something you get when you come to places like this that you can't explain. You can't describe it. You have to experience it for yourself."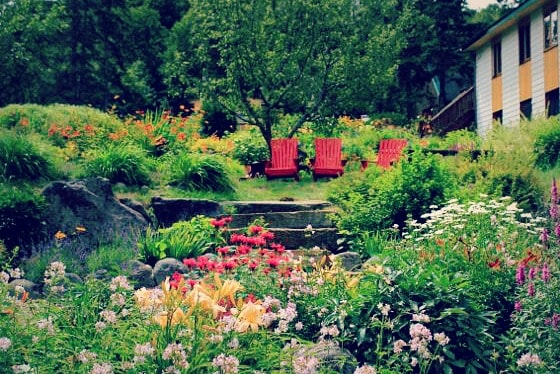 Are you experienced?
Sigh, he's right, it is hard to explain how a rigorous daily routine of chanting, asana practice, spiritual discourses, karma yoga, fresh air and vegetarian food can change and transform you — but I do feel it when I am there; there is a special energy at Sivananda Yoga Camp that I find inspiring, uplifting and powerfully transformative. It makes coming back to regular life quite difficult, even harder than after a luxury vacation. For there is nothing so luxurious in the modern world than the luxury of finding a place that supports the practise of looking within and expanding your self-awareness and consciousness. To many westerners, this might seem like the height of narcissism and frivolity. But from a spiritual perspective, it is the most important thing we can do with our life.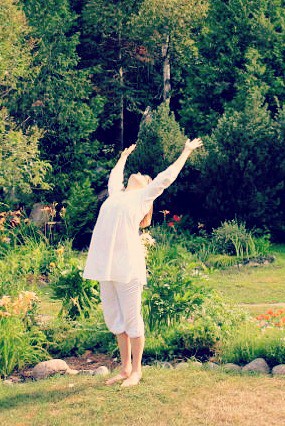 Did I find what I was looking for? I definitely felt re-charged, and my feelings of exhaustion and confusion were completely replaced by joy, optimism and positivity. I found a message, too, in a couple of the talks. A long-time Sivananda teacher told a very entertaining and compelling story about how Swami Vishnudevananda used to spend money on projects he believed in — like flying his peace plan over the Berlin Wall or taking out a full-page ad in Time Magazine to set the record straight about yoga — without always knowing how they would be paid. But he had a singular clarity of vision and complete belief in his mission, and people were drawn to him, and supported him, because of it. Another staffer read from a book Swami Sivananda wrote, and said there was a message in the reading for someone in the audience, or for the community. The first words were, "You have wasted enough of your life, it's time to get busy working on what's really important."
So, the essence of what I learned from my weekend is that money deficiency is not at the root of my problem, as I had thought; but a deficiency of faith. This is a big lesson and will take some time to percolate through, but I think it is something most of us could stand to learn. Our lives are, to a very large extent, dictated by the limits of our imagination and our beliefs — especially our belief in ourself.
Thank you to all the very hard-working, genuine and deeply committed people at the Sivananda Yoga Camp.  I can't imagine going anywhere for the weekend and feeling as well rested and as charged by new insight as I did after four days there.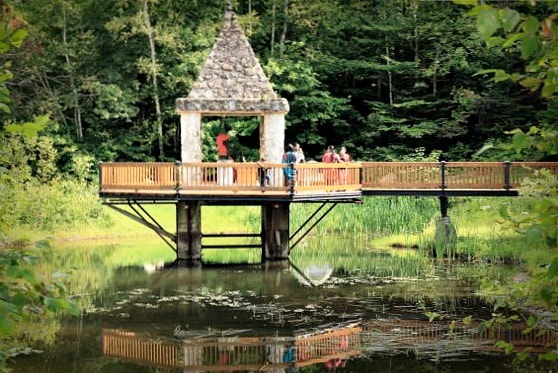 Hindu temple in the forest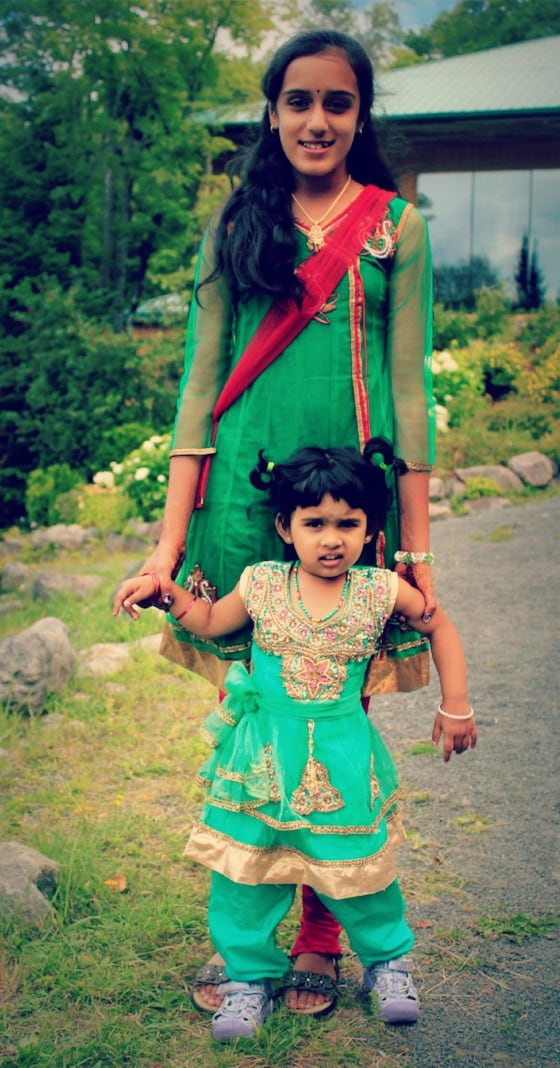 As a postscript, while I was the Sivananda Yoga Camp, I walked up the hill to the Subramanya / Ayyappa Temple and chanced upon a South Indian Hindu festival, called Pongal. In South India, Pongal is actually celebrated in the winter, as a kind of early harvest festival to honour the gods. But of course here in Canada it is too cold in mid-winter to gather around an open fire to make the Pongal, a concoction of flour, dal and sweet rice.
Again, I felt like I was in India, but while immersed in the Canadian wilderness. People came from all over, from as far aways as Toronto, to be able to cook the Pongal outdoors and offer it to the gods at the temple. All weekend, families dressed in Indian finery arrived at the temple and also walked down to the ashram to see the property and get some R&R there. It was all very delightful. I love this meeting of my two favourite cultures.
[NOTE: This weekend was entirely my idea, driven as usual by my passions for travel and personal development, and I was hosted by the Sivananda Yoga Camp.]
---
If you enjoyed this post, please sign up to The Travel Newsletter in the sidebar and follow Breathedreamgo on all social media platforms including Instagram, TripAdvisor, Facebook, Pinterest, and Twitter. Thank you!