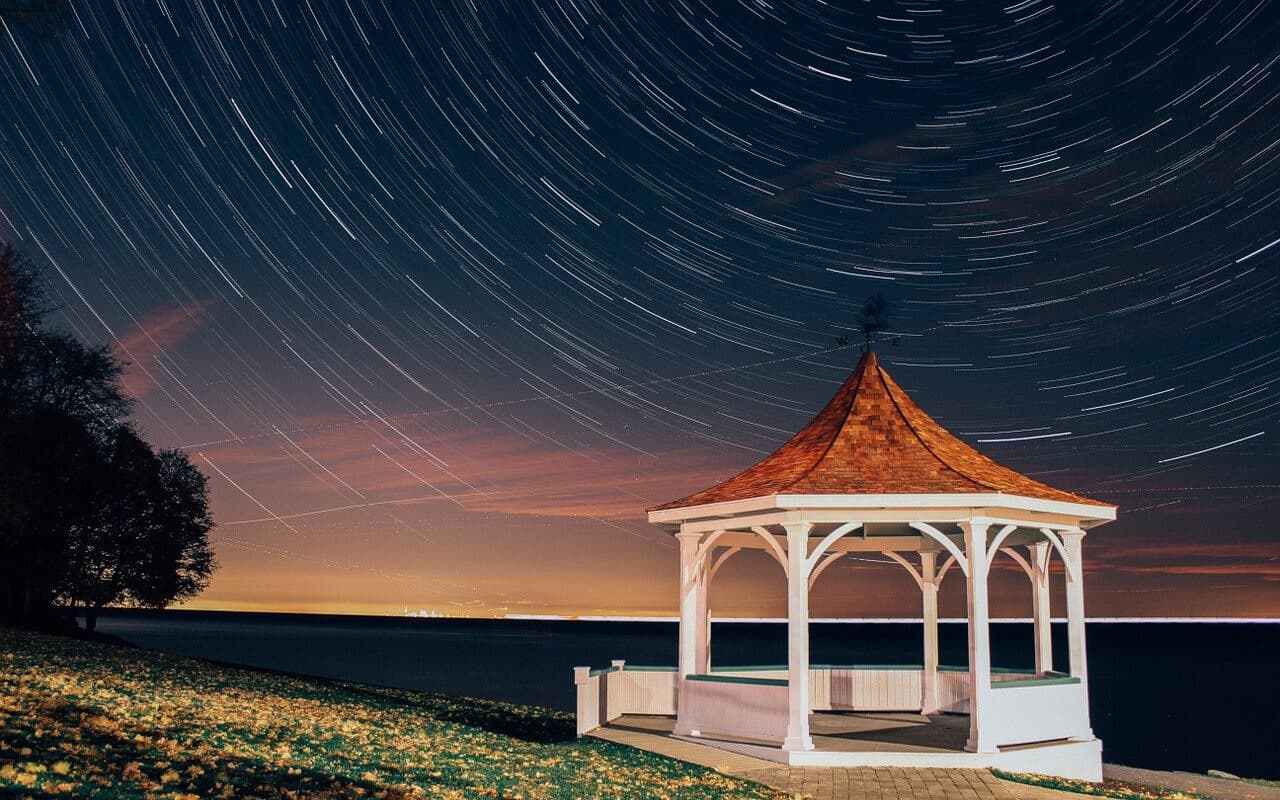 20 best places to travel in Canada now
WHERE CAN I TRAVEL in Canada this year? What are the best places to travel in Canada now? How can I get away from the crowds? People have a lot of questions about travel right now, and while we can't tell you exactly what the travel requirements and restrictions will be, we can tell you some of the best places to go in Canada now — offbeat destinations that will give you freedom, privacy, nature, and some unique experiences too.
Staying home — aka a staycation — is a popular choice for many Canadian travellers. Canadians are looking primarily for offbeat places to travel that are less crowded. Canadians are looking to spend their vacation time enjoying nature, finding unique things to see and do — including community based tourism options — and within driving distance of a major urban centre.
With this post, we've got you covered. We asked 20 Canadian travel bloggers their choice for the best offbeat place to go in Canada this year — given the travel restrictions. Most of their choices involve travel in Canada by car, as we assume people will want to drive to their travel destination. Read this one for what to do in Canada in winter.
---
Please note: Due to COVID19, check travel restrictions in Canada here and here, and find out more about travel in Canada here.
---
Best places to travel in Canada by province
British Columbia
Similkameen Wine Region, British Columbia
Driving distance from Vancouver: 4 hours
The Okanagan wine valley of British Columbia is known as Canada's premier wine growing region and is home to Canada's only 100 point Chardonnay. But the Similkameen wine region, located next door, holds lesser known but historically important locations for visitors to enjoy during their stay.
The small town of Keremeos is where you'll want to stay if you plan on sojourning from Vancouver (4 hours) to the area, otherwise you can easily drive from Kelowna (90 mins drive) or Penticton (40 min drive) for a day trip.
The Similkameen is also an appellation of its own with 15 wineries growing varieties like Merlot, Cabernet Sauvignon, Chardonnay and Riesling. Wineries like Orofino offer unique al fresco dinning events on their property. At Seven Stones Winery you can enjoy a wine makers' dinner in their wine cave and is a must for the incredible views of the valley and surrounding mountains.
Be sure to add any of the numerous fruit stands that populate the highways and roads throughout the Okanagan to your exploration. Our area of the world is considered the envy of Canada producing the country's best cherries and other fruit like apples, peaches and berries.
A visit to the 145 year old Grist Mill is also a must. You can tour the orchard containing some of the oldest and diverse apples in Canada. A campsite is available during the summer months so that you can enjoy the grounds and wake up to fresh baked goods, preserves and simple dishes made by Grist Mill with produce grown on site. A true farm to table experience. Due to the pandemic those at Grist Mill have set up virtual tours and experiences ranging from making bannock to starting their water wheel in order to provide power to produce their own flour!
The Similkameen has an incredible geographical characteristic in that it is a mixture of desert, moutains and valley farm land. Don't forget to stop and admire the view of Spotted Lake. A phenomenon that has been sacred to the First Nations peoples of the Okanagan for millennia.
Murissa Shalapata of TheWanderfulTraveler.

Cowichan Valley, British Columbia
Driving distance from Victoria: 1 hour
Travel the Trans-Canada Highway to the Cowichan Valley, a Vancouver Island destination that takes its name from the Indigenous word Quw'utsun' meaning The Warm Land. This diverse region is located a scenic one hour drive from Victoria, British Columbia's capital city. The Cowichan Valley is situated in Canada's only maritime Mediterranean climatic zone, offering the country's warmest mean temperature. The region's award-winning vineyards, orchards, and other crops like tea thrive in the mild climate and fertile land base.
The artisanal food and beverage scene makes good use of the region's bounty. Wineries, distilleries, and cideries supply their products to local restaurants and welcome guests into their tasting rooms. When it's time for a meal or snack, visitors to the Cowichan Valley can take their pick from casual cafes, fine dining establishments, tempting bakeries, or seasonal farmers' markets. Read this post for more on where to eat (and shop) in the Cowichan Valley.
Bordered by the Pacific Ocean and with accessible rivers and lakes, Cowichan is an aquatic playground. There are lots of opportunities to spend a day on the water, including kayaking, sailing, and fishing.
For landlubbers, there are plenty of options to explore the region. From casual trail rides to world-class mountain biking at Mt. Tzouhalem, it's easy to get into nature on two wheels. Hiking is another top choice in Cowichan, and there are a variety of trails throughout the region. For a unique experience, plan to hike the segment of the Trans Canada Trail that crosses over the 144-foot-high Kinsol Trestle to Cowichan Lake.
Nancy Besharah of Luxe Travel Family
Surrey, British Columbia
Driving distance from Vancouver: 30 minutes
The city of Surrey in British Columbia's Lower Mainland is a rapidly growing destination that often surprises visitors with its mix of city, country and cultural diversity.
Located south of Vancouver across the Fraser River, the community of Surrey is accessible by car or via the SkyTrain public transit network. With a young and diverse population – it's home to one of the largest Punjabi Sikh communities outside of India – and vast areas of natural beauty, urbanity and beaches, the city combines a unique fusion of urban and rural.
Visitors can discover the rural history of Surrey at its numerous family farms, as well as through exhibits at the free and interactive Museum of Surrey. The city's cultural mix is celebrated at the award-winning and free Fusion Festival, BC's largest multi-cultural musical event held every July.
Surrey's wide-open spaces include parks, beaches and public spaces that are perfect for natural exploration, including Green Timbers Urban Forest, Holland Park, Crescent Beach and the White Rock pier.
With its large Indo-Canadian community, Surrey is home to knockout delicious Indian, Punjabi and Afghan cuisine. Visitors should not miss opportunities to dine at such culinary standouts as Tasty Indian Bistro, Tandoori Flame, My Shanti, Showshaa and Afghan Kitchen.
A visit to Surrey will enrich curious travellers with a feast of cultural and culinary experiences.
[EDITOR'S NOTE: My Shanti is my favourite restaurant in Canada! Mariellen]
Claudie Laroye of The Travelling Mom.
Revelstoke, British Columbia
Driving distance from Vancouver: 6 hours
Located deep in the middle of British Columbia, the remote mountain town of Revelstoke has gone through a revolution in the last few years, transforming from a secret haven for skiers to a must-visit destination for anyone who loves to play in the mountains. While Revelstoke is a 6-hour drive from Vancouver, it's only 3 hours away from Banff, making it an ideal stop to extend your adventure in the Canadian Rockies. A sure winner on our list of best places to travel in Canada.
Revelstoke offers outdoor adventures for everyone, from skiing to climbing to mountain biking. The skiing options in Revelstoke are world-class and range from groomed resort terrain to backcountry touring to heli skiing. Rock climbers will appreciate the steep single-pitch sport climbing in the area, and mountain bikers will be stoked on the trail network right at the edge of town. Hikers can also easily access a variety of trails from the centre of town or venture to Mount Revelstoke National Park.
When it's time to take a break from and recover, the picturesque downtown features plenty of places to relax with tasty food and a thirst-quenching pint, like the Village Idiot, an après-themed pub loved by visitors and locals alike. To fuel the next adventure, Mountain Meals offers coffee, breakfast, and lunch ready to grab and go on the way back to the slopes or the trails.
Allison of She Dreams of Alpine.
Golden, British Columbia
Driving distance from Vancouver: 7.5 hours
When it comes to travel in Canada, everyone knows about places like Calgary, Banff, and Vancouver. Whether it's the Calgary Stampede, Vancouver's Stanley Park, or almost anything within the Banff and Lake Louise corridor, we've all heard about it and have had our Instagram feeds full of photos showcasing the landscapes to the backdrop of pretty dresses and hats. Yet, one of the most spectacular road trips in Canada is the drive from Calgary to Vancouver. Whether you take the Trans-Canada the entire way or take some other highways to enjoy places like Kelowna, this road trip has the potential to be a spectacular adventure that can range from a couple of days to a couple of months.
If you're looking for outdoor adventure, however, especially within a beautiful mountain setting, one place you shouldn't miss along the way is Golden BC. This beautiful little mountain town is, which is just 140 kilometres west of Banff and 712 kilometres east of Vancouver, is home to all the adventure you can handle without all the crowds you'll find in places like Banff. Surrounded by six jaw-dropping Canadian national parks, you'll enjoy epic white water rafting, mountain biking, hiking, and mountain climbing in the summer as well as world-class skiing, snowboarding, snowmobiling, and snowshoeing in the winter. When you're ready to take a load off, you'll find plenty of places to grab some food, grab a pint of local craft beer, and kickstart a conversation with a local or another adventure like yourself.
Matthew G. Bailey of Must Do Canada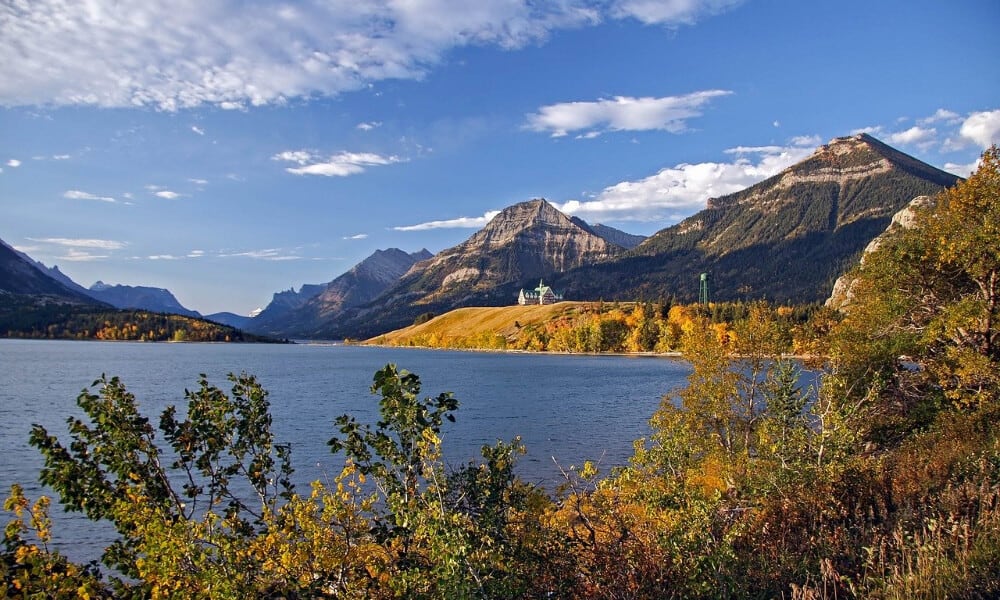 Alberta
Waterton Lakes National Park, Alberta
Driving distance from Calgary: 3 hours
Waterton Lakes National Park is a fantastic place to go to see wildlife and to hike. Being in Banff's shadow, it's far less crowded making it an even more attractive destination in 2020. While admittedly the mountains are smaller than those in Banff, the colors are spectacular. Aptly named Redrock Canyon is a highlight that you can visit for a photo opp or with a very easy 30-minute walk which I recommend doing. Keep an eye out for bighorn sheep, which frequent the area, sometimes even in the parking lot.
If you're looking to hike, you have your choice of roaring waterfalls, pristine mountain lakes and quiet mountain tops that you'll likely have all to yourself. One of the most popular day hikes is to Crypt Lake. You take a boat to reach the trailhead and while the hike starts off busy, you can avoid the crowds either by sprinting off the boat or giving everyone else a 10-minute head start if you're on the slower side.
If watersports are more your thing, the steady breeze is perfect for windsurfers, while the calmer waters of Emerald Bay are great for paddleboarding or head to Cameron Lake for canoeing. You can also swim, but be warned, the lakes are glacier-fed so the water will always be refreshing, even on warm days.
Waterton is also a paradise for wildlife lovers and is one of the places in North America where you can find all the native carnivores; grizzly and black bears, cougars and wolves. You can also view bison and will be almost certain to see several deer on your visit. Waterton is a gem that's often overlooked, but after traveling the world, it remains one of my favourite places on the planet.
Waterton is just under a 3-hour drive south from Calgary. You can stay directly in Waterton Townsite. Also worth exploring is nearby Castle Provincial Park, another hidden gem. In Alberta, Waterton is one of the best places to travel in Canada
Laurel Robbins of Monkeys and Mountains Adventure Travel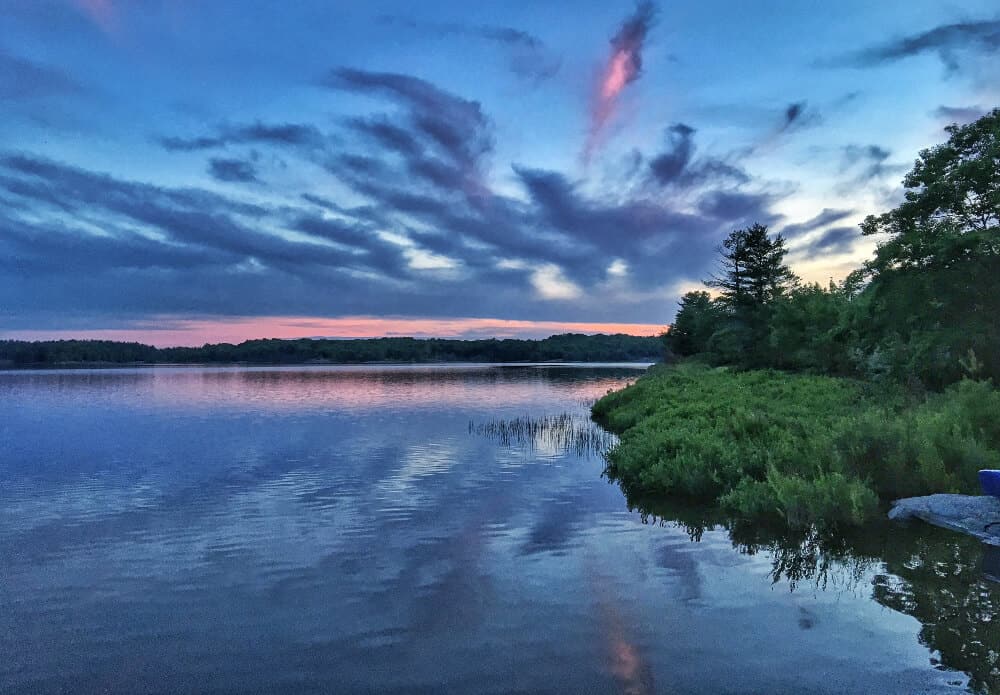 Ontario

Kawartha Lakes and the Ontario Highlands, Ontario
Driving distance from Toronto: 3.5 hours
Depending on which direction you drive from Toronto, Canada, you can find lots of great outdoor adventures within about two to three hours. If you drive northeast from Toronto about 225 kilometers, you drive through the Kawartha Lakes region and reach Haliburton in the Ontario Highlands. These regions are where Toronto residents go to relax, unwind, and enjoy the great outdoors. They are both rural regions of rolling hills, crisp lakes, mixed forests, and Canadian shield. In other words, ideal for swimming, boating, hiking, camping, biking, and cottaging.
Haliburton Highlands is one of the seven regions of the Ontario Highlands area, and it's a recreation centre all year round. The charming, small town of Haliburton (population 20,000), is set on a serene lake and a great place to stop. There's a hilltop picnic spot with a scenic view, a sculpture garden, an an old-fashioned main street with fish 'n chip shops and ice cream parlours, an art gallery and art studios. This area is known for the many artists and artisans who live and work here, and there are several studio tours available.
The Ontario Highlands region offers seemingly unending options for enjoying the great outdoors. Two of my favourites are The Haliburton Forest Reserve and Silent Lake Provincial Park. You can camp alongside a mirror-like lake, surrounded by a silent forest, with the great blue dome of the Canadian sky overhead. If you're lucky, you will hear the haunting cry of a loon at dusk, and your iconic Canada tour will be complete. Camping in summer is a great option and there are more amazing places to go camping in Ontario listed here in this post.
Mariellen Ward of Breathedreamgo.
Pelee Island, Ontario

Driving distance from Toronto: 6 hours
Pelee Island is one of Canada's best kept secrets. It's not a place that I remember hearing much about in my youth, so when I first headed there, I can't say I knew what to expect. Whatever expectations I did have were decidedly blown out of the water.
For one, it's just a different pace of life. It's a place where people still go out of their way to wave, and where the term "community" still seems to mind something significant and actionable.
We spent much of our time on bikes cruising around the island, but of course we made time to stop at Peller Estates Winery, and also made a point of eating at many of the restaurants that greet you as you come off the boat (the ferry is the only way you can get there).
We also hopped on a little boat which took us to a nearby hidden island, a place where Capone's gang once apparently ran a speakeasy! The Vin Villa Ruins also have a heck of a story as the foundation of Canada's first commercial estate winery, and the stories continue from there.
It's a place full of surprise and intrigue and I couldn't recommend it higher for those looking to explore a place off the beaten path
Chris Mitchell of Ultimate Ontario and travelingmitch.com.
1000 Islands, Ontario
Driving distance from Toronto: 2.5 hours
Situated between Toronto and Ottawa/Montreal, you will want to make a stop in the Canadian 1000 Island area. Stunning natural beauty and an International border, these 1,864 islands are shared with the United States and can be best seen by boat.
The best vantage point is on a cruise which weaves between small and large islands some inhabited but many not. You will see why this was the playground of wealthy industrialists in the early 20th century. Some of the summer "cottages" rival mansions but the highlight will be a stop at Boldt Castle. Built as a token of his love for his wife, George C. Boldt abandoned the castle after her sudden death, never to return.
If you're more active you can bike 80km on the Waterfront Trail, hike the Lookout Trail in the Thousand Islands National Park or kayak in the UNESCO Frontenac Arch Biosphere Network along the shores of the St. Lawrence River. This area is an adventure traveller's dream!
Hungry? Look for restaurants in Ganaoque or Kingston (our favourite was Geneva Crêpe Bistro).
Margarita Ibbott of DownshiftingPRO.com.
Perth County, Ontario
Driving distance from Toronto: 2 hours
Perth County is a region in southwestern Ontario, primarily the countryside surrounding Kitchener, Cambridge and Guelph (and not to be confused with the town of Perth, Ontario!). It's about an hour and a half to two hours away from Toronto by car. There's truly something for everyone in the rural communities within Perth County, including natural attractions and a thriving agricultural scene.
The main allure of Perth County are the organic farms and farm gates. There's a huge variety of locally grown fruits and vegetables here. You can browse the local farm stores like Organic Oasis, stop at farm gates (stalls that are often in front of the farms themselves), or even pick your own berries. I even got to try sea buckthorn berries at TNT Berries, which I'd never eaten before in my life. They're a little tart, very healthy, and would taste great blended into a smoothie.
Hiking and nature more your style? The Shakespeare Conservation Area is a tranquil natural space where you can hike along a path that wraps around a lake. It's also the perfect place for a picnic. For wildlife sightings, venture over to the West Perth Wetlands to discover up to 200 different species of resident and migratory birds. After you've finished hiking or birding, pop over to the Shakespeare Brewing Company for a refreshing pint brewed with locally grown ingredients like Ontario grown hops and Ontario barley.
Lauren Yakiwchuk of Justin Plus Lauren.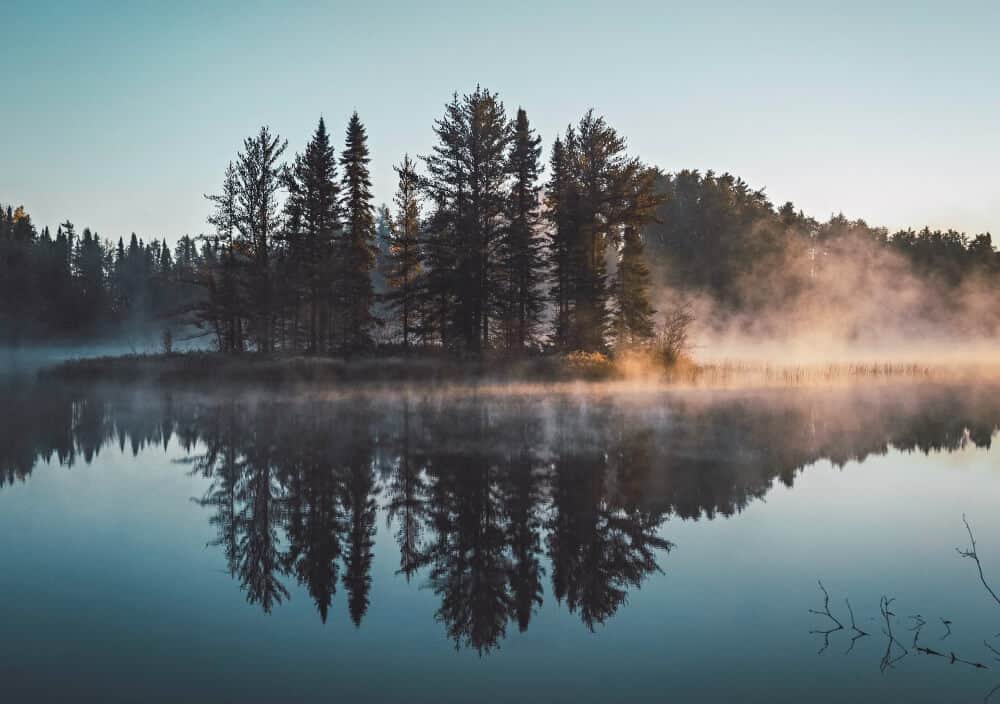 Manitoulin Island, Ontario

Driving distance from Toronto: 6 hours
Ontario is home to the world's largest freshwater island, yet many Canadians (and Ontarians) don't know it exists! Known in the Indigenous Odawa language as Manidoowaaling meaning 'cave of the spirit', Manitoulin Island is a truly magical place. With Indigenous cultural experiences, incredible galleries and museums, a plethora of nature and more, there are so many things to do on Manitoulin Island.
If you have heard of Manitoulin Island, chances are it's because of their famous Cup and Saucer trail. You'll feel it in your legs as it has a 150-metre elevation gain but the views are breathtaking! While you can do this alone, I highly recommend booking a guided hike with the Great Spirit Circle Trail. Otherwise, you'll miss out on so much Indigenous knowledge that the guides are kind enough to share. The Great Spirit Circle Trail also offers a number of tours including canoeing, cultural experiences, food, tea and more.
Speaking of food, Manitoulin Island is home to a number of incredible restaurants. From fresh fish at Lake Huron Fish and Chips to a taste of Indigenous cuisine at North 46 restaurant, you will not go hungry. Oh, and I can't forget to mention the Old School House restaurant for incredible food and a unique dining atmosphere.
I could ramble on and on about the museums, galleries (including the Perivale Gallery, one of the best in Ontario!), beautiful waterfalls, lighthouses, craft beer and more, but I say plan a visit to see for yourself. It may be a 6-hour drive from Toronto but trust me, it's worth it. This is one of the best places to travel in Canada this year!
Lindsay Davies of I've Been Bit! Travel Blog.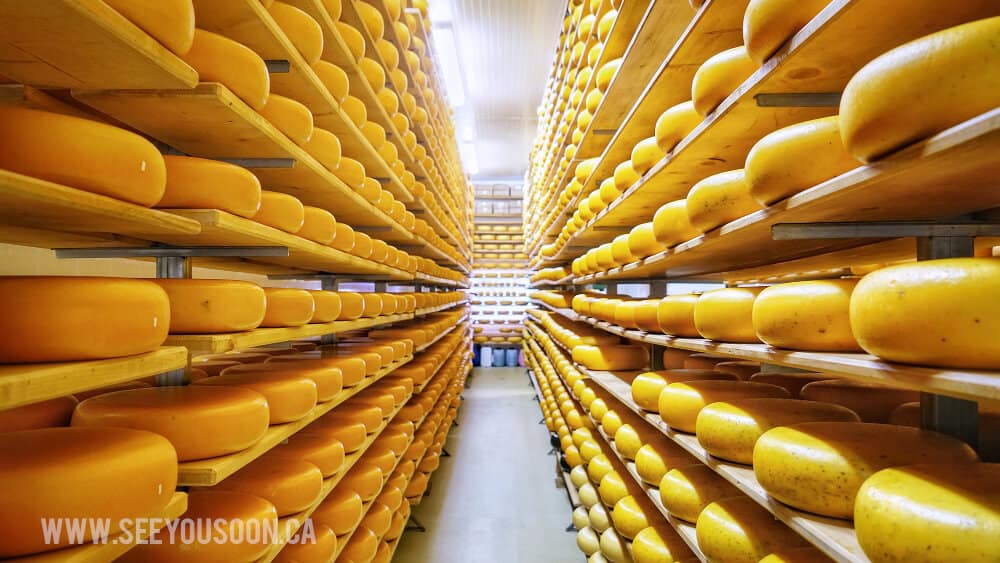 Oxford County Cheese, Ontario
Driving distance from Toronto: 1.5 hours
For those with a love for cheese, a culinary gem in Ontario is the region of Oxford County. Located about an hour and half's drive west of Toronto, Oxford County is known as the dairy capital of Canada with a history steeped in cheese. At the height of its cheese production in the 1800s, there were as many as 98 cheese factories in the region. The area became well-known worldwide after a 7,300-pound wheel of cheese was made by James Harris in 1866. A visit to the Ingersoll Cheese Museum will provide you with lots of history of the area and features a replica of the Mammoth Cheese Wheel, perfect for a photo opportunity.
To get the most out of a visit to Oxford County, I highly recommend following the Oxford County Cheese Trail. It's made up of more than 24 stops and consists of cheese makers, restaurants, and artisan shops that all use cheese and dairy products produced in the region. Some of my favourite stops includes Gunn's Hill Artisan Cheese, which uses milk from the cows on their farm to make their cheese (my favourite is the 5 Brothers), Mountain Oak Cheese, which produces 19 varieties of Gouda (black truffle is my favourite!), Habitual Chocolate, a bean to bar chocolate maker, and Wild Comfort Body Care, a natural skin care line using fresh, local ingredients.
Multiple visits are required to the region in order to visit all the stops on the trail, so I recommend planning a weekend getaway or three to four day road trip to the region. Check out the Oxford County Cheese video here!
Arienne Parzei of SeeYouSoon.
Quebec
Gaspe & Bonaventure Island, Quebec
Driving distance from Montreal: 10 hours
The east coast of Quebec is home to a charming Maritime paradise known as the Gaspe region. The monolithic Percé Rock rises out of the sea at the tip of the Gaspé Peninsula. More than just a pretty face, this landmark has more than 150 fossil species within. At the Percé Geopark, you can take a hike to get a birds-eye-view of Percé Rock from a suspended glass platform that sits 200 meters about sea level. Feeling adventurous? You can zip line all the way down.
Bonaventure Island can't be missed. Accessible only by boat, Northern Gannets have made the island their home, and nest here from May to October. With over 150,000 birds, it's the largest Northern Gannet colony in the world. To reach the nesting site, head to the woods, and hike for 1.5 hours. Once there, you can spot the birds keeping their eggs warm, feeding tiny babies, and building their nests. It's an incredible sight.
Hungry? Head to town to dine on freshly caught seafood. At La Maison du Pêcheur, try The Trident a delightful trio of Lobster poached in Cointreau sauce, flambéed sea scallops, and a grilled maple sugar salmon fillet.
The easiest way to get to the Gaspé Peninsula is by plane. In Quebec, you can fly directly to the Michel-Pouliot Gaspé Airport. Once there, hop in your car and explore. This region was made for a Quebec road trip, littered with scenic lookouts and quaint towns.
Amanda of HeartlessGirl.
New Brunswick
St. Andrews By-The-Sea, New Brunswick
Driving distance from St. John: 1 hour
Canada's east coast is a summer haven that's unlike anywhere else. From cities to villages, and everything in between, the provinces are beautiful, but one of my favourite offbeat destinations is St. Andrews By-The-Sea in New Brunswick.
Located along the Bay of Fundy, this charming, quaint, and beautiful town is home to one of the east coast's best resorts, a number of beaches, hiking trails, ocean views, shopping, and incredible food. You could stay for a weekend, or a week, and I guarantee you'll be ready to book your trip back as soon as you leave.
Take a drive to Ministers Island, a historic site that you can only reach during low tide. Visit Kingsbrae Gardens and their themed grounds with over 50,000 perennials. Jump on a whale watching boat and get out on the ocean to see the incredible minke, finback, and humpback whales. Stay at the Algonquin Resort, a landmark hotel that has a golf course, stunning rooms, and even offers movies poolside in the summer.
Plus, there's shopping along the main street, an aquarium with seals and ocean creatures, as well as delicious meals at The Chandler Room, Braxton's, or Clam Digger for the freshest fried clams, seafood, and burgers too.
St. Andrews is an excellent stop if you're road tripping through New Brunswick, and it's just an hour from St. John and the nearest airport. There are lots of reasons to visit, and you'll find a whole new appreciation for nature and the ocean, but for me St. Andrews By-The-Sea is just wonderful because it's so relaxed and welcoming.
Andrew Powell of The Gate
Nova Scotia
The Annapolis Valley, Nova Scotia
Driving distance from Halifax: 1 hour
Only an hour from Halifax, the Annapolis Valley is a scenic beautiful agricultural region with the friendly hospitality the Maritimes is known for.
It is not well known as a wine region, but in fact it was the first wine region in North America. The French Acadians were making wine until expelled by the English, who had no experience in wine and instead planted apples to make cider.
But the heritage was resurrected in the 1970s. Winemakers realized that the climate and soil were similar to the Champagne region and began making Nova Scotia wine that reflects its terroir as a cool climate region.
Today the region is becoming one of the emerging wine regions, winning awards for its traditional method sparkling wine. And it's also home to the only appellation wine in North America. Tidal Bay is a crisp white wine that pairs well with seafood, and can only be made in Nova Scotia. Its name reflects that the region is home to the world's highest tides. You can head down to Burntcoat Head to visit or book a seat at the prized event to dine on the ocean floor.
For a more vigorous holiday, climb to the top of Cape Split, which overlooks the Bay of Fundy or rent a bike and cycle the Harvest Moon Trailway which was built on the unused CN railway tracks. It is a scenic stretch over 100km starting at UNESCO World Heritage Site of Grand Pré through the vineyards and Acadian dykelands all the way to Annapolis Royal.
Ayngelina Brogan of BaconisMagic.ca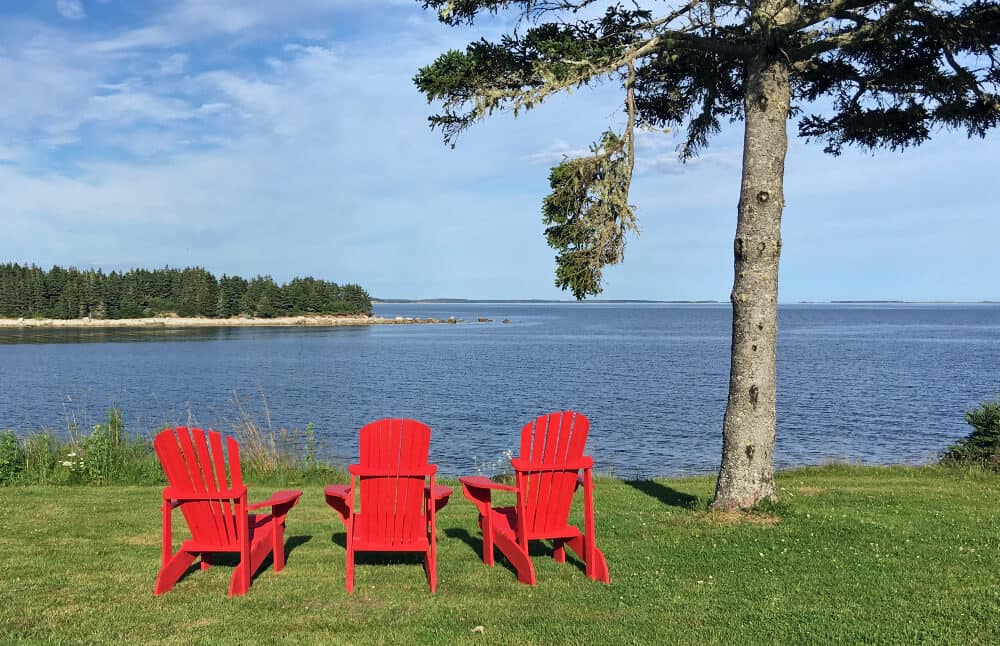 The Marine Drive, Nova Scotia
Driving distance from Halifax: 4 hours
The entire province of Nova Scotia has a very relaxed nature, it's perfect for the slow, take-what-comes kind of road tripping. On the east coast between Dartmouth and Cape Breton, the Marine Drive will take you alongside the ocean for some spectacular views and make for great stops to get out, stretch your legs and walk on a beach. Two particular places are stand-outs for visiting and a stay. Tor Bay is a huge, flat stretch of gorgeous beach with Acadian and other interesting history. The transatlantic cable to connect North America and Europe was laid down just off the shore from Tor Bay where huge rolling waves crash over sand and shining rocks. In fact if you go back further, the explorer Champlain was said to have touched down here.
Follow the Marine Drive into Charlos Cove, a classic little lobster fishing village with picturesque piers and buildings and you end up at Seawind Landing Inn. The Inn sits on 25 oceanfront acres and has sunset views that make you want to move in forever. The Inn and Land's End, its other accommodation building, have rooms that fit all sorts of travellers, each designed elegantly in a cozy manner with en suites, jacuzzis and ocean views. The Inn has a wonderful main room with a piano (they often host musicians), and comfy places to sit with a book. There is a patio and grounds overlooking the ocean. The Inn also includes a spectacular, tiny restaurant with local delicacies, fresh catch of the day, local wines and beer. The hosts Dave and Anne Marie make everyone feel like they've known each other for years; are always ready with a local story and a glass of wine at the end of your day. Everyone books an extra night if they can.
This little area of Nova Scotia exemplifies the province's best aspects — it's laid back, welcoming and has ocean vistas for days. My top choice for one of the best places to travel in Canada in 2020!
Victoria Ward of HotspurStudio.
Prince Edward Island
Road Trip in Prince Edward Island (PEI)
PEI is surely one of the easiest places to rent a vehicle and hit the open road. There's no traffic (unless you get behind a farm tractor), roads are easy to navigate and, all around, the views will have you oohing and ahhing. The province has three coastal drives clearly marked along the way that take visitors to the island's best sites, all of which are easily accessed from the main town, Charlottetown.
The Central Coastal Drive is most popular. This is where tourists and locals alike come for incredible red-sand beaches. Along the way, there are lots of summer fun activities like mini-golf, ice cream shacks, and even small amusement parks along the north Green Gables Shore.
To the west, the North Cape Coastal Drive is a 350 kilometres stretch along wind farms, pretty meadows, potato farms, and rugged beaches. Stop and spend time on Lennox Island to break bread with locals and experience the culture of the Mi'kmaq people, the Indigenous population on this land for some 10,000 years. The west coast is also a great place to slow down and vacation with children.
Outdoor-enthusiasts will love exploring the Points East Coastal Drive with more than 50 warm-water beaches and national parks with hiking and cycling trails. Plan for a picnic at one of the lighthouses – there are six along this drive, including the East Point Lighthouse at the most eastern tip of the island.
Read our PEI Travel Guide.
By Karen Leiva of Social Impact Traveller.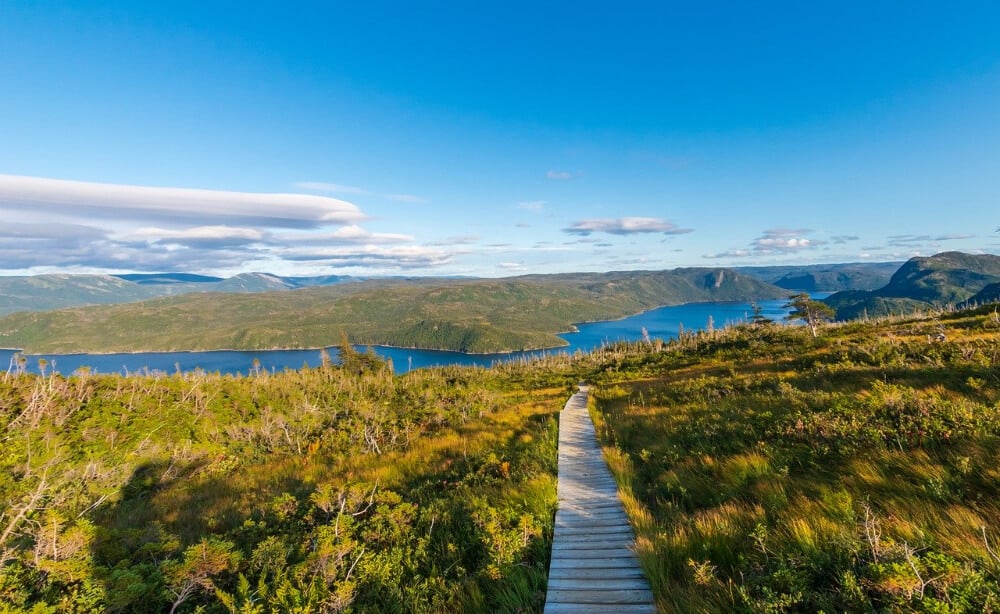 Newfoundland
Gros Morne National Park, Newfoundland
Driving distance from St. John's: 7 hours
Located on the most Easterly point of North America, Newfoundland is often an overlooked destination in Canada. It's well worth visiting, with an abundance of natural beauty, history, and culture. One of the best places to visit there is Gros Morne National Park, which is one of four UNESCO world heritage sites in Newfoundland.
This stunning natural park is the perfect place to go for outdoor adventure, and in particular, hiking. The best day hike there is Gros Morne mountain, a 16km round-trip hike where you can get breathtaking views of the surrounding landscape. You can also hike around the tablelands, an area of geological significance where the theory of plate tectonics was confirmed.
For a less strenuous activity, take a boat ride through Western Brook Pond, where you can see ancient glacier-carved fjords with cascading waterfalls at every turn. Gros Morne also has whale-watching boat tours through Bonne Bay, which is the perfect activity to do in the summer when thousands of humpback whales make their way to Newfoundland.
Around Gros Morne, there are several towns where you can experience authentic Newfoundland culture. The picturesque town of Cow head hosts the Gros Morne Fall Festival & Craft Fair every year, which is a celebration of crafts, music, food, and culture.
The park is just a 30-minute drive from the town of Deer Lake, where there is an airport. It's a 7-hour scenic drive from St. John's, the capital city of Newfoundland.
Lora Pope of ExplorewithLora.
Fogo Island, Newfoundland
Driving distance from St. John's: 5.5 hours
If you've been following Gwyneth Paltrow's Instagram feed in the past few years, you've likely caught a glimpse of Fogo Island. The largest island off the coast of Newfoundland Labrador, Fogo is still an under the radar gem, despite sporting celebrity cred. Chic and discreet, Fogo Island Inn is what lures many here, but there's so much more to this quirky isle, accessible by ferry from Gander Newfoundland. (Fly into Gander directly from Toronto or Halifax.)
Hiking up to Brimstone Head is a must for sweeping views of the Atlantic. Back in the day, Fogo Island was acknowledged as one of the four corners of the earth (Bermuda, Hydra and Papua New Guinea were the others), and Brimstone Head was thought to be the exact point. Afterwards, visit the Flat Earth Museum for souvenirs and tongue in cheek exhibits supporting this claim.
Friendly locals offer tours out of Fogo Island Inn and if you've never experienced a beach boil up, that ought to be on your list. It's quite likely you'll tuck into moose stew or cod cakes all washed back with strong, sweet tea, as you share in the traditions of their ancestors.
Though Fogo Island Inn is the big architectural draw, there are four art studios on island equally as impressive. Artists-in-residence come to Fogo Island to research and create. Be sure to check out their work at Fogo Island Gallery inside Fogo Island Inn.
Fogo Island should be on every list of best places to travel in Canada.
Jody Robbins of TravelswithBaggage.
Nunavut

Iqaluit, Nunavit
One of my favourite destinations in all of Canada is Iqaluit, Nunavut. Iqaluit has remained off the beaten track for Canadians and foreigners alike, despite it being a capital city (Canada's youngest capital, in fact). That's because, while many people dream of visiting the Canadian Arctic, they believe it is prohibitively expensive. Yet planning a trip to Nunavut, especially via Iqaluit, is much easier than people realized.
Both Ottawa and Montreal offer direct flights to Iqaluit in under 4 hours. The flights aren't exactly cheap, but if you use Aeroplan points or watch for seat sales you can save quite a bit. Accommodation is also a tad expensive — no budget hostels here — but not much more than you'd pay for a decent hotel in Toronto.
Once you've arrived in Iqaluit, there are numerous nature and cultural activities to do. If you visit in the late winter or early spring, you can go snowmobiling on the arctic ocean, dog sledding on the tundra or catch the northern lights. On the other hand, a visit in the summer will introduce you to the midnight sun, have you hiking over the tundra and kayaking around mini icebergs. In addition, there are several festivals in the spring and summer, which will offer you a taste of vibrant Inuit culture — Alianait and Toonik Tyme are both popular choices.
For most activities, you'll want to hire a local guide. They will provide the gear, transportation and a wealth of knowledge about the history of Nunavut and life north of the 60th parallel. However you plan your trip, Iqaluit is sure to be an unforgettable destination unlike anywhere else.
Michaela of Voyageur Tripper.
---
Pin it on Pinterest
---
Photo credits:
Star trails photo: Image by Free-Photos from Pixabay
Ontario lake at dawn: Image by Juan Davila on Unsplash
British Columbia: Photo credit by Matt Wang on Unsplash.
Gros Morne, Newfoundland: Photo credit by Felix Dilly from Pixabay
Waterton National Park: Photo credit by Joe Breuer from Pixabay
---
If you enjoyed this post, you can….
Sign up to The Travel Newsletter in the sidebar and follow Breathedreamgo on all social media platforms including Instagram, TripAdvisor, Facebook, Pinterest, and Twitter. Thank you!