Indian food, festivals, films and fun in Toronto, Vancouver and Montreal
A SIGNIFICANT PERCENTAGE of Canada's population is of Indian heritage, especially in Vancouver and Toronto. Restaurants, festivals, events, shops, cinemas and even entire neighbourhoods pay homage to India's rich and colourful culture. Indian food is of course famous the world over and you can find many Indian restaurants in Toronto, Vancouver and across Canada.
TIP: Canada has it's own cuisine, too! Read this post to find out about Traditional Canadian Food.
VANCOUVER
The Vij empire experience
Lucky Vancouver gets not one, not two, but three restaurants run by Vikram Vij and Meeru Dhalwala (if you include the food truck, Railway Express). While their flagship Vij's is a must-do culinary experience in Vancouver — the Indian fusion cuisine is both unique and delicious — my vote for best restaurant in Canada is My Shanti.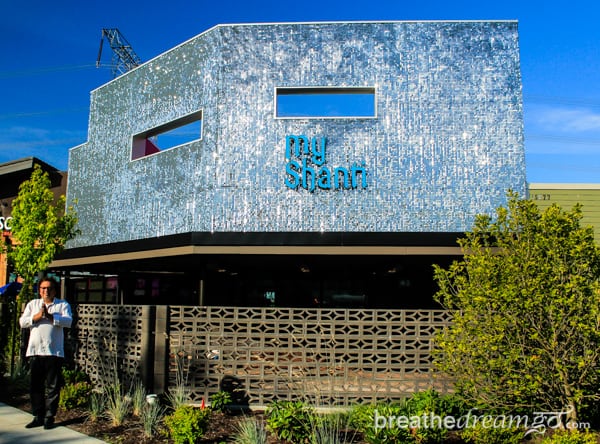 Located in a plaza in suburban Surrey, about an hour south of Vancouver, My Shanti serves up an exuberant fanfare of inspired Indian cuisine. The menu is a virtual gastronomic tour of India, and the flavours alone will transport you to the subcontinent, never mind the Bollywoodesque sequins and sari-fabric hangings. I wrote about My Shanti in: Spicy, Wild and Spectacular: My week in Vancouver.
Bhangra beats in the heart of the city
What are the odds: Last summer I was staying at a hotel in downtown Vancouver and heard Bhangra music floating up from the square below. I went down to investigate and stumbled into the heart of the Vancouver International Bhangra Celebration (VIBC), otherwise known as the City of Bhangra Festival. Bhangra is possibly the most joyous music on earth, so I found myself surrounded by a crowd of happy, foot-tapping people.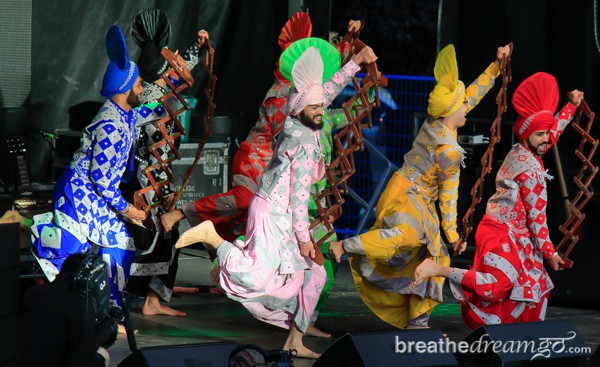 Bhangra is folk music from the Punjab region of India, so that means you will see lots of turbans, kurtis (flowing tunics) salwar kameez (three piece "suits") and food! This is the region that gave the world butter chicken, stuffed parathas, jalebis, kulfi, lassis, tandoori cooking and much more deliciousness, so be prepared to feast.
TORONTO
Little India in Toronto
Toronto is home to more than 7 lakh (that's 700,000) Indo-Canadians. The original "Little India," also called India Bazaar, is on Gerrard St. E. in the east end of the city. I visit on a regular basis to eat dosas at Udupi Palace, shop for blingy fashions and house wares and buy the latest hits on DVD. Read Top Spots in Toronto's India Bazaar for my recommendations on where to eat and shop.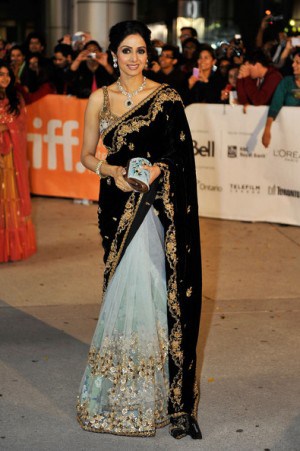 Hollywood Bollywood
More films are made in "Bollywood" — Mumbai, formerly Bombay — than anywhere else in the world, and they find enthusiastic audiences in Canada. From Toronto International Film Festival (TIFF) premieres — featuring some of Bollywood's top stars — to film festivals that celebrate Indian films, there's a lot of masala films served up here in Canada, especially in Toronto.
Try the Indian International Film Festival Toronto (IIFFT) or the International Film Festival of South Asia, IIFSA (which includes the Punjab International Film Festival, PIFF). You will find yourself immersed in one of India's favourite cultural pastimes: watching and talking about films. I have written many posts about Indian films in Canada, here's a selected few:
Dancing with the Hare Krishnas
You cannot get closer to a taste of India than by throwing yourself into the Festival of India, organized by the Toronto chapter of the International Society of Krishna Consciousness (ISKCON). Yes, these are the famous "Hare Krishnas" and they know how to throw a party. The Festival of India is an annual extravaganza that takes place each July in Toronto, starting with a parade down Yonge Street on Saturday and then ferrying over to the verdant Toronto Island for the rest of the weekend.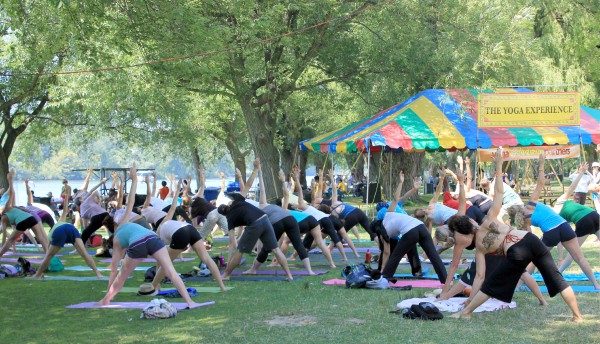 For more than 40 years, people have been flocking to this joyous festival for kirtan music, a free vegetarian feast, an Indian bazaar, cultural seminars and the Yoga Meltdown, Toronto's largest outdoor, spiritual yoga festival. I wrote about the Festival of India here.
MONTREAL
Yoga in the Canadian north
About an hour's drive north of Montreal, the Laurentians are known for rolling hills, pastoral beauty, charming villages, and ski resorts. The picturesque region is also home to one of the most authentic slices of Indian culture you will find anywhere in Canada, the Sivananda Yoga Camp. Combining the best of both cultures — the beauty of Canada's rugged wilderness and the ancient wisdom traditions of India — the Sivananda Yoga Camp offers visitors the opportunity to experience a sanctuary of peace.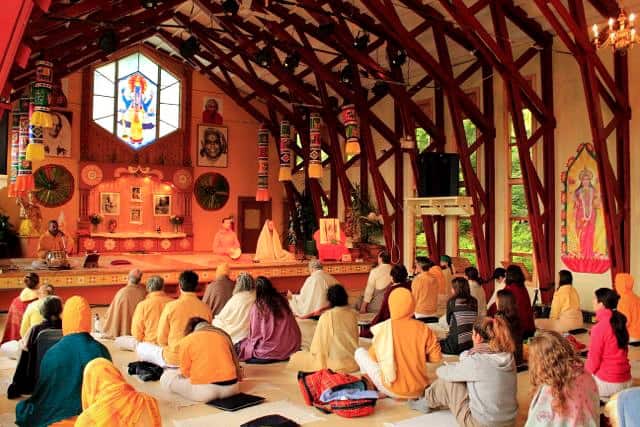 Extensive grounds, vegetarian food, a Krishna temple, indoor yoga class rooms, outdoor yoga platforms, private or dormitory rooms, a swimming pool and a sauna are some of the amenities. They also offer workshops, special events and yoga teacher training. I wrote about the Sivananda Yoga Camp in Om Sweet Om: At a yoga ashram in Canada.
---
If you enjoyed this post, please sign up to The Travel Newsletter in the sidebar and follow Breathedreamgo on all social media platforms including Instagram, TripAdvisor, Facebook, Pinterest, and Twitter. Thank you!