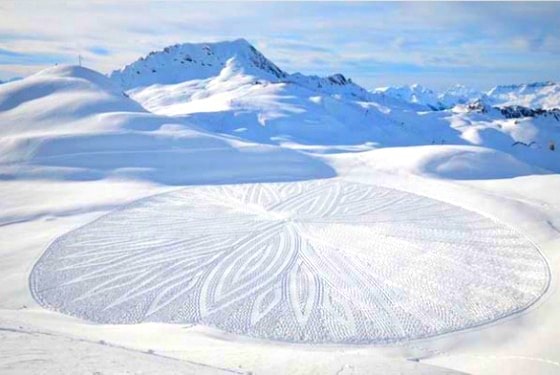 What do to in Canada in winter
Canadians pick their fave winter activities
IF YOU'VE NEVER seen snow, you should definitely experience it at least once in a lifetime. And Canada is just the place to do it! Read my First time visitor to Canada, eh? for route and itinerary suggestions, and 20 Best places to visit in Canada now and this post for specific ideas on how to have fun in the Canadian snow. In this post, Canadians will tell you what to do in Canada in winter to get the most out of the season.
The secret to enjoying winter activities is to dress for the cold."
Layers, down jackets, lined and water-proof boots, warm hats and gloves or mittens, snow mobile suits — when you have the right clothes on, you can easily keep the cold at bay while you are enjoying the beauty of snow covered lakes, fields, mountains and trees. Read on to discover the other secret and lots of ideas for making the best of a Canadian winter!
The other secret is to pay attention and observe the differences that winter and snow make to outdoor activities. The atmosphere is quieter in the snow. The air is clearer. On crisp, cold days the snow crunches beneath your boots, and the sun sparkles off it. On warmer, more overcast days, the snow becomes slushy and you can feel enveloped in the forest. So, don't be afraid of winter and the snow — get prepared and embrace it! There are a lot of different activities to try and various ways to approach winter. Read on and find out how Canadians embrace winter, what to do in Canada in winter, followed by some suggestions from Via Rail Canada and a sampling of Canadian Signature Experiences to try. If you doubt that snow is beautiful, click here to see more images from Snow Artist Simon Beck.
When you grow up up in Canada, where the cold of winter blankets the country for about half the year, you have to learn to embrace it. And it starts early. I can remember my parents making a skating rink on our front lawn in Montreal, Quebec, when I was a child, and snow drifts as high as the car in the driveway. I learned to ice skate — on special two-blade children's skates — at about the same time I learned to walk. Weekends at our family cottage near Orillia, Ontario meant snowmobiling and cross-country skiing across the frozen lake. Though truth be told, I am usually in India in winter, I do know how to enjoy it while I'm in Canada!
Winter in Whistler, Canada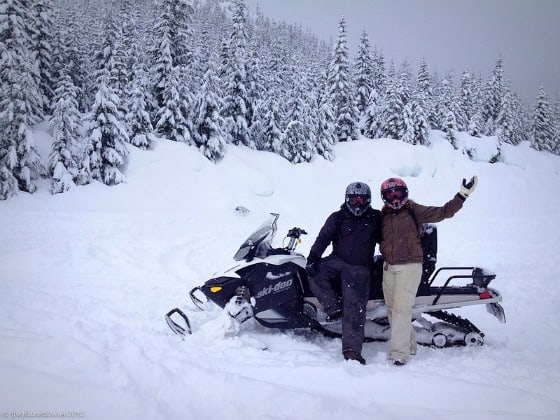 By Dave and Deb of ThePlanetD
When the temperature drops and the snow starts to fall, we get ready for adventure. As proud Canadians we embrace the cold and take advantage of all the fun winter activities that our country has to offer. Snowboarding is always our go to winter sport. When we're home we grab a seasons pass and when we travel, we make sure to add a trip to the ski hill in to our itinerary. Whistler is our favourite winter wonderland with Olympic snowboarding runs and awesome snowboard parks. It has big back country skiing in deep powder and leisurely slopes for a relaxing day on the hill. Add in snowmobiling, taking a spin on the bobsleigh track and dog sledding and you've got yourself the ultimate winter vacation destination.
Dave and Deb are a travel couple who live by the motto "adventure is for everyone" Married for 17 years, they've visited over 80 countries on 7 continents. They aim to inspire people to follow their dreams and push their boundaries at their travel blog,
ThePlanetD.com.
Living in a winter landscape painting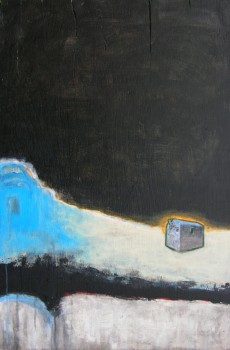 By Victoria Ward of Hotspur Studio
My partner, artist Gary Blundell, and I live near Algonquin Park in central Ontario, Canada. Our log cabin and studio is a bucolic and wonderful place most times of the year, but in winter it becomes something extra special. Like the sunrise over the Ganges, or the mist that hangs around Machu Picchu, a rural Ontario full moon with snow is a wonder.
When it is very cold the trees make sounds like gongs, echoing throughout the forest. Our world in the winter becomes magical, and the sublime beauty of a full moon on the snow turning what feels like the whole world into diamonds seems ancient, and makes us feel part of something greater than just the sum of our own lives. Winter is the time of year when we can see northern lights, see the thickness of the Milky Way, and follow tracks made by foxes, snowshoe hares and deer. We have learned what to do in Canada in winter — there is so much!
Victoria Ward and Gary Blundell of
Hotspur Studio
are landscape inspired painters who live in the Boreal Forest in central Ontario, Canada. They have exhibited across Canada and internationally with over 50 galleries. Their work can be found in public and privates collections throughout the world.
Snowshoeing in Algonquin Park: Now that's winter!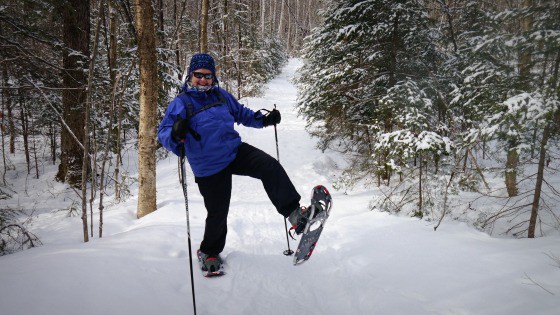 By Janice Waugh of SoloTraveler
Somehow the cold doesn't feel quite so cold when it is really cold. Odd as that sounds, bundled in layers for sub-zero weather – layers of a wool sweater, fleece vest and down-filled jacket, thermal socks, touque and scarf, mitts and boots – dressed properly, the cold becomes cozy. Add to this a winter activity and winter becomes truly wonderful. I tried snowshoeing for the first time last winter. In the Canadian north, the brighter the day, the colder the weather. The sun shone through a brilliant blue sky and bounced off the snow on the trail as I entered the woods.
Managing the snowshoes felt a little awkward at first. A wider stride is required so as not to trip over one's own feet. A slower rhythm is needed to maintain balance on the snow. Both encourage a different relationship to a walk and the woods. A change of pace changed what I saw. From the trickle of water through an icy brook to the call of birds overhead, my sense were heightened and I enjoyed the wilderness in an entirely new way. I have always loved winter in my Canadian homeland but this day in the north made me fall in love with it all over again.
Janice Waugh is author of The Solo Traveler's Handbook, publisher of Solo Traveler, the blog for those who travel alone and moderator of the Solo Travel Society on Facebook. On Twitter she is @solotraveler.
The delight of apres-ski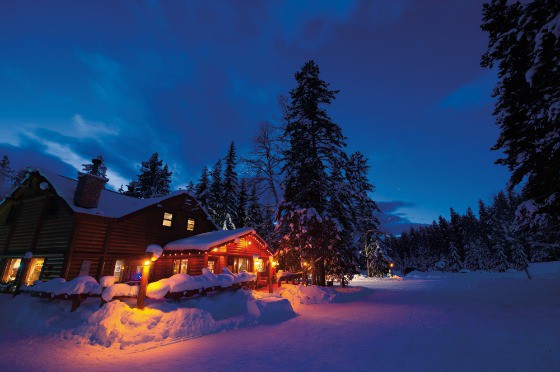 By Heather Greenwood-Davis
Growing up in Canada, learning a winter sport was a rite of passage. For my family skating was the sport of choice. I took lessons as a kid and loved the feeling of gliding across the ice. As I've grown up and had my own family, the love of winter sports has fallen to my kids. You aren't likely to find me out enjoying the cold any more but my boys are big fans of snow forts and skating rink trips. This year they'll try skiing for the first time and I'm looking forward to introducing them to what has become my new favourite winter activity: The Apres-ski.
One part delicious nibbles, one part fireplace warm up – there's nothing that beats the camaraderie that fills a restaurant or lounge after a good winter outing. While they take to the slopes, I'll curl up with a hot drink or take in spa options, then, after they're done, we'll gather to swap stories about our perfect days. Whether you love winter or you hate the cold it brings, the après ski (adult or family options) means never having a reason not to love the season.
Heather Greenwood-Davis is an award-winning travel writer and publisher of Globetrotting Mama, which chronicles her stories of travelling around the world with her family. A trip around the world meant she could freelance and see some of the more far-flung destinations that are hard to get to when you need to be home in time for supper with the kids.
Canadian Signature Experiences
The Canadian Signature Experiences collection confers a stamp of quality and recognition. These companies and destinations have been hand-picked by the Canadian Tourism Commission and are especially recommended for overseas visitors. From staying in an ice hotel, to seeing the northern lights, to skiing at one of Canada's premier ski resorts, to even trying your hand at dog-sledding, these five hand-picked organizations will give you a real taste of the Canadian experience.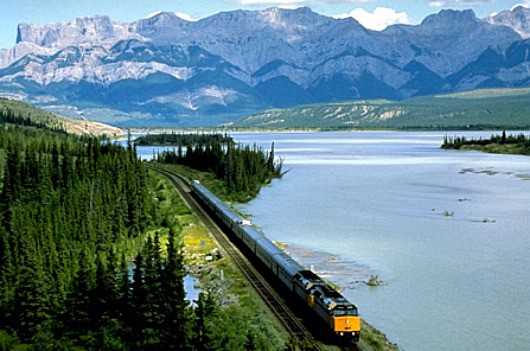 What to do in Canada in winter by Via Rail
Via Rail Canada
, also a Canadian Signature Experience, is Canada's coast-to-coast rail service. Via links 450 communities across its 12,500-kilometre network and Via trains can take you from
exciting winter carnivals to vibrant urban cities to isolated and untouched wilderness. Whatever you choose to see and do, Via Rail
can take you there effortlessly and easily, no matter what the weather. Here is a sampling of Canada's great winter getaways, all accessible from VIA Rail-served destinations. Ideas and descriptions courtesy of Via Rail:
1.
Discover a wonderland of ice.
Maligne Canyon in Jasper, Alberta dwarfs visitors with its sheer walls that tower up to 165 feet, but even more amazing are the frozen waterfalls and wild ice formations that form in winter. Several operators provide participants with anti-slip cleats for a guided ice-walking adventure through this ice-sculpted fairytale landscape. Jasper, also a popular spot for dog-sledding, cross-country skiing and ice skating on mountain lakes, is a stop on The Canadian VIA Rail route. Jasper is also the jumping off point to Banff/Lake Louise, which offers free transportation and tri-area lift tickets to Mt. Norquay, Sunshine Village and Lake Louise Mountain Resort.
Banff is great for ice skating
in winter, as well as many other winter sports.
2. Urban winter adventures and more. Sophistication meets outdoor fun on scenic ice skating rinks, just steps from the chic shops, gourmet eateries and stimulating museums that make Canadian cities so appealing. In Montreal's Parc La Fountaine, ice trails lead skaters through woods and open areas with wonderful city views. Quebec City beckons with outdoor rinks on the Plains of Abraham in front of the Museum of Beaux Arts, and at Place D'youville, just across from Old Quebec's Porte Saint-Jean. Vancouver's popular rinks include Robson Square Ice Rink, a glass-domed rink welcoming visitors to skate free in the heart of downtown. Toronto's scenic Natrel Rink, set along Lake Ontario, offers free skating all day an end evening.
3. Ski in Ontario and Quebec. Blue Mountain Ski Resort, less than two hours from Toronto, is Ontario's largest ski resort. With six new trails, enhanced snow-making, a new lift and additional lit runs, 28 in all, for night skiing. Bus transfers provide easy access to this and other ski areas fromToronto, a VIA Rail stop for The Canadian and The Corridor routes. Mont Tremblant has been ranked as the top ski destination in eastern North America for the past 16 years. Some of the credit goes to its ski-in slope-side village. Just an hour and a half by bus from Montreal, a VIA Rail stop on The Corridor. Skiers at Le Massif de Charlevoix, about 40 minutes from Quebec City, get awesome views of the St. Lawrence Seaway, the highest vertical drop east of the Canadian Rockies, delightful wooded glades and a "rodeling" alpine sled trail that runs the full vertical drop. Quebec City is a popular stop on VIA Rail's Corridor line from Toronto-Ottawa-Montreal-Quebec.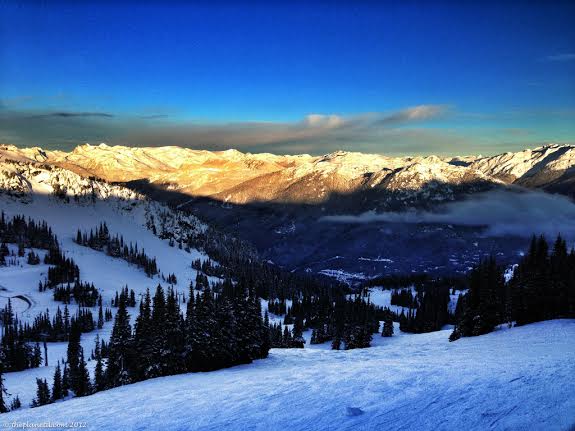 ---
If you enjoyed this post, please sign up to The Travel Newsletter in the sidebar and follow Breathedreamgo on all social media platforms including Instagram, TripAdvisor, Facebook, Pinterest, and Twitter. Thank you!