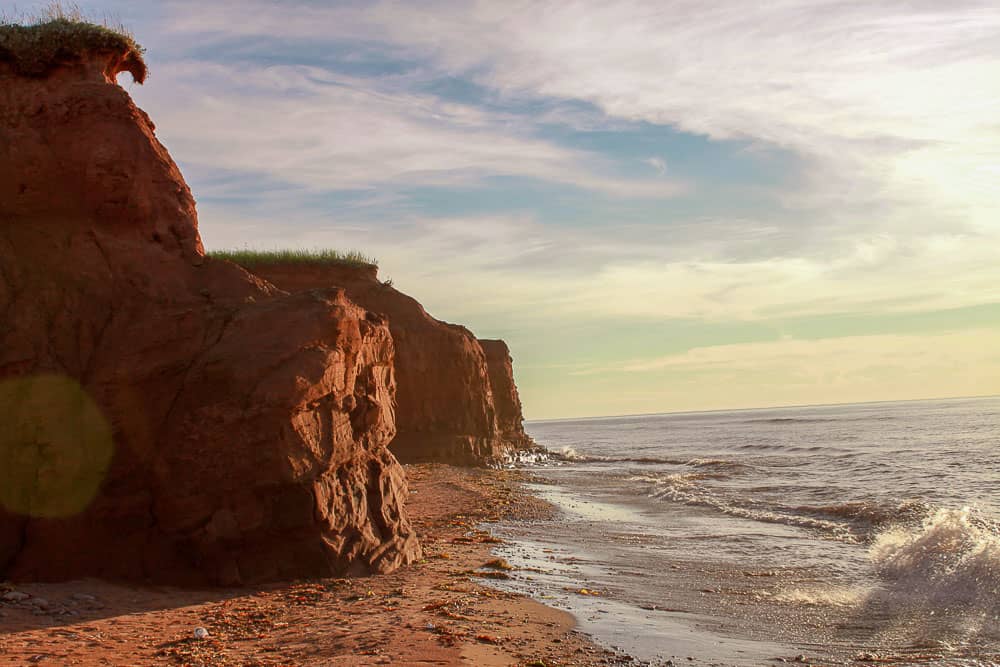 Recommendations on PEI hotels, PEI attractions and must-see PEI beaches
Guest post by Karen Leiva. In this PEI travel guide, find out why Prince Edward Island should be on your radar for an ideal summer vacation. Check out our recommendations on PEI hotels, accommodations, PEI attractions and must-see PEI beaches. PEI is the smallest province in Canada, an island surrounded by the Atlantic Ocean on the east coast of the country and it's known for amazing seafood, fresh produce, Anne of Green Gables, red sand beaches, picturesque lighthouses, and natural beauty.
Travel in PEI is like stepping into a picture postcard. Prince Edward Island is pretty. That's not a word often used to describe a destination, but it's the first word that comes to mind when driving across the island. In the summer, you'll see a contrast of flowery pink and purple meadows and bright green farmers' fields next to big open blue skies. You'll also see those iconic red sand cliffs and PEI beaches jutting out along the coast that Prince Edward Island is famous for.
Like most islands, time seems to slip by a little slower here. Days are spent by the beach and evenings are for roasting marshmallows by a beach fire. Towns are small. You won't find a lot of big shopping plazas or fancy restaurants. Instead you'll find fresh farm produce, family-run businesses and a traditional way of living. It's the kind of place where you can find roadside stands to purchase vegetables on an honour system – just leave your money in a box. When it comes to fun, PEI beaches are at the top of the list of things to do in PEI, and most PEI attractions are family friendly an affordable.
---
Planning a trip to Canada? The Canada Travel Guide has everything you need to know to visit Canada!
---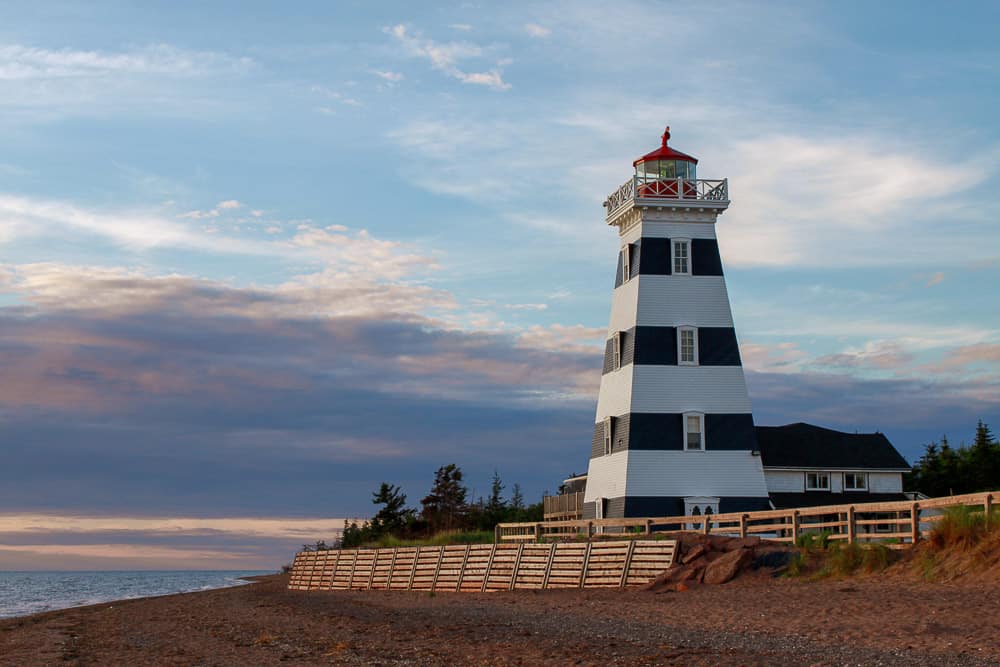 What you need to know to visit PEI
When it comes to travel in PEI, most people explore Central PEI, from Charlottetown to Summerside and Cavendish. This area is famous because of the stunning rugged landscape, beautiful beaches and its connection to the famous children's story, Anne of Green Gables.
Venture further west to explore the West Cape and North Cape for spectacular scenery, iconic PEI beaches, and a slower holiday pace.
If you're looking for information on family holidays to PEI, check Prince Edward Island for families.
PEI Travel: How to get there
Fly to PEI or New Brunswick
Fly to Charlottetown. Spend a few nights in a Charlottetown hotel, and then take a drive along the north coast or to the west coast of the island. Or, try a different route and fly to Moncton, N.B., and rent a car from there. You'll cross the Confederation Bridge and pass through Summerside before reaching the west coast. It takes about two hours.
Road Trip PEI
PEI is a great place for a road trip. Roads are safe and easy to navigate, and you can get from one end of the island to the other in a matter of hours. The only traffic you're likely to run into is a slow down caused by a tractor or a truck hauling a pile of lobster traps up ahead. It's almost impossible to tire of the scenery, particularly on the most western parts of the island where the beaches are rugged and beautiful, and the landscape is dotted with windmills.
Tourism PEI makes road tripping easy, providing maps with suggested itineraries on the North Cape, Central Coast, and Points East. Along the way, just look for the lighthouse road signs to know you're on the right path.
Best time to visit PEI
July and August are beautiful times of year. Keep in mind, however, that PEI beaches tend to warm up later in the season, so the water is warmer in late August/September.
It's also fun to be there during lobster season. While you can eat fresh lobster year-round, it's really something special to see the lobster boats getting out in lobster season. In PEI, there are two lobster seasons. The first is May – June 30. The second is August-October. Lobster trapping in PEI is highly regulated to ensure sustainability
Prince Edward Island Hotels — What are the best places to stay in PEI
West Coast, West Cape and North Cape of PEI
You'll fall in love with the west coast and its iconic red sand cliffs over the Gulf of St. Lawrence. Add to that, the breathtaking landscapes – flat green land, crops of potatoes and hay – and it's perfect.
North Cape, PEI Attractions
One of PEI's featured coastal drives is to the North Cape. At its tip is North America's longest natural rock reef. At this PEI attraction, you can spend a few hours visiting the North Cape Wind Energy Interpretive Centre with a small museum dedicated to wind energy.
There is also a great restaurant, Wind and Reefs, with panoramic views of the ocean and a nearby lighthouse. They serve everything from oysters and lobster rolls to hamburgers and fish-n-chips. You can also check out the Black Marsh Nature Trail for a leisurely a 5.5 kilometre hike with stunning coastal views and beaches to explore.
PEI Attraction: The Town of Tignish
Visit the town of Tignish which is near the North Cape. If you want to see this fishing town in action, head to the Tignish Run and Judes Point Harbour Wharf, which has the PEI's largest inshore fishing fleet. Don't forget to stop by the local bakery, MJ's Bakery & Caboose Café. Ice cream is sold right out of the caboose, and there is a garden to sit back and enjoy your treats. The owners of the bakery searched for that caboose for years to honour Tignish's CN heritage as being mile zero for the island's railway.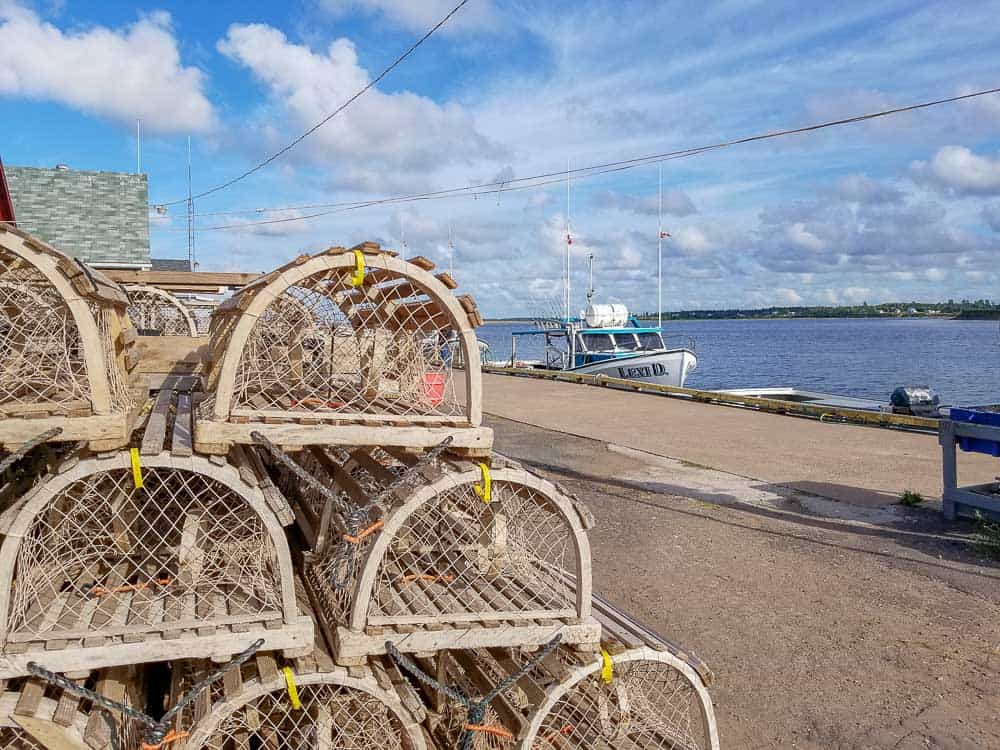 Where to stay in North Cape
There aren't a lot of options for hotels and motels in this part of PEI. However, the North Point Pier Inn and Restaurant is an excellent choice. The hotel overlooks a harbour with working boats. The restaurant has great island food, such as crab dip, oysters and crab cakes. Its lobster flatbread alone is worth the visit.
Where to eat in North Cape
There's the Stompin' Tom Centre, one of the area's top attractions, where you can get a lobster roll and listen to live music in the afternoon. There's also the option to stay for a full meal and dinner theatre in the evenings. Stompin' Tom is a Canadian icon, a folk singer who wrote and sang about small towns across Canada. He got the nickname Stompin' because he used to tap his foot during his performances so hard that he often put a hole in the stage. Stompin' Tom has a PEI connection – he lived here briefly with his adopted family. He also wrote the famous song, Bud the Spud, about a guy hauling PEI potatoes across the country.
There is also the Royal Star Seafood store about 45 minutes north of West Cape, where you can purchase a few souvenirs along with live canner or market lobsters (one is larger, the other sweeter) for about $9/lb (in the off-season).
Don't forget the Wind and Reef and MJ's Bakery and Caboose.
West Cape, PEI Attractions
It's worth spending a few hours at the West Point Cedar Dunes beach on the southern tip of the island. This PEI beach has water that is warm, clear and calm. It's a great beach for swimming, and it's right next to the West Point Lighthouse. If you can manage the tight squeeze of the winding staircase in the lighthouse, you can go all the way to the top to look out and see the beach. It was built in the 1800s and had a keeper until the 1960s. This lighthouse is one of the island's most recognizable due to its black and white stripes.
Another fun, albeit quirky place to spend some time at on the west coast is the Canadian Potato Museum (yes, there's a full museum dedicated to this top island crop). This popular PEI attraction also has a café serving up all kinds of loaded baked potatoes and poutines.
Where to stay in PEI: West Cape
Plan ahead (it books up early) to stay at West Point Lighthouse Inn for the chance to stay at a real lighthouse! This popular PEI hotel only has 13 rooms available. The Lighthouse Inn is a non-profit with proceeds supporting the maintenance of the lighthouse. Writer Jennifer Bain recently stayed there, and you can read her story about it here.
Another place to stay in this area is the Mill River Inn. It's a great PEI resort with private beach access, swimming pools and golf.
Want to stay at a cottage in PEI? There are a lot of beach houses to choose from such as:
Where to eat in PEI: West Cape
The Catch restaurant is a trendy little spot just a short drive from the West Point Lighthouse. They serve an amazing lobster roll, fish tacos, and a delicious appetizer of bacon-and-beer mussels. Top the meal off like any other islander would with an ice cream cone at the neighbouring Scoop Shack with flavours like cotton candy and birthday cake.
If you want to cook your own fresh seafood, you can stop at the fish truck parked in front of the United Church in O'Leary every Wednesday and Friday for decent prices on scallops, salmon, mussels and more. In lobster season, you can go straight down to Howard's Cove where a steady stream of lobster boats makes their way to the wharf with their catch of the day. Just ask one of the fishermen coming in if he has any to sell, and chances are you'll get to take home lobster straight out of the trap, for anywhere from $5-$10/lb.
---
More reading about Atlantic Canada on Breathedreamgo
---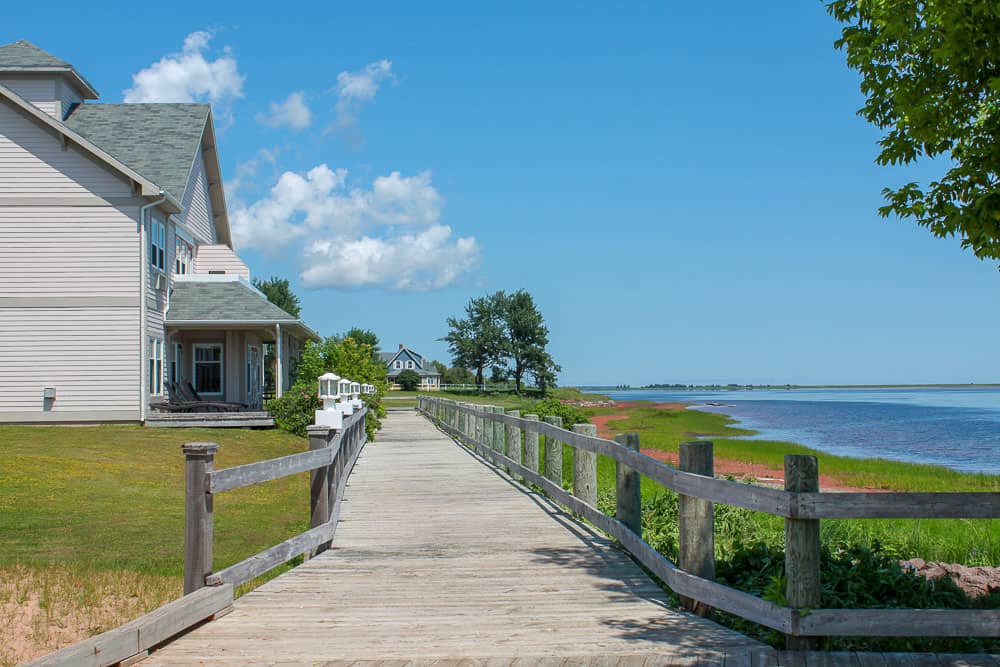 Where to stay in Central PEI and Charlottetown
Most travellers hit Central PEI, from Charlottetown to Cavendish and Summerside to experience perfect red-sand beaches and coastal drives. The most popular PEI beaches in this area are a part of the National Park, including Cavendish, Brackley and Stanhope. This area, along the north shore, is also known as the Green Gables Shore because it was the area of inspiration for the beloved story about Anne of Green Gables. Honouring that story, today there are several Green Gables museums to visit.
When it comes to PEI attractions, in Cavendish, visit the Avonlea Village for fun shopping and a chance to try island favourites, such as COWS Creamery ice cream or Anne of Green Gable Chocolates (look for the chocolate dipped potato chips!). This area is popular for families because there are a lot of theme parks and other kid stuff, but it's also one of the top places to golf in PEI. It takes about an hour to drive from Charlottetown to Summerside, and 40 mins from Summerside to Cavendish.
Summerside, PEI Attractions
When it comes to PEI travel, Summerside is a quiet town with a nice beach boardwalk, but the beaches on this part of the island are not as great for swimming as those on the north shore or the West Cape. In Summerside, check out Spinnaker's Landing, a small shopping area that usually has live music daily in the summer. Take a stroll through the farmer's market in the downtown area. You may also get to hear music from the College of Piping and Celtic Performing Arts which offers free concerts throughout the summer. It's a great spot to use as a launching pad to see more popular sites such as the famous Cavendish, PEI beach and nearby scenic coastal drives, as well as the Anne of Green Gables museums and shops.
What to eat in Summerside
There is an amazing foodie spot on the main street called Open Eats. Try the 'hodgepodge' of seafood off the menu – it's delicious. This spot is locally run, and the chef is also an islander.
There are lots of other options for restaurant in the area. For a casual fun meal, try the Starlite Diner. It's decorated with 50s memorabilia and there is even a little juke box at the table.
When you travel in PEI, you will quickly notice there is lots of ice cream. In dairy bars, shops, bakeries and quirky shops with backyard patio gardens. Prince Edward Islanders are serious about their ice cream. Holman's in Summerside is among the best.
Where to stay in PEI: Summerside
There are places to stay to match any budget. On the low end, look for a bed and breakfast in Summerside, such as the Prince County Bed and Breakfast or Holman's Heritage Suites. There are also lots of options to stay in a cottage in PEI such as: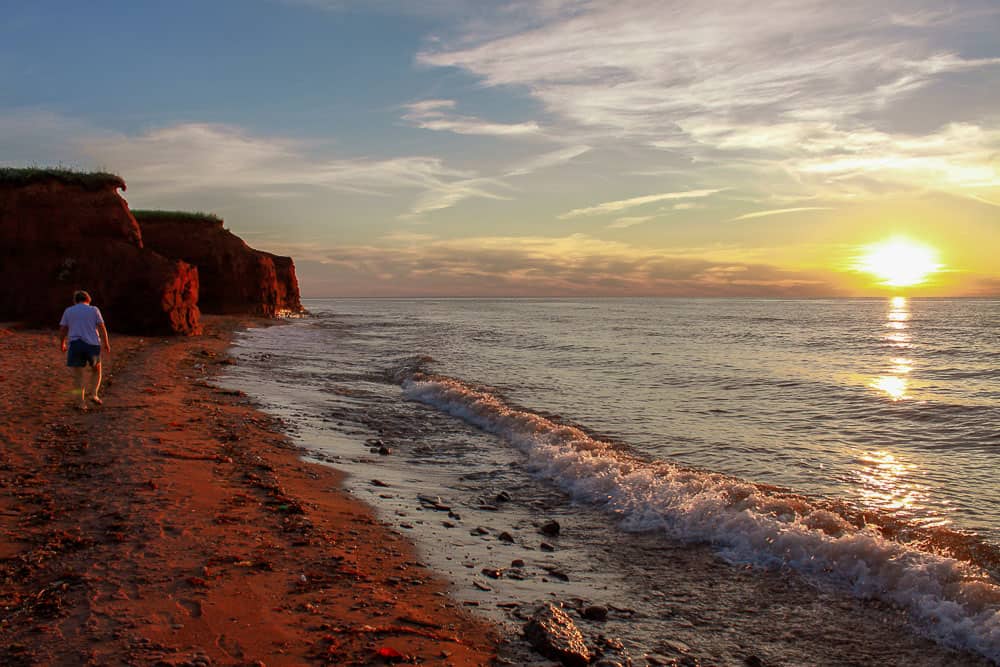 Anne of Green Gables and PEI
Cavendish, PEI Attractions
Cavendish Beach is one of the top PEI attractions. There's a stretch of red sand beach, and stunning coastal drives that will take you along the scenic north coast. Here, Anne of Green Gables is also a big draw for many nostalgic travellers who remember reading these childhood books by famed Canadian author Lucy Maud Montgomery. There are three top PEI attractions for Anne of Green Gables fans to explore: the Anne of Green Gables Museum, the Green Gables Heritage Place, and Montgomery's heritage home.
What to eat
It would be a major miss to not try a traditional lobster supper when you're in PEI. Nearby is the New Glasgow Lobster Supper and the Fisherman's Wharf Lobster Suppers in North Rustico. Expect to pay for lobster by the pound, and it will be served whole with bibs and lobster cracking tools. There's also a buffet of traditional supper sides including mussels, potato salad, rolls and chowder. The New Glasgow Lobster Supper has been around since 1958.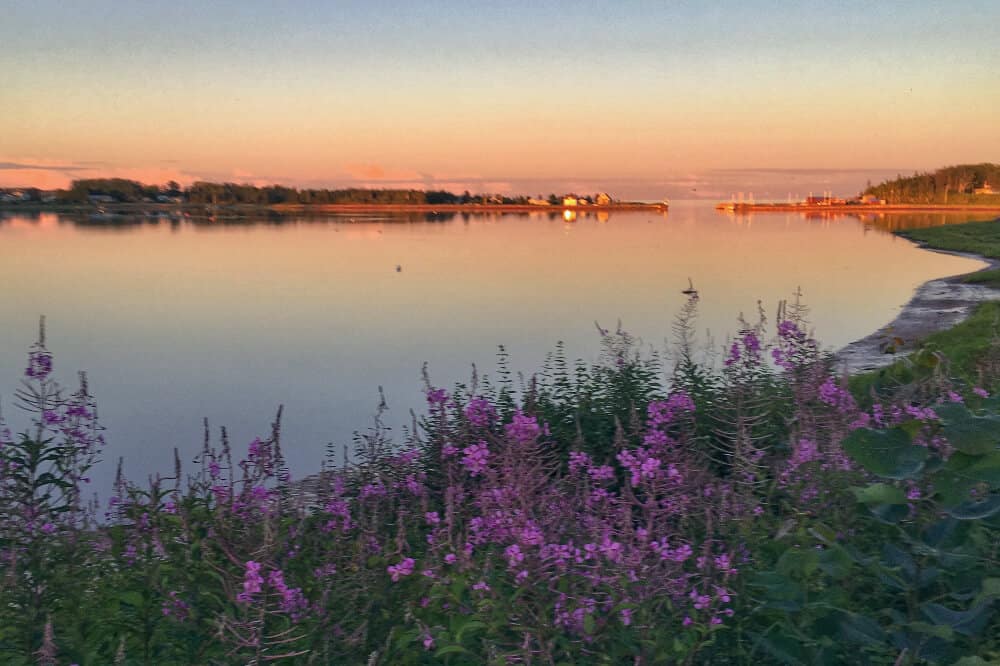 PEI accommodations Where to stay in PEI: Cavendish
There are tons of options for PEI hotels and motels, as well as cottages and B&Bs. Near to the Anne of Green Gables house, is the family-owned PEI hotel, Kindred Spirits Inn and Cottages, an historic property on six acres of land. For a fun cottage stay on the north shore, check out Fairway Cottages.
Charlottetown, PEI Attractions
Most travellers will arrive in Prince Edward Island via the Charlottetown airport. It's worth spending a few days in this small city before heading off to PEI's beaches and cottage areas. Time your visit to one of the city's popular festivals, many of which are ongoing throughout the summer such as the Ceili at the Irish Hall Festival of Traditional Music or the Atlantic Blue, A Celebration of East Coast Songwriters. There's also the popular PEI International Shellfish Festival from Sept. 13-16 where you can expect lots of oysters and lobsters, along with great island music.
What to eat
When it comes to treats, head over to COWS Creamery. You can even tour the creamery and see how the beloved island favourite ice cream and cheese is made. The PEI Brewing Company in Charlottetown also offers tours of his facility. One of the most popular places to dine is the Lobster on the Wharf for harbour views and fresh seafood. There are also some city food tours that are worth checking out to explore island food and meet local producers.
Where to stay in PEI: Charlottetown
Charlottetown has a range of options from hotel to motel, modern to historic. For something new, try the Fairholm Boutique Inn. This PEI hotel is a mansion that was built in 1838 by Thomas H. Haviland, a Father of confederation, and purchased by its current owners in 1999. It was restored to save many of those unique original touches. Today, it's a hotel with 32 rooms.
Another popular historic PEI hotel is the Rodd Charlottetown. This hotel was built in 1931. The look and feel of this hotel today will take you back to an era when railways were inspiring Canadians to travel, and hotels were built to accommodate those early adventurers.
---
Planning a trip to Canada? Start here! My First time visitor to Canada, eh? post is full of Canada travel tips, ideas, suggestions and two awesome itineraries.
---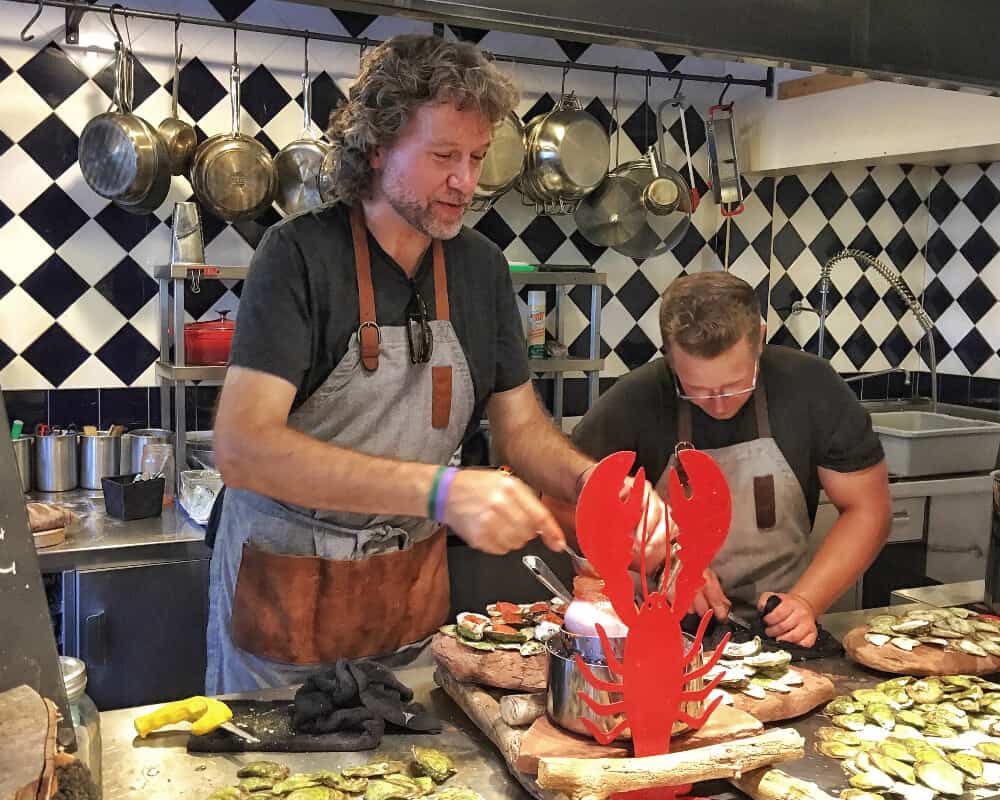 The Inn at Bay Fortune
Note from the editor, Mariellen: On my travels in PEI, the most amazing experience I had was dinner at the Inn at Bay Fortune. This is the charming, and chic, inn owned by celebrity chef Michael Smith and his wife Chastity Smith. Every night they prepare a "Fireworks Feast" for hotel guests and diners — and it's a feast indeed.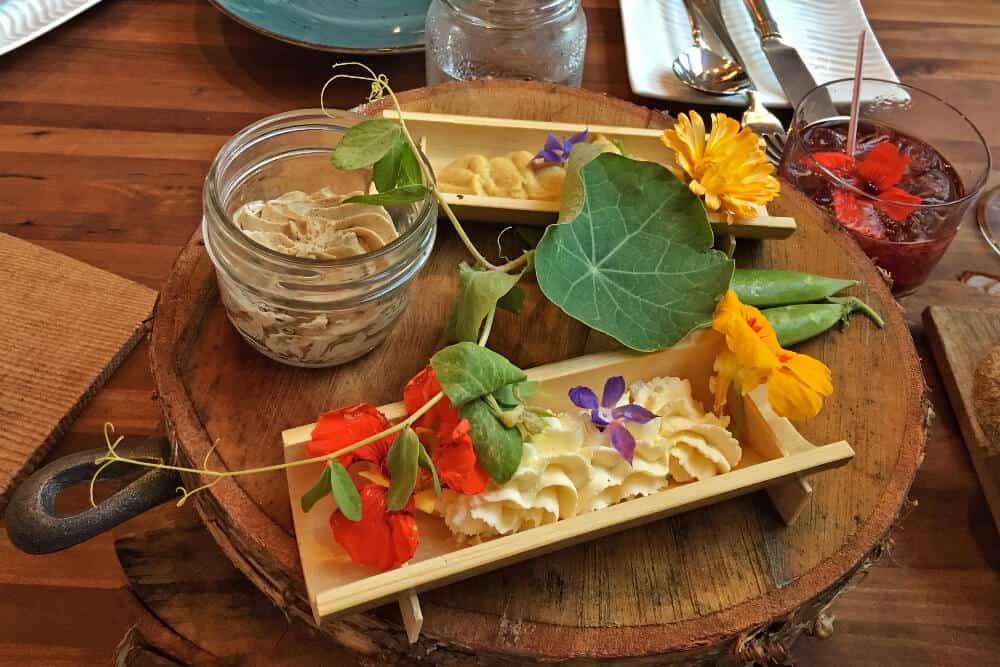 The tall, lanky chef can be seem running from kitchen to fire pit, to oven preparing gourmet delicacies made strictly from local ingredients — many grown on the grounds of the inn. There are food stations set up outside for tasting local brews and locally made specialties such as sausage and cheese. It's like a big party that takes over the inn! Michael Smith is an outspoken advocate for the abundance of Prince Edward Island, and his inn celebrates the food, culture, and hard work of the people of PEI every day. A true gem and not to be missed — bit book waaaayyyyyy in advance. Watch below as he explains the three principles behind his cuisine.
Michael Smith, chef and proprietor of the Inn at Bay Fortune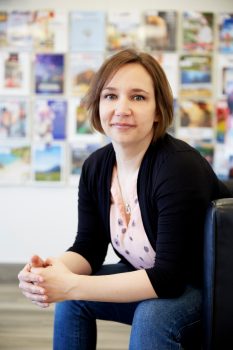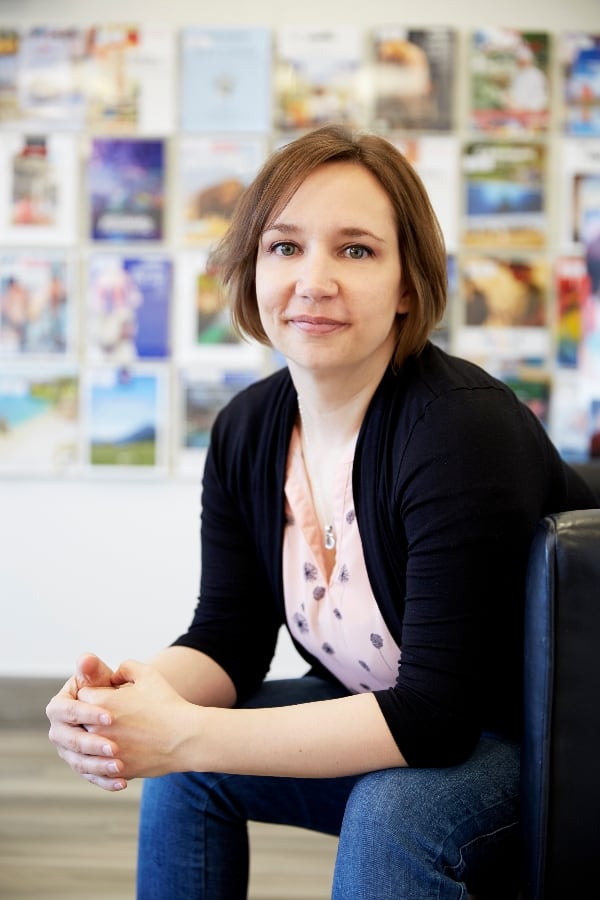 ---
Author bio:
First and foremost, Karen Leiva is a Social Impact Traveller – a traveller who cares about the communities she visits. A travel consultant with a licensed travel agency in Ontario, Karen is based in Toronto. However, the more she travels to the east coast of Canada, she wonders why she is not living there instead because she loves it that much!
---
PIN on Pinterest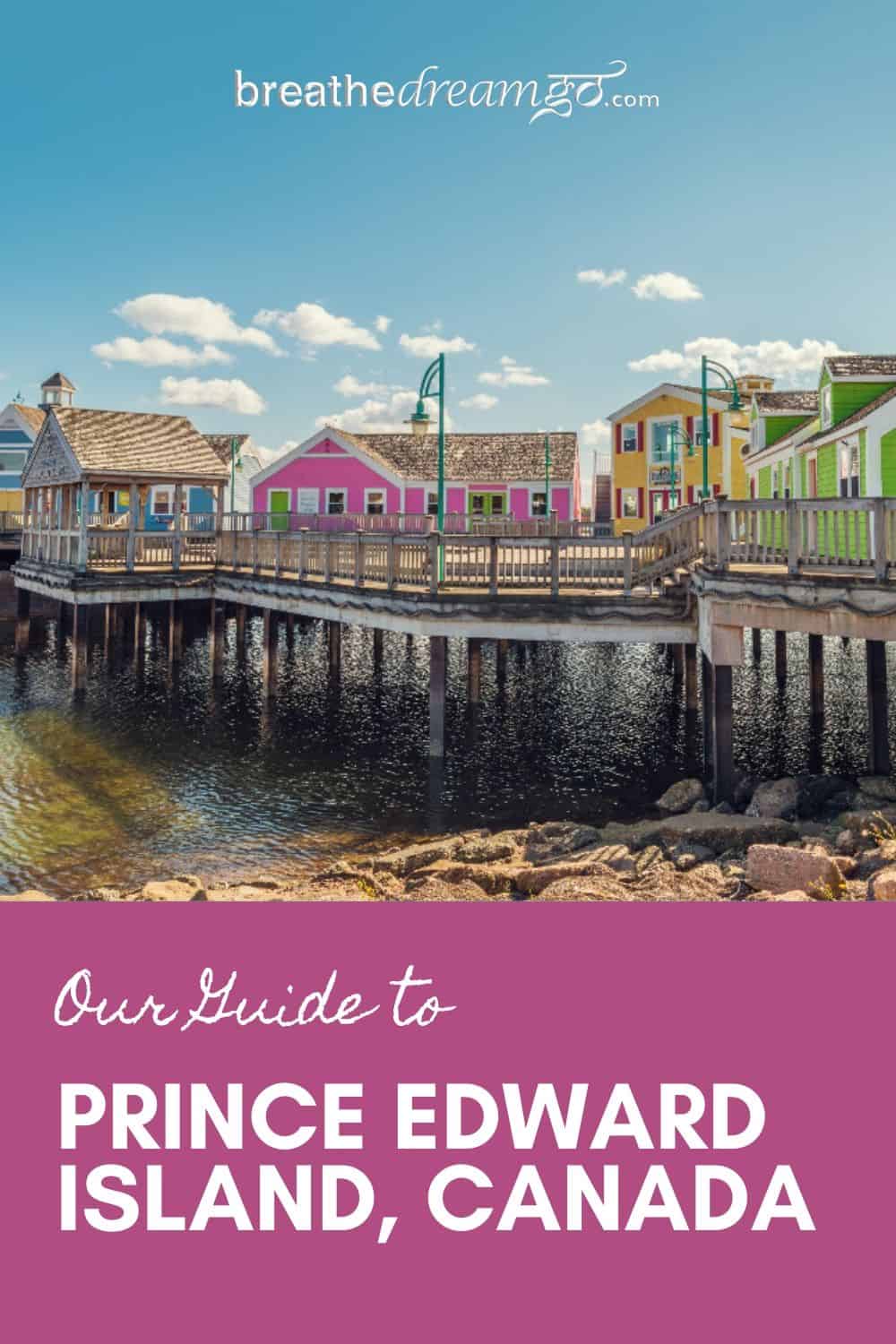 ---
If you enjoyed this post, you can….
Sign up to The Travel Newsletter in the sidebar and follow Breathedreamgo on all social media platforms including Instagram, TripAdvisor, Facebook, Pinterest, and Twitter. Thank you!