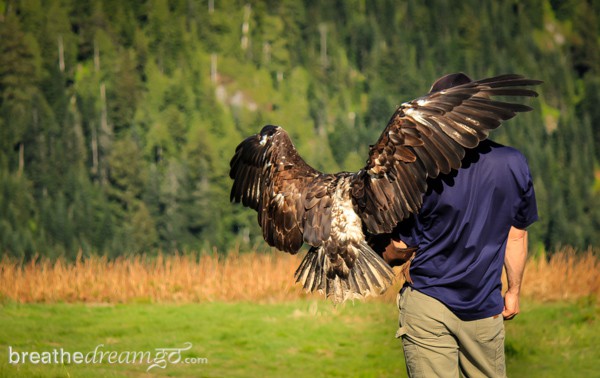 Enjoying the best Indian food, the wildest animals, the highest peak
VANCOUVER IS OFTEN on lists of world's most livable cities. After spending about a week there in June, it's very easy to see why: Miles of ocean coastline, a vibrant multiculturalism scene, a plethora of outdoor adventure options and a temperate climate are just a few of the things that Vancouver is known for.
I've already covered a couple of Vancouver's top tourist attractions: visiting the sacred forests of Capilano Suspension Bridge Park and taking a flight aboard a Harbour Air Seaplane from Vancouver to Salt Spring Island. And, in this blog, I'm highlighting three more of my favourite experiences in Vancouver: the spicy, the wild and the spectacular.
Plus, read this for for suggestions on some of the best day trips you can take from Vancouver.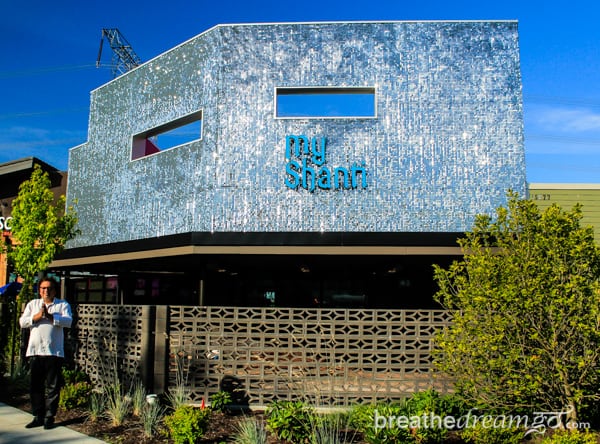 1. Spicy: My Shanti, shanti, shanti om
Way, way up on my list of "must-dos" in Vancouver was to eat at Vij's. Celebrity chef Vikram Vij, who hails from Delhi, and his wife Meeru Dhalwala, opened Vij's about 20 years ago. Today it's one of the most famous restaurants in both Vancouver and Canada, and each night sees a huddle of people waiting up to two hours to get in (they don't accept reservations).
As Vij's reputation and business grew, Vikram continued to build on his success by opening more restaurants — including Vij's Railway Express food truck — starting a catering business and creating a line of ready-to-eat foods.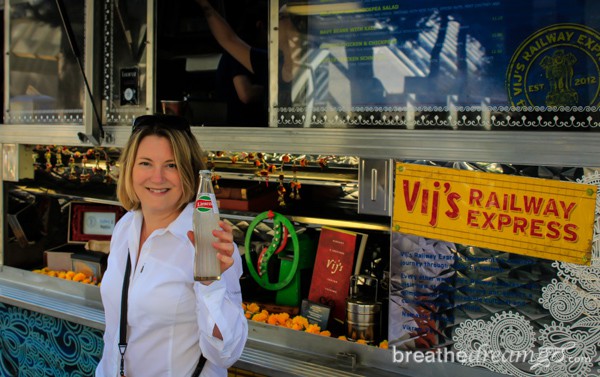 Vacay.ca's annual Top 50 Restaurants in Canada survey named Vij's the number one restaurant in Canada in 2012. So, you can imagine my delight when Adrian Brijbassi of Vacay.ca asked me to join him at Vikram's new restaurant, My Shanti, in Surrey. We drove about one hour south of Vancouver, and pulled into a typical Canadian suburb and then, wow! The shimmering Bollywood-esque sequins that cover My Shanti's outer walls dazzled in the sunshine and made me practically leap out of my car seat. I later learned that it took four months to carefully hang all the sequins.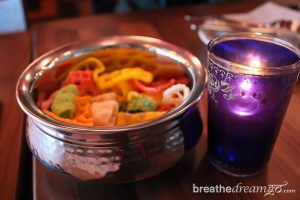 From that stunning intro, My Shanti continued to dazzle. And so did Vikram. I was meeting him for the first time, and was struck immediately by his energy, enthusiasm, gregarious nature and obvious love for his home country, India.
My Shanti is Vikram's homage to India from, first to last. Every detail was lovingly chosen by him to represent different aspects of the culture, from the sari fabric that hangs from the ceiling, and sways with the air currents, to the brass serving dishes to the matchbook-cover inspired images that hang above the bar. And what's true for the decor is even more true for the food.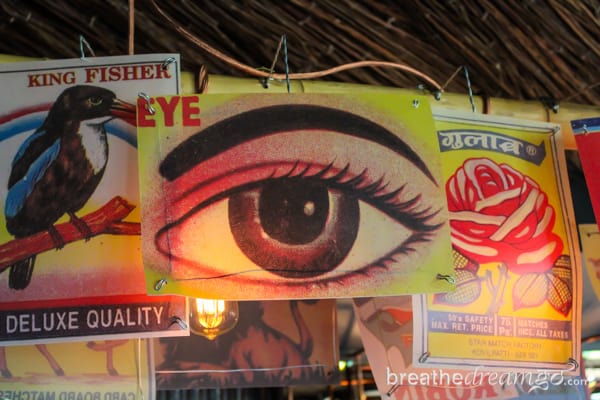 The menu at My Shanti is a tour de force of India. "I don't dumb it down," Vikram told me when I enthused about the spicy, authentic flavours. With every dish, he captures the flavours and the gusto of Indian cooking, from Calcutta mustard-infused fish to Bombay's famous gol gappas, a street food specialty, and Goan oyster pakoras.
As Adrian Brijbassi wrote in his review of My Shanti on Vacay.ca, "Vij's is more modern. My Shanti is really going to feel like India. You will be surrounded by India," Vikram said with his usual mix of pride and passion, "it will engulf you."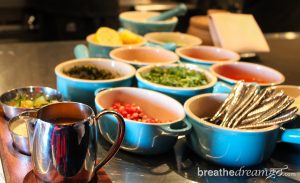 I also ate at Vij's Railway Express — a delicious chickpea and mango salad — and a full meal at Vij's that included many fine dishes and flavours, but it was My Shanti that knocked my socks off. I'm calling it the best restaurant in Canada, and the best Indian food I have eaten outside of India.
The spicy adventures continued for me at the HSBC City of Bhangra Festival, which was happening the week I was there, luckily. I bopped along to Bhangra beats and ate again at Vij's Railway Express food truck, which pulled right up to the Bhangra Festival.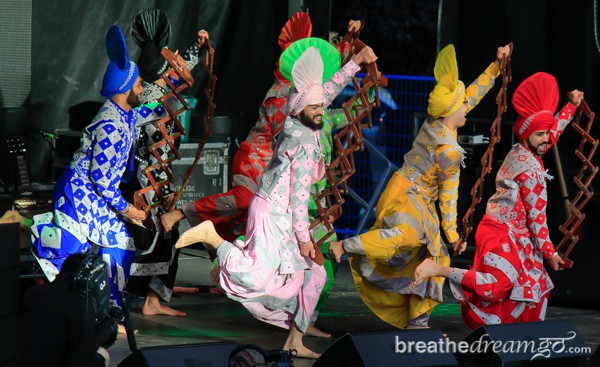 Wild: Watch Canada's most ferocious animals at play
A short drive west from downtown Vancouver, you start to ascend winding roads into the Coast Mountain range. The tallest nearby peak, Grouse Mountain (1,231 metres), is a very popular outdoor destination for locals and tourists alike. In winter it's a ski hill, and in summer it becomes a mountain-top playground that showcases the natural beauty and natural bounty of the region.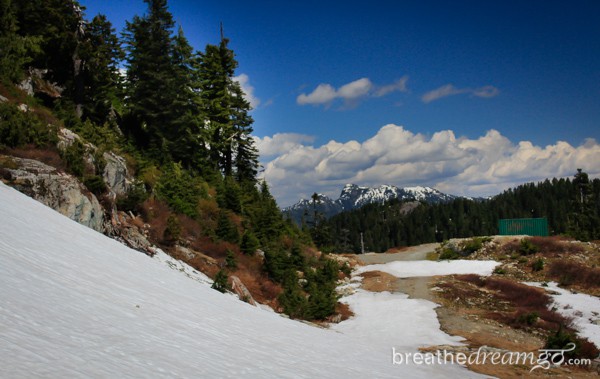 It's a great family destination and you could easily spend a day here, riding the cable car up or doing the famous Grouse Grind, which means walking a 2.9-kilometre trail up the face of Grouse Mountain. This gruelling hike is a point of pride for many active Vancouverites — some of whom do it weekly and even daily. I preferred to sit in The Observatory, an elegant restaurant that overlooks the spot where "grinders" emerge from the forest trail, sweaty and triumphant.
Once up top, there is lots to see and do, including zip lining, taking a guided eco-walk, watching a lumberjack show (yes, these guys really ARE lumberjacks), and taking a series of chairlifts to the top-most peaks. My favourite attractions were the Birds in Motion demonstration and the Grizzly bear ranger talk.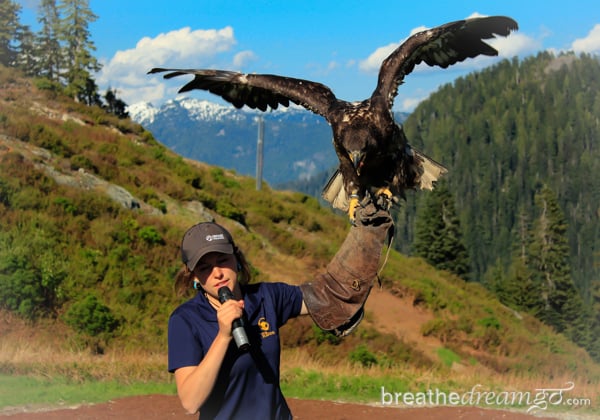 Canada is of course known for the vastness of the natural landscape and abundance of wildlife and both the Birds in Motion demonstration and the Grizzly bear ranger talk highlighted these natural treasures.
The Birds in Motion demonstration is given three times per day during the summer months. Two bird trainers stand apart and, one at a time, introduce several types of large birds of prey to onlookers. Chinook, the Red-tailed hawk, came out first, and flew between the trainers as they told us about the bird's habits. Hercules, an enormous Golden Eagle, came out next and wowed the audience, followed by Doctor Dread, a rather fearsome looking Turkey vulture.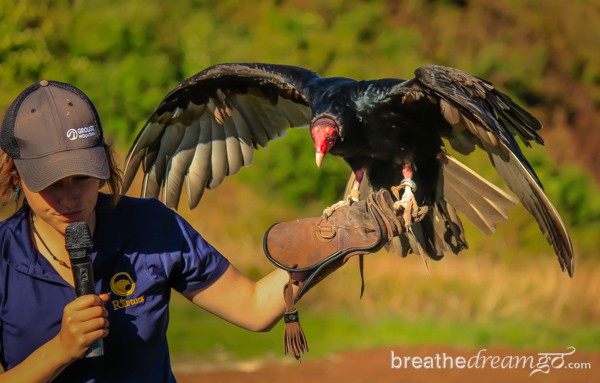 I found the show very compelling as it was both educational and actually pretty sensational. These were real, live birds of prey, flying freely right in front of us. The speed of the Peregrine Falcon and the size of the Golden Eagle were truly impressive — and so was the bird handlers' skills. Birds in Motion is really something to see, and well worth the trip up Grouse Mountain for this alone, never mind all the other attractions.
The Grizzly ranger talk was equally compelling. The two Grizzlies who live on Grouse Mountain, Coola and Grinder, are both orphaned males who have become "best friends." They swim and play together in a charming spirit of bonhomie on five acres of land, though Coola at 900 pounds is considerably bigger than Grinder, at 750 pounds.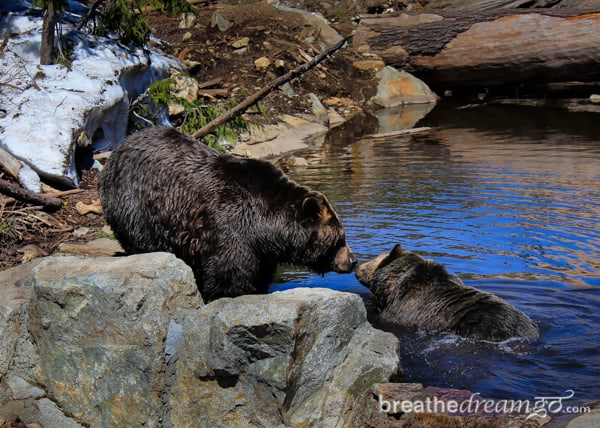 I got caught up in the bears' antics and personalities as I watched them while listening to the ranger tell us fascinating details about their history and habits. You can even join them for a Breakfast with the Bears. As you eat bear-shaped pancakes drizzled with honey and berry cobbler, you can watch Coola and Grinder eat, too, and listen to the bear ranger talk. Sounds beary good to me, ha.
Spectacular: Climb up to the Eye of the Wind
One of Grouse Mountain's most unusual and spectacular attractions is the Eye of the Wind. This is the world's only operating wind turbine with a viewing platform. It is not for the faint of heart. You ascend in a tiny elevator to a small, glass-enclosed observation deck. When the wind picks up and the blades start rotating, the entire structure sways and you feel more like you are in the eye of the storm. I found it a bit unnerving but the spectacular views of the Coast Mountain range, the city of Vancouver and the Georgia Strait more than make it worthwhile.
Links to help you plan your trip:
---
If you enjoyed this post, please sign up to The Travel Newsletter in the sidebar and follow Breathedreamgo on all social media platforms including Instagram, TripAdvisor, Facebook, Pinterest, and Twitter. Thank you!