A meaningful adventure travel experience to connect with my Irish ancestors
This year, I will be Going home to Ireland as part of a massive tourism initiative called The Gathering 2013. Read on to find out about the search for my Irish-Canadian family roots, and the Irish heritage of the Ottawa Valley.
I think it was the mosquito that did it. When I saw that mosquito, etched into the Celtic Cross at the mouth of the Rideau Canal in Ottawa, I suddenly gained new insight into the harsh conditions Canada's early settlers faced. The Celtic Cross stands at Ottawa's most picturesque spot in honour of the 1,000 Irish workers and their families who died building the Rideau Canal (1826-32). Apparently, a significant percentage of them died from malaria. I had no idea. The other symbols on the cross include an explosion, a wheelbarrow, a pickaxe & shovel and in the centre of them all, a harp — the symbol for Ireland. Approximately one-third of Rideau Canal workers hailed from Ireland.
I recently drove to Ottawa to follow the Irish trail through eastern Ontario, which is where my ancestors settled when they emigrated from Ireland in the early 19th century. In fact, many of Canada's Irish settlers ended up in the Ottawa Valley, and they have long been known as "Ottawa Valley Irish." I'm retracing my roots this year, in anticipation of my September visit to Ireland as part of The Gathering 2013 – a tourism initiative to bring home the Irish Diaspora. My first blog in this series, The Journey from Ireland and back recounts the harrowing story of loss that drove my ancestors from Ireland to Canada, more than 200 years ago.
On the road to Ottawa
The first stop on the journey was to pick up my sister, artist and writer Victoria Ward, at her home in the Haliburton Highlands East. As I mentioned in my blog, On the Whelan trail in Eastern Ontario, Victoria lives in a 100-year-old log cabin in the forest on the edge of the Ottawa Valley. After one day's delay due to a ferocious ice storm — in April! — we loaded the car and started driving south and east, towards Ottawa.
Victoria lives in a Canadian wilderness postcard of rolling, pine-covered hills and rugged, rocky outcroppings, but she promised me even more spectacular vistas as we drove towards the Ottawa Valley. And she was right: the hills grew higher, the rocks more jagged. It's a beautiful area, but it felt distinctly remote and somewhat sombre under chilly, grey April skies. Add cold winters, buggy summers and thin soil to the picture, and you begin to sense the hardscrabble life our pioneer ancestors led.
We passed through places with names like Shamrock, stopped to take a photo of Whelan Road (spelled Whalen on one sign and Whelan on the other), and skirted the two places where our 19th century Whelan family homesteads are located on our way to Ottawa, Canada's capital city.
Ottawa's colourful past includes plenty of green
Exactly on schedule we pulled into the impressive drive of the Fairmont Chateau Laurier. This is the pre-eminent hotel of Ottawa, an historic site in its own right, ideally located on a bluff overlooking the Rideau Canal and the Ottawa River, and with a million-dollar view of the magnificent Parliament Buildings. We loved the elegant wood-paneled lobby, our spacious room with iconic view of Parliament Hill and Gold Room service that included a separate check-in and lounge.
On a fun and entertaining iPad tour of the hotel, we learned that builder Charles Hays hired designers and architects to model it after chateaus he had seen in the Loire Valley, France; and that it was named after Canadian Prime Minister Wilfred Laurier, who was present at the 1912 opening ceremonies — delayed by two months because Hays went down with the Titanic.
After touring the hotel, we were keen to find out more about Ottawa's Irish heritage, and arranged to meet Craig MacDonald of Ottawa Walking Tours, in the lobby. A natural-born storyteller and history buff, Craig guided us around central Ottawa, bringing the city alive with his stories.
On a drizzly April afternoon, we walked with Craig past the War Memorial and the tomb of the Unknown Soldier to the popular pedestrian mall, Sparks Street. He told us it was named after Irish immigrant Nicholas Sparks, who played a key role in the development of Ottawa. By the early 1820s Sparks owned most of the land that downtown Ottawa sits on now. So, when the town boomed, thanks to the construction of the Rideau Canal in the late 1820s, Sparks' fortune was made.
While still on Sparks Street, we walked past D'Arcy McGee's pub and learned that the Irish-born Member of Parliament and Father of Confederation was assassinated at a nearby spot in 1868. We stood in the light rain at the exact place, marked by a plaque, where he was shot in the back of the head as he stood at the door of his boarding house (now a Subway restaurant).
As a young man in Ireland, McGee had been a Fenian sympathizer, but decided that moderation and "getting along" was a better strategy for the Irish in Canada. A fellow Irishman, who felt he had betrayed the extreme Fenian cause, apparently killed McGee. Patrick J. Whelan was convicted and hanged for the crime, though he maintained his innocence to the last.
We shivered as Craig told us this story, partly because of his storytelling abilities, partly because of the chill in the air and partly because we are descended from a family of Whelans in Canada — though none of my research indicates that we are related to this particular Whelan, who holds the dubious distinction of being the last man to be publicly hanged in Canada, in 1869.
Our tour took us to the first Catholic Church in Ottawa, the Notre Dame Cathedral Basilica, built between 1841-1885; and through the historic ByWard Market next door. This area was called Lowertown back in Ottawa's rough early days, when it was home to the poor Irish and French Rideau Canal builders and their families. Colonel John By, who was charged with building the Rideau Canal, also built the ByWard Market in 1826. Today it serves the same function, to provide urbanites with fresh produce from the surrounding farms; and it's also now a trendy hub filled with stores, cafes and restaurants.
Connecting to family and heritage
Back at our hotel, and out of time, our tour ended. But we continued our search for Irish Ottawa, and our own heritage, the next day at Afternoon Tea. Sun was pouring through the floor-to-ceiling windows of Zoe's Lounge, which occupies a prime corner spot on the ground floor of the majestic Fairmont Chateau Laurier.  Families of girls and women gathered in the sunny atrium, each table loaded with three-tiered plates of pastries and silver tea services. It's obviously a popular Ottawa tradition as the room was full.
At Zoe's, we met four long lost relatives, all sisters, related to us through our great-grandfather Peter Whelan. The sisters Mary, Ann, Sheila and Jean are all descended from Peter's brother, Andrew Whelan. I didn't even know this branch of the family existed, so to meet them in person was very special; it made me feel connected to my past and to my mother and grandmother (Nana), who I continue to miss many years after losing them.
Finally, at the end of the day, at the end of our trip to Ottawa, and as the light was leaving the sky in streaks of gold and turquoise, Victoria and I walked along the Rideau Canal. We stopped at the Corktown Footbridge, which honours the Irish canal workers, and enjoyed seeing the locks, left by lovers.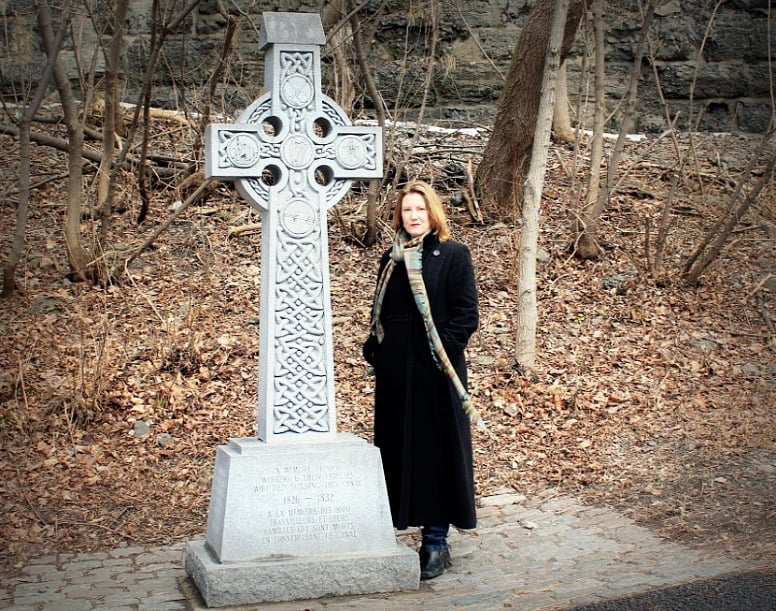 From there we walked to the mouth of the canal, where it meets the Ottawa River, and ended our walk at the Celtic Cross. And it was here that I felt that sense of connection to history, both personal and national, that I was looking for. And here the sight of a mosquito etched in stone made me realize that it was individuals who built my country, Canada — people like the uneducated Irish workers who dug out the Rideau Canal, who lived in caves in the side of Parliament Hill to stay warm in winter, and who died from malaria, malnutrition, exposure and accidents. It made me proud of them, and proud of Canada, to recognize their contributions.
Posts in this series
In Search of My Ottawa Valley Irish Roots
Genealogical Resources for finding your family history in Ireland
The Gathering
National Library of Ireland
[Note: This post was brought to you, in part by the Scotiabank Gold American Express Card, and in part by Ottawa Tourism and the Fairmont Chateau Laurier.]
If you enjoyed this post, you can….
Get updates and read additional stories on the Breathedreamgo Facebook page.
Buy Song of India, a collection of 10 feature stories about my travels in India. E-book version is now only $1.99.
Subscribe to the free — and inspiring! — e-newsletter, Travel That Changes You.