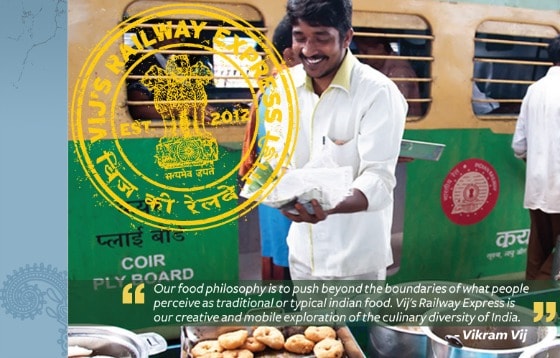 Canadian foodies share favourite vegetarian restaurants, resources and recommendations
ARE YOU VEGETARIAN? Are you worried that you might not find vegetarian food when you visit Canada? Or, do you want to eat more vegetarian food for health and weight reasons? Canada may not be famous for vegetarian food, but it is available from coast-to-coast. There is no shortage of options for buying vegetarian produce or finding vegetarian dishes at most restaurants or even finding "pure veg" restaurants, especially in the big cities. And Indian food is extremely popular in Canada too: there is a plethora of Indian restaurants in most of the bigger cities and especially Vancouver and Toronto — where a significant percentage of the population is of Indian origin.
Toronto's vegetarian feast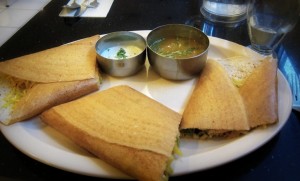 I live in Toronto, and I don't eat meat, and I find no end of good, fresh food. In summer, there are farmer's markets all over the city — Toronto is ringed with rich farmland — and all year-round, you can get fresh produce at St. Lawrence and Kensington Markets, both old-time markets beloved by locals. The city caters to an alternative scene of vegetarians, vegans and raw food eaters, so you can find a lot of restaurants like Fresh (several locations), Live Food Bar, Annapurna, and Govinda's in the Hare Krishna Centre. The Toronto Vegetarian Association has a list of restaurants, events and other resources.
Indian restaurants proliferate in Toronto, and there are lots of good ones, but my favourite is Udupi Palace on Gerrard St. E., in the India Bazaar. Owner Hubert Dabello opened Udupi Palace in 2001, introducing dosa, iddly and uthapam to the North Indian dominated street. Udupi is pure veg, and pure delight, and eating there transports me to India, if only momentarily.
Vij's is a Vancouver hot spot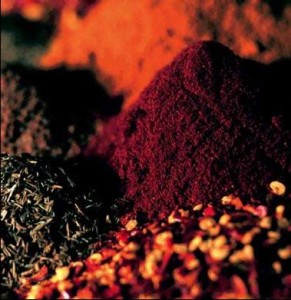 Adrian Brijbassi, co-founder of Vacay.ca, spear-headed the Top 50 Restaurants in Canada list, and he is also one of the judges. Two of his personal favourite vegetarian restaurants in Canada are Acorn in Vancouver and the popular Zen Kitchen in Ottawa. He adds, "Two in Vancouver that aren't strictly vegetarian, but what we could call vegetarian-forward are Burdock & Co. and Vij's Railway, the food truck that serves Indian cuisine and whose menu is often about 80% vegetarian dishes."
Vij's in Vancouver won the top spot on the list of Top 50 Restaurants in Canada for 2012, and bagged the #3 spot in 2013, so Vij's Railway, with Vikram and Meeru Vij behind it, is bound to be tasty. Here are just some of the dishes on the menu:
Rice-Puff & Chickpea Salad with Mint Mango Chutney
Jackfruit Curry
Mushroom Medley Curry
Vegetables are magic, too
Ayngelina Brogan, of the popular foodie travel blog Bacon is Magic, shares stories about the people and places behind the meals she enjoys around the world. With a blog named Bacon is Magic you'd be surprised to hear she also enjoys vegetarian meals. These are two of her favourites in Canada.
"Centrally located in Niagara-on-the-Lake, in the Shaw Club hotel, Zee's Grill would first appear to feature a meat-heavy menu," Ayngelina says. "However, I visited last year with advance notice that I would be dining with a vegetarian and was pleasantly surprised this wasn't an issue at all. While I ate a tasting menu with different meats, my guest also enjoyed a completely vegetarian tasting menu.
"In the end both were delicious, but I thought the vegetarian menu was better. With really complex dishes I wondered about Chef Dobbie's background and it turned out he spent many years cooking vegetarian food in Vancouver. I'd recommend this restaurant for any group that has vegetarians as both omnivores and vegetarians will leave satisfied.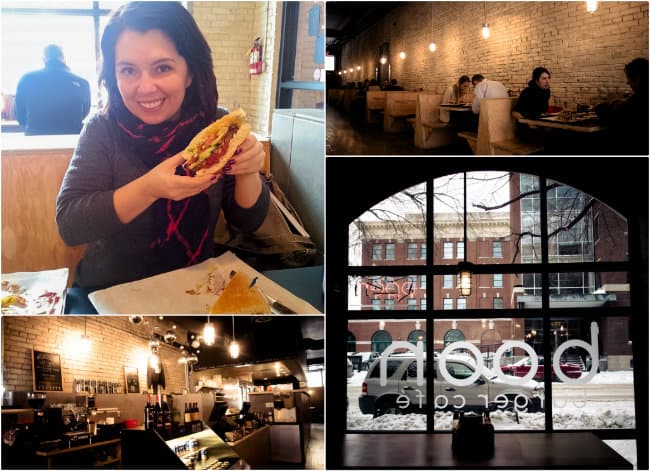 "Boon Burger in Winnipeg is Canada's first all-vegan cafe with two locations, and it made me wonder if Winnipeg had a large vegan community. It doesn't. But this doesn't stop crowds of meat eaters from packing the booths to enjoy food so good you don't notice the lack of meat. I loved the burgers and highly recommend them, but I wasn't crazy about the fake bacon or cheese — but as I'm a meat eater, I dislike all fake meat and cheese."
Door to green eating in Ottawa
Nat & Tim Harris are culinary storytellers, sharing tales of culture and food from our home and travels on A Cook Not Mad. An award winning chef, Tim has dedicated his life and career to cooking and the pursuit of honest food. As a professional photographer, Nat records their adventures with incredible pictures of everyday life and the extraordinary. Their favourite vegetarian restaurant in Canada is in the nation's capital.
"The Green Door has been serving vegetarian meals made with local, organic ingredients and plenty of love since 1988. Everything is made from scratch daily and according to the seasons so you know you are being fed real, healthy food, no GMOs here. You can expect dishes such as Broccoli Quiche with Organic Rennet Free Cheddar Cheese or Leek Barley Mushroom soup and finish off with a gluten-free or wheat-free dessert. The food here is charged by weight so you can mix and match your favourite dishes."

Omnivore eats vegetarian
Gillian is a traveller and serial expat currently based in Canada, but with a cycle tour of Europe on the horizon. You can read about her adventures at One-Giant-Step.com and can find great books on travelling and food at her other site, TheGlobalBookshelf.com.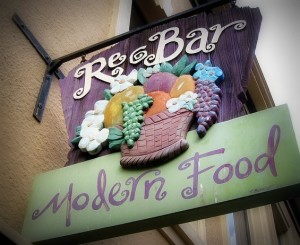 "I can't tell you about the best vegetarian restaurant I have ever been to, but I can tell you about the ONLY vegetarian restaurant I've been to in Canada," Gillian says. "I'm an omnivore at heart but Rebar Modern Food in Victoria, B.C. managed to draw me in on more than one occasion. The Bastion Square location is at the heart of the city but it's the heart of the restaurant that makes it so successful. Brightly coloured tables are clutched together with mismatched chairs surrounded by chartreuse walls and always the hum of lively conversation.
"As always though, the way to the heart is through the stomach. Fresh, inventive dishes fill the menu with an Asian/Mexican fusion that only sounds weird until you try it. More than a salads and 'let's pretend we're eating meat' menu, it transcends what I think of when I hear 'let's go to that vegetarian place down the street'. More often than not I was the one suggesting Rebar for lunch!"
Made with love and vegetables in B.C.
Murissa Shalapata lives in the Okanagan wine region of British Columbia, Canada. When she's not drinking wine and exploring the local food scene, she's traveling around the world seeking other culinary adventures and sharing them on TheWanderfullTraveler.
"British Columbia's Okanagan Valley is the envy of Canada with its legendary vineyards, hot summers and quality produce. The serpentine Okanagan Lake and Canada's only desert together create microclimates ideal for growing a wide range of grapes and the most delicious apples, cherries, squash or any other produce you can think of."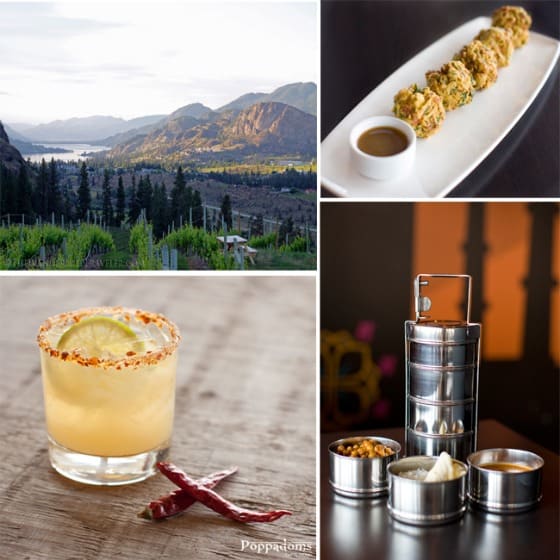 "The Okanagan farmers' markets during the spring, summer and fall are bountiful and bustling with hungry shoppers looking to buy local food and support their farmers. Restaurants within the valley owe their success to these products and merchants, to a great extent. One such restaurant is the popular Poppadom's Indian restaurant. Owned by the Dosanj family, and only four years old, Poppadom's has become the choice for Indian food in the valley. Much of their authentic cuisine is made with seasonal Okanagan products — including one of their most popular vegetarian dishes, "Mum's Vegetable Pakoras," made with a medley of Okanagan grown vegetables. Poppadom's also features vegetarian dishes that change with the seasons as does their Indian-inspired cocktails, curated to pair with their menu items."
---
If you enjoyed this post, please sign up to The Travel Newsletter in the sidebar and follow Breathedreamgo on all social media platforms including Instagram, TripAdvisor, Facebook, Pinterest, and Twitter. Thank you!