Top 3 reasons to visit Toronto's CN Tower
I SEE THE CN TOWER virtually every day, as it rises above my hometown, Toronto, like a giant, concrete tree trunk dominating a forest of glass shrubs. But it's been many years since I felt any excitement about it, and many years since I'd been up to the top. You get used to things, even if one of those things is — or was — the world's tallest structure. The CN Tower (553.3 metres) held the record for world's tallest freestanding structure for 32 years, from when it was built in 1976 until it was eclipsed by the Burj Khalifa (829.8 metres) in Dubai in 2007.
And though it has lost its crown as tallest, still, more than 1.5 million people visit the CN Tower every year. There must be something special about it, I reasoned, reminding myself that many visitors to Toronto didn't grow up in the shadow of a super structure. So I travelled the short distance by streetcar to spend an afternoon and evening there with an open mind and a spirit of adventure. And I discovered that, yes, there are three very good reasons to visit the CN Tower — aside from it's iconic status of course.
When I was there, I chatted with several visitors from India, including a family of four from Malabar Hill, Mumbai. I asked them why they were visiting the CN Tower and they told me that, after Niagara Falls, it's the place they most wanted to see in Ontario. "We don't have any tall towers in India," daughter Sangita, 14, said. Her mother added, "You just have to see it."
So here are my reasons why you just have to see it and below that are some fun facts.
Reason for visiting the CN Tower #3: To be on top of the world
Simply going up to one of the viewing decks is well worth the price of admission. There are other things to do at the CN Tower, but let's face it, riding a glass-enclosed elevator 346 metres up to the LookOut, or 447 metres to the SkyPod, is THE thing to do. It's exciting to be that far up, way above all of Toronto's skyscrapers.
Both the viewing platforms give you the opportunity for a 360 view of Toronto and Lake Ontario. From the higher SkyPod, you can see up to 160 kilometres on a clear day — all the way to Niagara Falls. Near the base is the Billy Bishop Toronto City Airport, on the Toronto Island. My favourite thing to do was watch the planes take off and land — from way above them.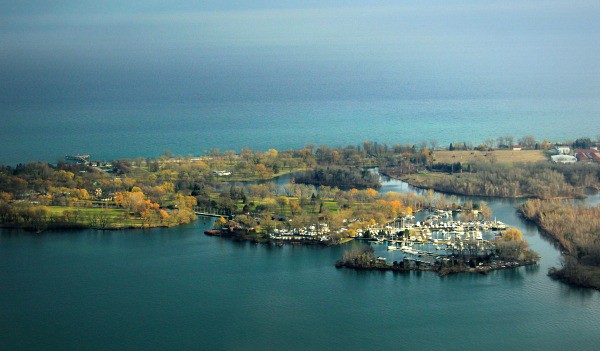 I also had fun pushing my fear of heights to the limit by walking out on to the Outdoor SkyTerrace (one level below the LookOut) and standing on the Glass Floor. I didn't hesitate to go outside, but the Glass Floor was a bit much, I admit it. Of course, there's really no reason to be afraid, it's absolutely safe — apparently it can withstand the weight of 14 hippos — but looking straight down 342 metres is a bit … unusual … to say the least.
Originally, the CN Tower was intended to be a just a transmission tower, but the designers and builders started to dream big. They added elevators, viewing platforms, restaurants, shops, activities — and made it into one of Canada's top tourist attractions. You can read all about this history, and the building of it, here.
Reason for visiting the CN Tower #2: To walk on the edge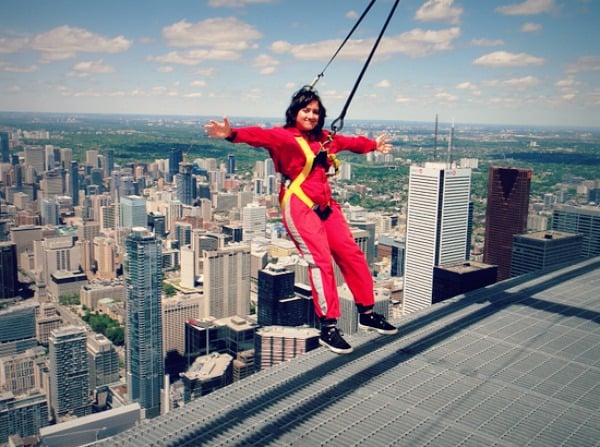 The newest attraction at the CN Tower is also, by far, the most spectacular. The EdgeWalk will test your nerves like few other tourist activities on the planet. It's the highest outdoor walk in the world at 356 metres and was even given a Guinness World Book of Records award.
Luckily for me, the day I was there, the weather wasn't cooperating. But Indian travel writer and blogger Shivya Nath did the EdgeWalk when she was in Toronto in June 2013, and here's what she said about stepping out onto the very narrow platform:
"I can feel the breeze caressing my face and blowing through my hair as I lean my body back, 1168 feet above Toronto! My mind says I should trust my harness and let go off the rope I'm clutching, but my heart may be thinking otherwise in its rapid beats. Let go of those hands, our walker calls out. And slowly, I do. Only the front part of my feet are in contact with solid ground now, the rest of me floats in the air. I close my eyes for just a second, and feel like I'm flying far far above the earth."
To read the rest of her adventure, visit her award-winning travel blog, The Shooting Star. And to watch her personalized video, take a deep breath and click play below:
If you want to know how people feel about being strapped into a harness and walking on the edge of a narrow platform way above the Toronto skyline, check out the 200 or so reviews on TripAdvisor. Almost every single reviewer writes, "exhilarating," or "awesome!" or "best buzz ever." So, if you've got the nerve, I would say this is a must-do on your visit to the CN Tower during the months it's open (approximately April to October, weather permitting). One ticket price gives you a 1.5 hour experience that includes training, a 30-minute EdgeWalk, a video clip, plus access to all the other CN Tower attractions.
You can find out everything you need to know about the EdgeWalk here, on the website, including who's eligible to do it and what you need to know.
Reason for visiting the CN Tower #1: Food with view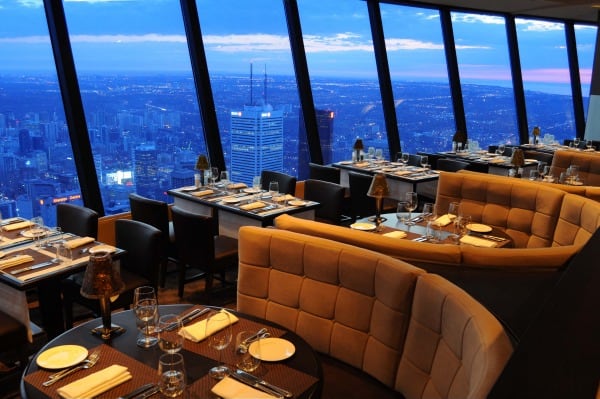 The view from the SkyPod is superb and the EdgeWalk is a truly thrilling activity, but eating dinner at the 360 Restaurant with friends or family is my top reason to visit the CN Tower. I met my friends Parmjit Parmar and Priya Chopra at the 360 Restaurant for dinner just before dusk. We settled into our window seats and immediately felt the magic. The view of the city, 351 metres below, the attentive servers, the fresh, tasty food, and of course our lively conversation combined to make for a very special evening.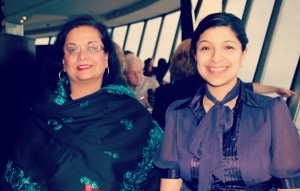 The 360 Restaurant revolves, which adds to the fun and the drama of the unfolding scenery. It takes about 72 minutes to make a complete rotation and we stayed for three, watching the sky darken and the city become a mass of twinkling lights.
My friend Parm is a freelance travel and food writer who writes for Planet Blue Adventure and Priya is a freelance journalist was also a television host on the Asian Television Network (ATN) and contributes to jugnistyle, an online South Asian magazine based in Vancouver. Together, we tried a number of the signature dishes on the menu. My favourites dish was a radicchio salad with pear, figs and blue cheese. But I also loved my dessert, Maple Three Ways, which offered up small portions of maple cheesecake, maple crème brûlée and maple-pecan tart with ice cream. Yummm, Canadian-themed and soooooo delicious.
The prix fixe menus gives diners a wide variety of choices, including seafood options and a complete vegetarian feast — an abundance of inspired and truly delicious choices for vegetarians. Regional Canadian ingredients and market fresh cuisine is the specialty of chef Peter George, who runs a "scratch kitchen" (he makes everything from scratch, including his own broth). Apparently, fishermen call him literally from their boats to find out what he wants!

As we were happily enjoying our dinner-with-a-view, I asked Parm and Priya if they thought the CN Tower and 360 Restaurant would appeal to visitors from India. "Oh yes, Indians would love dinner here," Parm said. "It's a very special-occasion kind of place. They would love the luxury atmosphere and sense of a celebratory evening in a really special restaurant."
I had to agree. The 360 Restaurant is one of Toronto's top fine dining options. This place has it all. Elegant dining room decor, first-class food, professional service and the best ambience in the city. The revolving view, plus all the other amenities, makes dining at the 360 Restaurant a truly special event. Celebrities and dignitaries regularly dine here, and locals come to celebrate personal occasions and holidays like New Year's Eve and Valentine's Day.
If you go out for one special dinner in Toronto, my advice is to make a reservation, get dressed up and go to the 360 Restaurant. Your dinner includes access to the LookOut, complimentary coat check and use of a specially designated elevator to whisk you up.
---
Note: If you're planning a trip to Toronto, check out this guide to where to stay in Toronto and this one, an itinerary for 3 days in Toronto. And if the weather is good, check out this Guide to best places to hike near Toronto.
---
CN Tower fun facts
At 553.33 m (1,815ft, 5 inches) the CN Tower held the record as the tallest building, tower, freestanding structure for over three decades. It remains the tallest in the Western Hemisphere.
In 1995 the CN Tower was designated a Wonder of the Modern World by the American Society of Civil Engineers.
Lightning strikes the CN Tower an average of 75 times per year. Long copper strips, running down the CN Tower to massive grounding rods buried below ground level ensure that each lightning strike safely finds its way to ground.
The upper reaches of the CN Tower are built to withstand turbulent winds with a wind resistance factor of up to 418 km/h.
The CN Tower was built with the strength and flexibility to withstand an earthquake of 8.5 on the Richter scale.
Guinness World Records over the years include:
World's Tallest Self Supporting Building and Free-standing Structure on land, excluding guyed masts (1974-2009)
World's Tallest Tower (1974-2010)
World's Highest Wine Cellar (2006-present)
World's Highest Outdoor Walk on a Building (2011 – present)
---
If you enjoyed this post, please sign up to The Travel Newsletter in the sidebar and follow Breathedreamgo on all social media platforms including Instagram, TripAdvisor, Facebook, Pinterest, and Twitter. Thank you!