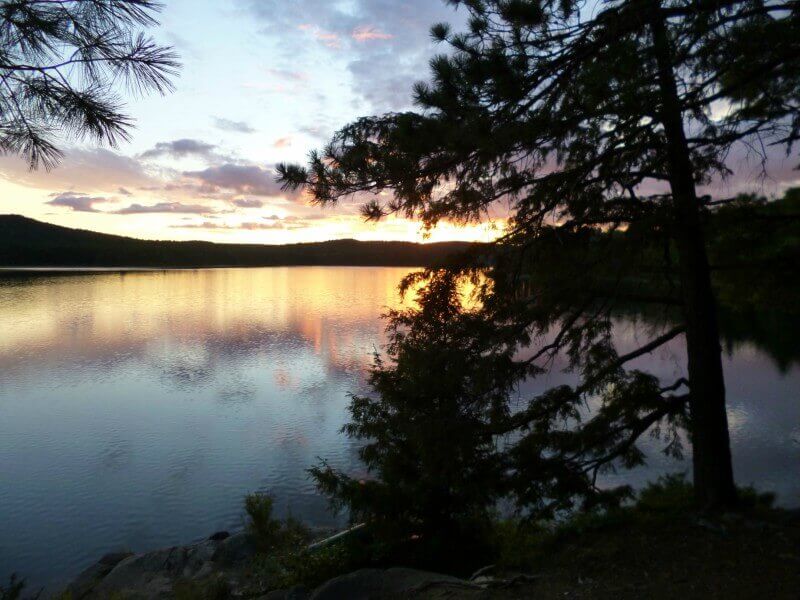 Learning camping and plein air painting in the great Canadian outdoors
Guest post from writer and artist Victoria Ward.
At age 30-something I did something I had never done: I went camping. My family had a cottage when I was young so I knew how to use a canoe and make a bonfire. But putting a canoe over your head and making a bonfire from wood not bought at a store was certainly new. I adapted quickly because I fell in love with Algonquin Park.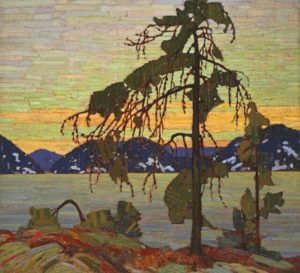 Now, years later I realize that it was camping and spending time in Algonquin Park that helped shape my voice as an artist. How could it not? The Jack Pine, a famous Canadian painting by Tom Thomson, is a definitive example of how much art and wilderness are intertwined in Canada. As with many a landscape painter, I wanted to paint the park and experience what Thomson did. Whenever I camp now, or in fact when I'm on any kind of trip, I always take my sketchbook.
Algonquin Park is well suited to the novice camper, however it is always a good idea to go with people who know what they are doing. I learned so much from my first time, and over the years, that I now bring beginners in when I can. You can rent a canoe from the park and paddle to your site directly, or you can portage to another lake which always gives you a little more wilderness, solitude, and wildlife sightings. For portaging you need to be very organized — and in terms of art supplies for plein air painting, even more so.
---
Planning a trip to Canada? The Canada Travel Guide has everything you need to know to visit Canada!
---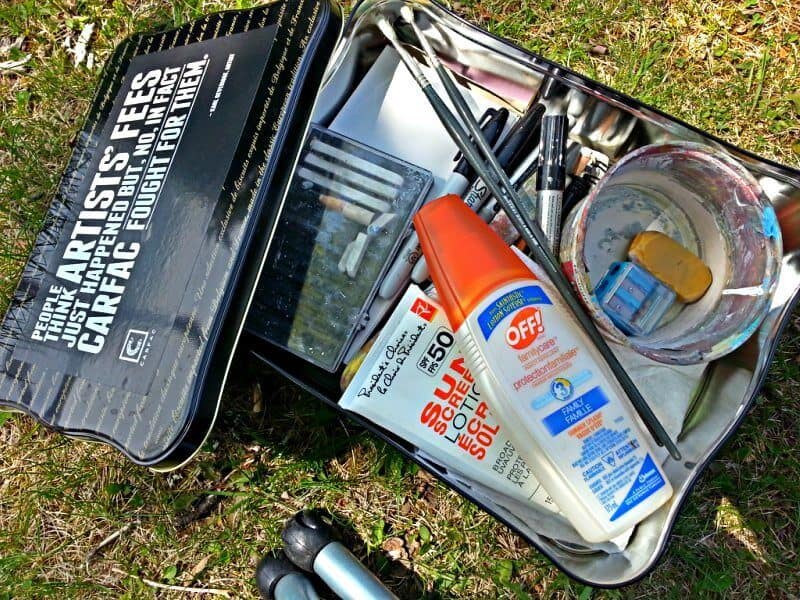 Art supplies for plein air panting in Algonquin Park
sketchbook or paper, tape, and a small board
watercolours or acrylic, unless you really know your way around oils
pencils, erasers, pens, brushes, painting tape, paper clips
(if it is windy, these come in real handy to hold your paper down)
tin pie plate for mixing colours
a container for water (always pour dirty water into the bonfire pit)
do not bring anything toxic into the park like fixatives
fold up chair if possible: having a good place to sit is imperative to having a great plein air experience
There are all kinds of plein air artists, and a rich mythology surrounding plein air painting or 'painting in the open air.' All sorts of painters in history worked this way including Rembrandt, Shiele, and Picasso to name a few — as well as Canada's own Group of Seven, Tom Thomson, and Emily Carr. Today, however, plein air painting is regarded as more of a hobbyist's pastime. However, if you want to play, experiment, make a mess, and just turn time outside into something creative, plein air painting can be very rewarding.
I find that making pictures from what I was see while the sun shines and the lake sparkles in front of me feels truly sublime. It's relaxing and creative, an extraordinary combination. It could be that sketching outdoors with the most rudimentary materials (you can't bring a 3D printer portaging) brings something very honest into focus. Your technology is limited, your food and water are limited, but your imagination and your thinking can get as vast as the universe. Managing with less can make you more creative. You can do some rubbing of the stones or collect leaves for a multi-media piece – plein air painting doesn't mean representational. Be as bold as you can.
Planning for a camping trip can be almost as enjoyable as the actual camping. You get to buy wine in a Tetra Pak, mini-cereal boxes, and things like lots of chocolate and dried cherries – things you would never eat regularly. Painting can be like that too, if you've never tried it or just want to indulge. I usually attempt all sorts of crazy things when I go camping because these won't be works I will hang in a gallery, but they become over time a record of the park and my experience in it. Just like Tom Thomson.
My trek to Algonquin Park has now become an annual event. When we go we always bring extra art supplies in case someone wants to see if they would enjoy the act of drawing or painting. If not, no problem, we'll just be down by the beach making art, let us know when cocktail hour begins.
Camping in Ontario in summer is one of the best ways to experience this beautiful province. Check this post for a list of some amazing places to go camping in Ontario.
---
About Algonquin Park
located in Central Ontario, Canada
772,300 ha (or a quarter the size of Belgium)
year established: 1893
more than 1,200 campsites
14 trails
1,500 lakes, 1,200 streams
Has offered a public "Wolf Howl" for more than 50 years
one highway (Highway 60) through the park: the rest is only accessible by foot or boat
hiking, camping, canoeing, horseback riding are all allowed in the park,
considered one of the best places to fish Lake Water Trout in the world
there remains very light industrial logging on the fringes of the park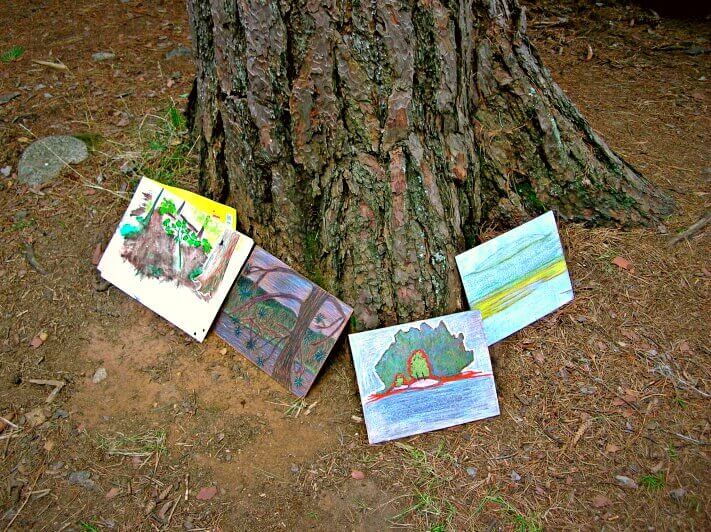 Follow in the footsteps of iconic Canadian artists
Ontario Tourism offers inspiration and information for walking in the footsteps of Tom Thomson and the iconic Group of Seven artists throughout the province's spectacular wilderness regions. And Ontario Parks offers a Learn to Camp program for beginners. Check these links for more information:
---
If you enjoyed this post, you can….
Sign up to The Travel Newsletter in the sidebar and follow Breathedreamgo on all social media platforms including Instagram, TripAdvisor, Facebook, Pinterest, and Twitter. Thank you!