Why I think you should BOTH practise safe travel AND keep your perspective
A series of much-publicized rapes in India has many people wondering if India is safe for travellers. A female British tourist just jumped out of a hotel window in Agra to escape an assertive employee knocking on her door. Was she justified; was the threat real? Or is the increasing fear volume in India making people overly anxious? It is my opinion that media bias and sensationalizing is making India sound unsafer than it actually is; but having said that, I also strongly encourage using common sense and practising "safe travel." Media sensationalizing is having another negative effect, too: it is distracting from the real story, which is the worldwide problem of violence against women and the worldwide rape crisis. Please read on to find out real rape statistics around the world and why you need to practice safe travel wherever you go.
The gang rape of a student, who later died, aboard a private bus in Delhi in December 2012 caused mass outrage in India and received worldwide media attention. The lid was blow off the systematic sexism in Indian culture, and rape began receiving the serious attention it deserves.
Earlier this month, a Swiss tourist was gang raped in front of her husband while they were camping in a remote region in Madhya Pradesh, and this terrible event also received worldwide media attention. In blog comments and on social media networks, many were expressing understandable anger and concern over these events.
I agree that India needs to address gender inequality on many fronts, and especially at the most basic, intrinsic level: The attitudes toward women and rape need complete transformation. Women should be treated with respect, and be allowed to live free from fear, harm or oppression. That's the ideal, and India should strive to meet it in every way.
So, on the one hand, I think all this publicity is great; I am hoping it will accelerate the rate of change and pressure politicians, lawmakers and the police, etc., to act. On the other hand, it is adding a lot of fuel to the very derogatory worldwide media image of India.
But my biggest concern is that the sensationalizing of these crimes against women in India is skewing perception; and missing the big picture. I think it is making India seem more dangerous for travellers than it actually is, compared to other countries (in my opinion); and it is taking the spotlight away from the worldwide problem of violence against women.
A woman is raped in South Africa every 17 seconds…
India is not, in fact, the "rape capital" of the world. There are many countries with worse rape statistics. In fact, India was not on any of the lists I found via Google. The USA, New Zealand, Sweden are all in the top 10, though; and South Africa seems to be almost in a class by itself. Here are some lists and you are welcome to Google "worldwide rape statistics" and see for yourself. The map below is the UN Police Reported Rape: A map: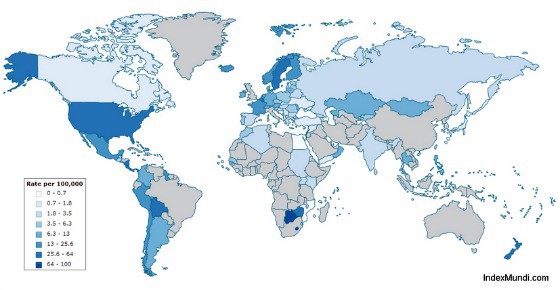 South African rape statistics
A Picture of Worldwide Rape Statistics
Rape Crisis: England and Wales
There is a worldwide rape crisis, and it is not confined to the east, or to developing nations, or to "over there." And that is what we should be focusing on.
Putting perception into perspective
While India certainly has its share of social problems and gender inequality, I think it's important to put media sensationalizing into perspective; and also take into regard biases in the media. While foreign travellers in India are often uncomfortable, and usually suffer from Delhi-belly and overpaying for souvenirs and autorickshaw rides, etc., I don't think they are more at risk for violence and/or rape than other countries. And USA Today agrees with me.
I did a quick search of articles about what countries are considered "the safest to travel in." Some of the countries on these lists have, in fact high rape rates; and some score quite low on the happiness index.
For example, Sweden is on many lists of safe places to travel — and Sweden has a higher rate of rape, and a lower rate on the happiness index, than India:
In other words … there is reality, statistics, perception and media bias. All of these things need to be weighed and assessed; don't believe everything you read.
I am not trying to defend India: I was horrified by the Delhi Gang Rape, and it played into my reasons for cutting my recent trip to India short. And my heart aches for the Swiss tourist who was recently raped while on what should have been an amazing adventure. India needs to address safety issues and attitudes toward women, among other things.
But in my experience, India is not the barbaric place the western media makes it out to be. I have travelled safely there for a total of 17 months over the past seven years. I was groped once in Old Delhi, and I have felt uncomfortable by some unwanted attention and especially staring. I had my telephone stolen from my purse by a group of women, who surrounded me at a temple in Mumbai. But I have never felt seriously threatened or really unsafe.
However, I am also cautious, I use common sense and I take a lot of preventative measures — and I encourage other women (and men) travellers to do the same.
Helping people travel safely
There has been some very active discussions on this subject on the Breathedreamgo Facebook page; and after some thought, I made this statement:
"I have mistakenly given the world the impression that I think India is a safe country for women to travel in — and I have to take responsibility for that. It's true that I have felt mostly safe in India over the 17 months I have travelled there; and have only minor incidents to report in all that time. But what I REALLY feel is that India is no different than anywhere else. It is certainly getting a lot of publicity, and I'm glad these things are coming out in the open. The truth is; the world is not safe for women anywhere. Rape stats in the USA, in South Africa and many other places are alarming and appalling. And as far as stats are concerned, it is much more unsafe for married women than women travellers. Look at the stats. A huge proportion of VAW is domestic. I am not trying to change anyone's mind: you definitely should NOT go somewhere that makes you feel uncomfortable. But it is a good idea to separate media sensationalizing and perception from statistics, in my opinion."
A few weeks I ago, I helped start an online movement called WeGoSolo to support women who travel alone. Check out the blog I wrote about that movement: it lists more than 60 blogs by other women travellers and writers. Many of them argue very intelligently and persuasively that travel is a much less dangerous occupation for women than marriage: A very large percentage of violence against women is perpetrated by their domestic partners. Many of the WeGoSolo blogs also offer safety tips for women (and men) travellers; and so does the hashtag #WeGoSolo on Twitter.
The U.K. just issued a travel alert for female travellers to India, and I agree with the common sense guidelines. "If you are a woman travelling in India, you should respect local dress codes and customs and avoid isolated areas, including beaches, when alone at any time of day," the advisory issued by the Foreign and Commonwealth Office (FCO) states.
Also, please read My top tips for women travelling in India.
In other words: practice safe travel. When it comes to India, I always encourage first-timers to join a group or go with a knowledgeable friend. There is a learning curve to being in India, no doubt about it. I am always the first to admit, a bit of hand holding goes a long way.
Attitude is (almost) everything
Finally, I think our attitude and level of confidence plays a big part in our experience of travel — and this is a big topic for another day (read Travel is an Experience in Perception). But if you are seriously afraid to visit a country, it's probably not a good idea to go. Pushing your comfort zone is okay, if you know you are up for it; but if you are really fearful, you may find yourself having scary experiences. That's how life seems to work, from my experience. Not always, of course, but a significant percentage of the time.
I have always maintained that India is not for everyone. Travel in India really is for a certain type of traveller — those who are willing to forego comfort for experience; and who are willing to say yes to life, all of life, including what is mirrored back about oneself. It takes a certain kind of travel adventurer to open his or her heart to India — and find it amply rewarded. In the end, perhaps it as Rumer Godden said: that once you have felt the Indian dust, you will never be free of it.
What about you? Have your ideas of travel in India changed? Would you go? Would you do anything differently?
---
If you enjoyed this post, please sign up to The Travel Newsletter in the sidebar and follow Breathedreamgo on all social media platforms including Instagram, TripAdvisor, Facebook, Pinterest, and Twitter. Thank you!