Top 8 things I learned on my first small group tour: Exodus Travels Land of the Tiger tour in India
Are you a solo traveller considering a small group tour? This post is for you. If you're a FIT (free independent traveller) like me, and used to travelling alone, or with friends and family, and making your own travel arrangements, you may be wondering if a small group tour is right for you.
I chose to go on the Exodus Travels Land of the Tiger small group tour because I loved the itinerary – but I had never been on a small group tour before. It was my first time, and I learned a lot about how to adjust to the different style and make it work for me. In this post, I will share my experience, what I learned, and some tips I received from other travellers.
---
---
Know why you are choosing the tour.
There are some very real benefits to small group tours, and it's wise to be clear about what they are. On the Land of the Tiger tour, the main benefit was the incredible number of game drives that were organized, booked, and paid for in advance, to some of India's top tiger reserves.
Everyone in the group unanimously said they chose this tour because of the number of game drives and the incredible opportunity to see tigers in the wild, along with all the other flora and fauna of the Indian jungles. It was worth it to them, and worth it to me, to be part of this tour for this reason alone!
Understand the benefits of the itinerary.
The tiger reserves we visited – Pench, Kanha, and Bandhavgarh – are in the remote central Indian state of Madhya Pradesh. They are not easy to get to. The parks are also very strictly managed and controlled and only a limited number of people are allowed in each day – and bookings have to be made months in advance. These alone were daunting reasons to try and re-create the Land of the Tiger itinerary myself.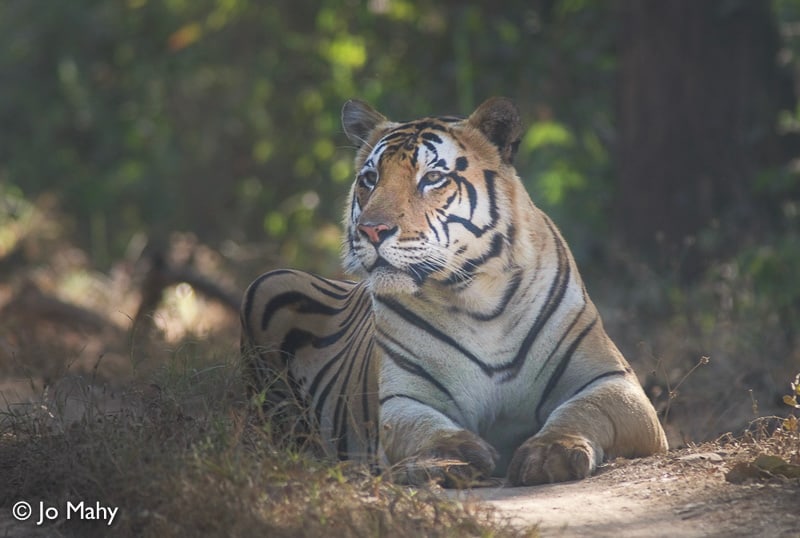 Understand the benefits of going on a tour that is arranged by experienced professionals
For the Land of the Tiger tour, group members, flying in from several nations, were met by Exodus representatives when they landed in Delhi. The flew to Nagpur, where they were met by the group leader, and then driven to Pench National Park. For first timers to India especially, this is an ideal solution to facing the many infamous challenges of travel in India yourself. It takes time to learn the ropes, and how to travel in India. I have long recommended getting your feet wet with a small group tour.
Research the tour company.
I trust the Exodus Travels brand. Exodus has been running adventure tours for 43 years, all over the globe. They know what they're doing, and they concentrate on the most important things. On the Land of the Tiger tour, they focused on the game drives, ensuring the group was experiencing Indian culture, making sure everything ran smoothly, and supporting the tenets of responsible tourism.
Also, Exodus is known for its commitment to responsible tourism and tiger conservation. In 2016, Exodus won the TOFTigers International Tour Operator of the Year Award for bringing 10,000 people to see Bengal tigers over the last 40+ years, for raising 1.5 crores for tiger projects including community work in Ranthambhore, projects in Tadoba and a school in Bandhavgarh – which we visited.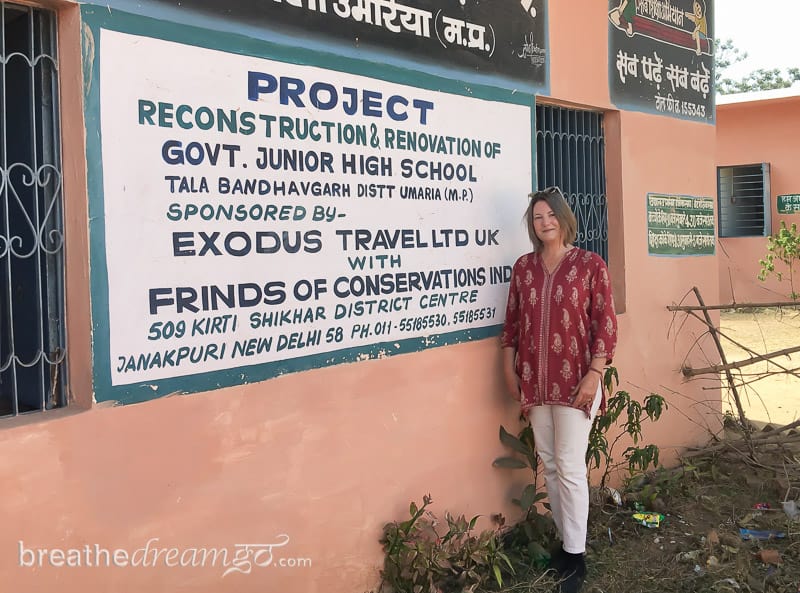 Enjoy relaxing and letting someone else take charge
I loved that I simply had to jump in the jeep at 6 am each day to explore the jungles and track tigers. I also liked that the group leader, Sarvjit Singh Sohi, took care of everything for us – from arranging blankets in the jeep to making sure my food was all gluten-free. It really helped having a "local" person, who speaks the language and knows the destination, negotiate all the details of daily life, and even intervene in interpersonal issues when necessary. (In our case, putting all the photographers together.)
Be honest with yourself about your needs and limitations
I found that negotiating the group dynamic, and finding my own quiet time, was sometimes a challenge as I'm used to travelling solo. I was sharing a room with a lovely woman named Jo Mahy from Guernsey Island. We ended up becoming friends and in fact she generously offered to let me use some of her photos on this blog. But even sharing a room with someone you like, and get along with, can still leave you feeling like you need a bit of "me time."
So I reached out to Facebook to ask my solo travelling friends for their advice. This was some of the best advice I got:
Sometimes I pay the single supplement fee if it's affordable. Other times I may skip out on a planned group activity here or there in order to get some work done or just enjoy some alone time. And if neither of those are options, I make sure to book a few days of downtime after the tour so I can decompress." Amanda Williams, A Dangerous Business travel blog

I usually look for some me time and switch off. Also, I don't bring a lot of expectations to the group. If I can find that one person I can gel with, I'm good." Lakshmi Sharath, travel blogger

Sign in Bandhavgarh tiger reserve that reassures visitors as they leave the park
Find a positive way
Sometimes on small group trips, interpersonal challenges do occur. It is human nature to find some people easier to get along with, and some more difficult. A group tour is a great way to sharpen your diplomatic skills, increase patience, and practice goodwill. Here some of my wisest Facebook friends shared advice:
We can see the gift in every situation. We can breathe. We can appreciate the opportunity to soften our edges. We can be an example of goodness and kindness to others on our path. People, yes, can be irritating, but we require human connection to be whole; sometimes that happens in unexpected places." Kim Hammer, Sutra Global Imports

Be present. There is always something to learn from each person you meet, and they are all there right now for a reason, and part of that reason is to cross paths with you. Uncomfortableness is often part of the process. Not always fun, but taking us out of our comfort zone is part of the process." Janice Varuna Soderholm, Yoga Travels

Children at the school supported by Exodus Travels in Tala Bandhavgarh
Focus on the upside
For many people, small group tours are the ideal sweet spot of travel. I asked the "pros" – professional travel bloggers – for their take on the benefits of small group travel. If you are still on the fence about whether a small group tour is for you, these inspiring quotes may convince you to give it a try!
"Small group tours give the shy participant the opportunity to ask questions freely without being nervous or feeling like they are being put in the spotlight." Mary Chong, Calculated Traveller
"Small group tours can create a real camaraderie amongst the group. With smaller numbers, everyone can get to know each other much better, resulting in a much richer experience." Markus Kampl, The Roaming Fork
"Sit with someone different at every meal. It's a nice way to get to know everyone and not be the loner of the group (unless you want to be!)." Caroline Eubanks, Caroline in the City
"Small group tours are like training wheels for solo travel. They've got enough structure to take away the travel anxiety, but sufficient freedom to feel like you're getting your bearings in a new place." Jodi Ettenberg, Legal Nomads
"I've found small group tours to be a wonderful way to get acquainted with a country for the first time: an introduction to far flung or off the beaten track places that often leave you wanting to return for more." Ellie Cleary, Soul Travel Blog
"One of the best parts about small group tours is that they are nimble. If your group prefers to stop in a certain place, try a specific dish, or would rather depart at a certain time to avoid crowds, just ask! Having a flexible yet knowledgeable guide is the key to unlocking an incredible experience." Crystal Le, The Petite Adventurer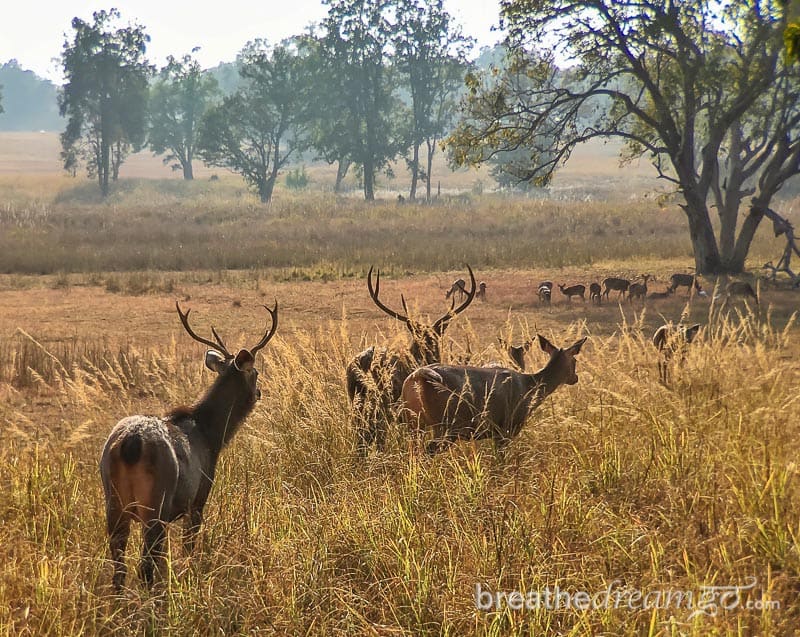 The best of India
In the end, it was worth for me to experience this rich itinerary, to see an astounding eight tigers (more on the tigers in the next blog post!), and also to learn ways to find the space I needed within a group. I ended up laughing uproariously with group member Heather, chatting about life with Stu and Steve, learning fitness techniques from Roger, watching the adept way Jenny handled every situation and becoming friends with Jo. I also admired the way our leader Sarvjit Singh Sohi kept everyone together, and experiencing the best of India.
NOTE: I was hosted by Exodus Travels on the Land of the Tiger tour. As always, my opinions are my own, my stories are heart-felt and I only make recommendations based on personal experience and with the needs of my readers in mind.
---
If you enjoyed this post, please sign up to The Travel Newsletter in the sidebar and follow Breathedreamgo on all social media platforms including Instagram, TripAdvisor, Facebook, Pinterest, and Twitter. Thank you!