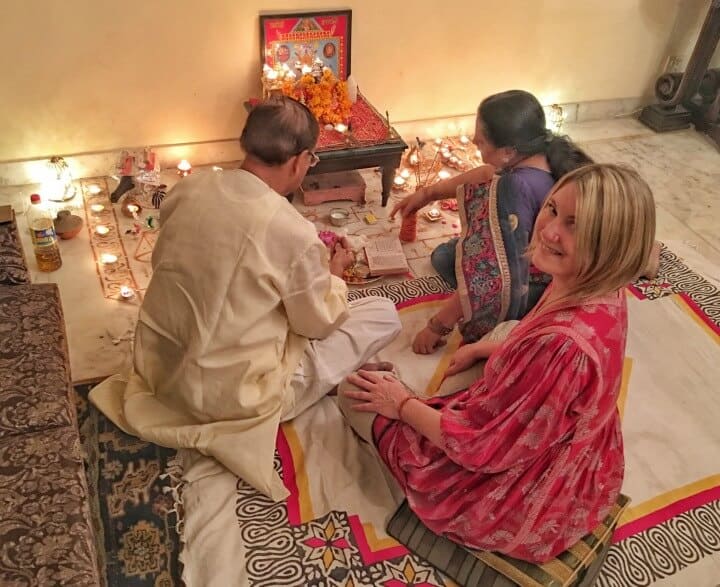 To experience India, I recommend home stays
I WAS LUCKY. When I first arrived in India back in December 2005, a friend-of-a-friend picked me up at the airport in Delhi and drove me to his family home. There, he lived with his parents and his brother's family – a typical Indian, three-generation, extended family home. So, from literally my first day in India, I lived with an Indian family.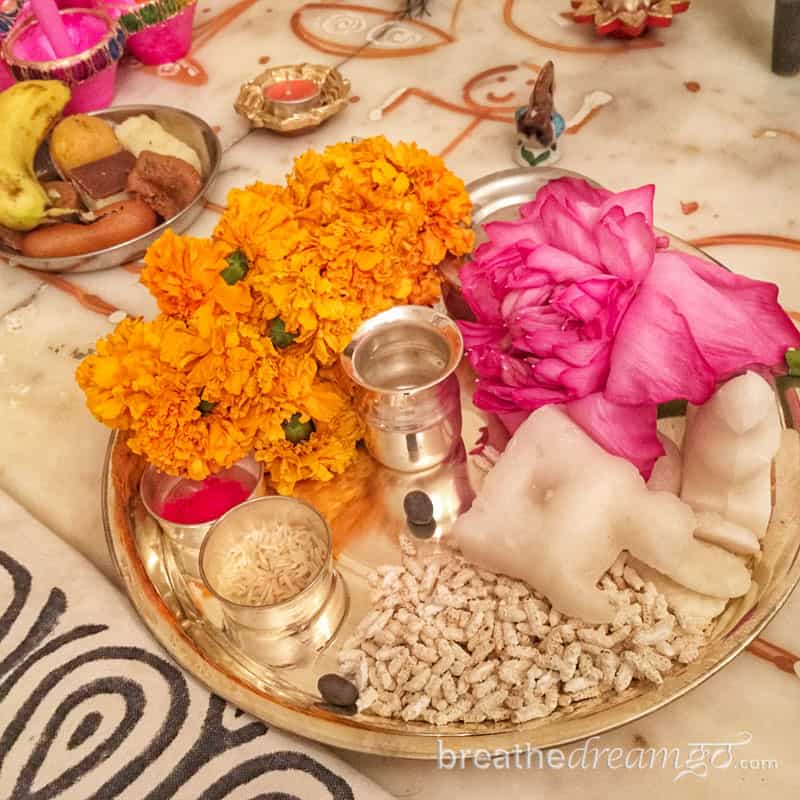 Over time, the man who picked me up at the airport became my boyfriend, and his family became my Indian family. I always lived with them in South Delhi until we broke up a couple of years ago. I credit this experience with giving me much more insight into Indian culture than the average tourist or ex-pat.
When I lived with my Indian family, I was expected to follow the rhythms and customs of the house and, in essence, become Indian. I ate Indian food three times a day, bathed with a bucket, took part in pujas, had to learn to live with servants, and to have way, way less privacy than I was used to … among many other "adjustments."
It was an incredible learning experience and I feel very blessed for having this family sanctuary in India for so many years. I am so grateful to this family for giving me a safe harbour. They're probably the reason I was able to keep coming to India, and building my career as a travel writer and blogger. I am very grateful, and thankful. Read this post: Finding the real India on my 8th trip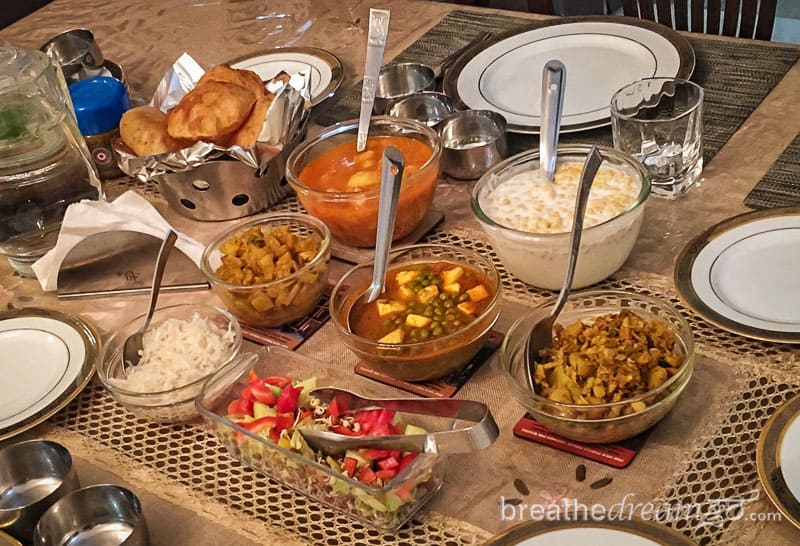 Experience family life in India at a home stay
So, now, when I travel in India and when I'm in Delhi, I try and stay at home stays as much as possible. It's partly because I now feel so comfortable in an Indian home. And there are several other reasons, too. Staying in an Indian home gives you direct access to the single most important organizing institution in India: the family. India really is a family oriented culture. We pay lip service to family values in the west, but in India, the family is everything. To understand India, you have to understand the importance the family plays in the culture.
Other good reasons to stay in an Indian family home are the feelings of comfort and safety, and the opportunity for home food. Hospitality is a bedrock value in India, where the phrase "Atithi Devo Bhava" – Guest is God – is often amply demonstrated. In my opinion, home food is the best food in India. So this combination of warm hospitality and delicious food is very appealing.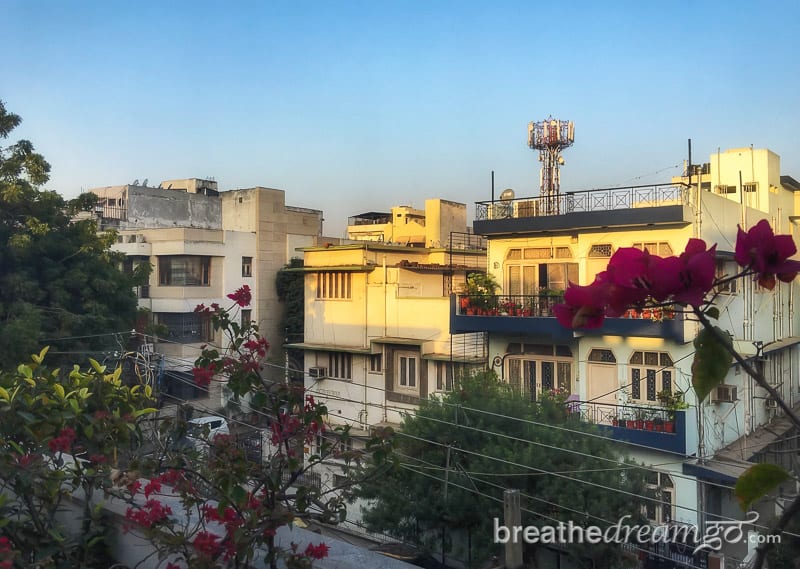 Prakash Kutir: My home in Delhi
I get all of this, and more, at Prakash Kutir, the bed-and-breakfast home stay that I now call my home in Delhi. I was originally invited to experience Prakash Kutir when my colleague Barbara Wiebel of the excellent travel blog, Hole in the Donut. Together, we celebrated Diwali 2016 with the Gupta family: Ajay, Savita, Sagar, and their grandmother.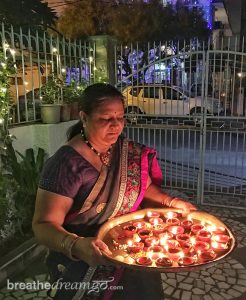 I felt at home with this warm and wonderful family immediately. Shortly after meeting them, I was sitting at the home mandir, performing the Lakshmi (Diwali) puja and feeling right at home. It's been the same ever since.
Prakash Kutir is a perfect example of a top-notch home stay in India and by profiling it, I can share with you how special this experience is. My aim is to convince you to have a homestay experience while travelling in India.
Here are the top 5 things I love about Prakash Kutir.
The Gupta family
The number one reason is easy, it's the Gupta family. I would love to say they are special – and they are – but the truth is many Indian families are similarly warm. I have long talks with Ajay about life, politics, and business. I go out on excursions in Delhi with Sagar, who is learning the business, and we talk a lot about tourism and digital marketing … and much more. He is like a little brother to me! Savita is the rock-solid centre of the family, and an absolutely fabulous cook. She cooks with care, simplicity and a touch of magic. Every dish seems perfect, and I think it's because they are all made with real love.
The Guptas are real people, not slick professionals. But they run they run their home-based business with an attitude of dedication and warmth that is really hard to beat. Personally, I would always choose caring over luxurious. I know I can count on the Guptas for anything I might need. Because they're locals, they know the answer to every dilemma: where to find a good tailor, how to get to Jaipur by bus, best place to exchange money, etc.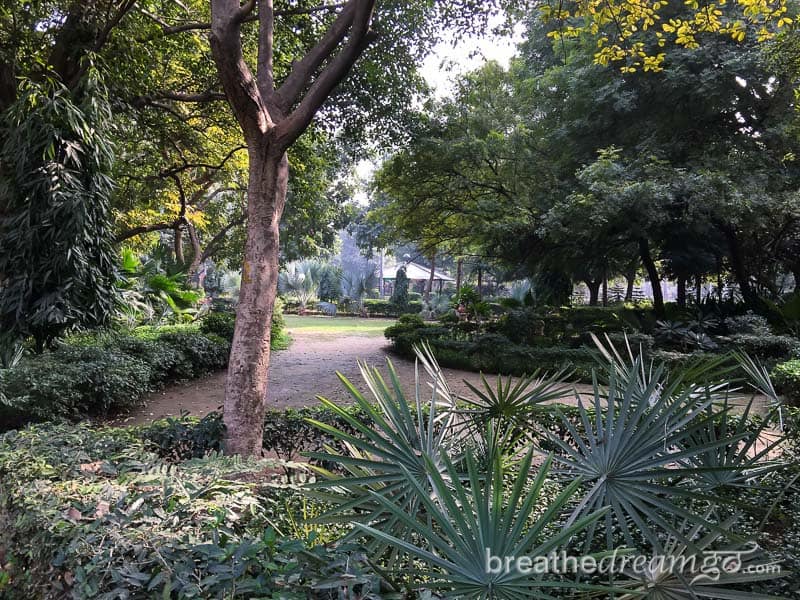 Location, location, location
Home stays are often in residential locations, away from the busy, touristy, expensive, commercial centres of Indian cities. This is a huge plus, in my opinion. In Delhi, especially, the tourist centres of town – Connaught Place, Pahar Ganj and Karol Bagh – are over-run with touts who prey on tourists, making them uncomfortable and expensive. South Delhi, by comparison, is leafy and residential and largely free from the negative aspects of tourism. It's mostly an upscale region, dotted with markets, parks and even a few slick shopping malls.
Prakash Kutir is, in my opinion, in the perfect location in Delhi. I lived for years in nearby Panscheel Park, an exclusive enclave with no market or other services. By contrast, Prakash Kutir is in Hauz Khas, near the market. It is within a short walk to stores, restaurants, and the Hauz Khas metro. It's also walking or autorickshaw distance from Hauz Khas Village, the trendiest area of Delhi. Perfectly situated on the yellow metro line, you get both the benefits of living in posh South Delhi with the convenience of getting to the centre Delhi, Rajiv Chowk / Connaught Place, in 20 minutes.
The rooms and amenities
Home stays may be not be as luxurious as five-star hotels, but that doesn't mean they can't be as comfortable. In fact, in some ways they beat five-stars by offering amenities like kitchens and truly personalized service.
Prakash Kutir is actually the Gupta family home. The family live on the main floor, and the rooms are on the first and second floors. The home was completely renovated xx years ago, with rooms purpose built and carefully decorated to reflect a classical Indian style. All the rooms have their own washrooms, and some have changing rooms as well.
The first floor is actually an apartment, with three bedrooms, a kitchen and a living room. It can be rented out as an apartment, or piecemeal, one room at a time. The second floor has four rooms and a shared full kitchen. Two of the rooms share a charming, street-facing terrace.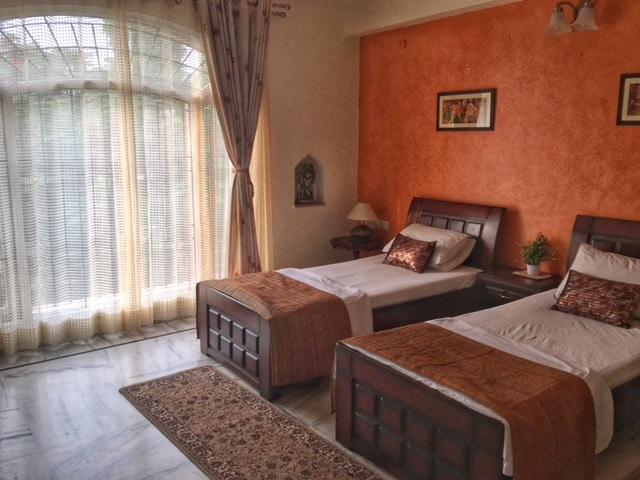 My room: A writer's room
My room is number 3, and my favourite. It has a soaring window, a walk-out to the terrace and a mini-kitchen. I am completely at home in this room, which really does feel like my sanctuary in Delhi. I keep fruit and snacks in my fridge, make my own tea and can heat up food in the microwave. The excellent WiFi keeps me in business and the mini-kitchen means I can stat at home and work when I need to meet deadlines.
I have loads of room to do my yoga practise, either in the room, or on the terrace. I can stare out the window, climb up to the roof, watch the sun set and dream. My room at Prakash Kutir is a writer's room, and gives me the kind of airy, spacious yet private atmosphere that creates an ideal condition for me to practise my art.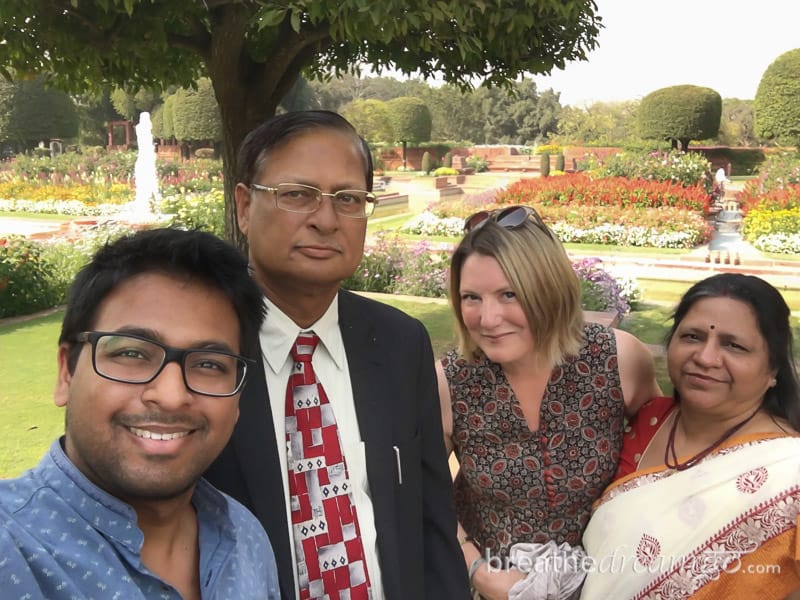 Experiencing the real India
Many people – and by people, I mean foreigners – often talk and write about experiencing the "real India." I find this a tricky concept as I think of it all as the real India. Some say staying in the grotty backpacker ghetto, Pahar Ganj, is the real India. Others say you can only find the real India in a village. While some prefer the kind of five-star luxury that India excels at providing.
For my money, the real India is staying in a residential neighbourhood with a family. As I mentioned above, the family is the mainstay of Indian culture, and by experiencing an Indian family, you are experiencing the real India.
Spending Diwali at Prakash Kutir with the Gupta family is a perfect example. I had always celebrated with my Indian family in Panscheel Park, and was missing this family experience. The Gupta's daughter had recently married and they were missing her (as she was celebrating Diwali with her new family, as is the custom in India). So, together we helped each other make a "whole" family and it was a wonderful experience.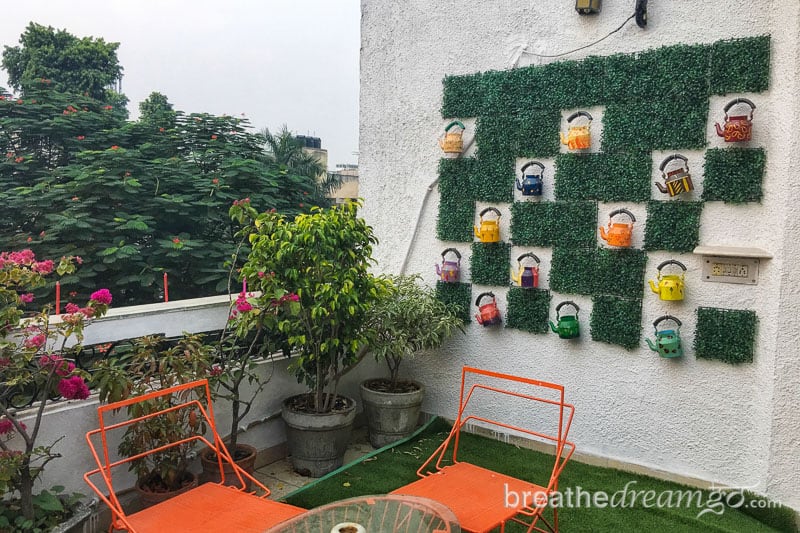 How to book a home stay in India
Home stays are becoming very popular in India, and you can find good ones all across the country. They are a natural fit in a culture that values hospitality as much as India. They also tend to be much more affordable than hotels.
To book Prakash Kutir contact them through their website and tell them I sent you!
Airbnb: I would start with Airbnb. The site offers full descriptions, reviews and a verification process to give you extra added security. I have been very satisfied with almost every Airbnb I have booked in India. My top tip is to read the reviews very carefully.
Sites like TripAdvisor also offer home stay reviews.
Check out my post: Hotels in Delhi: My top choices
There's nothing like a personal recommendation, so ask around and read blogs! Here are blog posts from some of India's best bloggers about home stays and home stay resources they recommend:
NOTE: My stay is partially hosted by Prakash Kutir. As always, my opinions are my own, my stories are heart-felt and I only make recommendations based on personal experience and with the needs of my readers in mind.
---
If you enjoyed this post, please sign up to The Travel Newsletter in the sidebar and follow Breathedreamgo on all social media platforms including Instagram, TripAdvisor, Facebook, Pinterest, and Twitter. Thank you!