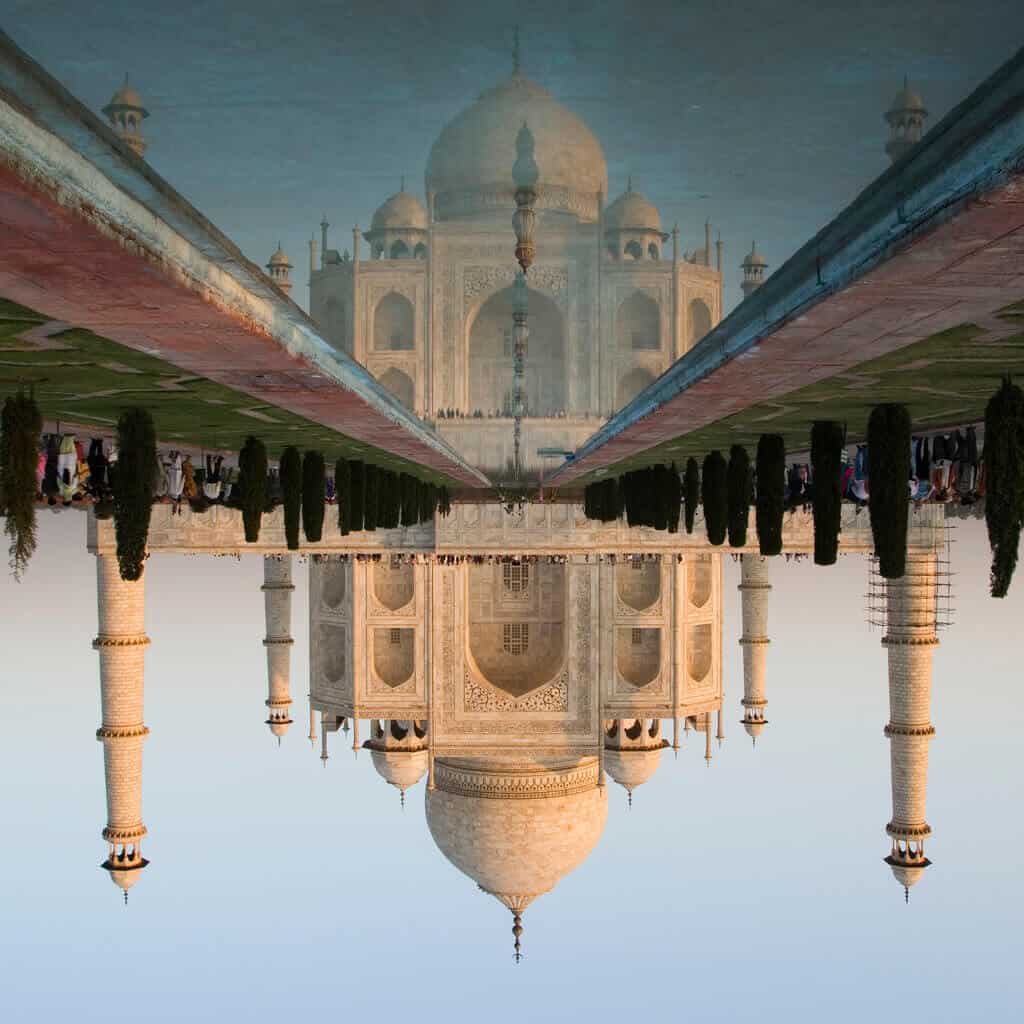 A guide to the Taj Mahal: photos, history, information and travel tips
UPDATED SEPTEMBER 2019: THE TAJ MAHAL in Agra, India is everything and more than you imagine. It is one of the few times in life when no matter how much you have heard or read; no matter how many photos you've seen; no matter how much history and information you've been exposed to — nothing compares to actually seeing the Taj Mahal in real life.
The Taj Mahal is the world's most beautiful building. "A teardrop on the face of eternity," as Rabindranath Tagore said. Nothing prepares you for the size (enormous), the colour (translucent white), the symmetry (perfect). I have seen it four five six seven times, but every time I walk through the gate, I am just as overwhelmed as the first time.
The Taj Mahal is the highlight of every Golden Triangle tour of India.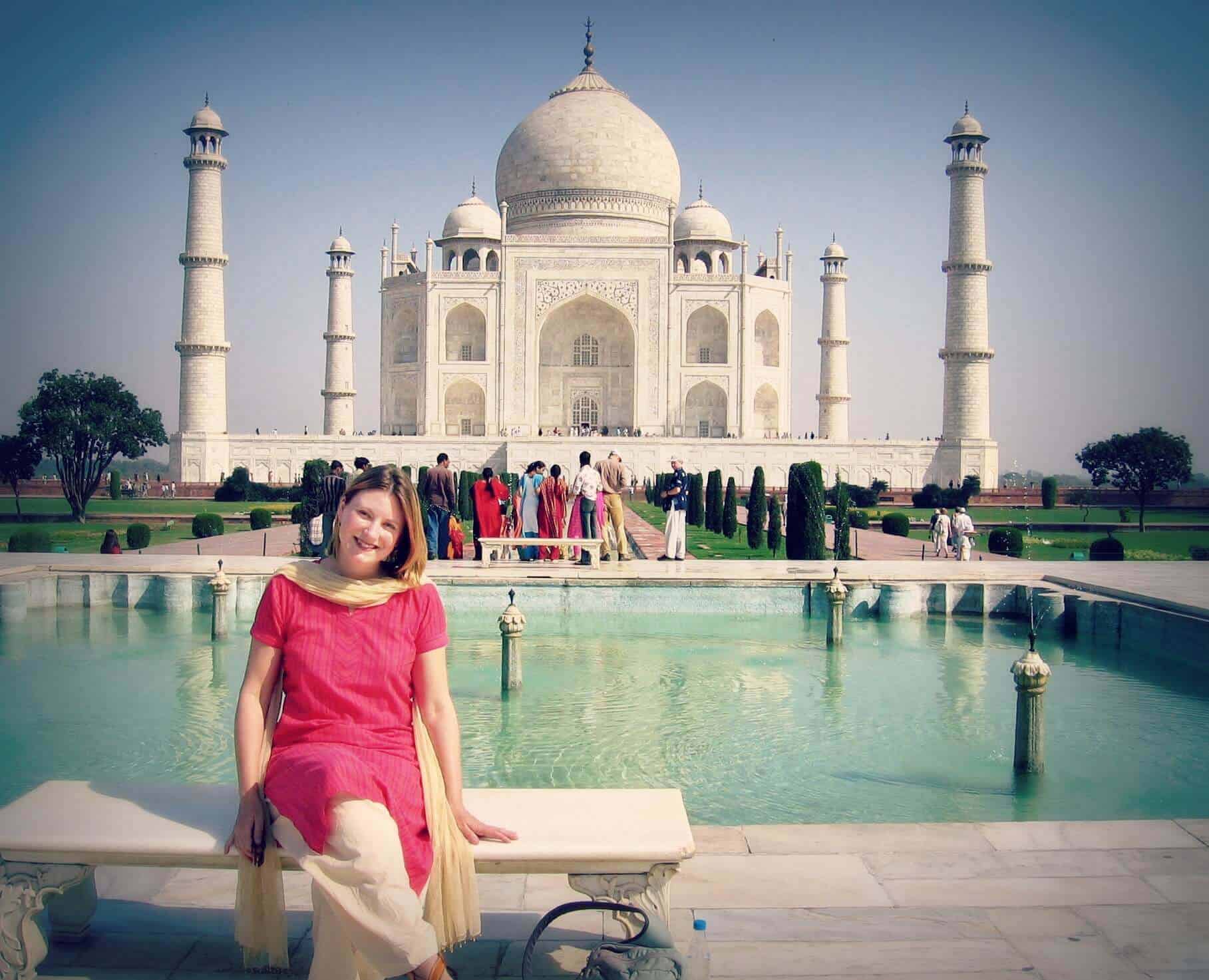 Falling in love with the Taj Mahal
Seeing the Taj Mahal in real life (after all those images and photos) is a bit like falling in love. You feel bowled over, and unsure of yourself. You're not sure which way to look — but you can't get enough. You try to measure the size of the experience and your feelings, and you can't. And you try and separate the myth from the reality, and it's impossible.
Even though the Taj Mahal is actually a tomb, a mausoleum, it still has the power to uplift visitors and send them into a state of euphoria. I have seen it many times, as they walk through the massive red gate and behold the building for the first time. It's one of those very moving human experiences, like seeing people in the arrivals hall of an international airport, that restores your belief in humanity.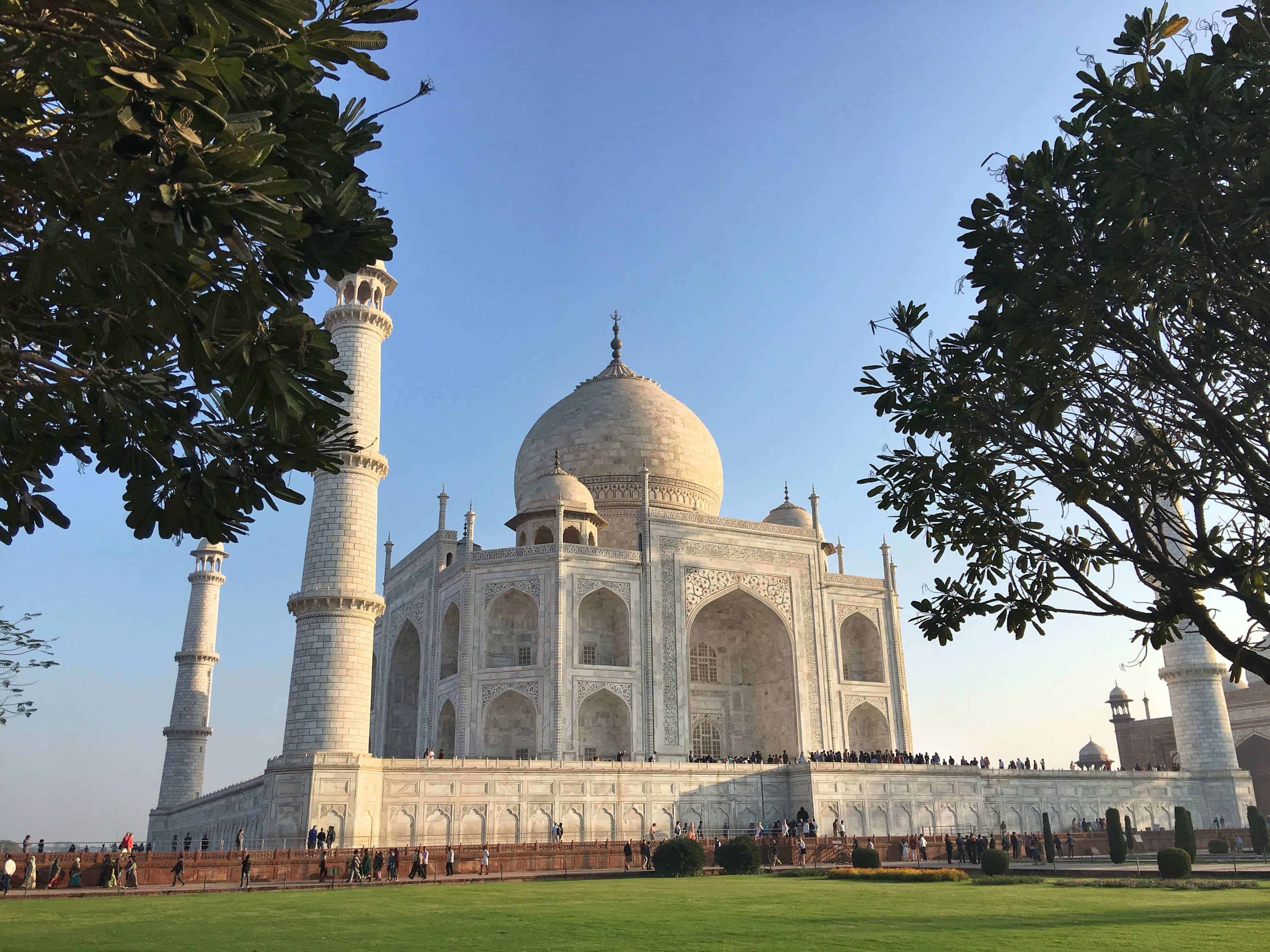 The history of the Taj Mahal
The Taj Mahal is a mausoleum, the most magnificent in the world, and a symbol of love. The story behind the building of the Taj Mahal and the history is part of the structure, part of the experience. The Mughal emperor of India, Shah Jahan, began building it after the death of his beloved favourite wife Mumtāz Mahal as a monument and testament to his love for her and as a symbol of harmony, purity, and spirituality.
---
Do you feel called to India … but also daunted, and don't know where to start? That's why we created the India for Beginners custom tours. Designed especially for first time visitors to India, we will help you see India, your way – your style, your dates, and your budget.
---
Shah Jahan was the fifth Mughal ruler after Babur, Humayun, Akbar, and Jahangir. He ruled from 1628 to 1658 and built many splendid monuments in Agra (and in Delhi after moving his capital there). He had six wives, but his third wife, Mumtāz Mahal, meaning "beloved ornament of the palace," was his favourite. She died on 17 June 1631 giving birth to their 14th child.
A grief stricken Shah Jahan began construction on the Taj complex within the same year of Mumtāz Mahal's death. The principal mausoleum was completed in 1648 and the outlying buildings and gardens were finished in 1653.
One of the most poignant notes in the story of the Taj Mahal is that Shah Jehan's son, Emperor Aurangzeb, usurped the throne and had his father imprisoned in the Agra Fort. For the last eight years of his life, Shah Jehan stared out across the Yamuna River at the monument be built to his deceased wife.
Interesting facts about the Taj Mahal
The Taj Mahal became a UNESCO World Heritage Site in 1983 and was cited as "one of the universally admired masterpieces of the world's heritage."
The statistics about the length of time it took to build, the number of workers, the amount of marble (quarried from Rajasthan) are as remarkable.
The mausoleum is entirely clad in luminous white marble. A Mughal poet compared it to early dawn or to a cloud.
The marble changes colour depending on weather conditions and time of day, and seems to have many moods.
The minarets at each corner tilt slightly outwards. In case of an earthquake, they will fall away from the tomb.
The Taj Mahal took 22 years to build and cost the equivalent of more than US $1 billion.
Approximately 20,000 labourers from all over Asia worked on the building.
More than 1,000 elephants were used for transporting marble.
The surface was adorned with of 28 types of precious and semiprecious jewels.
It's probably a myth that the artisans had their arms cut off after building the Taj Mahal.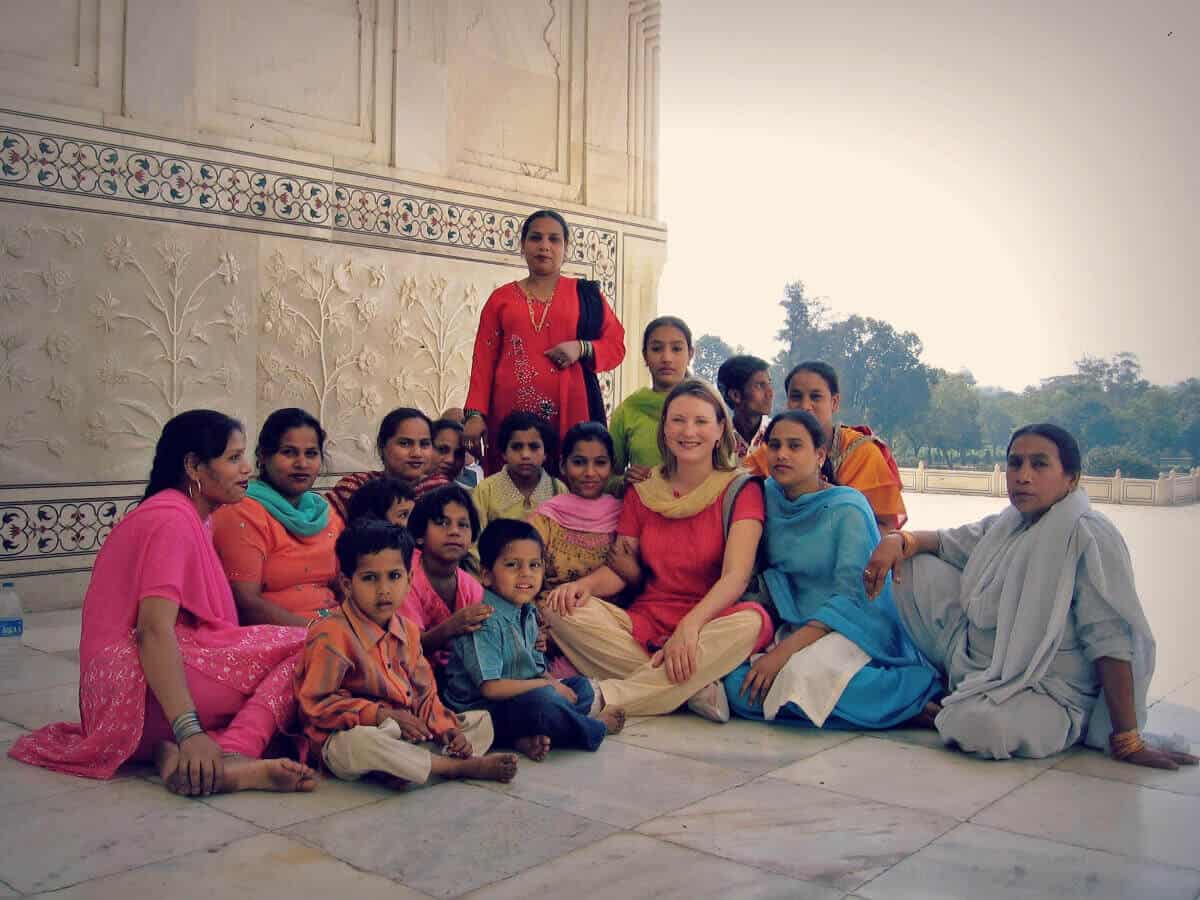 The reality of an overburdened monument
The Taj Mahal is one of the world's great tourism attractions, one of the wonders of the world, and it is almost always crowded. I understand why everyone who comes to India feel they must see it, and I agree it is truly spectacular. However, I also feel the need to point out that the emphasis on tourist attractions like the Taj Mahal contribute to over-tourism, and prevent other attractions and regions of the country from benefitting from tourism — which is a shame since there are so many amazing offbeat places to visit in India.
The Taj Mahal is sheer magnificence in an overburdened land: it is located in Utter Pradesh, one of the hottest, poorest, and most overpopulated states in India. Around it is extensive grounds, surrounded by a buffer area that is meant to protect the Taj Mahal from smog: no industry and no cars are allowed within several kilometres.
But then, when you get away from the Taj Mahal zone, and enter the city of Agra, you are confronted with the reality of life in Uttar Pradesh. Agra is famously chaotic in a land of chaotic cities, and the infrastructure is a disaster. I always recommend that people visit Agra — don't let the stories of challenge deter you — but stay somewhere really fabulous, like the ITC Mughal. If you're going to splash out just once in India, this is the time and this is the place.
Alternately, you could actually skip the Taj Mahal — believe it or not — or at the very least, also visit some of the lesser known monuments of India, and less touristy places. Check out some ideas in these post: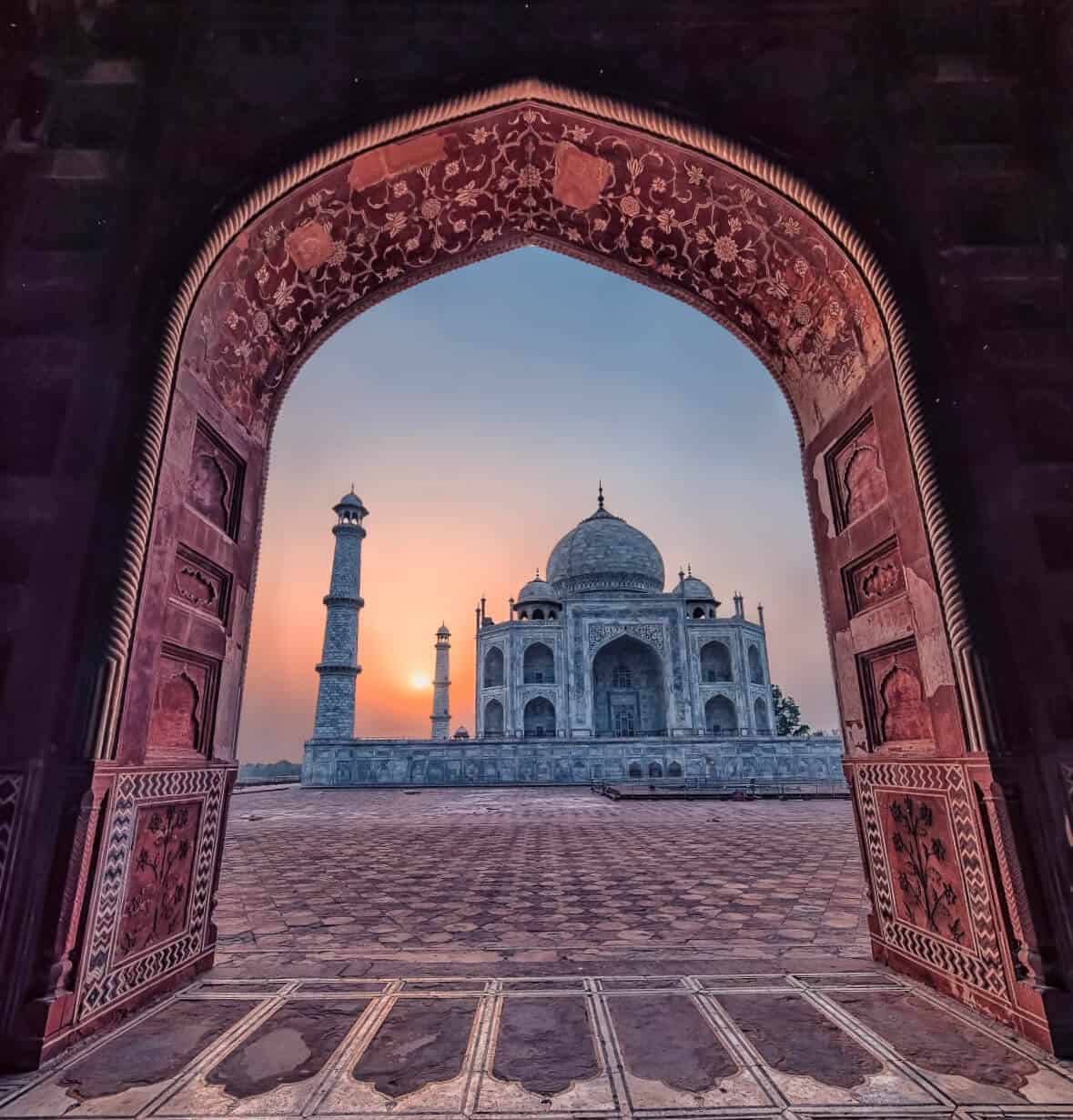 Updated tips for visiting and seeing the Taj Mahal
Updated September 2019: To see the Taj Mahal in all its glory, you have to get up early, and preferably between Monday to Thursday. The Taj Mahal is closed on Friday, and crowded with domestic tourists on the weekend. Ideally, you should be in line when it opens.
You can only take a few items in with you, everything else will be confiscated. Just bring your camera (but not a tripod), water bottle, some tissue, and your wallet with passport. Make sure you bring a hat and sunglasses, the sun is glaring and there's very little shade.
NOTE: Drone photography is STRICTLY prohibited. Seriously, don't even think about it.
You can buy tickets ahead of time, but even better, book a tour and let the guide do everything for you. With a guide, you can avoid a lot of hassles, get in quicker, and hear the stories that bring the Taj Mahal to life. Guides also know all the best places to take photos, and are usually very adept with a camera, too.
Ticket prices and timings
The Taj Mahal opens 30 minutes before sunrise and closes 30 minutes before sunset during normal operating days. It is closed on Friday.
Tickets are available at both Western Gate and Eastern Gate one hour before sunrise and up to 45 minutes before sunset.
NOTE: Your ticket is valid for three hours.
You can also buy tickets online here.
Foreign visitors: 1,100 rupees + 200 rupees for visiting the main mausoleum (optional)
Visitors from SAARC and BIMSTEC countries: 540 rupees + 200 rupees for visiting the main mausoleum (optional)
Domestic / Indian visitors: 50 rupees + 200 rupees for visiting the main mausoleum (optional)
No entry fee for children below the age of 15
Night viewing of Taj Mahal is available on five days in a month i.e. on full moon night and two nights before and two after the full moon. Tickets are available 24 hours (1 day) before Night Viewing between 10 A.M. to 6 P.M. at Archaeological Survey of India.
A view from the other side
Getting up early, before dawn, and seeing the sunrise over the Taj Mahal from the other side of the river is really worth it of you spend two days in Agra. You can also see the Taj Mahal from the Agra Fort, which is a spectacular place to visit.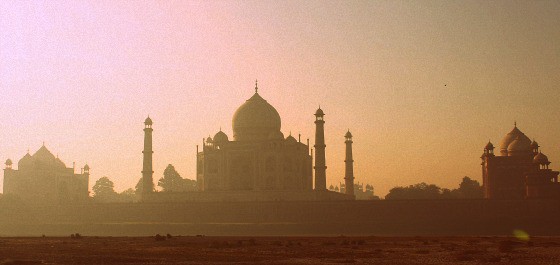 Also recommended in Agra
Agra is of course famous for the Taj Mahal, but as it was the seat of the Mughal Empire, there are many other incredible wonders to behold there. There are also some wonderful things to do and see that would not be classified as "wonders" but that are still pretty wonderful. Please check out my blog Discovering the soul of Agra… to read about Wildlife SOS, Sheroes Cafe, Chambal Safari Lodge and more.
Fatehpur Sikri
I went to Fatehpur Sikri was with a wonderful guide, Ajay Narayan Bari. He's soft-spoken and erudite, and knew Agra inside and out. It was a great introduction to another spectacular wonder of Agra. Fatehpur Sikri is an abandoned city that was built by Emperor Akbar, and it's well worth visiting, though it's about 40 kilometres from Agra. Be aware that Fatehpur Sikri has the most annoying and persistent touts I have ever encountered. This is one place you need a guide!
Akbar's Tomb, Agra Fort, the "Baby Taj"
All of these monuments are on the Top 5 list for Agra, and for good reason. There are all fascinating and well-maintained buildings of great historical significance. Plus, they are really beautiful.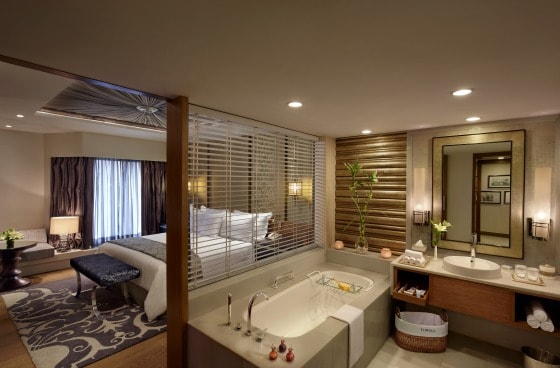 Where should I stay in Agra?
Agra is a bustling and chaotic city with hotels in every price range, from cheap hotels to elegant home stays to luxury five-star hotels. The hotel with the best view of the Taj Mahal is no doubt the Oberoi Amarvilas. My favourite hotel is the ITC Mughal. It's on a sprawling 30-acre property, features the largest spa in Asia, has two gorgeous swimming pools, incredible food, and is the right level of grand to match the world's most beautiful building. I stayed here once for five days, and it was heavenly.
---
PIN it on Pinterest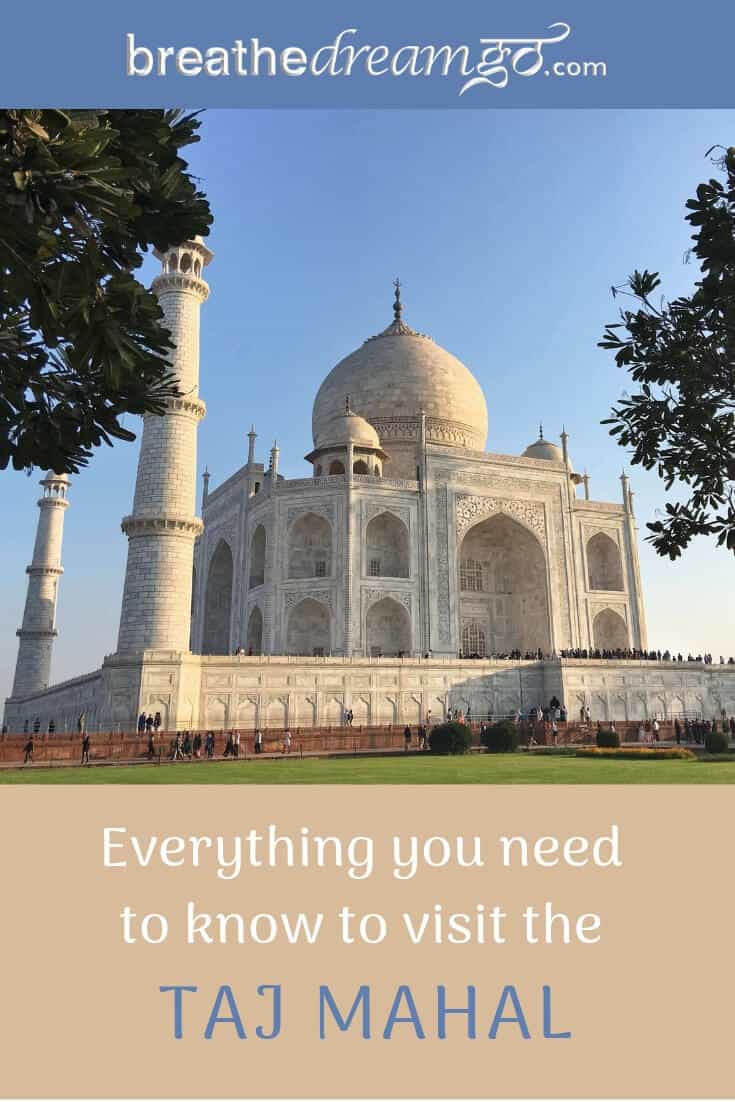 ---
If you enjoyed this post, you can….
Sign up to The Travel Newsletter in the sidebar and follow Breathedreamgo on all social media platforms including Instagram, TripAdvisor, Facebook, Pinterest, and Twitter. Thank you!