Best places to visit in Kerala, India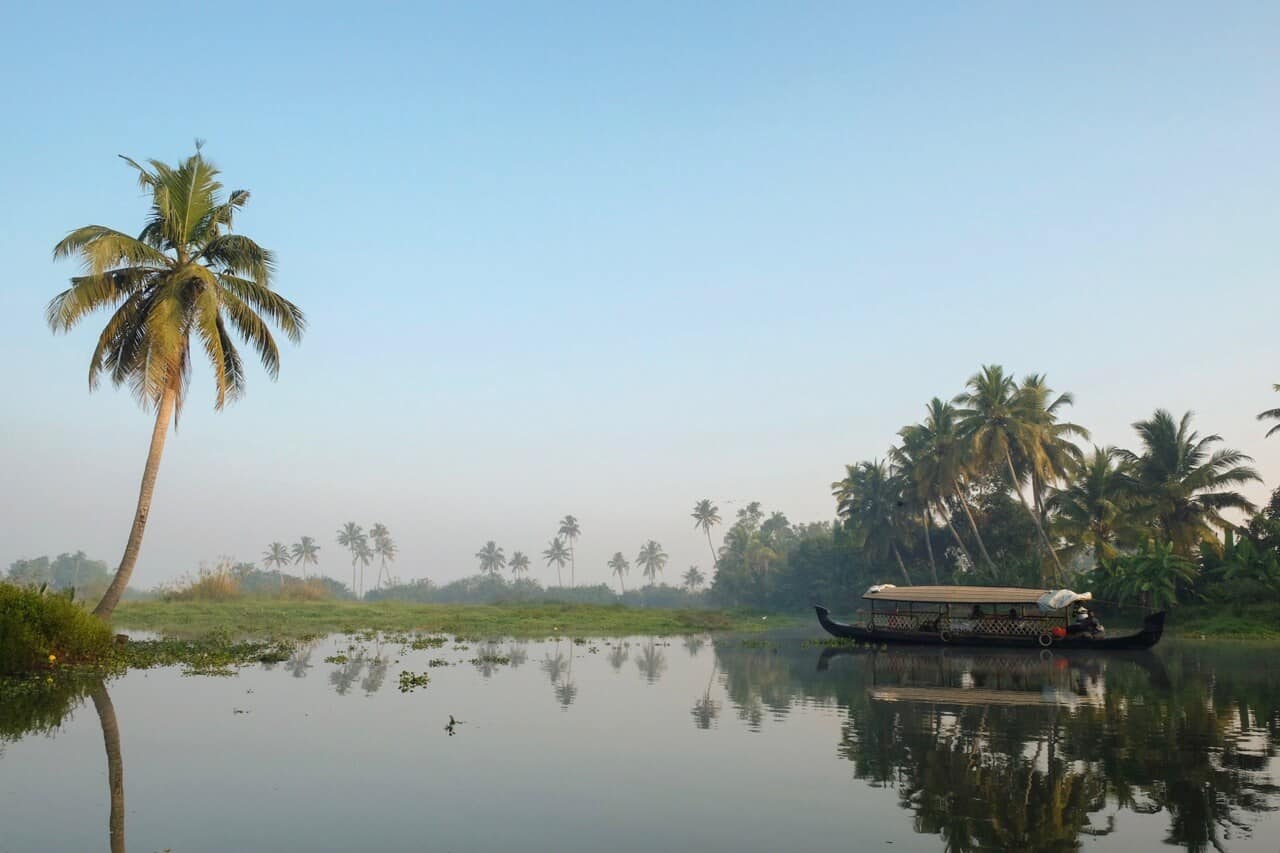 Experiencing some of the best places to visit in Kerala with CGH Earth
In my "Best places to visit in India" series, I'm focusing on Kerala in this post. In January, on a trip to Kerala with CGH Earth, I visited some of the best places to visit in Kerala and discovered some new Kerala destinations – from beaches to Backwaters, from spice gardens to national parks. Kerala points of interest included in this post include:
Marari Beach
Cardamom Hills, Western Ghats
Thekkady
Periyar Tiger Reserve
Kumarakom Backwaters
Cochin / Fort Kochi
Chittoor
In January 2019, photographer Andrew Adams and I travelled in Kerala for 10 days with CGH Earth. The idea was to visit five different CGH Earth properties, located in five different landscapes of Kerala, and to showcase the current tourism conditions. The world heard about the devastating floods of August 2018, but not about the recovery, and return to normal. This is part 2 of a two-part series on our journey and report on tourism in Kerala. See CGH Earth: The best Kerala hotels and resorts.
Kerala is often called "God's own country" and a major tourism destination in India. It's a tropical state in South India with palm-tree lined beaches, an extensive system of Backwaters, rolling green hills, wildlife and tiger reserves, and much, much more. In beautiful Kerala, humans and nature coexist in enviable harmony.
Andrew is a superb chronicler of India — especially Kerala — in image. Check out out his photography here on his website AndrewAdamsPhoto.
---
If you are planning to travel in India, let us help you! We offer itinerary planning, India for Beginners custom tours, and much more to make sure your trip to India is filled with more magic … and less madness.
---
As we journeyed through the state with CGH Earth, we heard many stories, and had many cultural and natural experiences, that brought Kerala to life for us. These are some of my favourite Kerala destinations.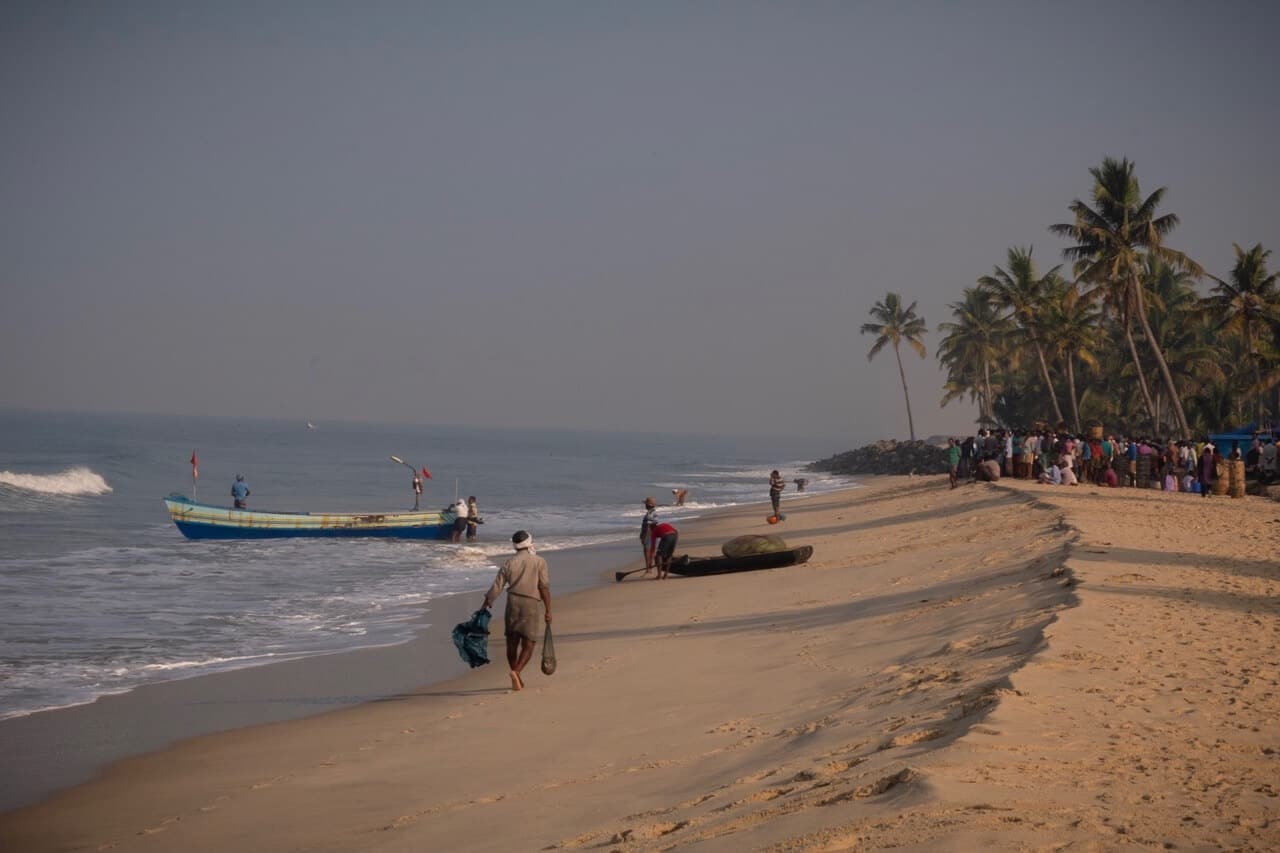 Best places to visit in Kerala: Marari Beach and the heroes of Kerala
Marari Beach is on the Arabian Sea coast, in the Alappuzha region of Kerala (south of Cochin / Fort Kochi). It's a beautiful, long, white sand beach – one of the best Kerala destinations for water lovers. This region is also home to the Backwaters, so here you get the best of both worlds.
The CGH Earth Marari Beach Resort was inspired by a local fishing village and is spread across 35 acres of land, with a long beachfront that's perfect for watching legendary sunsets. I would add it to any trip to Kerala.
As luck would have it, this area was not devastated by the August 2018 flooding. In fact, many people escaping from the floods found refuge here. And many people escaping from the floods found heroes here, too. When we were at Marari Beach Resort, we met two of them.
I interviewed fishermen Frances Bibin and Jackson Pollyail from Maraikam Village at the Marari Beach Resort, over chai in the open-air restaurant. With the help of a translator, they told me an incredible story of courage and heroism. As the waters rose in Kerala in mid-August 2018, many people were stranded on bridges, rooftops, and high ground. The only people who had any chance of reaching them were the fishermen of Kerala, who brave the ocean every day. They had small boats, knowledge of moving water, and most of all the willingness to help.
With no thought of their own safety, 4,500 fishermen of Kerala sprang to the rescue by moving their boats by truck to the most flooded regions of the state. They worked for three solid days without rest, and continuously for two weeks, in the disaster relief effort. They risked their boats and their safety, navigated dangerous waterways full of unseen obstacles, carried older people and children on their shoulders while wading through water above their heads, and performed many other heroic actions.
These heroes saved the lives of approximately 60,000 stranded people. And they did it spontaneously, without anyone asking, simply from the goodness of their hearts. In the west we have Spiderman, Superman, and Ironman. In Kerala they have … Fisherman!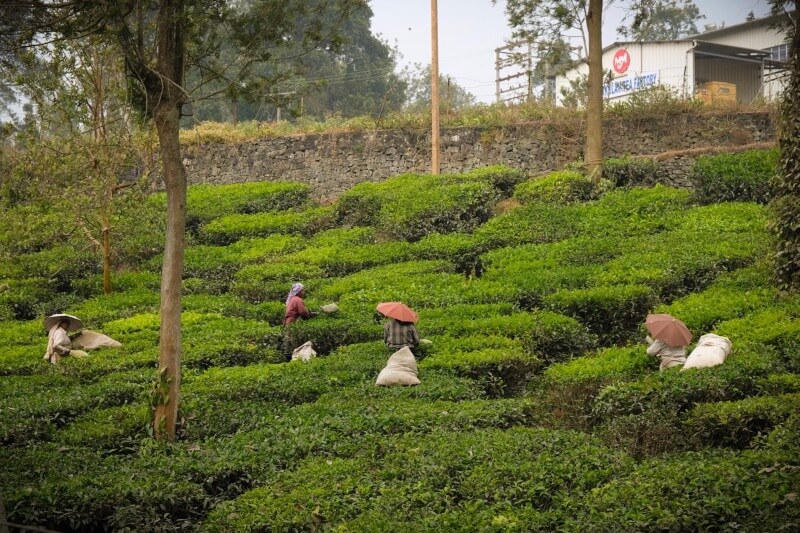 Tea, tamarind, and tigers in Thekkady
CGH Earth Spice Village is in Thekkady, among the Western Ghats – one of the best places to visit in Kerala. It's a charming property that evokes the local culture as well as the colonial past, with accommodation in thatched roof cottages, and tea and spices growing right on the grounds.
The highland region of the Western Ghats where Thekkady is located is romantically known as the Cardamom Hills. It's an area ideally suited to growing spices – as well as coffee, tea, fruit, and many other delectable things. The Western Ghats is one of my favourite Kerala destinations, and I will always visit on any Kerala trip.
The Western Ghats are known globally as one of eight "hottest biodiversity hotspots." Older than the Himalaya mountains, the tropical evergreen forests that cover these hills are home to at least 325 threatened flora, fauna, bird, amphibian, reptile and fish species.
While at Spice Village, we walked in a spice garden lush with tropical flowers, sweet fruit, and tangy spices, visited Connemara Tea plantation, and went on a walking safari in Periyar National Park. This high range area was not affected by the August 2018 flooding in Kerala, but roads further below were washed away, cutting the region off for several days.
Abraham Spice Garden
After breakfast at Spice Village one morning, we visited Abraham Spice Garden — where we met the charming owner, Abraham. When we arrived, there was still mist in the air, and the garden was drenched in rich colours and earthy scents. Abraham was born into this business, and even after 50 years he's still passionate. He led us through the garden with enthusiasm and humour and we had a wonderful time smelling and tasting an array of spices, from cardamom to pepper, and from ginger to tamarind. He also showed us glorious tropical flowers and fruits, including lemons the size of footballs and bananas the shape of beans.
The garden seemed to be in disarray, it was not what I expected, not a neatly organized farm. Abraham lets the spices and fruits grow naturally, and he explained they are extremely labour intensive to harvest. They all have to be hand-picked, which requires more skill than meets the eye. Plus, some of them are dangerous to harvest as they grow very high up on trees that soar to the skies. This tour was an engaging way to experience the spice culture of The Cardamom Hills.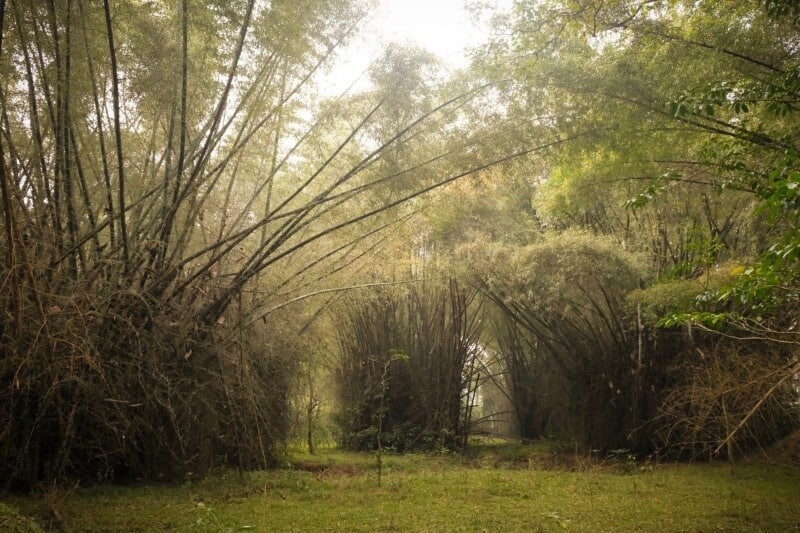 Periyar Tiger Reserve
Periyar Tiger Reserve, is less than a kilometre from the entrance of Spice Village, so early one morning we walked with in-house naturalist Girish to the gate. Girish is from Kumily, and he was a forest guard in Periyar for years – he's literally been going into this park for 30 years and estimates that he's seen about 70% of it. Most of the core zone is not open to tourists, but he was able to explore the off-limits areas as a forest ranger.
At the gate, we met our guide Pabhu, who is from one of the local tribes. He's been guiding people on walking safaris in Periyar for five years, and it's evident that he loves his job. So, off we set, for a five kilometre walk through the jungle. Entering the park just after sunrise, it was cloaked in mist and smelling of rich earth, nature is verdant and fragrant here.
We saw sunny meadows, and forests thick with teak trees, and walked up and down, over streams and past bamboo groves. The canopy was filled with birds, plus we saw black langurs and the giant Malabar squirrel. We also passed a small herd of very large gaur. Some of the birds we saw include racket tail drongo, great tit, rufous treepie, golden oriole, woodpecker, parakeet, and many more.
We also saw copious signs of elephants, who left droppings about a week before we were there. This park is also home to tigers, leopards, and black panthers – however, they are very rarely seen in the buffer zone. Our guides told us the park is also home to lots of other creatures, including the King Cobra and rock pythons …. Luckily or unluckily, we didn't spot any of those.
It was my first time in Periyar Tiger Reserve and a wonderful introduction to this popular park, a top Kerala destination. I have heard that it can be very busy, but where we were, we only saw one other small group of tourists the entire morning.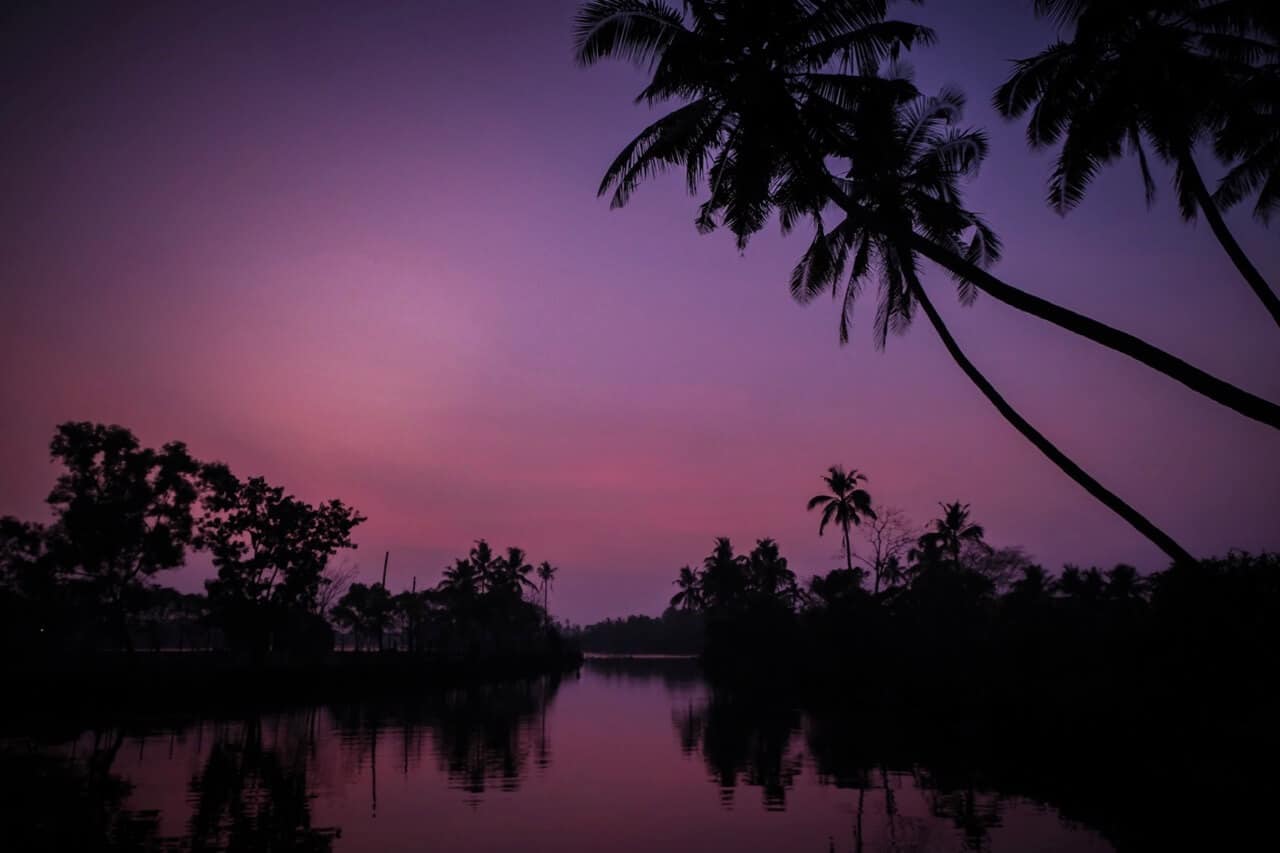 Kumarakom Backwaters
Coconut Lagoon is one of CGH Earth's premier properties, and for many good reasons. Located on Vembanad Lake in the Kumarakom Backwaters, Coconut Lagoon was designed to showcase the unique culture of the Backwaters. At Coconut Lagoon, you get an authentic experience of the Backwaters, in a comfortable and naturally luxurious setting. All of the buildings are in the traditional Kerala style and rescued from demolition.
The Backwaters is a vast network of lagoons, canals, rivers, and lakes and one of the best tourist places in Kerala. No Kerala trip is complete without a Backwaters cruise. It's called the Backwaters because the waters are connected to the ocean, and affected by the ocean tides: sometimes they flow "backwards." Vembanad is the largest of the lakes, covering an area of 2033 square kilometres. A unique ecosystem, the backwaters are home to a wide variety of crabs, frogs, birds, otters, turtles, plants, plus a thriving tourism business.
Coconut Lagoon and this entire region, Kumarakom, was underwater during the August 2018 flooding. We talked to several people about what happened — and how there were no casualties thanks to some fast-acting people who listened to the signs of nature. Their story demonstrates the resilience of the human spirit, how Kumarakom recovered, and why tourism is so important to this beautiful area.
TIP: Discover 10 Things to do in Kumarakom
The Kerala floods in Kumarakom
On August 15, 2018, as the rest of India was celebrating Independence Day, the general manager of Coconut Lagoon, Samboo, was growing worried. A local man, he saw the waters of the canals rising and knew something was wrong. Rising waters and flooding is normal to this low-lying region during the August monsoon, but this was different. The water was the too muddy, and very red.
Samboo didn't wait. On August 16, he shifted the guests to Marari Beach Resort on the coast, switched off the electricity, told the staff to go home, and let the cows loose. Several managers stayed behind and they moved all the furniture up to a higher level.
By the 17th, the water was still rising, the snakes were coming out of the ground, and the house naturalist, Vishnu, said the water was not going to stop. Vishnu had been watching the birds, and by their movements, he knew this was not normal monsoon flooding.
Meanwhile, the villagers were getting desperate, so the remaining staff at Coconut Lagoon switched their efforts to helping the locals. By this time, the resort was completely flooded, and almost completely underwater.
Because of local knowledge and experience, there were no casualties in the Kumarakon region. People like Samboo acted fast, and everyone fled to safety. Moreover, there was an incredible community spirit as everyone pitched in to help with the disaster relief.
After about August 19, the water began to subside and the staff started cleaning up Coconut Lagoon Resort. They set a deadline of September 1 to open the resort, and turn the electricity back on. They made the deadline, and have continued to work to bring things back to normal.
We couldn't see any signs of the flood, though apparently there was some environmental damage, such as all the rice paddies flooding. Resilience, local knowledge, and community spirit combined to save lives and bring the Backwaters back to their former glory.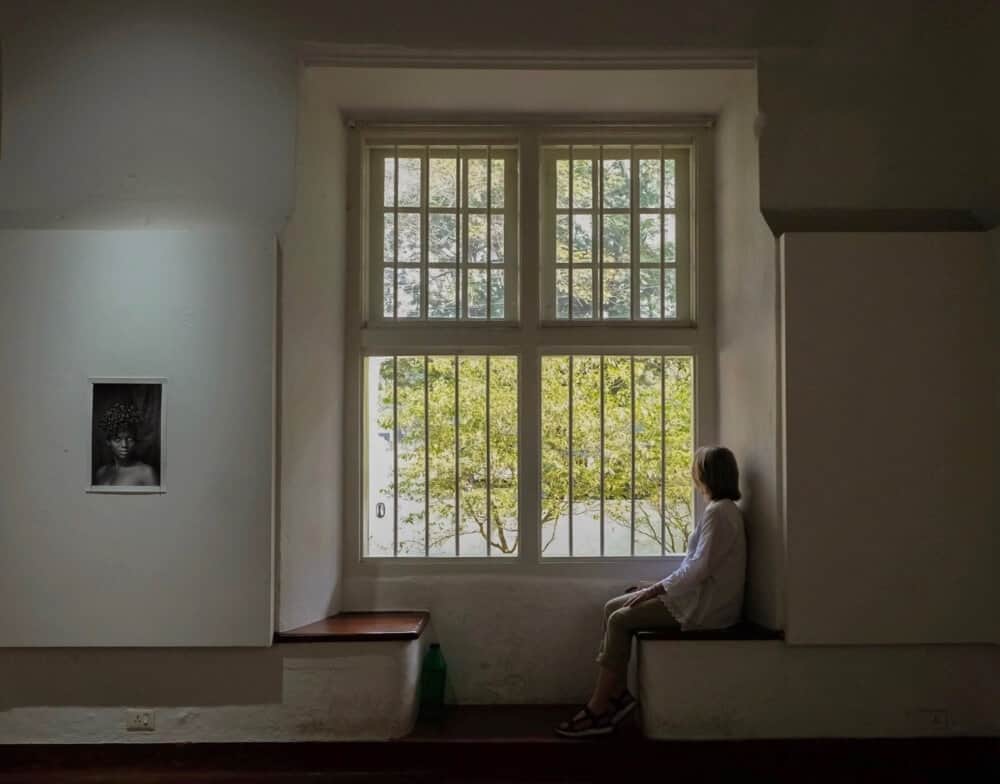 Cochin / Fort Kochi
Fort Cochin is an ancient trading port on the coast, where the Backwaters meet the Arabian Sea. It was an important stop on the Spice Route, a hub for the trade of spices, tea, and coffee, and a prized gem for European colonists. First the Portuguese, then the Dutch, and finally the English colonized Fort Cochin, so it's a small city packed with history. CGH Earth's elegant Brunton Boatyard captures this history through every detail and is located on the water, in the natural harbour. Most of the rooms, plus a pool and two restaurants, face the harbour.
Cochin is my favourite city in Kerala, a compact area full of historical sites and spice markets, shady streets and seaside views, boutique hotels and artists' cafes. Morning is a good time to see this charming and historical port town. We borrowed bicycles from Brunton Boatyard and cycled through the streets before breakfast. The historic and touristy part of Fort Cochin is small and easily covered by bike, and Brunton Boatyard is ideally located in the heart of it.
The morning light softly slants through old vine-covered trees. Narrow winding streets lined with crumbling walls, picturesque homes, and bright bougainvillea are quiet at this hour. The fishermen gather along the sea coast near the Chinese fishing nets, and uniformed children ride their bicycles to school. But Cochin is also romantic in the evening, when the outdoor cafes are festooned with lights and the balmy ocean breeze blows.
Cochin is also known for a biannual art event. Every two years the city hosts the Kochi-Muziris Biennale and we were lucky to be there for it. We spent hours visiting the main venue, Aspinhall House, and several other venues too, including Pepper House and David Hall. Many of these buildings were former spice godowns (warehouses) transformed for the Biennale into art galleries.
When you hear a word like Biennale, you might think of stuffy galleries and expensive, precious art works. Nothing could be further from this Biennale, an explosion of youthful, innovative, thought-provoking installations — many of them built into the venues making them seamless experiences.
Way too much to describe here. A very large proportion of the work challenged patriarchal views and supported women empowerment. But my favourite piece was called Catch a Rainbow. It was on the lawn at Pepper House, a simple pipe that sprayed mist. You had to enter the mist to see the rainbow. I ran in and spun around and saw a bright multicolour rainbow surround me. It was beautiful and honestly brought tears to my eyes. It captured the wonder and beauty of nature and life and made me feel like a child again.
TIP: Read Ideal two-week itinerary of Kerala.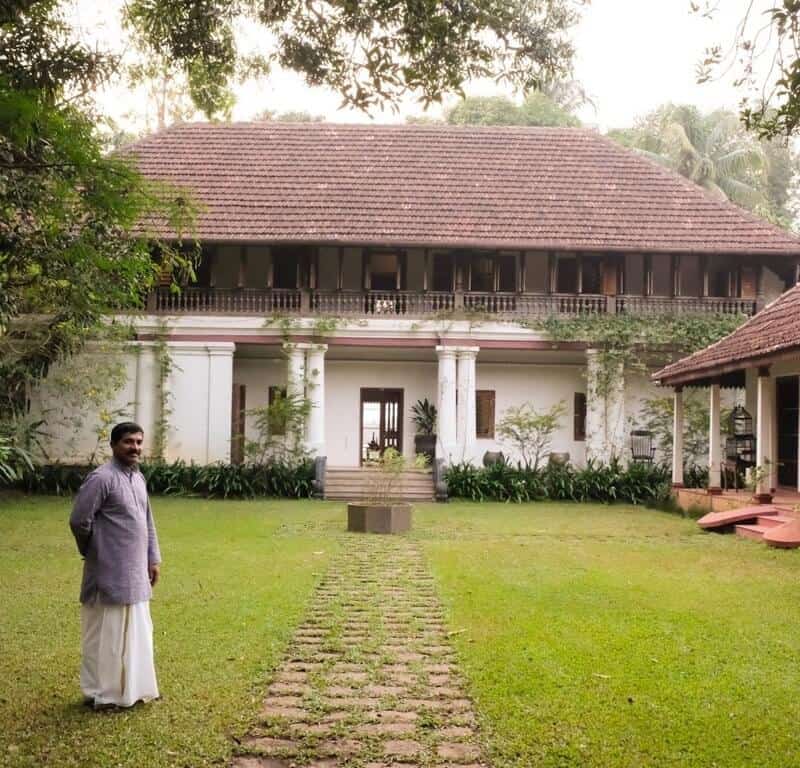 Chittoor Village on the Backwaters
Not far from Cochin is a village called Chittoor. Very few tourists visit Chittoor, and therein lies the charm. But Chittoor is where CGH Earth Chittoor Kottaram is located. And Chittoor Kottaram is a very special place. Chittoor Kottaram was the last stop on our 10 day tour through Kerala with CGH Earth, and it contained everything wonderful about the trip and then some.
Chittoor Kottaram is a single-key heritage mansion, a small but exceedingly elegant palace that was built by the Raja of Cochin in the early 19th century. All the stars lined up to create the Chittoor Kottaram we experienced. The willingness of the royal family to allow it to be used as a hotel. A saviour in the form of Lady Helen Hamlyn, who helped restore the property and grace it with her collection of art and antiques. The skill and commitment of CHH Earth to undertake managing it. And the dedicated staff, lead by maître d'hotel Milton.
I asked Milton about the flooding in this region while we were standing on the front lawn. "The water rose to here, above the jetty, to the second step. I had to untie the boat from the jetty and tie it to the tamarind tree on the lawn," he explained.
Luckily for Chittoor Kottaram, the water did not reach the buildings. But many people in the region were evacuated, including Milton and his family, as the flood waters rose and turned the rivers and canals of the Backwaters into what was essentially a big lake. After a few days, the flood waters receded, and the Backwaters returned to normal. It took longer for the people to recover. There was a lot of cleaning and repair work to be done.
We stayed three days in secluded luxury at Chittoor Kottaram and when we were leaving, Milton said to us, "You are part of the CGH Earth family" and I felt it. I saw this beautiful destination through moist eyes as I left, and vowed to return.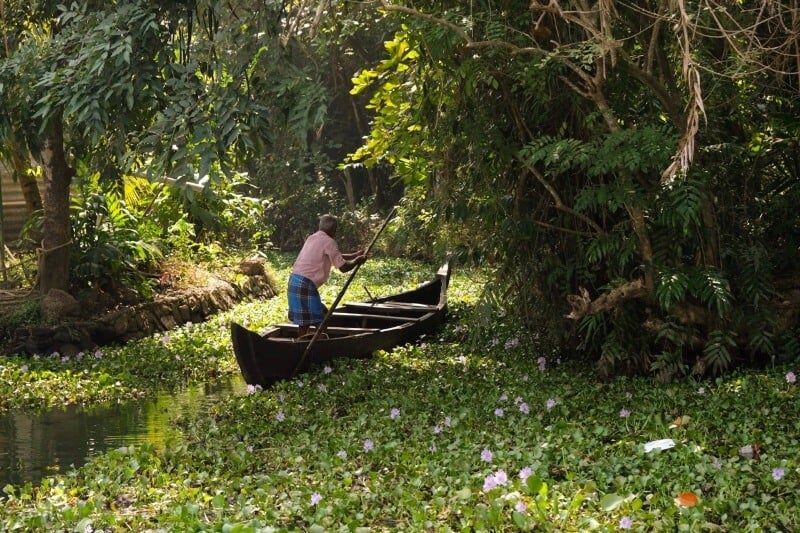 After the floods
Everyone in Kerala we met had stories of the August 2018 floods to tell. When asked, they are still fresh for the telling, and they were showcased in many of the exhibits at the Kochi-Muziris Biennale 2019.
There are stories of how people experienced and coped with the floods, and also how they persevered and recovered. We heard harrowing stories of water entering people's homes, heroic stories of fishermen saving people, and triumphant stories about how the people and the various levels of government all came together to aid in the disaster relief and recovery.
It was an incredible journey to experience Kerala with CGH Earth, to find out about how the people faced the unprecedented floods of 2018, and to witness the return to normalcy. Everywhere we went, the people of Kerala were ready, willing, and able to welcome tourists with their characteristic warmth and generosity.
Everyone, around the world, heard about the devastating Kerala floods of August 2018. That story went viral. But not everyone heard that the community pulled together and got many areas of the state ready to accept tourists in about a month. That's why we went – to help get the message out that Kerala is indeed open to tourism.
---
Thank you to CGH Earth, and the staff at each hotel and resort, for hosting Andrew Adams and I and making us feel like family. This blog post was published as part of an ongoing campaign to promote CGH Earth and tourism to Kerala. #mediatrip
---
PIN it on Pinterest

---
If you enjoyed this post, you can….
Sign up to The Travel Newsletter in the sidebar and follow Breathedreamgo on all social media platforms including Instagram, TripAdvisor, Facebook, Pinterest, and Twitter. Thank you!