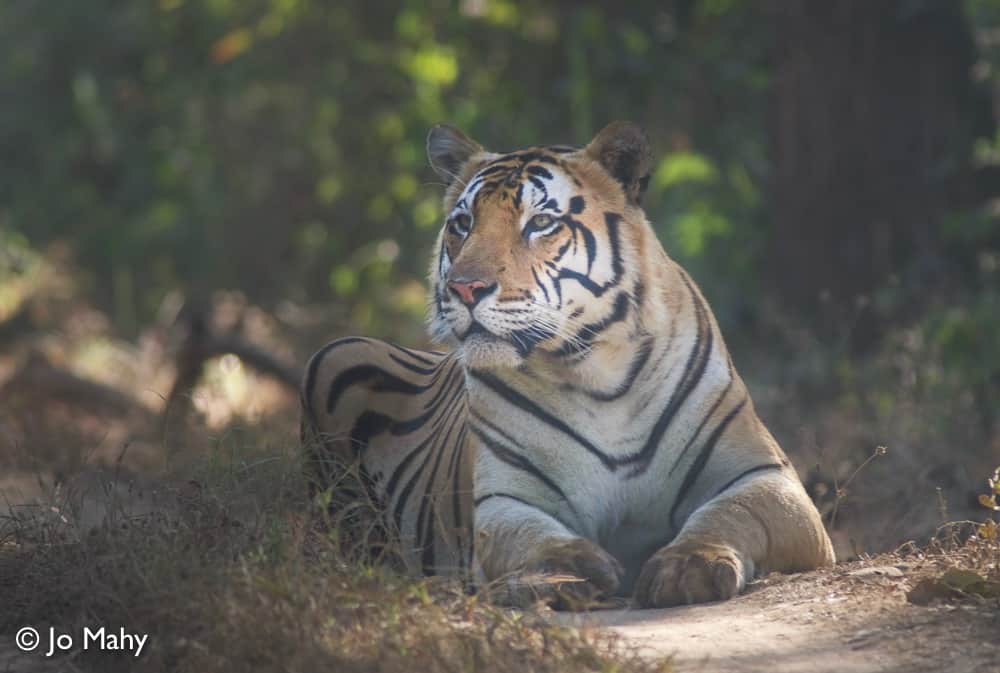 With more than 7 tiger sightings, Land of the Tiger lived up to its name
THERE IS NOTHING like seeing a tiger in the wild. It really is different than seeing other animals. The tiger electrifies the forest – and once you've seen one, you may never be the same. That's certainly what happened to me on the Exodus Travels Land of the Tiger tour in India.
On the Land of the Tiger tour I joined, from December 24, 2016 to January 6, 2017, I saw seven tigers. Some of the other group members saw nine in total. Some of these sightings were fleeting – just a flash of tiger stripes in the distance, such as when we saw the legendary Munna of Kanha. But some of them were up-close and lengthy. We also saw one leopard, on our last game drive, just before leaving Bandhavgarh park.
---
You can read more about my experience on the Land of the Tiger tour, and get tips and advice about joining a small group tour, in: How to thrive on a small group tour.
---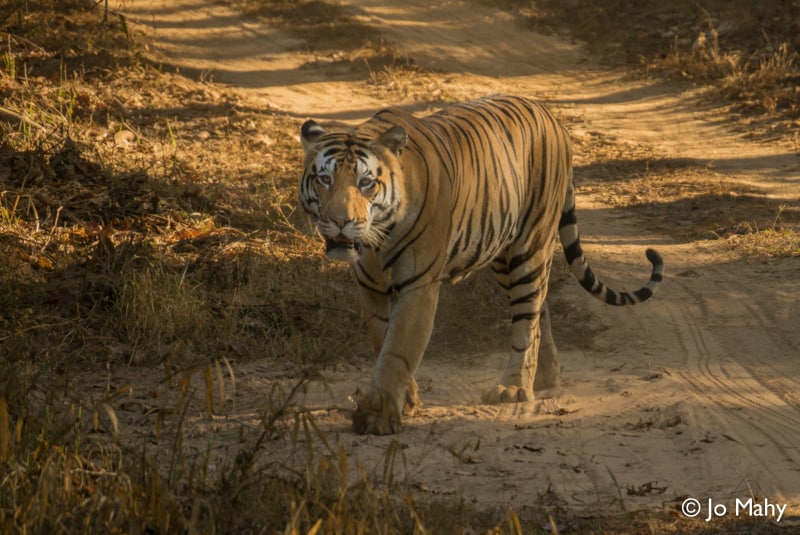 India is home to approximately 70% of the world's wild tiger population, and more than 40 tiger reserves. The Land of the Tiger itinerary focuses on three of India's top tiger reserves: Pench, Kanha, and Bandhavgarh in the central Indian state of Madhya Pradesh.
The tour itinerary includes at least four or five drives in each of these parks, with more than 15 in total – which is what makes it such great value and so appealing. Arranging for travel to Madhya Pradesh, transportation within M.P., accommodation and scheduling and booking all of these drives – many months in advance as they sell out – would be a formidable challenge. Taking the Land of the Tiger tour makes all of this a breeze. (Plus, you also visit the Taj Mahal in Agra and get a day or two in Delhi, after leaving Madhya Pradesh by overnight train.)
Having said that … seeing tigers is not the be-all-and-end-all of going on game drives in these and India's other stunning national parks. There's a lot more to see and experience – and it's all well worth it even if you don't see a tiger or leopard.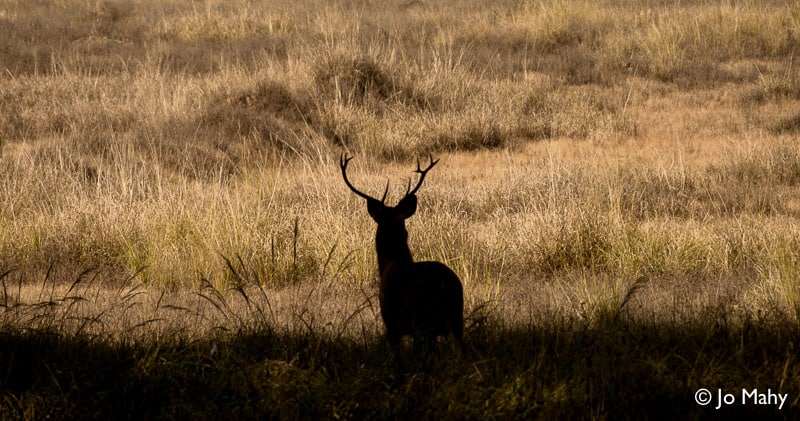 Personally, I loved the entire process. I loved the ritual of getting up before dawn, bundling into the open gypsies (the Maruti Gypsy is India's version of the Jeep), queueing up at the park gate in the first light of dawn, drinking chai to keep warm, chatting with the other guests and guides … and then feeling the excitement rise as the gates open at 6:30 and the drivers start the vehicle's engines.
As you drive through the gate, you enter a beautiful, natural world. Rolling hills, dramatic cliffs, dense sal and bamboo forests, dripping with moisture in the morning, sunlight streaming through the trees, a rich smell of earth and fresh air. And then you start to see the animals. Skittish herds of delicate chittal (spotted deer) nibbling grass by the side of the track. A couple of golden jackals running through the undergrowth. Huge gaur (world's largest cattle ) half-hidden by the forest as they forage for food. Families of Hanuman Langurs playing in the trees, their light grey fur shining in the sun. A turquoise-winged kingfisher darting past. It's all very captivating, and I found I never wanted these drives to end.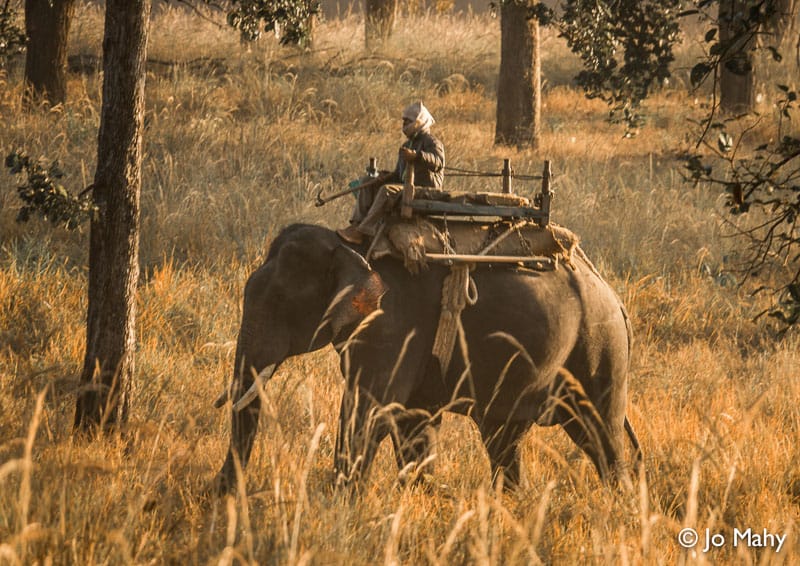 Each gypsy has a driver and a guide supplied by the park. They point out both the flora and fauna, the various trees, birds and animals you encounter on the drive. They are also charged with supplying their guests with tiger sightings, and sometimes this seems like their main occupation. They are constantly on the lookout for pug marks – tiger prints in the sandy road – and the alert calls of animals. Deer and monkeys, among other animals, let out specific alert calls when they spot a tiger. It's the combination of pug marks, alert calls, and an intimate knowledge of the park's tigers, territories, and habits that lead skilled guides to sight tigers. Luck also plays a role!
I experienced some thrilling chases as we drove through the park in pursuit of the elusive beast. Most of the time, the chase is in vain … and it sometimes seems to me to be a waste of the valuable time in these beautiful park. I understand the guides are under pressure to do their best to ensure a tiger sighting … this is what most people want. And it also leads to higher tips. But there were times when I would have preferred to simply enjoy the ride and not be so goal-oriented.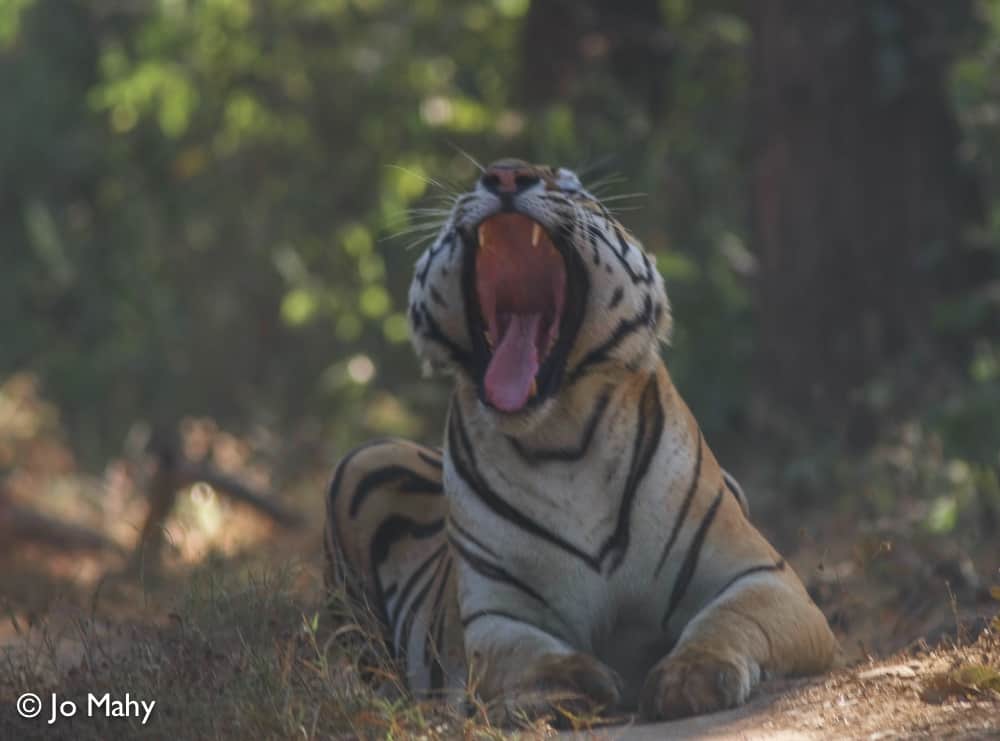 However … I was also thrilled to see tigers. And feel extremely blessed that I saw so many. We had the best tiger sighting of the tour on December 29 in Kanha National Park. Our two jeeps came around a corner and there he was – a huge male tiger padding slowly along the sun dappled road towards us. Our jeeps had to reverse several times as he kept walking towards us. Finally, he sat down on the road and we parked our jeeps side by side. All eight Exodus group members were able to see the tiger and take loads of photos and videos. The sighting lasted at least 20 minutes, and in all that time, no other jeep came along the road. Therefore, in honour of our exclusive sighting, we named the tiger "Exodus." In fact, he was MP-KTR-T64, an older adult male known as Bajrang.
From Kanha, we travelled by road for about four hours to Bandhavgarh National Park. Here I saw a total of five tigers. One day, we saw three adult males, all siblings, playing together in a nalla (dry stream bed). We also saw a tigress cross the road in front of us, and we followed her by jeep for a few minutes. Our best sighting in Bandhavgarh was of a huge male tiger known as Mugdhi, the Mahaman male (after his territory).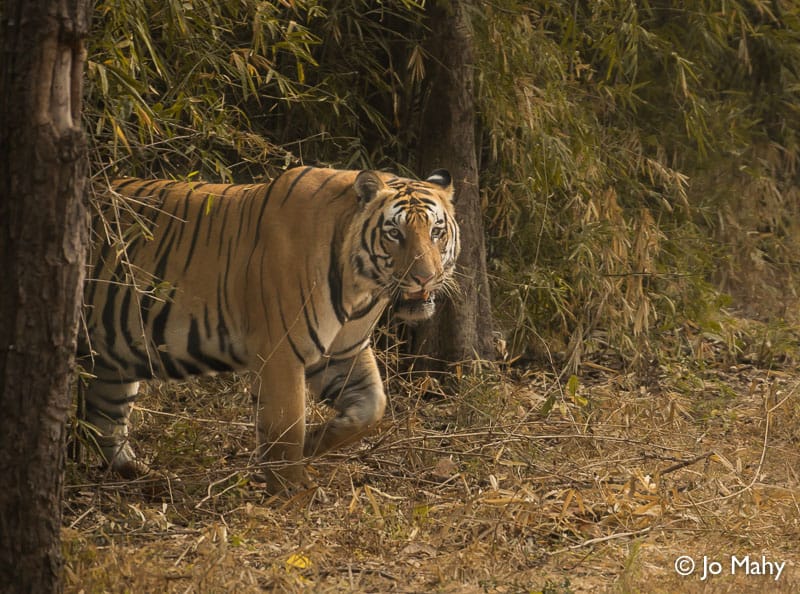 After seeing Mugdhi cross the road a few times, he disappeared into the forest. The guides who were with us were staring intently towards the left, and we all followed their knowledgeable gaze. Suddenly, however, someone noticed the huge head of the tiger, just behind my right shoulder, staring at us through the leaves. It was a spine-tingling, split-second moment and I will never forget it. The tiger turned the tables on us, the hunters. And I felt seen, and hunted, for a second … and vulnerable.
This incident made me realize that we are all in this together. We may think we're the top of the food chain, but we are part of it, part of the entire ecosystem. We need to protect the tiger habitat both for us and them. The tiger is the apex predator – ensuring the tiger's protection ensures the entire ecosystem.
The experience of seeing these beautiful parks, and all of these tigers, has galvanized my interest in helping to protect them and their habitat. I was glad I was on an Exodus Travels tour, because the company is known for its commitment to responsible tourism and tiger conservation. In 2016, Exodus won the TOFTigers International Tour Operator of the Year Award for bringing 10,000 people to see Bengal tigers over the last 40+ years, for raising 1.5 crores for tiger projects including community work in Ranthambhore, projects in Tadoba and a school in Bandhavgarh – which we visited.
By the end of the tour, I was in love with Madhya Pradesh, the tiger reserves and the entire landscape of nature. It was a wonderful way to experience the wild side of India, and I highly recommend it for people who are serious about seeing wildlife.
PHOTO CREDIT: Photos by my fellow group member Jo Mahy, who generously let me use them.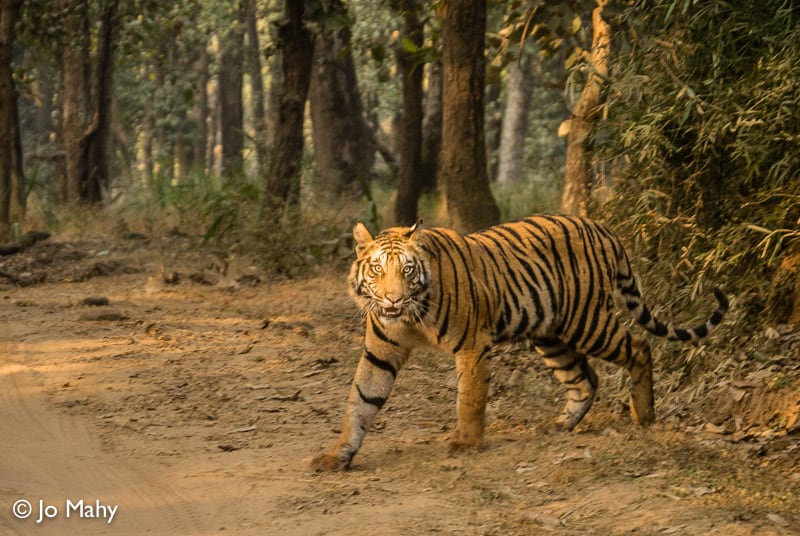 NOTE: I was hosted by Exodus Travels on the Land of the Tiger tour. As always, my opinions are my own, my stories are heart-felt and I only make recommendations based on personal experience and with the needs of my readers in mind.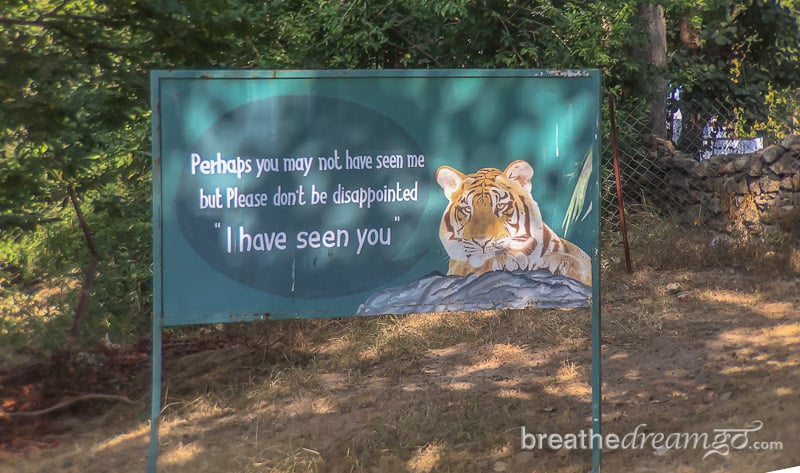 ---
If you enjoyed this post, please sign up to The Travel Newsletter in the sidebar and follow Breathedreamgo on all social media platforms including Instagram, TripAdvisor, Facebook, Pinterest, and Twitter. Thank you!