My picks for the best luxury getaways near Delhi
If you're looking for the best luxury getaways near Delhi, you've come to the right place. I've spent a lot of time living in or near Delhi, and I have researched a lot of great luxury resorts near Delhi, and best places to visit within driving distance of Delhi. Delhi is a fabulous city, but it's also crowded and often polluted and if you live here, it's essential to take short trips from Delhi.
Many tourists also want to know about the best places to visit near Delhi. As Delhi is one corner of the Golden Triangle (the most popular tourist circuit in India), most tourists land in Delhi to begin their India adventure. Spending at least three days getting to know Delhi is a great start to any India trip, but for most people, then it's time to move on.
Luckily, there are a lot of great places to visit and a lot of luxury resorts, hotels, homestays, and lodges to choose from; as well as tiger reserves, bird sanctuaries, national parks, Yoga ashrams and much more. It's actually surprising how many incredible places are near Delhi – some within driving distance, and some just a short (and affordable) flight or train ride away. In fact, there are frankly too many to list so this is a personal list of places I have experienced and love.
---
More reading on Breathedreamgo about Delhi
---
Luxury getaways in Agra
Agra is within driving distance of Delhi, one of the points of the famous Golden Triangle and one of the top tourist places near Delhi. Agra is home to some the best luxury getaways near Delhi — and of course home to the Taj Mahal … but in truth it is not a beautiful city. It can definitely be interesting to roam around and discover the authentic life of the place, of course, but it's also a good strategy to embrace a sanctuary and escape the madness.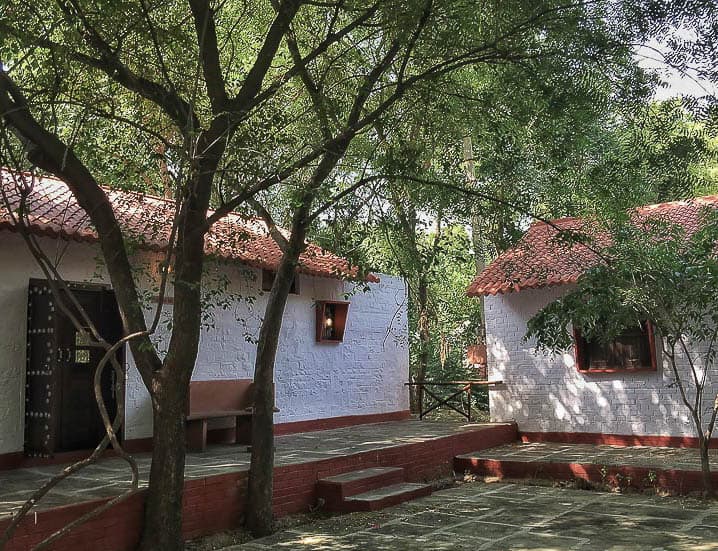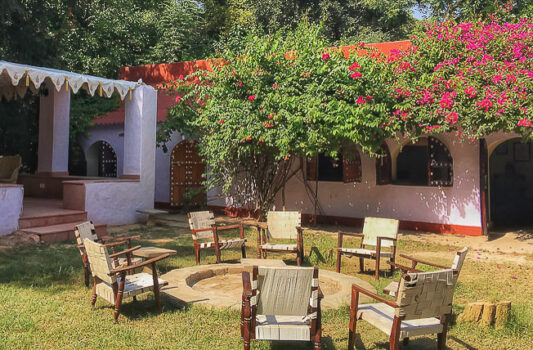 Mela Kothi Chambal Safari Lodge
Just about an hour or so driving distance from Agra is the Mela Kothi Chambal Safari Lodge. It's another world. Peaceful, green and surrounded by a lovingly rewilded forest. Stay in a cottage, enjoy the rustic elegance of the lodge, and take a few nearby tours to the pristine Chambal River, a heritage village, and Bateshwar. Chambal Safari Lodge is a destination lodge, within driving distance of Delhi, and a great way to spend a weekend away from Delhi. I have been there several times and it's one of my favourite places. While on a Chambal River safari, I have seen gharials (endangered crocodile species), basking turtles, multitudes of birds, and even river dolphins.
How to get there: Mela Kothi Chambal Safari Lodge is about a 4-hour drive south-east from Delhi. It's about one-and-a-half hours past Agra.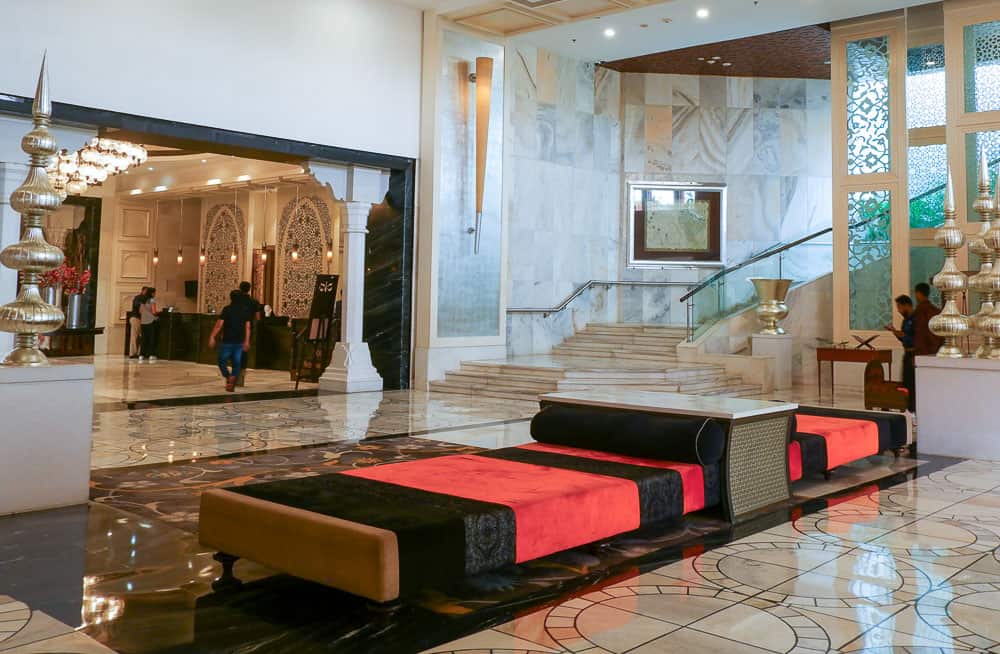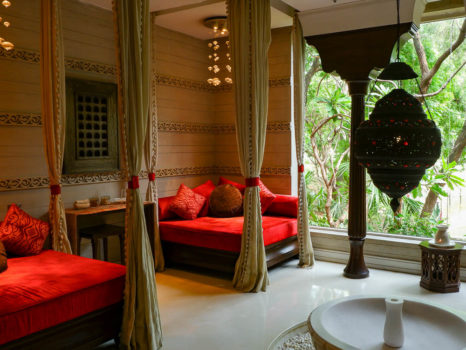 ITC Mughal
I've been having a love affair with this grand hotel for more than 10 years. I love the way the magnificent lobby matches the splendour of the Taj, the way the hotel spreads out over extensive grounds, the many excellent dining options, and most of all I love the absolutely gorgeous spa, Kaya Kalp. It's the best one in India, if you ask me. See the Taj Mahal and then spend a few days luxuriating in an oasis of comfort at the ITC Mughal, one of the best hotels in India.
How to get there: The best options are to take the Gatimaan Express train, a semi-high speed train that runs every day from Nizamuddin Railway station at 8:10 am and arrives in Agra at 9:55 am. Or drive via the Yamuna Expressway, which takes about 3-4 hours.
---
More reading on Breathedreamgo about Agra
---
Luxury getaways in Rajasthan
Rajasthan is the preferred destination for luxury getaways near Delhi. Jaipur, capital of Rajasthan, is the third point on the Golden Triangle and one of the best places to visit near Delhi. Rajasthan is a large desert state that's directly west of Delhi. It's a reasonably easy drive nowadays to get to the Jaipur, and from there to explore the state. Alternatively, you can fly to Jaipur, Jodhpur, or Udaipur, or take the train. There are lots of trains to choose from. Rajasthan is probably the best state in India to find really amazing luxury and heritage hotels and resorts. There are many hotels housed in former palaces and forts, many splendid and atmospheric heritage properties, and many places that will most definitely make you think you are at the Best Exotic Marigold Hotel.
---
More reading on Breathedreamgo about
---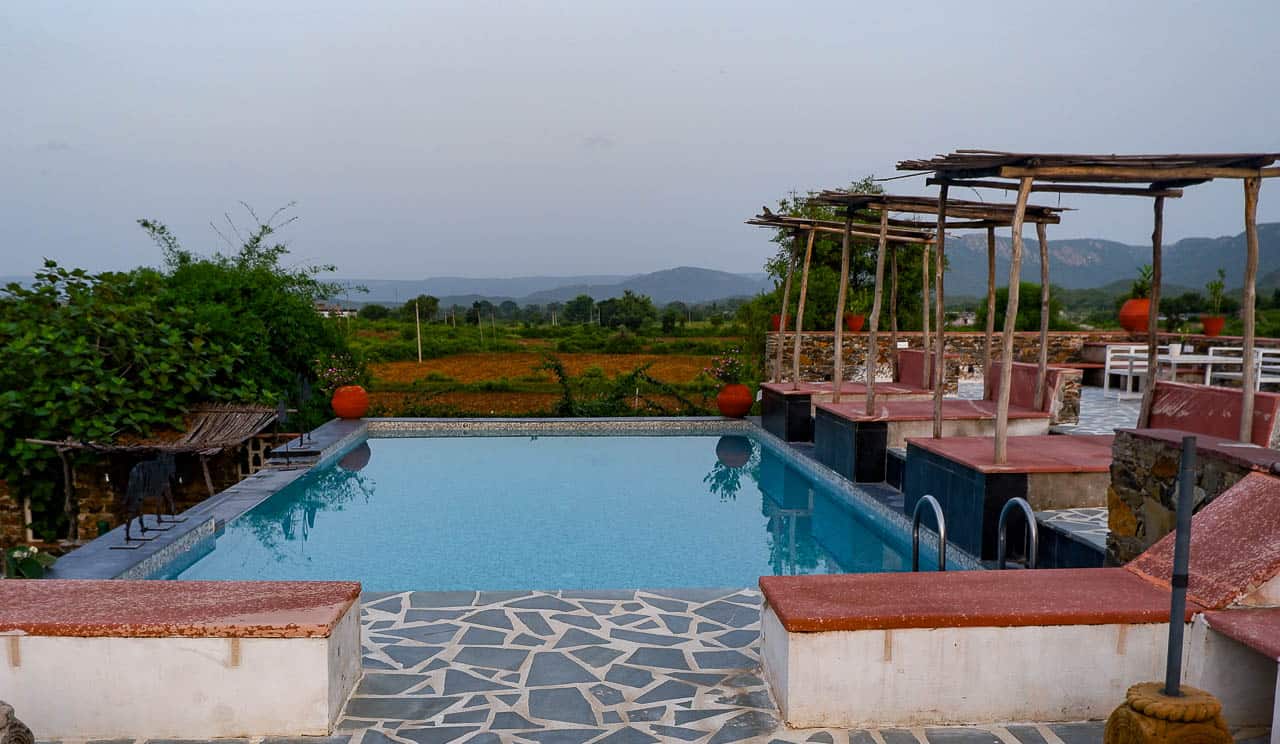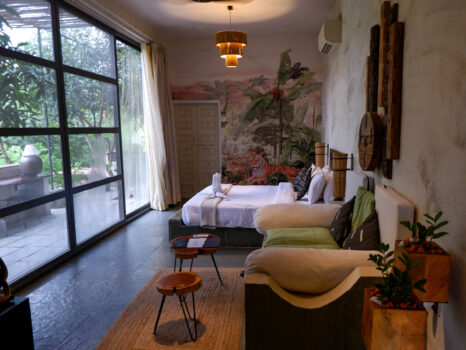 Utsav Camp at Sariska Tiger Reserve
Sariska Tiger Reserve is just inside the border of Rajasthan and easy to get to from Delhi. The only TOFtigers-certified wildlife lodge in Sariska, Utsav Camp is a very special place, and one of my favourite wildlife lodges in India. Utsav Camp is made almost entirely with natural and local materials and seems to have sprung organically from the earth. Yet, it is also stylish and luxurious. This wildlife lodge on the very edge of Sariska, in the buffer zone, hits the sweet spot in every way. Luxury lovers and wildlife enthusiasts alike will love it. A beautiful swimming pool and well-appointed cottages are balanced with a wide range of sustainability measures that include planting hundreds of trees, careful waster management, and the use of solar panels. And don't miss out on their unique experiences such as a Starlight Bush Dinner, Twilight Boulder Picnic, boulder hiking, or learning to track wildlife. 
Khem Villas at Ranthambore Tiger Reserve
Ranthambore Tiger Reserve is one of the most popular tourist places to visit near Delhi. Just about a 5 or 6 hour drive from Delhi, Ranthambore is the most famous tiger reserve in India. There are dozens and dozens of wildlife lodges, resorts, and homestays in every budget close to the gates of Ranthambore, and many of them are excellent. There are four TOFTigers certified lodges in the Ranthambore area, including Khem Villas, one of my favourites. A great wildlife lodge can provide you with a wonderfully relaxing and inspiring getaway, especially when it hits the sweet spot between offering both luxury and nature. Khem Villas does exactly this. It also comes with a prestigious pedigree as it is owned and operated by Usha Rathore and Goverdhan Singh Rathore – Goverdhan is the son of legendary tiger champion Fateh Singh Rathore.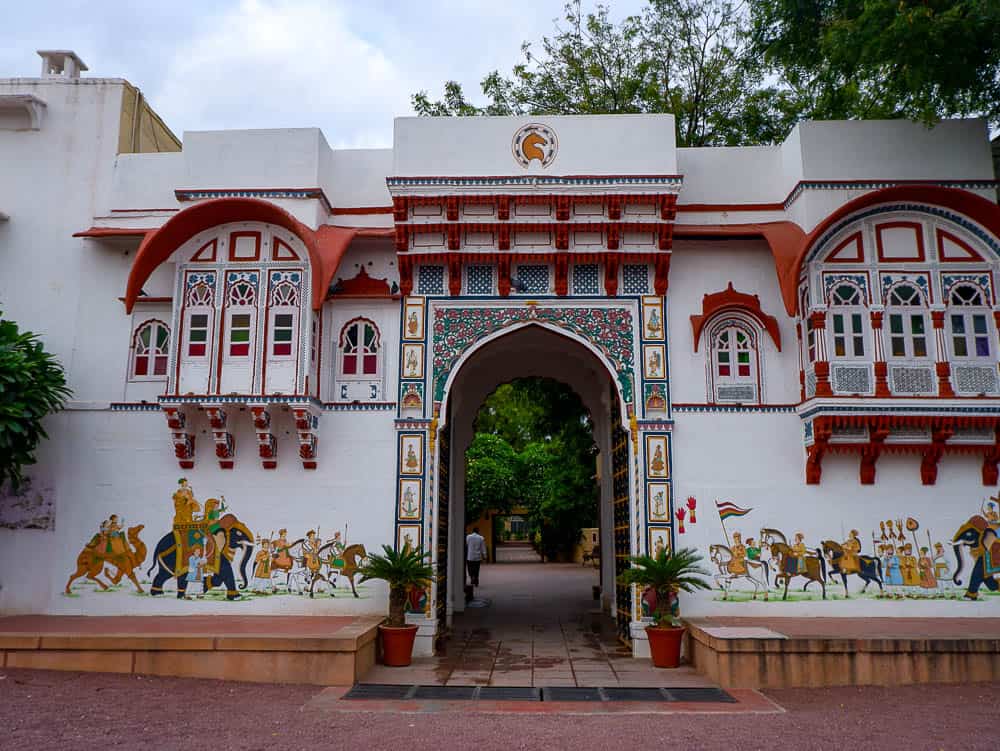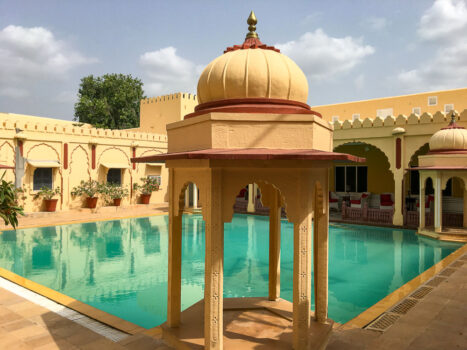 Rohet Garh / Mihir Garh
Rohet Garh is one of my favourite luxury getaways from Delhi. A gracious heritage property in the countryside near Jodhpur, Rohet Garh invites guests to relax, unwind, and slow down in elegant and comfortable surroundings. Though updated to modern levels of comfort, Rohet Garh has been the family's ancestral seat since 1622. If you need a short trip from Delhi where you can be inspired, this is the place. Rohet Garh is famous for its "writer's room" – a quiet suite with a living room that features a large wooden desk. At this desk many fine writers have worked including Bruce Chatwin, William Dalrymple, Patrick French, Simon Winchester, and Geoffrey Moorhouse. In fact, Chatwin's The Songlines and Dalrymple's City of Djinns were written here. Horses are another star of Rohet Garh. There are stables right outside the entrance – and from one room, you can even see into the stables!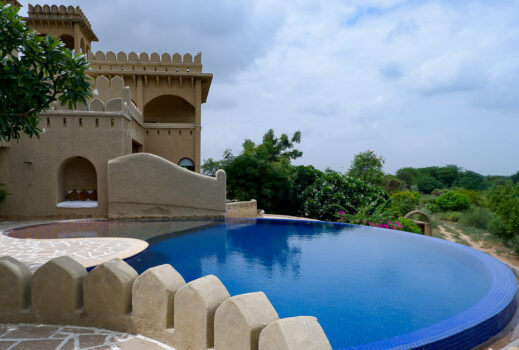 The family that owns and runs Rohet Garh recently built a sumptuous property nearby, called Mihir Garh. Though it was designed to look as if it grew organically from the earth, in the local style, Mihir Garh was purpose built to be stylish and luxurious. Each room is unique, each in a different colour scheme, but all are spacious and well-appointed and feature amenities such as a plunge pools or a terrace with a whirlpool.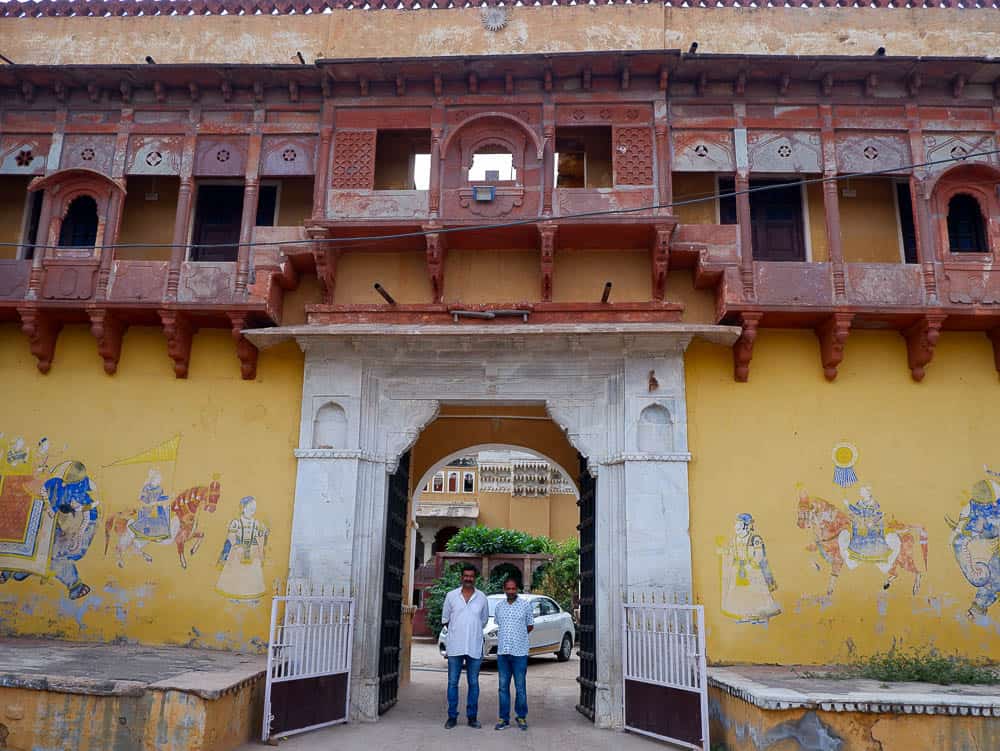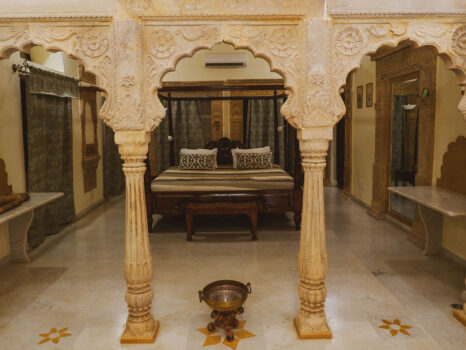 Chanoud Garh
Chanoud Garh is an authentic heritage property in rural Rajasthan between Jodhpur and Udaipur. It is one of those places that will definitely bring the Best Exotic Marigold Hotel to mind! The family have lived here for many generations and have carefully adapted their palace-like home into a hotel. They have done just what was necessary to make the rooms comfortable and luxurious without spoiling the authentic look and feel. The rooms are huge and the marble bathrooms are stunning. Plus, there are courtyards and gardens, a charming dining room and several temples. Chanoud Garh is surrounded by a traditional village, and the family offers various local experiences such as a village walk and cooking demos.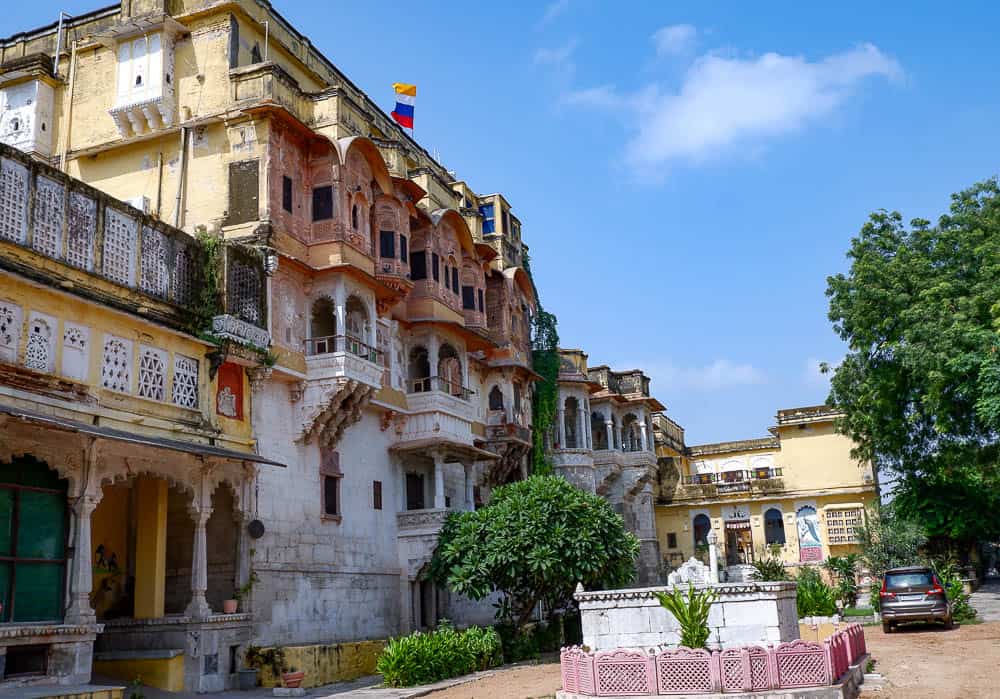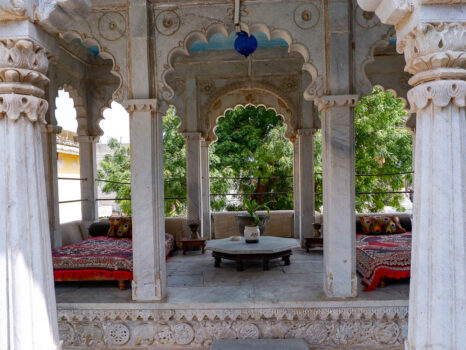 Ghanerao
Near Ranakpur, Ghanerao is a heritage palace that drips with atmosphere. Like a living museum, Ghaneroa invites you to step into a different world. The gracious and welcoming family have generously opened their home to visitors and it does indeed feel like a privilege to be there. It's also a place with Best Exotic Marigold Hotel vibes, but at a much more sublime and elegant level. Ghanerao literally contains priceless works of art and murals within its walls. The family have made the rooms as comfortable as possible without sacrificing the authenticity or integrity of the place. This is a place that will fire your imagination, a place you could explore for days and find secret passages, hidden rooms, and buried treasures.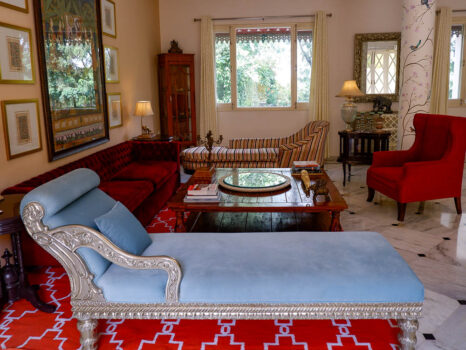 Premkunj Luxury Homestay
Is Premkunj the best luxury homestay in India? Probably. It's certainly won enough awards. And I have certainly never seen anything like it – it's in a class by itself. Premkunj is a destination homestay, a resort really, in a beautiful setting among the hills that surround Udaipur. After staying at Premkunj, I have forever lost the desire to stay near Lake Pichola in Udaipur – the hills are where it's at! Fresh air, hiking trails on your doorstep, and stunning views. Owner Bhupendra spent 10 years lovingly creating this gorgeous property and it ticks every box. It's beautiful, comfortable, and has a sparkling pool. The Premkunj pool is possibly the cleanest pool I have ever seen in India! Plus, there is a large garden, several indoor and outdoor dining options, and very good food. I now consider Premkunj my go-to luxury getaway near Delhi.
Luxury getaways in Uttarakhand
Uttarakhand is a popular destination for weekend getaways from Delhi, and for short trips. It is a mountainous state – the Himalayan mountain range runs through it – and within driving distance of Delhi. It's a great getaway location because of the abundance of natural beauty and wildlife you can find. The downside is that it's accessible to Delhi and many places are overcrowded and over touristed to the point of madness. You have to know where to go and also when – avoid weekends if possible.
---
More reading on Breathedreamgo about Uttarakhand
---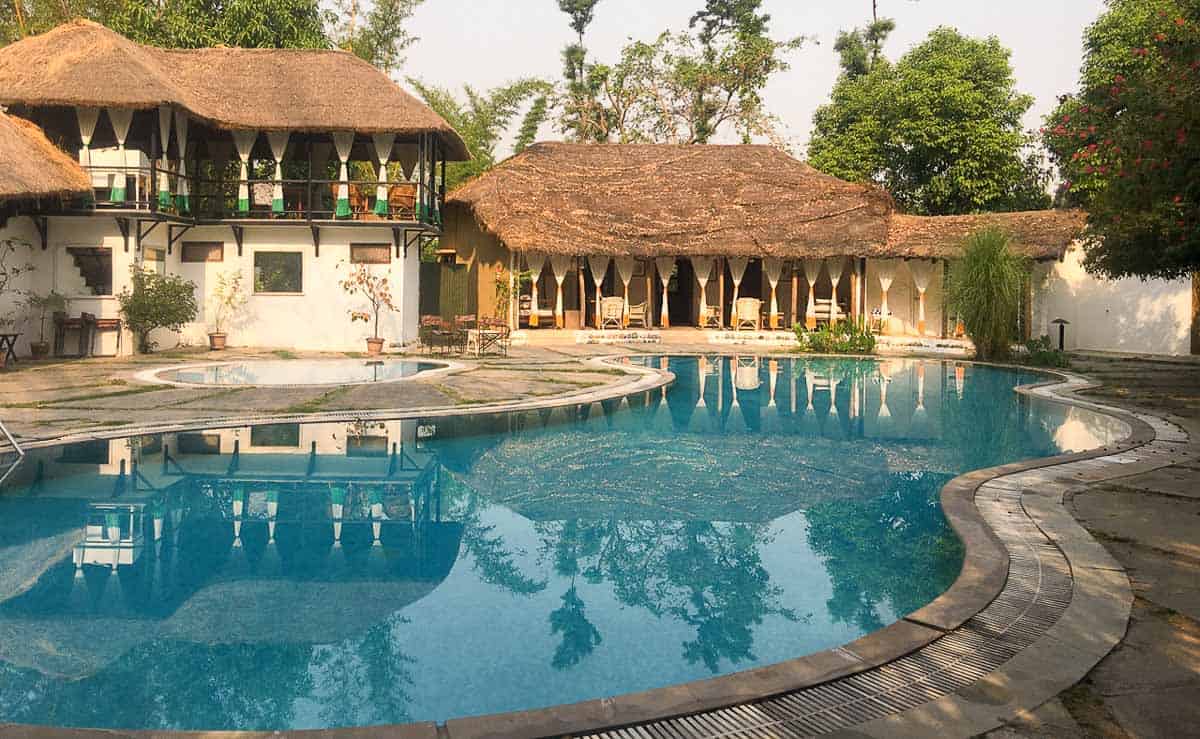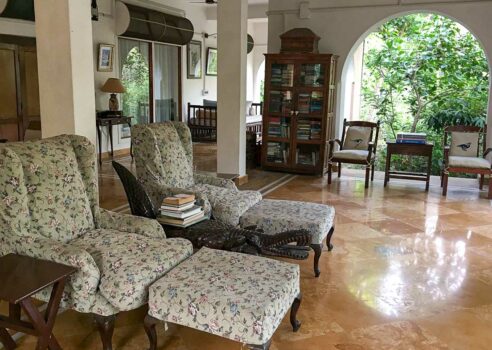 Jim's Jungle Retreat
For several years, as I became passionate about wildlife tourism, I returned again and again to Madhya Pradesh and especially to Kanha, Bandhavgarh, and Satpura tiger reserves. When I finally started to get to know Corbett National Park, I was disappointed to learn the same wildlife culture did not really exist at Corbett. Jim's Jungle Retreat is the exception. At Jim's Jungle Lodge, you get the full-on experience of being at a real wildlife lodge – with highly talented and seasoned naturalists, and people who genuinely care about conservation. And, amazingly, you also get a lodge that is itself a nature destination, complete with ponds, trails, and machans filled with animals, insects, reptiles, and birds. On top of all this, the lodge captures the elegance of the era of Jim Corbett. It has a timeless and classic feeling that I absolutely loved. Ample use of wood and other natural materials, large terraces dotted with rattan furniture, framed period etchings of wildlife scenes, cottage-like rooms with chintz-covered sofas, open-air reception building and dining room, and many comforts, too.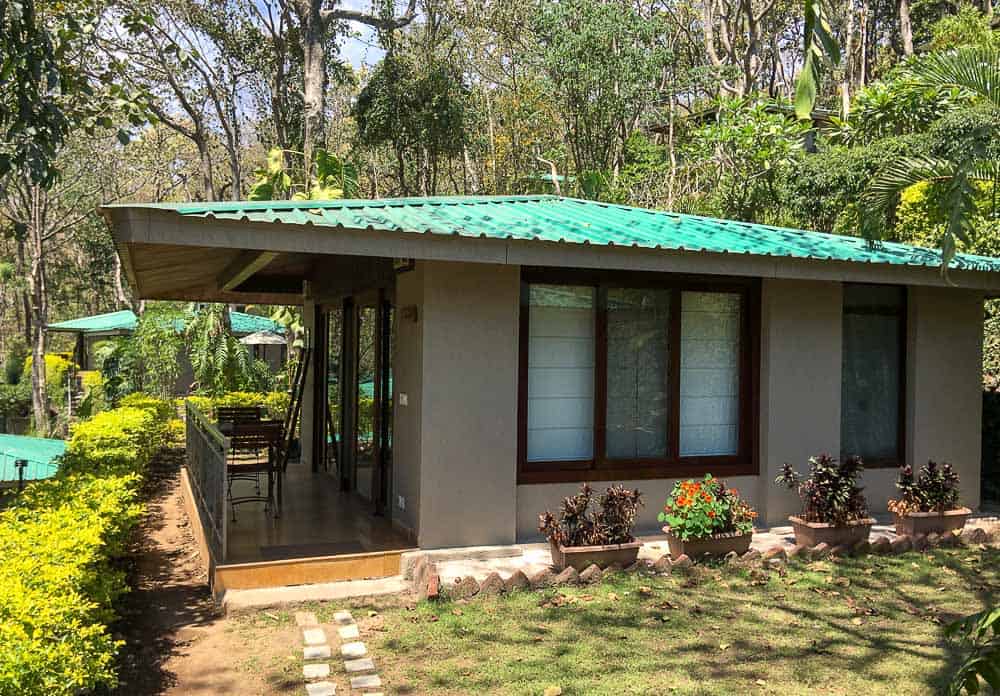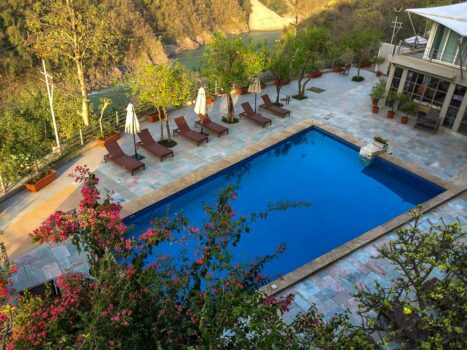 Atali Ganga
Since the dawn of time, people have been drawn to the banks of the Ganga River in the lower Himalayas to worship, pray, and meditate. It's a picturesque place with magnetic energy. However, nowadays many people go to this area for rafting, leisure, and adventure activities and as a result places like Rishikesh have become overrun. Atali Ganga is a great alternative, a great weekend getaway from Delhi, just about 30 kilometres upriver from Rishikesh, but in an area that is still largely surrounded by nature. The people of Atali Ganga are genuinely committed to conservation, they love nature, and they love providing visitors with fun outdoor activities. Accommodation is in stylish cottages built from natural materials, and set apart from each other on the side of a hill, so each has fabulous views. There are hiking trails that start right from the property, a campground, a large pool, and lots and lots of things to do! One of the best things to do here is go down to the beach on the banks of the Ganga, for boating, dipping, or even just watching the sunrise or sunset. It's a beautiful, pristine place that will be forever etched in your heart.
Luxury getaways in Madhya Pradesh
Madhya Pradesh is often called the heart of India. A state right in the centre of the country, Madhya Pradesh (MP), is known for ancient temples, tiger reserves, historic sights, and charming villages. With 44% forest cover, Madhya Pradesh still retains a lot of natural beauty and is one of my favourite states to explore. Gwalior is a well-known historic city just about 325 kilometres from Delhi, and only 120 kilometres from Agra. From Gwalior you can easily explore offbeat Madhya Pradesh, a great short trip from Delhi.
---
More reading on Breathedreamgo about Madhya Pradesh
---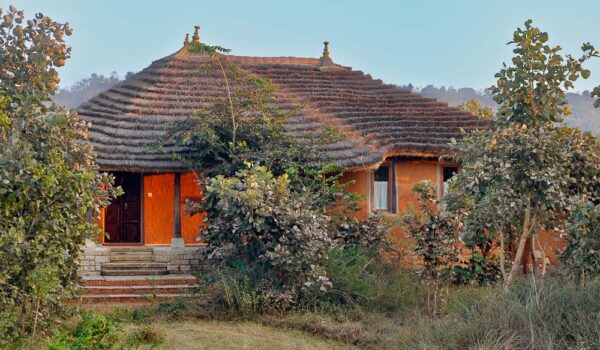 Sarai at Toria
A short drive from the famous temples of Khajuraho, the Sarai at Toria is a destination in itself. Located near the gate of Panna Tiger Reserve, the Sarai at Toria has been lovingly created by husband-and-wife team Joanna Van Gruisen and Dr Raghu Chundawat. A cross between a resort or lodge, and a homestay, the Sarai at Toria is a very special place. Built on a large property along the banks of the Ken River, the Sarai at Toria team celebrates the natural environment and the local culture in everything they do. The buildings are made of natural materials, they use environmentally friendly utilities such as solar power, design menus based on local ingredients, and hire staff from the community. The communal / dining area is an open room – called the baithak, which means pavilion – and the grounds are kept as natural as possible. One of the star features of the Sarai at Toria is the cottages – crafted in traditional village style, inside they are spacious and elegant. High ceilings and thick mud walls keep them cool in the warmer months and warm at colder times. Here, you can have a relaxing stay or you can enjoy an incredibly wide range of activities offered by the Sarai at Toria, including village walks, a wildlife safari, or a sunset boat ride on the river.
---
If you enjoyed this post, you can sign up for Dispatches in the sidebar and follow Breathedreamgo on all social media platforms including Instagram, Facebook, Pinterest, and Twitter. Thank you!