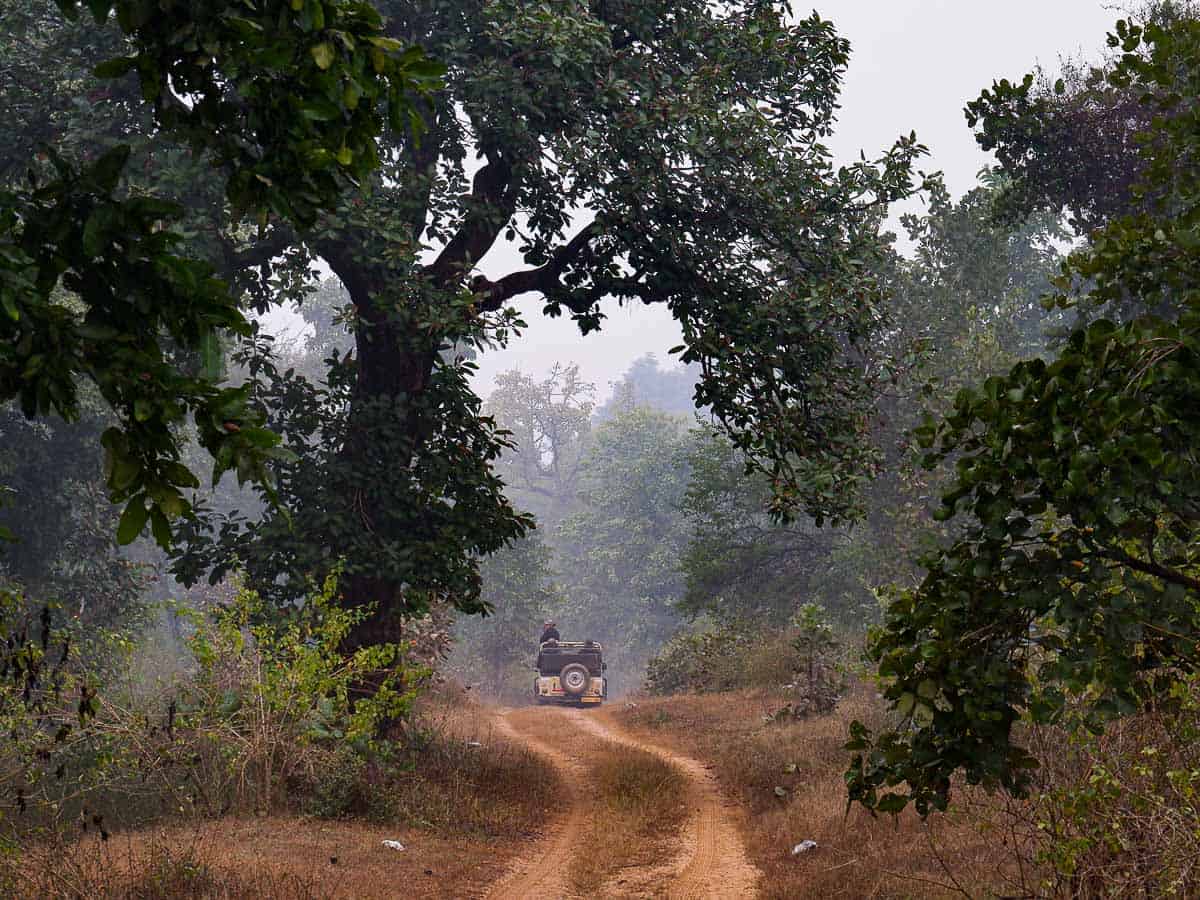 Complete Guide to Satpura Tiger Reserve, Madhya Pradesh, India
SATPURA TIGER RESERVE IS ONE of my favourite places in India, and in this Complete Guide to Satpura Tiger Reserve, I hope to share the reasons for my enthusiasm and convince others to take time to get to know this beautiful park in Madhya Pradesh, India.
Satpura National Park and Tiger Reserve in Madhya Pradesh is not the most well known tiger reserve in India. It is not one of the top places to see a tiger in India, and it is a bit off the beaten path. But Satpura Tiger Reserve has so much more to offer that it more than makes up for this. Satpura Tiger Reserve is actually a great place for animal sightings, including endangered species such as sloth bear, leopard, and dhole (wild dog).
And among other marvels, Satpura Tiger Reserve is a very rugged and diverse ecosystem, with waterways, dense forests, deep ravines, sandstone peaks, grasslands, and pristine jungles. Plus it is very beautiful. Add to this that it's less crowded than many of the other parks and there are some very unique offerings – such as canoeing at dawn and walking safaris in the core zone – and you have an amazing natural destination in India. India is not as well-known as a wildlife destination, but for wildlife safaris in India and other parts of the world too, you can look at Naturetrek.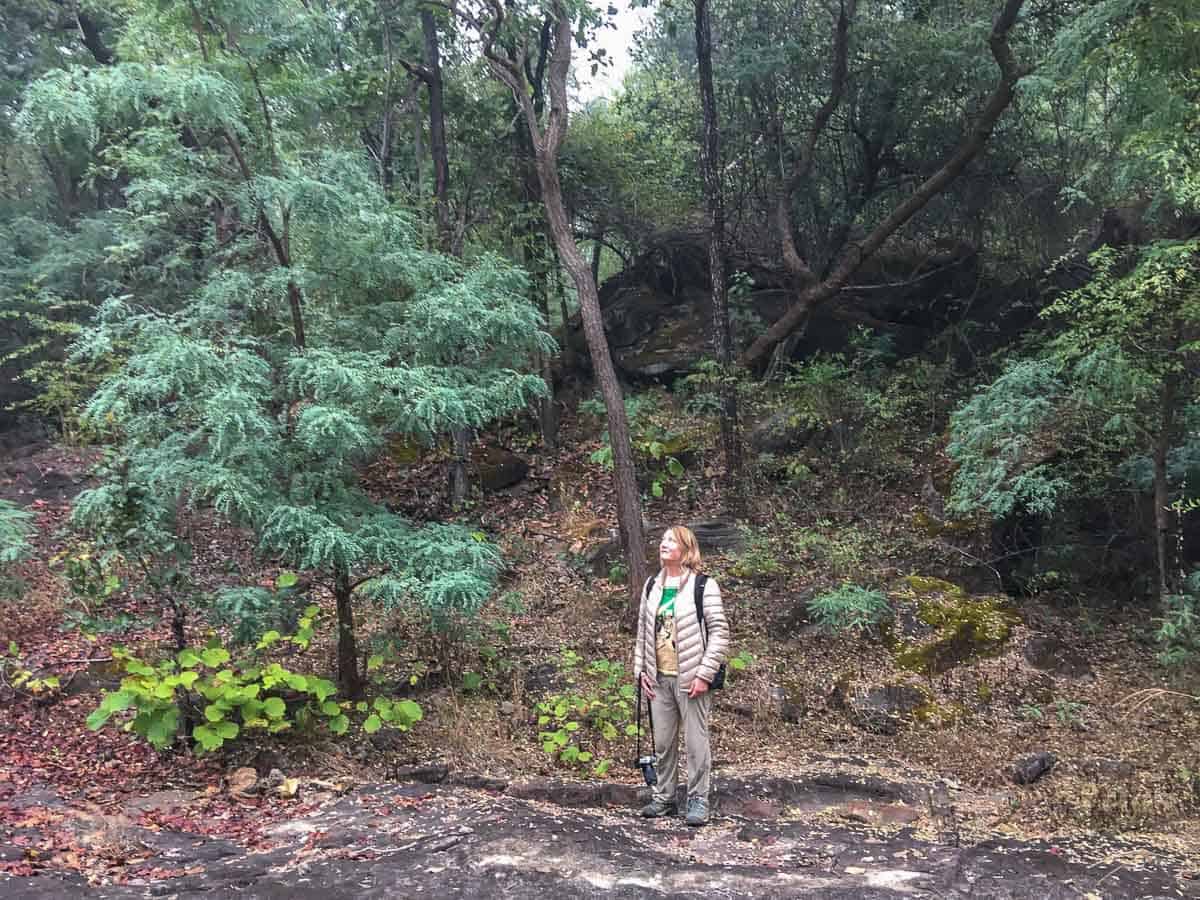 I came to love Satpura Tiger Reserve after spending more than one month there during the PRONAT naturalist training course at Pugdundee Safaris Denwa Backwater Escape in November 2020. By spending so much time immersed in the natural world of Satpura Tiger Reserve, I came to love this park, including the ample buffer zones. In fact we had incredible animal sightings – including two leopards lounging in the grass – in the buffer zones.
---
More reading on Breathedreamgo
---
What you need to know about Satpura Tiger Reserve
The Satpura Range of mountains runs through central India, along the border of Maharashtra and Madhya Pradesh. The name of Satpura Tiger Reserve and National Park is derived from this range. The word Satpura is Sanskrit and means seven mountains (sapta – seven and pura – mountain).
Satpura was originally formed in 1981 when it was joined with Pachmari and Bori sanctuaries. In 2000, it was officially named a tiger reserve, part of the Project Tiger initiative that began in 1973. Satpura National Park is spread over 1,427 square kilometres and the altitude ranges from 300 to 1,352 metres.
The flora of Satpura Tiger Reserve is as diverse – and spectacular – as the landscape. There are thick forests of cool sal trees and large tracts of teak, too, plus mahua, tendu, and bamboo. There are medicinal herbs, fruit trees, and more – about 1,300 plant species and 62 tree species.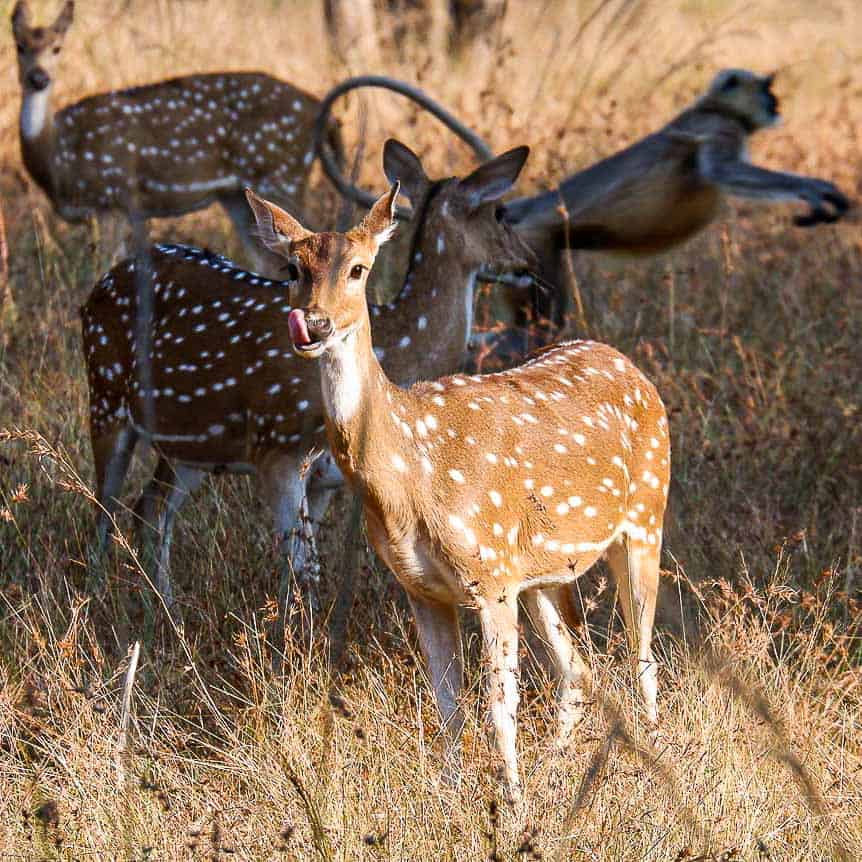 The fauna of Satpura Tiger Reserve is as spectacular as the flora. Among the mammals you will see are those listed below, but there are 50 in total:
Tiger

Leopard

Chital (spotted deer)

Hanuman Langur

Indian Bison (gaur)

Wild boar

Dhole (wild dog)

Sloth bear

Black buck

Sambhar deer

Chowsingha (four-horned antelope)

Crocodile

Malabar squirrels

Indian giant squirrel

White bison
Satpura National Park also offers great birding because of the unique terrain and waterways, such as the Denwa River. You can spot a lot of water birds and – from November to March – many migratory birds such as bar-headed geese, ruddy shelduck, Indian pond heron, black-headed ibis. There are more than 350 species of birds found in the park.
When I was there as a naturalist student, we also saw a lot of insects, spiders, and snakes including rock python and cat snake.
Map of Satpura Tiger Reserve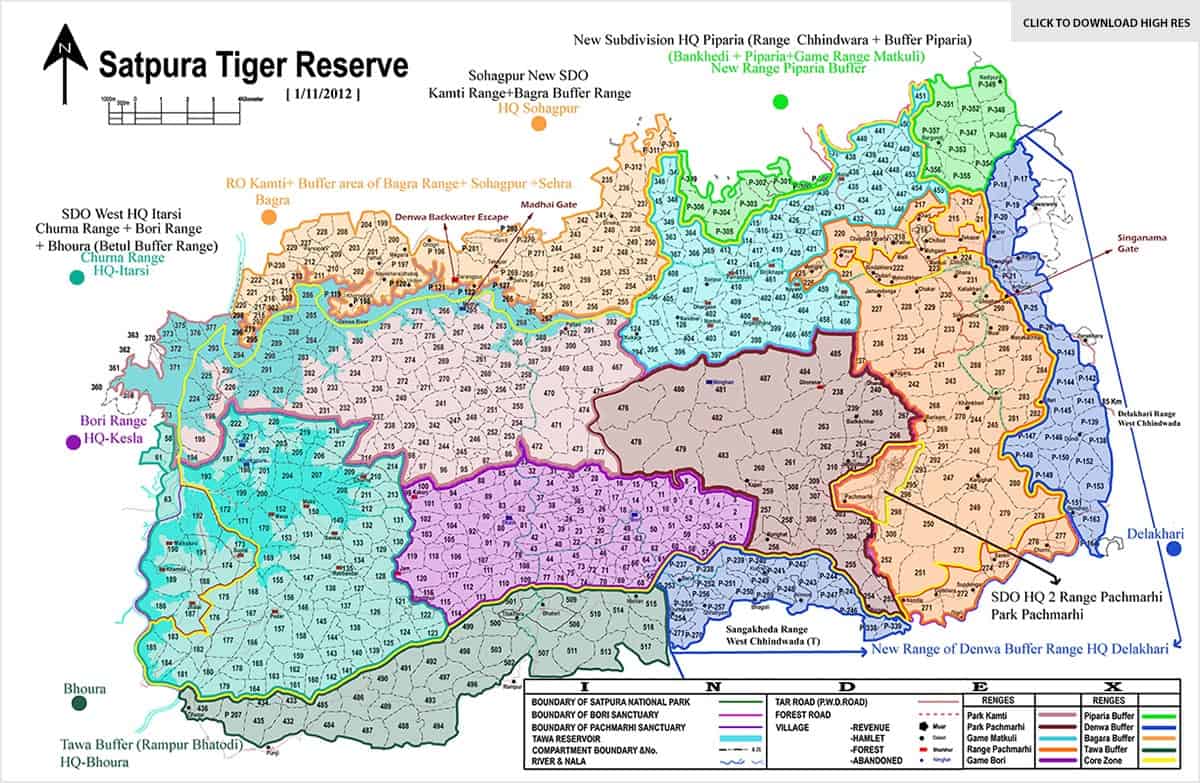 Going on wildlife safari in India
India is not as well known as various countries in Africa such as Tanzania, Kenya, South Africa, and Namibia for wildlife safari – but it could well be! India has all the big five animals – lion, leopard, rhinoceros, elephant, and buffalo – plus tigers! There is an extensive list of animals of India that include a whole lot of other amazing animals such as sloth bear, gaur, pangolin, dhole, jackals, crocodiles, and on and on.
The national parks and tiger reserves in India are well managed and offer an excellent wildlife viewing experience and there are top-class wildlife lodges all over the country, from the rustic to the opulent, to suit all tastes and budgets. The naturalists at the top lodges are excellent too, and speak English (and other languages as well).
Read this post to find out all about going on tiger safari in India and let my custom tour company India for Beginners put together a wildlife safari for you. As I am a trained naturalist and know many of these parks really well, I can customize the right safari for you.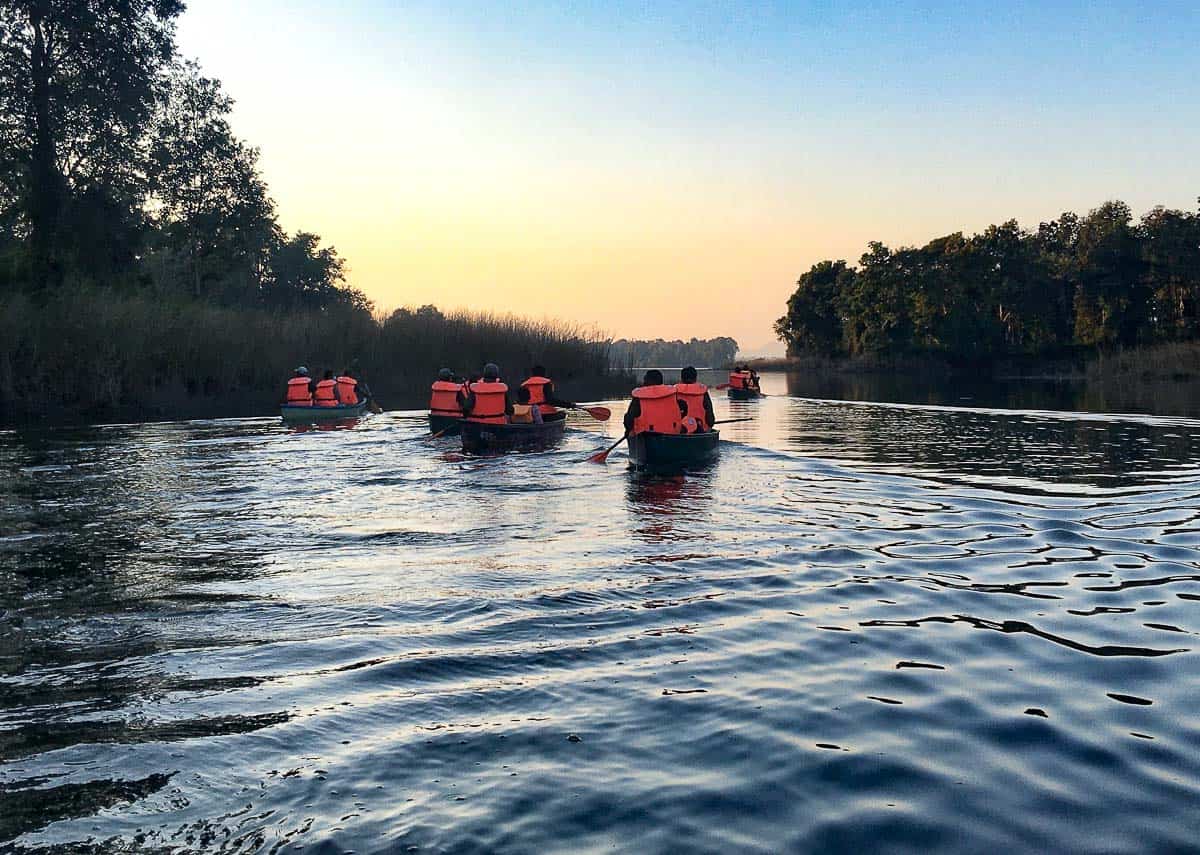 Best things to do in Satpura Tiger Reserve
One of the best things about Satpura Tiger Reserve and National Park is the incredible variety of things to do, many more than in most other parks. Obviously, you can go on jeep safari in the core zone and also the buffer zones. But you can also go boating and canoeing, and do a guided walking safari in the core zone. Some lodges, such as Pugdundee Safaris Denwa Backwater Escape also offer camping in the core zone.
I enjoyed canoeing from the Madhai Gate over to the core zone at dawn, and also at dusk. When we went at dusk, we canoed right back to the Denwa Backwater Escape property (and the guide paddled the canoe back to the park gate). As you canoe along the shore line of the core zone, you get a slow and close-up look at the birds and animals. It's a very immersive experience in nature! I also loved the walking safari in the core zone. Our knowledgeable guide stopped to show us many signs of bears and tigers and other animals — animal markings such as scratching, scat, and even clumps of fur. Small things you would miss if you weren't walking — and you didn't have a highly trained, observant guide with you.
Perhaps my favourite activity was the night we spent at a campground in the Satpura park with Denwa Backwater Escape. They had set up a very comfortable camp on the banks of a small river. We had our own private washroom tents and a lovely outdoor dining experience — it was basically glamping. Each tent had a screened front so we could see outside all night. In the morning there were leopard prints alongside the river, just a few metres from our tents. After breakfast, we went on a walking safari and met the jeep a few kilometres into the forest. It was magical.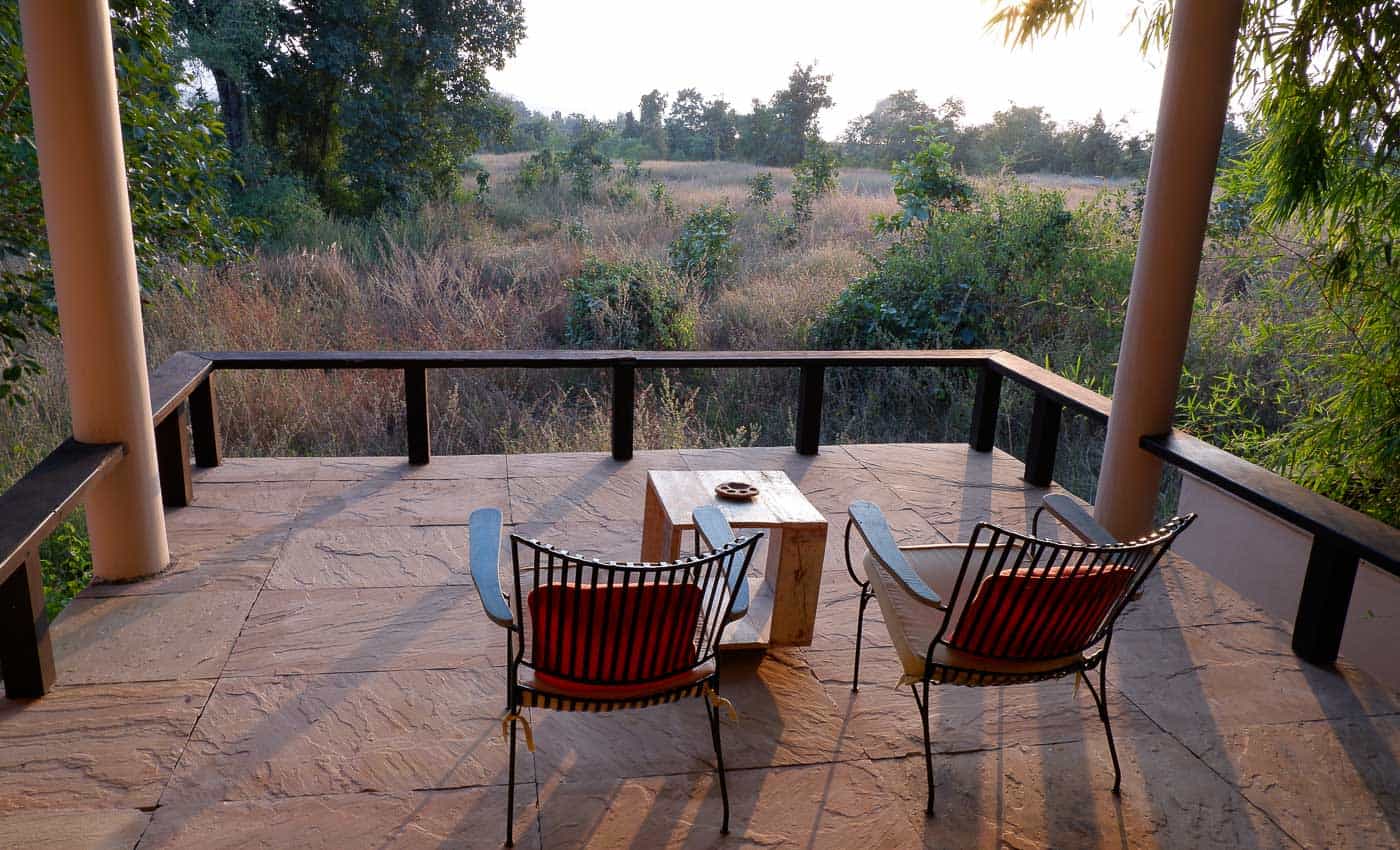 Where to stay near Satpura Tiger Reserve
Denwa Backwater Escape. I stayed for one month at the Pugdundee Safaris Denwa Backwater Escape and I can't recommend it highly enough. This place is ideally located on the Denwa River — we saw crocodiles basking on the river edge, right on the property, every day — with gorgeous views of the Satpura range in the distance. It's only 1 kilometre from the Madhai gate. At this gate you have to take a boat across the Denwa River to get to the core zone, which also offers opportunities for boating and canoeing safaris. Also nearby are several excellent buffer zones such as Parsipani. The luxury cottages are extremely comfortable and spread out across the large property, to give visitors privacy and a real feeling of nature.
Forsyth Lodge. While in Satpura, I spent an afternoon at Forsyth Lodge and absolutely loved this beautiful place. It is located in a rural area, near a village, and really feels authentic — while still offering a luxury stay experience. Forsyth Lodge hits the sweet spot in every way. They are very committed to conservation and to giving visitors a great wildlife experience, and they also take great care with the food they serve. Much of it comes from their own organic garden, and it's delicious, fresh, and healthy in equal measure.
Reni Pani Lodge. This lodge is one of the other premier lodges in the region. Like Denwa Backwater Escape and Forsyth Lodge, it is Toftigers certified. Like Denwa Backwater Escape and Forsyth Lodge, you will have a top-notch wildlife safari experience with some of the best naturalists in the business.
INSIDER TIP: Naturalists LOVE Satpura! Even though Satpura might not be considered one the "star" tiger reserves of India, naturalists love it because it is so rich and biodiverse, and because there is less pressure to see a tiger. You will find great naturalists at all the lodges listed above, which will add to your enjoyment of the park.
---
If you enjoyed this post, you can…
Sign up for Dispatches in the sidebar and follow Breathedreamgo on all social media platforms including Instagram, Facebook, Pinterest, and Twitter. Thank you!